Best Motorcycle Handlebar Speakers in 2022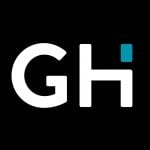 This product guide was written by GearHungry Staff
Last Updated
October 7, 2020
GearHungry Staff
GearHungry Staff posts are a compilation of work by various members of our editorial team. We update old articles regularly to provide you the most current information. You can learn more about our staff
here
.
GearHungry may earn a small commission from affiliate links in this article.
Learn more
Motorcycles. Open roads. Rock n' roll. These three things form a classic cultural trifecta unlike any other. It's Easy Rider, it's independent, it's a little anti-establishment, it's sexy. And sure, maybe you're cut out for bike life, up for highway adventures near and far — but is your sound system?
We at GearHungry have curated this buying guide to the best motorcycle sound systems on offer. Our criteria? Proven sound quality, guaranteed durability, and safe handling capability. Why? So that you can finally drown out the cacophony of engines and traffic with soundwaves fit for asphalt royalty.
The Best Motorcycle Handlebar Speaker
Kuryakyn Motorcycle Handlebar Speaker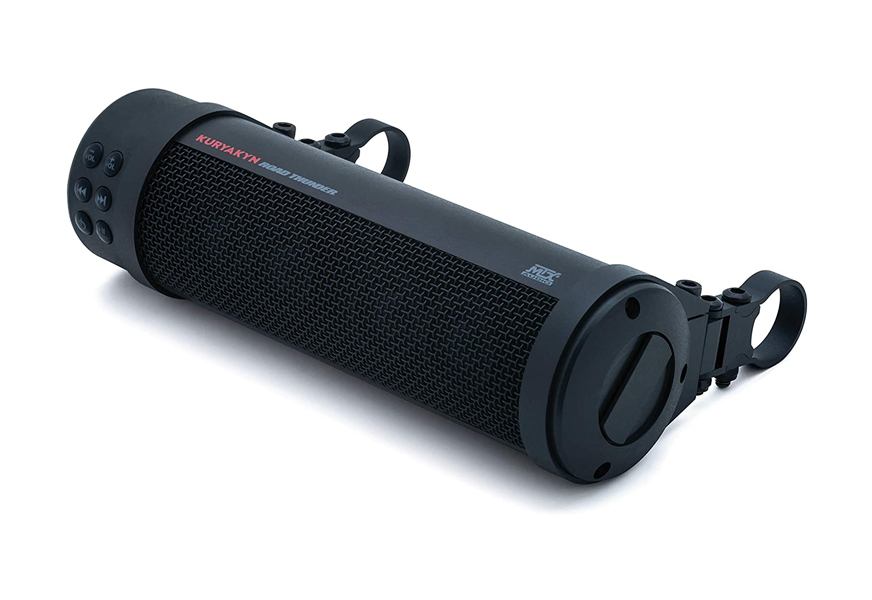 The Kuryakyn Motorcycle Handlebar Speaker lives up to its namesake and packs one thunderous sound-punch using a single speaker. This quality is because it boasts a 300-watt peak power capacity that's complemented by a 1.0 amplifier. The result is a crystal-clear sound that booms over a roaring engine.  
As a single unit, the Thunder markets itself as a soundbar that easily mounts onto any handlebars that measure between 7/8″ and 1-1/2″ and once fitted, it perches neatly for a modest look. Featuring all the bells and whistles, including Bluetooth functionality and a waterproof design, this motorbike speaker has one more shocking attribute, its price! At just over $400, the Kuryakyn Thunder may require the selling of an arm and a leg on the black market, but let us tell you, for a high-end product, it's worth it! It certainly makes an excellent gift for motorcycle riders.
Key Features:
Internal 4-channel amp
Built-in Bluetooth receiver
Weather-resistant housing
N42 grade magnets for distortion-free sound
Includes auxiliary input and output ports
300-watt peak power
Durable satin black design
Specification:
Brand

Kuryakyn

Model

Sound Bar Plus

Weight

4.28 Pounds
LEXIN LX-S3 Motorcycle Handlebar Speaker
The LEXIN vintage-inspired bullet-shaped speakers made our list not only for their rocking good looks but because the audio quality is exceptional for the price you pay. The LEXIN LX-S3 Motorcycle Handlebar Speaker provides a premium sound experience.
These retro-styled handlebar speakers are easy to mount, and they're entirely weatherproof – so, once they're on, they're on! You can then stream your music wirelessly via Bluetooth, or you can connect to a USB audio source. The result is a crystal-clear sound powered by a 50W amplifier – which will give you enough volume for the highway. For more awesome accessories, check out our selection of the best GPS for motorcycles.
Key Features:
Two premium 3" stereo handlebar speakers
50-watt power amplifier
Built-in Bluetooth
Waterproof and weatherproof design
Metallic housing with polished chrome
Easy installation
Easy plug and play operation
Specification:
Brand

LEXIN

Model

LX-S3CH

Weight

3.84 Pounds
Boss Audio Systems Motorcycle Handlebar Speaker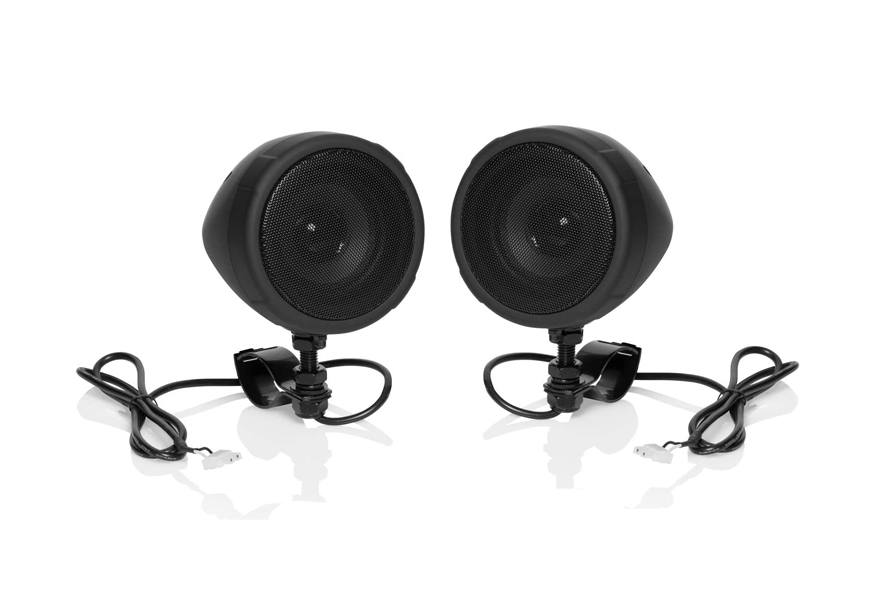 The Boss Audio Systems Motorcycle Handlebar Speaker is a great audio system for your cyc. This model caught our eye because of its affordability, but for its understated, clean black design.
However, while the MCBK420B speakers may not be much to look at, they live up to Boss's reputation for providing clear-cut sound quality. With a two-channel amplifier and two 3-inch Bluetooth speakers that run on up to 600Wof power, you'll for sure get the volume you need while you're on the road. As for connection types, you can plug your media player into the device's mini-jack input or pair it using Bluetooth.
Key Features:
600-watt peak power output
Bluetooth 2.1 connectivity
Adjustable mounting brackets
2-channel amp
Marine-grade weather-resistant construction
Adjustable brackets for .75" to 1.25" handlebars
3-inch matt black speaker casings
Specification:
Brand

Boss Audio Systems

Model

MCBK420B

Weight

4.4 Pounds
GoHawk RD8 Bluetooth Motorcycle Handlebar Speaker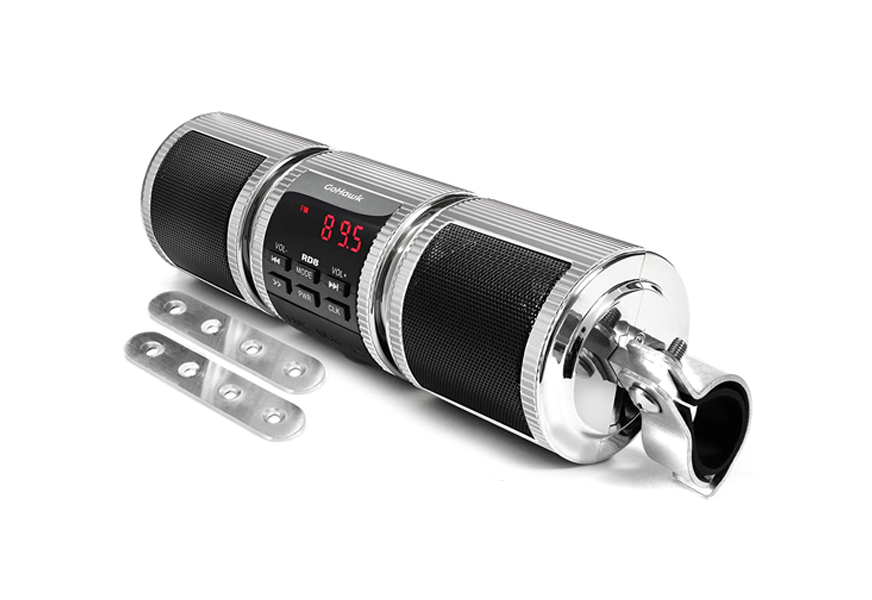 The GoHawk RD8 Bluetooth Motorcycle Handlebar Speaker boasts a mechanical look and a digital clock display. This display highlights the time in bold red and is aesthetically attractive – we think it adds an edgy touch. The rest of the casing is polished stainless steel with a matte black finish, which complements its weatherproof construction.
The device gets its power from your motorbike's battery and thus comes with a cable system (which is surprisingly easy to install). The RD8 motorcycle handlebar speakers provide quality sound that you can hear over a bike's engine, and it also gets our thumbs up for being easy to operate while on the move. Other nifty elements include built-in Bluetooth, access to radio channels, and a high-performance amplifier.
For more awesome add-ons for your ride, check out our selection of the best motorcycle helmet cameras on the market right now.
Key Features:
Bold red LED time display
Built-in Bluetooth for wireless connectivity
Motorbike battery-powered
Easy to mount bracket system
Stainless-steel waterproof casing
Superb audio quality
Built-in amplifier
Specification:
Brand

GoHawk

Weight

1.74 Pounds
GoHawk AN4-QX Motorcycle Handlebar Speaker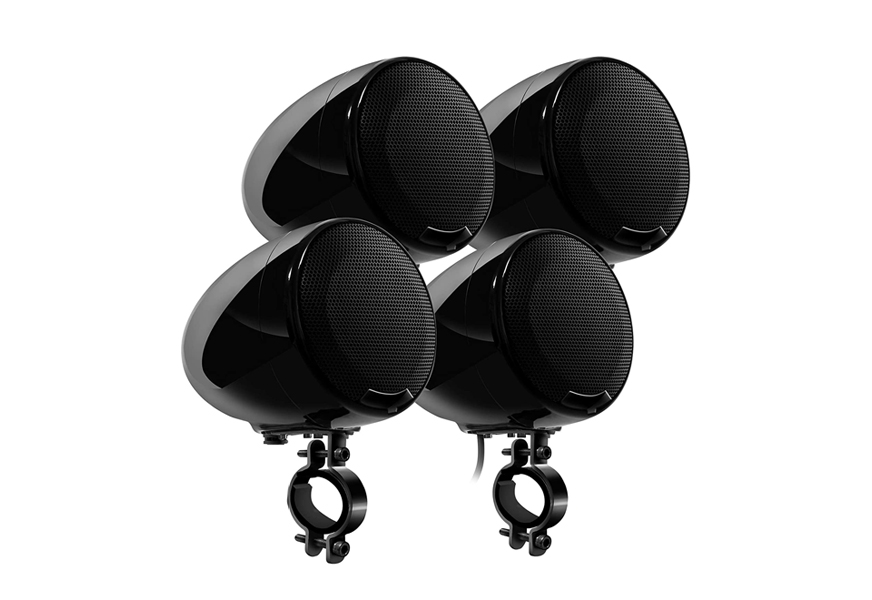 Here we have the GoHawk AN4-QX model – a robust system that's popular for its fantastic price to performance ratio. Packed with 4-inch by 4.5-inch speakers with built-in amplifiers, this set of Bluetooth motorcycle handlebar speakers release an exceptional sound.
The units boast a glossy black finish making this speaker set stylish. Overall, the entire speaker-amp combo provides you with a sexy look that delivers classic lines to any motorcycle. We're also happy to share that the GoHawk AN4-QX Motorcycle Handlebar Speaker set checks all the boxes: it's waterproof, weatherproof, and ultimately durable.
To make sure your bike is safe, browse our list of the most reliable motorcycle locks available at the moment.
Key Features:
1200w peak power performance
4 channel amp speakers
Built-in Bluetooth 5.0
Includes 4 extra-large mounting clamps
Supports 1 to 1.5″ bar size
3.5mm AUX audio jack
High-performance bass
Specification:
Brand

GoHawk

Model

AN4-QX Black

Weight

8.89 Pounds
GoHawk TJ4-R Motorcycle Handlebar Speaker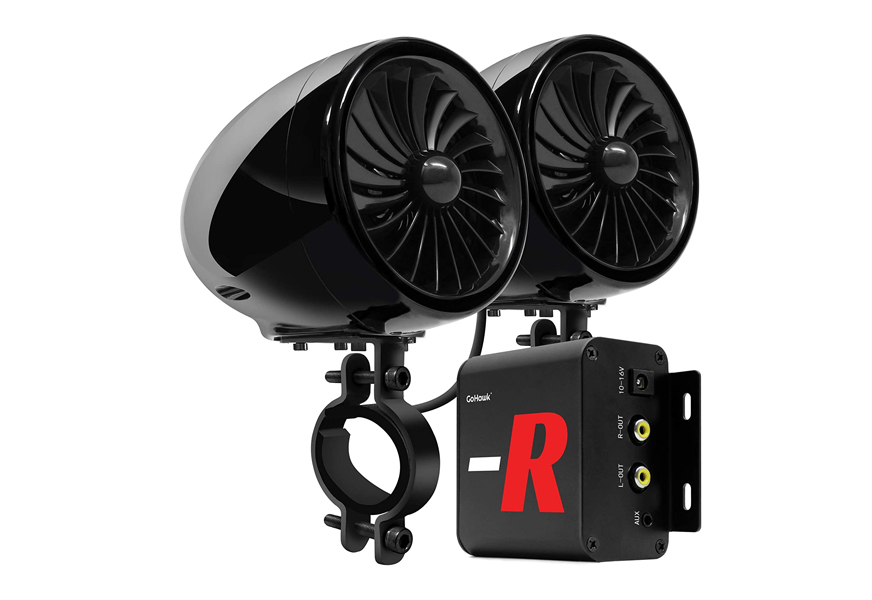 The GoHawk TJ4-R Motorcycle Handlebar Speaker set is another good pick if you're shopping on a budget but don't want to skimp on quality. It includes a two-channel 100W amplifier with two 4-inch, full-range stereo speakers that mount perfectly onto 1 to 1.5-inch handlebars. As a whole, this gadget gets our thumbs up for being FM radio-ready and for its ability to play your tunes via a 3.5mm audio jack or Bluetooth 5.0.
All GoHawk's motorbike speakers come with advanced waterproof components – although, in this case, it's important to note that the amplifier is not water-resistant. These speakers are worth it if you're on a tight budget.
Key Features:
Water-resistant casing
100W amplifier with two 4-inch speakers
Bluetooth and audio jack connectivity
Built with high-quality ABS materials
Crystal sound for outdoor use
High-performance bass
Includes wired remote operation
Specification:
Brand

GoHawk

Model

TJ4-R

Weight

2.99 Pounds
Kuryakyn MTX Motorcycle Handlebar Speaker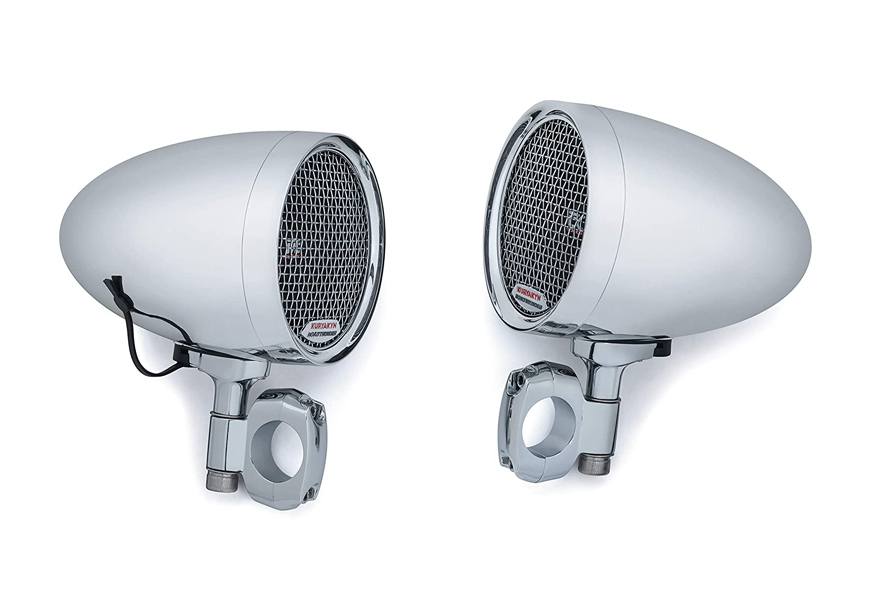 This Kuryakyn MTX Motorcycle Handlebar Speaker boasts a powerful set-up that can turn any smartphone or Bluetooth mp3 player into the ultimate "on-the-road" sound system. The kit comes fully equipped with a Bluetooth audio controller, self-amplified 3-inch RoadThunder speaker pods, and 1-inch mounting clamps for a smooth installation.
The only part of the Kuryakyn speakers that may leave you with a headache is the price. It calls for a pretty penny compared to the other options on our list, but it appears that this model is worth every cent. You'll enjoy crystal-clear amplified sound on the busiest of highways. The chrome-polished waterproof speakers will have you riding away in style – even when it's raining! It is an essential piece of motorcycle camping gear.
Key Features:
Peak power rated at 100W
Bluetooth with audio controller
Stylish 3-inch chrome speaker pods
Easy to install
Universal fit for 7/8-inch and 1-inch handlebars
IP66 tested weather-proof design
Five front panel touch controls
Specification:
Brand

Kuryakyn

Model

2712

Weight

3 Pounds
JBL Wind 2-in-1 Bluetooth Motorcycle Handlebar Speaker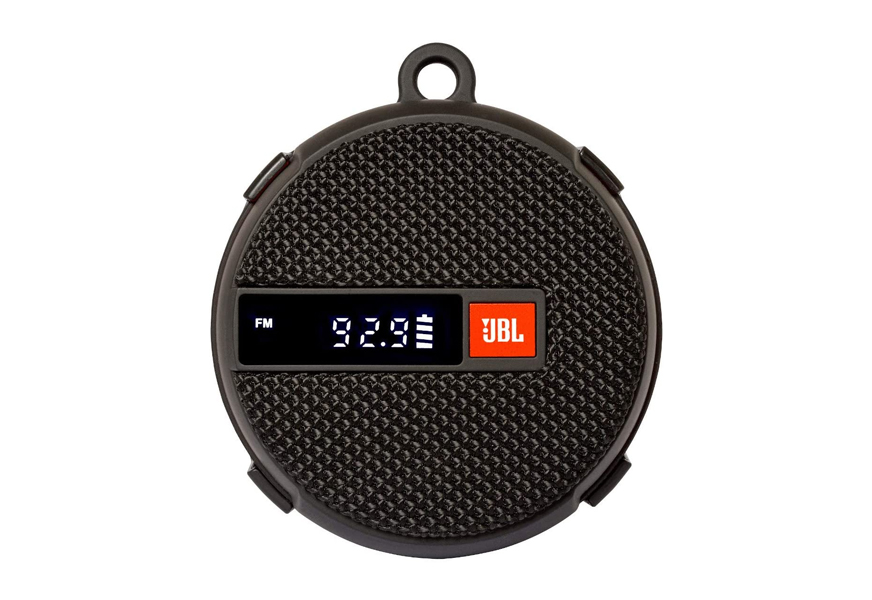 Simplicity is what initially drew us to the JBL Wind 2-in-1 Bluetooth Motorcycle Handlebar Speaker is how simple it is. All you need to listen to your feel-good music is this one device, nothing else. There are no intricate wires, and there's no need to decorate your handlebars with several speakers for high-volume sounds.
And, despite the JBL speaker's basic appearance, the functionality is quite diverse. This model is one of few that includes a built-in microphone for hands-free calling. It also features the common attributes that you'd expect from a portable speaker. For example, it provides seamless Bluetooth connectivity, a splash-proof design, and a microSD card slot.
Key Features:
2-in-1 bike and backpack design
An ip45 waterproof rating
Rechargeable battery
Up to 10 hours of playtime
Bluetooth support
Integrated microphone
Built-in FM Radio and SD card
Specification:
Brand

JBL

Model

JBLWIND2

Weight

7.2 Ounces
BOSS Audio Systems 1,000-Watt Amplified Motorcycle Speaker Set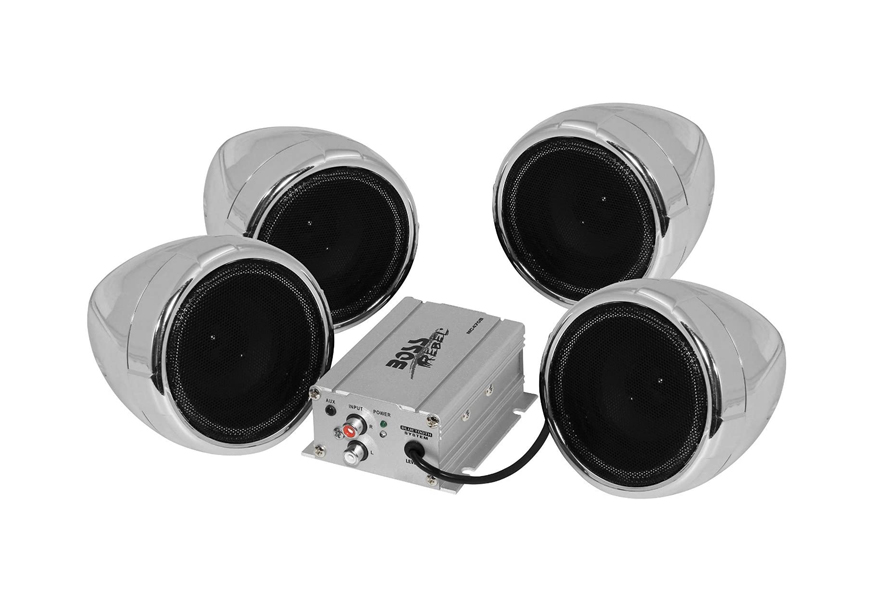 What makes this sound system from Boss stand out is that it provides a whopping 1000W of maximum power output while encased in an entirely waterproof construction. This construction makes it a long-lasting investment that offers a sound that will stifle peak traffic noise so that you can enjoy your favorite hits.
Like other similar models, the BOSS Audio Systems 1,000-Watt Amplified Motorcycle Speaker Set allows you to stream music from your phone or other Bluetooth-enabled devices to your motorbike. The set includes two pairs of 3-inch polished chrome speakers equipped with mounting brackets to fit 0.75-inch to 1.25-inch handlebars. The cherry on top is a wireless remote control that allows you to operate the system from the palm of your hand.
Key Features:
4-channel amplifier with 1000W output
Adjustable mounting brackets
Marine-grade weather-resistant construction
4 3-inch polished chromed plastic speakers
In-line volume control
Bluetooth enabled
AUX output included
Specification:
Brand

BOSS Audio Systems

Weight

8.34 Pounds
KICKER 4 Ohm Mini Weatherproof Speaker System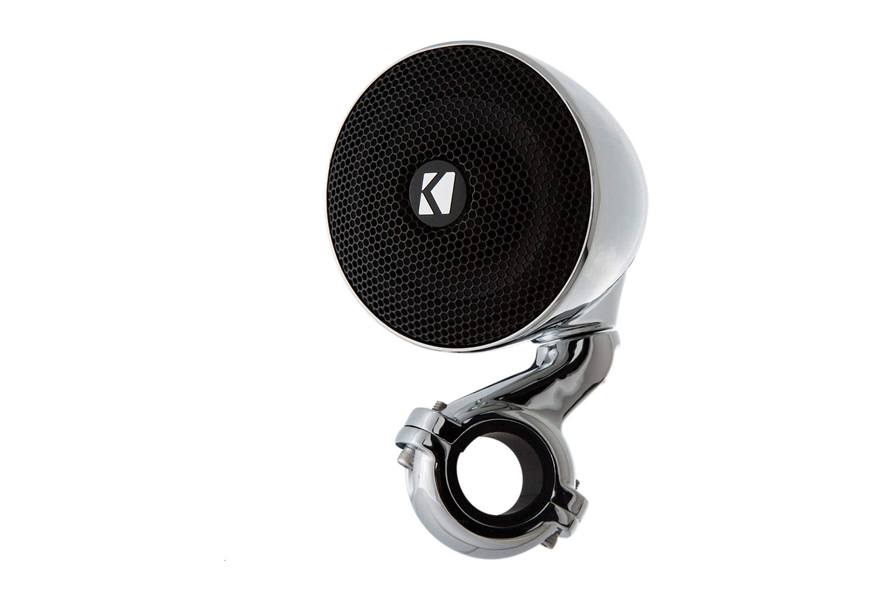 The KICKER 4 Ohm Mini Weatherproof Speaker System is a compact sound set-up perfect for motorcycle use. It offers 50W of peak power, complete durability, and is fully weatherproof so that you can rock out even in wet weather. It's important to note that this is a mini speaker set – which is excellent if you don't want your sound system to take up too much space on your handlebars, but it is a smaller set.
Despite its petite stature, the four Ohm packs a powerful punch in terms of sound quality. The contemporary polished chrome design also gets our nod of approval.
To make sure you ride in style, check out these awesome motorcycle jackets!
Key Features:
A mini speaker with a powerful sound
50-watt peak power
Durable chrome speaker housing
Weather-resistant design
Includes handlebar mounting hardware
Trendy contemporary design
High-quality sound on open roads
Specification:
Brand

KICKER

Model

Z2017120501

Weight

3.45 Pounds
Motorcycle Handlebar Speaker Buying Guide & FAQ
Features to Look for in Motorcycle Handlebar Speakers
When purchasing motorcycle handlebar speakers, you'll want a design that's in for the long haul (no pun intended). This task means that there are certain quality features you'll want to look for when comparing options. We suggest you make your decision by keeping the following considerations in mind:
Size - First and foremost, it's vital that the size of the speakers doesn't hinder your ability to ride your motorbike safely and comfortably. The good news is that smaller speakers can still have excellent audio quality while leaving enough room on your handlebars for effective steering. Secondly, if aesthetics is important to you, stick to a setup that won't make your bike look disproportionately odd.
Design - When it comes to design, the placement of the speaker controls is of utmost importance. If the controls are at awkward positions or if the buttons are hard to press, then it may prove challenging to use your handlebar speakers, especially while riding.  The buttons and tuners should be ergonomic to make the device easy and natural to operate (even when you've got your riding gloves on). Keeping this in mind – go for a design that you find attractive!
Build Quality - Since your speakers will always have exposure to the elements, you'll want handlebar speakers that last. Look out for models that use durable materials that can withstand harsh exposure to the elements. You're also going to want to consider how the speakers mount onto your handlebars. Ask yourself questions such as "will the installation be easy" "how securely do they mount" and "will the build hinder your view of the road or driving ability"?
Sound Quality - As you know, motorcycles are loud. The sound quality of the speakers you choose is critical. It also means that a built-in amplifier is a must since this is how you'll be able to crank up the volume sufficiently. Other things to look out for include wattage (the higher, the better) and sensitivity rating (speakers averaging 87 dB to 88 dB are considered excellent).
Connectivity - Once your speakers are in place, then you're going to want to connect your music to them – of course. Currently, the most efficient way of connecting to your Mp3 player, iPod or Smartphone is via Bluetooth (so make sure the set you have in mind boasts this feature). Another way to connect is via cable, which means the device will need all the necessary sound ports. If you plan on listening to the radio, you'll want a model that can intercept radio frequencies.
Waterproof - Waterproof speakers for a motorbike are a must. So, don't make the mistake of buying a speaker device for cars or indoor use. Instead, opt for speakers that boast a protective finish that keeps the mechanics safe from water and debris.
Battery Life - Most motorcycle speakers run on rechargeable batteries, which makes their lifespan important. If you're on the road for long periods of time, you'll want a power source you can rely on, and the longer the battery life, the better. It may also be worth your while to check the charging method required.
Wattage - As a rule of thumb, the lower a speaker's wattage, the softer the sound. So, if you drive around town often, a lower wattage may be preferable (to keep noise pollution to a minimum). If you're heading for the highway, you'll want some power to play your killer tunes!
Warranty - A warranty is a silent way of helping you to determine the quality of a product. That is, the longer the term of the warranty, the longer your speaker set is likely to last. A good warranty stipulates things like estimated repair time and how readily available the parts are.
Additional Features - Brands are always coming up with ways to make a motorbike audio experience smoother and safer. For example, features such as thumb control will help you stay focused on the road while you operate your audio system, and additional ports always come in handy.

Motorcycle Handlebar Speaker FAQ
Q: What are motorcycle handlebar speakers?
A: As the name suggests, motorcycle handlebar speakers are for your bike's handlebars. These speakers should be easy to install onto the handles without hindering steering performance or a rider's view. They can typically endure rough weather conditions and feature waterproof qualities. Additionally, most motorcycle handlebar-mounted speakers include built-in amplifier systems to ensure audio efficiency on the road.
Q: What are the loudest motorcycle speakers?
A: Bikers tend to choose motorbike handlebar speakers over helmet speakers because they are louder – which is essential when you're on the road, and there's noise from your bike coming at you. As a rule of thumb, the higher a speaker's wattage is, the louder it will be – which means that the loudest speakers are the ones that boast the highest wattage (with an average of 300W to 600W being the best you'll get for a motorcycle audio system).
Q: How do motorcycle handlebar speakers work?
A: One advantage of motorcycle handlebar speakers is that they are straightforward to install, and there aren't many cables and wires to complicate their functionality.
First and foremost, you need to attach the device(s) to your handlebars. Most manufactures make this step very simple and include mounting hardware and instructions with your purchase. This hardware typically includes clamps and slots designed to secure the attachments to your handlebars safely.
Secondly, there's the subject of connectivity. Different models will have various connectivity features. Some will have more complex wiring systems connected to a range of audio players; however, most modern motorbike speakers come with Bluetooth connectivity, making it even easier to pair your audio device to the speaker.
Last but not least, motorcycle handlebar speakers should be easy to operate using your thumbs, allowing you to keep firm control of your steering while you hike up those tunes!
Sources:
1. How To Shop For Speakers - WikiHow
Sign Up Now
GET THE VERY BEST OF GEARHUNGRY STRAIGHT TO YOUR INBOX