Best GPS for Motorcycles in 2022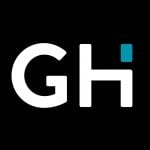 This product guide was written by GearHungry Staff
Last Updated
September 23, 2020
GearHungry Staff
GearHungry Staff posts are a compilation of work by various members of our editorial team. We update old articles regularly to provide you the most current information. You can learn more about our staff
here
.
GearHungry may earn a small commission from affiliate links in this article.
Learn more
If you're planning on heading out for an exciting open-road adventure on your motorcycle, there are all sorts of things to consider. Have you packed enough underwear? Do you have enough fuel? And, most importantly, do you know where you're going? Although some touring bikes come with a motorcycle GPS built-in, most models don't offer this luxury. As such, you have to choose between trying to use your phone (not ideal when you're blasting down the highway in thick leather gloves) or investing in a reliable GPS that's bike-compatible.
In this buying guide, we will look at some of the very best GPS for motorcycles you can buy today. We've spent numerous hours searching for the top-rated GPS trackers for motorcycles to bring you this buying guide.
The Best GPS for Motorcycles
Garmin Drive GPS For Motorcycle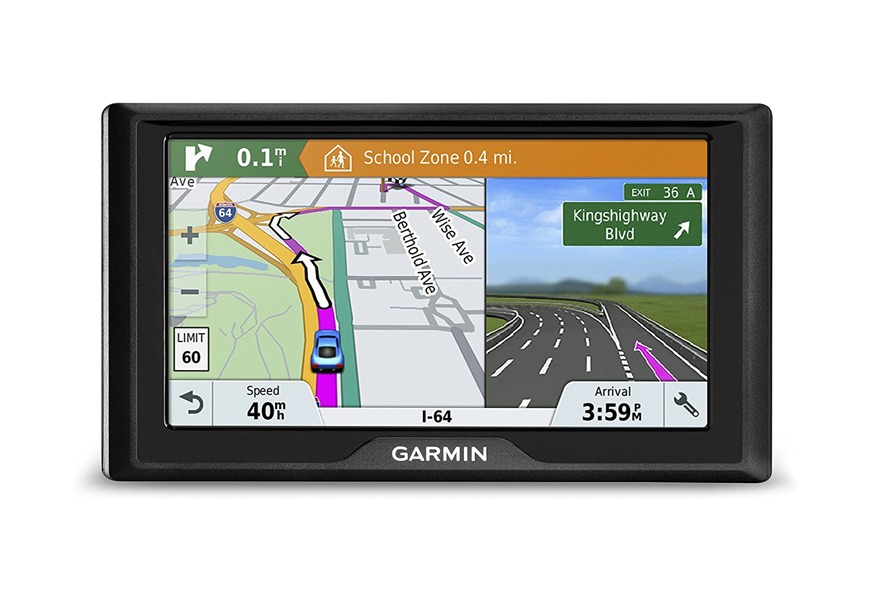 Never worry about losing your way again with the Garmin Drive GPS For Motorcycle. Fully equipped with maps of the U.S. that will remain current and updated for a lifetime, this GPS tracker includes all sorts of essential features. There are driver alerts to let you know about upcoming speed cameras, changes in speed limits, animal crossings, railroad crossings, and even sharp corners.
The Garmin Real Directions gives you usable directions featuring local landmarks, traffic lights, and other familiar sights. It even includes TripAdvisor ratings, so if you're looking for a hotel, place to eat, or something to do on your travels, you can do so with confidence, without needing to get off your bike!
And for more amazing gear for motorcycle riders, check out our guide to the best motorcycle handlebar speakers.
Key Features:
Preloaded United States maps with lifetime updates
Garmin Real Directions gives you usable directions based on aspects like landmarks, traffic lights, buildings, etc.
Includes TripAdvisor ratings on local points of interest
Bright 5.0″ dual-orientation display
Offers Driver Alerts
Specification:
Brand

Garmin

Model

010-01678-0B

Weight

6.4 Ounces
Full and detailed preloaded maps of the US
Lifetime updates
Good-sized display
Easy interface
Easy-to-understand instructions
Will need to be updated straight out of the box
Needs to connect to a smartphone for traffic updates
Garmin Zumo XT GPS For Motorcycle
One of the best GPS for motorcycles, Garmin Zumo XT GPS For Motorcycle, features a large 5.5-inch ultrabright display with crisp HD resolution to ensure you're always able to see where you're going. The device can be mounted in landscape or portrait mode to suit your setup. It's also rain-resistant and proven to pass the military standard 810 drop test, so you know it's as durable as possible!
The touchscreen display is glove-compatible, and you can connect your motorcycle helmet or headset to the GPS for spoken turn-by-turn directions in your ear. The unit also includes preloaded maps of the US, including off-road topographic maps with public land boundaries, 4-lane roads, and more!
Key Features:
5.5″ ultrabright, HD resolution display
Rain resistant and durable (passed the military standard 810 drop test)
Get spoken directions directly into your connected helmet or headphones
Garmin Adventurous Routing options let you find particularly curvy or hilly roads for extra excitement
Access to live traffic and weather with sharing capabilities
Specification:
Brand

Garmin

Model

010-02296-00

Weight

1.58 Pounds
Bright and readable screen;
Handy speed indicator with limits
Glove-friendly touchscreen;
Able to use in portrait or landscape;
Secure mounting
Tricky to add custom pois
Not a particularly detailed manual
TomTom Rider GPS For Motorcycle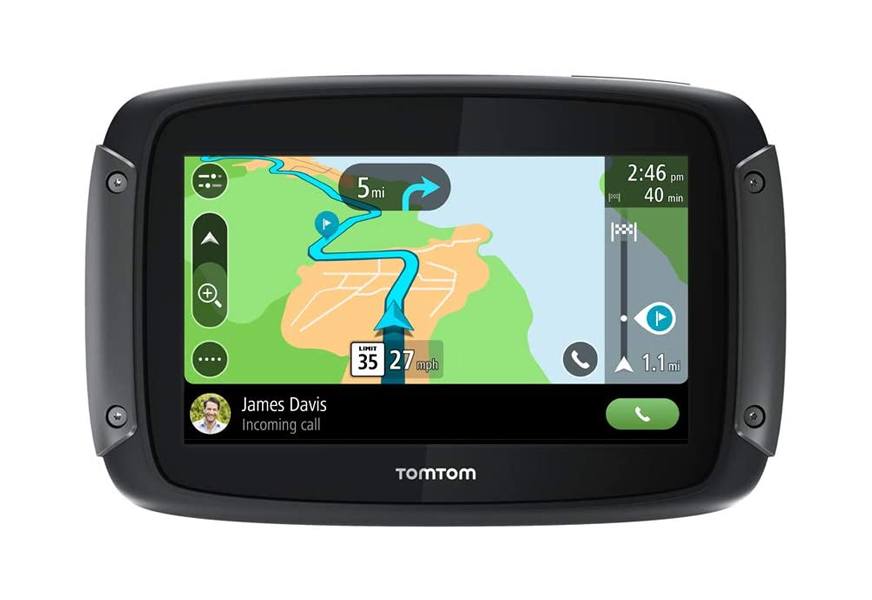 Motorcyclists have influenced the design for the TomTom Rider GPS For Motorcycle. The preloaded maps include plenty of excellent routes filled with great corners, hills, and thrills for the adventurous motorcyclists. And it automatically updates while you ride to give you maps, safety alerts, traffic information, and more.
The quad-core processor can run multiple commands simultaneously to double the processing speed and allow for faster start-up. The device is ipx7-certified weatherproof and features a 4.3-inch high-contrast sunproof, motorcycle glove-friendly touchscreen, perfect for all-weather riding. What's more, the specialized RAM mount will keep your GPS securely in place, protected from drops, bumps, and vibrations.
Key Features:
4.3″ ultra-bright, sunlight-readable display
Includes preloaded US maps with motorcycle-specific routes (find the best corners, hills, and more for a fun ride)
Quad-core processor ensures fast operation and start-up
Ipx7-certified weatherproof
Includes maps, safety camera alerts, and other live services updating as you ride
Specification:
Brand

Tom Tom

Model

1GF0.047.00

Weight

9.9 Ounces
Solid mounting system
Good search and routing capabilities
Fast operating system
Motorcycle-specific fun routes
Glove-friendly touch screen a little too responsive
Complicated to get used to with lots of features
Garmin Zumo 396LMT-S GPS For Motorcycle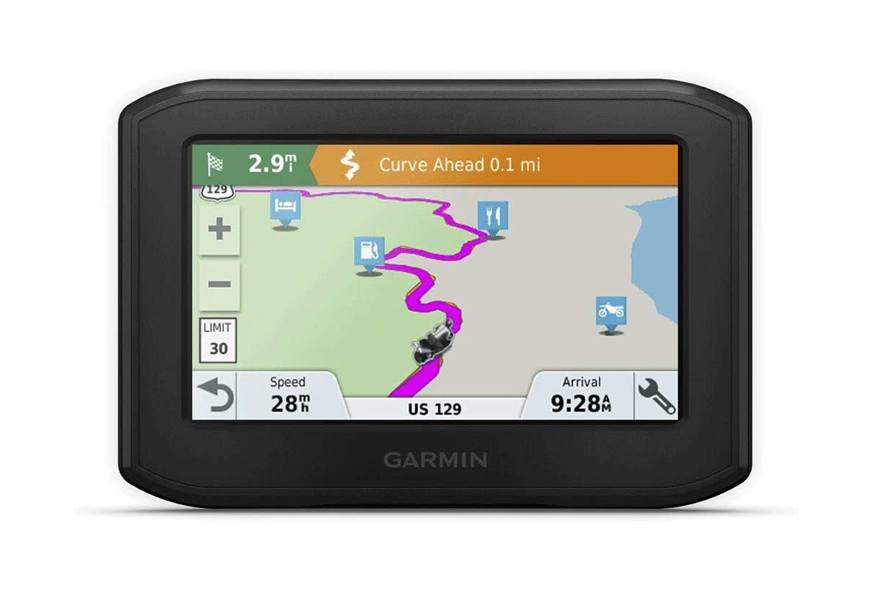 Garmin Zumo 396LMT-S GPS For Motorcycle is ready to make your life on the road convenient. The rugged, sunlight-readable, glove-friendly touchscreen display is ready for action even in harsh conditions with resistance to fuel vapors, UV rays, rain, wind, or pretty much anything else you can throw at it. The Garmin Zumo features built-in WiFi capability for software and map updates. The Zumo comes with preloaded maps of North America that include a lifetime of free updates. You also have access to free live services, including traffic and weather updates, when connected to your smartphone.
This GPS for motorcycles also comes equipped with intelligent safety features, including auto-sending a text to a predetermined contact should an accident occur.
If a bicycle is your ride of choice, check out our list of the best cycling GPS units.
Key Features:
Sunlight-readable 4.3″ display is fully resistant to fuel vapors, UV rays, and harsh weather
Pair with the Smartphone Link App for free live services including traffic and weather
Comes with preloaded maps of North America with lifetime updates
Bundle includes the GPS unit, hard EVA case with a zipper, MicroSD HC 16GB with an SD adapter, and a universal screen cleaner
Incorporates a built-in WiFi to update maps, POIs, and software on the go
Specification:
Brand

Garmin

Weight

4.61 Pounds
Really easy route planning
Glove-friendly touchscreen works well
Easy-to-read display
Need to actively select to avoid dirt roads if you don't have a track bike
Battery not great if not wired in
TomTom Go Comfort GPS For Motorcycle
Despite being surprisingly affordable, TomTom Go Comfort GPS For Motorcycle is one of the best we've found. Featuring ingenious time-saving traffic congestion information and rerouting, reliable ETAs, real-time updates, and safety camera alerts, this system makes any trip more convenient than ever before. The unit updates are entirely free of charge to ensure you always have the most relevant information with built-in WiFi capability.
We particularly like the idea of Road Trips by TomTom, which is packed full of exciting journeys that allow you to enjoy the ride and the destination. What's more, you can avoid any unnecessary distractions while riding with smartphone messages read out load by the TomTom.
If you need a similar device for your car, too, here are some car GPS navigation systems that have proven to be reliable.
Key Features:
Integrates with your smartphone to read out messages
Built-in WiFi allows for wireless software and system updates
Features live alerts including traffic and weather, with the ability to re-route to avoid congestion on the go
Reliable ETAS based on all available information
Comes with free 3-month safety camera alerts for things like speed limits
Specification:
Brand

TomTom

Weight

1.1 Pounds
Charges with convenient USB cable (included)
Responsive touchscreen
Easy to set up
Accurate etas
Easy to program routes and save 'favorites.'
Tricky to initially connect to a smartphone
Need to pay for safety camera alerts after the 3-month trial expires
Garmin DriveSmart 61 LMT-S GPS For Motorcycle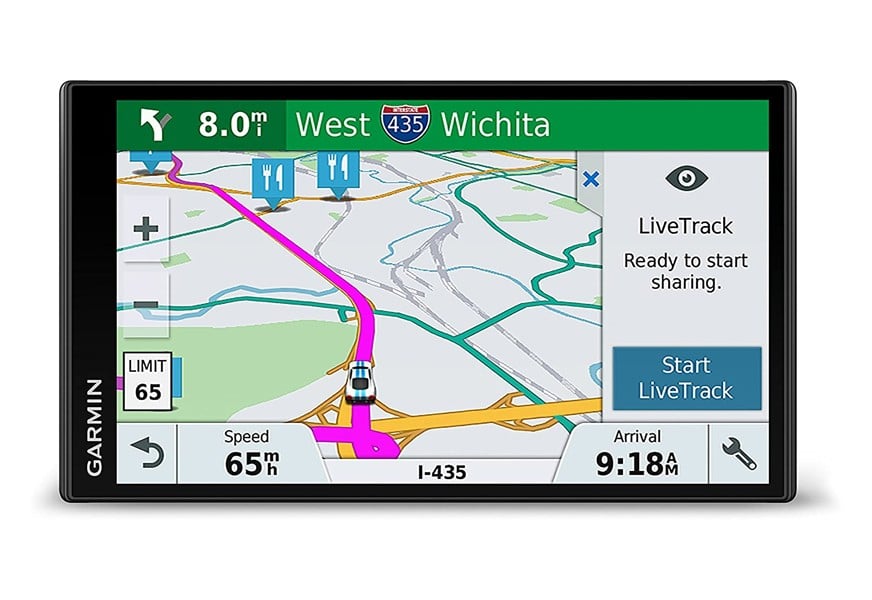 Garmin DriveSmart 61 LMT-S GPS For Motorcycle comes fully equipped with all the features you could want to make your next ride easy. It features detailed maps of North America and lifetime updates plus real-time alerts for everything from traffic to parking when you link the gadget to the free smartphone app!
The bright and crisp 6.95-inch display is easy to read even in bright conditions, and the built-in WiFi capability means the device can update without a computer. The Garmin DriveSmart can be voice-activated and offers Bluetooth calling and smart notifications, among other special features. It's worth noting that the rechargeable lithium-ion battery only offers up to an hour of battery life.
Key Features:
Bright 6.95″ touch display offers a 1024×600-pixel resolution
Includes preloaded maps of North America with lifetime updates
In-built WiFi allows for map and software updates from anywhere
Enjoy real-time services such as traffic and live parking updates when connected to the free app
Also includes Bluetooth calling, smart notifications, and voice-activated navigation
Specification:
Brand

Garmin

Model

010-01681-02

Weight

9.6 ounces
Clear and readable display
Updates are convenient and quick
Easy to organize saved points
Includes Garmin Real Directions
Voice control is usually reliable and accurate
Relatively short battery life for a GPS unit
Real Directions only available in one voice
Garmin Zumo 595LM GPS For Motorcycle
Anyone paying attention might notice we've included a few versions of the Garmin Zumo on our buying guide of the Best GPS for Motorcycle. But there's a good reason! These devices are custom-built for motorcycles with exciting functions that make them an excellent option for anyone planning a 2-wheel tour.
Garmin Zumo 595LM GPS For Motorcycle's 5-inch, dual-orientation touchscreen is readable in bright conditions without taking your gloves off. The rugged and hard-wearing design makes it ideal for harsh weather or off-road adventures.
The Zumo device comes equipped with the famous Garmin Adventurous Routing option to find you the best curvy or hilly roads and limit your time on boring highways. There are rider alerts to notify you of sharp curves, state helmet laws, speed cameras, and more. The Bluetooth connectivity enables hands-free calling, smart notifications, and other handy features.
If you're sailing, don't forget to pick up a dependable marine GPS.
Key Features:
Glove-friendly, sunlight-readable 5″ touchscreen display
Weather-proof and durable design
Includes Garmin Adventurous Routing and Rider Alerts
Bluetooth enabled smart notifications, voice-activated calls, music controls, etc.
Includes lifetime map updates
Specification:
Brand

Garmin

Model

010-01603-00

Weight

14.4 Ounces
Bright screen
User-friendly interface
Improved ability to control music/other Bluetooth functions
Free app for live traffic and weather updates
Useful driver alerts
Includes Garmin Real Directions
Short battery life when not plugged in
Can favor more adventurous routes unless you turn this function off
GPS For Motorcycle Buying Guide & FAQ
Features to Look for in GPS for Motorcycles
Size - While a larger GPS display might be attractive, motorcyclists know every inch of real estate on your vehicle is valuable. Because of this, a large GPS isn't necessarily better for long journeys, and a bulky unit can quickly get in the way, particularly on sharp corners where you need room to lean, and bumps can cause damage to the system.
Interface - There's no point in arguing that you have the best if it's not easy to use! Look for one that features obvious controls and has easy-to-use functions. Remember, the purpose of GPS is to make your life easier, not harder, and an overly complicated unit isn't worth having on your bike.
Robustness - As we all know, motorcycles can take a bit of a beating on long journeys, so anything you attach to your bike needs to be robust enough to deal with the bumps on the road. Don't waste your money on a GPS that's going to fail after a few knocks.
Durability - Similarly, you don't want a GPS you can't rely on, right? Features such as weatherproofing and hard-wearing cases are vital when looking for the best GPS for motorcycles. What's more, a great motorcycle GPS can often come with a relatively high price tag, so you want to be sure you're spending this on one that will last years.
Voice Navigation - A convenient feature that many of the best GPS for motorcycles will include is voice navigation. This feature ensures you don't need to worry about taking off your gloves to use the interface and change your destination or update the maps even while moving. What's more, voice-enabled GPS systems usually come with Bluetooth, so you can connect to your wireless headphones and listen to the instructions being provided by your GPS directly to your helmet.
Preloaded Maps - We would usually expect motorcycle GPS units to come preloaded with maps of the United States, so you can plug in and go without worrying about complicated downloads. That said, the best GPS systems should also offer the ability to download additional maps so you can take your bike anywhere.
Glove-Friendly Touchscreen - In addition to voice controls and an easy interface, when you're looking for the best GPS for your motorcycle, you might want to check out models that offer a touchscreen that doesn't force you to remove your gloves or pull over to use the unit. Either test-drive glove-friendly touchscreens in-store or by checking the reviews online.
Mount - As a motorcyclist, you know that a safe, unintrusive mount is a good mount. Check that your chosen GPS comes with all the necessary hardware to mount the unit to your bike quickly and that the materials used are hard-wearing enough to tolerate life on the road. Most GPS trackers for motorcycles come with a one-size-fits-most universal mount, and you'll find the majority are capable of sitting on the handlebar or the gas tank. There are pros and cons to both locations. It's up to you.
Battery Life - Finally, there's no point in getting a GPS for your motorcycle if the battery dies before you get to your first stop. Look for GPS units offering a substantial battery life and remember that it's unusual for any device to perform quite as well as the manufacturers suggest. It might also be worth keeping an eye out for units that can be wired directly into your bike's battery so that it's up and running the entire journey.
GPS for Motorcycle FAQ
Q: How do GPS for motorcycles work?
A: GPS for motorcycles work in the same way as any other, whether you're comparing your car SatNav or the maps function on your smartphone. Simply put, these systems use satellites orbiting the Earth to pinpoint your position and track your location and route.
Q: How often should I update my motorcycle GPS?
A: Usually, your motorcycle GPS should include automatic updates that will take new data from satellites to produce more relevant information. That said, if you notice your GPS hasn't automatically updated in a while, you might want to do so manually by following the instructions provided by the manufacturer. Updating should be a simple process, so keep that in mind when shopping for yours.
Q: What are the benefits of motorcycle GPS?
A: Generally, people asking this question are trying to decide whether they need GPS trackers for motorcycles specifically, or whether their smartphones will do the same job. Of course, you could use the maps function on your smartphone. Still, we believe it's better to get a GPS for your motorcycle due to these devices' convenience, durability, and dedication to navigation and nothing else. GPS units tend to be more robust and waterproof than a cell phone and have better mounting equipment to keep the device sturdy. What's more, with voice controls and glove-friendly touchscreens, you don't necessarily need to stop to change your route or deal with updates, which is much more convenient on a long journey.
Q: Can I use my smartphone instead of a motorcycle GPS?
A: As mentioned above, using your smartphone instead of a motorcycle-specific GPS does have its downsides. The best GPS for motorcycles will be waterproof, come with really secure and durable mounting systems, offer voice controls, have glove-friendly touchscreens, and be much more robust than a smartphone. All of these perks make long journeys on your bike far more comfortable and convenient.
Sign Up Now
GET THE VERY BEST OF GEARHUNGRY STRAIGHT TO YOUR INBOX