Best Laundry Whiteners in 2022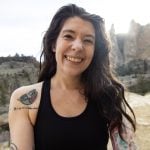 This product guide was written by Tuesday Kirby Kahl
Last Updated
January 7, 2021
Tuesday Kirby Kahl
Tuesday Kirby Kahl is a contributor at Gear Hungry. Her fierce love for the outdoors fuels everything she does. Her professional pursuits include writing, creating art, and photography. These professional passions allow her the time to live life outside as a rock climber, skier, runner, backpacker, paddle boarder, swimmer, and explorer. When Kirby is indoors, she enjoys tea, whisky, old films, cooking, and baking. Her product testing and feedback have shaped the design of everything from climbing shoes to candles.
GearHungry may earn a small commission from affiliate links in this article.
Learn more
Many of us see a cute white piece of clothing in a store and have a massive moment of hesitation before putting it in our cart. Some of us never even let it make it into the cart. Often, the fear of dirtying that white shirt with a simple drop of a beverage, a spilled condiment, or accidental fall into the dirt is far too great. Also, white clothing tends to grey and discolor quickly. We've got good news. Beyond bleach, there are lots of laundry whitener options on the market, including natural laundry whiteners too. We've found these laundry whiteners through our research, and we have no doubt they will make you want to rock those white pants after Labor Day. Check out our list of the best laundry whiteners.
The Best Laundry Whitener
OUT White Brite Laundry Whitener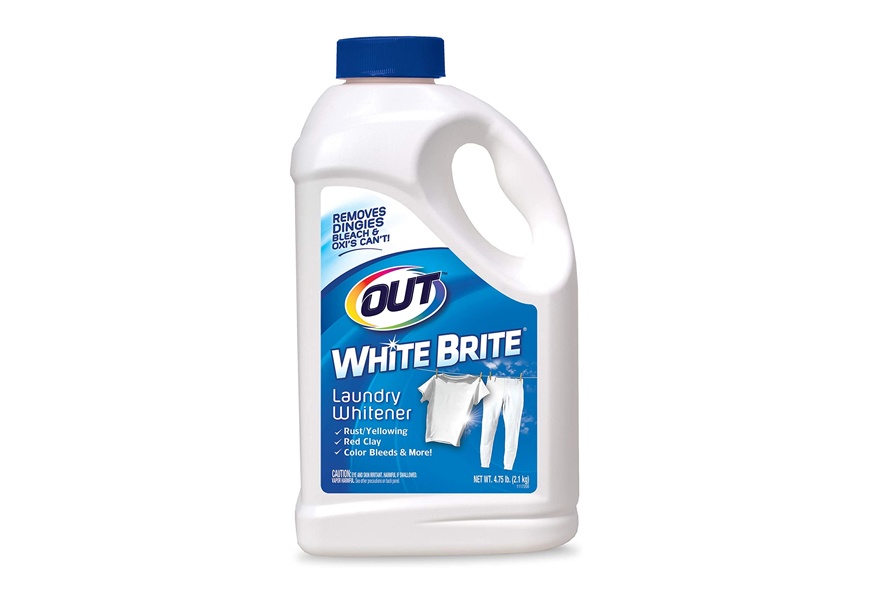 Our favorite and best choice laundry whitener is the OUT White Brite Laundry Whitener. This liquid option isn't as eco-friendly as some of the other options on our list, but it is powerful enough to take the top spot. This product is safe for all white and colorfast fabrics. This product boasts that it can cut through the yellowing of clothing from iron in water and other impurities, reverse color bleeds and remove red clay stains. That's some serious power. 
This whitener can also be used as a pre-soak but is generally for laundry only. It's got one job, and it does it well, just like these reliable laundry pods from our list.
The Laundress Laundry Whitener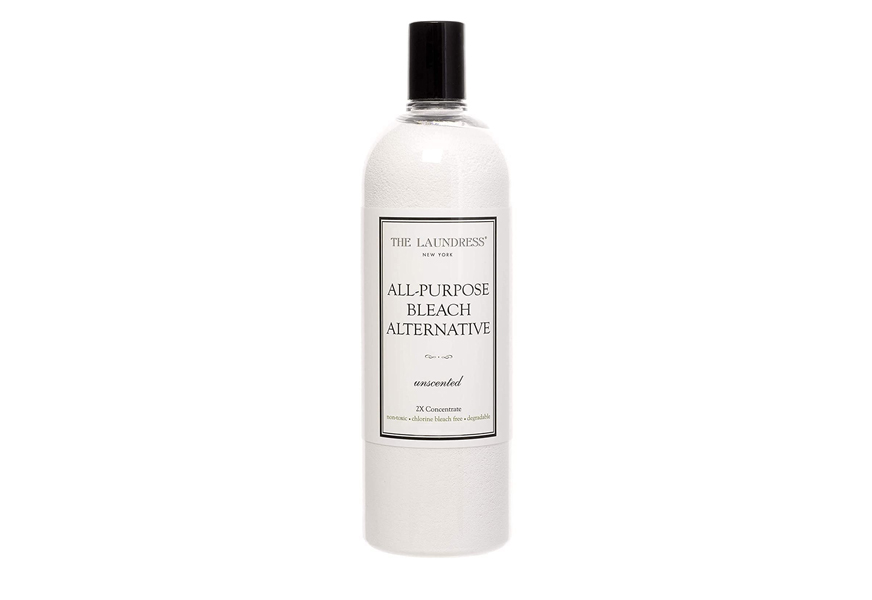 A bottle so elegant looking, you might forget we're talking about laundry whiteners. The Laundress Laundry Whitener packs as much in function as it does in form. If you're tired of those heinous bleach fumes and want a non-toxic, biodegradable, chlorine-free alternative, this is an excellent product for you. The Laundress is a gentle, color-safe bleach alternative that whitens and brightens clothing. Like most products on our list, you can't use this one with silk or wool; those materials require extra care. 
This lovely bottle works out to an impressive 14 cents per load. The Laundress goes beyond laundry, though. You can dilute this product in water and use it as a household cleaner for all areas of your home, just like an all-purpose cleaning spray. Talk about versatility. Purchasing the Laundress means fewer bottles of cleaning products clogging up your laundry room and cabinets. If you're ready to simplify your cleaning products or you just want the best-looking bottle on this list, The Laundress is the right choice for your home. 
Cleanex Bleach Tablet Laundry Whitener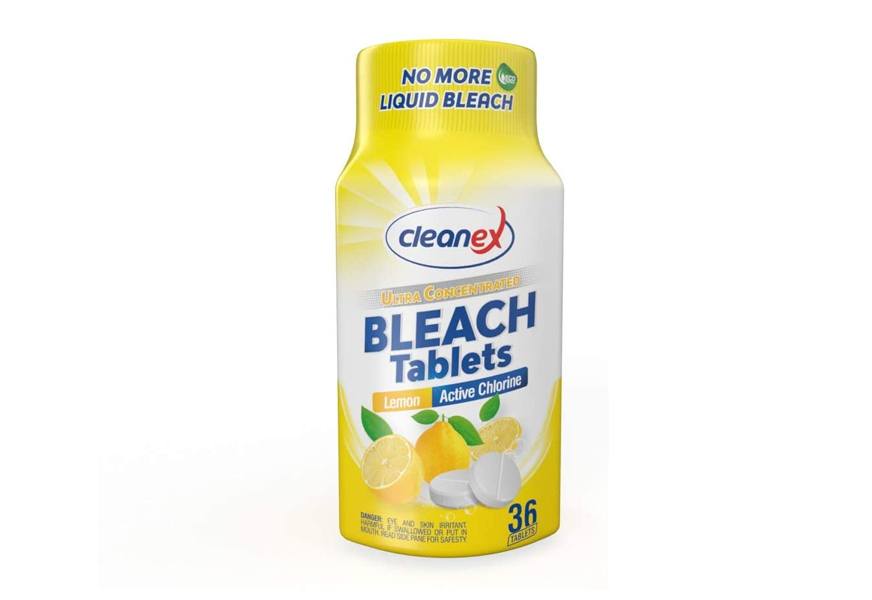 The power of your favorite bleach, but concentrated. The Cleanex Bleach Tablet Laundry Whitener has a longer shelf life than ordinary bleach and provides the same whitening power in an easy to use a tablet. There's no fear of potential spills or leaks like there is with regular liquid bleach. These tablets are easy to use; just pop one in with your clothing, and boom! You're good to go. 
These bleach tablets have safety and the environment in mind. The small bottle features a childproof cap, so if the fresh lemon scent tempts your toddler, they still won't be able to munch down one of these tablets. The tablet form reduces water usage and waste, and the bottle itself is 100% recyclable. There is chlorine in these tablets, so they are not ideal for people avoiding harsh chemicals. Here are some handy laundry baskets you can't go wrong with. Take a moment to check them out.
OxiClean White Revive Laundry Whitener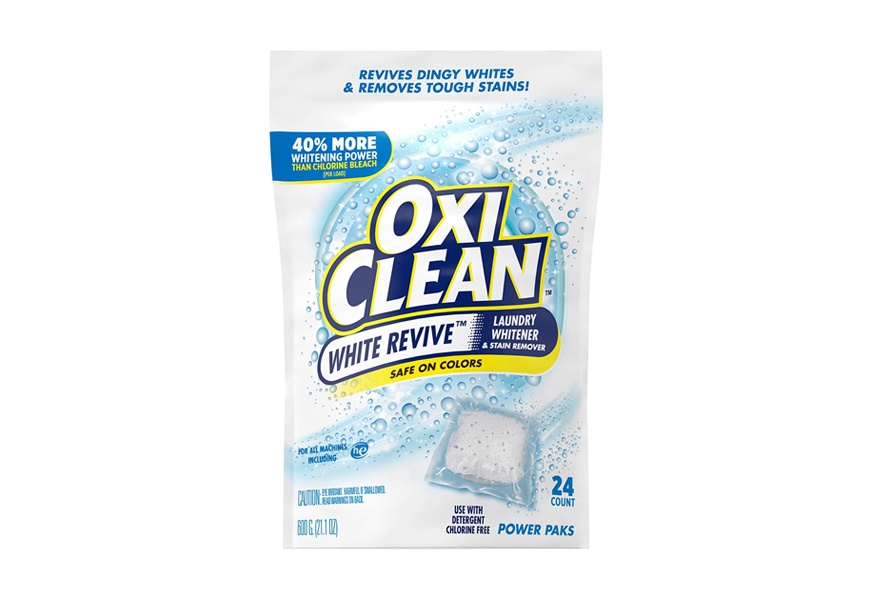 The OxiClean White Revive Laundry Whitener has made its way into the reviews of one of the most well-known names in homemaking, Martha Stewart. OxiClean is a brand well-regarded in the world of cleanliness and cleaning products, and White Revive lives up to the hype. A 24-pack of these powerful pods works out to about 33 cents per load. It's a little more expensive per load than some other options on our list, but only by a hair; we're talking pennies here. 
These easy to use pods boast that they have 40 percent more whitening power than chlorine bleach, and that's quite the statement. It is recommended that you pre-soak any stained fabrics or those that need a little more TLC for the best results. Some products on our list are versatile and have many uses around the home; this is not one of those products. These were made for brightening colors, kicking stains to the curb, and producing the brightest whites you've ever seen. Our guide on the best laundry hampers offers more useful products for your home. Don't miss them.
AMAZE! Bleach Tablet Laundry Whitener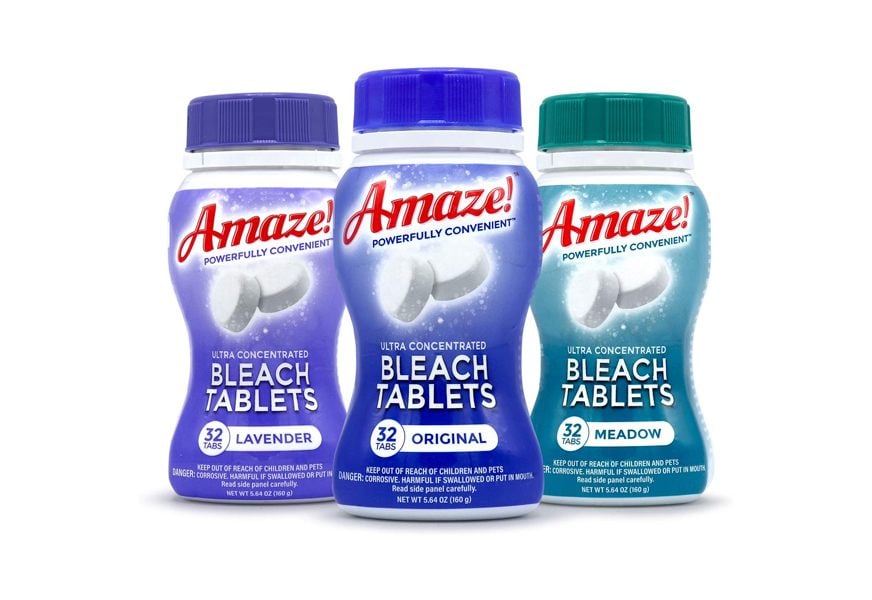 Who doesn't love a fresh lavender scent to your warm laundry, straight out of the dryer? It's a favorite of this writer, and if it's yours too, you will love the AMAZE! Bleach Tablet Laundry Whitener. This is a case of six bottles, so if you're in love with lavender, this is an excellent choice for you. These tablets are mostly for laundry, but you can use them in various ways to clean other areas of your home. You can dissolve a tab in hot water for mopping, drop one in the toilet to dissolve that annoying ring, dissolve into water as a disinfectant or just pop one to two into your next load of laundry for brighter, whiter clothing. 
You can add them to up to 192 loads of laundry. The compact and lightweight packaging means you don't have to worry about lugging around massive jugs, and the tablet form is eco-friendly by reducing water waste. Even though this is a pack of six, your laundry room shelf shouldn't get too cluttered because of the bottle's small size, and because it's versatile, you can put a container in your bathroom, under the kitchen sink, or wherever you store your cleaning supplies.
Clorox Ultra Germicidal Laundry Whitener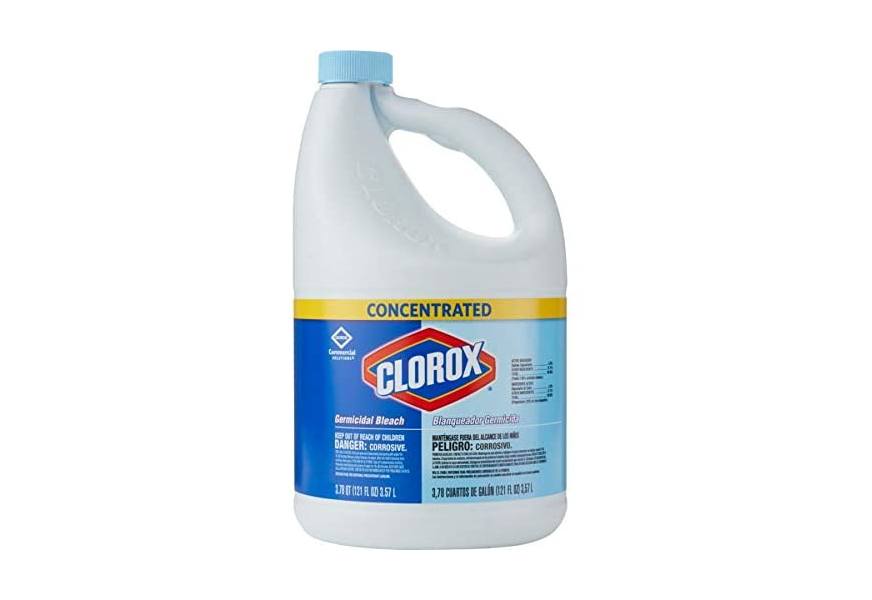 Clorox is now synonymous with clean. Clorox has become such a household name because of the consistent cleaning power behind the brand. Clorox products don't disappoint, and neither will the Clorox Ultra Germicidal Laundry Whitener. This three-pack of 8.5% bleach is registered with the EPA to kill 39 different organisms, including seasonal flu, norovirus, and more. 
This bleach is strong and potentially not ideal for those who avoid harsh chemicals. If you're ready and raring to brighten those whites and get tough on stains, this product is an excellent choice for you. It is a good idea to do some spot tests before adding it to your laundry. If you use a dryer and wish to save money on electricity and reduce drying time, be sure to invest in these top wool dryer balls from our list.
Molly's Suds Natural Laundry Whitener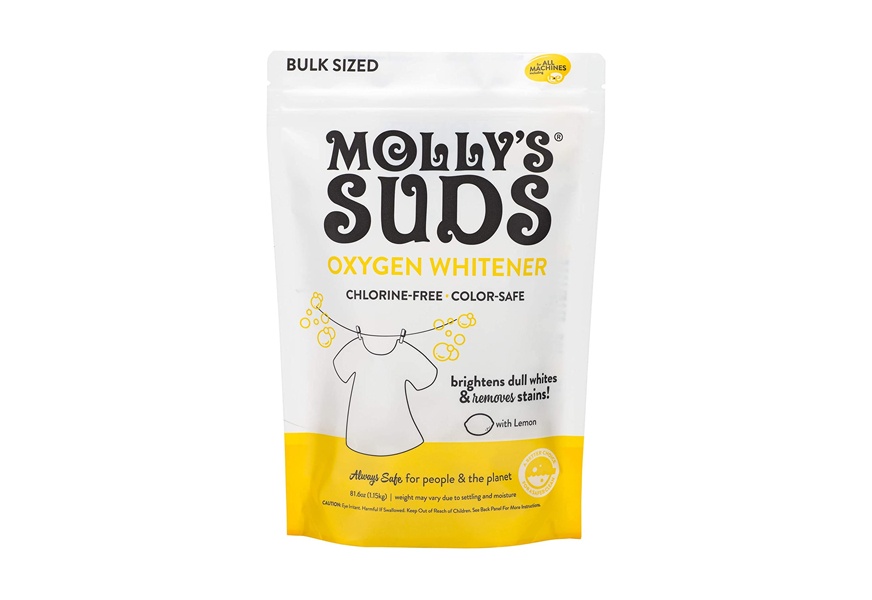 The next lemon-fresh laundry whitener product on our list is Molly's Suds Natural Laundry Whitener. While this product packs powerful chlorine and bleach-free punch in the laundry room, it also has many uses in the rest of your home. Molly's Suds can act as a stain remover, a pre-soak, and is usable on surfaces like toilets, sinks, and bathtubs. This product tackles grime almost anywhere you take it and leaves behind a fresh, clean lemon scent. 
This whitening powder comes with a classy yellow scoop for easy handling and no guesswork for appropriate measurement. If you want a product that reduces water waste, is sourced responsibly, and is made of plant-derived ingredients for your entire home, Molly's Suds are the answer to your woes. 
Grab Green Natural Laundry Whitener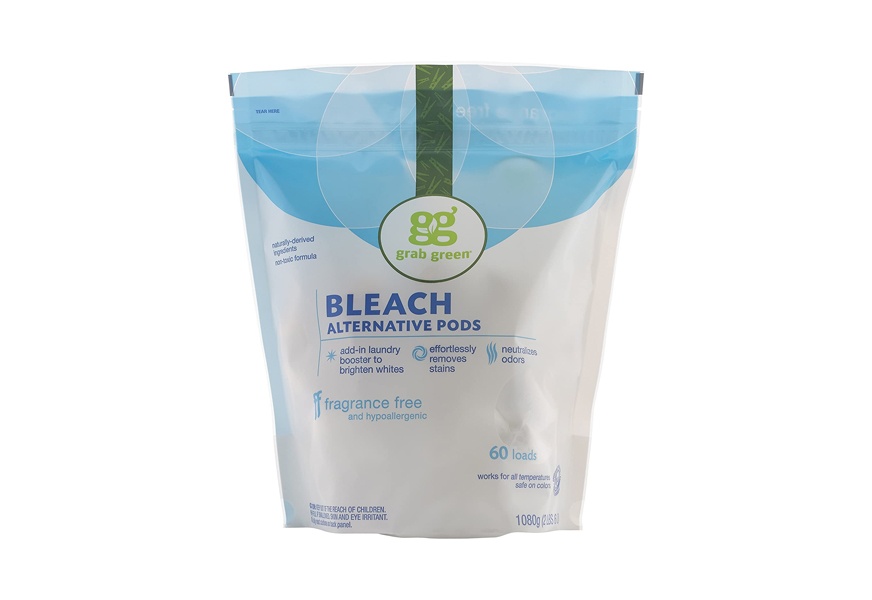 This one is for eco-friendly households. The Grab Green Natural Laundry Whitener is an eco-friendly alternative for the family that wants to keep their household products natural and keep bleach out of the laundry equation. These pods don't have chlorine, phosphates, optical whiteners, or dyes. Mineral and plant-based ingredients are all you're going to find in these powerful laundry whitening pods. 
For those extra stubborn stains, you can pop one of these pods in the sink with water and give your clothing a nice pre-soak. Otherwise, throw one of these pods into your laundry, either colors or whites, and start it up! You can find a 60-pack of these bleach alternative pods on Amazon for a good price. If you're looking for bright laundry without the harsh chemicals or messy spills, the Grab Green Natural Bleach Alternative Pods are the choice for you. For more products to help you keep your clothes in perfect shape, check out our guide on the most popular steam irons.
Nellie's Oxygen Laundry Whitener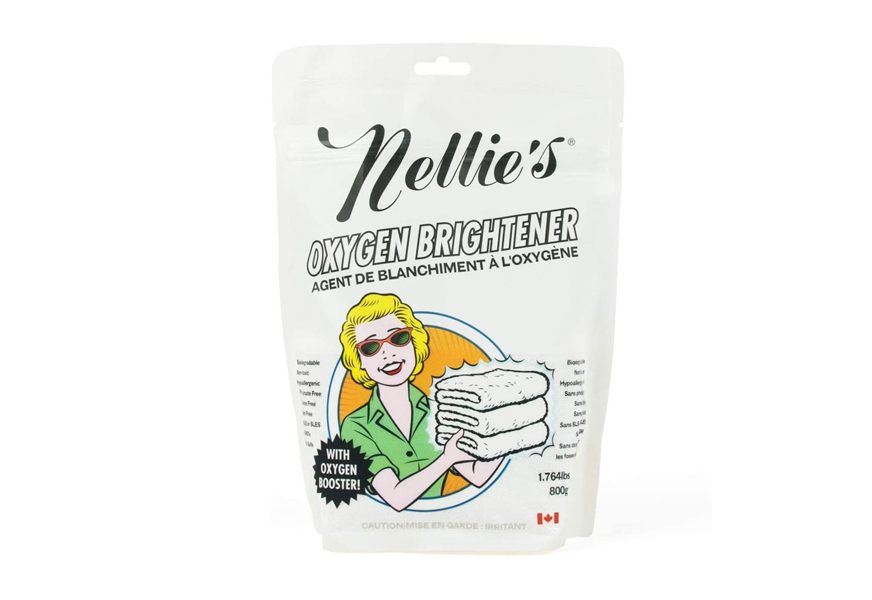 You met Molly, but have you met Nellie? Nellie's Oxygen Laundry Whitener is a powerful powdered whitener. Nellie's was inspired by, you guessed it, Nellie! Nellie believed in simplicity, which is how this brightener came to life. By reducing water content, you get a more powerful product that can be used in smaller amounts, creating less waste and saving space on your laundry room shelf. Nellie's is also chlorine-free, hypoallergenic, and biodegradable, making this an excellent eco-friendly product. This one is also easy on the wallet.
Nellie's Brightener Powder is suitable for machine washing, pre-soaking, and hand-washing. This all-around product tackles the toughest of stains and produces results, no matter how you wash your clothing. You can even use Nellie's on stains and carpets instead of a carpet cleaner solution. It's incredibly versatile. This product is not safe for use on leather, silk, and wool and should also not be used on paints, wood, jewelry, or latex. Overall, this product is an excellent choice for all homes, especially those focusing on being environmentally friendly; if you're ready to bring Nellie home, head on over to Amazon to pick yours up.
Laundry Whitener FAQ
Q: How do laundry whiteners work?
A: Laundry whiteners are products that come in multiple forms and are added to laundry to brighten colors, especially white clothing. These products are deep cleaning and help remove any residual layers of dirt, dust, and grime that may be discoloring your clothing. Laundry whiteners can come in heavy chemicals like bleach or more natural alternatives like white vinegar and everything in between.
Q: How do I make my laundry whiter?
A: There are many ways to make laundry whiter. The first step is to always group like colors in the washer. Washing your whites with other colors is a quick way to change their hue. Next, be sure to dry your clothing on low heat. If you need some extra help with stubborn clothing, you can add a laundry whitening product like one of the ones below. There are also other products such as lemon juice, white vinegar, borax, or baking soda. These are all items you may already have lying around the house!
Q: What can I use instead of bleach to whiten clothes?
A: Many laundry whitening products do not include bleach; we've got quite a few in our list below. If you'd like to stick to something more natural or something you may have at home, you can try the following options for laundry whitening.
Hydrogen peroxide and Dawn can make a powerful compound that can be rubbed on collars and underarms to help remove discoloration. You can also add half a cup of borax, white vinegar, lemon juice, or baking soda to your laundry to help brighten and soften fabrics. Be sure only to use these one at a time, don't mix them. Half a cup is a good rule of thumb, but you may need to make adjustments based on the size of your load of laundry.
Q: Does baking soda whiten clothes?
A: Baking soda is a bleach alternative for whitening clothes. You can add baking soda to a load of laundry to whiten, brighten, and soften clothing. If you have smaller, stubborn stains, you can also make a paste with baking soda and water and apply it directly to the stain. Baking soda is generally safe to use with all colors of clothing and won't bleach clothing.
Sign Up Now
GET THE VERY BEST OF GEARHUNGRY STRAIGHT TO YOUR INBOX