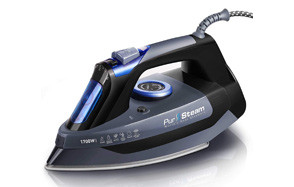 PurSteam World's Best Steamers Steam Iron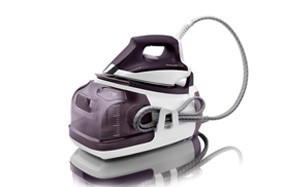 Rowenta Perfect Eco Energy Station Steam Iron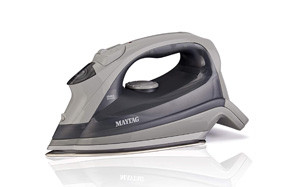 Maytag Speed Heat Steam Iron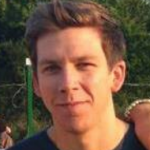 If ironing your clothes gets you as excited as your boss calling you in at work on your day off, then know that the best steam iron can make this task more enjoyable. But when household chores are not exactly your strongest point, picking the right appliance could be confusing.
Should you go for a traditional steam iron or a steam generator iron? What's the difference between the two, and which will get your laundry pile in the best shape faster?
Do you need variable temperature or should you aim for a one-temperature-fits-all approach?
Finding a dream iron – perhaps one that does ironing all by itself – is often impossible, so the best way to find the right one for you is to choose your priorities and go from there. To help you out, we've put together this list of steam irons most users swear by. Check them out below!
The Best Steam Iron
Steam Iron Buying Guide & FAQ
How We Chose Our Selection Of Steam Irons
Let's be honest for a bit and admit that we, guys, are not exactly masters of ironing. This is more of a ladies' chore. That's why, when the time comes to press your own shirts, you must be sure the iron you get makes your job easier. We know how important it is to have a reliable steam iron by your side, that's why we focused our choice on the criteria below.
Brand – a brand is not always a guarantee for the quality, but chances are a big name will produce reliable appliances. As a good starting point in making our selection, we decided to focus on the most popular home appliances brands.
Reviews – with dozens of brands out there, we had to find a way to narrow down our circle. After deciding which brands to focus on, we weighted in consumer reviews. Reviews have always helped us make a rough list of the products we want to test, and things were no different with steam irons. They even helped us get an impression of the brands before actually trying them.
Price – defining affordable and expensive is a tricky task. Most people only think of the upfront cost, but a poor choice can make you spend much more in the long run. All steam irons that have made it to our list bring excellent value for money and have fair prices for their quality.
Quality – lastly, we considered the quality of the product. To assess quality, we considered both performance and longevity. All steam irons featured in this article have the capacity to remove wrinkles from all fabrics quickly and easily, and they all come from brands renowned for the longevity of their products.

Features To Look For In Steam Irons
Buying a steam iron can seem more complicated than it is. Once you know what features to look for though, the game gets easy. Here are the most important things you should consider before buying.
Wattage – although more watts don't necessarily mean a better iron, there are quite a few things you should consider about this number. First, you must understand that higher wattage means higher power generation. The soleplate will heat up quicker and will stay hot for longer. This also means a higher capacity for producing hot steam.
But this doesn't mean that you need an iron with over 1,800 watts. For home use, more than that would mean a hefty electricity bill, especially if you iron your clothes frequently.
Less than 1,000 watts could also have a negative impact on your electricity bill because the iron will not have enough power to keep the soleplate hot for more than a few minutes. Due to this issue, the appliance will have to keep running for longer.
Steam output – another important thing to check is the steam output. Smaller irons may not have the continuous steam capability, but you'll still want to aim for one that can output at least 30 g/min of steam.
Output aside, you might also want to check how the unit releases the steam. Some irons will ask you to keep a button pressed to release the steam. Others may have a lever that allows you to choose between dry or steam ironing.
If you're known to iron quite a lot of clothes, opt for a steam generator able to provide a continuous output.
Also, check the iron's capability to steam vertically; this feature is particularly useful if you want to remove wrinkles on hanging clothes.
Self-cleaning – while some steam irons may work with distilled water, many of the models on the market only work with tap water. Tap water may be hard, and it can scale on the steam vents over time. An iron with self-cleaning features can help keep the vents clean for longer, boosting performance.
Anti-calcium–another feature that helps keep your iron in good conditions for longer. The anti-calcium mechanism traps scale-forming minerals so you can remove and clean your iron easily, prolonging the unit's life.
Water tank size – the size of the water tank can make or break the deal, especially if you have to iron large piles of laundry at a time. If the tank is too small, you'll most likely have to interrupt ironing and refill the reservoir. Some of the best steam irons though can hold sufficient water for over an hour of continuous ironing.
Auto-off – if you don't want distractions to catch you by surprise, get a steam iron with automatic shutoff function. Most models come with 3-way shutoff function that usually turns off the iron in 30 seconds if positioned horizontally and in a few minutes if positioned vertically on the ironing board.
Soleplates–the part that comes in contact with your fabrics and ultimately determines the performance of the iron is the soleplate. The vast majority are made from stainless steel, although some models are either ceramic or titanium-plated. While stainless steel is harder to keep clean, ceramic and titanium coatings may wear off in time and are more prone to scratches.
Controls – last but not least, also check the controls. The best steam irons let you adjust both the temperature and steam level, although some units may come with a fixed temperature setting. All models included on our list come with both temperature and steam controls. When picking the iron, make sure they are located within easy reach and allow for ergonomic handling of the appliance.

Types Of Steam Irons
Another important thing to check before buying is the type of steam iron you need. Your choices are basically reduced to either corded or cordless.
Corded steam irons – draw energy from a standard wall outlet and represent the vast majority of irons on the market. These models are powerful and reliable, but you'll only be able to use them at home or, anyway, in the proximity of a power source.
Cordless steam irons – come equipped with a battery and can be used anywhere as long as the battery is charged. These irons are usually heavier due to the presence of the battery and depending on the size of the laundry pile; you might have to recharge them while you're in the middle of your work.
Steam Iron FAQ
Q: How do you clean a steam iron?
A: No matter what the manufacturers claim, your steam iron will probably need cleaning sooner or later. To clean the soleplates, slightly warm the iron and wipe over with a damp soft cloth. If there is build-up grime on your plates, rub a small amount of white toothpaste on the soleplate, then rinse with a clean damp cloth.
If the iron has an auto-cleaning feature, follow the manufacturer's maintenance instructions.
Clogged steam vents are easy to clean with cotton buds soaked in vinegar. To avoid the build-up of scale in your iron, drain the leftover water in the tank as soon as you're through with your chore.