Best Laundry Hampers in 2022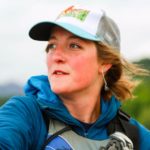 This product guide was written by Josette Deschambeault
Last Updated
October 13, 2020
Josette Deschambeault
Josette is a professional outdoor guide who lives and works in Southeast Alaska, Colorado, and Maine. When she's not rafting, hiking, skiing, or camping with her dog, she writes and edits for multiple outdoor and lifestyle publications.
GearHungry may earn a small commission from affiliate links in this article.
Learn more
No one wants their dirty clothes lying all over their floors, stinking up their room. No one wants dirty towels all over the bathroom or dirty dish rags all around the kitchen. Where can you store these dirty laundry items until it's time to run your next load of laundry? A waterproof, mildew-proof, stylish new laundry hamper.
Laundry hampers are designed to hide your dirty clothing from plain sight, as well as provide airflow to reduce bad odors and mildew from growing. These laundry hampers can add a touch of flair to your room while simultaneously helping you transport your laundry to the wash, especially with features like wheels and oversized handles. With such a large variety of clothes hampers to choose from, how will you find the best laundry hamper for you? We took the liberty of researching the best and most popular laundry hampers available so you can spend more time enjoying clean laundry and less time shopping.
The Best Laundry Hamper
Simple Houseware Double Laundry Hamper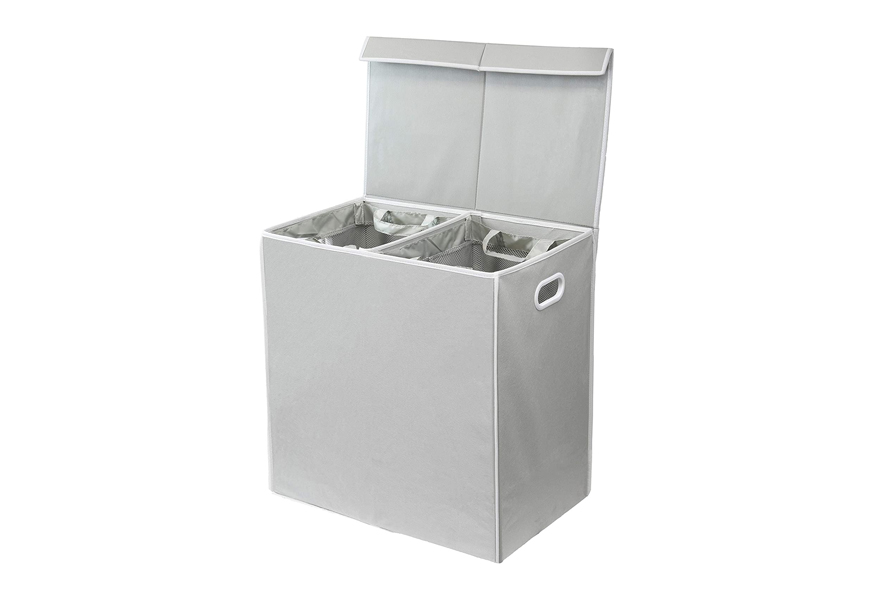 Simple Houseware Double Laundry Hamper gives you the best of all worlds. Separated hampers allow you to distinguish between light and dark laundry, you and your partner's laundry, or clothes and bedding. The integrated lid will keep a lid on stinky smells and make sure the room stays neat and tidy. What we love most are the removable laundry bags. These mesh bags allow you to easily remove your laundry from the sturdy laundry hamper and cart them off to the wash. When it's washing, simply replace the bag in the hamper and start collecting again. With multiple colorways to choose from, you can find a hamper to match any home decor scheme.
To keep your clothes enviably clean and fresh, check out our selection of the best laundry pods and pick your favorite.
Key Features:
Laundry hamper with attached lid
Keeps smells contained
Partition for sorting washing
Internal removable mesh bags
Fits in small spaces
Lightweight and easy to transport
Specification:
Brand

Simple Houseware

Model

BO-039-1

Weight

5.94 Pounds
Caroeas Triple Laundry Hamper
Three separate sections in a rolling laundry hamper? Sign us up. A sturdy, waterproof hamper holds sections for three or two different types of laundry. The wheels can lock to keep everything secure and in place. What really sets Caroeas Triple Laundry Hamper apart are the card pockets on the front of the hamper. Six cards include laundry instructions for different laundry styles, including what water temperature each type should be washed in. You can mix and match laundry cards to make sure no one ever washes your linen pants the wrong way again. It's easily assembled and easily portable, especially with detachable leather handles to help pull the hamper along. The only things we don't love about this hamper are its lack of a lid and its inability to pick up and carry each individual section of laundry. However, if you want a hamper that will wheel all of your family's laundry to the washing machine, this is the hamper for you. 
If you are looking for more products to keep your clothes looking perfect, check out our guide to the best steam irons.
Key Features:
3 separated internal bags
6 cards for classification
Breathable mesh cover
Detachable leather handle
Easy to assemble & washable
4 rolling wheels for easy portability
Specification:
Brand

Caroeas

Model

CLB012-CP3

Weight

3.98 Pounds
Handy Laundry Mesh Popup Laundry Hamper
While Handy Laundry Mesh Popup Laundry Hamper may be the classic college laundry hamper, we say, don't knock a classic. These budget laundry hamper options may be cheap, but they're also effective. These laundry hampers use a very flexible frame and mesh covering to store easily, making them especially useful for travelers or extra storage. The mesh allows for airflow through your clothing, helping eliminate concentrated aromas and mildewed laundry. When you're not using it, twist and fold the hamper into a circle. When you're ready to move your laundry, grab the fabric handles, and away you go. While it's not the fanciest option on our list, this is a great laundry hamper for an extra hand or a tight budget.
You may also be interested in some of the best laundry whiteners from our list. Check them out.
Key Features:
Pack of 2 mesh hampers
Collapsible for easy transport
Sturdy mesh construction
Lightweight flexible frame stores flat
2 durable handles for carrying
Ideal for home, travel or dorm rooms
Specification:
Brand

Handy Laundry

Model

5453

Weight

13.4 Ounces
Lifewit Freestanding Laundry Hamper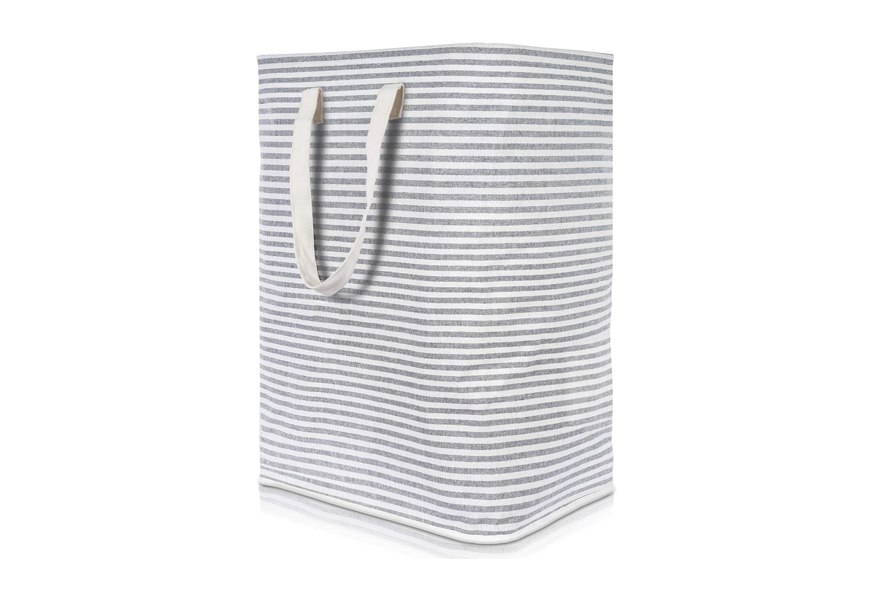 If you're looking for a fashion piece to hold your laundry, this beautiful striped, Lifewit Freestanding Laundry Hamper, à la Paris, is ready and willing. The Lifewit collapsible laundry hamper holds up to 71 liters of laundry, perfect for the whole family or several weeks of piled up clothing. The flexible and freestanding iron-wire design holds sturdy, whether full or empty, while the thick terylene cotton and PE waterproof coating keep stored items dry in rainy transports. When you're ready for transport, lift the hamper by its large, extended handles with one hand easily. This ergonomic design allows you to carry two laundry hampers with ease, which comes in handy if you're walking down the block to the laundromat. When it's not in use, you can easily collapse the hamper to store away until the next load is ready. There are two colors of stripes available, as well as a 100-liter option.
For more must-have products for your household, be sure to read our comprehensive guide to the top ironing boards.
Key Features:
Large 72L collapsible hamper
Easy carry extended handles
Made from terylene cotton
Interior with PE waterproof coating
Iron wire frame
Ideal for laundry, toys & more
Specification:
Brand

Lifewit

Model

LFLF230066GY

Weight

1.12 Pounds
Mind Reader Laundry Hamper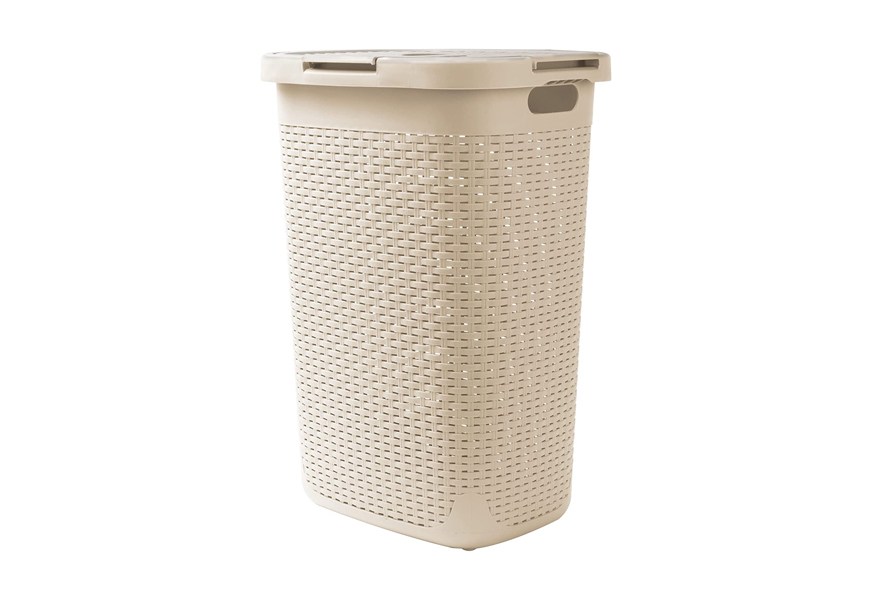 An interlocking wicker design not only adds a fashionable aesthetic to your room, but it also provides both airflow and sturdiness to the hamper's design. Mind Reader Laundry Hamper uses cutout handles for easy transport and an attached lid to keep dirty laundry out of sight and out of your nostrils. We love this laundry hamper because of its 60-liter capacity, which is large enough to tackle a family's laundry. It also doubles as a great storage option for extra toys, linens, or odds and ends. This laundry hamper is made from lightweight but strong plastic for durability that can withstand even those wild toddlers. This sleek, slim laundry hamper will add a touch of class to any laundry room.
Don't forget to check out some of these excellent clothes drying racks from our list you can't go wrong with.
Key Features:
60-liter capacity laundry hamper
Durable & strong high-quality plastic
Designed with interlocking wicker
Improved ventilation prevents odor build-up
Convenient cut out handles
Slim and sleek dimensions
Specification:
Brand

Mind Reader

Model

60HAMP-IVO

Weight

4.1 Pounds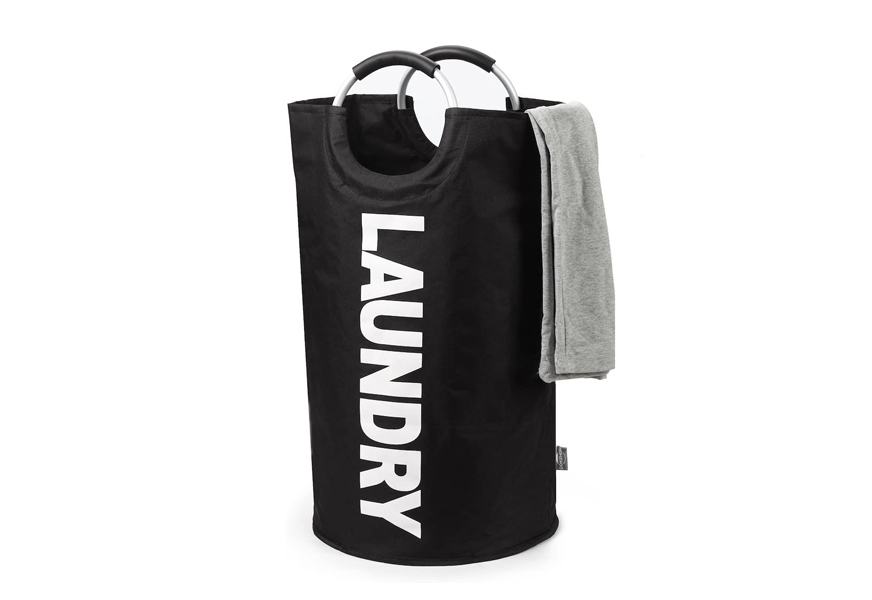 Going for a gym aficionado look? Dokehom gets it. DOKEHOM Laundry Hamper's double-layer, 600 denier fabric with waterproof PE coating will hold your smelliest, sweatiest, and heaviest workout clothes with ease. Large circular aluminum handles use soft grips to make transporting your laundry from home to laundromat to dryer insanely easy. These laundry carriers are easily collapsed and stored when not in use or double as a toy holder when the laundry's all done. This is also one of the cheapest laundry hamper options on our list, making it a budget lover's dream. Choose from a variety of colors to match your room's decor.
Key Features:
Waterproof, 600 denier material
15 x 15 x 28 inches
Round aluminum handles with soft grip
Collapsible
Specification:
Brand

DOKEHOM

Model

DKA0001BK2

Weight

10.6 Ounces
Caroeas Slim Laundry Hamper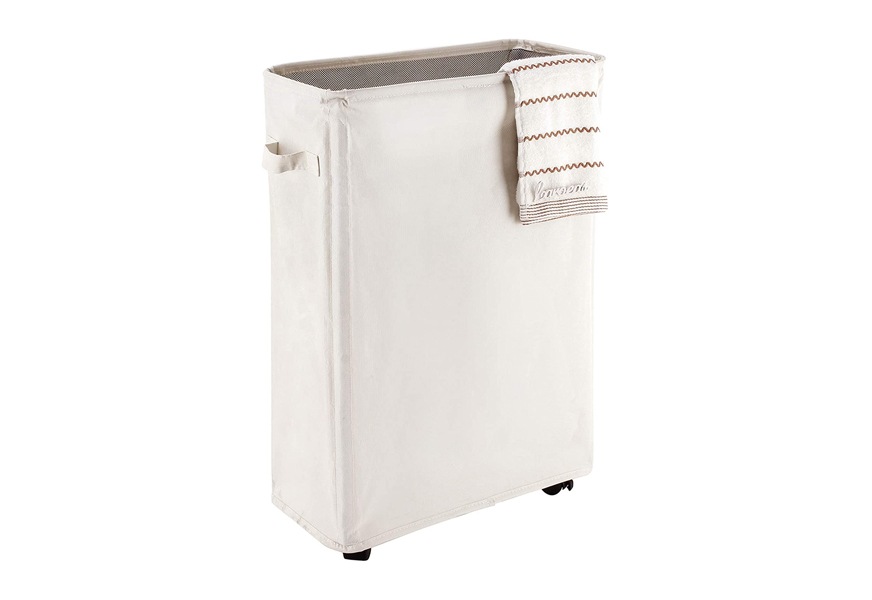 If you're looking for a slim laundry hamper option that rolls and cinches to hold in your dirty laundry, Caroeas Slim Laundry Hamper is a great option for you. This laundry is perfect for small areas or small apartments in general but doesn't skimp on the added features. The wheels will lock for secure stability, and the fabric handles make it easy to pull or carry the hamper to the laundry room. The hamper fabric is made from waterproof PE material to keep your laundry from turning moldy. A drawstring mesh cover keeps clothes inside during transport or when laundry day is just overdue. A card slot on the exterior lets you keep track of what laundry you're storing, so there are no mixups with your roommates. This laundry hamper weighs less than a pound and a half, so there's no straining yourself with already-heavy laundry accessories.
You may also like some of the best steam presses from our list, so take a moment to check them out.
Key Features:
15.4 × 7.8 × 22 inches
Includes wheels with brake
Waterproof cover
Drawstring mesh cover
Notecard pocket
Specification:
Brand

Caroeas

Model

CLB012-W5

Weight

1.46 Pounds
Simple Houseware Foldable Laundry Hamper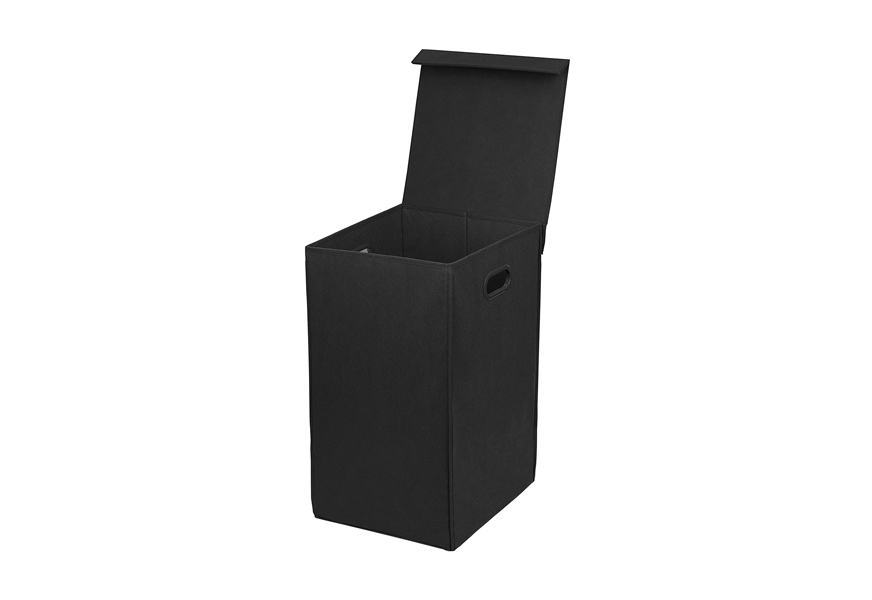 We may have found the most subtle laundry hamper known to the world. This Simple Houseware Foldable Laundry Hamper is made from a durable, lightweight polypropylene material that reduces mildew and unpleasant odors. The removable lid aids in keeping stinky smells inside the hamper so your gym shorts and shirts won't overtake your house's odor, with magnets keeping the lid locked down. Cut-out handles allow you to easily transport the hamper around the house or out to your car for a laundromat trip. It will fit easily in nearly any closet and tucks away easily in any bedroom or bathroom. There are multiple colors to choose from, but any option will fit nearly any house style.
Key Features:
17 x 13.5 x 1.2 inches
Polypropylene material
Includes a lid
Foldable
Specification:
Brand

Simple Houseware

Model

BO-038-8

Weight

3.79 Pounds
OIAHOMY Woven Rope Laundry Hamper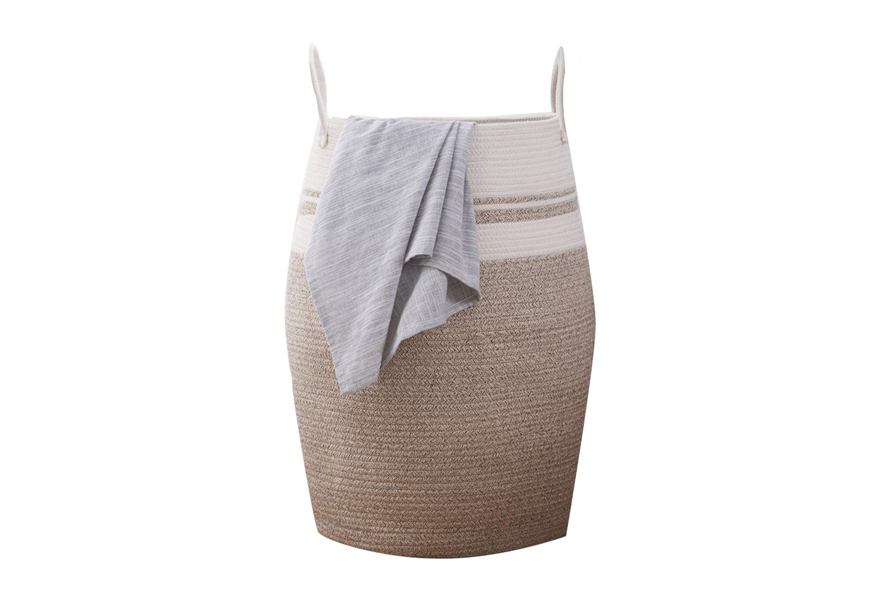 This beautiful OIAHOMY Woven Rope Laundry Hamper may easily be one of our favorite home goods, ever. Like a vase with the gorgeous curve and the high-quality cotton rope design, oversized handles, and dual colors belong in a museum more than our laundry rooms. However, it's pleasing aesthetic won't compromise its usefulness. This hamper can hold up to 105 liters of dirty clothing, equivalent to a family of four's weekly laundry. The cotton rope is flexible, yet retains its shape easily, even when collapsed; since it's such a soft material, your floors will be safe, even if you drag the hamper from room to room. Sturdy handles give you peace of mind when you're hauling the family's laundry to the laundry room, but save your hands from wear and tear. While it's certainly not the cheapest option on our list, we cannot stress enough how much we appreciate the laidback aesthetic and natural materials used in this laundry hamper.
Our helpful guide to the most sought-after sewing machines on the market offers more useful products for your home. Check them out.
Key Features:
Premium cotton rope
Handmade
25.6 x 19.3 inches
105 L- 125 L capacities
Long handle
Specification:
Brand

OIAHOMY

Weight

3.9 Pounds
HIYAGON Canvas Laundry Hamper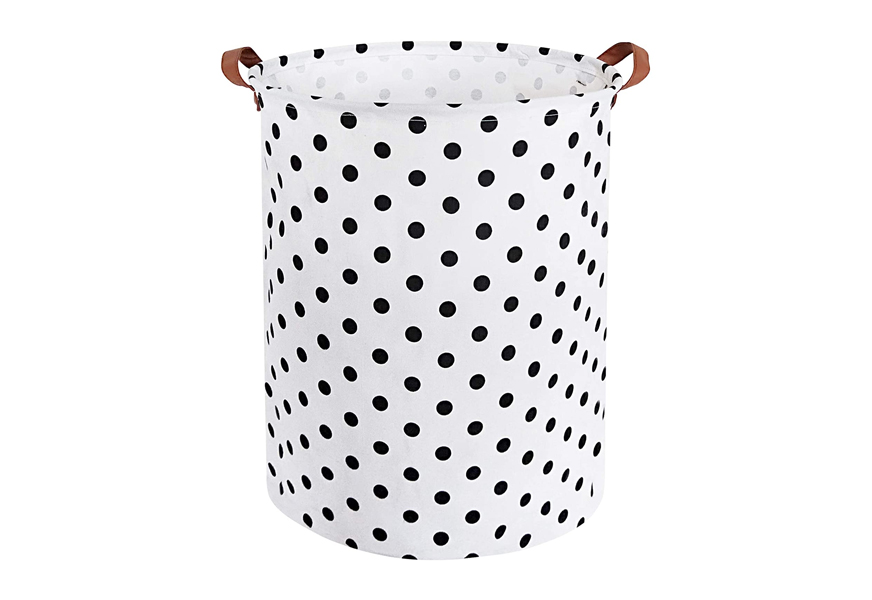 A laundry hamper that shows a bit of funky flair? Sign us up. These premium quality thick canvas laundry hampers are available in various fun patterns and colors, making them the perfect addition to anyone's room. Each of these durable, waterproof canvas hampers weighs less than a pound but can easily hold a week's worth of laundry. HIYAGON Canvas Laundry Hampers are easily collapsible but hold up well when they're filled with laundry. Leather handles add a touch of pizzaz while also serving you well when moving those clothes. They're also available at a bargain price, while never skimping on style in favor of a cheaper option.
For more useful products for your home, check out our guide to the best wool dry balls.
Key Features:
Premium canvas
19.7 x 15.7 inches
0.75 lbs
Leather handles
Waterproof lining
Specification:
Brand

HIYAGON

Weight

11.8 ounces
Laundry Hamper Buying Guide & FAQ
Features to Look for in Laundry Hampers
Size - This should go without saying, but the size of your laundry hamper makes all of the difference. If your laundry hamper is too small to hold anything more than a few T-shirts, it may not be worth your money. However, if your laundry hamper takes up all of the room in your closet or bedroom, that's not only impractical, that's obnoxious. Find a laundry hamper that fits your living space, as well as the number of people using it. A small hamper should be fine for one person, but a whole family will need a larger hamper or even multiple! If you're worried about it taking up too much space in your house, look for a hamper that can easily be folded down and stored until the laundry piles up.
Material - A lot of this is a personal preference, but use common sense when choosing your laundry hamper's materials. Thin, flimsy material will not hold up long against zippers, buttons, or heavy loads of laundry. Cotton is great but looks for something more like a canvas for heavy-duty loads. Mesh works well for breathability but may need a thicker material to cover and protect it from rips and snags. Plastic also works well as an exterior material, but make sure the plastic design includes holes for good airflow.
Compartments - Having separate compartments for your dark and light colors is a huge bonus. This will save you time and energy when you need to throw your laundry in the washing machine. No one likes an accidental pink shirt! Additional compartments can come in handy to separate your delicates, bedding, or specialty fabric clothes. Some of our options include dual bins, while others use three separate compartments. If you're looking for multiple compartments, check and see if each individual compartment has its own laundry bag or if the hampers only provide dividers for one large bag.
Portability - Make sure your laundry hamper choices are easy to carry! While some of this has to do with size, most of these choices will revolve around what kind of handles each laundry hamper offers. Rope or fabric handles can work well, but it can be hard to carry heavy loads. Cut out handles work well, but make sure they won't rip if you're carrying an overloaded hamper. Regardless of your choice, make sure your hamper uses some form of handles to transfer your laundry!
Other hampers will have wheels to cart your laundry from room to room. These can be especially handy for multiple loads or if you cannot carry a large load. If your hamper does have wheels, make sure they will not impede its ability to stand sturdy as a normal hamper. Some wheeled options will include a wheel brake, which will come in handy while moving your laundry hamper to the laundromat or your laundry room. While wheels will aid you in portability, they may not help you with compatibility. Keep that in mind if storage is more important to you than wheeled portability.
Lids - While an optional feature, lids can be a great resource. Not only will they help trap the odors of smelly clothes, but they can also hide your laundry from sight — especially in studio apartments. Lids can be removed, which may help you remove laundry bags or attach them for ease of use. Lids can also be useful during transportation of your laundry; keep an eye out for how these lids attach to the hamper to keep your laundry in place while in transit.
Laundry Hamper FAQ
Q: What is a laundry hamper?
A: This is a holding area for dirty laundry that allows you to hide clothes from plain view and easily transport your laundry to the washing machines. Rather than dumping your dirty clothes on the floor, a laundry hamper keeps them contained, traps odors, and allows your room to remain clean and tidy.
Q: Where should the dirty clothes hamper be kept?
A: Most laundry hampers are kept where you change most often — whether that be your bedroom, your closet, or your bathroom. We would suggest staying away from bathrooms, as the moisture from showers and baths can cause clothes to mildew more easily. You could also keep your laundry hamper next to your washer and dryer, but that may be less convenient than near your bedroom.
Q: What is the difference between a laundry basket and a hamper?
A: Laundry baskets are usually wicker or plastic, do not have lids, and made primarily for transporting laundry to and from the washing machine and dryer. They are more utilitarian than laundry hampers and generally smaller than laundry hampers. Laundry hampers, on the other hand, are usually made from fabric and are meant to stay stationary in a bedroom, bathroom, or closet. Laundry hampers are generally larger to hold around a week's worth of laundry, as well.
Q: Why do laundry hampers have holes?
A: Some laundry hampers have holes to allow for airflow so that your laundry won't mildew or hold onto bad odors. Airflow is essential to keeping dirty laundry, and especially wet laundry, from mildewing and smelling even worse. If your laundry hamper is made from breathable fabric, there is no need to have holes in your hamper. However, breathable materials like cotton or mesh are the best for aerating your laundry, but other materials like canvas or polypropylene work well, too.
Sign Up Now
GET THE VERY BEST OF GEARHUNGRY STRAIGHT TO YOUR INBOX