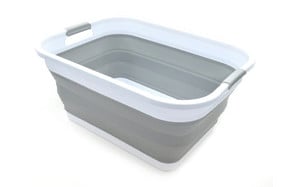 SAMMART Collapsible Plastic Laundry Basket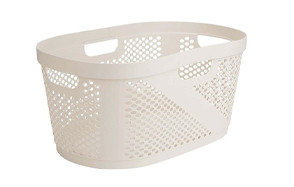 Mind Reader Laundry Basket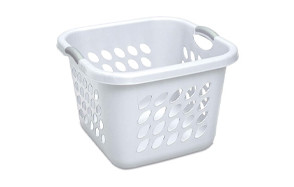 Sterilite 6-Pack Ultra Square Laundry Basket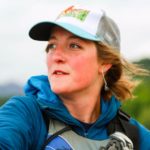 The last thing we want at the end of a long day is to haul our dirty laundry to the washing machine. Who wants to put their arms around dirty, smelly, or wet clothes? Decorative baskets are all well and good, but they can snag your clothing and cause rips; laundry bags can tear, as well, or feel heavier than Santa's bag as you trudge down to the laundry room. What's the solution to this tedious chore? Switch to a laundry basket with sturdy handles, comfortable grip, and ample space.
Laundry baskets can hide your dirty clothing from plain sight, plus provide airflow to reduce bad odors and mildew from growing. Laundry baskets can serve as top-notch storage containers for all manners of household items when they're not in use moving laundry from the dryer to your closet. Some feature extras like wheels and oversized handles, while others can collapse for even easier storage in between laundry days. With such a large variety of laundry baskets to choose from, how will you find the best laundry basket for you? We took the time to research the best and most popular laundry baskets on the market so you can have more clean laundry without breaking the bank.
The Best Laundry Basket
Laundry Basket Buying Guide & FAQ
Features to Look for in Laundry Baskets
Size — The size of your laundry basket makes all of the difference. If your laundry basket is too small to hold more than a few articles of clothing, that basket may not be worth your money. However, if your laundry basket takes up too much space in your house, it's ineffective and annoying, and probably not worth your money either.
Find a laundry basket that fits your living space and how many people plan to use it. A smaller basket should be sufficient for one person, but a whole family will need a larger basket or even more than one! Stackable laundry baskets are a great way to save space but have the carrying capacity you need for large laundry loads.
Material — Most laundry baskets nowadays are made from plastic, but other options are like fabric and wicker. Make sure you find a laundry basket made out of quality materials — if you find a plastic laundry basket, make sure the plastic won't easily bend or break. If you want a wicker laundry basket, make sure that the wicker is woven well and doesn't easily wiggle. If you're looking for a fabric laundry basket, make sure that there are reinforcements to stabilize and hold your laundry inside your laundry basket.
Shape — The exact shape becomes a matter of personal preference when it really comes down to decision making time. Some homes will be better suited to tall, thinner laundry baskets that can fit in a corner or tuck into a closet. However, other homes may want to slide a laundry basket under a bed or stacked on a counter. Maybe you want a rounded basket or a square basket? Whatever shape you choose, make sure it will fit well wherever you place your new laundry basket in your home.
Handles — Handles will be one of the most important features you need to look for on a new laundry basket. When you need to cart your laundry from one room to the laundry room or out to your car and then to the laundromat, you're going to want sturdy, durable handles to easily navigate around. Most handles are integrated into laundry baskets, but others may use fabric or rope handles to lift the basket more easily. Look for weak spots around the handles before purchasing a laundry basket.
Smooth Finish — This is especially handy when referring to wicker laundry baskets. You don't want rough, sharp, or pointed areas of your laundry basket to snag or rip your clothes and bedding. Make sure one of these basket types uses a cover to protect your clothing from snagging.
Laundry Basket FAQ
Q: Where should you keep a laundry basket?
A: Laundry baskets are generally kept where you change most often — whether that be your bedroom, your closet, or your bathroom. We would suggest staying away from bathrooms, as the moisture from showers and baths can cause clothes to mildew more easily. You could also keep your laundry basket next to your washer and dryer, but that may be less convenient than near your bedroom.
Q: What's the difference between a hamper and a laundry basket?
A: Laundry baskets are usually wicker or plastic, do not have lids, and are made primarily for easily transporting laundry to and from the washing machine and dryer. Laundry baskets are more utilitarian than laundry hampers and generally smaller than laundry hampers. Laundry hampers, on the other hand, are usually made from fabric and are meant to stay stationary in a bedroom, bathroom, or closet. Laundry hampers are generally larger to hold around a week's worth of laundry, as well.
Q: What can I do with old laundry baskets?
A: Our best suggestion for broken products is to recycle; evaluate the sort of material that the basket is made of, and recycle it accordingly. However, if you're simply looking to upcycle your laundry baskets, there are many ways to utilize this storage option. Move your laundry baskets to the kids' rooms to organize their toys, or clean up the garage with the extra baskets. Or, place your old laundry baskets on your closet shelves. Organize your cleaning supplies, shoes, arts and crafts, or more in these upcycled laundry baskets.
Q: Can you use the same basket for clean and dirty clothes?
A: Absolutely — but maybe clean the laundry basket in between really dirty, really smelly loads of laundry. Most of the time, your clean laundry won't be affected by your dirty laundry. The good laundry basket is designed to promote airflow so that your dirty clothes don't mildew and worsen the smell, usually by incorporating holes or loosely woven design. The only time your clean laundry would really be affected by the dirty laundry would be if you have wet or muddy clothes that have left behind residue on your laundry basket. In that case, a quick wash or wipe down will remedy the situation so you can get back to your fresh, clean clothes.