Best Laundry Baskets in 2022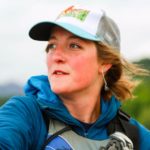 This product guide was written by Josette Deschambeault
Last Updated
November 6, 2020
Josette Deschambeault
Josette is a professional outdoor guide who lives and works in Southeast Alaska, Colorado, and Maine. When she's not rafting, hiking, skiing, or camping with her dog, she writes and edits for multiple outdoor and lifestyle publications.
GearHungry may earn a small commission from affiliate links in this article.
Learn more
The last thing we want at the end of a long day is to haul our dirty laundry to the washing machine. Who wants to put their arms around dirty, smelly, or wet clothes? Decorative baskets are all well and good, but they can snag your clothing and cause rips; laundry bags can tear, as well, or feel heavier than Santa's bag as you trudge down to the laundry room. What's the solution to this tedious chore? Switch to a laundry basket with sturdy handles, comfortable grip, and ample space.
Laundry baskets can hide your dirty clothing from plain sight, plus provide airflow to reduce bad odors and mildew from growing. Laundry baskets can serve as top-notch storage containers for all manners of household items when they're not in use moving laundry from the dryer to your closet. Some feature extras like wheels and oversized handles, while others can collapse for even easier storage in between laundry days. With such a large variety of laundry baskets to choose from, how will you find the best laundry basket for you? We took the time to research the best and most popular laundry baskets on the market so you can have more clean laundry without breaking the bank.
The Best Laundry Basket
SAMMART Collapsible Plastic Laundry Basket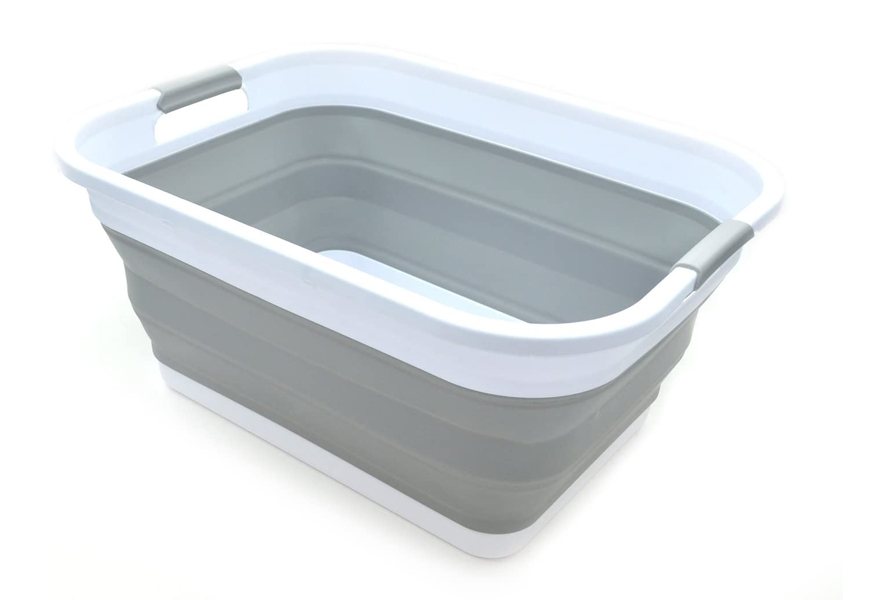 Combine the best of space-saving designs and easy laundry transport with this SAMMART Collapsible Plastic Laundry Basket. When you don't need it, the ribbed accordion folds allow you to store this laundry basket just about anywhere since it measures just 3.5 inches tall when broken down. That saves you 70% of the space that traditional laundry baskets of the same size would take up! However, when you need to utilize the space, this basket can hold up to a week's worth of laundry easily.
This plastic laundry basket also includes integrated handles reinforced with a comfortable grip, so carrying your laundry from Point A to Point B will be easy and painless. The entire basket is made with BPA-free plastic, so your family's health is kept safe. Coming in at just under three pounds, this an excellent lightweight laundry basket option with fantastic storage capabilities — both for your clothes and for the basket itself. For more must-have products for your home, check out our selection of the best clothes drying racks.
Key Features:
Pop-up/collapsible
BPA free
22.5″ x 17.5″ x 10.5″
3.5″ tall when collapsed
Save over 70% space when stored
Comfort grip handles
Specification:
Brand

SAMMART

Model

8542016512

Weight

2.95 Pounds
Sterilite 6-Pack Ultra Square Laundry Basket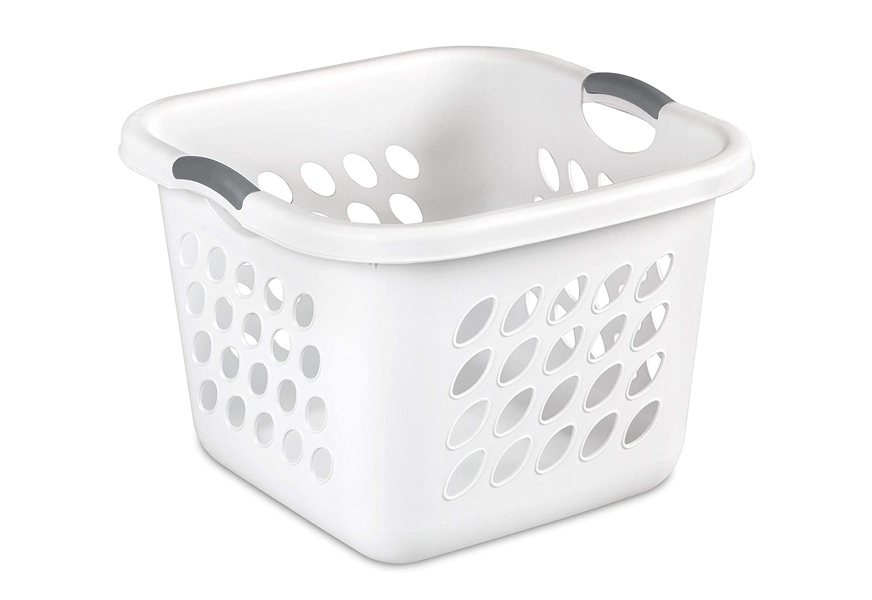 So you need a laundry basket in every family member's room? No problem. And you need an extra one in the garage? No sweat. What about an extra bin to hold the dog's toys? This pack of six durable, square-designed laundry baskets is just the ticket to keep your household clean and tidy. Sterilite designed these laundry baskets to be easily stackable, durable, and comfortable. Each one holds up to 53 liters of clothing (or one person's laundry for a week) and sports a reinforced rim for durability, no matter what you put it through. The comfort-grip handles help you easily lift the basket from the floor to the washing machine without tired or painful hands.
There are a few features that truly stand out on this Sterilite 6-Pack Ultra Square Laundry Basket's design — one, the square shape is perfect for closet storage, under the bed, in the corner of the bathroom, or even on the garage shelves. Two, the hole pattern offers great ventilation so that your dirty clothes don't get stinkier. And three, these baskets are designed to be snag-proof. There's no worry that your clothes will rip on any part of this laundry basket, giving you the peace of mind to clean up and organize away! For more must-have products for your home, check out our guide to the best laundry whiteners.
Key Features:
53 L / 1.5 bushels
19″ x 19 " x 13.9″
Pack of 6 laundry baskets
Comfort grip handles
Square design
Hole pattern for ventilation
Snag-proof
Reinforced rim
Stackable
Specification:
Brand

Sterilite

Model

12178006

Weight

2.5 Pounds
Mind Reader Laundry Basket
Mind Reader Laundry Basket is a simple laundry basket that still has a lot to offer. The aerated design will allow air to flow freely through your dirty laundry to eliminate bad odors and reduce harmful bacteria growth. The four handles — one on each of the four sides — allow you to safely and comfortably grasp the basket in any direction. 40 liters of storage capacity gives you plenty of room for a large load of laundry, but the dimensions are designed to be as compact and minimalist as possible. If you need to use this laundry basket for storage, pop the included lid on top and stack them up. This lightweight design only weighs two pounds with the lid included, so there's no worry about breaking your back with each load of laundry. Our only note of hesitation is that the handles may not be the most comfortable with large or heavy loads of laundry since they are not reinforced with comfort grip and could dig into your palms or fingers.
To keep your clothes perfectly clean, check out our guide to the top laundry detergents.
Key Features:
40 L
Deep storage
Cut-out handles on all 4 sides
High-quality plastic
Airflow design
Includes a lid for storage
Specification:
Brand

Mind Reader

Model

HHAMP40-IVO

Weight

1.45 Pounds
Rubbermaid Hip-Hugging Laundry Basket
A revolutionary design made for the launderer-on-the-go. This Rubbermaid Hip-Hugging Laundry Basket can be carried in a multitude of ways, but most importantly, it's made to carry one-handed while resting on your hip. We've all done it; sometimes, it's easier to carry your laundry against your hip rather than haul it in front of you with both hands. Rubbermaid took that approach and revolutionized the comfort aspect by curving one side more ergonomically. Place the curve on your hip, hold onto the comfort grip handle across the basket, and go along your merry cleaning way.
However, if the situation calls for it, Rubbermaid also includes two comfortable handles on the narrower ends of the laundry basket for help lifting and moving your clothes. This laundry basket can hold 74 liters of clothes, which is plenty large enough for an average laundry load. The cut-out design allows for ventilation in your dirty laundry but won't snag or tear your laundry as you move it. The reinforced lip adds to its stability and durability that will withstand hundreds of loads of laundry.
Key Features:
21.15″ x 19.91″ x 11.16″
2.1 bushel/ 74 L
Hip-hugging, 1-handed design
Durable and sturdy
Snag-free
Three comfort grip handles
Specification:
Brand

Rubbermaid

Model

299587WHTRB

Weight

3.19 Pounds
Sterilite 4-Pack Tall Laundry Basket
Does your family produce some serious mounds of laundry? One laundry basket isn't going to cut it, then. Each of these four tall laundry baskets holds over 70 liters of clean and dirty laundry, so you'll have plenty of storage space to negotiate which load's going into the wash and what's coming out clean. The abundant hole pattern allows ventilation for your dirty clothes but allows your clean clothes to waft their fresh, warm scent, as well. Each Sterilite Tall Laundry Basket features two cut-out handles with reinforced plastic rims for durability while you lift the family's laundry. The tall, slightly tapered design makes it easy to use with a wide opening for easier access. This USA-manufactured laundry basket 4-pack will make your laundry day infinitely easier, just like some of these amazing laundry pods from our list.
Key Features:
Pack of 4
2 bushel / 70.5 L
21 ⅛" x 16 ½" x 18 ¾"
Made in the USA
Wide opening
Integrated handles
Reinforced rim
Specification:
Brand

Sterilite

Model

12318004

Weight

10.8 Pounds
Rubbermaid Bushel Laundry Basket
Rubbermaid Bushel Laundry Basket is your classic laundry basket made by a lauded household brand. While we can't justify the price jump to more than double its original price, you can find this laundry basket at nearly any home goods store for its far more reasonable price. This low and wide design allows for easy access to the bottom of the basket, while the handle option makes it easy to lift and transport your laundry from room to room. The carrying capacity of 56 liters can tackle the weekly laundry of a small family easily or transport loads between washer and dryer smoothly. The smooth window-pane cutouts won't snag your laundry, while the lightweight of this laundry basket won't anger your sore back, either!
Key Features:
1.6 bushel/ 56 L
Snag-free
Rugged construction for heavy laundry
22-1/2″ x 16-1/4″ x 10-3/4″
Specification:
Brand

Rubbermaid

Model

2965-85-WHT

Weight

1 Pound
Like-It Scandinavia Style Round Laundry Basket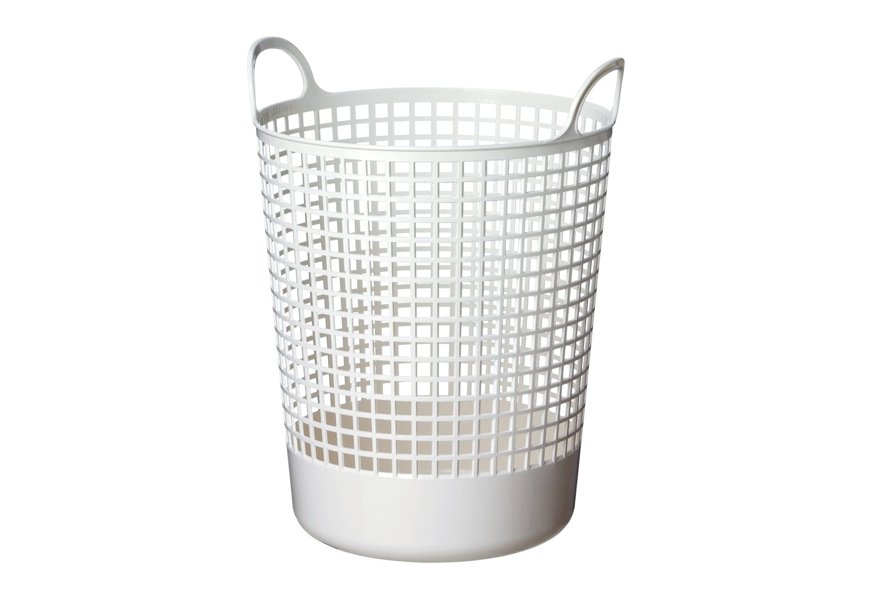 For those who like the look of laundry hampers but need something sturdy and waterproof, Like-It Scandinavia Style Round Laundry Basket is just the ticket. Large enough to hold a week's worth of laundry yet slim enough to tuck into a corner easily, this laundry basket was made for space-savers. The large, extended handles make carrying this basket an easy task, while the crossed mesh design allows for the most ventilation of any laundry basket on our list. The slightly tapered design makes it easy to stack multiple of these laundry hampers for easy storage, too. Weighing under two pounds, you won't strain your arms lifting this laundry basket unless you weigh it down with wet clothing. (Did we mention this laundry basket is waterproof, as well?)
Key Features:
Easily extended handles
Mesh design for ultimate ventilation
Waterproof
Sturdy
Stackable
14.96 x 14 x 20.47 inches
Specification:
Brand

Like-It

Model

SCB-10

Weight

1.75 Pounds
IRIS USA, Inc. 3-Pack Comfort Carry Laundry Basket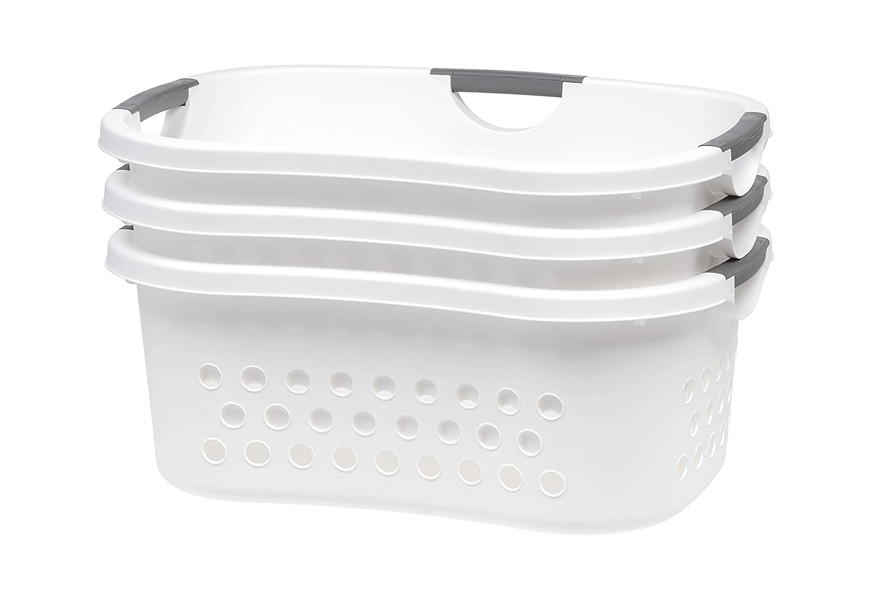 Another comfortable hip-hugging design, this IRIS USA, Inc. 3-Pack Comfort Carry Laundry Basket gives you the freedom to carry with one hand or two. Three comfort grip handles make this basket's versatility even easier to use, while the reinforced plastic ensures stability and durability for hundreds of laundry loads. Since this option includes three baskets, you'll never be stuck without a place to put your clean or dirty clothes again. Each laundry basket holds up to 49 liters of laundry, plenty of capacity for a whole load of towels or washing all of your bedding. The porthole cut out design allows for airflow through your laundry, and the reinforced lip makes it sturdier to carry. These three baskets are easily stacked on top of each other for convenient storage when they're not needed.
Be sure to check out our selection of the best wool dryer balls for your dryer that can save you money and decrease energy usage.
Key Features:
Hip-hugging design
Three comfort grip handles
Pack of 3
1.4 bushels/49 L
26. 13″L x 18. 13″W x 10. 25″H
Made in the USA
Stackable
Durable
Specification:
Brand

IRIS USA, Inc.

Model

589132

Weight

2.47 Pounds
Yarebest 4-Pack Grey Woven Laundry Basket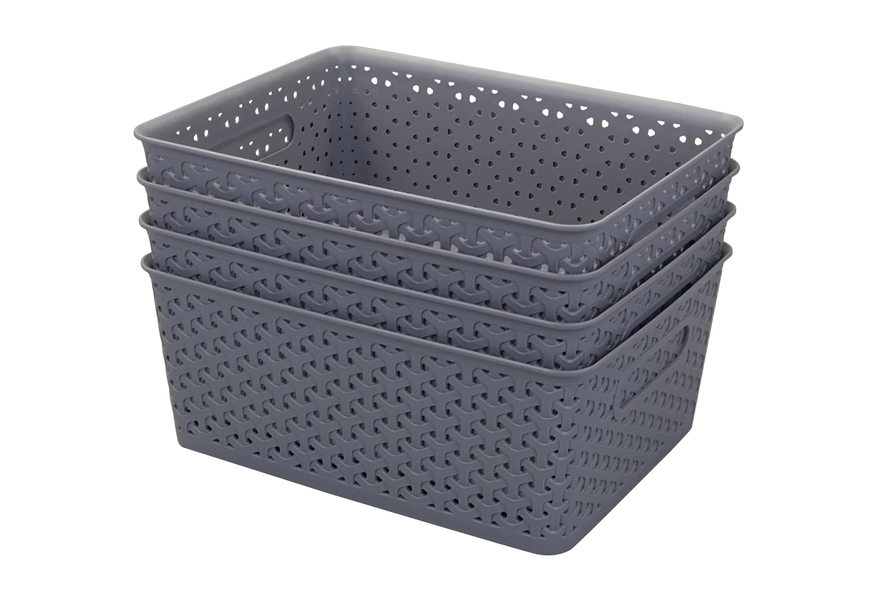 This multi-purpose laundry basket may be one of our most aesthetically pleasing options. The beautiful woven lattice design is not only attractive; it provides fantastic ventilation for your dirty laundry, so bad smells and mildew won't be a problem. Although this pack of four laundry baskets is on the smaller end of carrying capacities on our list, this can make them extremely versatile as additional storage options. Use two baskets for laundry, while the other two serve as office storage or a toy box. Each laundry basket is made from high-quality, durable plastic for strength and long, useful life. Yarebest 4-Pack Grey Woven Laundry Baskets can be easily stacked when they're not in use and measure less than 5 inches tall — perfect for shelf storage and closet space. If you're looking to add a touch of style to your laundry basket and storage game, look no further than these woven beauties.
Key Features:
4-pack
11.4″ x 9.05″ x 4.64″
High-quality, durable plastic
Stackable
Woven design
Great ventilation
Specification:
Brand

Yarebest

Weight

2.03 Pounds
Like-It Plastic Round Laundry Basket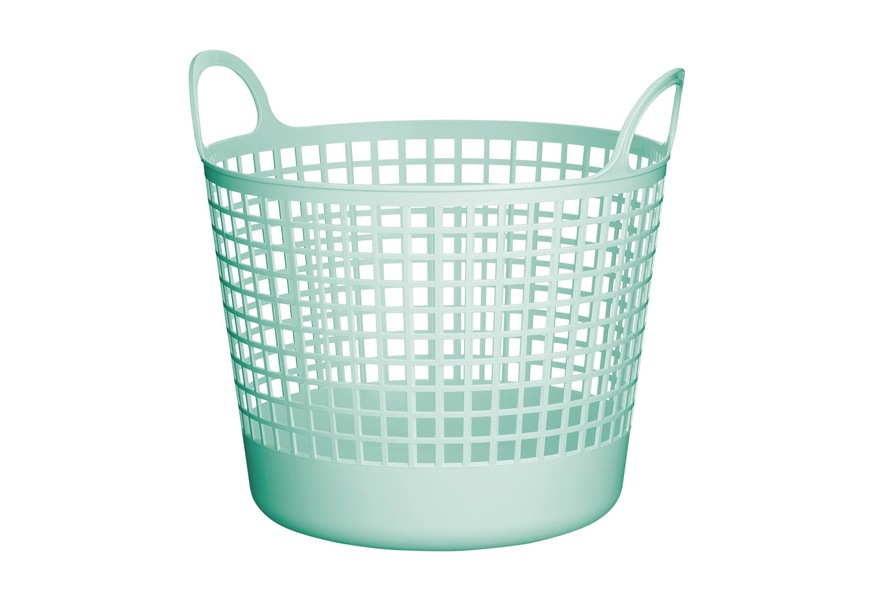 Made in Japan, BPA and phthalate-free, this flexible, high-quality Like-It Plastic Round Laundry Basket is a stellar choice for a bargain price. The smaller size, malleable material, and large handles make it easy to manage with one hand. And the fun colorways (mint blue, lime green, and white) means it's fit for more than just laundry — use it as an attractive storage basket, or keep it in the trunk of the car to collect muddy cleats and wet swim trunks.
Key Features:
Available in mint blue, lime green, and white
Extended, easy-carry handles
Waterproof
Round design
Mesh design for great ventilation
14.57″ x 16.14″ x 14.76″
Specification:
Brand

Like-It

Model

SCB-1

Weight

1.1 Pound
Laundry Basket Buying Guide & FAQ
Features to Look for in Laundry Baskets
Size — The size of your laundry basket makes all of the difference. If your laundry basket is too small to hold more than a few articles of clothing, that basket may not be worth your money. However, if your laundry basket takes up too much space in your house, it's ineffective and annoying, and probably not worth your money either.
Find a laundry basket that fits your living space and how many people plan to use it. A smaller basket should be sufficient for one person, but a whole family will need a larger basket or even more than one! Stackable laundry baskets are a great way to save space but have the carrying capacity you need for large laundry loads.
Material — Most laundry baskets nowadays are made from plastic, but other options are like fabric and wicker. Make sure you find a laundry basket made out of quality materials — if you find a plastic laundry basket, make sure the plastic won't easily bend or break. If you want a wicker laundry basket, make sure that the wicker is woven well and doesn't easily wiggle. If you're looking for a fabric laundry basket, make sure that there are reinforcements to stabilize and hold your laundry inside your laundry basket.
Shape — The exact shape becomes a matter of personal preference when it really comes down to decision making time. Some homes will be better suited to tall, thinner laundry baskets that can fit in a corner or tuck into a closet. However, other homes may want to slide a laundry basket under a bed or stacked on a counter. Maybe you want a rounded basket or a square basket? Whatever shape you choose, make sure it will fit well wherever you place your new laundry basket in your home.
Handles — Handles will be one of the most important features you need to look for on a new laundry basket. When you need to cart your laundry from one room to the laundry room or out to your car and then to the laundromat, you're going to want sturdy, durable handles to easily navigate around. Most handles are integrated into laundry baskets, but others may use fabric or rope handles to lift the basket more easily. Look for weak spots around the handles before purchasing a laundry basket.
Smooth Finish — This is especially handy when referring to wicker laundry baskets. You don't want rough, sharp, or pointed areas of your laundry basket to snag or rip your clothes and bedding. Make sure one of these basket types uses a cover to protect your clothing from snagging.
Laundry Basket FAQ
Q: Where should you keep a laundry basket?
A: Laundry baskets are generally kept where you change most often — whether that be your bedroom, your closet, or your bathroom. We would suggest staying away from bathrooms, as the moisture from showers and baths can cause clothes to mildew more easily. You could also keep your laundry basket next to your washer and dryer, but that may be less convenient than near your bedroom.
Q: What's the difference between a hamper and a laundry basket?
A: Laundry baskets are usually wicker or plastic, do not have lids, and are made primarily for easily transporting laundry to and from the washing machine and dryer. Laundry baskets are more utilitarian than laundry hampers and generally smaller than laundry hampers. Laundry hampers, on the other hand, are usually made from fabric and are meant to stay stationary in a bedroom, bathroom, or closet. Laundry hampers are generally larger to hold around a week's worth of laundry, as well.
Q: What can I do with old laundry baskets?
A: Our best suggestion for broken products is to recycle; evaluate the sort of material that the basket is made of, and recycle it accordingly. However, if you're simply looking to upcycle your laundry baskets, there are many ways to utilize this storage option. Move your laundry baskets to the kids' rooms to organize their toys, or clean up the garage with the extra baskets. Or, place your old laundry baskets on your closet shelves. Organize your cleaning supplies, shoes, arts and crafts, or more in these upcycled laundry baskets.
Q: Can you use the same basket for clean and dirty clothes?
A: Absolutely — but maybe clean the laundry basket in between really dirty, really smelly loads of laundry. Most of the time, your clean laundry won't be affected by your dirty laundry. The good laundry basket is designed to promote airflow so that your dirty clothes don't mildew and worsen the smell, usually by incorporating holes or loosely woven design. The only time your clean laundry would really be affected by the dirty laundry would be if you have wet or muddy clothes that have left behind residue on your laundry basket. In that case, a quick wash or wipe down will remedy the situation so you can get back to your fresh, clean clothes.
Sign Up Now
GET THE VERY BEST OF GEARHUNGRY STRAIGHT TO YOUR INBOX