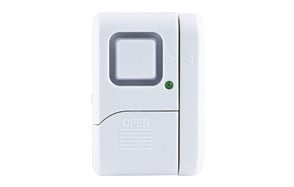 GE Personal Security 2-Pack Window And Door Alarm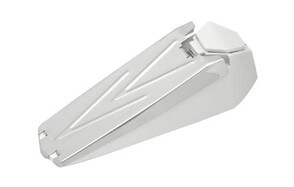 GE SH50246 Personal Security Door Stop Alarm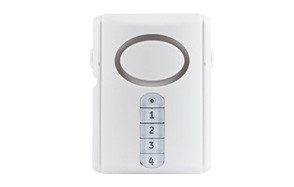 GE Deluxe Wireless Door Alarm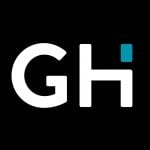 When it comes to ensuring the security of your home, a door alarm is a great place to start. Affordable, compact and functional, having the peace of mind that they will sound the alarm should you ever encounter an intruder is something every household should invest in. Like most pieces of technology, alarms will vary when it comes to functions and price, so, choosing the right one for you isn't always straight forward. Thankfully, we've taken a look at the best door alarms on the market right now so you can start your search for improved security with a helping hand.
Just in case you needed a little extra incentive to go out and buy a door alarm, recent statistics found that in the U.S. a burglary occurs every 14.5 seconds. Furthermore, budget cuts have led to an average 911 response time of 10 minutes. But, there's no need to panic, simply select one of our top picks and reduce this threat to your household in just a matter of days.
The Best Door Alarm
Door Alarm Buying Guide & FAQ
You'll be glad to know you can get the security and peace of mind you're looking for in your home for around $30 or less. The price tends to vary on how many individual alarms you'd like. If you're simply looking for alarms for your front and back door, you'll be able to secure your home for around $20. However, if you'd like to take your home security up a notch with window alarms also, you'll be spending a little more. However, the best door alarm systems on the market will allow you to attach up to 10 alarms to one system so you won't have to shell out twice.

How We Chose Our Selection Of The Best Door Alarm
Home security is something we take as seriously as you do, so in order to bring you the best options on the market right now, we shortlisted our options based on three key criteria. Price, brand and reviews. As always, we like to bring options that suit all budgets, so we opted for a varied price range, although we found that the majority of the best options are budget friendly regardless. Beyond price, we were sure to include some of the most trusted brands in home security so you can rest assured you're getting a great product from a reputable source. The front runners are GE and Sabre, so if you're shopping around, look out for these. Finally, we went through hundreds of reviews from verified buyers to ensure the alarms we shortlisted are well and truly up to the job. When looking at the reviews, we had a number of features in mind, read on to find out what these are.
Features To Look For In-Door Alarms
Volume - When you're looking for optimal security, you'll want your alarm to be loud. Not only to alert you but to deter any intruders. With that said, you don't want an alarm that's loud 24/7 so ideally, you'll opt for an alarm with adjustable volume settings that suit you as and when. The best door alarms on the market right now not only offer multiple volume settings, but chimes to choose from also so you can set them to your personal preference with ease.
Size - Although home security is important, you'll also want something that doesn't take up too much space. While you want your alarms to be visible to any potential intruders to act as a deterrent, you'll also want them to look good. Thankfully, there are a lot of sleek and compact designs on the market right now. So compact in fact, that you'll barely notice they're there after a while. Furthermore, it's important to double check that your chosen alarm will fit your door before ordering.
Location - It's also important to consider the location in which you're planning to install your sensor. For example, you'll likely want different settings and features if you're placing it on the main entrance to your home opposed to if you're planning on using it on your child's room. It's best to decide where you'll be placing your sensor before choosing which is best for you.
System Communication Methods - The final feature that you need to consider is how your chosen system communicates. Some door alarms will use a WiFi door sensor that communications with a central hope whereas others function independently. Each system can offer different benefits, so determining which is best suited to you will likely come to down personal preference. For instance, an independent alarm would be best suited for those looking for a portable alarm whereas WiFi will be best suited for those looking to install a system long term.

Door Alarm FAQ
Q: What are the door alarms?
A: Simply put, door alarms are wired or non-wired devices that are designed to be easily installed. Door alarms work with a magnet and sensor. When the alarm is programmed to alert, the circuit that is attached by a magnetic current will trigger and sound an alarm should the magnets separate. In a nutshell, they are a straightforward device that can offer a whole lot of peace of mind for the entire household.
Q: How do door alarms work?
A: A door alarm works by using a sensor and a magnet. The sensor is installed to the inside of a door or window frame and the magnet is placed on the inside of the door or window itself. Any time the magnet and the sensor are separated, an alarm will sound. Although most are wireless and battery powered, the best door alarms on the market will come complete with a low battery indicator so that you can ensure your device is always on.
Q: How does a sensor work?
A: Almost all door alarm sensors on the market right now will use a 'reed switch' that is able to determine when a protected area has been breached. A reed switch is made up of a set of electrical connectors that are placed just slightly apart. Once a magnetic field is parallel to their electrical connectors, they are pulled together which closes the circuit and ultimately sounds an alarm.
So now that we've covered all bases when it comes to the best door alarms on the market right now, you can get to shopping. As mentioned earlier, door alarms are a great investment for your household, not only offering peace of mind but potentially deterring any intruders and keeping everyone safe. What's more, when the majority of the best options on the market are priced at less than $30, there's no doubt that it's a worthwhile investment to make. To summarise, it's best to opt for an alarm that will allow you to change settings to suit your preferences to suit you in order to get the best out of your home security system.