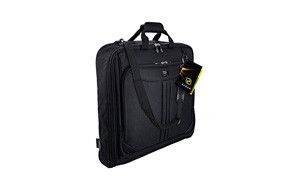 ZEGUR Suit Carry On Garment Bag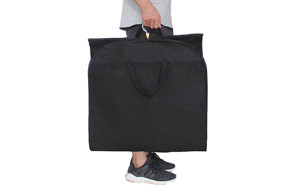 Sleeping Lamb Breathable Garment Bag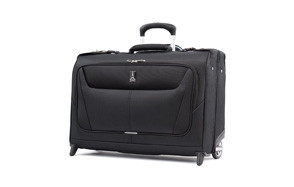 Travelpro Luggage Maxlite 5 Garment Bag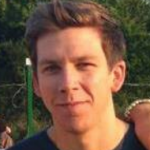 Trying to dress to impress while travelling is a pretty tough combination to keep on top of. You either end up frantically trying to fold all of your garments so that they come out of your luggage crease-free, or, you end up hoping and praying that your hotel has a working iron or trouser press. What we're trying to say, is that there can be a lot of pressure when it comes to looking sharp after hours of travelling; but it doesn't have to be that way. We want you to feel confident and look smart no matter what, wherever you are. And, with the help from the very best garment bags listed in this buying guide, you'll be able to achieve just that. From one perfectionist to another, it's time to unleash your next travelling companion which you've waited so long for.
The Best Garment Bag
Garment Bag Buying Guide & FAQ
Q: Do garment bags prevent wrinkles?
A: Yes - the majority of garment bags have the sole purpose of preventing wrinkles in your clothing. If you're looking for a garment bag which will prevent wrinkles, then make sure that it has at least two straps which will keep your clothing secure. It's also worth looking out for a bag which has a hanger hole, so that your clothes won't lay folded up for longer than they need too. To put it simply, garment bags do prevent wrinkles, just as long as you use them properly.
We highly recommend checking what type of straps are used on the garment bag before you make a purchase. Sometimes, producers will think they're adding secure straps, when in reality, they serve no purpose towards keeping your clothes stable. For best effect, opt for straps which are weighted down and have little slack. These features will be sure to give you the best result.
Q: How do I pack suits to reduce creases?
A: If you're using a garment bag, then you're already there! Simply lay the suit out straight in your garment bag, secure it tightly, and then fold the bag accordingly. The straps will be the main factor keeping the suit in place and wrinkle-free, but the design of the bag will also play a huge role in this, too.
If you need to fold the suit, however, then make sure that you fold the jacket arms first, and then fold it in half lengthwise, and then horizontally. This should avoid any unwanted crease marks. From here, you can fold the suit trousers around the jacket, for extra protection. We really do recommend getting a garment bag though, as this will do all the fiddly work for you.
To avoid the disappointment of creases even when you are using a garment bag, make sure that you don't leave your suit sitting around for long periods of time. Of course, little can be done about this while traveling, but as soon as you get into your car or accommodation, use a hanger to give the suit some breathing room. More times than not, your garment bag will have a hanger attached or a hanger hole which can be used, so you won't have to go through the time-consuming process of taking the suit out of the bag every time you wish to hang it up.
Q: Can I take a garment bag as a carry on?
A: As long as the garment bag of your choice fits in with the airline's rules and regulations, then you'll be able to take it as a carry on. In fact, most garment bags are designed with this exact purpose in mind! With the majority of garment bags on this guide, you will find that they can be safely stowed away in the upper shelves on a plane, and attached to your other pieces of luggage for easy transport. We doubt you want your expensive garments rattling around with all of the other large pieces of luggage on a plane, so luckily, the majority of garment bags can be used as a carry on.
You can even get 2 in 1 garment bags which double up as a weekend bag, perfect for flights or road trips. This is probably the best type of bag to opt for if you like to stay stylish wherever you go, as we understand that some garment bags don't always give off that fashionista vibe that so many men strive for. In our opinion, though, garment bags look great! What better way to show off that you mean business than with a bag dedicated to your suits. You'll get heads turning for all the right reasons and leave people wondering where you're off too. There's nothing better than a sleek mysterious vibe.