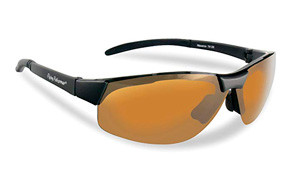 Maverick Polarized Fishing Sunglasses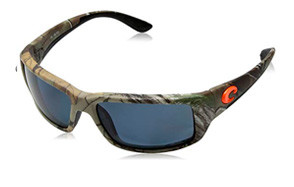 Costa Del Mar Fantail Fishing Sunglasses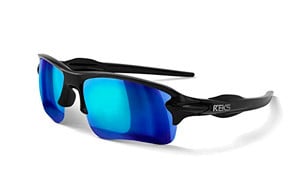 REKS Unbreakable Sling-Blade Fishing Sunglasses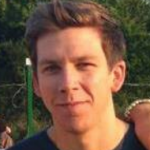 Whether it's a bit of fishing on a camping trip, or you're heading out into the deep waters of the coast to cast your line and spend your weekend, you need to be prepared for absolutely everything. Your gear is an extension of your abilities and enhances your fishing game. We're here to take a look at the best fishing sunglasses and fly fishing glasses to keep you protected, and optimized to focus on what you should be: catching fish. Peer through the surface, find your next catch and make it a trip to remember.
The Best Sunglasses For Fishing
Fishing Sunglasses Buying Guide & FAQs
Picking a pair of sunglasses has a lot more to it than meets the eye. We're going to break down light refraction, sizing, coverage, and dig a little deeper into Snell's Window, which is why you can the sky from underwater, but can't see more than three feet into the ocean with the naked eye. From top to bottom, this is everything you need to know about the best polarized fishing sunglasses on the market.
Features To Look For in Fishing Sunglasses
Polarized Lenses - We walk about these in-depth throughout the rest of this guide. Polarized lenses are essentially what separates fishing sunglasses from standard sunglasses. If they aren't polarized, they aren't going to reflect light, and they won't truly be the best fishing sunglasses for every type of excursion.
Photochromic Lenses - Also known as transition lenses, these adjust to varying levels of light so you don't have to take them off when you go indoors. We all know that it's rude to wear sunglasses inside, but with photochromic lenses, that isn't going to be a problem. These adjust to the indoor light levels and appear more transparent, less tinted. Alternatively, these also allow you to handle higher magnitudes of direct sunlight and reflections without squinting through your sunglasses.
Lens Material - It's a bit funny that we still call them sunglasses, when most of them aren't made with any glass in the lenses at all. You need to look at the lens material, whether it's a resin, plastic, or you get lucky and find a pair that are made with actual glass. There are tons of different materials used. We recommend keeping an eye out for the lens, and independently researching the pros and cons of each lens material type.
Colored Lenses - Coloring on the lenses partially dictate how effective these are going to be at blocking blue light, and UV light in general. There's a reason you see multicolored sheens on your lenses: they're built to reflect just about everything that comes your way. For some context, a pair of blue blockers (more commonly known as computer glasses), will have a brownish auburn tinge to them. These help to fulfill their purpose: block out blue light only. Get a pair that can do it all.
Lens Coating - You have to be careful here. If your lens is coated, then you'll be able to save a few bucks, but it comes with more fragility. Coatings can come off with scratches, so if you have little ones that are constantly getting into your belongings, you'll do better to opt for sunglasses that are built with the protective features embedded into the lens. This might cost you a little more, but will sustain for far longer than coated lenses.

Tips to Protect Your Eyes When Fishing
Always go For UV Protection: One of the most harmful things you can do to your eyes is expose them to direct UV rays for extended periods of time. Even if you lean back in a lawn chair by the lakeside when you fish, those UV rays can still penetrate your eyelids (slightly) and wreak havoc on your health. Look for UV-400 protection; it comes on the best fishing glasses for men.
Practice Proper Casting: We don't want to get grim here, guys, but we've seen far too many fishing-related injuries. It sounds silly just writing it, but it's actually easier than you think to cast improperly and nick your eye. Wearing fishing sunglasses will help, but practicing the proper way to cast your line is what you need to master.
Opt for Full Coverage: Not all fishing sunglasses are going to form a full cover over your eyes, but the more coverage, the better. As we'll talk about in this guide, you're combatting sunrise and the many angles of the sun throughout the day. Those constantly changing angles of light are going to find their way between you and your shades. If you have full eye cup coverage fishing sunglasses, then you'll be better off.
Fishing Sunglasses FAQs
Q: Do I Need Fishing Sunglasses?
A: You can fish without them, but you're going to have a difficult time. Polarized lenses are the main draw of fishing sunglasses. They help you see clearly through the water while reducing glare from the sun reflecting off the lake or ocean. In short, you definitely need fishing sunglasses.
But simply reading the title of a product that says "Fishing sunglasses" isn't enough. It's all about the coloration in the tint, and their UV protection. Part of the harm of fishing is dealing with ultraviolet rays and the damage they cause. Most fisherman who use standard sunglasses don't realize that they're actually doing a lot more harm than good. They're magnifying the sun's rays and speeding up the process of cancer and tumor growth.
Not to mention the blue light that naturally comes from sunlight. We know that blue light from LED nad LCD screens is harmful to our eyes. It's been proven that it can reduce your eyesight capability from 17% to 22%. While those statistics are based on your exposure to screens for more than five hours per day, think about how long you're out in the sun at the fishing spot. Probably for four to five hours, right? It's damaging.
Fishing sunglasses not only help you see into the water better, but also grant you the peace of mind that comes with protecting your eyes. As an added bonus, you'll also feel far less fatigued or "heavy-lidded" when you come home, which can help keep you in top form throughout the rest of the day.

Q: Can Polarized Sunglasses Help in Seeing Things Beneath the Water?
A: Yes. Their main benefit comes in how they reflect light. We'll get into this a bit more in-depth in the next section, but this is why polarized sunglasses are superior to prescription sunglasses. Whether you're on the end of a pier, the side of a boat or on the lake, bodies of water are difficult to see through. Polarized lenses help.
By reflecting glares, you're able to see through the refraction of light off the surface of the water. This allows you to see much further down than the naked eye permits, giving you a broader range over active fishing spots. It's also a way to peer down and see if the bite on the end of your line is actually worth pulling up, or just letting it get away.
Q: Are Polarized Lenses the Best for Fishing?
A: One of the biggest challenges with fishing is the glare off the water. Polarized lenses help you throughout the day. When the sun starts poking its head over the horizon (if you like to hit the fishing hole in the early AM), you're dealing with the sun's angles from dawn until you decide to leave. That provides its own series of difficulties, especially if you're still hanging around at noon. In short, they're not just the best for fishing, they're a necessity.
Q: Do I Need a Prescription With Fishing Sunglasses?
A: You do not. Do they exist? Yes, but they aren't necessary when you get polarized lenses. Prescription sunglasses typically aren't polarized, and while you may have a bit more visibility in the right light, you're going to have a harder time spotting fish.
Prescription sunglasses magnify, and so you're getting an altered image of the water. When we look through water, everything morphs. There's something called Snell's Window, where we see light through the water when we're under it, because of the way light fractures through it (at a precise 96 degree angle). When we're above water, this doesn't happen. The light is reflecting, and working against us.
In the end, your prescription sunglasses aren't going to help with spotting the fish or utilizing fishing sunglasses the way they are meant to be. Polarized lenses are what you want.