Get Hooked: The Best Sunglasses For Fishing In 2022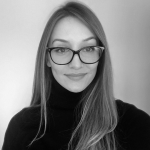 This product guide was written by Jovana Dosenovic
Last Updated
March 23, 2022
Jovana Dosenovic
Jovana is a writer and copy editor living with her lazy calico cat and thousands of (mostly unread) books. She has worked as a copywriter, fact-checker, QA analyst, and librarian, but this has been her favorite gig so far. A bit of a bookworm since she was tiny, she loves nothing more than curling up with a giant cup of coffee or tea and a good book. When not hunched over a keyboard or book, Jovana enjoys going on long walks, short hikes, and occasional camping trips. She also has an unfinished novel she'd like to publish one day. No, really.
GearHungry may earn a small commission from affiliate links in this article.
Learn more
Whether it's a bit of fishing on a camping trip or you're heading out into the deep waters of the coast to cast your line and spend your weekend, you need to be prepared for absolutely everything, including the harsh surface glare on water and harmful UV rays. The best sunglasses for fishing will not only protect your eyes from the harsh sun rays reflecting off the water, as well as sand, dust and wind (plus hooks and line!) but also enhance your visibility and therefore your fishing game.
When choosing a pair of sunglasses, there are a few things to consider. The first thing you need to check is whether they have polarized lenses. The best polarized sunglasses filter out certain lighting and greatly reduce the glare, enabling you to spot fish you otherwise wouldn't be able to see (more on lens technology in the guide). Secondly, you should make sure your fishing glasses fit the shape of your face really well. Otherwise, they'll feel uncomfortable on your nose and temples and that can seriously dampen your fishing trip.
In this guide, we take a close look at some of the best polarized fishing sunglasses and fly fishing glasses to keep you protected so you can focus on what really matters: catching fish. Peer through the surface, find your next catch and make it a trip to remember.
The Best Fishing Sunglasses
Ombraz Armless Sunglasses
If you struggle to find a really comfortable pair of sunglasses for fishing because most models pinch your ears or nose, or put pressure on your temples when you pair them with a hat, we highly recommend the Ombraz Armless Sunglasses. These awesome-looking sunglasses are – as their name suggests – armless, so nothing will be irritating the sides of your head. Despite this design, they're super-snug and secure – even more secure than most regular sunglasses according to our tester. This is because they come with an adjustable, buttery-soft cord that you can tighten or loosen according to your needs.
They also have high-quality polarized lenses (engineered by Zeiss) with 100% UVA and UVB protection, so they offer outstanding sun and glare protection. Our tester usually paired these with wide-brimmed hats or beanies, reporting that they felt "reliably comfortable and secure". They're available in three sizes and come with three different lenses, but the polarized gray lenses do the best job at reducing the glare off the water. As a bonus, Ombraz are 100% compostable and come with zero-plastic packaging. Read the in-depth review here.
Key Features:
Armless design with soft adjustable cord
100% UVA and UVB protection
Built-in side visors
100% compostable
Lifetime warranty
Specification:
Brand

Ombraz Armless Sunglasses
Our Editor's Choice sunglasses are the Cometas from Bajio Sunglasses. Bajio has a variety of available styles for both sunglasses and prescription glasses. Each model has multiple frame and lens colors for a perfectly customized look. Our tester tested the Cometas with the Rosa Gloss Frames and Blue Mirror lenses, these choices are great for days on the water, fishing, boating, or paddle boarding. Our tester has been light sensitive after a serious concussion and used these as her daily sunglasses in addition to water days pre and post-concussion.
The cometas stand out because of their wide, glare-blocking frames that are a must when out in or on open water. The frames are 100% bio-based nylon, a trait that aligns with Bajio's carbon neutral operation and commitment to the environment. To keep these sunglasses in place, even on choppy water, there are nose pads and discreet temple pads for extra grip. Lastly, the polarized lenses also feature glare-reduction, and blue-light blocking, making these an exceptional all around pair of sunglasses whether you're walking around town or out fishing.
Key Features:
Bio-Based Nylon Frames
Lenses reduce glare and block blue light
Multiple frame and Lens options
Temple and nose pads for extra grip
Comes with leather case
Great for fishing, boating and days on the water
Wide frame helps reduce glare
Flying Fisherman Maverick Polarized Sunglasses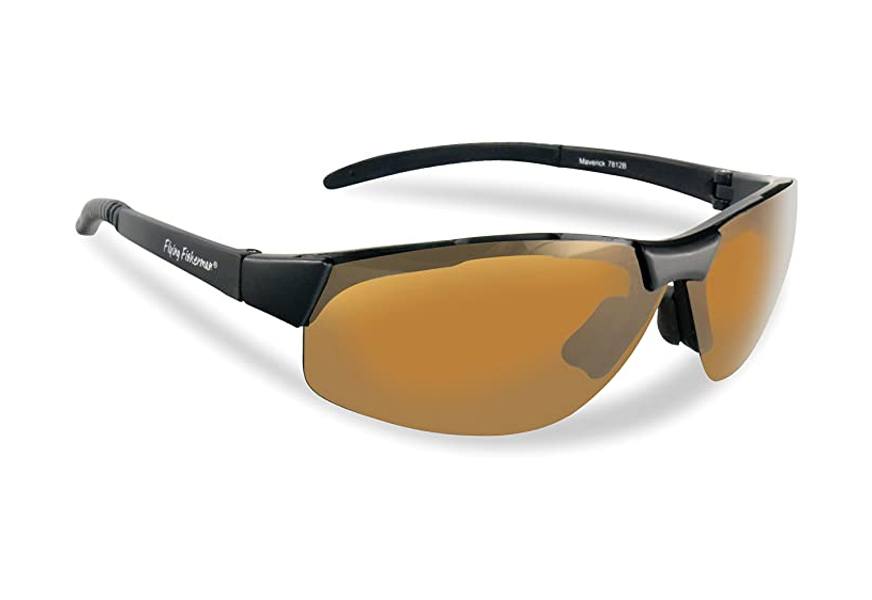 Looking for quality but cheap fishing sunglasses? Flying Fisherman makes a budget-conscious pair of top-notch fishing sunglasses that we like. But before we proceed, just note that these only block up to 95% of UVA and UVB rays. What does that mean exactly? Think of trace amounts of light penetrating the shade. So these are polarized to reduce glare off the water, but won't be as effective if you glance up to the sky. Still, you'll be saving a pretty penny if you side with them. Just don't grab these if you're planning on all-day fishing trips.
They give you a fair one-year limited warranty, which is more than you'll find on other similarly-priced fishing sunglasses. The amber tint helps reduce blue light penetration and gives a slight yellow hue when you're looking through them -ideal for overcast weather. Lightweight frames, full coverage for the bridge of your nose, and a comfortable, flexible fit. If you're here on a budget, Flying Fisherman's got your back. Be sure to also check out our list of the best sunglasses for skiing for more great items like this.
Key Features:
Lightweight frames with no bottom edge on the lenses
Full bridge coverage
95% protection against UVA and UVB rays
One-year limited warranty
Specification:
Brand

Flying Fisherman

Model

7812BA

Weight

2.08 Ounces
Costa Del Mar Fantail Sunglasses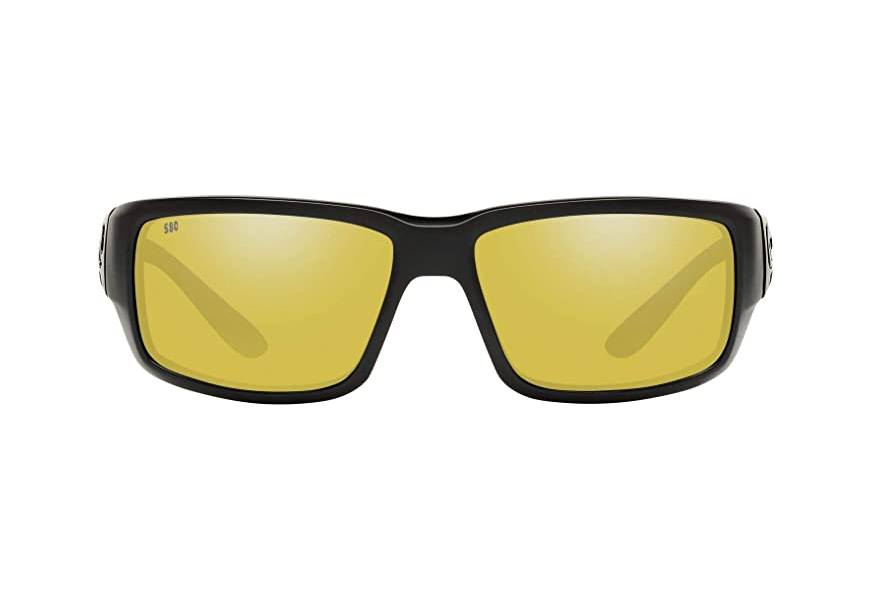 More coverage, fuller glare protection, and a killer camouflage design: that sums up Costa. If you're going to spend hours out on the lake or the deep sea, you need maximum protection. Costa offers 100% UV protection and fantastic polarizing efficiency thanks to their green-tinted fishing sunglasses. They also offer a limited lifetime warranty just for purchasing their sunglasses.
The 580 grey lenses reduce haze and increase sharpness and contrast, providing excellent clarity. The frame is also of good quality – adjustable and made from durable tree pulp that's also hypoallergenic, it feels comfortable on the face and skin. Perfect for any angler, we find these to be some of the best fly fishing glasses available, and in our personal opinion, the best Costa fishing glasses in their lineup.
Key Features:
100% UV protection
Green tinted polarized lenses
Adjustable, durable acetate frame
Limited lifetime warranty
Specification:
Brand

Costa Del Mar

Model

TF11OBMP

Weight

1 Pound
Pelagic Men's Fish Hook Polarized Sunglasses
Pelagic really drives the point home with these polarized fishing sunglasses. It wasn't enough to simply imbue the shades with polarization properties – they did it five times. That's right: five layers of polarization built on top of one another in these lenses for visual advantage both on and off the water. Scratches aren't going to do squat against them, so even when accidents happen, you'll still be able to use these as if nothing went wrong. They also added an extra anti-reflective coating that is subject to scratches but won't reduce the quality of your sunglasses.
The frames are just as important as the lenses. Too rough, and they'll wrap your lenses; too flimsy, and you'll have lenses with no frame. Pelagic made these polycarbonate frames super flexible to account for drops, bending in your pocket, and more. While the style is a bit funky, the blue lenses give you enough protection that you could stare at the sun, and not feel a thing.
Key Features:
Five-layer polarized lens
Blue tinted glass lenses
Additional anti-reflective coating
Lightweight polycarbonate frame
Costa Del Mar Blackfin Sunglasses
If you're interested in Costa sunglasses but are not a fan of the Fantail design, check out the stylish and more conservative Blackfin lineup. You get a dozen different great styles to choose from, each with the same durable frame construction. These flexible and comfortable frames hold in the ultra polarized Blue mirror lenses that are best for extra-bright light situations out on the water as they kill reflected glare and help reduce eye strain. They're also large and sung so they shouldn't slip no matter what.
Costa Del Mar sunglasses are, in general, of great quality, and you really can't go wrong with any of their sunglasses, including these offshore fishing sunglasses. The company offers a limited lifetime warranty as well, which is something we always like to see. Our handy guide to the top aviator sunglasses features more great products like this.
Key Features:
Blue mirror polarized lens
580 polycarbonate construction for high clarity
Co-injected bio-based nylon frame for lightweight durability
Includes a limited lifetime warranty
Specification:
Brand

Costa Del Mar

Model

BL86OBMP

Weight

7.8 Ounces
Oakley Crankshaft Rectangular Sunglasses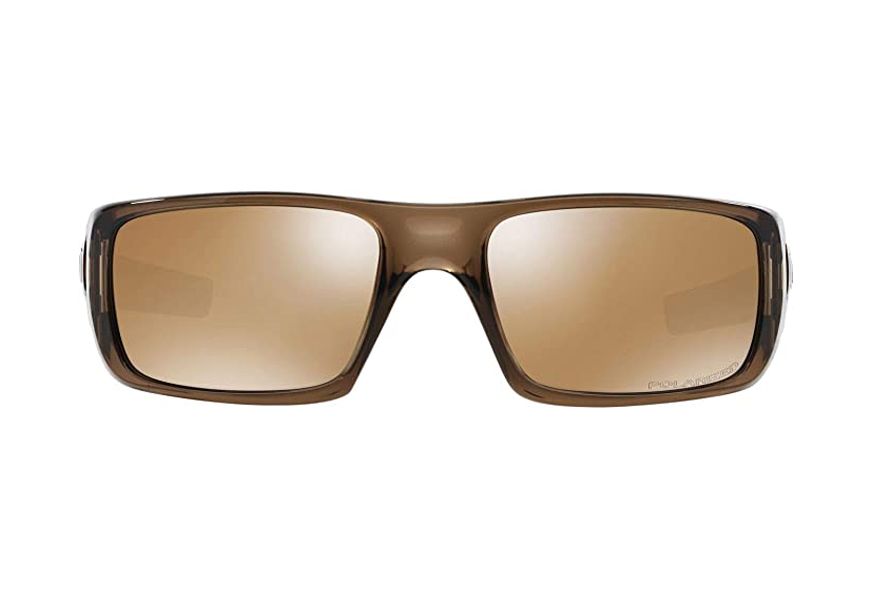 Oakley always gets major style points, but their sunglasses are highly effective against harsh sunlight and glare as well. Oakley sunglasses promises fantastic coverage over light gaps, while also giving you the full benefit of 100% UV-blocking technology. We would like to point out that these are coated, so scratches and wear-and-tear may have an adverse effect on their effectiveness over time – if you're not careful how you store them.
Oakley's Plutonite lenses (quality polycarbonate plastic) block out 100% of UVA, UVB, and UVC rays, as well as blue light up to 400nm. The polarization on these lenses allow you to glare through the glints of light off the water, see into the depths of the ocean, and up your fishing game. Love sunglasses? Check out our review of the best-selling Gucci sunglasses for our top picks.
Key Features:
100% UV protection, plus blue light up to 400nm
Flexible plastic frames
Completely polarized sunglass lenses
Coated polycarbonate lenses
Specification:
Brand

Oakley

Model

Crankshaft

Weight

4 Ounces
REKS Unbreakable Sling-Blade Sunglasses
I know what you're thinking: are these unbreakable? Nothing is, but you'll really have to give it your all if you want to try and damage Reks' Sling-Blade fishing sunglasses. The unique BPA-free composite frames mimic the elasticity of a composite sporting bow and house two ultra-durable lenses. These come with an anti-reflective coating, anti-scratch coating, and some of the best power against UV rays that you could ask for: UV-400 protection. Nothing is getting through; it's like having armor on your eyes.
The polarization on these lenses is nothing short of fantastic. You'll be able to glare at the water, no matter how bright and cloudless the day is, and enhance your fishing game. Before you move on to the next, we would just like to stress the durability and impact resistance of the lenses. Many customers rave about the strong and durable construction, reporting they're great for both fishing and driving. Find more great products like this by checking out our guide to the top-rated Ray-Ban sunglasses.
Key Features:
Flexible and durable BPA-free composite frames
Lenses mirror light completely
100% UV-400 protection; nothing is getting through these lenses
Additional anti-reflective coating + anti-scratch coating
Specification:
Brand

REKS

Weight

7.2 Ounces
Maui Jim World Cup Sunglasses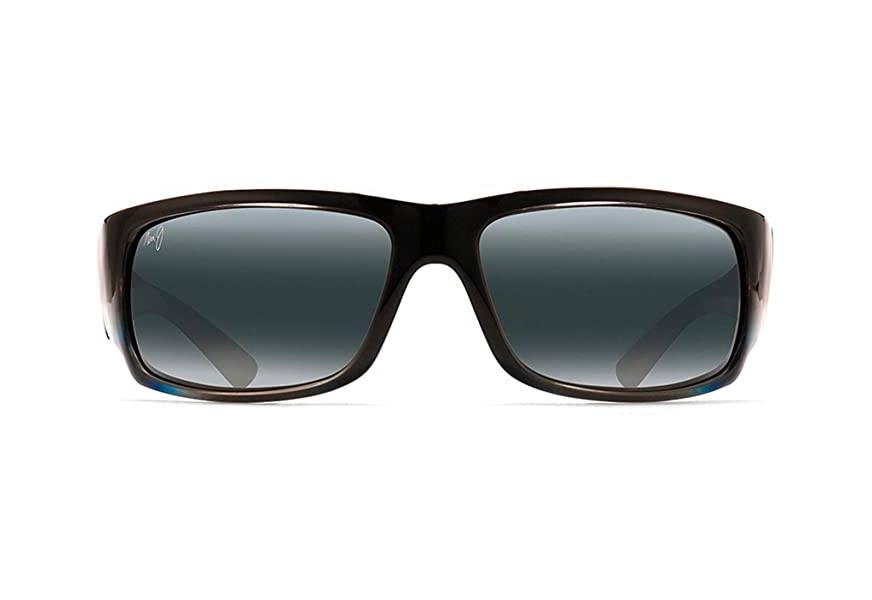 Maui Jim credits nothing to third-party sources: they make all this rugged power in-house. They have their own PolarizedPlus2 technology that stretches what we thought polarization could do, and enhances it greatly. You'll be able to stare straight into the sun (not that you have a need to, but hey, you could if you wanted to) without feeling anything penetrate these lenses. Though the tint is very slight, they pack amazing power.
Capitalizing on their reflective capabilities, Maui Jim also included stellar 100% UV protection for peace of mind. Regardless of what conditions you're in, they'll have your back. The wide frames are crafted of durable, flexible plastic for maximum comfort and impact resistance. Whether it's a trip on the ocean or by the lakeside, you can't afford not to have perfect protection in your corner. Combine them with some of the most popular fishing hats from our list, for additional protection.
Key Features:
PolarizedPlus2 tech enhances clarity and provides scratch resistance
100% UV protection
Wider, flexible frame fits larger head sizes
Plastic frame with flexible build
Specification:
Brand

Maui Jim

Model

266-03F

Weight

7.2 Ounces
Oakley Men's Turbine Rectangular Sunglasses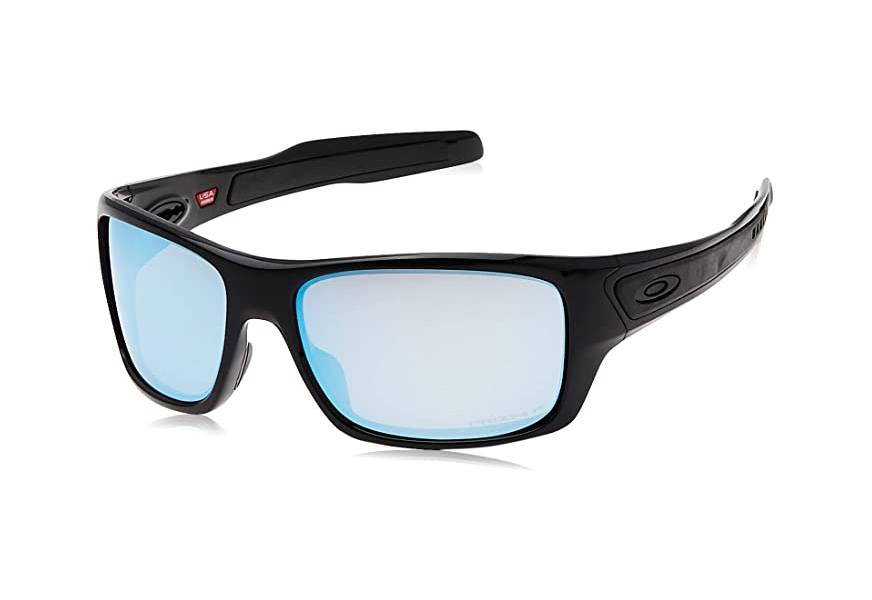 Oakley's got style, we know that already, but they packed in some extra eye armor with their Turbine shades. Fitted with 100% UVA and UVB protection, these plastic lenses are coated and a tiny bit frailer than other sunglasses we've reviewed in this guide, but get the job done nonetheless (and excellently so). Despite the UV protection being a coating, it would take some serious intent to pierce it and damage the lenses.
The Prizm lenses are specifically designed to enhance color and contrast and allow you to spot more details. They're built into a durable and flexible plastic frame. And thanks to pressure pads at your temples, you should be comfortable throughout the day while wearing them. No more mild tension headaches from eight hours of wearing sunglasses! Oakley came to the table with over fifteen styles, and a fantastic customer support service. Don't forget to also check our sunglasses for hiking for more great products like this.
Key Features:
Prizm lens tech enhances color and detail
100% UV protection (coated)
Durable and flexible plastic frames
Three-point fit
Specification:
Brand

Oakley

Model

Turbine

Weight

3.2 Ounces
Kaenon Burnet Mid Sunglasses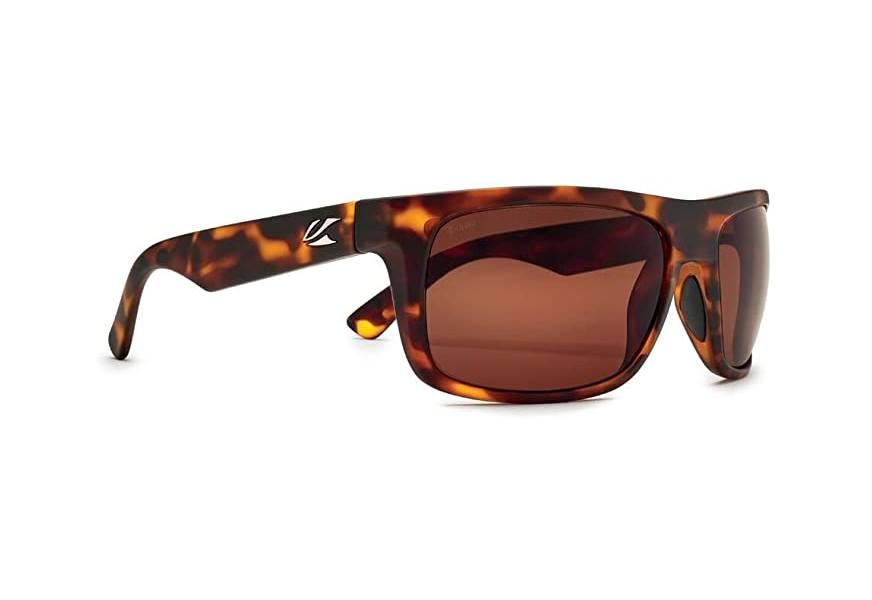 Last but definitely not least, Kaenon comes in with a higher cost, but a killer style that will have just about anyone turning their heads. With a classic tortoiseshell style and polarized lenses, these shades offer seriously powerful polarization without altering or tinting color. Kaenon's polarized fishing glasses also pack some pampering features, such as the Variflex nose pads for maximum comfort.
Keep in mind that polarization magnitudes and tinting will vary depending on which of their six sexy styles you go with. The metal hinges are completely corrosion-resistant, and the lightweight frame keeps this light as a feather. No drag, no mild tension headache when you take these off after an eight-hour day on the lake, just a fantastic fit with top-notch color clarity properties. Make sure you also check our guide to the best safety glasses.
Key Features:
Polarization is top-tier quality; varies depending on style
Corrosion-resistant metal hinge
Lightweight and flexible frame
Recessed Variflex nose pads for optimum comfort while wearing
Specification:
Brand

Kaenon

Model

046TOMGGN-UB12-E

Weight

4.8 Ounces
Why Trust Us
To give you an in-depth look at each pair of polarized glasses for fishing, we researched the best-sellers, read dozens of reviews, and had our testers wear their fishing sunglasses on various outdoor adventures (fishing included). The result is a list of some of the best fishing sunglasses that the market has to offer.
Who This Is For
We created this guide for all types of anglers. So, whether you're looking for sunglasses for sight fishing, inshore fishing, low light conditions, premium polarized sunglasses that will your protect your eyes in all situations, or perhaps some cheap sunglasses that do the job, we've got you covered.
How We Picked
We tried to find quality fishing glasses that would be useful in a variety of situations and for different types of anglers. We included a variety of shapes, lens technologies, and colors, and made sure that each model is comfortable to wear, durable, and provides excellent sun and glare protection.
How We Tested
The best way to test fishing glasses is to wear them in different environments - both in bright light situations and low light conditions. This is exactly what our tester did with his Ombraz Amrless Sunglasses, testing them out on his hikes and fishing trips. While we couldn't test each pair of sunglasses reviewed here, rest assured we did our research and picked only the best polarized fishing sunglasses for this guide.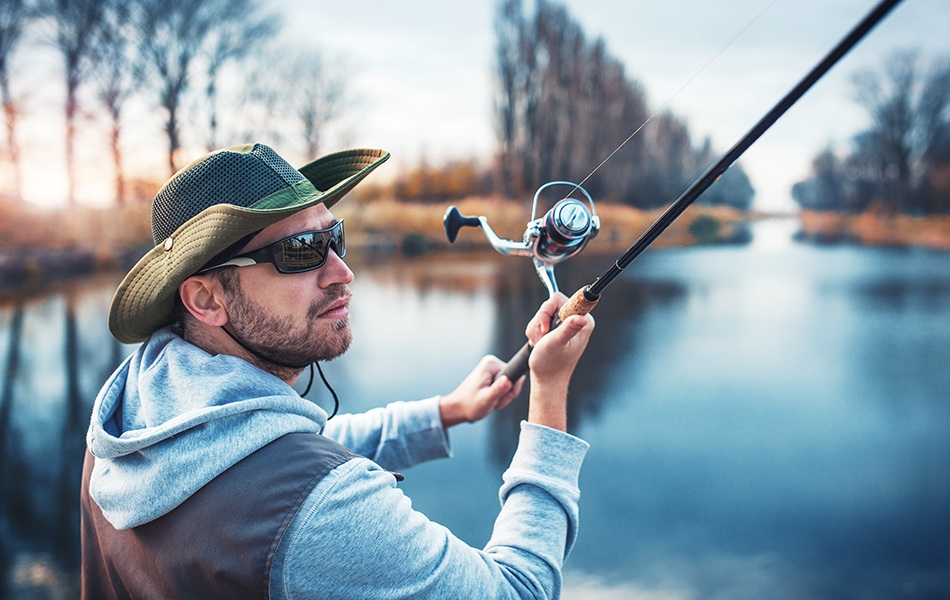 Features To Look For In Fishing Sunglasses
Picking a pair of sunglasses has a lot more to it than meets the eye. We're going to break down light refraction, sizing, coverage, and dig a little deeper into Snell's Window, which is why you can see the sky from underwater, but can't see more than three feet into the ocean with the naked eye. From top to bottom, this is everything you need to know about the best polarized fishing sunglasses on the market.
Polarized lenses - We talk about these in-depth throughout the rest of this guide. Polarized lenses are essentially what separates fishing sunglasses from standard sunglasses. If they aren't polarized, they aren't going to reflect light, and they won't truly be the best fishing sunglasses for every type of excursion. So, when shopping for a new pair of sunglasses for fishing, make sure they're actually polarized.
Photochromic lenses - Also known as transition lenses, these adjust to varying levels of light so you don't have to take them off when you go indoors. We all know that it's rude to wear sunglasses inside, but with photochromic lenses, that isn't going to be a problem. These adjust to the indoor light levels and appear more transparent and less tinted. Alternatively, these also allow you to handle higher magnitudes of direct sunlight and reflections without squinting through your sunglasses.
Lens material - It's a bit funny that we still call them sunglasses, when most of them aren't made with any glass in the lenses at all. But in any case, you need to look at the lens material, whether it's a resin, plastic, or you get lucky and find a pair that are made with actual glass. There are tons of different materials used. We recommend keeping an eye out for the lens, and independently researching the pros and cons of each lens material type.
Lens color - Coloring on the lenses partially dictates how effective these are going to be at blocking blue light and UV light in general. There's a reason you see multicolored sheens on your lenses: they're built to reflect just about everything that comes your way. In general, for saltwater fishing, we recommend blue, grey, black, and green lenses. Mirrored is a plus too (we're big fans of blue and green mirror lenses). For freshwater fishing, opt for bronze or brown lenses, or copper lenses. Gold and yellow lenses are great for low-light situations.
Lens coating - You have to be careful here. If your lens is coated, then you'll be able to save a few bucks, but it comes with more fragility. Coatings can come off with scratches, so if you have little ones that are constantly getting into your belongings, you'll do better to opt for sunglasses that are built with the protective features embedded into the lens. This might cost you a little more, but should last longer than coated lenses.
Tips To Protect Your Eyes When Fishing
Always go for uv protection - One of the most harmful things you can do to your eyes is expose them to direct UV rays for extended periods of time. Even if you lean back in a lawn chair by the lakeside when you fish, those UV rays can still penetrate your eyelids (slightly) and wreak havoc on your health. Look for UV-400 protection; it comes on the best fishing glasses for men.
Practice proper casting - We don't want to get grim here, guys, but we've seen far too many fishing-related injuries. It sounds silly just writing it, but it's actually easier than you think to cast improperly and nick your eye. Wearing fishing sunglasses will help with this, but practicing the proper way to cast your line is what you need to master.
Opt for full coverage - Not all fishing sunglasses are going to form a full cover over your eyes, but the more coverage, the better. As we'll talk about in this guide, you're combatting sunrise and the many angles of the sun throughout the day. Those constantly changing angles of light are going to find their way between you and your shades. If you have full eyecup coverage fishing sunglasses, then you'll be better off.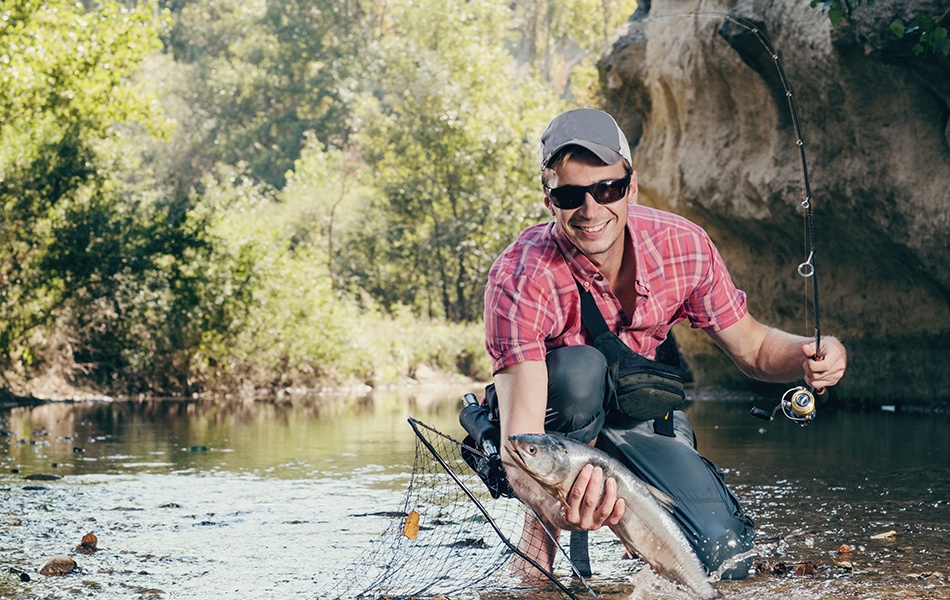 Fishing Sunglasses FAQ
Q: Do I need fishing sunglasses?
A: You can certainly fish without fishing or sports sunglasses, but you're going to have a difficult time. Polarized lenses are the main draw of fishing sunglasses. They help you see clearly through the water while reducing glare from the sun reflecting off the lake or ocean. In short, it's highly recommended to wear fishing sunglasses when fishing.
But simply reading the title of a product that says "fishing sunglasses" isn't enough. It's all about the lens color and UV protection. Part of the harm of fishing is dealing with ultraviolet rays and the damage they cause. Most fishermen who use standard sunglasses don't realize that they're actually doing a lot more harm than good. They're magnifying the sun's rays which is known to increase the risks of cataracts and eye cancer.
Not to mention the blue light that naturally comes from sunlight. We know that blue light from LED and LCD screens is harmful to the eyes. It's been proven that it can reduce your eyesight capability from 17% to 22%. While those statistics are based on your exposure to screens for more than five hours per day, think about how long you're out in the sun at the fishing spot. Probably for four to five hours, right? It's definitely damaging.
The best fishing polarized sunglasses will not only help you see into the water better but also grant you the peace of mind that comes with protecting your eyes. As an added bonus, you'll also feel far less fatigued or "heavy-lidded" when you come home, which can help keep you in top form throughout the rest of the day.
Q: Can polarized sunglasses help in seeing things beneath the water?
A: Yes. Their main benefit comes in how they reflect light. We'll get into this a bit more in-depth in the next section, but this is why polarized sunglasses are superior to prescription sunglasses. Whether you're on the end of a pier, the side of a boat or on the lake, bodies of water are difficult to see through. Polarized lenses help.
By reflecting glares, you're able to see through the refraction of light off the surface of the water. This allows you to see much further down than the naked eye permits, giving you a broader range over active fishing spots. It's also a way to peer down and see if the bite on the end of your line is actually worth pulling up, or just letting it get away.
Q: Are polarized sunglasses good for fishing?
A: One of the biggest challenges with fishing is the glare off the water. Polarized lenses help you throughout the day. When the sun starts poking its head over the horizon (if you like to hit the fishing hole in the early AM), you're dealing with the sun's angles from dawn until you decide to leave. That provides its own series of difficulties, especially if you're still hanging around at noon. In short, they're not just great for fishing, they're a necessity.
Q: Do I need a prescription with fishing sunglasses?
A: You do not. Do they exist? Yes, but they aren't necessary when you get polarized lenses. Prescription sunglasses typically aren't polarized, and while you may have a bit more visibility in the right light, you're going to have a harder time spotting fish.
Prescription sunglasses magnify, and so you're getting an altered image of the water. When we look through water, everything morphs. There's something called Snell's Window, where we see light through the water when we're under it, because of the way light fractures through it (at a precise 96-degree angle). When we're above water, this doesn't happen. The light is reflecting, and working against us.
In the end, your prescription sunglasses aren't going to help with spotting the fish; polarized lenses are what you want. You may, however, want to opt for prescription polarized fishing sunglasses.
Sources:
What Are Polarized Lenses For? - American Academy Of Ophthamology
Why Different Lens Color In Sunglasses? - All About Vision
Choosing The Right Tint For Your Sunglasses - Verywell Health
Sign Up Now
GET THE VERY BEST OF GEARHUNGRY STRAIGHT TO YOUR INBOX