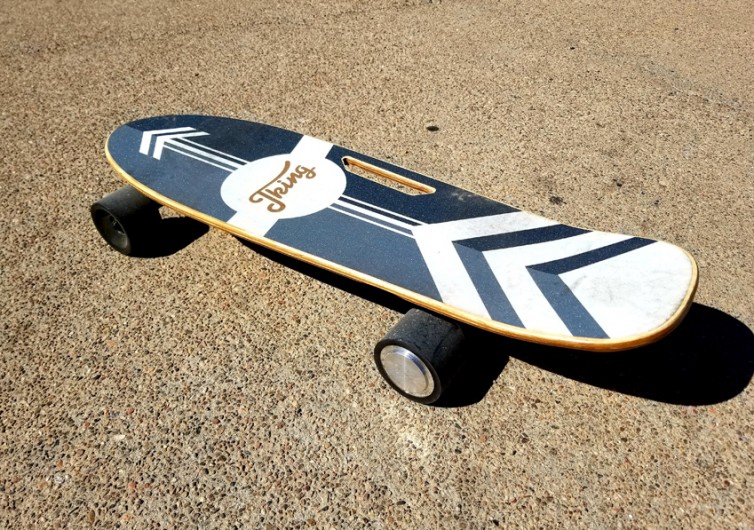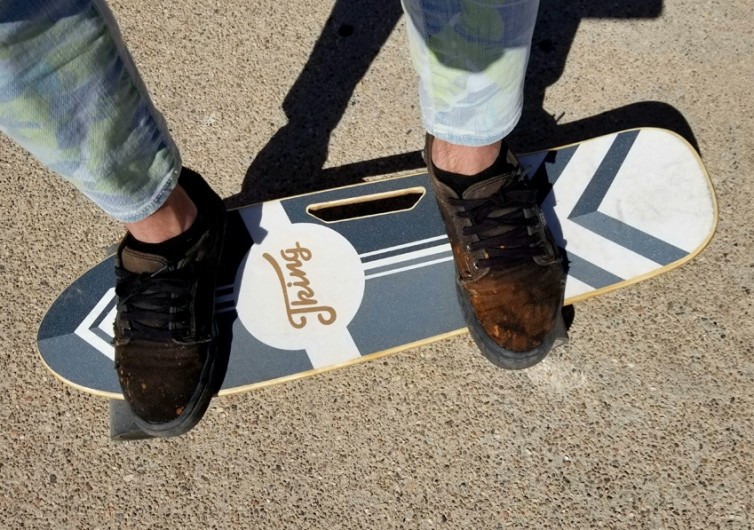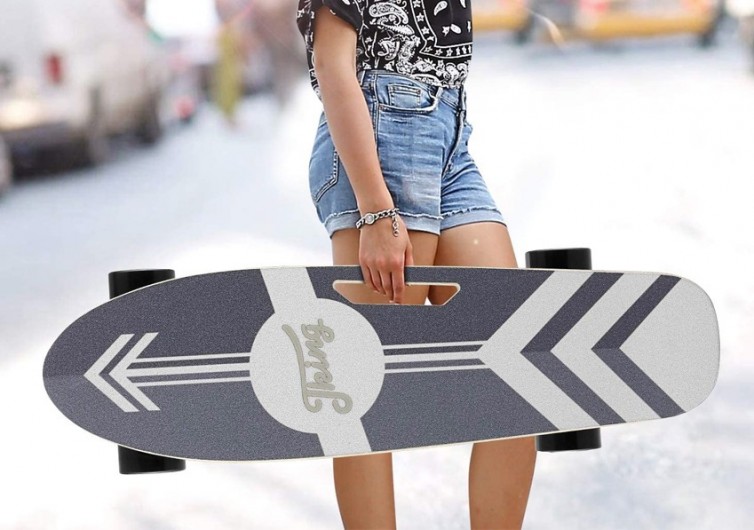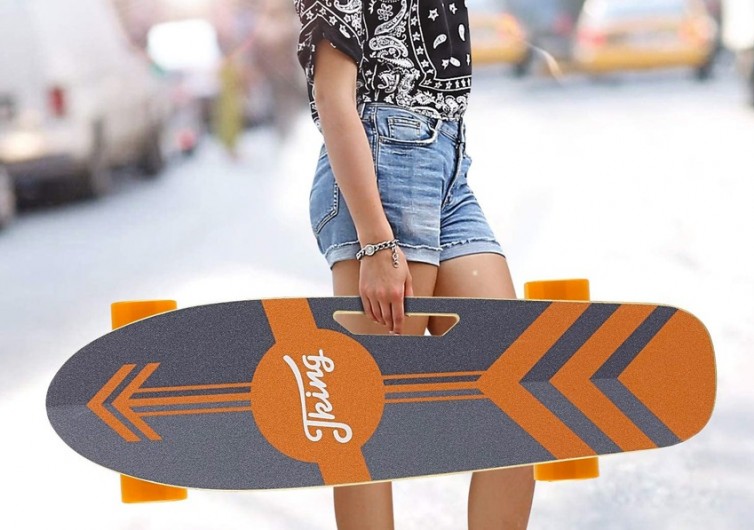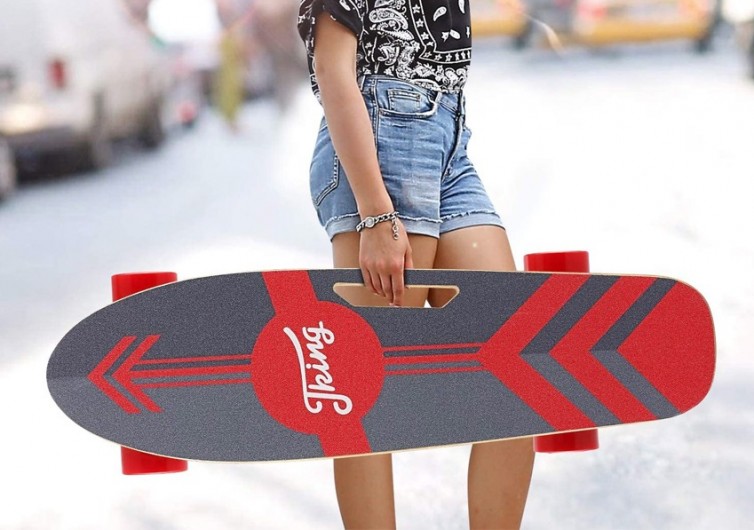 GearHungry may earn a small commission from affiliate links in this article.
Learn more
Easy, Budget-Friendly Cruising: Nesaila Electric Skateboard
Nesaila makes an affordable electric skateboard with a low/moderate range that's easy to control. The 28″ maple board is ideal for tooling around the neighborhood or running close-range errands. City commuters could benefit from the Nesaila's compact size and good performance over sidewalk cracks. It's also a good kid's board — it doesn't achieve dangerous speeds, nor is it too big.
At $220 MSRP, it's an inexpensive but capable entry point in the e-skateboard category. Through testing, the Nesaila electric skateboard carved out a modest place in my life because it proved easy to transport, serviceable for quick A-to-B missions, and, of course, fun.
Hub Motors on Electric Skateboards and What They Mean
The powerplant of Nesaila's e-skateboard is a single 350-watt hub-mounted motor powered by a rechargeable 29.4-volt lithium-ion battery. The battery is the big black box mounted to the bottom of the board; the motor is housed inside the left rear wheel.
A hub motor in an electric skateboard is generally the same thing as a motor you would find in any electric toy you took apart as a kid, only bigger: picture the gray metal box about the size and shape of a 9-volt battery, with a rod coming out one end and a wheel attached.
In electric skateboards, hub motors sacrifice torque for higher top speed. The alternative, a belt-drive motor, uses a higher gear ratio to increase torque. In practice, this means that belt-driven electric skateboards climb hills better. However, hub motors have a reputation for being quieter and lower-maintenance.
Nesaila Electric Skateboard Skateboard Deck & Truck Feel
Nesaila's 28-inch, 7-layer maple deck has a slight concave profile for control. The concave effect was noticeable underfoot and helped add some feel to the otherwise stiff deck. Nesaila claims a max weight capacity of 220 lbs — more on that later.
The board uses a standard truck that arrives quite loose (with a tool for adjustment) and a burly 72x51mm wheel. The wheel material is a pretty soft polyurethane, and the stance is wide, which makes the board feel very controllable if a bit gooey. I tightened my trucks a bit because I found I was prone to leaning way too hard with the out-of-the-box tension during turns.
First Impressions and Biffing
Riding the Nesaila e-skateboard took some concentrated adjustment on my part. The unit and remote both arrive with a partial charge; I was pretty stoked, so I laced up my Vans and hit the parking lot right away.
The Nesaila board accelerated quickly, or it did under my 125-lb. frame at the high-speed setting. Eventually, I settled into a routine of pushing or cave-manning to start as I would with a normal board, then engaging the motor later. Nesaila's controller made this move really easy to do: the thumbwheel is ergonomic, grippy, and intuitive.
The next thing I noticed was that it felt awkward to be kinetically detached from my momentum. (Damn, nerd alert. Let me explain): what I mean is that because the motor pulls you along without you doing anything, you don't perceive momentum and speed like you would on a normal skateboard. Usually, you control the ebb and flow of speed with your body as you push, coast, and carve; on any electric skateboard, the motor controls that. It's just a matter of getting used to it, but it's especially pertinent to anyone who's never ridden an e-skateboard before.
In fact, the effect bit me during my very first session when I sped up in a turn instead of slowing down (like I instinctively expected to). I went into a speed wobble, lost my balance, and ate pavement. Of course, I did the awkward "stand up really fast and look around to see if anyone saw" routine, and when I'd coaxed my ego back out of its shell, I found that the board had stopped on its own about 15 feet away (due to the motor slowing down, or "engine braking").
I limped away, at least confident that I was unlikely to lose the board into traffic on future biffs, and stoked to recharge so I could try again.
In Practice: How the Skateboard Tested (Once I got Used to It)
Eventually, I appreciated the Nesaila board's utility. Its fatty wheels absorbed pavement cracks and random rocks very well. Its deck was comfortable and grippy over shorter rides, and the board is small enough that it was easy to carry around in beer stores, grocery aisles, etc.
That being said, beer runs were my favorite utility for the Nesaila electric skateboard. It just wasn't equipped for a whole lot more than that or neighborhood cruising — I measured its range at just over three miles or about an hour. (That was at the high-speed setting, but I found medium and slow intolerable). Also, the board labored on hills, especially as the battery got low. Take note that I experienced that at 125 lbs. — if I weighed closer to the board's stated 220 lb. capacity, I wouldn't expect the motor to get me up hills.
Still, it's a compact board that was easy to ride and control. In fact, the controller was impressively easy to use. The board responded closely to the thumbwheel, with no lag or mush in the communication. That was especially true of the brake function — I recommend practicing gently with it at low speeds first.
Review Conclusions & Purchasing Info
The Nesaila is as affordable as a capable electric skateboard gets at $220 MSRP. Though it's not built for long missions, the board's easy control and high portability make it a good choice for short commutes, errands, neighborhood funzies, or kids.