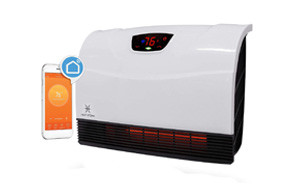 Heat Storm HS-1500-PHX-WIFI Infrared Heater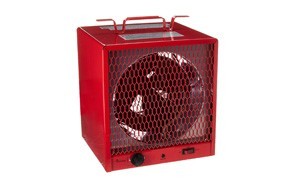 Dr Infrared Electric Garage Heater DR-988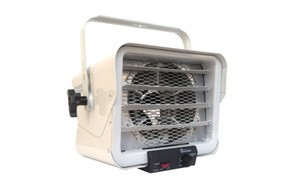 Dr. Heater DR966 Electric Garage Heate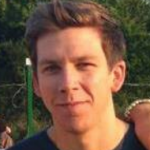 An electric garage heater is the best solution to turn your frigid cold garage into a comfortable place even during the cold winter months. Most people's garages are not connected to the central heating system which means that it can be very cold and uncomfortable in your garage especially if you need to do some quick fixes on your cars.
Having an electric garage heater can turn your cold garage into a warm multifunction room where you can do your do-it-yourself projects, host a small indoor party with friends, or simply replace a light bulb in your car even in the middle of winter. Electric Garage Heaters are very versatile because they are easily portable, easy to maintain, worry-free ownership and plenty of choices available in the market.
If you are planning to buy an Electric Garage Heater for your home there are some factors to consider like the size of a garage, what type of heater, your power requirements, the size of the heater, and most importantly your budget. So let's dive in and take a look at some of the best electric garage heaters for any budget.
The Best Electric Garage Heater
Electric Garage Heater Buying Guide & FAQ
How To Choose The Best Heater For Your Home
Choosing the perfect electric garage heater for your home is easy if you know what to look for in a garage heater. This guide will help you factor in the qualities of a garage heater to help you pick the best one for your budget and your needs.
Features To Look For In A Garage Heater
Electrical requirements - Electric garage heaters are bigger and more powerful than your typical electric room heaters so they require more power to operate. Some electrical heaters may no be directly compatible with the standard 110-120 volt outlets in your home and may require attention from your local electrician since most big electric heaters for your garage operate at 220-240 volts.
Type of installation - Most electric garage heaters can be quickly installed to your home by simply placing it in your desired place making them easier to move and store. Most electric garage heaters can be mounted on your wall when needed, this feature is important for families who have children or pets. Large electrical heaters may require the installation of a dedicated socket that can handle the bigger electrical load. Some wall-mounted electrical garage heaters may also need to be wired directly into your electrical system.
Safety Features - Electrical garage heaters, if used improperly, can cause injury but fortunately, most electric garage heaters are equipped with safety features to help reduce those risks.
Electric heaters should have a built-in thermostat that can automatically turn off the heater when it detects overheating.
Flame-resistant materials
Electric heaters must be made from flame-resistant materials to reduce the risk of fire. The appliance must pass the ETL and UL certification set by the Nationally Recognized Testing Laboratories (NTRL) especially for electric heaters that use 240 volts.
Electric garage heaters do not produce harmful gasses like carbon monoxide because they do not burn fuel to produce heat.
Safe Heating-Element Housing
Garage heaters generate a lot of heat and touching the heating element can cause serious burns. Garage Heaters should have adequate protection to help avoid accidental touches to the heating element. This is important for households that have children or pets.
Electric Garage Heater Size - When it comes to electric garage heaters there is always a trade-off between portability and heating capacity. The smaller the size of the electric heater, the more portable it will be but it will generate lesser heat. Conversely, Bigger electric heaters may require dedicated mounts making it a permanent fixture in your garage.
The Heating Capacity - Choosing the correct electric garage heater in terms of capacity depends on two factors; The size of the room or space you want to heat and the amount of power your heater can provide. Most electric garage heaters indicate how much heat they produce through watts or BTU ( British Thermal Units). A typical garage may require 20- 40 BTU per square foot so if you have a 300 square feet garage you need a garage heater than can produce 12000 BTU.
Types Of Electric Garage Heaters
Electric Heaters have different ways of distributing the heat they produce to their surroundings.
Radiant or Infrared Heaters - Radiant or infrared heaters do not have any fans or moving parts making them very quiet. They radiate the heat they produce to their surroundings which means that they need to placed close you or your workplace.
Fan or Forced Air Heaters - Fan heaters are one of the best selling electric garage heaters available. They are able to produce heat quickly and are capable of distributing heat to a large area because of the fans. Electric fan garage heaters can effectively circulate and heat a large volume of air efficiently which is ideal for large car garages or workshops.
Convection Heaters - Convection heaters are bigger and industrial-sized versions of radiant heaters. Instead of radiating heat, convection heaters use the natural flow of warm and cold air to circulate the heated air in its heating element. They are quieter than fan heaters but not as effective in large open spaces.
Portable or Fixed Heaters?  
Homeowners may find it tricky to choose between a small capacity portable heaters that are easy to store during the warm summer months or high-capacity heaters that are fixed to your garage floors or walls.
Portable Electric Garage Heaters - Portable electric garage heaters have the advantage of easy installation, operation, and storage thanks to their small design. Most portable heaters also have the option to be mounted to your walls if needed which makes it a versatile option for most homeowners. One of the drawbacks for choosing portability over size is that medium size heaters may have difficulty in heating large spaces especially if you have a multi-car garage.
Fixed Electric Garage Heaters - Fixed electric garage heaters are relatively larger compared to portable small and medium-sized heaters because of their increased capacity to heat larger spaces. One of the factors to consider is that fixed electric heaters require special mountings that can take up space in your garage. Some types of electric heaters also need to be directly wired to your electrical system which may require a visit from your local electrician.
There are many advantages of mounting or fixing the electric heaters for your garage to the walls like improved efficiency in heating large spaces and reducing the risk of injury especially for children and pets because the heaters are mounted high up.
Electric Garage Heater FAQ
Q: What is an electric garage heater?
A: Electric garage heaters are a type of heating appliance that is powered by electricity in order for them to produce heat for your garage.
Q: Are electric garage heaters expensive to run?
A: No, Recent advances in heating technology have increased the efficiency of your standard electric garage heaters. They are now cheaper to operate and maintain compared to electric heaters that were released years ago. Smart functions like automatic fan controls, automatic thermostat and other smart features have helped increase the efficiency of electric heaters.
Q: Are electric garage heaters safe?
A; Yes, electric garage heaters are very safe when compared to other types of heaters. They do not produce harmful gasses like carbon monoxide and have built-in safety features like a smart thermostat to prevent overheating and reduce the risk of fires.