Wireless Wind: Best Cordless Fans in 2022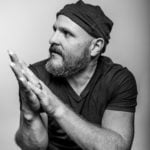 This product guide was written by Andrew Marshall
Last Updated
June 14, 2021
Andrew Marshall
Andrew Marshall is a writer, painter, photographer, and filmmaker. He primarily writes about the outdoors, though like most writers he's interested in just about everything. Andrew is a long-distance athlete with a passion for running and walking up and down mountains. Born and raised in the southeast, he now lives high in the Sierra Nevada with his wife and a freakishly large orange cat.
GearHungry may earn a small commission from affiliate links in this article.
Learn more
Whether we like it or not, summer is here, and temperatures are rising. Working on job sites, at the office, or home under a beating sun is not only unpleasant but can be dangerous as well. Summer heat is here to stay for a while, so it's time to keep cool. Cold water, covering up, making use of any available shade, and a cordless fan can make all the difference in a comfortable workday and whether you end up with heat stroke or heat exhaustion. The sun is no joke and has no mercy. This is where cordless fans can be a godsend.
The best fans are portable, don't require electricity, and can help keep your home or office cool if you don't have A/C. They are also critical for outdoor job sites. They are bigger and better than a handheld cordless fan and give you a hands-free solution to keeping cool. These tools are durable, portable, and powerful, and should be a fixture of every worksite, office, and home in time for the summer months.
The Best Cordless Fan
DeWalt Jobsite Cordless Fan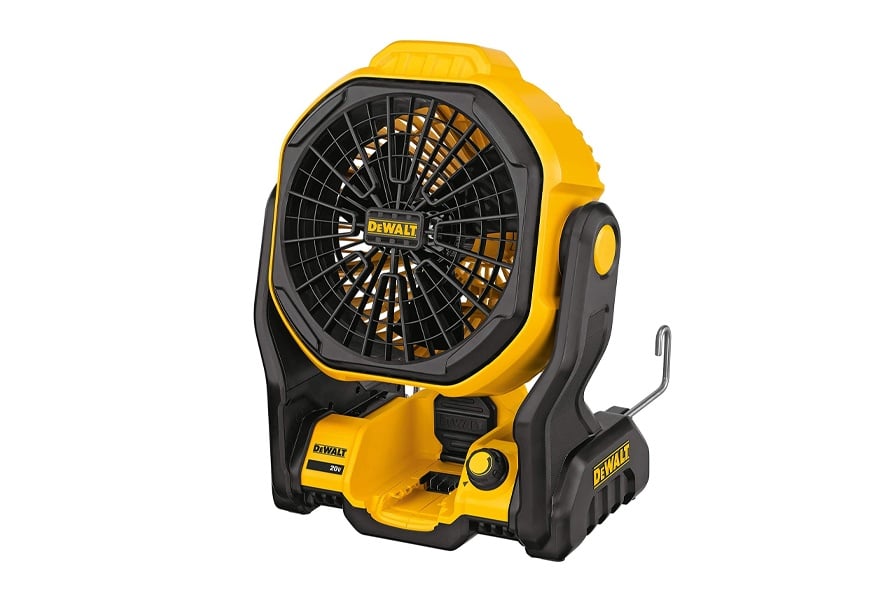 Our top pick of cordless fans is the DeWalt 11" Cordless Jobsite Fan, aptly named (by us) "the little fan that could." Between its handy features, power, and versatility, you'll be as impressed as we are by this portable cordless fan. It has a powerful battery that can run for up to 36 hours on its lowest setting. Additionally, this rechargeable cordless fan offers multiple hanging options, so you aren't limited to placements on the floor, desks, or chairs. It's not an oscillating cordless fan, but the mounting options and speed controls make it one of the more versatile fans on this list.
The LED battery level indicators let you know when it's time to recharge the included charger pack. This fan is lightweight but sturdy, but if you want to ensure a long life for your new fan best friend and reduce damage, you can use the carry case for transporting this DeWalt fan.
Unlike larger corded fans, you won't hear it running, so if you want to take it home and put it by the bedside, you'll get to sleep cool and with no disturbances. The cordless option makes it great for portability, but if you need to charge the battery, there's also a chance to use AC power to keep you cool throughout the day. Of course, you can only do this if you don't have the battery plugged in. If you need a smaller fan, check out our guide to the best desk fans.
Key Features:
Has dimensions of 11 inches
Run Time: Seven hours on high speed, 36 hours on low speed.
Multiple speed control options
Several hanging options included
Specification:
Brand

DEWALT

Model

DCE511B

Weight

6.7 pounds
Milwaukee M18 Jobsite Cordless Fan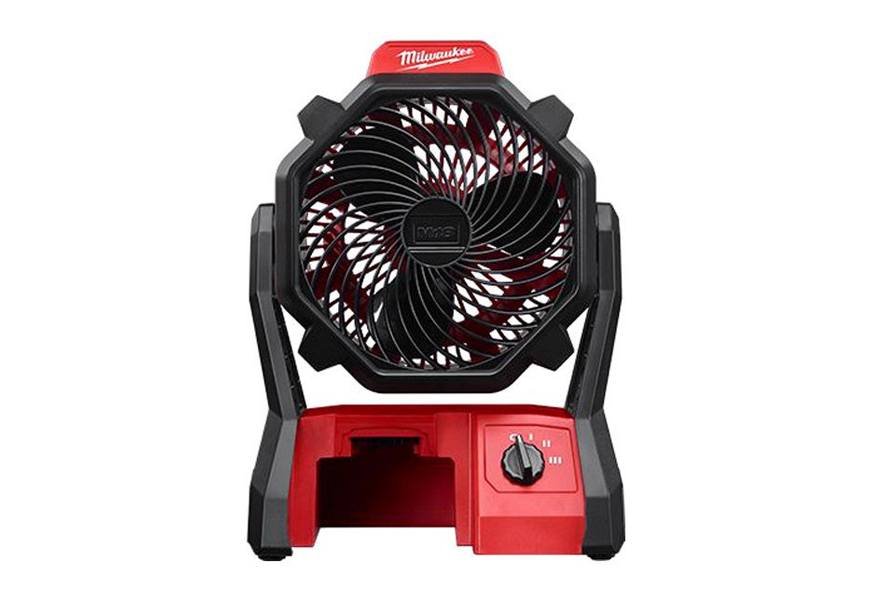 A tough and robust battery-powered fan that'll cool down any job site and get you through even more jobs. The Milwaukee M18 Jobsite Fan is a no-nonsense, powerful, and effective outdoor cordless fan. Its durable construction makes it perfect for hazardous environments, as it can more than handle being knocked, dropped, and toppled without suffering cosmetic or operational damage. In addition, the battery is reliable, giving you up to eight hours of power on a single charge.
This tool is easy to carry and transport using the built-in handle. The three-speed options make this product versatile for use in various situations, and it can run for as long as ten hours on its lowest setting. For small, tight spaces and keeping one person cool throughout the day, this fan is one of the best options on the market. For larger groups, another larger fan may be in order. 
Despite being one of our most expensive picks, it's more than worth it for anyone who lives in parts of the world with a distinct lack of seasons. For such a small cordless fan, this fan has plenty of power to keep you cool. We wish the power cord were easier to store within the unit when you're not using it; it's not too much of an issue as long as you remember where you've kept it. Our guide to the best cooling fans offers more great products like this, so check it out!
Key Features:
Run Time: Ten hours on low setting
Lithium-ion battery
Durable and effective
Convenient handle for carrying
Specification:
Brand

Milwaukee

Model

0886-20

Weight

6.65 pounds
Ryobi 18 Volt Hybrid Cordless Fan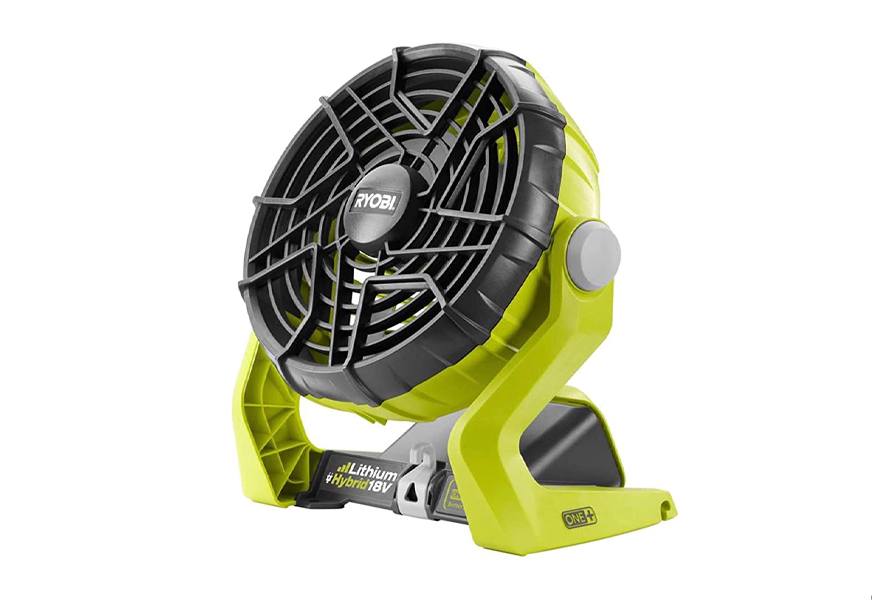 If you're looking for a worksite fan that provides power, reliability, and durability while also offering excellent value, the Ryobi 18 Volt Hybrid Shop Fan is an excellent option. The hybrid design means it can work as both a corded and cordless fan, and when using it cordless (which is why you're here), you'll find it's easy to hang wherever you like. You can utilize the built-in hanging hooks or use the screw mounting holes for easy placement in a vertical setting.
In addition to hanging, this device also sits comfortably on your desk, shelf, or filing cabinet, and the tilting head allows you to direct the airflow wherever you need. For hot, suffocating days trapped indoors, the variable speed options are a perfect relief, and if it gets too chilly, you can turn it down a notch or two for more comfort.
It's not just a worksite fan, though, and the Ryobi is an excellent companion on camping trips or in an emergency – like when the power goes out in the middle of a heatwave or following a disaster. Unfortunately, the battery charger pack doesn't come included. Still, it's compatible with other Ryobi products, so if you've already got a lot of its tools, you won't have an issue when the battery runs down.
While it doesn't offer as long of run time as the DeWalt, lasting 8 hours on the lowest speed setting, it's still great for keeping you cool throughout the workday. Just be sure to charge it overnight if you want that comfort to continue. Make sure you also check out our guide to the best cooling tower fans.
Key Features:
Lithium-ion battery and charger included
Distinct neon green design
Several hanging options
Corded advantage
Specification:
Brand

Ryobi

Model

P3320

Weight

2.2 pounds
Makita 18 Volt Jobsite Cordless Fan
The Makita 18 Volt Cordless Jobsite Fan is a slimline and convenient option you can rely on. Its durable design is enhanced with protective bumpers around at-risk areas to keep it safe should it fall or be knocked over, which is always possible when working at construction sites or around generally clumsy humans. 
At just five pounds, you'll get a massively portable fan to take with you to the building site, on road trips, and back home to keep you cool as you enjoy the summer in your yard, and the large carry handle makes it easy to pick up whenever you need to. In addition, the adjustable platform gives you a range of positions to try out until you find the perfect one for you.
It also comes with two-speed settings (1,700rpm and 1,200rpm), so you'll never be too hot or too cold. However, reviewers have reported that the fan makes a lot of noise at the highest setting, so if you're looking for a quiet cordless fan, you may want to look elsewhere. 
If you're not too concerned about this noise and need a fan to get you to sleep but don't want to waste the battery, the 3-stage automatic timer is an excellent way to drift off comfortably without draining the battery. This timer works in intervals of 1 hour, 2 hours, and 4 hours, even though the maximum battery life seems to top out at around 3 hours on the lowest setting. While it's a decent enough fan, it probably isn't reliable enough to use throughout the day but would be excellent in emergencies. Find more great products like this by checking out our guide to the best high-velocity fans.
Key Features:
Run Time: 5.5 Hours on low setting
Timer control features
Easy carriage handle
Advanced battery protection features
Specification:
Brand

Makita

Model

BCF201Z

Weight

5 pounds
Arctic Cove 18V Speed Fan and Water Mister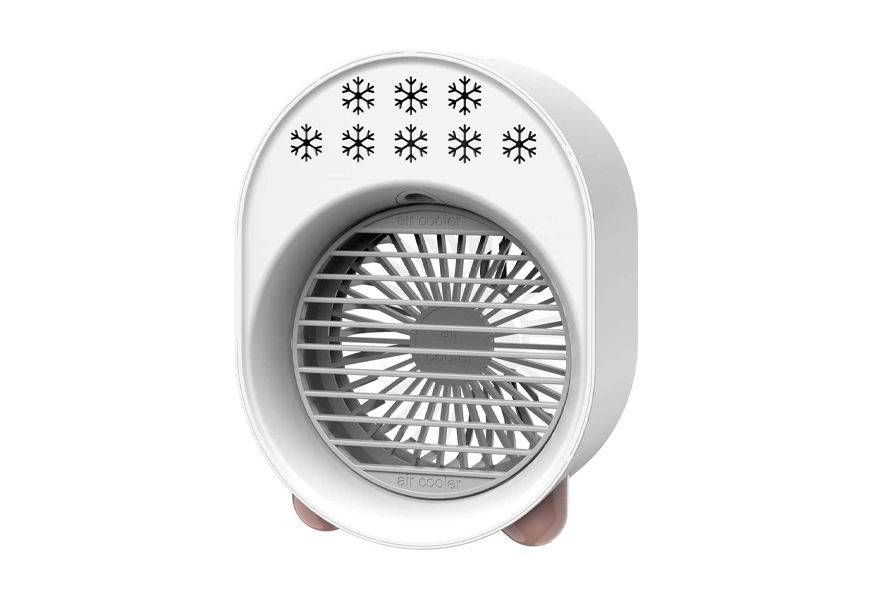 If you want a combination of both cool air and misting water to stay comfortable this summer, the Arctic Cove 18V Speed Fan with Water Mister is the answer. Perfect for giving you a respite from intense work and physically demanding projects, the misting feature keeps you refreshed while the fan keeps your space cool. 
The fan fits onto the rim of a five-gallon bucket which will feed water into the fan. A hose attachment is another option for using the water mister. So in addition to cooling job sites, set this system up in the yard, grab a beer and watch your kids enjoy hours of fun this summer. We all know water and electronics don't mix, but the design of this device protects the battery back, so you don't need to worry. As a bonus, it's compatible with Ryobi One+ batteries, so if you've already got Ryobi tools lying around the house, you never have to worry about being without power again.
It has a maximum run time of two hours on mist mode, which is just the right amount of battery power to keep you cool watching soccer or baseball games or relaxing on the porch at the end of the day. The battery is rechargeable, and with its multi-brand compatibility, you can always have it on hand to keep you relaxed if things go to overtime. However, it's not as durable as other products, so if you're working in high-risk areas, it may not survive the week. For chilled, casual use a few times a week, though, you're getting a product that will introduce you to a new level of fan luxury. If you need more cooling options for your home, check out our guide to the best box fans.
Key Features:
Variable speeds to suit temperature and activities
Hose adapter provides endless water supply
Onboard battery protection prevents it getting wet
Run time up to 2 hours on mist mode
Compatible with Ryobi One+ batteries
Specification:
Brand

Arctic Cove

Model

MBF0181

Weight

7.65 pounds
Ridgid 18 Volt Hybrid Corded and Cordless Fan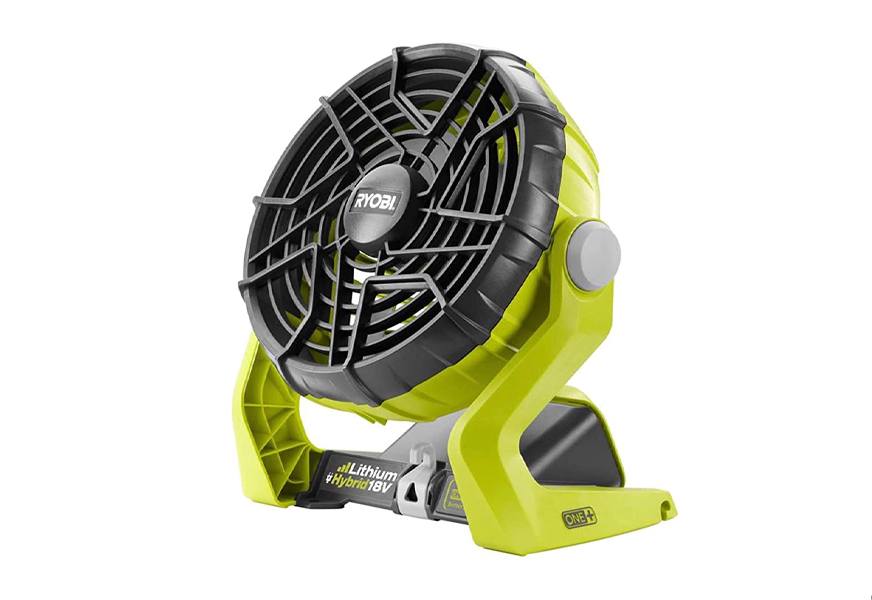 The problem with a battery-operated fan is that it can sometimes be a little on the noisy side. So if you're still searching for a fan that won't disturb you at work or through the night, the Ridgid 18 Volt Hybrid Corded and Cordless Fan is the fan for you. Its covert air technology makes this quiet cordless fan so silent that you may forget that it's on. This tech also helps improve battery life, running up to 45 hours on the lowest setting.
For clarity, this means you can work for 8 hours a day, five days a week on a single charge, and still have some juice left over for when you get back in on Monday morning, which is the perfect way to get ready for the week's projects.
It delivers a maximum airflow of 475 CFM and provides excellent air velocity to keep you as cool as you like. If the maximum setting is a little too much, you can adjust the variable speed settings until you find a setting that's just right. The 240-degree head rotation makes it easy to change if you're moving from one place to another but doesn't feel like picking the fan up and taking it with you, but if you did, the integrated rubber handle is comfortable and has a micro grip texture for support.
The durable cage keeps it protected from accidental knocks and drop. Still, the construction and design are so reliable and of such high quality you'd expect it to survive this, anyway. Our selection of the best portable air conditioners may also be of your interest, so check it out.
Key Features:
Covert air technology makes ensures silent operation
Extended run time up to 45 hours
Maximum airflow of 475 CFM
240-degree head rotation directs airflow where desired
Variable speed dial adjusts fan speed
Specification:
Brand

Ridgid

Weight

8 pounds
Makita 12V CXT Cordless Fan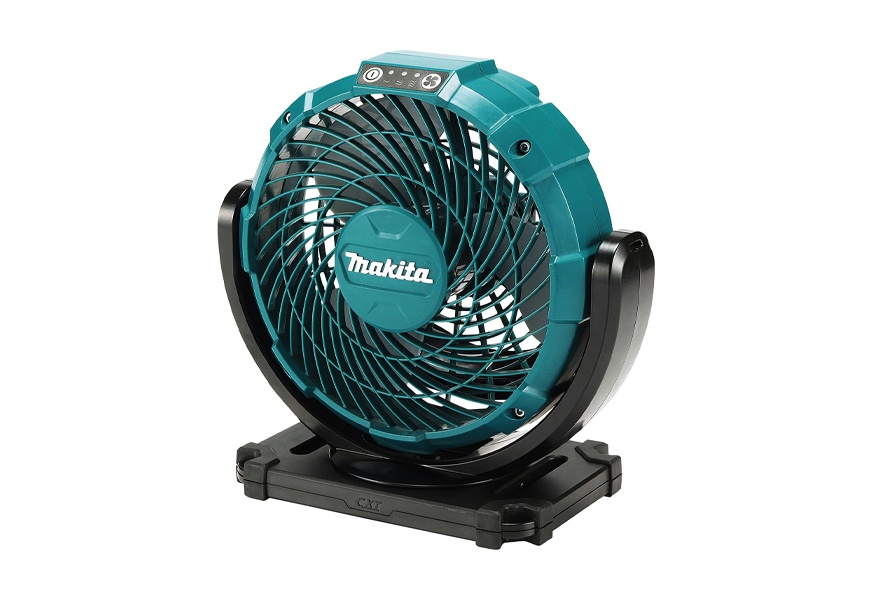 Ending on what we believe is the highest of highs, our final pick for the best cordless fans is also our premium choice, giving you a little luxury to consider before leaving us. The Makita 12V CXT Cordless Fan offers three versatile speed settings on 4.0aH batteries that provide excellent, perhaps unrivaled, air velocity control. Even on the highest setting, it is designed to reduce the noise level so you can work in peace without distractions and actually hear yourself think.
You can attach it to the wall, hang it from a frame, or set it proudly next to your workstation to keep you cool during intensive, exhausting jobs, and the tilting mechanism is convenient for angling the airflow wherever you need it most. If you need to move from place to place throughout the day, the compact design is a blessing. The hanging hook acts as a carry handle for easy transportation. 
The battery is long-lasting and powerful, giving you 10.5 hours of run time on the lowest setting and 4.5 hours on high. If you need a comfortable in between setting, the middle speed gives you over six hours of comfort, which is more than enough for a full day's work. As a premium pick, it's the most expensive option we've selected, but with this extra cost comes quality and reliability that's ideal for work sites, offices, stores, and home use to keep everyone cool and comfortable. If you need a conditioner for your vehicle, check out our guide to the best RV air conditioners.
Key Features:
Three speed settings and oscillation for optimum air velocity control
Designed for reduced wind noise level
Tilts up and down for easy airflow redirection
Adjustable hook for easy hanging and handling
Up to 10.5 hours of continuous run time in low mode
Specification:
Brand

Makita

Model

CF100DZ

Weight

3.15 pounds
Cordless Fan Buying Guide
Why Trust Us
As a proper Texan, I know a thing or two about escaping the heat. For nearly ten years, I worked outdoors nearly every summer, with the heat index averaging well over 100 most of those days. When July and August rolled around, having cordless fans available to cool down is a must. Heat stroke and heat exhaustion creep up on you faster than you can imagine when you're outdoors even for a few hours. I managed lifeguards and worked in the commercial pool industry for years and lifeguards rarely get to be in the water to cool down, so plenty of water, a fan and time in the shade makes all the difference in a ten-hour shift.
Who This is For
This guide is for anyone seeking a portable, cordless fan. However, much of this guide is focused on outdoor job sites. You shouldn't let that deter you from selecting a fan for your garage, or any other outdoor or warm space that you need to cool. Some of our fans even double as water misters for additional cooling power or summer fun for your kids. Most of these fans are excellent for one person but many are strong enough for multiple folks as well. If you need to keep cool, a fan is an excellent (but not the only) answer and this guide is for you.
How We Picked
Curating the best cordless fans required reading hundreds of Amazon reviews, reading other buying guides, personal experience, and considering the varying needs and budgets of the users of cordless fans. We wanted to ensure we had products to serve every need and we know not everyone has TESLA money, especially for a cordless fan, so we included fans in multiple price ranges too.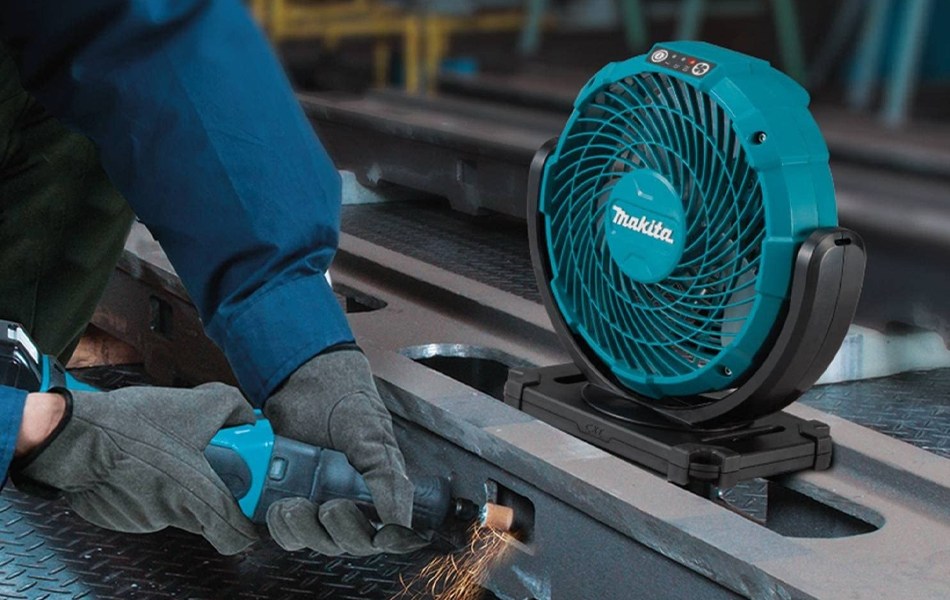 Features To Look For In Cordless Fans
Speed - A fan with adjustable speed settings is useful for giving you as much control as possible over the airflow. If you buy a fan with a one-speed setting, you could have something too powerful or too weak, which detracts from its effectiveness and means you're unlikely to use it.
Fans with variable speed allow you to adapt it for whatever environment you're in. if it's a sweltering day, you can use the highest setting, but the lowest setting will often suffice on a milder day. This speed also determines the CFM, or cubic feet per minute, and tells you how much air is blown towards you.
High speeds mean the motor is working harder, which could increase the noise level, and if need a silent fan, such as in bed or an office, this may be more important than high power.
AC Adapter - While you may want a cordless fan that's easy to carry and compact, that doesn't mean you should neglect to find one that comes with an AC adapter. This gives you a chance to power the fan via an outlet if you forget to charge the battery overnight and gives you uninterrupted power if you're staying in one place throughout the day.
The top cordless fans will allow you to charge the battery while the fan is plugged into the socket, but not all of them. If you're planning on heavy use, see if your fan has this feature.
If your fan has an AC adapter, ensure the fan offers built-in storage. Some devices may not have housing for cords, leading to extra clutter and things to carry.
Durability - On work sites, the potential for breakages is considerably higher than in other working environments. Cordless job site fans are durable by design, and they are built to withstand accidents.
These designs include robust, durable cages to protect the fan blades and rubber bumpers on corners to cushion the impact if they fall or are knocked over. The battery slot is also protected, and the casing is constructed to prevent dust from breaching the exterior and damaging the electronics.
Size - The size of your fan determines where it will fit comfortably on the worksite. Unlike standing, battery-powered fans, they are small enough to fit on desks, cabinets, and shelves, making them great for easily moving from place to place.
The size will also determine the power and energy consumption. Additionally, you should consider how many people will be using the fan at any given time.
Weight - One thing that causes people to flock towards cordless fans is their portability. Those of you on the move from site to site and job to job throughout the day don't want to lug around a cumbersome, weighty object, but instead need something easy to take with you on the go.
At less than 10 pounds, our selection is easy to carry, and the built-in carrying handles make it even easier. Lower weight means less impact when it falls, which further enhances its durability.
Battery Type - These fans don't run using AAA, AA, or even C batteries, but instead lithium-ion, which is the type of battery you get in smartphones, DSLR cameras, tablets, and pretty much every electronic device you currently use (like the laptop you're reading this on). With these types of batteries, you're able to charge and recharge them when they run out of juice and require less maintenance than standard batteries.
Lithium-ion also offers greater energy density and has less self-discharge, ensuring they last longer so you won't have to replace them. So it's likely that you won't ever need to purchase a replacement battery for your cordless fan if you are an occasional user. However, a backup battery is never a bad idea.
Battery Life - The battery life of your rechargeable fan will depend on how often and how high your speed settings are. Top-quality fans boast excellent battery life, sometimes lasting days without charging them, but only on the lowest setting.
The higher the setting, the less run time, and if you use your fan all day at the highest speed, you will likely need to plug the fan into a wall socket or bring a replacement battery.
Some cordless fans use LED battery indicators, so you will know when the battery gets too low, and swap it out for a new one before it stops.
Head Rotation - Unlike standing fans, there isn't a motor that automatically rotates the head to spread the air. Instead, cordless fans are built with hinges to rotate the fan manually. The range of this can be as broad as 270 degrees and as little as 45 degrees.
If you expect you'll need to shift the fan head frequently during your workday, select the fan with the largest range of movement, but if you know you'll be in one place when using it, you may not need such a range.
Mounting options - Multiple mounting options give you excellent versatility for when you set up the fan. All fans will work as standing fans that can sit on desks, benches, and shelves, but you may need more than this. Some fans come with hanging hooks to hold the fan up on frames or over the backs of chairs, and others will have wall-mounting holes for you to use by drilling screws into the wall and hanging them from there.
Sign Up Now
GET THE VERY BEST OF GEARHUNGRY STRAIGHT TO YOUR INBOX