Best Dress Socks For Men In 2022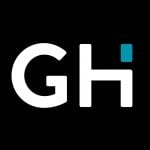 This product guide was written by GearHungry Staff
Last Updated
December 21, 2018
GearHungry Staff
GearHungry Staff posts are a compilation of work by various members of our editorial team. We update old articles regularly to provide you the most current information. You can learn more about our staff
here
.
GearHungry may earn a small commission from affiliate links in this article.
Learn more
Dress socks are often considered a pretty mundane part of your wardrobe. Maybe the most mundane part. But dress socks serve multiple functions and unless you work in an environment that is completely buttoned up you can even have some fun with your feet. The truth is, whether you head to work each day in a double-breasted suit or a polo shirt and jeans the socks you wear will help determine how you feel, how you look and how you're perceived. So don't dismiss the idea of putting some thought into your socks and use our list of best dress socks for men as a springboard to happier feet.
The Best Dress Sock For Men
Easton Marlowe Mens Patterned Dress Socks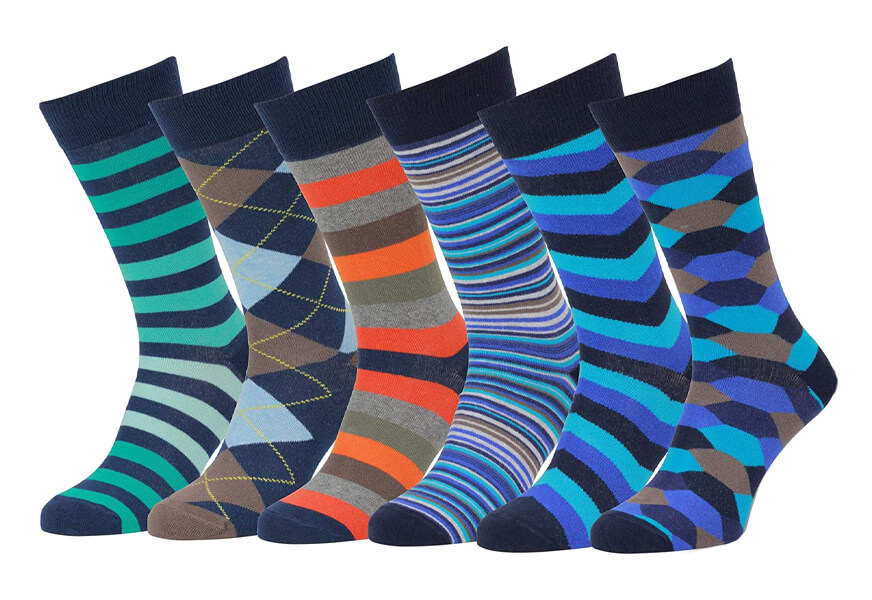 Easton Marlowe is a native New Yorker who found himself green with envy over the way European men seemed to revel in making eclectic sock choices. His desire was to help his compatriots Stateside lighten up and bring a bit of color and flair to their stocking choices. His Men's Patterned Dress Socks ride the line between classic and irreverent and may be just what the doctor ordered if you're looking for a way to enliven your office wear.
Easton Marlowe Men's Socks are fashioned from the finest combed cotton which makes them both softer and, paradoxically, more durable at the same time. They massage your skin in a way rougher cotton fibers simply can't. These patterned dress socks are also infused with elastane which is known for its superior hold. Socks with elastane woven into their fabric retain their springiness longer which makes them a better overall value.
Easton Marlowe Dress Socks are prewashed for additional softness and a better fit from the first time you slip them on. They embody European quality and craftsmanship, a more relaxed yet simultaneously refined attitude and they'll endure being repeatedly subjected to the washing machine (just remember to use the gentle cycle and air dry them). If you're looking for a way to inject some life into your everyday office wear spice things up just a bit with our best choice: Easton Marlow Men's Patterned Dress Socks. Make sure you also check our guide to the best no show socks for more great options.
Marino Men's Patterned Dress Socks
Marino Men's Patterned Dress Socks are a comfortable, durable blend of 80 percent cotton, 10 percent nylon and 10 percent spandex. They slide on easy and hold their position throughout the day, never bunching up at the ankles or in the toe of your shoes. They're attractive in a non-conformist kind of way without being openly rebellious, though finding an outfit to match up with them may present something of a challenge.
These mens socks are highly breathable, wick moisture away effectively and are able to endure repeated washings without ever losing their integrity. These are also true 3-season mens socks that might just work in winter as long as it was not too cold or the snow too deep. That's not something you can say about a lot of dress socks, many of which you have to carry with you and slip on when you get to the nice cozy confines of the office.
Whether these Marino Men's Patterned Dress Socks actually qualify as "dress" depends on how you define that formerly well-delineated category of clothing. Guardians of the traditional definition of "dress" might cast a jaundiced eye at the overtly colorful patterning seen on these Marino socks. Yet those at the vanguard of today's more open-minded definition of dress would welcome them with open arms. No matter which camp you're in however, there's no debating these are well-made, comfortable, versatile and durable.
They would also make a cool style gift under $25 for someone special in your life.
Boardroom Men's Over the Calf Dress Socks live up to their name by employing high quality materials, classic restrained design, outstanding comfort and long-lasting durability. If you are serious about looking good and feeling great you're going to love these premium, American made socks. Each Boardman sock is fashioned from Peruvian Prima cotton with nylon and spandex woven in for added comfort, durability and elasticity that won't let you down.
Boardroom's entry on our best dress socks list employs world-renowned Peruvian Prima cotton. Prima cotton is widely regarded as some of the finest due to its extraordinary softness and durability along with its natural luster. It also tends to produce fewer allergic reactions and, because it is hand harvested, it is one of the most environmentally friendly forms of cotton produced anywhere. Boardman pays more for this extraordinary material and as a result their dress socks cost more than many other brands. But many feel they're worth the financial stretch if you can make it. We'd have to agree with that.
The vertical ribbing on these outstanding dress socks hold them close to your skin and prevents them from slipping down and gathering around the ankles the way lesser socks do. The spandex component is a very reasonable 3 percent, which helps the socks stay up while also aiding the circulation in your lower legs. Very important if you sit most of the day. There are a lot of cheaper dress socks out there but not a lot of better ones.
Calvin Klein Men's Classic Dress Socks
Those with only a passing knowledge of the brand may be unaware that Calvin Klein is as highly regarded for the quality of the undergarments and accessories they produce as they are for their casual wear, formal wear, ready-to-wear dresses and men's suits. For those more familiar with the brand however, it will be no surprise to see CK appear on this list of best dress socks for men. Their dress hosiery takes a slightly different approach with a blend comprised of 72 percent polyester, 26 percent cotton and 2 percent spandex. It's a light, airy blend that will have you setting them aside when the mercury plummets but have you reaching for them over all others when it's hot enough to fry eggs on the sidewalk.
Although Calvin Klein has been known to explore the wonders of the bias cut in women's dresses no one would confuse CK with Galliano and the same could be said for CK socks. He's not going to rock the design boat. Instead, as with all his other clothing items for men and women, Calvin Klein looks for undiscovered truths in well-worn fundamental concepts. It's fitting then that all the mens socks in these 4-packs are monochromatic in tone with only the CK monogram providing discreet relief.
Calvin Klein dress socks can get a bit pricey but they're fundamentally rock solid. They feel great on even the hottest days and their conservative monochrome air allows them to do what Calvin Klein clothing at its best always does; whisper sweet nothings into the ear of tradition.
MUQU Men's Casual Dress Socks
Cool, colorful, and casual are three words that describe these MUQU socks perfectly. Their sunny colors and lively, over the top patterns, simply won't be denied. MUQU are fashioned from 80 percent combed cotton which gives them a soft, supple feeling you just won't get in most dress socks, regardless of maker or price. These are breathable, moisture wicking casual dress socks that ride a fine line between novelty and practicality.
The range of themes is impressive and includes everything from pizza to fresh fruit and pie, desert landscapes, outer space, sharks, salamanders and more. They're built for fun and comfort and they deliver on both fronts. Colors are vibrant, the weave is tight and wee bit of spandex allows them to hug your feet even if you're a size 7. They're perhaps a bit heavy for summer but they'll serve you well the rest of the year, including winter.
While some will categorize these as straight up novelty mens socks we beg to differ. Simply because they're so well made and comfortable. They're ideal vacation socks whether you're kicking back in a cafe on South Beach or posing for selfies with your sweety on the Spanish Steps. You're going to find yourself reaching for them even when you know you probably shouldn't, just because that combed cotton feels so good.
Easton Marlowe Men's Colorful Patterned Dress Socks
Easton Marlowe makes a second appearance on our list of best dress socks for men with their tastefully rebellious Colorful Patterned Dress Socks. These are full-on office wear with a mild surprise in store that will hint at your easy going nature without shoving it in people's faces. The colors here are vibrant and thoughtful, the fit close and comfortable and the price thoroughly reasonable for such well-made men's hosiery.
Easton Marlowe's Patterned Dress Socks are made in Portugal using 80 percent combed cotton, 17 percent polyamide and 3 percent elastane. That's about as potent a blend as you're going to get if you're after comfort, support and durability. These oh-so-slightly funky dress socks feel incredible when you slip them on and they remain firmly in place all day long regardless of how much walking or sitting you do.
The rainbow argyle design is beautifully executed and allows the color scheme to transition gently from ankle to calf. The socks hug your foot with a custom feel whether you're at the low or high end of the sizing spectrum and the material blend means these puppies are going to be in your sock drawer for a good long time. Easton Marlowe does not allow third-party resellers. By cutting out the middleman they're able to keep the price down on these extraordinary mens socks which makes them an extraordinary deal and our hands down Best Value. Find more great products like this by checking out our guide to the best running socks.
Bonangel Men's Fun Dress Socks
Just because you work in an office or you're going to a wedding, it doesn't mean you can't wear socks with a bit of personality. For some of us, wearing a suit and tie can feel pretty restrictive, so novelty socks can be a great way to lift your mood slightly at work. With the Bonangel Men's Fun Dress Socks, there are a bunch of different styles to choose from – from the totally outlandish socks with pictures of burgers and fries to more reserved socks with multicolored shapes. You can even get a set of socks with famous historical paintings on.
Made from a blend of cotton, polyester, and Spandex, these dress socks are only really suitable in the warmer months. They don't provide any cold-weather protection and they're definitely not suitable for hiking or other outdoor activities. However, they're a great way to spice up a boring suit and make a great Christmas or birthday gift.
Sign Up Now
GET THE VERY BEST OF GEARHUNGRY STRAIGHT TO YOUR INBOX