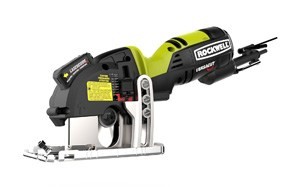 Rockwell RK3440K Versacut Ultra-Compact Circular Saw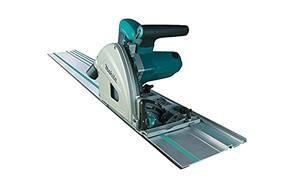 Makita SP6000J1 6-1/2-Inch Plunge Circular Saw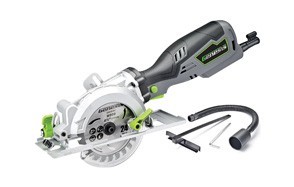 Genesis GCS545C Compact Circular Saw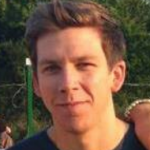 You can't really call yourself much of a tradesman or handyman if there isn't a circular saw somewhere in your shop, truck or tool box. Along with the power drill and the hammer it's one of the essential tools for getting things done. Whether building a deck, fence or home addition, making furniture, cutting sheetrock, laying down a hardwood floor or framing a house the circular saw is the beating heart of the project. Below are the 12 best circular saws for 2019.
The Best Circular Saw
Circular Saw Buyer's Guide
How We Chose Our Selection of Circular Saws
Quality - There are a lot of circular saws on the market today. Sadly many of them hardly qualify to have the title "circular saw" attached to them. They are barely functional knockoffs meant to draw in the unsuspecting and the bargain hunter. The other side of that coin however is that there are still quite a few companies that manufacture genuinely outstanding power tools and it is those companies that wound up the focus of the above list. We don't reject the stuff from the discount bin out of hand, because occasionally there is a diamond to be found on that beach. However, for the most part, the crème tend to rise to the top; and that phenomenon is particularly true when it comes to power tools.
Brand - As we just alluded to there are few areas where the divide between quality and shoddy is as pronounced as it is with power tools. Perhaps that's because there is so much on the line. After all, a poorly built circular saw could cost you a finger or more. So when a power saw does not impress with its build quality right off the bat it's typically not worth wasting your time on. This isn't music where you can forgive shoddy musicianship because the melody is so catchy. If the power tool is poorly built someone could get seriously hurt. As such most of the items on our list are going to reflect brands with a proven track record of producing high quality, safe and durable equipment.
Reviews - As always we like to make up our own minds when it comes to power tools, or any other product for that matter. Nonetheless we do spend some time seeing what other people have to say, simply to see if there is a trend, or if someone else points out something we might have overlooked. But while we're always interested in the opinion of others we rely mostly on our own experience with the product.

Features To Look For In a Circular Saw
Blade size – Circular saw blades come in a couple of different sizes depending on the model. A portable circular saw like the Genesis use a 4 1/2 inch blade while most full size circular saws use a 7 1/4 inch blade. Fact is though that what you get from your blade will in large part depend on the power of the motor. A 7 1/4 inch blade run by a 1hp motor will do an okay job on most material but may get bogged down on the hard stuff. Whereas the same blade at the end of a 2+hp drive train is going to make quick work of whatever it encounters.
Blade adjustability – Every standard circular saw provides you the ability to adjust the depth of the cut. Some go as deep as 2 3/4 inches, while most hover around the 2 1/2 inch max depth. The user experience is driven in large part by how easy it is to adjust the cut depth or to switch from a straight 90 degree cut to a 22.5° or 45°bevel. It's hard to test this aspect of a saw's performance when you buy online. But if you know someone who has the type of power saw you're interested in ask if you can try it out.
Blade material – Blades intended for cutting wood are almost all tungsten carbide tipped affairs. That's true regardless of the size of the blade. Some, but not many, blades are made of high speed steel. High speed steel is typically reserved for blades that are likely to encounter high temperatures during the performance of their duties.
Power – A circular saw should be able to cut through any fairly hard piece of wood without grinding to a halt or noticeably slowing down. For the most part if you want that type of assured performance from your circular saw you'll want to opt for a 15 amp motor.
Weight – A heavy saw won't require as much of a push to get through harder materials but over the course of the day the extra weight is going to wear on you. The difference between cutting all day with an 8 pound saw is nothing at all like spending the day cutting with a 12 or 14 pound saw. The heavier power saw won't be an issue for some folks in top condition but for the rest of us mortals it can be like walking over hot coals with bare feet.
Ease of use – This is a tricky one because, like we said, a heavier electric saw will typically slice right through the toughest material while you'll need to put something behind the lighter saw. On the other hand there's more to 'ease of use' than just pushing. On a circular saw the blade needs to be easy to change, the power cord has to stay out of the way, the machine needs to be properly balanced (sometimes heavy batteries can throw off the balance and lead to a very long day) and a laser light or LED out front is going to make sighting a lot easier.
Battery/Power cord – Advances in battery technology over the past decade or so have led to the development of some outstanding battery operated power tools. With circular saws though most of the best battery action is happening in the portable circular saw They're wonderfully portable and convenient and do a bang up job. The full size circular saw however eats through batteries like they're going out of style. Because of that you'll likely want a corded circular saw and the longer the cord the better.
Durability - When trying to determine the durability of a circular saw there's one component in particular that will, in many cases, provide an indication of how the saw as a whole is built and whether it's built to last. That is the base plate of the power saw. Base plates tend to break more than any other single component so if the manufacturer ignored this and used stainless steel or aluminum for the baseplate it shows a certain indifference to the concept of durability. If, on the other hand, the baseplate is made of ultra-durable, fiber-reinforced plastic there's a good chance the rest of the saw is also built to last. It's not a foolproof test, but it can be a useful indicator.
Features – Besides things like the power of the motor, weight and the power source another thing to look at is extras or features. Laser sights are a great thing to have as they make holding your line that much easier. LED lights up front are similarly convenient. A blower or vacuum to clear the cut area of sawdust is another important extra feature as is auto braking of the blade. If you have a battery powered unit having a low battery indicator is also handy.
Circular Saw FAQs
Q: What is a circular saw?
A: A circular saw is a power tool that utilizes a metal blade spinning at thousands of rpms to cut different types of material (most often wood). Circular saws are used to make straight line cuts although those straight cuts may be at 90 degrees or they may be beveled at different angles.
Q: What do you use a circular saw for?
A: A circular saw is, as we said, used to make straight line cuts primarily in wood but also in plastic, masonry and certain types of metal. The different blades available for the circular saw are designed for different types of cutting and different materials. Circular saws are almost exclusively powered by electricity today and that power may be sourced from an outlet or a battery.
Q: How to use a circular saw?
A: The basics of circular saw use are as follows:
Place the wood to be cut on a stable work surface.
With a crosscut you are going to cut across the grain and with a rip cut you cut with the grain.
With large pieces of plywood it's sometimes helpful to clamp a 1x4 to the sheet to act as a guide for the blade. Else you can draw a line on the wood or use a speed square to establish the line.
Set the depth of the cut.
Make sure you place the wood to be cut good side down.
Start the power saw before you introduce it to the material to be cut.
Push the rotating blade through to the end of the cut without stopping if possible.
Let any loose pieces fall to the floor.
Remember to always wear protective goggles and to plan your cuts carefully. Make sure the indicator lines or device are in the right place and don't let the electric saw waver from the guideline.
Q: Is there a difference between left-handed and right-handed circular saws?
A: All standard circular saws are technically universal. What differentiates the right-handed saw from the left-handed saw is the position of the blade relative to the handle. A left-handed saw then will have the blade on the left hand side of the handle when looking from back to front and a right-handed blade will have the handle on the right hand side of the blade, again, looking from back to front. Which one you get will depend solely on your comfort level with the different setups.
Q: Can you sharpen circular saw blades?
A: Only low grade steel toothed blades can be sharpened by hand. Doing so is a simple but fairly time consuming process performed with a file. Most circular saw blades however are carbide tipped and that means you'll need to take them to a pro to have them properly sharpened. Carbide blades use the side of the teeth as much as the tips for cutting. So if you try to sharpen them by hand and wind up rounding off the sides you're going to need to buy a new blade.
Should you inadvertently damage your carbide tipped blades while attempting to sharpen them don't toss them out or offer them to the recycler. Instead, keep them on hand for whenever you have some down and dirty projects that don't call for precision cuts. For instance demolition work where you just need to cut things into smaller bits for disposal or for when you are repurposing wood and you're not sure if it has any nails in it from previous use. There's no sense risking a brand new perfectly sharp blade in such instances.

Safety Tips
When it comes to working with circular saws it doesn't matter how much experience you have. All it takes is one slip, one glance at something else while cutting or one unseen hazard to ruin your day and perhaps send you to a hospital. Always abide by the following common sense tips in order to insure you emerge from the cutting process in one happy healthy piece.
Always wear proper eye protection when using a circular saw. Circular saws tend to throw up large amounts of sawdust and send wood splinters flying off in all directions. Without proper eye protection you could suffer a life altering injury. No buts with this one.
Avoid wearing loose clothing, having long hair hanging down toward the saw or wearing jewelry that might get ensnared in the rotating blade. It only takes a fraction of a second for a loose shirt, necklace or loose hair to become ensnared and yank you toward the rotating blade.
Don't stand directly behind the power saw while operating it. You could get struck by items kicked back by the saw. Instead, stand to one side or the other.
Make sure you always use a sharp blade as they cut easier.
Always make sure the electric saw is unplugged or the battery removed when changing blades.
Always peruse the surface to be cut for staples, screws and nails.
Never operate the saw with just one hand. Always use the proper 2-handed form.
If you purchase a new saw always make sure to read the new owner's manual thoroughly since manufacturers are constantly making changes to their products and the way they operate.
Don't alter the power saw in any way. For instance, some folks tie or wedge the lower blade guard open. We urge you not to do this, or to alter your device in any way.
Always make sure the blade has come to a complete stop before setting it down or releasing either of your hands. Doing so could send the electric saw flying off to possibly do yourself or someone else grave bodily harm. Many circular saws today have an electrical braking system for the blade that engages as soon as the trigger is released. Getting one of these will vastly improve safety around the device.
Safety needs to always be your paramount concern when operating a circular saw. If you are new to this type of device it's essential that you build proper safety habits right from the get-go. This will ensure you can get the most from your equipment for years to come.