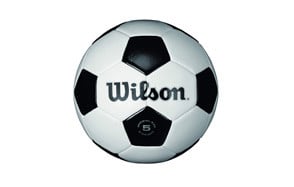 Wilson Traditional Soccer Ball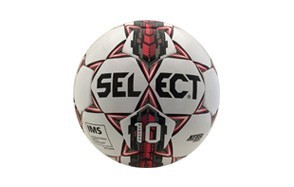 Select Numero 10 Soccer Ball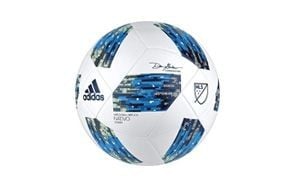 Adidas Performance MLS Glider Soccer Ball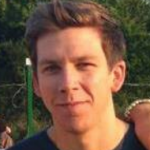 There's a reason that soccer is called 'The Beautiful Game'. When you see a ball flying into the top corner of the net, or a team ripping a defense apart with a 30-pass move, it's a sight like no other. Of course, it wasn't always like that. Back in the day, when they used to use heavy leather balls, the game was much slower. Sure, it was still a spectacle, but it's the soccer ball technology that has truly turned the game into a thing of beauty.
Whether you're a professional soccer player or you're just playing in the park with your friends, buying the right ball will make a huge difference to your game. We understand that not everyone has hundreds of dollars to throw down on a new ball, so we've found the best soccer balls for under $100. If you really want a premium match ball, you can spend a lot more. But, the soccer balls in this list are perfect for playing every day.
The Best Soccer Ball
Soccer Ball Buying Guide
How We Chose Our Selection Of Soccer Balls
Brand – Soccer is the most popular sport in the world. According to WorldAtlas, it has around 4 billion fans. So, it's no surprise that there's a lot of different brands competing for their share of the market. All of the biggest sports brands – Nike, Adidas, Puma etc. – have their piece of the action and are always innovating to create the best products. Of course, there are also brands – like Mitre & Perfect Soccer – that specify in making soccer equipment. So, when it comes to choosing the ten best soccer balls, we had to consider a lot of brands. The good thing about buying from a well-known brand is that they have a track-record of quality.

Reviews – It doesn't matter what product you're buying, you should always check out the customer reviews first. We scour through hundreds of reviews to get a feel for the quality, consistency, and other features of every product. You can always trust a customer to tell you the truth about a product because they don't have any ulterior motives. We also read reviews written by professional soccer experts, which gives us an opportunity to see if we've missed anything in our own review.
Price – You'll be able to tell the difference if you buy a soccer ball for over $100. The problem is that soccer balls are really difficult to keep your hands on. It doesn't matter how careful you are, someone is going to blast it over a fence, into a river, or under the wheels of a truck. It's important to keep this in mind when you're searching for the perfect ball. You can get amazing quality soccer balls for under $100 and we've featured a lot of them in this list. Of course, if you're moving from amateur soccer playing and getting into the big leagues, you are going to want to invest in something a bit closer to what the professionals use.
Features To Look For In Soccer Balls
Size – You can get soccer balls in five different sizes:
Size 1 – These miniature soccer balls are generally sold for recreational purposes, rather than as a serious training ball. However, you can use them to improve your ball skills and footwork.
Size 2 – This half-sized football is used for young children under the age of four. Like the size 1, you could use it to improve skills.
Size 3 – This is the perfect size for youth football, it feels the same to a child's foot as a full-sized ball does to an adult foot.
Size 4 – Slightly smaller than regulation size, this ball is used for children under the age of twelve.
Size 5 – This is the regulation size of a soccer ball. It's used by both men and women at all levels of the game.
Basically, if you're above 14 years old, you need to buy a size 5 ball.

Materials – Almost all soccer balls are now made out polyurethane or PVC. Polyurethane is the material of choice for premium-quality soccer balls, whereas PVC is often used for indoor balls. Traditionally soccer balls were made from leather, but they would now feel extremely heavy and inconsistent to the modern footballer.
Bladder – As the name would suggest, the bladder is the inside part of the soccer ball that holds the air. They're often made from natural latex or butyl rubber, depending on the quality of the ball. Premium match balls generally use natural latex, but these balls need to lose air quicker and need to be pumped up, which isn't ideal for everyday use.
Panels – The panels are the small sections of material that make up the outside of the soccer ball. There are three different options for construction: thermal bonding, hand-stitching, and machine-stitching. There's no 'right' way to make a football. All of the different methods work well, it depends on the quality of the construction more than anything. The number of panels on a soccer ball varies, but the most common amounts are 32-panel, 26-panel, and 18-panel. The way the panels are laid out can affect how the ball flies. The general rule is: the fewer panels, the more water-resistant and stronger the ball will be.
Linings – The lining is what sits in between the bladder and the cover of the soccer ball. High-quality soccer balls will often have four or more layers of lining to provide the ball with structure, bounce, and protection. Linings are made from cotton or polyester bonded together.

Types Of Soccer Balls
Turf balls – Designed to be used on AstroTurf and other surfaces that are made to feel like grass. They're hardwearing and affordable but aren't ideal for playing on a real grass surface.
Training balls – Training balls are designed to be tough. They can be used on any surface and should last a long time, as long as you don't lose them. They are used to improve skills and for training matches.
Match balls – These balls are of better quality and used for matches. They cost more but follow all of the sizing requirements to play at the professional level. They aren't as durable.
Premium match balls – Approved by FIFA for international level soccer, these are the most expensive soccer balls you can get. They are extremely high-quality and have a price tag to match.