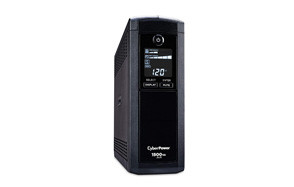 CyberPower CP1500AVRLCD Intelligent LCD Battery Backup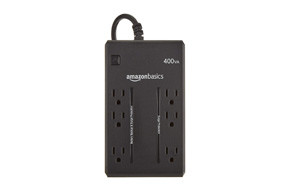 AmazonBasics Standby 400VA 255W UPS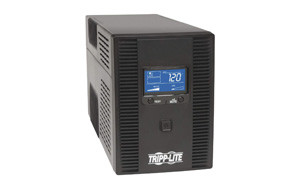 Tripp Lite 1300VA UPS Battery Backup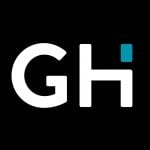 Unexpected power outages are one of the most annoying things. We've all lost documents and data at some point in our lives. The power turns off, you haven't saved your work, and you've wasted the last couple of hours. It's a devastating feeling. Unexpected power outages can also cause serious damage to electrical equipment. But all of this is avoidable. In this Buying Guide, we're looking at UPS (uninterruptible power supply) battery backup systems. You plug these into the wall and plug your computer and other devices into it. Then, when the power turns off, the battery kicks in and you get enough time to save your work and turn the computer off safely. It's not the most exciting product on earth, but it's so worth it to avoid losing work. We've been searching for the best battery backup and we've narrowed it down to 7 products. They vary in size and price, and some of them have added features like LCD screens that indicate how much power you have left.
The Best Battery Backup
Battery Backup Buying Guide & FAQ
How We Chose Our Selection Оf Battery Backups
Brands - When you're buying something to protect your computer system, you need to know it's going to work. That means buying from a brand you can trust. The brands behind the battery backup products on this list might not all be well-known computer brands, but they all have a great reputation for making high-quality products. We've also included products from non-computer brands like AmazonBasics - these might not be the best products on the market, but they offer customers the same features at a much lower price.
Reviews - One of the best things about online shopping is that you can read hundreds of reviews for every product. Back in the day, you would have had to trust the salesman or ask around for your friends' opinions. Now, you have access to other customers who have no vested interest in giving you misleading information. However, if you lead a busy life, you probably don't have time to read every review, which is where we come in. As part of our research for Buying Guides, we scour the review section to look for the pros and cons of each product.
Price - Price is an important consideration in any purchase. In general, the more money you have to spend, the better quality and more features you can afford. However, you need to decide if the most expensive product is the best one for you. It might be that a budget option is suitable for your needs, which could save you a lot of money. We try to include products from across the price range. Check out our Best Value and Premium Product items for the two ends of the spectrum.

Features To Look For In Battery Backup
Ports - Some modern battery backup systems have extra products, such as USB ports. These can be very useful if you want to charge your smartphone or other devices, next to your computer. Some UPS battery backups also have ethernet ports, network and serial ports, and coaxial ports, which allow you to keep your phone and internet-connected.
Plugs - One of the biggest selling points of a battery backup is how many plugs (also known as sockets) it has. If you need to plug your laptop, PC, extra monitor, and more, you'll need extra plugs. Before you start searching for the perfect battery backup, see how many plugs you need. Most UPS separate their plug sockets into battery backup sockets and surge-protected sockets. The battery backup sockets are the only ones that will continue to work in the event of a power outage.
Battery size - Battery size is measured in volt-ampere (VA). This measurement indicates the potential current the batteries are rated for. The bigger the number, the longer the battery will last. If you are running a high-spec computer system, you should look for a UPS that is 1000VA or more.
Run time - When the power shuts off, you need to know how much time you've got until the battery turns off. This gives you time to save important files, close down programs, and shut down your computer safely.
Surge protection - A surge in power can cause permanent damage to electrical products. As well as the battery backup feature, it's useful to have a product that protects your electrical items from a surge.

Battery Backup FAQ
Q: What is a UPS battery backup system?
A: UPS stands for Uninterruptible Power Supply. They are used to protect electrical items from turning off if there is a power outage by providing emergency power. Normally, they are used to power computers to stop users from losing data if the power turns off. They come in different sizes, which determines how much power they can provide and how long they will stay on. You can also buy UPS systems that small screens that tell you how much power you have left.
Q: How does a UPS battery backup work?
A: UPS battery backups are plugged into the primary power source (the wall socket) and then the computer and connected devices are plugged into the UPS. The UPS has a battery inside that automatically kicks in when the primary power source is lost or the voltage drops below a predetermined level. Depending on the size of the battery and the design of the UPS, it will power the computer and connected devices for a short time to give the user time to shut off them safely.
Q: How do you test a UPS battery?
A: Most modern UPS batteries have built-in test systems. You will press a button that says test and it will give you an indication of the batteries health. However, you can still test a battery if it doesn't have this function. Use a voltmeter to see if the battery is giving off the stated power. The battery needs to be fully charged for this to work.