GearHungry may earn a small commission from affiliate links in this article.
Learn more
How To Buy The Right Size Watch For Your Wrist
Sporting a large oversized watch regardless of your outfit takes guts and style. In truth, unless you're Sylvester Stallone rocking a luxury Panerai, it's unlikely you'll be praised for your fashion sense. So, it's perhaps a good idea to learn how to buy the right size watch for your wrist before looking for models.
Wristwatches come in an impressive array of calibers and dimensions, with thinner or thicker straps, wider or narrower diameters, and other dizzying choices that literally suit every trend and taste.
In this maze of styles and tendencies and watch dimensions, there is a sole constant — the perfect fit. An oversized watch will look ridiculous on a tiny wrist. Likewise, a too small watch on a robust wrist will make heads turn, but not with admiration.
Unless you want to look comical, getting the right size when buying a watch is crucial. There are a few variables to consider, from the diameter of the case to the thickness of the strap and, obviously, the size of your wrist. Here is how to find the perfect size for your timepiece.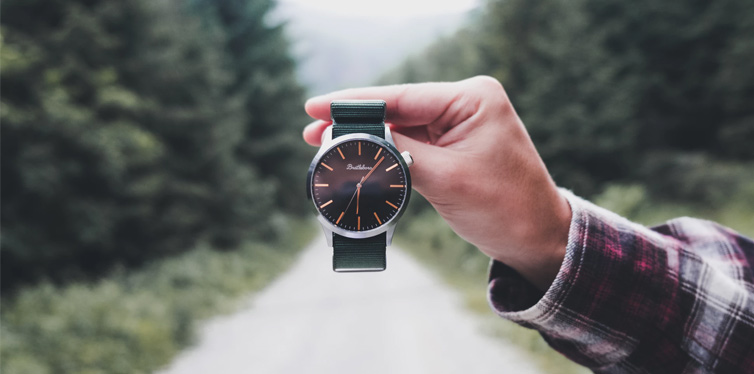 Case Diameter
The foremost important thing to consider when choosing a watch is the diameter of the case. This is the length of the face of the watch, including the bezel which is the ring surrounding the face of the watch.
Bezels can be thin or thick, depending on the model and style. Some brands also show a certain preference towards a certain type of bezel, and its size will influence the diameter of the case.
In broad lines, men's watches range from 36mm to 56mm in diameter.
The smaller cases are usually a staple of the luxury gold watches while the larger diameters characterize utilitarian timepieces, such as the altimeter watches although this isn't necessarily a rule. A case diameter over 44mm is oversized for most men but this doesn't mean you can't rock a 56mm watch, provided you pair it with the right outfit.
Likewise, a case diameter below 39mm is typically undersized unless you have really tiny wrists. These minimalist watches can easily look feminine, so make sure you choose the right metrosexual garments to avoid looking ridiculous.
Round vs. Rectangular Cases
The theory is bliss until you find yourself determining the diameter of a… rectangular case. Rectangular cases are as sophisticated as their ultra-popular round counterparts, but they are rarely encountered on a men's watch.
This is perhaps due to their scarcer popularity, as round wristwatches have long been praised as resistant, durable, and trendy.
Nonetheless, rectangular watches can look just as good and it's nice to know how to buy the right size watch for your wrist regardless of the shape of the case.
Since it is quite a challenge to measure the diameter of a rectangular object, and since rectangular cases are quite limited, the best thing to do is to consider the width of the lug when choosing this type of watch, as explained below in this article.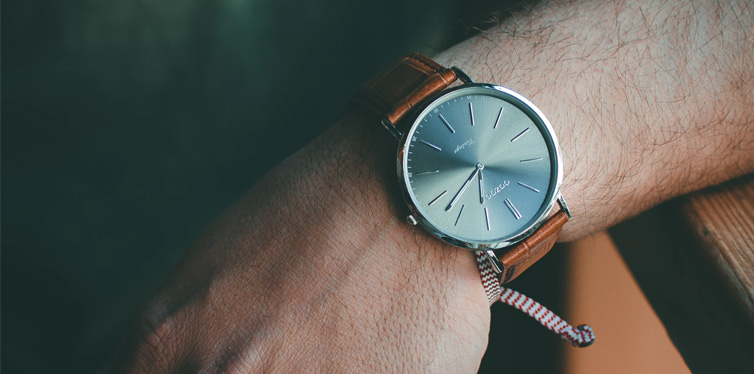 Case Thickness
Another important variable is the thickness of the case. Typically, the thickness is influenced by the size of the case. Smaller cases are thinner and sleeker while the larger cases are rugged and thick. However, this isn't necessarily a rule.
But the thickness of the case is not influenced only by the design of the timepiece. The functions of the watch determine how many components are housed under the face. Simpler watches with just three hands that tell the time need far fewer components than a chronograph, for example. It's therefore easy to understand that the former can be much thinner than the latter.
In most cases, men's watches come with a case thickness varying from 8mm to 16mm. Depending on your dressing style, a thicker case could or couldn't be comfortable to wear. For instance, if you're the more formal guy wearing a shirt and jacket regularly, a too thick watch will give you trouble in cuffing your shirts.
On the other hand, a too thin case could lose its charm when paired with sports or tactical equipment.
To determine the right thickness of the case, consider the case diameter and make sure the two numbers are proportional, then consider your style before deciding whether it could be a right fit.
Lug Width
We've mentioned the lug width already but now it's time to explain why it matters. The lug width is the inner distance between the contact points of the strap. The value comprises the whole distance from one lug to the other, including the diameter or width of the case.
Getting the right lug width is of crucial importance unless you don't mind walking around with an unfit watch.
There isn't a specific rule that tells what the right distance must be but in rough lines, the lug width should be more or less equal to the width of your wrist. If it is too large, the lugs extend over the width of your wrist, making your accessory look awfully unfit.
A too small lug width, on the other hand, will give the watch a feminine allure that can also raise some eyebrows. As mentioned above, this number is particularly important if you want a rectangular watch, as you can skip measuring the width of the case and measure the width of the lugs instead.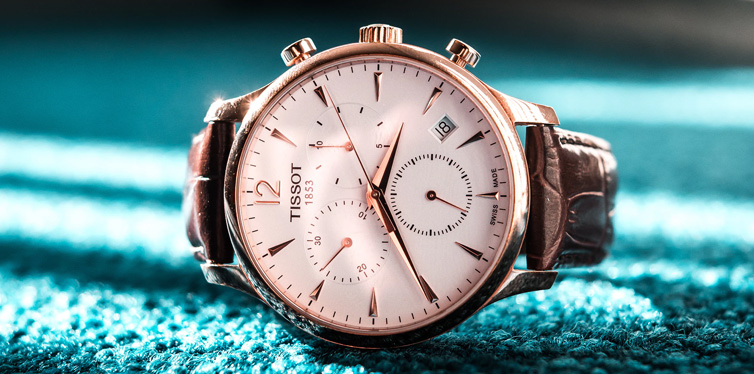 Picking the Right Strap
Now that we've unveiled the mysteries of wristwatch sizing, it's time to learn how to pick the right strap.
Wristwatches come in a wide range of styles, and the straps adapt to the style and purpose of the watch. Elegant timepieces usually come with high-end leather or metal straps. Utilitarian models feature rubber or canvas bands. Some brands may also have a preference towards a certain type of straps. Timex watches, for instance, are known for their sleek bands usually made of canvas or leather.
Choosing a determined type of strap over another is majorly a matter of preference but also of intended use. However, there are some measurements to consider if you want to get it right.
According to the fashion experts, the strap width has to be half the case width. So, if you like 40mm watches, the strap should have a width of 20mm. Like anything else fashion-related, this is subjective up to an extent.
If you have larger wrists, a wider band could look natural on you despite not corresponding to the standard. However, if you have smaller wrists it could be a better idea to just stick to the standards to avoid looking awkward.
Wrist Diameter
Since the dawn of times, watchmakers have been playing with watch sizes, changing dimensions and trends to respond to the environmental, economic, and general demands. They've passed from discreet to exhibitionist and back to discreet over and over again and today's market offers a bountiful range of "cuff-ready" timepieces of all sizes and styles.
But the thing is the individuality of a watch counts little if the timepiece isn't a perfect fit. A bulky, complicated watch on a small wrist looks comical, and so does a small, subtle watch on a large wrist.
There are ways to tell which timepiece fits better, but the most accurate is measuring your wrist diameter and comparing it against the case diameter.
Wrists are classified into small, medium, and large. The small sizes go from around 6.25 to 6.75 inches; medium wrists have a diameter between 6.75 and 7.25 inches, while the large wrists correspond to dimensions between 7.25 and 7.75 inches.
These wrist sizes correspond to small, medium, or large case diameters.
Small watches usually correspond to the 36-39mm range and fit wonderfully on small-medium wrists. Medium-size watches go from 39mm to 43mm and look exceptional on medium wrists but could also fit small and large wrists.
Large timepieces can pair almost on every occasion with large wrists and sometimes with medium wrists. Their size varies from 43mm to 56mm, and such a size will always look unflattering on a small wrist.
These measurements come in handy especially if you want to buy a watch online. Otherwise, you can just ask the clerk to show you a small, medium, and large size watch, try them on and see which proportion makes sense on your wrist.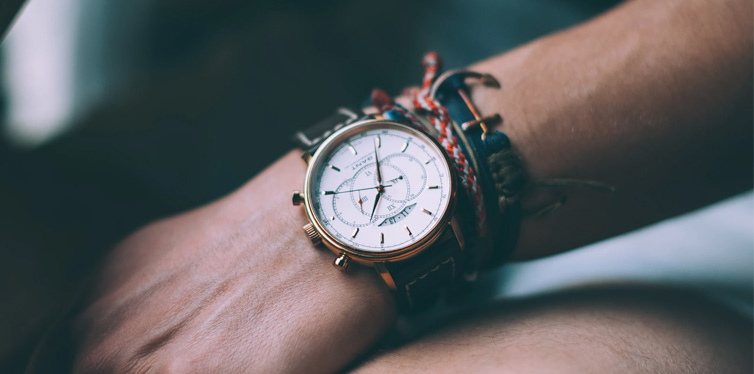 How to Choose the Right Fit?
Choosing the right size watch goes beyond science. The thing is subjective and it's hard to go by textbook definitions.
But two objective criteria shouldn't be overlooked. First, the timepiece must be small enough to stay fit. If it slides up and down and feels uncomfortable to wear, go for a smaller size. Second, it must be large enough to fit like a glove. If the accessory leaves imprints on your skin, go for a larger size.
Keep in mind there is the right fit for any type of watch you like. For instance, if you need utilitarian timepieces such as weatherproof or waterproof watches, these come in all styles and sizes. From slim and elegant to rugged, tactical watches there is a myriad of models with these features. And the same goes for any other timepiece you might need.
Factor in the considerations above, try on the watches you like and remember that the perfect timepiece must fit like it was custom made for you. That's how to buy the right size watch for your wrist.