GearHungry may earn a small commission from affiliate links in this article.
Learn more
The Right Boat Shoes
Finding the right shoes can be a difficult task in summer, when you need to strike a balance between something cool and comfortable, as well as practical. Boat shoes are the perfect fit for those summer outfits where weightlifting trainers and flip flops aren't a practical or appropriate option. The best boat shoes are flexible for different climates and social settings, but there are a few things to consider when purchasing the perfect pair.
Characteristics of Boat Shoes
An essential of the preppy style, boat shoes have become a staple in many people's wardrobes and gifts thanks to their unique design and comfortable feel. Boat shoes are traditionally made of mid to dark-brown leather, although more contemporary styles can also be found in coloured and patterned leather and canvas uppers. They are typically hand-sewn and top-stitched, and usually have two to three eyelets. But the most important feature of boat shoes, and what traditionally set them apart from the standard sole, is the herringbone pattern that is carved into the sole of the shoe to provide more grip and stability.
Boat shoes are fashioned after the low-rise moccasins that Native Americans wore, providing protection from the elements, protecting your toes and helping to provide grip on the boat's slippery surfaces while also providing water protection and comfort. When shopping for boat shoes, here are a few important factors to consider before making your purchase:
Where will you be wearing the shoes most of the time?
Do they offer support and protection for your feet?
Do they have enough grip?
Will they keep your feet warm or cool during the change in seasons?
Are the soles non-scuffing?
What materials are they made from and will they be durable?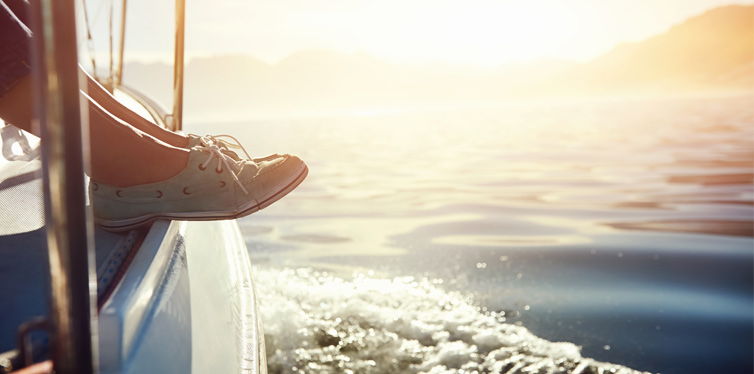 Look For a Herringbone Sole
Boat shoes were created after Paul Sperry almost died at sea due to slipping on his boat's floor. After the incident, Sperry set out to find a way to develop a safer and more practical way to walk around the boat with more traction. After watching his dog run effortlessly on ice, he discovered the solution to his grip problem and the herringbone sole was born. As one of the key features of the boat shoe style, this 'siping' as it's known is a must when searching for your ideal pair of boat shoes.
Check The Comfort And Dryness
Once you've opted for sturdy soles, the next thing to check for is that the shoes are as waterproof as they can be. Boat shoes should have water-wicking uppers which will help to keep your feet as dry as possible – perfect for unpredictable summer weather – and while leather uppers are often preferred, synthetic materials do tend to dry more quickly. Look for reinforcement points where you'll most likely experience wear and tear, such as the heel, to ensure that your shoes last as long as possible.
Boat shoes shouldn't be too dissimilar to regular shoes in terms of the fit, but you do want to make sure they're slightly snugger as they will stretch and loosen as you wear them – typically, it's a good idea to go half a size down from your usual size.
Opt for Leather
Leather is both more durable than synthetic materials and it also looks more stylish for events where trainers are too casual, but dress shoes are too smart. Shoes made from Horwen Chromexcel, a type of leather from the Horween tannery, is softer and will break in faster than other types of leather as it contains more oils.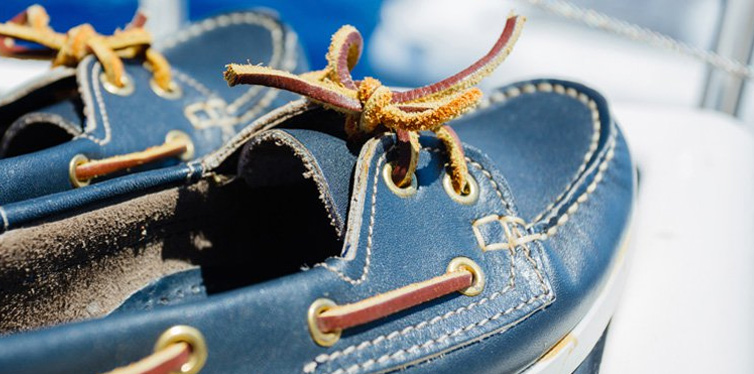 Choose A Classic Colour
While boat shoes come in a variety of colours and patterns these days, the classic shade is dark brown – it's the most versatile in terms of outfits they can be worn with, as well as a more sophisticated and timeless colour. If you're not a fan of brown shoes, navy is a close second for versatility.
Boat shoes should be a staple of every man's wardrobe – this smart-casual style has the flexibility to be worn with many different outfits and offers plenty of comfort for the summer months. With these tips, you'll be able to find the perfect pair of shoes that will last you years of comfortable wear.