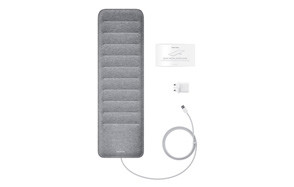 Withing/Nokia Sleep Tracker Pad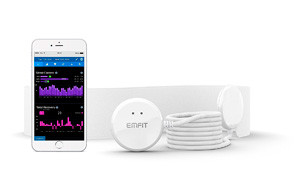 Emfit QS Sleep Tracker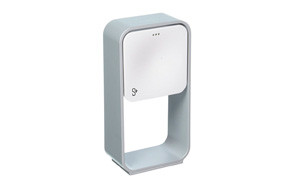 ResMed S+ By Personal Sleep Tracker Solution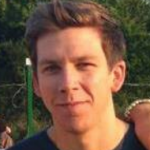 Back when you were younger, you might have lived by the mantra that sleep is for the weak, however, after one too many late nights cramming for exams, playing video games, and witnessing one too many sunrises after a long, wild night, you've come to realize it is, in fact, the opposite. Recently, there's been a huge emphasis on the importance of sleep for our physical and mental wellbeing. This is why people have started investing in the best sleep trackers so they can obtain vital, eye-opening data on how they're sleeping and what they can do to change. Everybody deserves a good night's sleep and there are few things that feel better than waking up completely refreshed, so whether you're looking for wearable or non-wearable sleep trackers, we've got all the answers below.
The Best Sleep Tracker
Sleep Tracker Buying Guide & FAQs
Features To Look For In Trackers
There's an array of great sleep trackers for you, so before you take the plunge and make a decision on which one you want, make sure you consider these features.
Battery life - We live in a world where it feels like we're always charging, and having low battery alerts on any of our devices sucks. A sleep tracker that has a long-lasting battery means you don't miss out on important sleep data and can make changes whenever you need.
Adjustability - We're not all the same size, so it helps that wearable sleep trackers can be adjusted to suit your wrist or finger. This is important for a number of reasons. Primarily, it has to do with comfort, but perhaps more essentially is that something that is too large or too small could cause inaccurate readings and give you information that is, frankly, useless.
Advanced Tracking - For some, tracking your general sleep is good enough, but it's also useful to have advanced tracking features included with the watch, ring or pad. This can include different stages of sleep, heart monitoring during your sleep, as well as restlessness and even snoring. While not essential, and even though this tracking may cause it to cost extra, you might want it for the best results possible.
Additional Features - If it's not just sleep tracking that you're looking for, products that come packed with a load of additional features are a great way of maximizing your tracker and getting your money's worth (because the best sleep trackers aren't cheap, yo). These features can include heart rate monitoring, step counter (if wearable), and app connectivity, making them much more of an all-in-one tracker than just something used to help you improve your sleep.

Types of Sleep Trackers
There are two types of sleep tracker you can buy, these are a wearable sleep tracker and a non-wearable sleep tracker.
Wearable Sleep Trackers
The item most associated with this is a sleep tracker bracelet such as the Fitbit or similar. These are constantly on your wrist and collect information throughout the day. They are good if you want to collect more than just sleep data, such as data for workouts, step counter or heart rate and also have extra features like music streaming, calendar, and other apps.
Non-wearable Sleep Trackers
The non-wearable sleep trackers typically fit under the mattress and analyze your sleep patterns and habits. There are varying degrees of non-wearable sleep trackers, from the basic to the more advanced. Some will automatically track sleep, whereas others will require manually setting. Because they are designed purely for sleep, they could be considered the best sleep tracking device as there's nothing else they are required to do.
Sleep Tracking App vs Sleep Tracking Device
App
The app means you don't have to purchase an actual device. However, the best apps will still cost you money. Due to the fact they're on your smartphone or tablet, you run the risk of knocking them off the bed during the night, which would interfere with correct readings. Some will have a built-in alarm that wakes you up when you enter the light sleep stage.
Device
Despite the extra cost, sleep tracking devices are, arguably, a much better investment as they are hardware specifically designed to track sleep and come with all the necessary protections. They're also less hassle, and will typically activate automatically instead of requiring manual switching on or off. Furthermore, the best sleep tracker wristband will come complete with a built-in or complementary app.

Benefits of Using a Sleep Tracker
There are many benefits of using a sleep tracking device. They include:
Identifying sleep problems and helping you find solutions to solve them. We live in a time where we find it hard to switch off, whether that be an addiction to social media or the current always-on culture many workplaces possess. This can have a negative effect on your sleep and cause you to wake up everyday feeling like you didn't sleep a wink.
Easier wake up with silent, vibrating smart alarms that will ease you gently out of your sleep and into the day. This has been proven to be much more beneficial than the traditional ringing of an alarm clock, and lets you wake up at your own pace instead of being forced into being awake and thus missing out on that precious stage between being asleep and being awake.
Teaching yourself and others how to get a better night's sleep. Data collected from a variety of sleepers will help doctors better understand how the population as a whole can get a better night's sleep and in turn be more productive at work or play.
Sleep Tracker FAQs
Q: What is a Sleep Tracker?
A: A sleep tracker is an app or device that monitors your sleep. Some are connected to your body through wearable tech, while others rely on pads and sensors placed in the bed that monitor your movement. They can recognize restlessness, stages of sleep, and some will provide an alarm at the perfect wake up time.
Q: How does sleep tracking work?
A: There are several ways that sleep tracking works.
Actigraphy - This is non-invasive and senses your movement to determine how well your sleep is going. They use accelerometers, which are tiny chips that are placed in devices, including your smartphone and convert movement into signals.
Heart Rate - your heart rate lowers when you're sleeping because it doesn't need to work that hard. Trackers that have pulse readers can use this to identify different stages of sleep.
Brain Activity - Also known as EEG, which measures brain waves and knows when you've shut yourself off for the day.

Q: How accurate are personal Sleep Trackers?
A: This varies from tracker to tracker, and any research is quickly made obsolete as soon as a new device is released. While there are still some teething problems in misidentifying certain parts of sleep or confusing laziness with being asleep, they can still provide a decent amount of information for the user that can set you on the path towards better sleep.
Q: Is it safe to wear a Sleep Tracker when sleeping?
A: Um, yes. Wearable sleep trackers are designed to be lightweight and comfortable, so you don't need to worry about waking up during the night and having to remove it because you just can't bear it anymore. It's much safer than having your phone next to you, for both you and the phone, and allows you to separate yourself from your screen before bed.
Q: Who Needs a Sleep Tracker?
A: Anyone could need a sleep tracker, but they're primarily used by people who have trouble sleeping and want to get to the bottom of what's causing these problems. Despite this, there are benefits for everybody to use a sleep tracker, even if it's just to brag about how well you slept last night and have the data to back that claim up.