Best Paintball Guns In 2022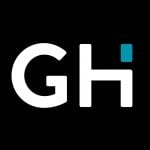 This product guide was written by GearHungry Staff
Last Updated
August 18, 2020
GearHungry Staff
GearHungry Staff posts are a compilation of work by various members of our editorial team. We update old articles regularly to provide you the most current information. You can learn more about our staff
here
.
GearHungry may earn a small commission from affiliate links in this article.
Learn more
Heading to the paintball range with your buddies is a great way to socialize, stay active, and spend time together while practicing social distancing. And while most paintball centers provide you with the necessary equipment, wouldn't you prefer to wield your very own paintball gun?
Taking into account key factors like price, quality, brand, materials, weight, and accessories, we've put together this compilation of the best paintball guns available. Sit back, start scrolling, and choose the marker that works best for you.
The Best Paintball Gun
Action Village Kingman Spyder Epic Paintball Gun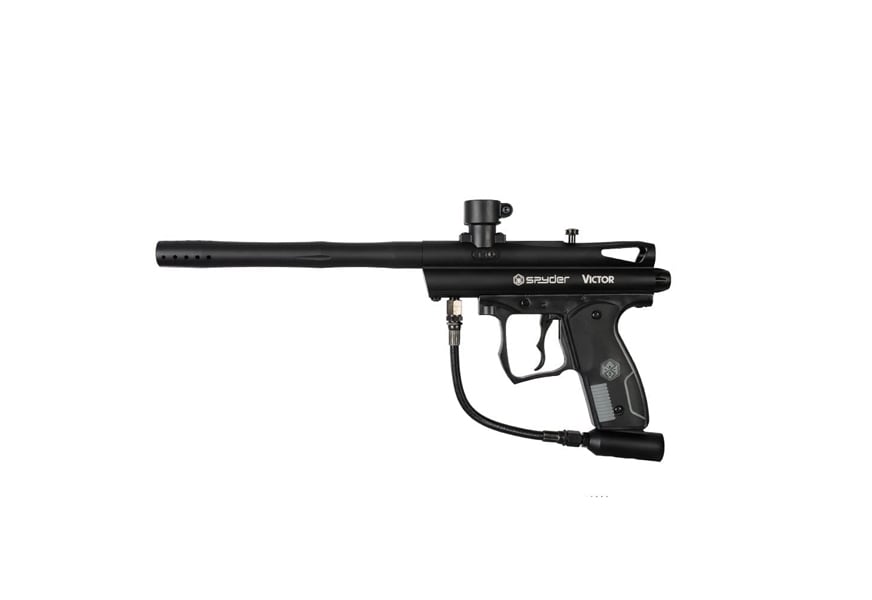 When it comes to paintball equipment, Action Village excels in manufacturing some of the best paintball guns available. This stunner black set by this trusted manufacturer is guaranteed to garner attention from every paintball buff around you. Termed as the Spyder Victor, this paintball marker is a legend among entry-level paintball guns. If you are relatively new to the paintball fan club and want to make your mark while getting the hang of the basics, this is the gun for you. It is highly maneuverable and efficient. It promises to deliver a power-packed performance any day.
The gun proudly features a stacked-tube blowback design. Easy to operate and extremely simple to maintain, the Spyder Victor delivers a dependable and gas-efficient performance. Its lightweight body is another plus. As promised, the package comes with a complete set of accessories as well as the marker. Empire's X-ray mask with an anti-fog lens provides ultimate protection and is comfortable enough for all-day wear. It also has a detachable visor that works to deliver shade and protect your eyes. The chin strap holds the goggle securely in place. You also get an Empire aluminum CO2 bottle with a 20 Oz capacity with your purchase. This tank is reusable and lasts for ages. Other essential kit supplies include a fully adjustable harness with four horizontal and one vertical insertion pouches with Velcro straps for your pods and tank, and plastic Alpha Pods that can accommodate up to 150 rounds of 0.68 caliber paintballs.
If you love this type of activity, make sure to check out our list of the best Nerf guns on the market.
Key Features:
Marker with a proven stacked-tube blowback construction
Dependable and low-maintenance
Comes with an X-ray mask with anti-fog lens
Aluminum tank with a 20-ounce CO2 carrying capacity
Includes 4 + 1 harness and Alpha pods
Tippmann TMC MAGFED Paintball Gun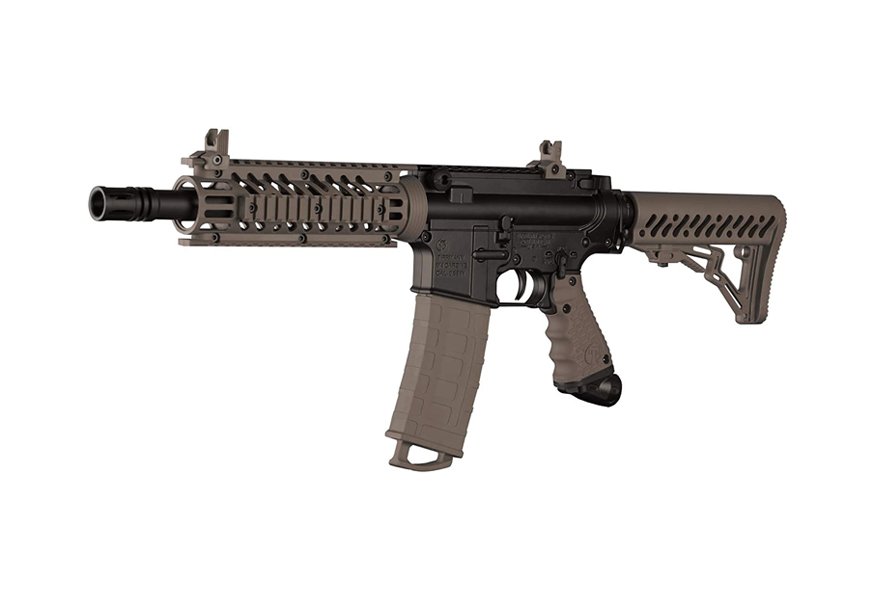 Next up, let's take a look at Tippmann's latest paintball gun and its features. The TMC Mag Fed is one of the most authentic Mil-Sim styled tactical paintball guns around, so no matter how intense the battle gets, it stands by you like a loyal and fierce warrior. This 0.68 caliber marker with an authentic Mil-Sim look and feel is all you need to succeed on the field. It provides you the ultimate boost of confidence and performance.
The gun sports a dual-feed option to bless you with the best of both worlds in a single device; you can either opt for Mag Fed or operate it in the traditional loader manner. This semi-automatic weapon is as professional as it gets and is the optimal choice for tactical games, woodsball, and close-quarter battles. It is also fully pneumatic and adjustable from 250-325 FPS. The fact that this powerful marker is incredibly simple to operate and maintain substantially enhances its appeal. The gun comes with a pair of 20-round spring-driven magazines for the Mag Fed option and features a 12-inch barrel. Other perks include an intrinsic stainless steel gas line, front and rear adjustable sights, and built-in Picatinny rails. The marker comes with a one-year manufacturer's warranty.
For more awesome toys like this, check out these top water guns.
Key Features:
Authentic Mil-Sim look and feel
0.68 Caliber
Dual-feed option: Hopper or Mag Fed design
Includes a pair of 20-round spring-driven magazines
One-year limited warranty
Specification:
Brand

Tippmann

Model

16400

Weight

6.5 Pounds
Umarex T4E Smith & Wesson 0.43 Caliber Paintball Gun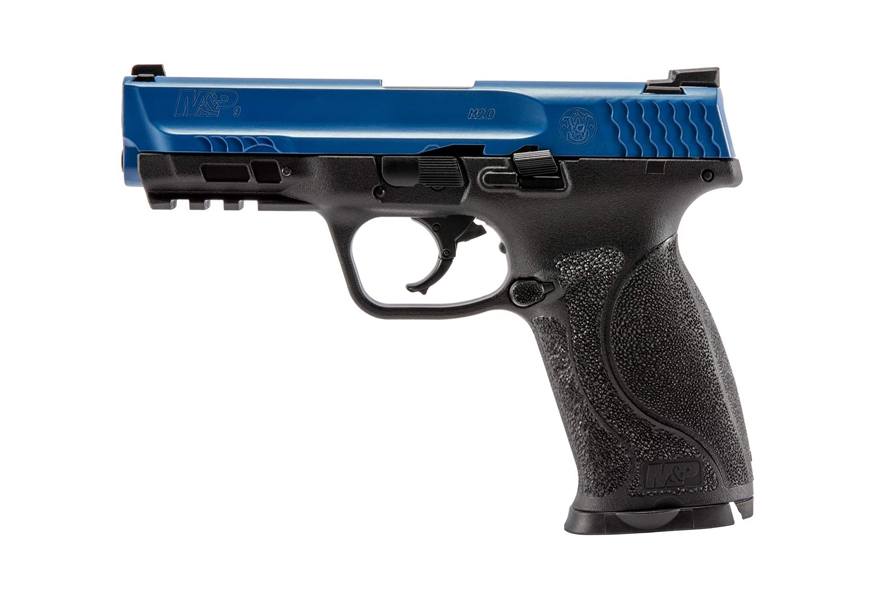 The Training 4 Engagement paintball pistol is an excellent pick for all ages and levels of interest. Its maneuverable frame and lightweight construction make it ideal for those who are passionate about paintball but find the standard markers too cumbersome.
Umarex T4E Smith has the edge over its contenders due not only to its size but also because it is simple to use; you can master its controls in a jiffy. It sports a metallic barrel and metal slide with a sliding catch that reverts and holds back when the gun is empty. This gun also features Picatinny rails for easy mounting of accessories such as lights and lasers. The rear sight is adjustable while the front sight remains fixed with clearly visible yellow dots. You can use it to shoot powder balls and rubber balls in addition to paintballs of 0.43 caliber at up to a maximum of 355 FPS. One of the most effective paintball guns with clips, it includes an 8-round drop-free magazine with realistic Mag release, and it runs on CO2.
Our buying guide on most in-demand frisbees features some more awesome toys like this.
Key Features:
Ergonomic design and size
0.43 caliber
Features 8-round drop-free magazine
CO2-powered
Package includes cleaning squeegee and a hard case
Specification:
Brand

Umarex

Model

229212

Weight

2.7 Pounds
Maddog Tippmann Stormer Titanium Paintball Gun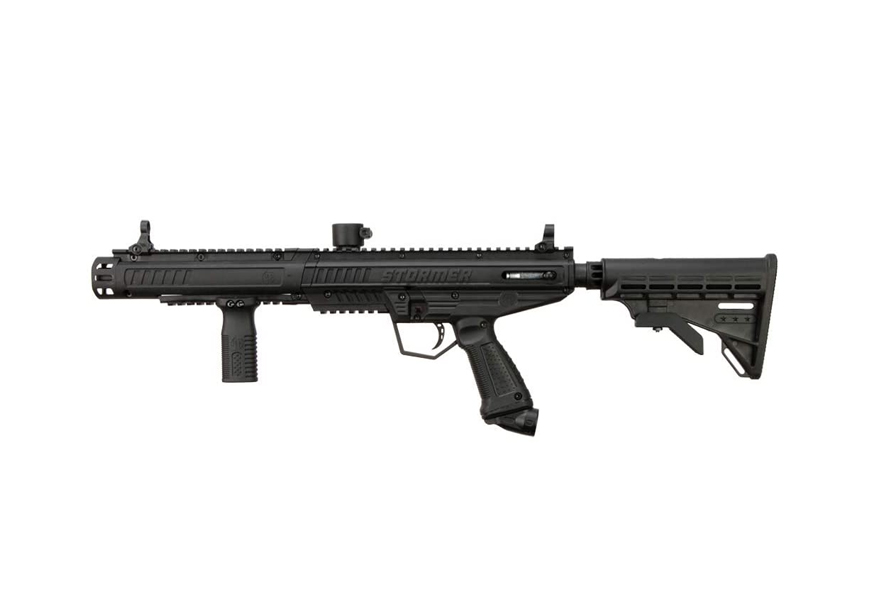 This package is a tasteful fusion of Tippmann's tactical marker and Maddog's Titanium gun accessory kit. The Tippmann Stormer Tactical is a semi-automatic paintball gun that delivers high-quality performance. This high-impact, 0.68 caliber composite marker is exceptionally durable and lightweight, making it appropriate for all ages.
Maintaining the marker is convenient and straightforward. Four Picatinny rails on the gun allow for breezy customization, and the molded rubber grips and intrinsic gas line add to your comfort and ease of operation. Maddog's accessory kit is full of perks such as a premium quality refillable 20 ounce CO2 tank forged with aluminum, a GenX stealth mask with full-face plastic cover, a 200-round hopper, quick release lens system, and an adjustable head strap. Also included are a 6 + 1 padded paintball harness and six standard pods. The barrel can be wiped squeaky clean with the squeegee that is part of the kit. Now all you need to do is fuel your tank, get some paint and call up your friends for a paintball tournament.
For more outside-friendly sports, check out these basketball return systems.
Key Features:
Tippmann Stormer Tactical semi-automatic 0.68 caliber marker
Durable and lightweight
Adjustable from 250-325 FPS
Maddog paint gun accessory kit with mask, hopper, CO2 tank, harness, and pods
1-Year Limited warranty
Specification:
Brand

Maddog

Weight

10.3 Pounds
JT ER4 RTP 0.68 Caliber Paintball Kit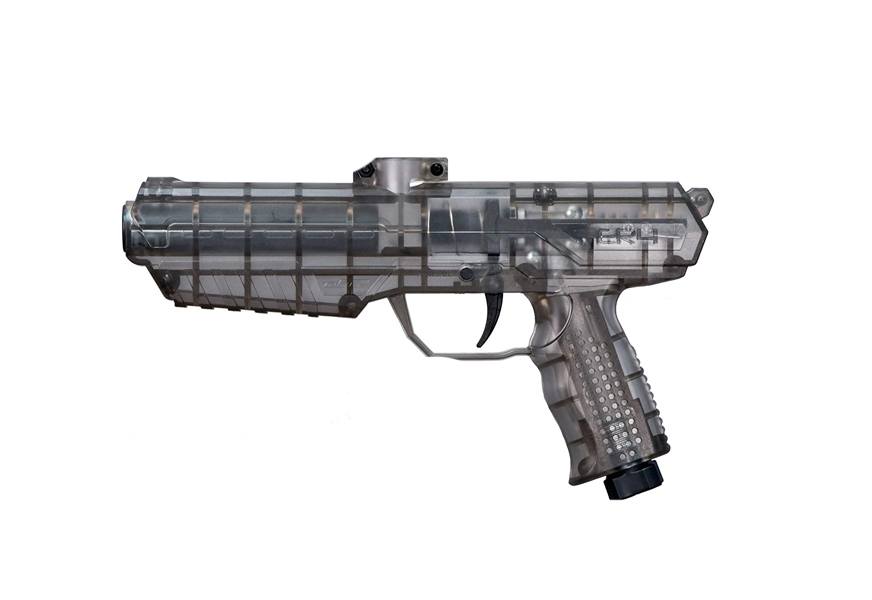 This paintball gun from JT is an ergonomically designed paintball gun that couples incredible power with an airy composite construction, making each paintballing experience one to remember. The lightweight JT ER4 RTP 0.68 Caliber Paintball Kit gun allows you to fire effortlessly and with surgical precision. You can shoot 0.68 caliber paintballs with this semi-automatic paintball gun thanks to its vertical feeding port.
JT takes considerable precautions to ensure your safety, so this gun comes with a push-button safety feature. With a stylish design that is partially see-through, the connecting loader can hold up to 40 paintballs. The kit includes premium protection goggles and three 12-gram CO2 cylinders. Get your hands on this savvy deal today and conquer the world of paintball.
For more products that will bring you hours of entertainment, don't miss to check out these cool ping pong tables.
Key Features:
Semi-automatic 0.68 caliber gun
Optimal size for all ages
Lightweight
Includes Guardian II goggle
Comes with three 12gm CO2 cylinders
Specification:
Brand

JT

Model

81974

Weight

2.5 Pounds
Paintball Gun Buying Guide & FAQ
Features To Look For In Paintball Guns
Accuracy - While it may not play a huge roll in the decision-making process for entry-level players, the accuracy of a paintball gun is a pressing concern for paintball maestros. If you're trying to level-up your game, look for a marker with an advanced level of precision-aiming and dual sights.
Weight - Seasoned or inexperienced, paintball enthusiasts typically prefer lightweight markers. After all, heavy paintball guns can be hard to handle. Whatever the size of the marker, look for a model that offers a lightweight, composite construction for fuss-free handling.
Material - Paintball guns come in aluminum, plastic, or some combination of the two. While plastic builds are light, they can break with relative ease. We prefer aluminum builds, which are both durable and lightweight.
Price - There is a paintball gun for every budget. Try looking for one that caters to all your needs and features a quality build without costing you an arm and a leg.
Design - This is another factor that depends on personal preference and needs. The most famous marker manufacturers keep innovating and improving their previous models, so you will always see the latest version of your favorite paintball gun. In general, the designs range from rudimentary and homespun to techy and authentic Mil-Sims. 
Paintball Gun FAQ
Q: What is a paintball gun?
A: A paintball gun or marker is a gun that functions as the primary piece of equipment in the shooting sport of paintball. It utilizes a compressed gas such as CO2 or HPA to propel dyed capsules called paintballs at a mark or target.
Q: How long does a paintball tank last?
A: Paintball tanks can last from three to five years, depending on the manufacturing company, after which they need to be hydro tested. Most paintball gas bottles have a date of manufacture printed on them to give you an estimate of when it's due for testing.
Q: Which paintball gun is the most accurate?
A: It is hard to pinpoint a single option as the most accurate. However, electronic markers usually possess a high rate of accuracy, ranging from 90 to 100 percent. If we had to narrow it down, we recommend electronic guns from the big giants of the paintball marker industry, such as the Empire Axe, the Tippmann X7, or the ETEK5 by Planet Eclipse.
Sign Up Now
GET THE VERY BEST OF GEARHUNGRY STRAIGHT TO YOUR INBOX