Presto 03510 Ceramic FlipSide Belgian Waffle Maker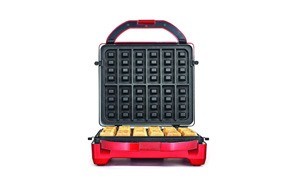 Throwback 3-in-1 Mini Cupcake Donut and Waffle Maker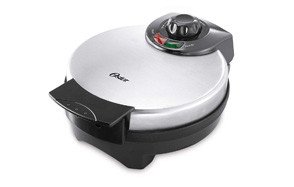 Oster Belgian Waffle Maker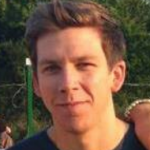 Good waffle makers are a staple of any home, whether you like to start the day with waffles for breakfast covered in the most delicious toppings and combined with a super healthy smoothie, or even after dinner for you to enjoy some much-deserved desserts. The best waffle makers can now duplicate and often exceeding the waffles you've found at your favorite breakfast spot in town, and all without spending as much money to buy them.
With a variety of settings, a plethora of batter recipes to test out, you can move on from trustworthy but ultimately boring cereal breakfasts and start the day the way you want. Making fast and fluffy waffles has never been more fun and more filling to keep you charged through to lunch time or to chill out and relax after dinner.
The Best Waffle Maker
Waffle Maker Buying Guide
Truly, there is no need to travel far and wide or even frequent the best restaurants around to get really good waffles. A good waffle maker is the main recipe for getting those perfect waffles every single time. In order to ensure that your search is streamlined, here are some useful pointers for the road.

Features To Look For In Waffle Makers
Ease of Cleaning - As delicious as waffles are, no one wants to be stuck in a battle with batter. So, it is important to look out for non-stick coated options. Waffle makers with removable parts also make it a lot easier to get all parts squeaky clean.
Number of Waffles - Each device has its own capacity when it comes to the number of waffles being made. Obviously, a family of five would need more waffles than an individual who lives on their own. So, it is important to keep this in mind.
Non-Stick Plate - This is very important, not only does it ensure that the waffles come out looking aesthetically pleasing. But it also goes a long way to make the cleaning process as easy as possible. So, for all-around convenience, stick to non-stick.
Durability - No one wants a machine that will break down after a few goes at it, hence, you need to look out for a sturdy piece of equipment. Finding out more about the materials used to make it goes a long way to know more on that front.
Easy Storage - Everyone is quite keen on economizing space, and for that reason, it is important to aim for something compact. This way it can be stowed away till when you are ready to make use of it again.
Different Types Of Waffle Makers
Standard - This one is commonly referred to as an American waffle maker. It commonly makes the round waffles we have come to love and know. The waffles come out looking like the ready-made ones sold in stores.
Cast Iron - This type of waffle makes is used over a stove and is sometimes referred to as a stovetop waffle maker.
Belgian Waffle Maker - This is one of the most popular types currently on the market. It produces a thick square waffle that is crispy on the outside and fluffy on the inside.
Flip/Rotating - This waffle maker is designed on the precipice of being able to flip while the waffles are being made. All in all, this makes for even cooking through and through.

Waffle Makers FAQ
Q: How Do Waffle Makers Work?
A: In simple terms, when the batter is poured into the mold, it is cooked rapidly on both sides to make a waffle.
Q: Is a Rotating Waffle Maker Better?
A: Yes, it is generally a superior choice. This is because it ensures a more even finish on the waffle and also makes sure that it is cooked all the way through.
Sources:
Everything You Need to Know About Waffle Makers - Waffle Makers Hub
20 Waffle Flavors You Never Knew Existed - Tablespoon