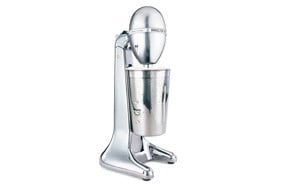 Hamilton Beach 730 C Classic Drink Master Milkshake Maker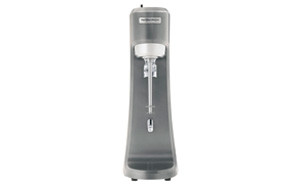 Hamilton Beach HMD200 Commercial Milkshake Maker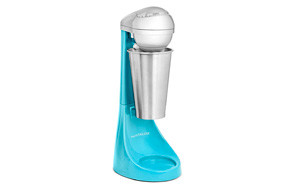 Nostalgia MLKS100BL Milkshake Maker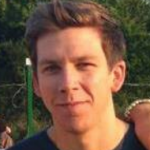 Smoothies and juices are all well and good, especially when you are on a self-professed health kick. However, what about for those times when you are craving something altogether more indulgent and well, a little bit creamier and whole lot naughtier! Tired of having a runny and thin consistent blended drink and really want to sink your teeth and taste buds into something more decadent? Don't have the time or the energy to head out to one of those milkshake and ice cream style franchise parlors popping up on the high street? Well, that's exactly when and why you need a milkshake maker, and luckily for you, we've got our top recommendations. Read on to discover what we currently think are the best milkshake makers to produce yummy and thick creamy, indulgent treats from the comfort of your own kitchen top! Maximum taste and minimum cleaning up too. All you need to do is decide what flavor you want to create and grab your straw and a large glass!
The Best Milkshake Maker
Milkshake Maker Buying Guide & FAQs
How We Chose Our Selection of Milkshake Makers
Our selection of Milkshake Maker is all well known for their premium features and strong design aesthetics too. All of them are selected following a rigorous process, analyzing reviews both from experts as well as consumers. We try to ensure that we covet off a range of brands but that all have one thing in common, delivering a machine that is easy to use. Price is also taken into consideration, and our selection all offer what we believe to be excellent value for money given their unique features. Based on brands you can trust, prices that are attractive and strong reviews, ratings and customer testimonials, we trust that at least one of the Milkshake Makers we've shortlisted will be the perfect one for you and your family.

Features To Look For In Milkshake Makers
Before you decide to invest in any one of our recommended Milkshake Makers, there are a couple of points worth considering and also features that you should be on the look-out for.
Power, Construction & Weight - For the most powerful and durable makers, we recommend that you go for components that are made from stainless steel. These will be easy to clean and long lasting too plus the stainless steel helps to additionally keep your milkshakes nice and cold. When it comes to power, if you are intending adding in ice or blending with frozen fruits to make smoothie style milkshakes, then you need to ensure that the motor is powerful enough to perform that function and not just to aerate and mix dairy produce which is generally soft. Most machines will deliver somewhere in the range of 65-100 watts of power. Go for a heavy base too as that will anchor your machine and ensure that it stays stable when you are mixing up your magic shakes!
Cup Capacity & Number of cups - Consider how many people you are likely to want to serve. Many machines feature detachable cups that can hold up to 28 ounces of fluffy, flavorsome and fulfilling creamy goodness. If that's enough, great, but if you intend whipping up bigger batches maybe invest in a machine that has multiple cup attachments. Some machines also come with additional retro-styled cups so that you can go the whole hog and serve up your delicious floats in a fun container.
Ease to Clean - Nobody wants to spend unnecessary time cleaning up, so we suggest that you opt for a machine that has mostly stainless steel parts and a fully detachable cup that make cleaning up a breeze.
Speed Variations - Milkshakes are pretty easy to make so you don't need your machine to be too fancy but having two speeds will certainly be beneficial and ensure that you mix and froth those milkshakes up to perfection.
Location - Most machines are compact and designed to perfectly fit on a countertop while still looking stylish too so that you probably will want to leave your machine permanently out rather than pack it away. However, if you are a neat freak and you do intend putting your machine away in between use, make sure that your cupboards or storage space is suitable for the size of Milkshake Maker that you are contemplating buying.

Milkshake Makers vs. Blenders
It's undeniable that countertop style blenders and immersion blenders are powerful and useful appliances that fulfill a whole range of valuable functions. From creating smoothies to pureeing soups, creating sauces and also crushing ice. On the flip side, strictly speaking, a milkshake maker has one very specific function, to make delicious rich and creamy milkshakes. As we'll discover further down the guide though, they can do more than just that which is what makes them such a practical and popular choice. Back to milkshakes though!
The beauty of a milkshake maker, as opposed to a blender, is that they can thicken very cold ingredients in record time, not by utilizing rotating blades, but with a long shaft and an aeration disc which works effectively to add lots of air into the ingredients. This results in thicker and creamier but also faster results than with a blender and also provides precise control as well as having the practicality of a removable cup. While they may overall be less powerful and practical than a multi-purpose mixer, the one thing that they can absolutely boast is that they whip up seriously delicious shakes!
Milkshake Making Tips
In case you are a novice to the wonderful world of milkshake making, we thought it might be useful just to provide a few tried and tested top tips! Practice makes perfect so the more you make shakes, the more delicious and creamy they will be. In no particular order, you might want to consider the following:
Don't overfill your bowl with ingredients and add then slowly rather than lumping them all in at once.
Leave your mix in ingredients like choc chips, syrup or peanut butter till last. These will give your milkshake its individual taste and flavor, and they should be thoroughly and evenly mixed and blended through your drink and not jam up your machine.
The colder your ingredients are, the frothier and creamier your milkshake texture will be.
It's best to add in your wet ingredients first and get those blended before you add any fruit or other ingredients.
Also, make sure that you clean your machine thoroughly every time that you have used it to ensure there's no build-up of bacteria.

Milkshake Maker FAQs
Q: Can I use a milkshake maker for anything other than milkshakes?
A: You will find that your Milkshake Maker does have a host of other practical uses that you will appreciate. You could use it to mix up the perfect scrambled eggs as well as to create delicious smoothies too. A Milkshake Maker can also replace a stand mixer for making pancake and waffle batters for a delicious breakfast alternative and of course, for preparing delicious drinks for a cocktail party.
Q: If I already have a blender, is it worth purchasing a milkshake maker?
A: This is a great question, and if you do already own a milkshake maker, you might well be wondering whether a milkshake maker is a smart investment or not. Well, we categorically think that it is and we have a number of compelling reasons to put forward as to why. First, up your kids are just going to love drinking and making milkshakes with you. It's great family fun and a treat for the kids. They make a fab addition to kid's parties or family get together's and there is nothing quite like the fresh and delicious taste of smooth and creamy milkshake on a hot summers day. Considering the cost versus how much value you can get from a machine, they're pretty budget friendly too, especially when you think about how much you would pay for a milkshake in a soda style bar or ice cream parlor. Let's also not forget that at home, you are in total control of what you put inside your milkshake which yes, you can also do with a blender, but they just aren't as effective at dealing with cold ingredients as a milkshake maker is. They also don't have sharp blades like blenders do either, so they are overall safer and more practical to have around children and also to clean up.
Q: My milkshake seems runny. How can I thicken it up?
A: If you've added too much milk, then you might find that your shake has a runny consistency. To thicken it up you could try adding some heavier cream or crushed ice. Both of which will help thicken up the texture.