Cuisinart ICE-21 1.5 Quart Ice Cream Maker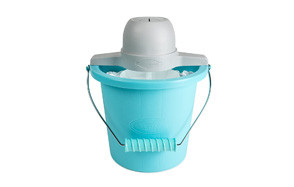 Nostalgia ICMP400BLUE 4-Quart Electric Ice Cream Maker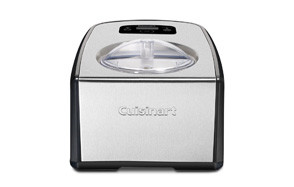 Cuisinart ICE-100 Compressor Ice Cream and Gelato Maker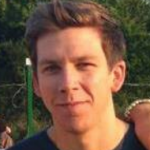 If the idea of a peanut butter ice cream kicks up a craving in, you might need to get an ice cream maker. Not only are these machines cost-efficient, they're also a great way to monitor what goes into your ice cream, particularly true for those who have allergies or prefer organic food. If you're into homemade or frozen cream, here's a rundown of our top ice cream makers on the market.
The Best Ice Cream Maker
Ice Cream Maker Buying Guide
How We Chose Our Selection Of Ice Cream Maker
From culinary experts to ice cream enthusiast, we broke down the top ice cream makers that have been consistently spinning out delicious frozen treats for users across the U.S. We went a bit further to detail other factors that formed our decision making process such as the brands, reviews and price. If you're still unsure on the ice cream machine to choose from, our guide has highlighted the features to look out for before buying an ice cream maker.
Brand - We chose brands that are easy to access online as well as in stores. Brands like Cuisinart, Hamilton Beach, and Breville are one of the most trusted brands that have been in operation for years. The other brands that were included in our guide, like Aicok, and Whynter are relatively new companies but their manufacture quality products, which explains how they got into our list.
A company like Cuisinart featured more in our guide due to an insane obsession of constantly improving the quality of their ice-cream makers, providing customers with a variety of models and price range to choose from.
Whynter, who is quite new on the scene, specializes in the production of Air Conditioners, so it is no surprise they have finally moved  into ice-cream makers. We featured two of their products that received positive rave and support from current users.

Review - A quick scan through numerous reviews showed us one thing: users are tired of the crank style, elbow working ice-cream makers. All the products listed in this guide are newer models, except the Hamilton Beach 68330N that uses the old-fashioned salt and ice. Most of the models here also have new features like the sorbet and gelato option, that came with the Cuisinart machines and the LCD timers. These features are entirely new to ice-cream makers which most reviewers preferred.
Price - Price and features are quite important when choosing ice cream machines. People seem to lean towards ice cream makers that produce professional tasting/looking ice cream. For this sort of aesthetic, the expensive compressor ice cream models won.
Some customers seem to prefer the old-fashioned ice and salt models, which are quite affordable. In terms of cost, the models we reviewed are priced from $30 up to almost $400. The priciest model in this review was the Breville with the unique hardness feature, while the cheapest was the Hamilton, which came with the old-fashioned ice and salt ice-cream method.

Features To Look For In Ice Cream Maker
Type Of Ice Cream Maker - There are three types of ice cream makers: Ice and salt, electric frozen bowl, and compressor ice cream makers.
The Ice and Salt option is manually operated, and is quite outdated compared with the newer models. If you're on a budget, this is your best bet. The Electric Frozen Bowl requires you to freeze the bowl in a deep freezer for a day or two before making ice cream which requires a ton of patience. They are quite affordable compared with the compressor ice cream maker. Compressor Ice cream makers produce the right consistency of your frozen treat with zero hassle. However, you'll have to splurge a little more.
Capacity - Most of the ice-cream makers in our guide, have a total capacity of 1.5-2 quarts. There are some exceptions like the Hamilton Beach, which has a 4-quart capacity, which is quite large. If you're making ice cream for two, the 1.5 or 2-quart ice cream makers should be more than enough. However, if you'd like to make in large capacity for a party or a large family, we recommend the 4-quart machines or compressor models that allow you to make more batches in a day.
Speed - Most ice cream machines take about 15-20 minutes to thicken while others take about an hour. However, if you're trying to make more in one day, then splurge a little on the compressor ice cream makers, they take less time to make delicious ice cream treats.
Hard or Soft - The flavor depends on the ingredients used, while texture depends on your machine. Not to oversell compressor ice cream makers, but they make the smoothest ice creams than the other types. If you're on a budget, ice and salt, and electric frozen bowl machines allow you to control the texture of your ice cream to an extent.