Best UV Phone Sanitizers of 2022: Because Your Phone is Disgusting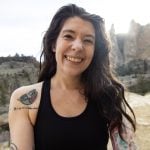 This product guide was written by Tuesday Kirby Kahl
Last Updated
March 2, 2021
Tuesday Kirby Kahl
Tuesday Kirby Kahl is a contributor at Gear Hungry. Her fierce love for the outdoors fuels everything she does. Her professional pursuits include writing, creating art, and photography. These professional passions allow her the time to live life outside as a rock climber, skier, runner, backpacker, paddle boarder, swimmer, and explorer. When Kirby is indoors, she enjoys tea, whisky, old films, cooking, and baking. Her product testing and feedback have shaped the design of everything from climbing shoes to candles.
GearHungry may earn a small commission from affiliate links in this article.
Learn more
Like so many germicidal products lately, the UV phone sanitizer market is a burgeoning one. It makes a lot of sense — our phones travel with us almost everywhere. We drop them on the ground, throw them in bags and pockets, and other people borrow them. We use our phones while in the bathroom and eating food. If you have kids, they love to steal your phone for games too. Then, after all that, we put our phones on our faces to chat with our friends.
With all this activity and movement from one environment to another also comes a lot of germs. According to a study published by a peer-reviewed infectious disease journal, GERMS, one smartphone harbors a medial abundance of 17,000 bacterial cells.¹ And, according to University of Arizona microbiologist Charles Gerba, the average touchscreen cellphone hosts 10 times more bacteria than most toilets.²
We spend so much time sanitizing surfaces around us and cleaning our bodies, and those devices on the heaviest rotation end up forgotten. Not anymore.
UV-C light is a type of light that can kill germs when used at particular wavelengths in enclosed spaces. UV-C light cleaning robots, wands, and sanitizers pop up everywhere as the need for clean grows.UV-C phone sanitizers have had a surge in popularity and use since the COVID-19 pandemic started.
It's important to note that it remains entirely unclear whether UV-C light is effective against the SARS COVID virus at the time of writing. And none of the products you'll find in this guide male claims to the contrary.
So, we dug into the research ourselves and even tested a few of these devices in-house to find the best, brightest, and most effective UV-C sterilizers to date. So jump in to learn about what makes the items in our lineup stand out as the best UV phone sanitizers and find the one that's right for you.
The Best UV Phone Sanitizer
Moshi Deep Purple UV Phone Sanitizer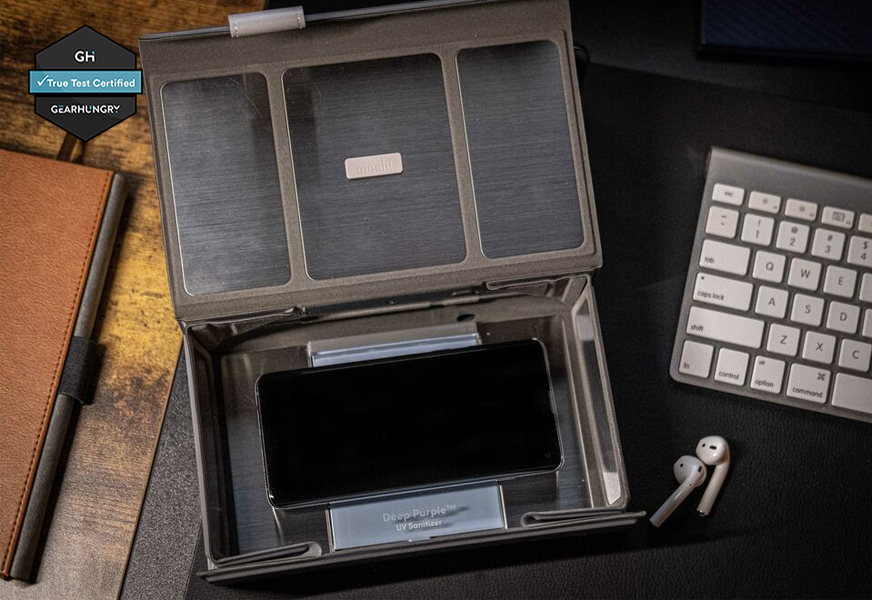 Moshi's Deep Purple is a folding UV sanitizer that claims to remove germs, bacteria, and viruses from virtually anything that fits inside the collapsible case. Whether on the road, at home, or even outdoors, the sanitizer can draw power from a 12V adapter, wall outlet, or battery power bank.
As a self-proclaimed germaphobe, I decided to test the Deep Purple's mettle.
The folding design is a unique one, and I found the UV sanitizer to be fairly portable. But even with a collapsed height of just 0.8 inches, I wouldn't call it small. It measures 7.2 inches wide and 8.5 inches long when folded flat, making it a little bigger than my iPad mini.
Setting the Deep Purple up was a breeze – I simply plugged into a power source, folded out the side panels, inserted my phone or other small items, and closed the lid. The magnet did need a little finesse to make sure the cleaning cycle started. The magnetic closure function is what triggers the cleaning process. A small LED on the front changes from green to purple when the cleaning begins and back to green when complete.
The brand claims a 4-minute cleaning cycle, with no need to flip your device to clean the other side thanks to its proprietary LumiClear platform that allows 360-degree light penetration. I found the 4-minute claim to be accurate over 10 timed cycles, cleaning anything from my phone, to keys, to AirPods.
Being a germaphobe, using the sanitizer gave me an extra sense of cleanliness each time. The Deep Purple logo inside the sanitizer contains UV-Reactive paint that changes colors when exposed to UV light to show sufficient exposure. However, I noticed that the color changed within 5 seconds of starting the cycle, feel it really represents a reliable mark of cleaning. It seems like more of a gimmick.
Overall, however, Deep Purple is a welcome addition, and I think that germaphobes everywhere will appreciate its 4-minute, 360-degree capability.
Key Features:
Case folds flat for optimal portability
4-minute sanitization time
360-degree UV-C disinfection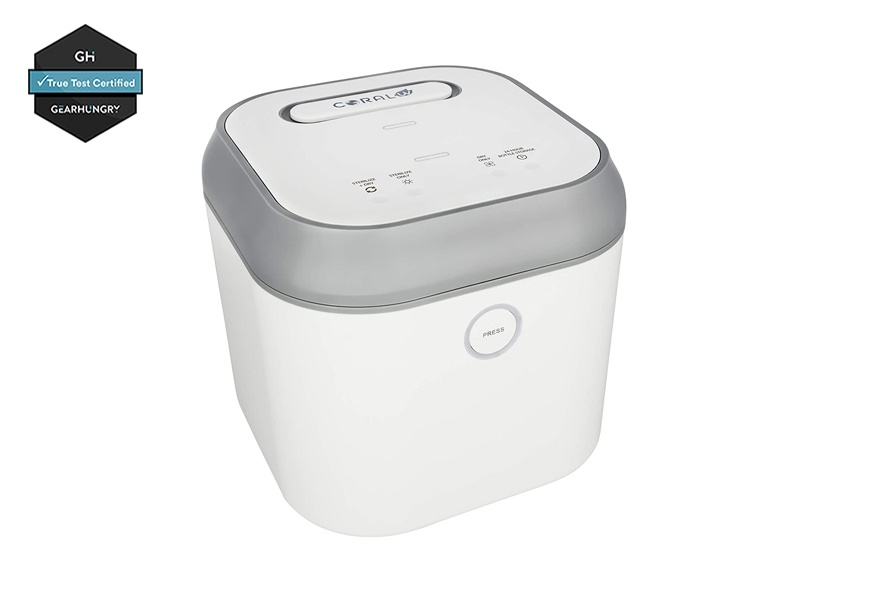 We put this product through one of the most important and essential tests for a sanitizer: the infant test. We pitted the UV-C Sterilizer and Dryer from Coral UV against damp baby bottles, chewed on toys, and other household items like keys, headphones, manual toothbrushes, watches, and more. It went through the wringer, disinfecting multiple items per day.
The impressive 10.5 by 10.5 by 10-inch loading bay blew away most other UV-C sanitizers out of the water, accommodating a wide variety of objects in its basin for a 10-minute sanitization cycle. 
The stand-out feature was the drying function. Damp baby bottles and chewed toys came out of the Coral UV sanitizer dry and sterilized, a convenient innovation when you have an infant exploring the world with its mouth.
We highly recommend this product for families and those with young ones at home. 
Key Features:
Extra-large loading bay (10.5″ x 10.5″ x 10″)
10-minute sanitization cycle
Great for families with infants
PhoneSoap Pro UV Phone Sanitizer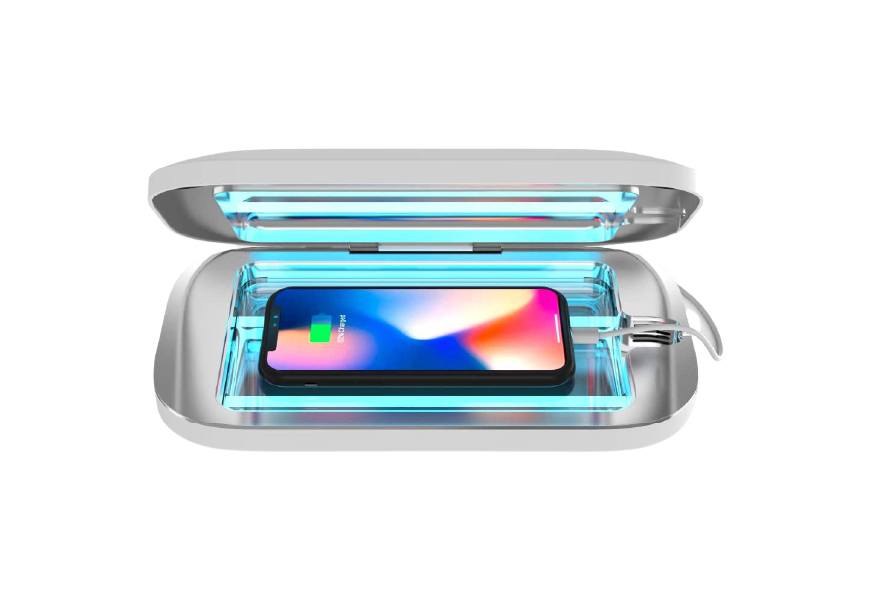 Our favorite and one of the most popular UV sanitizers for your phone is the PhoneSoap Pro UV Phone Sanitizer. This model has a larger bay than previous PhoneSoap models making it compatible with more phones. Additionally, it has twice the number of UV-C lights than average, which cut the sanitization time in half, down to a measly 5 minutes. Anything you can fit in the loading bay, PhoneSoap can sanitize it. 
Some features we love with this device are the five color choices to match your PhoneSoap to your other devices and personal color scheme, and the charging capabilities. You can add wired charging with USB-A and USB-C cables while the device is operating. Lastly, to keep this device from sliding off the table, the manufacturer's added small suction cups to keep the product in place on your counter or table, so your pesky cat can't send this product for a ride. 
Key Features:
USB-C and USB-A charging capability
5-minute sanitization time
5 color choices
Large loading bay 
Specification:
Brand

PhoneSoap

Model

PS500PRO-W

Weight

2 lbs
PhoneSoap 3 UV Phone Sanitizer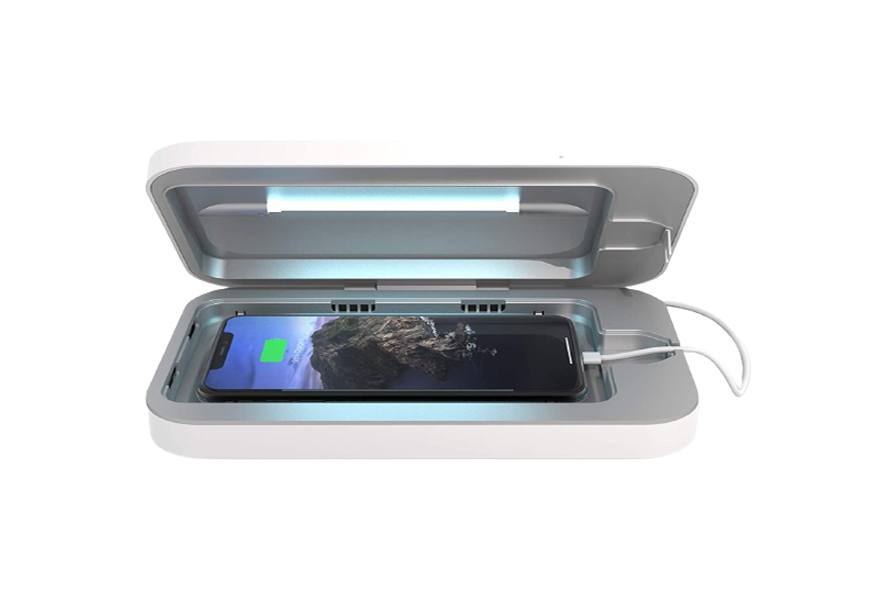 Yep, another PhoneSoap product on our list of iPhone sanitizers. The PhoneSoap 3 UV Phone Sanitizer is less expensive than the PhoneSoap Pro and a bit smaller, but it is still a versatile and high-quality product. The PhoneSoap 3 provides charging capability with USB-A and USB-C cords so you can charge your device while you use it. The machine takes 10 minutes to sanitize with its two UV-C lightbulbs. 
Six colorways are available, including white, lavender, black, gold, pink, and teal—so there is a color for everyone. One of our favorite features of this device is its portability. You can charge this product, then pop it in a day pack and sanitize on the go.
Key Features:
USB-A and USB-C charging compatibility
6 color options
10-minute sanitization time
Specification:
Brand

PhoneSoap

Model

White 3.0

Weight

1.81 lbs
mophie UV Phone Sanitizer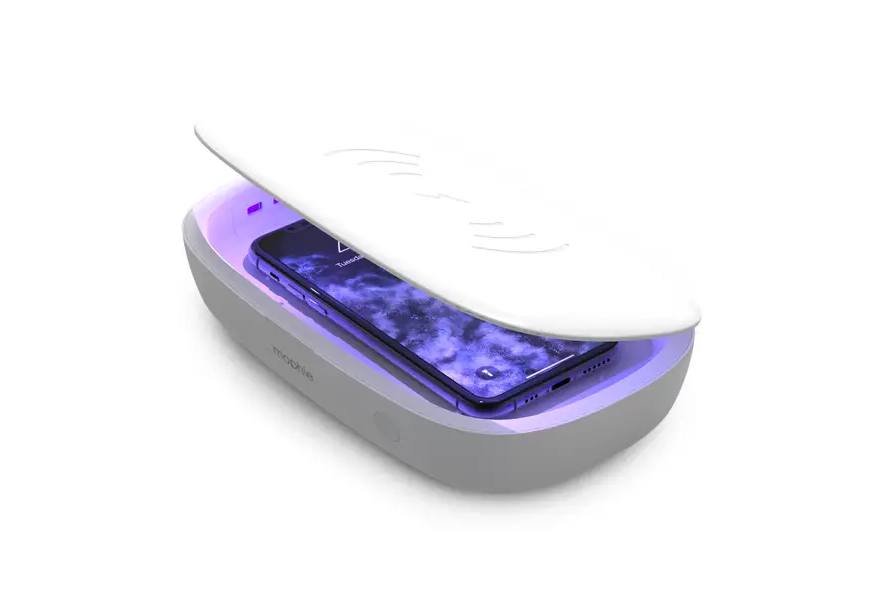 Our next product in the list of best UV phone sanitizers is the mophie UV Phone Sanitizer. This gadget provides both sanitization and wireless charging in a convenient and portable product. This product comes in a singular colorway and offers a brief, 5-minute disinfection time. 
The loading bay measures 8 by 5 by 1.7 inches, meaning most smartphones will be compatible with this product. Additionally, this device allows for wireless charging on the lid, meaning you can charge your phone anytime or charge one phone while you sanitize another. 
Key Features:
Wireless charging
Large loading bay
5-minute disinfection time
Specification:
Brand

mophie

Model

MUV-WC-201

Weight

0.77 lbs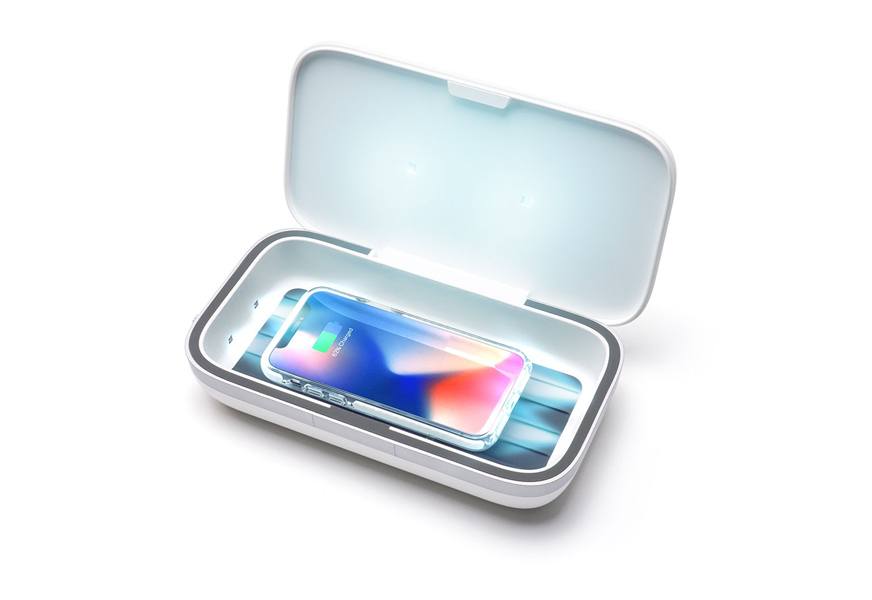 The CASETiFY UV Sanitizer boasts a few standout features: integrated wireless charger, speedy sterilization time (only 3 minutes), and generous capacity. The sanitizer also offers an advanced 15-minute sterilization option for extra grimy gadgets.
Recharging your Qi-enabled smart devices with the CASETiFY UV Sanitizer's wireless charger is simple: place your device on the bay (phone screens facing up!), close the sanitizer box's lid, and press the blue button for a simultaneous charge and cleaning.
At the time of writing, the UV phone sanitizer's large interior bay can accommodate any size of smartphone with room left to fit one or two smaller items, as well.
One of our favorite things about the maker, CASETiFY, is its mission to give back to the community. Every purchase of a phone case or UV Sanitizer from CASETiFY helps recycle more plastic, plant trees, and donate food. And that is the kind of ethos we can get behind.
Key Features:
Wireless charging while sanitizing
15-minute sanitization time
Large loading bay
Specification:
Brand

CASETiFY

Model

Wireless UV sanitizer box
HoMedics UV Phone Sanitizer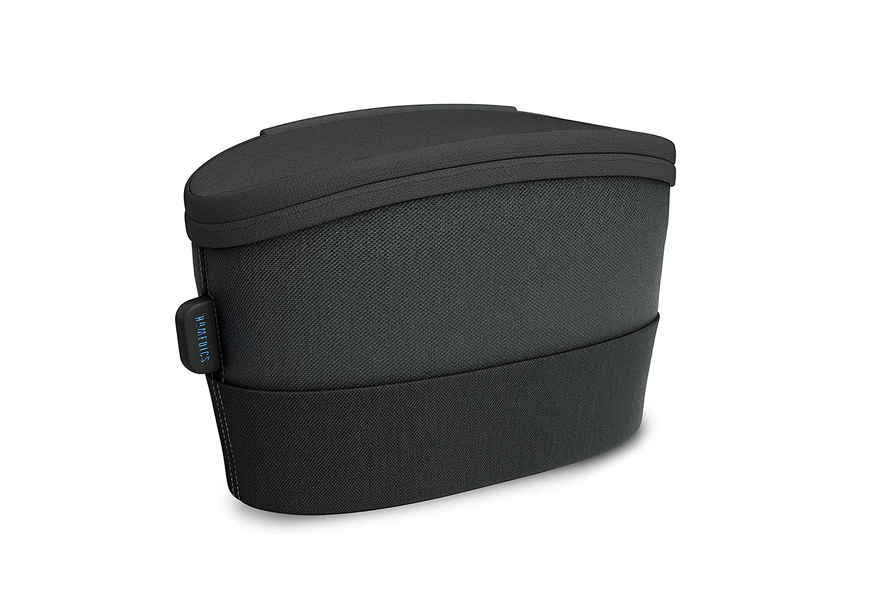 One of our most portable options is the HoMedics UV Phone Sanitizer. This device tucks nicely into a bag or briefcase and folds, unlike our other plastic options. For stabilization while sanitizing, this product comes with a removable phone platform to ensure maximum coverage. You can also sanitize keys, sunglasses, and other products because of this bag's flexible design that allows fits objects that may not otherwise fit into rigid loading bays.
This bag also comes with an impressive one-minute sanitization time with four germicidal LEDs. The HoMedics sanitizer bag allows for 18 cycles of sanitization on a single charge, so depending on how often you sanitize, a single charge can last for quite a while!
Key Features:
1-minute sanitization time
Removable phone platform
Flexible design
Specification:
Brand

HoMedics

Model

SAN-B100-BK

Weight

13.44 Ounces
HoMedics UV Clean Phone Sanitizer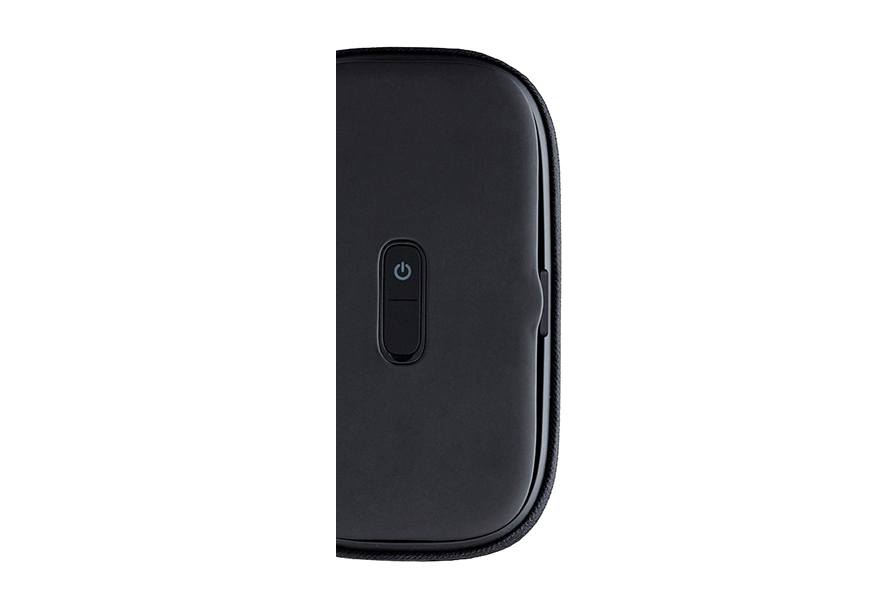 Our next product is a compact, travel-friendly sanitizer. What the HoMedics UV Clean Phone Sanitizer lacks in versatility, it makes up for in convenience and features. Once charged for 2 to 3 hours, this device offers 70 sanitization cycles, meaning a second charge is potentially months away.
This product is excellent for long-term travel due to its impressive battery life and its portability. When the device is not in use, it collapses to save space and easily slides into a travel backpack, purse, or briefcase.
Like the other HoMedics sanitizer on our list, this product also offers a lightning-fast sanitization time of 60 seconds. For complete sanitization, you will want to complete a 30-second cycle then flip your phone over for a second sanitization cycle. This device can also sanitize other small items like keys and sunglasses.
Key Features:
Collapsible design
1-minute disinfection time
70 cycles on a single charge
Specification:
Brand

HoMedics

Model

SAN-PH100-BK

Weight

11.8 oz
Sharper Image UV Zone Phone Sanitizer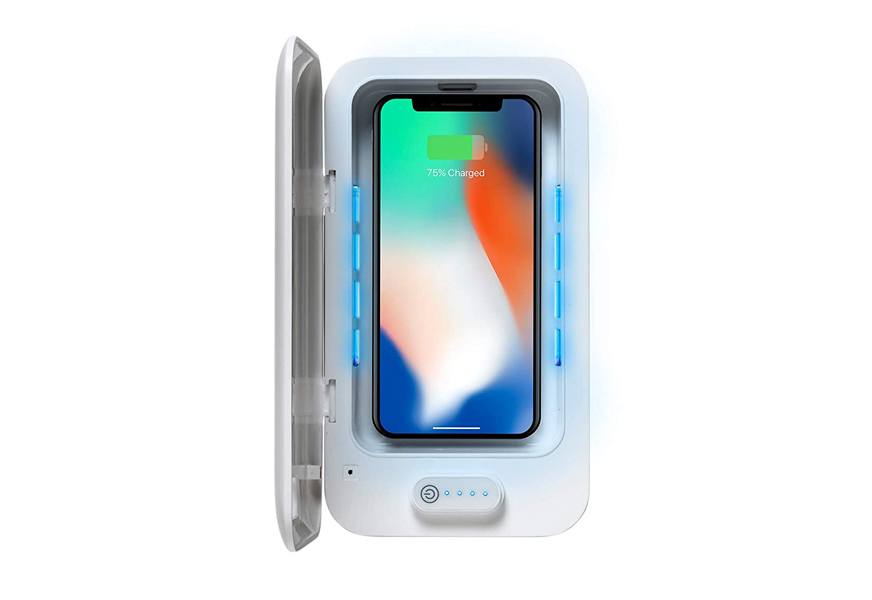 My early memories of Sharper Image are mostly wandering into the store at the mall to see new gadgets, technology and maybe sit in some massage chairs for a bit. Although, I never quite saw anything like the Sharper Image UV Zone Phone Sanitizer. This UV phone sanitizer fits most smartphones as well as small objects. It nestles easily into a counter or desk, making it an excellent choice for home or office use. 
Two UV-C lights offer complete sanitization for your smartphone in two 6-minute cycles, one per side. Additionally, you can charge your phone while you wait via the charging portal. All this device needs to function is a USB power source, and you're ready to sanitize! 
Key Features:
12-minute sterilization cycle
Dual 254 nanometer wavelength UV-C lights
Doubles as a USB charging device
Specification:
Brand

Sharper Image

Model

1013496

Weight

1.15 lbs
Samsung Qi Wireless Charger and UV Sanitizer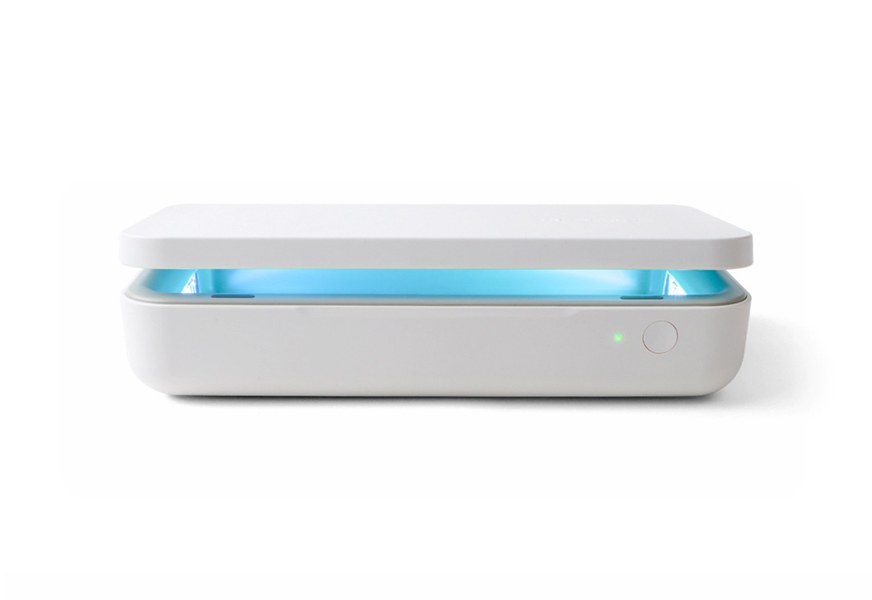 One of the most budget-friendly options on our list of the best UV phone sanitizers is the Samsung Qi Wireless Charger and UV Sanitizer. This device offers wireless charging for Qi-enabled devices during and after its ten-minute sanitization cycle. Amazon reviewers noted it is not a particularly fast charge but still helpful for that extra boost before you head out for the day. 
While this device's design was crafted with Samsung smartphones in mind, it is compatible with other smartphones. Additionally, feel free to throw in any object that fits for easy sanitization, including keys, wireless earbuds, and sunglasses. 
Key Features:
10-minute sanitization time
Wireless charging capability
Specification:
Brand

Samsung Electronics

Model

ITFIT UV Sterilizer

Weight

1.74 lbs
UV Phone Sanitizer Buying Guide
Why Trust Us
In the dawn of the COVID era, we have consistently published reviews and information on UV-C Sanitizers for your phone and other objects. While this technology has been around for a while, it hasn't made a mainstream debut until now. We thoroughly researched the most effective wavelengths and methods of UV-C light and tested products in a household with infants and children exploring the world with their mouths. 
Who This Is For
This buying guide is for anyone interested in sanitizing their phone and other household products. Whether you have a solid background in using sanitization or UV-C light products, or none at all, there is a product for you on our list. We have models for those on the go and a wide variety of sizes, meaning there's a little something for everyone. 
How We Picked
When crafting our list of sanitizers, we researched, read reviews, perused lab tests and scholarly journals as well as tested in-house to find the best products on the market for sanitizing your phone. Because we know that not everyone has the same needs, we strive to craft product selections that serve a wide range of people. You will find sanitizers in all sizes, shapes, and varieties to ensure we meet a wide variety of needs. 
Features To Look for in UV Phone Sanitizers
Portability - If you are someone who is generally on the go, you will want a cell phone sanitizer that can easily slip into a backpack or briefcase and move with you. If you tend to be a bit more stationary, this will likely be less of a priority for you. Most phone sanitizers, aside from large ones, are generally going to be reasonably portable. 
Charging Capability - Some models will also charge your phone while they sanitize it. This feature is handy but may not be a necessity for most. In our list, some models have this feature, and others do not. Some sanitizers may only work with phones with wireless charging, and others support wireless and wired charging. 
Compatibility - Before purchasing your UV light sanitizer, verify it is compatible with your device. Most should have no problem accommodating your phone regardless of its size. Still, if you have a huge phone or unique case, you should verify the sanitizer is adequately-sized to support your phone or other devices you intend to sanitize. 
Effectiveness - UV phone sanitizers have proved to be effective at 222 nanometers for at least 10 minutes. These things have limitations, though. These lights only work on the surface of objects and can not make their way into nooks and crannies or around particles of dirt and food.
For maximum effectiveness, wipe your phone down first to ensure it is clean, remove the case and set it in the sanitizer for the proscribed  10 minutes. These devices cannot remove dirt, dust, or clean your phone—they only sanitize the surface. 
Speed - Generally, the most effective time frame for a sanitizer is 10 to 15 minutes at 222 nanometers. Sanitizers vary in their wavelength ranges and run times, and products like sanitizing wands may take longer to sanitize products because it is not an enclosed space.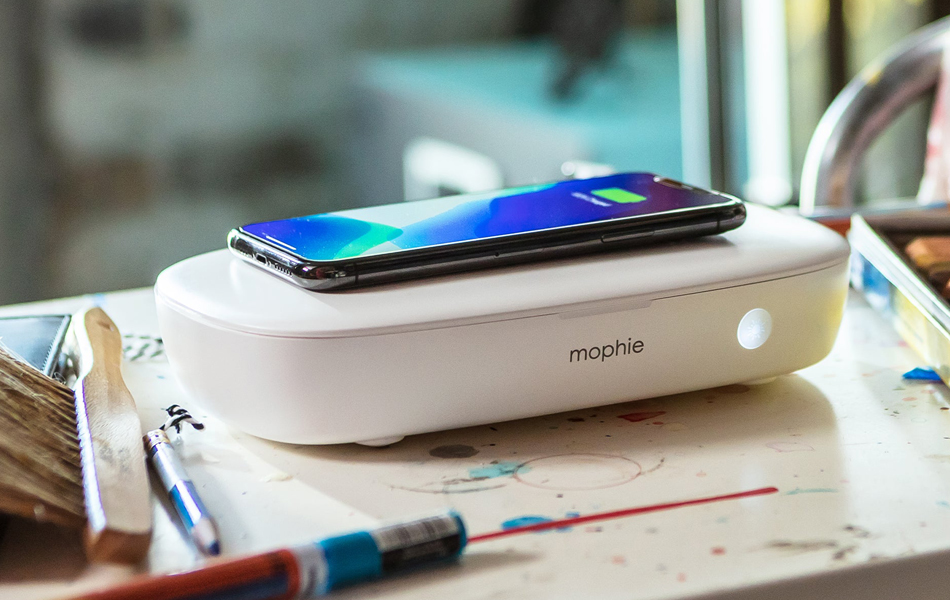 UV Phone Sanitizer FAQ
Q: What is a UV phone sanitizer?
A: A UV phone sanitizer is a device that uses UV-C light to disinfect your phone or other objects. UV-C light is a type of UV light that comes from the sun but can be replicated with special light bulbs. An ultraviolet light sanitizer does not disinfect or clean your phone, but it will kill germs and microbes in the sanitization process. Because UV-C light can be dangerous to the naked eye, many of these devices entirely enclose the device while sanitizing. 
Q: Do UV light phone sanitizers work?
A: Ongoing studies are still occurring on UV sanitizers' capabilities, but so far, they have proved to work on many viruses and bacteria. UV-C sanitizers have not yet been proven to kill COVID-19 but can kill other coronaviruses. 
Q: How do you check if UV sanitizer is working?
A: It is hard to see these devices' effects in your hand because the UV sanitizer doesn't clean your phone. However, lab tests have verified that these products do sanitize and make a difference. 
Q: How long does a UV phone sanitizer take?
A: Most phone sanitizers should take anywhere from three to 10 minutes to sanitize your phone or other objects. Wand-style devices can take even longer to sanitize an object because they are not entirely enclosed. The length of time to sanitize an item depends on the number of lights, intensity, and how enclosed the effective area is. 
Q: Can I use a phone sanitizer with other items?
A: Yes, you can use your phone sanitizer with other objects. Some considerations before doing this should be how the item reacts to UV-C light and the surface. UV-C light works best when the surface is non-porous and does not have nooks and crannies.
Q: How effective is a phone sanitizer?
A: While studies are ongoing, phone sanitizers appear to effectively kill viruses like COVID-19 at 222-nanometer wavelengths for at least 10 minutes. Phone sanitizers are not proven to kill COVID-19 yet, but it is likely that they at least are damaging to the virus. This effectiveness can be increased or decreased based on whether or not the light is enclosed and if the surface is clean.
It is important to note that there is a difference between cleaning, disinfecting, and sanitizing. Cleaning is the removal of dust, dirt, and germs, likely using water or a chemical. Disinfecting will kill germs and bacteria on the surface of an object and usually includes chemicals. Sanitizing is the killing of germs and microbes or lowering them to a safe amount. Sanitizing can happen with cleaning or disinfection or with non-chemical methods like UV-C light. 
Sources:
Sign Up Now
GET THE VERY BEST OF GEARHUNGRY STRAIGHT TO YOUR INBOX