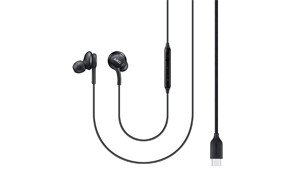 Samsung EO-IC100BBEGUS Corded Type-C Earphones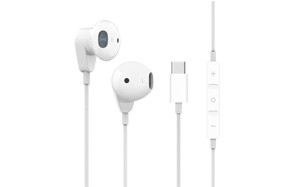 WamGra USB C Headphones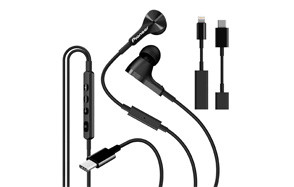 Pioneer Rayz Pro Active Noise Cancelling Earphones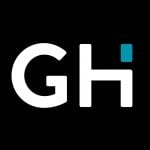 Technology is constantly evolving, and it often feels that no sooner have you invested in the coolest and most advanced new tech that something newer, fancier, shinier, and more powerful comes along almost immediately. For years, we've all enjoyed the tried and tested headphone jack to enjoy our tunes at the gym, listen to podcasts, and take calls while on the go (and subsequently look like we're talking to ourselves). All that has changed though. The slow but assured removal of the headphone jack from the iPhone and other devices has led to the rise of a replacement. Introducing to you the best USB C earphones.
No one ever likes change, but just like there was only so long we could go without embracing the touchscreen phone and similar evolutions, it seems the USB C headphone is here to stay, at least for now. So we may as well embrace it, because while change may feel a little strange at first, rolling with it and thinking positively is a much better way of going about things than being that guy who grumbles every time it's brought up. Do you want to be that guy? No, nobody does.
The Best USB C Earphones
USB C Earphone Buying Guide
How We Chose Our Selection Of USB C Earphones
We never pass up the opportunity to try out the coolest and latest tech for you to enjoy, but we can't do it all in such a small space of time. To make up for this, we look at 3 key factors that both us and you should always consider before making a new purchase to ensure you're getting the best deal possible.

Reviews - Reviews can be a double-edged sword, and it's easy to look at the average rating of a product and see it not be not exactly what you'd hope. The problem with this is that there is a shockingly large number of the population who will take to the internet and complain about literally anything they feel like.
So yeah, you can't always trust reviews, but when you've been doing this as long as we have, you get a knack for figuring out which reviews are worth reading. And these reviews are just a few of our favorite things. They give us information on the long-term effectiveness of product, the comfort, and the performance with different applications. Without reviews, we'd feel like we wouldn't know half as much as we do.
Brand - We never like showing a bias to any one brand with our selection, and while there may be a couple of repeats here and there, we'd like to think we present a broad choice of options for you to choose from. This ties in directly to the price, but also allows those with less common devices find something that's suitable for them.
Not everyone has an iPhone or a Pixel, so it's good to look for brands of headphones that offer versatile compatibility with as many smartphones, tablets, and laptops as possible.
Price - You may have been convinced by marketers, friends, and randoms on social media sites you need to spend big, big bucks to find headphones worth your time. We don't believe this is at all true. Instead, we think as long as you're satisfied with the sound quality and additional features then it doesn't matter what you buy.
Knowing this, we looked for a wide range of prices so that no matter what your budget or preference is, you'll find the perfect pair of USB C headphones for you, or whoever you're shopping for, lucky them, hey?

Features To Look For In USB C Earphones
Hold up, dude, before you take that leap into the relatively unknown and make your final decision we thought you ought to check out these key features to think about before making your final decision. You never know, they might unlock the secrets to what you really want and need and may have you reconsider everything, we hope that's all right.
Inline Buttons - The inline buttons are found on that little unit halfway through the cable. From here, you can play, pause, and scroll between tunes, answer calls, and with some compatibilities, you can check your notifications, and even activate Google Assistant.
It needs to be easy to access and large enough to easily press the buttons you need to, but not too bulky that it weighs the earphones down so much they fall out.
Mic - If you like to have a chat while on the move, having an excellent microphone is essential. With over ear headphones, the mic is typically found built into one of the ear pads, but with earbuds, it is on the inline unit.
Unless you're holding it close, it can bed a little too far away from your mouth to deliver a good quality half of your conversation across the phone line, so the mic must have a good range even when it's far from your mouth.
A good quality mic will save you spending a whole conversation repeating yourself and will make your friends want to call you instead of leaving you in the dark about potential plans, because they wouldn't even be able to hear you agree to go out, anyway.
Comfort - Comfort is essential for anything you wear, and this isn't restricted to clothes. The comfort of your earphones can dictate how much you wear them, and if you're planning on spending big bucks, you don't want to feel discomfort when listening to music.
The design determines comfort. They need to fit in your ear snugly, but not too snugly. At the same the time, though, if they're too loose, they'll fall out too often, and that's just annoying, so who wants that?
ANC - ANC, or active noise cancellation is the next step in ensuring you never have to hear the blare of a car horn or the whine of a crying child again. Unlike passive noise, it generates something considered an 'antinoise' signal which mirrors external noise to block it out and ensure you only hear the dulcet tones of your favorite crooners.
It might feel a little weird at first, but once you get used to it, you'll wonder how you ever lived without the wonders of ANC before, and from there, you'll never look back.
Sound Quality - Of course, no earphone guide would be complete without considering the sound quality. If you can't hear the lyrics to songs or the words of your favorite podcast, there's little point in having earphones.
Also, think about the depth of sound. Can you hear the bass? Is the bass too much? Do you need to frequently adjust the volume so you're not deafened? Is the sound too tinny? These are all important factors to consider when looking for the right earphones for you.
Sources:
How to Choose Headphones - WikiHow