The Best iPhone 12 Cases in 2022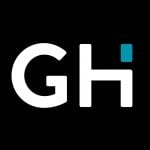 This product guide was written by Cody Gildart
Last Updated
December 31, 2020
GearHungry may earn a small commission from affiliate links in this article.
Learn more
So you got the latest, greatest iPhone 12 and are in the fast lane of the information superhighway wherever you go. Next, you should choose a case that expresses your personality and sets your phone apart from all the others. A case that protects against the occasional, accidental drop will help keep your phone nice until the next iPhone comes out. With so many different colors, designs, and features on the market, searching for a case is the last thing you want to do when you have a new phone to set up. Our guide to the best iPhone 12 cases can help you personalize your phone or protect it.
All of the cases on this list fit both the iPhone 12 and the iPhone 12 Pro.
The Best iPhone 12 Case
Miracase Liquid Silicone Gel iPhone 12 Case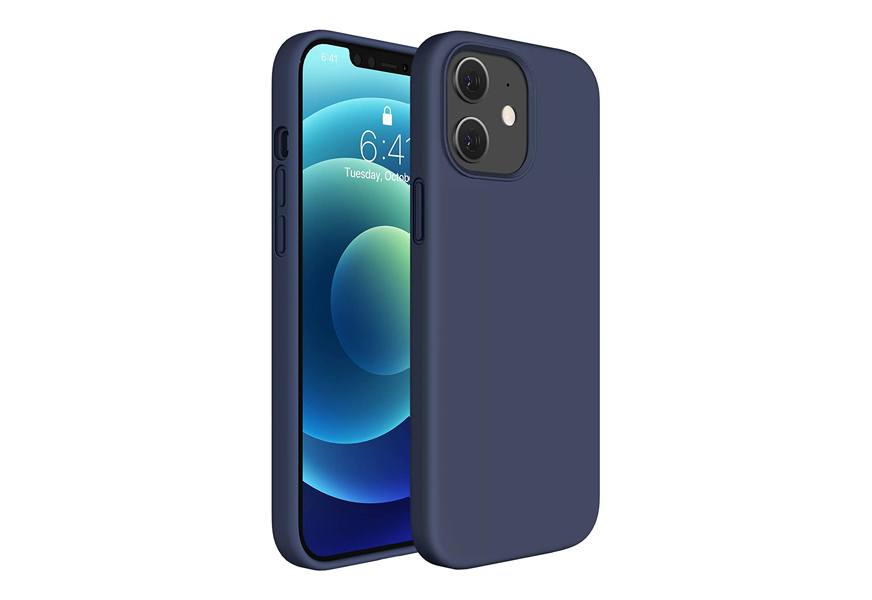 Miracase Liquid Silicone Gel iPhone 12 Case offers a liquid silicone option with smooth lines and a soft, comfortable feel. The case features a three-layer structure with a soft inner liner to protect your phone's finish, a hard layer for protection, and the silicone outer layer for shock absorption and that soft-touch feel. The silicone resists scratches and fingerprints while allowing for wireless charging. A 1-mm lip around the phone screen and camera protects your phone if it's dropped or when you set it on a flat surface. With several different color options to choose from, this case fits any personality, just like any of these best-selling computer cases you might also like.
Key Features:
Liquid silicone rubber for soft touch, fingerprint resistance and shock absorption
1mm raised lip provides screen and camera protection
Easy to clean, non-slip case with wireless charging
iPhone 12 and iPhone 12 Pro compatible
Specification:
Brand

Miracase

Weight

1.58 ounces
OtterBox Commuter Series iPhone 12 Case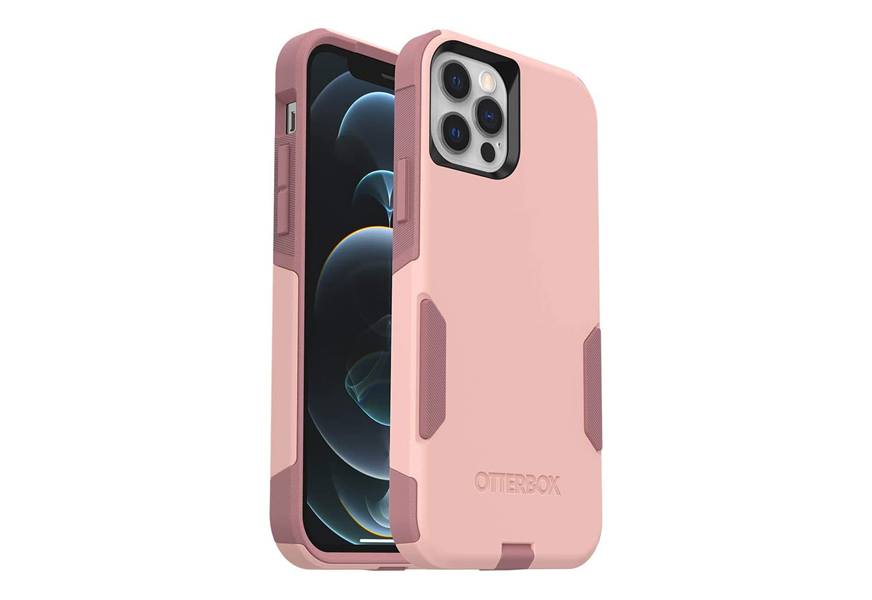 For the ultimate protection for your iPhone 12, look no further than the OtterBox Commuter Series iPhone 12 Case. Known for making some of the toughest cases on the market, the dual-layer Commuter Series can withstand three times as many drops as the military standard. It comes in four distinctive colors with non-slip grip accents. Raised edges protect the camera and screen while supporting wireless charging. The case is infused with a silver-based additive for continual antimicrobial protection.
The OtterBox might be a little thicker and a little heavier with a premium price, but the protection you get for your new phone is unrivaled as it will be absolutely safe in your pocket or briefcase.
Key Features:
Drop+ protection rated for 3x military standard
Stylish and professional colorways with non-slip accents
Port protection and wireless charging power up options
iPhone 12 and iPhone 12 Pro compatible
Specification:
Brand

OtterBox

Model

77-65907

Weight

3.2 ounces
Temdan Clear iPhone 12 Case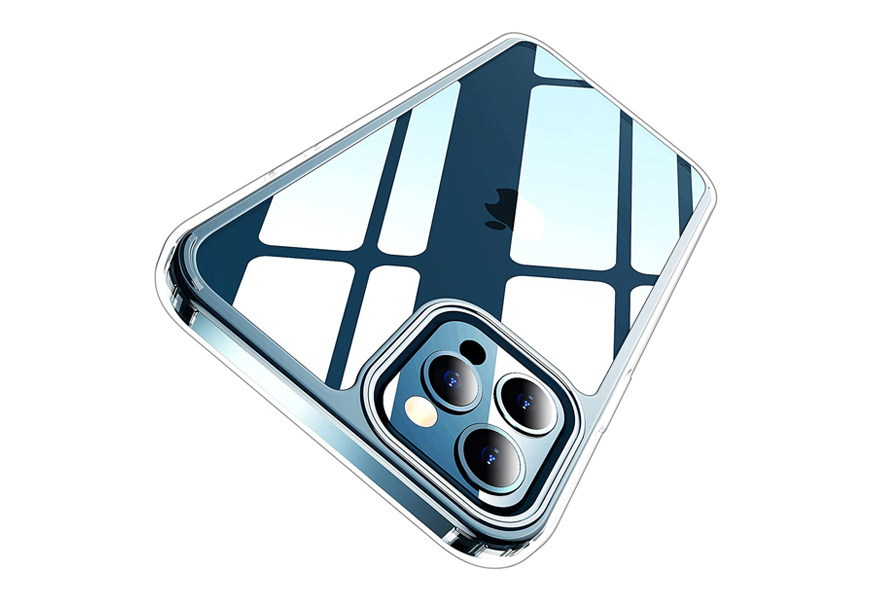 Put the sleek lines and brushed beauty of the stainless steel iPhone 12 or iPhone 12 Pro on display with this case from Temdan. Made of durable, scratch-resistant PC material, Temdan Clear iPhone 12 Case features TPU bumper corners for enhanced drop protection. It also lets you make the most of all the coolest features of your new phone, with support for wireless charging and a raised bezel that protects the camera and screen. The slim design and non-slip finish make it easy to hold in your hand and carry in your pocket. Show off your new phone with a case that's as cool as ice!
Key Features:
Crystal clear design puts your iPhone on display
Shockproof corners and raised lip screen protection
Slim, thin, and wireless charging compatible
iPhone 12 and iPhone 12 Pro compatible
Specification:
Brand

Temdan

Model

TD-YKG999

Weight

2.39 ounces
Spigen Ultra Hybrid iPhone 12 Case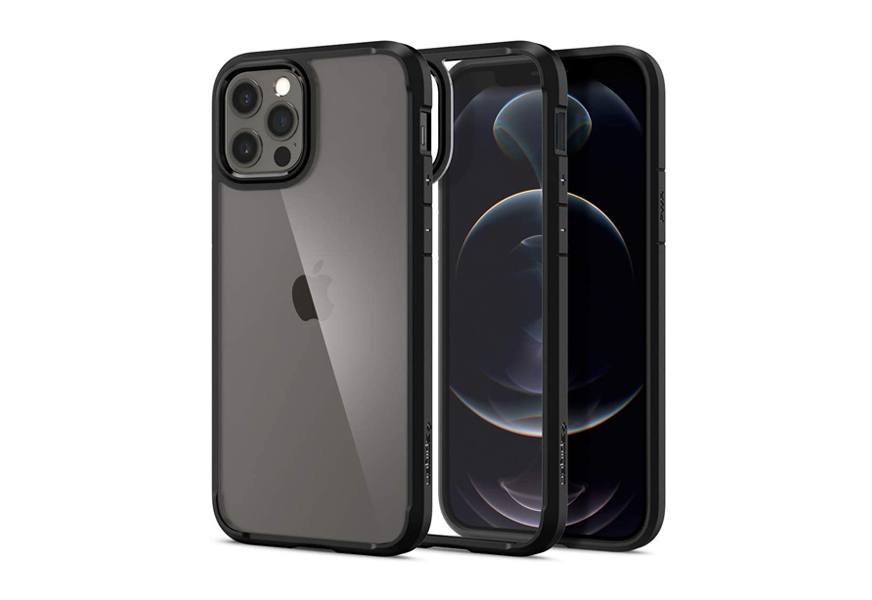 When it comes to phone cases, the Spigen brand is renowned for its high-quality cases. The Spigen Ultra Hybrid iPhone 12 Case brings that quality to a clear case perfect for the iPhone 12. This hybrid case combines a crystal clear and durable PC back with a rigid TPU bumper and raised edges. This combination shows off the color of the phone's stainless steel exterior while providing Spigen-level protection. You can even give your phone a bold flair with colorful accents or go full clear if you want. Join the millions of people across 52 countries who know why Spigen deserves their 99.5% positive rating.
If you want the perfect protection for your MacBook Pro, as well, choose any of these quality MacBook Pro cases from our list.
Key Features:
Transparent case shows off original iPhone 12 and iPhone 12 Pro design
Spigen-level shockproof corners and raised lip screen protection
Tactile buttons and wireless charging compatibility
iPhone 12 and iPhone 12 Pro compatible
Specification:
Brand

Spigen

Model

ACS01703

Weight

1.76 ounces
TORRAS Slim Fit iPhone 12 Case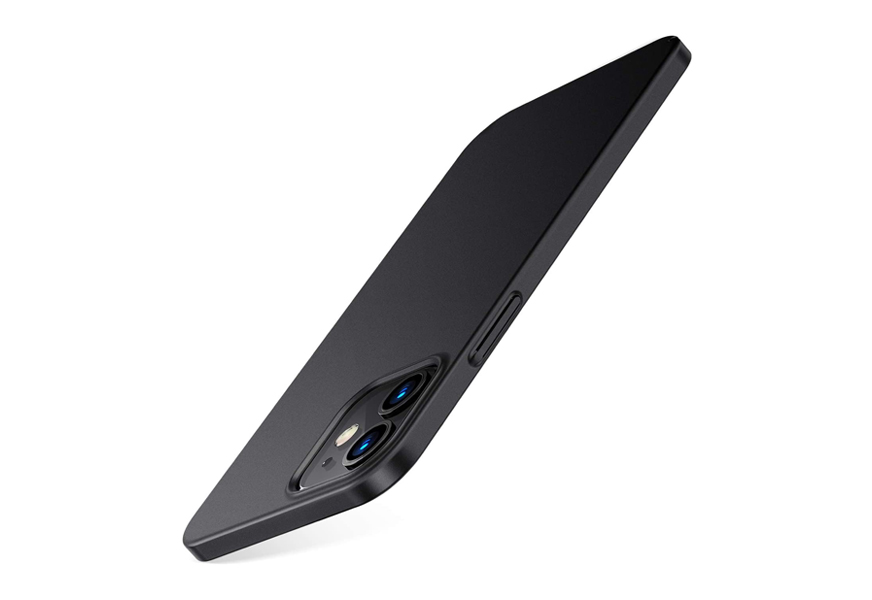 If your primary concern is keeping your phone thin and not carrying a bulky case, the TORRAS Slim Fit iPhone 12 Case is perfect for you. Made of durable PC, this paper-thin iPhone 12 case is light as a feather and weighs in at just 0.65 ounces. It fits snugly on the phone with a 1-mm lip around the screen and a slightly larger lip around the camera. While it may not offer the best protection for a military excursion, the Slim Fit keeps your phone close, gives a comfortable matte finish for enhanced grip, and comes in vibrant colors to fit your personal style.
If you are a fan of the Apple watch, too, browse our list of the top Apple watch cases available at the moment.
Key Features:
Ultrathin and super lightweight design only adds .03 inches thickness and .65 ounces
Nano coating and anti-fingerprint case with wireless charging
1mm raised lip screen and camera protection
iPhone 12 and iPhone 12 Pro compatible
Specification:
Brand

TORRAS

Weight

0.635 ounces
Spigen Tough Armor iPhone 12 Case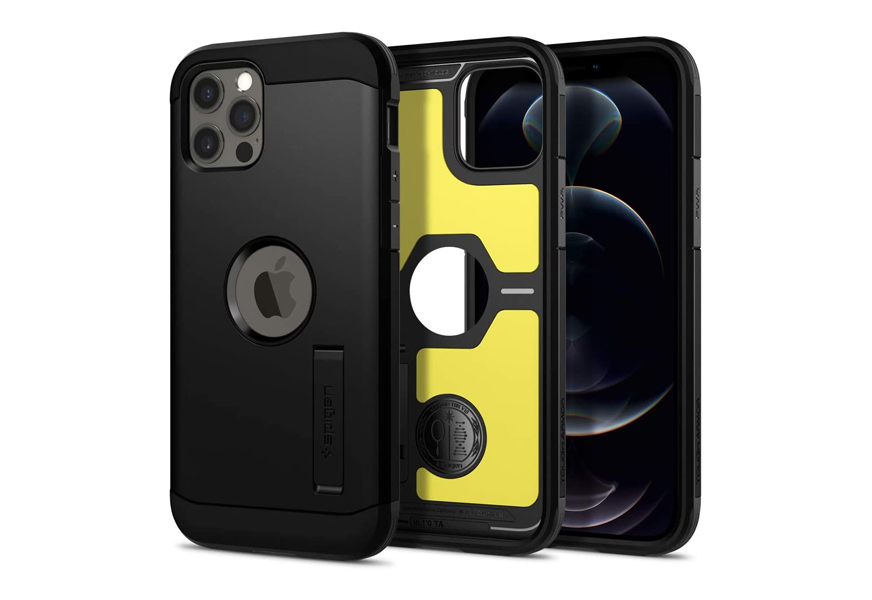 The fact that Spigen is featured multiple times on this list is a testament to the quality and performance you get from their cases. The Spigen Tough Armor iPhone 12 Case offers innovative, multi-layer protection at a great price point. Inner foam technology beefs up a case that features a sleek feel and a kickstand for viewing media. Anti-shock innovations include certified MIL-STD 810G-516.6 protection and Air Cushion Technology for ultimate drop protection. This protection only adds 0.16 inches of depth to the phone itself, which allows for optimal grip and natural feel in the pocket. Tougher than tough and as slim as it gets are the perfect combination.
For more practical and quality pieces like this one, browse our selection of the best leather portfolios everyone is buying right now.
Key Features:
Foam layered design offers premium protection at a budget price point
Raised lip design protects from screen and camera from scratches
Reinforced kickstand and wireless charging compatible
iPhone 12 and iPhone 12 Pro compatible
Specification:
Brand

Spigen

Model

ACS01710

Weight

2 ounces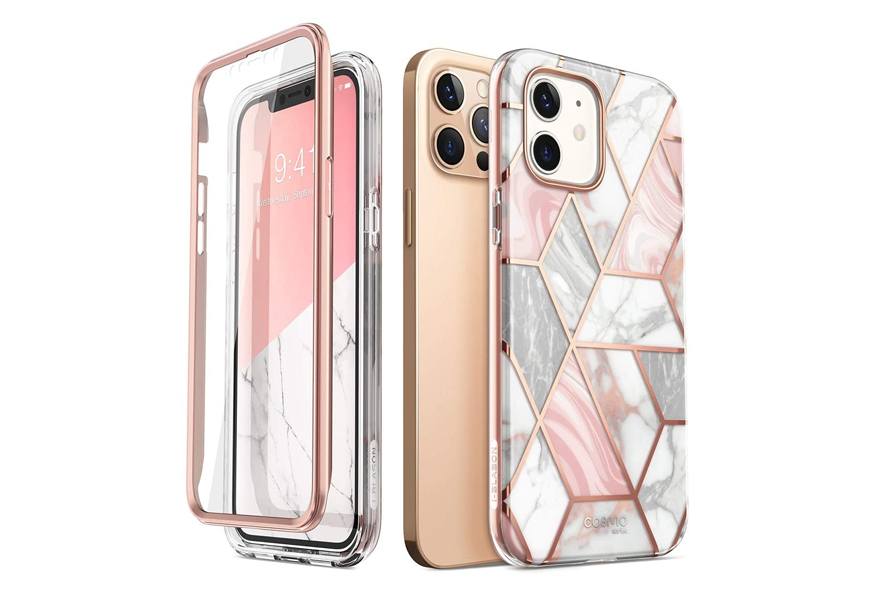 For style-forward protection, the i-Blason Cosmo Series can't be beaten. The first thing that catches your eye with this case is the elegant design. It is a colorful and classy addition to this list. But don't let the elegance and beauty of this case fool you. It is also a full-coverage case that protects the screen and is fall-tested to resist a 10-foot drop. The front cover is a touch-sensitive screen protector that guards against cracks, scratches, and scrapes. The case features an impact-resistant TPU bumper for drop protection.
For high-quality protection and stylish design, look no further! To choose the best possible option for your laptop, too, check out these reliable laptop backpacks.
Key Features:
Stylish and elegant case for the discerning fashionista
Full coverage case with built-in screen protection and camera bezel
Shock protection with wireless charging compatibility
iPhone 12 and iPhone 12 Pro compatible
Specification:
Brand

i-Blason

Model

iPhone12Pro-6.1-Cosmo-SP_SML

Weight

2.11 ounces
Cutebe Case for iPhone 12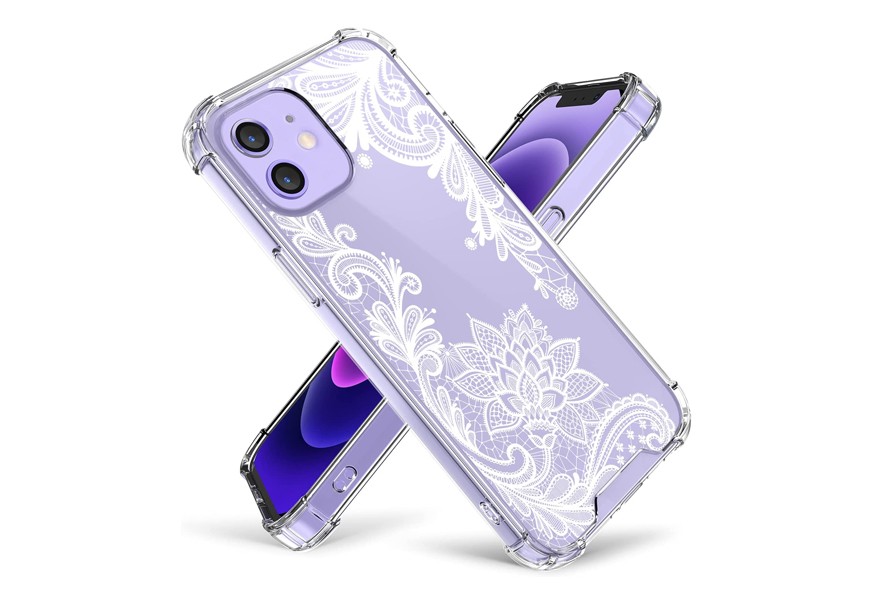 The Cutebe Case for iPhone 12 pairs the stainless steel of the iPhone 12 with a white overlaid design to accent the polished elegance of Apple's top-tier smartphone; it pairs excellently. This case features drop protection, scratch protection, and dust protection. The slim, lightweight design is not too bulky and feels great in your hand. A raised lip around the screen and camera protects from scratches and scrapes. If you bought the newest phone to show it off and want to personalize it with the perfect accessory, this case will make you smile even when looking at the back of your phone.
Our buying guide on men's backpacks for work features some more amazing products you might like, so be sure to check them out.
Key Features:
Unique design overlays a pattern on the polished steel finish of the iPhone 12
Shock absorbent corners and raised lip for screen and camera protection
Anti-skid case with wireless charging capability
iPhone 12 and iPhone 12 Pro compatible
Specification:
Brand

Cutebe

Model

iPhone 12,iPhone 12 Pro

Weight

1.34 ounces
Spigen Liquid Air Armor iPhone 12 Case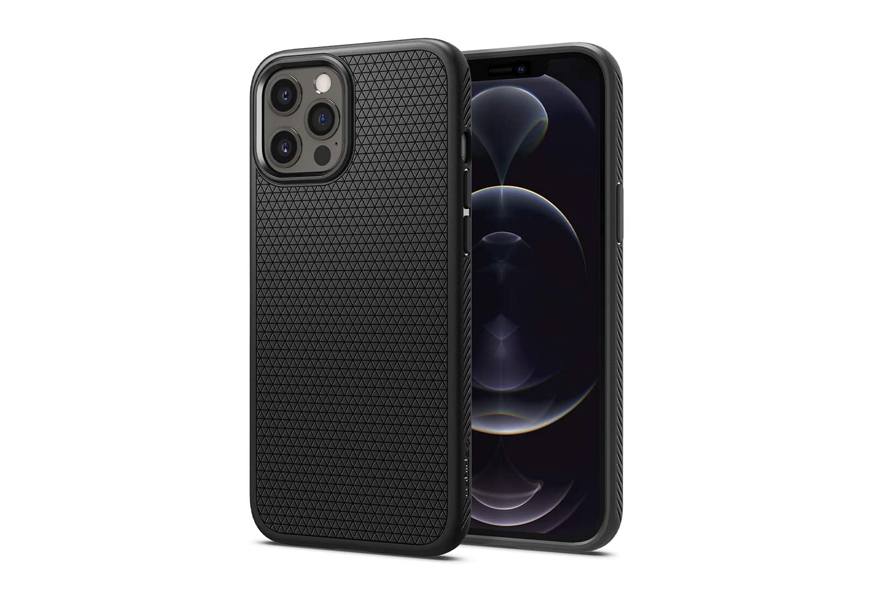 Securing another spot on the list, Spigen is back with the Liquid Air Armor case. This case is slim, lightweight, and pocket-friendly, adding just 0.11 inches of depth to the phone body. Spigen Liquid Air Armor iPhone 12 Case only comes in black and features an anti-slip matte surface for comfort and grip in a quilted look. Mil-grade materials and Air Cushion Technology offer an elevated anti-shock protection level, while a raised lip around the screen and camera protect from surface scratches. If you're looking for a balance between protection and styling at a hard-to-beat price point, try Liquid Air Armor.
For more must-have accessories for any modern man, check out these best-selling Filson briefcases.
Key Features:
Slim, lightweight case for minimal added bulk and maximum grip
Air Cushion Technology and Mil-Grade anti-shock protection
Anti-slip matte surface is wireless charging compatible
iPhone 12 and iPhone 12 Pro compatible
Specification:
Brand

Spigen

Model

ACS01701

Weight

1.58 ounces
iPhone 12 Case Buying Guide & FAQ
Features to Look for in iPhone 12 Cases
Design – Ultimately, design choice comes down to a matter of personal preference. Some people prefer a decorative case with patterns, designs, or bold colors. Other people want something with a cleaner, more professional look, perhaps in a monotone flat black or another subdued tone. Workers, athletes, and people who want to protect their phone want a rugged and impenetrable case. There are so many different designs to meet these various needs and preferences.
There are some design trade-offs with phone cases, and the tough cases tend to cost a bit more and add more bulk to the phone. When choosing a design, start by matching how you will use the phone with the cases that fit your use and then look at the various options among those cases.
Color – Cases come in all sorts of different colors, from the professional flat black to cases that feature vibrant patterns and rich hues.
As with other design elements, color depends a lot on personal preference. It also depends on the phone you buy. For the iPhone 12 in particular, phone color choice may be just as important as the color of the case. As you can see from this list, many case manufacturers offer transparent or translucent iPhone cases. Clear iPhone cases highlight the distinctive design and polished stainless steel of the iPhone 12 or iPhone 12 Pro.
Material – Phone cases come in different materials, all of which have their unique characteristics. The most common material is plastic, with two different types of plastics often seen in case construction. Polycarbonate (PC) plastic is rigid and hard, perfect for protecting the back of the phone. Thermoplastic polyurethane (TPU) is softer and better for absorbing impact shock, so it is often used for bumpers to protect the phone's edges. Another common material is silicone, which is softer and more flexible than plastic. It is also great for absorbing shocks and gives your phone a distinctive look and a high-grip feel.
Again, the best material for your phone depends on your preference. Be aware as you search for your ideal case that plastic may discolor over time, and silicone cases may not easily slip into a pocket.
Drop Protection – Most people want to keep their new iPhone protected, and for good reasons. So when choosing a case, you may want to select an option that provides an elevated level of drop protection. Accidental drops are inevitable and can crack your phone's screen or body. A good case can keep your phone safe with thick materials or innovations like air cushioning and layered armor.
Screen Protection – Scratches are another threat to your phone's screen. One solution is quite simple. A case with a raised front lip or bezel around the screen and camera lens keeps your phone's glass from scratching across surfaces when you set it down. If you are concerned about keeping your glass pristine, full coverage cases include integrated screen protection. With these options, you can dial up protection to whatever ever level you like. An ultra-slim case with minimal bezel would be perfect in a handbag for an evening out, while a long day at the job site demands a full coverage, heavy armor case.
Wireless Interference – The new MagSafe charging for the iPhone 12 raises some questions regarding interference to wireless networks. The cases on this list have been chosen with wireless charging as a consideration, and no wireless interference should result from using these cases.
iPhone 12 Case FAQ
Q: What is the most protective iPhone 12 case?
A: The Otterbox is generally considered top of the line protection for your iPhone. Their Defender series offers legendary protection from severe drops, harsh conditions, and rough use. This protection comes with a lot of added heft and a matching price tag. Spigen is another company that is well known for protective cases. The iPhone Spigen cases rate highly for drop protection and are available in stylish and professional options. Our list of the best iPhone 12 cases includes several cases from Spigen that will protect most people's phones and an Otterbox for anyone looking for next-level protection.
Q: Do wallet cases protect phones?
A: Wallet cases do protect phones. By integrating the phone directly into a larger wallet, the phone is protected by the wallet's sheer bulk. Smaller wallet cases with storage for cards and cash built-in offer another, slimmer option. However, even a slim wallet case will still add heft and make it difficult to carry in a pocket. In this buying guide, we focus on the best thin iPhone cases for the 12; they're the thinnest available and make carrying your phone easy and convenient to use.
Q: What are the strongest iPhone cases?
A: Current thinking suggests that Otterbox and Spigen make the strongest iPhone cases currently on the market. Over the smartphone history, these two companies have emerged as industry leaders in protective smartphone cases. Otterbox tends to emphasize sheer strength over design, while iPhone Spigen cases tend toward a more aesthetically pleasing design with excellent drop protection. This list of the best iPhone cases includes several cases from Spigen and a midrange Otterbox option. For specialty users who need maximum protection, we suggest you explore all options by Spigen and Otterbox.
Q: Is Spigen as good as Otterbox?
A? While Spigen and Otterbox enjoy a reputation for top-quality cases, Otterbox is generally considered the industry leader for durable, protective phone cases. Otterbox produces heavy-duty cases that, at the top-tier level, include screen protection and button coverage to protect your phone from the most severe drops and harsh, wet environments. These premium cases offer unrivaled protection for the most extreme conditions.
That being said, Spigen is considered as good as Otterbox for most uses. Spigen relies on military-grade materials, innovative air cushion technology, and a TPU plastic bumper to protect your smartphone. These cases are lighter and less bulky while still offering excellent protection from falls, scratches, and bumps. For most everyday use, Spigen is likely just as good as Otterbox, with a slimmer design and more stylish or professional options.
Sign Up Now
GET THE VERY BEST OF GEARHUNGRY STRAIGHT TO YOUR INBOX