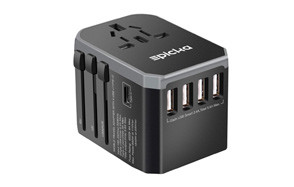 EPICKA Universal Travel Power Adapter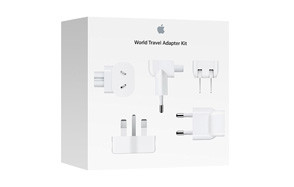 Apple World Travel Adapter Kit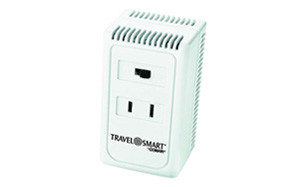 Conair Travel Smart Converter And Travel Adapter Set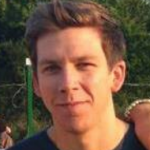 The travel plug is an essential accessory for anyone taking an adventure somewhere else in the world. In a world where we rely on technology almost every minute of every day having an outlet adapter guarantees you don't suffer low-battery anxiety. It means you can keep in contact with friends and family back home. It means you can wake up with your smartphone fully charged for a day of adventure, photographs, and the occasional breaking of the language barrier. Whether you're a solo traveler or enjoy the company of others as you carve your way through the world, you need the best travel adapter to keep you connected.
Recognizing the rapid evolution of technology, these travel accessories combine everything you need from an on-the-go power source. They are perfect for quick trips across the pond and also ideal for longer travels you may enjoy so much you have second (and third) thoughts about ever coming home.
Compact, convenient, and versatile no matter where you are across our fascinating planet full of secrets around every corner, no travelers backpack (or suitcase, for those who like to travel in luxury) should be without this vital tool. Sure, you'll pack your passport and wallet first, but the next thing you need is a reliable travel adapter.
The Best Travel Adapter
Travel Adapter Buying Guide & FAQ
How We Chose Our Selection Of Travel Plug Adapters
We didn't have the money or the time to travel through all 195 countries to test out these travel adapters, so instead we relied on the knowledge of the most experienced travelers among us while also doing research through reviews and prices to narrow down our selection to the top 10 products you see above.
Reviews - Travel plug adapter reviews were crucial in helping us separate the awesome products from the ones which will fry your phone and maybe even your hotel room curtains. Written by those who have traveled far and wide either for a long time or quick jaunts because they felt like it (such freedom), they told us several things you wouldn't know or think about.
These reviews also gave us insight into any potential issues you might face with the adapters including overheating, troubles with sockets in other parts of the world, and general obsolescence which transforms them from adapters into nothing more than the world's most boring and uninspired wall ornament.
Despite this, we also understand some people will often just complain for the sake of it (usually because they feel scorned by the company and / or product), and also they may have received a faulty item that was a dud to begin with or damaged in transit.

Price - Travel adapters are not expensive, but there is still a considerable price range to explore depending on what you need from your travel adapter. With electronics, there's always a temptation to buy as low as possible, but this can risk damage through power surges and short circuiting, especially if it's a cheap product. These can be hard to trust if you've been burned before, so consider the possibility of device damage if you go too cheap.
However, just because they are cheap, it doesn't always mean they are low-quality, and if you do your research (like looking at reviews) you should be fine, regardless of what you spend. High prices are also used to justify what the manufacturer determines to be a more plentiful product, and while it may cost more, you may also get more accessories, so if balances out.
We didn't want to price anybody out and want to ensure everyone can travel around the world charging wherever they need to. While there are products in our selection more expensive than others, they are not so expensive that there's no chance of anybody buying them.

Features To Look For In A Travel Plug Adapter
Deciding on the best travel adapter for turns out to not be as easy as you expected, hey? Before biting the bullet and clicking Confirm Order, take as quick peak at these features to consider ensuring you find the right traveler adapter for your world adventure demands.
Plug Types - Travel plug types range from Type A to Type O (our favorite is K, because it looks like a plug that's happy to help more than any others). Before you select your plug adapter, it's smart to find out what type of plug your destination country (or countries) uses to ensure you're not left staring at a blank screen for the duration of your trip.
While it would be easy for each region to use the same plug type, this isn't always the case. You'll find the same socket type used throughout the US (Type A), and the same with the UK (Type G). However, in other parts of the world, such as parts of Asia, you'll find different types for different countries.
The most popular destinations in Asia are Thailand, Vietnam, Cambodia, and Japan, and while they are all within relatively close proximity, they do not entirely share the same socket style. Thailand uses A, B, C, and O, whereas Japan only uses A and B. Cambodia and Vietnam both use A and C, but Vietnam also has D, whereas parts of Cambodia will have Type G sockets.
Yeah, it can be confusing, which is why it's essential for world travelers to have an adapter that is as universal as possible, even if they don't plan on visiting certain regions. Anyone who has traveled even a little knows how easily plans change.
If you're not going on a long trip, then it's less of an issue, but an all-in-one adapter is useful for the future and saves you buying multiple adapters and lugging them around like some traveler from the stone age of tech (and by that we mean pretty much anything pre-2010.)

Voltage - Different countries typically use different fuse voltages in their sockets, and too much voltage can cause damage to your devices, which is among the list of things you absolutely do not want to happen when traveling.
To prevent this, you can invest in a voltage converter which transforms the current from the socket into one safer for powering or charging your smartphone, tablet, or other appliance. Most people check before going on their trip, but it's understandable for some to forget, so having a travel power converter is an excellent way to ensure there are no tech-related disasters on your first night in the hostel.
The maximum voltage for most countries is 230V, but different wiring and potentially unsafe installation can cause power surges harmful to your device. While you may not always need a voltage converter, it's perhaps best to err on the side of caution to you can concentrate on enjoying your trip and not trying to convince your insurance the whole damage mess wasn't your fault.
Sources:
3 Ways to Choose a Travel Adapter - WikiHow
International Travel Plug Adapter Guide - Skyscanner