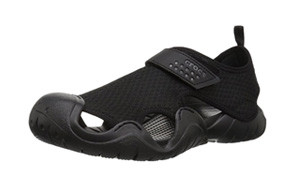 Crocs Men's Swiftwater Mesh Sandal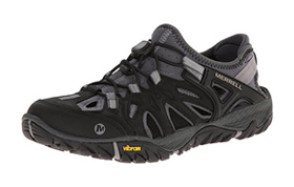 Merrell Men's All Out Blaze Sieve Water Shoe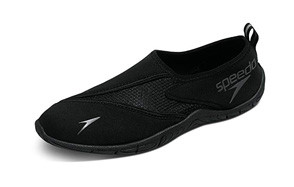 Speedo Men's Surfwalker 3.0 Water Shoe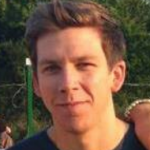 With a range of features that include water drainage, underfoot traction, and thermal protection, water shoes have come a long way to help us make the most of the ocean. But their uses don't stop at the surf line, there are also water shoes designed to travel with you in the rare event that you find yourself waterlogged out on the trail. So, whether you're into kayaking, boating, scuba diving or simply relaxing at the beach, there's an aqua shoe designed to be your perfect water buddy. But before you splash out, we've put together a list of the best water shoes that offer both comfort and functionality.
The Best Water Shoes For Men
Water Shoe Buying Guide & FAQ
How We Chose Our Selection of Water Shoes:
To take the hassle out of wading through all the water shoes out there, we took the plunge and used the following checklist to decide which water shoes would make our final wave:
Overall quality and suitability of materials as well as extra features
User reviews and first-hand experience
Brand and reputation
Value for money

Features To Look For In Water Shoes:
Size - A snug fit is essential when it comes to water shoes as they will give a little when wet. A snug fit also means your shoe will not slip or slide off when you are getting active in the water and reduces the chance of chaffing. Most manufacturers carry standard sizes and may also cater for wide or slim fittings so read reviews and check sizing charts before you buy. Also look at how the fastening system on the shoe works and whether any laces or bungee pull systems are sufficient enough to keep your wet shoes firmly on your feet.
Insole - Water shoes are not designed to be waterproof but to let some water in (and out). The inner sole of a water sports shoe should be flexible and provide cushioning and breathability as well as be easy draining and quick to dry. Some water shoes have fixed insoles, which can slow down drying but are more robust and stay put when you pull your wet shoe off at the end of the day.
Outsole - You may want your water shoe to fit like a sock, but it needs a rock-solid bottom to keep your feet protected against wet, rocky terrain. A thicker sole with grip points and water drainage is ideal for hiking across wet and rough ground, while you can get away with a more flexible, thinner outsole if you are spending your time solely in the water. Whatever the style of water sports shoes you choose, make sure they have a durable outsole with good grip and traction and have some method of draining away water.
Material - Water shoes are made of synthetic mesh or neoprene, depending on the type of activity they are used for. Mesh water shoes allow water ingress and are great for ventilation, so you could pick this material for hiking, boating, swimming, paddle sports and general beach or pool time. If cold is a concern or you need a boot that doesn't let in (or out) too much water, then neoprene water shoes offer an extra level of thermal insulation protection. Choose neoprene water boots for scuba diving, open water swimming, surfing and board sports where toasty feet matter.
Comfort - A shoe that keeps you comfortable both wet and dry is essential so check out the materials, design and cushioning in the water shoe before you buy. Rubber outsole, heel and cuff padding, tabs for easy pull on and off all help to keep your feet happy in the water but it is also how your water shoe behaves on the quayside that counts when it comes to comfort. Lightweight, easy draining and quick drying water sports shoes prevent your feet becoming waterlogged and irritated and your shoe from weighing you down.
Durability - Although you'll want a lightweight water shoe, it also needs to be tough enough to weather a variety of wet and dry terrains and to last more than one summer. Watersports shoeswith a thicker sole will last longer but make sure you are still choosing the right shoe for your activity (e.g. when swimming, you don't want a clog-like shoe weighing you down). Check for materials used and look at brand reviews to see which aqua shoes or water sandals are the most durable for your sport.
Breathability - Water shoesare often made with mesh material for breathability, helping to keep feet cool and quick drying when out of the water. Good ventilation – either though mesh material or drainage holes in the upper and midsole -also allows for good water flow in and out of the shoe when submerged and better drainage once out of the water.
Water Shoe FAQ
Q: What are water shoes?
A: A water shoe is a type of tough but light footwear used for activities where your feet are likely to get... well… wet !They're typically made of mesh and/or neoprene with a rubber sole,so you can get grippy while protecting your feet.
Water sports shoes are specifically designed for water-based activities such as surfing, kayaking, scuba diving and paddle boarding as well as hanging out on the beach and surf line. They are made of lightweight material that allows water to flow out and a harder sole to cushion and protect your feet when walking or wading in wet and rocky environments. Hybrid walking/aqua shoes are also available, which are built strong enough for everyday hiking but can cope when the conditions get soggy or there are rivers and creeks to wade.
Q: Why get water shoes?
A: Your feet are your stability anchors so to keep active, you need to make sure they are protected and comfortable in any situation you put them in. With the added element of water, ordinary sports shoes or everyday sneakers simply won't stand up in aquatic activities. At best you will get waterlogged and blistered, at worst you will slip and could get seriously hurt.
Protection and support, grip and traction, comfort and warmth, lightweight, quick draining and quick drying – these are all the specific features of a water sports shoe that will make your time in, on and under the water a total blast.
Q: What are the best activities you can do with water shoes?
A: There's a water sports shoe for most types of water-related activities so do your research first to get the perfect match. Water shoes are essential to get the most out of a wide range of water-based sports, including boating, paddle sports, surfing/windsurfing, scuba diving, fishing, swimming, coasteering and hiking in wet terrain. Water shoes and beach shoes are also advisable when exploring the coastline and beaches and can offer extra protection around the swimming pool.
Q: Are water shoes slip resistant?
A: Good grip and surface traction are some of the key features you should look for in any water sports shoe as wet environments are unpredictable underfoot. It is the outsole of the shoe that will keep you fixed to the ground so check out the material it is made from and what features it has to keep your feet extra sticky. Look for a strong rubber sole with additional grips or 'plugs' that will create the right level of traction with the water on slippery rocks or surfaces, creek boulders, waterlogged boards and boat decks, even by the pool side (you don't want to slip and spill your margarita!)
Q: Do you wear socks with water shoes?
A: Most water shoes and sandals are designed to be close fitting and warm enough to wear without socks, in fact the more scuba or surfer type shoes are almost sock-like themselves. But there are times – and types of water shoe – where you could consider teaming up with a pair of socks.
Some water sports shoes may not offer enough thermal protection to keep your toes warm,so you could look at getting a pair of neoprene socks to turn up the heat. Similarly, if you are looking for a water shoe as a hiking hybrid and plan to do some off-path, rough terrain walking or prolonged hiking, then a pair of socks can help prevent blisters and rubbing.

Q: How to wash water shoes?
A: By the nature of the synthetic materials they are made of, water environments they are made for, and the feet that go in them, water shoes do have the tendency to get a bit stinky if you don't head it off at the pass. The secret is to rinse your water shoes in fresh, clean and luke-warm water after every use and dry them thoroughly. Then regularly give them a full wash treatment – warm, fresh water and either a wetsuit soap or mild shampoo will be enough – and scrub them inside and out before hanging out to dry. If they are still a little ripe, sprinkle the insides with some bicarb and leave overnight, before rinsing and drying thoroughly.
Sources:
How to Clean Neoprene, Wiki How

List of surface water sports, Wikipedia