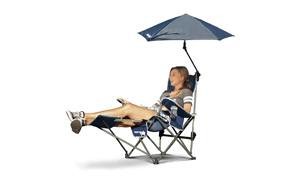 Sport-Brella Recliner Beach Chair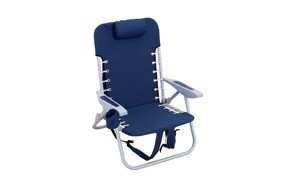 Rio Beach Lace-Up Folding Backpack Beach Chair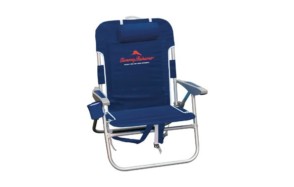 Tommy Bahama Big Boy Backpack Beach Chair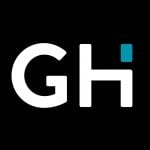 Beach chairs are more than just something to keep us off the sand. They're an integral part of the beach experience. A great beach chair is comfortable, durable, functional, stylish, light enough to carry from the car to the beach and maybe even has an umbrella to keep the sun from turning us into toast. They hold our drinks, cradle our backs and let us catch our breath before heading back into the surf. Below are 10 of the best beach chairs on the market for 2019.
The Best Beach Chair
Beach Chair Buying Guide
How We Rated and Reviewed The Best Beach Chairs On The Market
Brand - In the outdoor gear arena there are brands like Coleman that have been around since colonial times (or at least it seems like they have) and then there are brands like Strongback that are new to the scene and are aggressively pursuing a more health-conscious generation of beachgoers. Like just about everyone else we're prone to give the Colemans of the world a serious look just because they've been making dependable stuff for so long. But we're not blind to the new kids on the block. To us what matters most is the chair, not the name on the side.

Build Quality - Build quality might not seem like such a big deal when it comes to beach chairs. But if you've ever sat in a really well-made chair and then sat in a really poorly made one you'll understand why we put such emphasis on the build. The last thing you want at the beach is for the legs on your chair to buckle or the seat material to rip or the cheap material on the armrests to get so hot it burns your skin. A well-built chair - like all the chairs on our list - won't do any of those things.
Reviews - As always we use customer reviews as a reference point, not a determining factor. It can be helpful to know if everyone has the same complaint about a chair, so we definitely keep an eye on what's being said. But at the same time, we insist on testing these types of products ourselves and drawing our own conclusions.
Price - Beach chairs aren't the kind of product that's going to break anyone's bank. For the most part, they occupy a financial range between about $25 and $75. While that may have been a lot back in the 70s, it's not the 70s anymore. And paying 50 bucks or so for a beach chair is no more outrageous than paying 20 bucks for a pizza. So the price isn't a determining factor for us. We make note of it and make note of outstanding value when we see it, but don't eliminate or include any chairs based solely on price.
Qualities To Look for In A Beach Chair
Weight - Why does the weight of a beach chair matter? Because it's not unusual to have to park a half mile or more from the beach, especially on busy Sundays during the summer time. Having to trudge that far or even further carrying a chair that weighs 15 or more pounds is going to put a damper on the whole day. Not to mention the fact that you've got to carry it back to the car at the end of the day when you beat from frolicking in the surf. That's one big reason you don't see a wooden beach chair on our list. The heaviest chairs on our list weigh in at around 13 or 14 pounds. And for practical purposes, you really don't want to go much heavier than that. Unless of course, you have your own private beach.

Portability - As you can tell from the above list the newest generation of beach chairs has embraced portability. Many feature the inward folding design that allows them to be set up and broken down in seconds and be tucked away in a neat little tote sack. But even the old school high back, the low-riding chair is now getting into the portability thing by including shoulder straps on the underside of the chair that transforms it into a backpack beach chair. If a chair doesn't feature some way of making it easy for you to carry it's living in the 20th century.
Functionality - The portability we just mentioned is very important and many chairs have addressed the issue by embracing the ability to fold and unfold in seconds. However, not all folding chairs are created equal. The beach chairs on this list are all well-engineered, utilize quality materials and put plenty of thought into their mechanics. However, there are lots of other beach chairs out there that look good but start falling apart after just a few uses. The bottom line is that the best beach chair fulfills its basic function simply and dependable over and over again.
Materials - As we mentioned there are too many chairs out there that start falling apart as soon as you unbox them. This is because the joints are poorly designed, the frame is made of cheap aluminum, the stitching in the seat is second rate and so on. Quality materials are as important to a beach lounge chair as they are to the furniture in your living room. So what you want to see are things like aircraft grade aluminum tubing for the frame, stainless steel screws for the connections, 600D ripstop nylon or something equivalent for the seat and wide, sturdy feet that aren't going to crack under your weight or melt after hours in the hot sand.
Style - Here's where things veer into the subjective because really, the style you like is the style you like. Fortunately, there are lots of styles to choose from these days so everyone should be able to find something that delivers them to their happy place. If you like to tinker something like the NiceC lightweight beach chair should be right up your alley. It weighs almost nothing and breaks down to fit in a tiny bag. The tradeoff is it needs to be assembled. If you like old school design there are chairs like the Rio Beach Classic 5. If you want your chair to have a high tech edge try one of the inward folding chairs on our list. And if the idea of bringing luxury to the beach interests you try the SUV of reclining beach chairs, the Rio Beach Sunbed.

Comfort - The best beach chair is a lot of things but it's not much if it's not comfortable. Most people spend long hours in their beach chair so it's important that the seat material is not irritating, that the balance is not questionable, that the armrests be properly positioned and made of quality materials and the damn thing doesn't keep sinking deep into sand because it has spindly little feet. Also, when you lean back in the chair you don't want to feel reinforcing bars across the back of the chair digging into you. And if the chair has an umbrella you want to be sure it's easy to adjust and doesn't get in your way when you're trying to stand up or sit down.
Extra Features
The above points all cover fundamentals but once you get past them you may want a chair that offers a few extras including:
A beach chair with the umbrella - One reason the Sport-Brella topped our list is that it's one of the few beach chairs to come with a built-in umbrella. But more than that the umbrella is well-considered, easy to adjust, has protective caps on the ends of the spines and doesn't add so much weight to the chair that it makes it unwieldy. It's the kind of feature we'd like to see on other beach chairs and we don't really understand why more manufacturers don't offer it.
Storage pocket - A pocket to store extras like reading materials, sunscreen, a shirt to cover up with, sunglasses, water and more is a big plus. Unfortunately, not every beach chair comes with a storage pocket or sleeve. Some folks get so bowled over by the look of a particular chair that they forget to check to see if it has a storage pocket and doesn't realize it doesn't until they hit the beach. If having a place to store peripherals is important for you to make sure whatever chair you have your eye on has a pocket or sleeve.
A drink holder - It sort of strains credulity to think that in 2019 all beach chairs don't have a built-in drink holder. But they don't. And it's not just a few that are missing this most basic feature. A lot of otherwise excellent beach chairs just don't have it. Why? Who knows? All you need to be aware of is that many don't. So if a drink holder is something you want in your beach chair make sure to check the feature set before buying.
An extra wide seat - Because not all people are built the same you may need to be mindful of the width of the seat. Some chairs look great, are fashioned from the best materials and will last for years but have a narrow seat that just isn't going to cut it for some of us. If you're a big boy or girl and need a bit of extra space in your seat make sure to check the width before you purchase. Chairs like the Cascade Mountain Tech Low Profile beach chair are several inches wider than most others. And those few inches can make a huge difference.
Big wide feet - Historically, beach chair designers have never lost a lot of sleep trying to ensure their creations stayed topside in the sand. Fortunately, in recent years a new generation of designers have introduced the extra wide foot pad that ensures that no matter how big the person or how soft the sand, the chair will stay up top where it belongs. That's called progress. However, not all beach chairs offer these wide feet so don't assume the chair you have your eye on does. Look carefully, ask questions, read the fine print. It can make a big difference in the quality of your beach experience.