Best Rain Gear for Men in 2022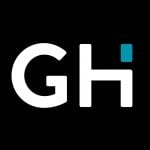 This product guide was written by GearHungry Staff
Last Updated
November 2, 2020
GearHungry Staff
GearHungry Staff posts are a compilation of work by various members of our editorial team. We update old articles regularly to provide you the most current information. You can learn more about our staff
here
.
GearHungry may earn a small commission from affiliate links in this article.
Learn more
Rain. From the shower-laden spring to the drizzly winter, there's little one can do to avoid wet weather. Regardless of how you interact with your outdoor environment, Whether you're on an ambitious outdoor adventure, getting that morning run in, or scurrying from car to office, quality rain gear is an essential component of physical comfort and, in extreme conditions, health.
There's more to the rain-gear gamut than rain jackets and galoshes. There is an array of versatile products for all circumstances, and our crew here at Gear Hungry has couriered up 13 articles of the highest-rated, best rain gear.
So, come on, jump in. Let's figure out what you need, why you need it, and where to get it.
The Best Rain Gear for Men
Columbia Men's Watertight II Rain Jacket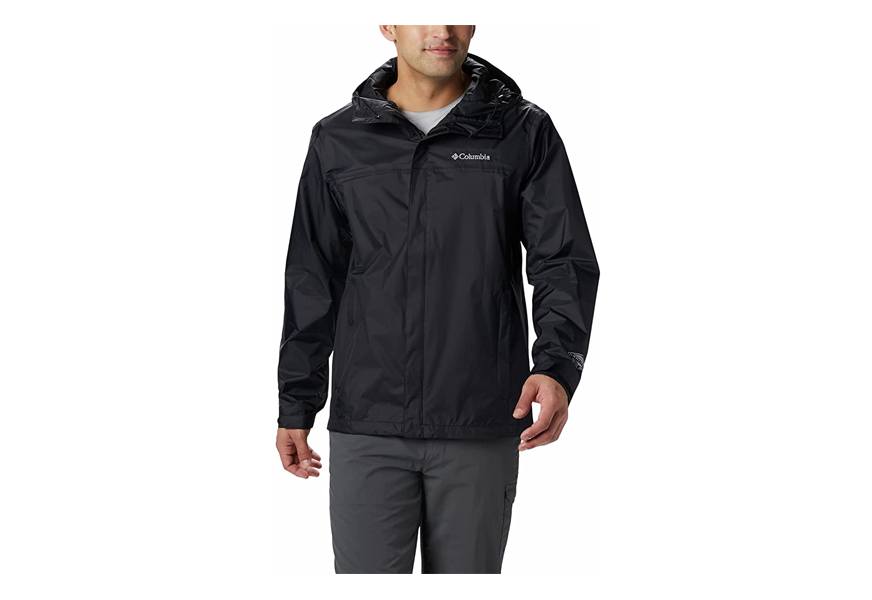 If you're looking for the best rain gear for men for a range of situations, you can't go wrong with the Columbia Watertight II Rain Jacket. It comes in a wide range of colorways that give you plenty of options, whether you want to stick to the classic black or show off with something bright. Like any decent rain jacket, it also comes with zipper closure and elastic cuffs and hem to keep your warm and dry. The Advanced technology can withstand most types of wet weather, from a drizzle to a biblical downpour, thanks to its 100% waterproof nylon shell. Despite all these cool features, it's still lightweight, so you won't overheat when pushing yourself.
Key Features:
Wide range of colors
Zipper closure
Advanced technology
Elastic cuffs and hem
Zippered side pockets
100% waterproof nylon shell
Lightweight and protective
Specification:
Brand

Columbia

Model

1533891

Weight

13.6 Ounces
FROGG TOGGS Men's Waterproof Rain Suit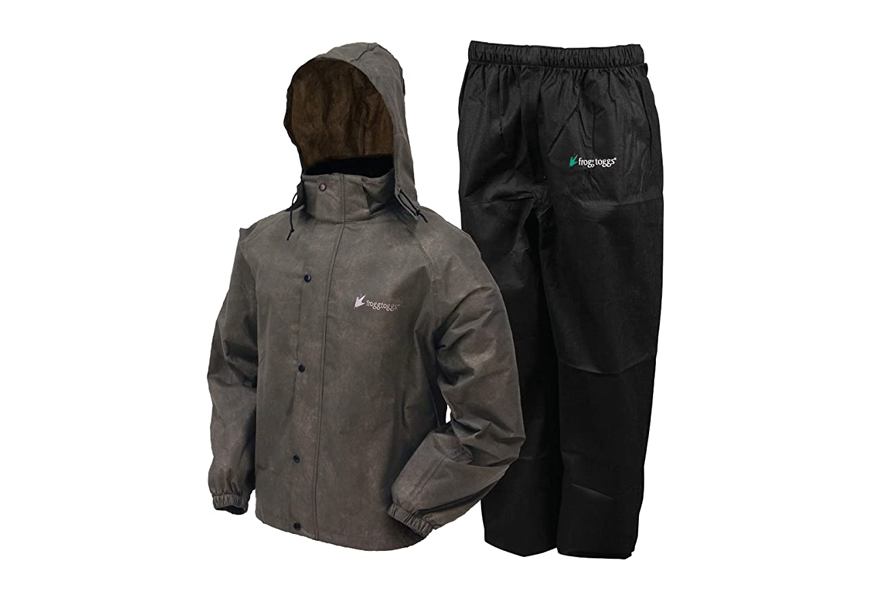 The FROGG TOGGS Men's Waterproof Rain Suit is an all-in-one option that delivers exceptional waterproof qualities for a range of occasions. The rain suit is breathable, waterproof, and wind-resistant, as well as lightweight, so you won't overheat. You don't need to wear it all together, either, and you can opt for just the raincoat or the rain pants depending on your needs. It comes with an adjustable and removable hood if you want to save space, while the snap-down zipper storm flap provides additional protection from the chill that ensures lasting comfort no matter how bad the weather gets while you're out and about. 
Key Features:
Variety of color options
Breathable non-woven fabric
Waterproof and wind-resistant
Lightweight
Adjustable and removable hood
Snap-down zipper storm flap
Adjustable elastic pants
Specification:
Brand

FROGG TOGGS

Model

AS1310

Weight

15.2 Ounces
Columbia Men's Rebel Roamer Rain Pant
The Columbia Men's Rebel Roamer Rain Pant is an efficient example of waterproof rain gear for men if you already have a reliable jacket but always find your pants get soaked wherever you go. The elastic closure keeps you warm and snug, preventing windchill from getting your knees knocking, while the Omni-Tech technology ensures breathability while still keeping you dry. This feature-set makes it an ideal choice for anyone who spends most of their day outside and moving about to guarantee all-day comfort. It is machine washable, and the two zippered side pockets keep your devices safe and dry whatever you're doing to ensure peace of mind.
They can easily be worn as hiking pants, too.
Key Features:
3 colors
Elastic closure
Machine washable
Omni-Tech technology
2 zippered side pockets
Comfortable during activities
Seam-sealed waterproof construction
Specification:
Brand

Columbia

Model

1531481

Weight

6.4 Ounces
FROGG TOGGS Ultra-Lite2 Waterproof Breathable Rain Poncho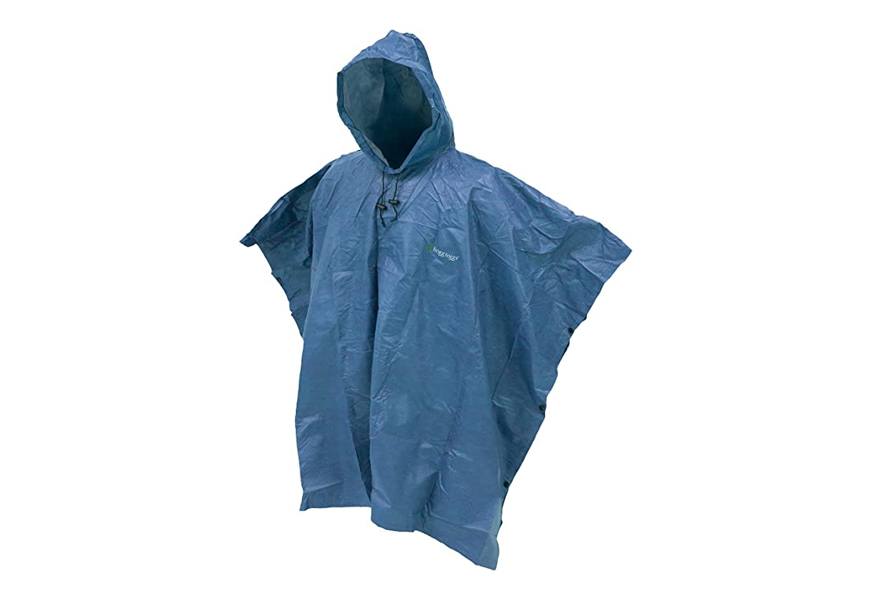 No selection of rain clothes would be complete without something suitable for any occasion. The FROGG TOGGS Ultra-Lite2 Poncho is a fantastic addition to any backpack and is perfect for camping, hiking, festivals, and more. The lightweight one-size-fits-all design makes it one of the most flexible options around, and the hood is adjustable to handle different levels of terrible weather. The sides snap together to provide extra protection while still providing a breathable fit that will keep you comfortable. When the blue skies return, place it back in the stuff sack and save it until next time.
Key Features:
4 colors
One size fits all
Adjustable attached hood
Cord locks
Side snaps for extra protection
Stuff sack included
Secure and breathable fit
Timberland Waterproof Ankle Boot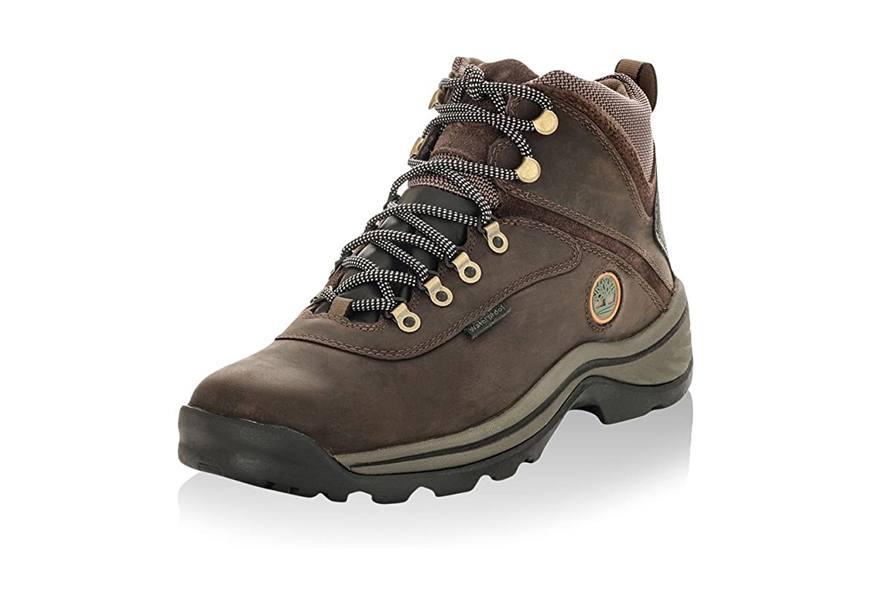 Suitable for various situations, it's no surprise that the Timberland Waterproof Ankle Boot stands out as some of the best rain gear for men. These Timberland shoes are perfect for hiking, walking, and working, boasting 100% premium full-grain leather uppers and seam-sealed waterproof construction that will keep your feet dry all day long. In typical Timberland fashion, they are remarkably durable with a dual-density EVA footbed to add additional comfort. The solid rubber outsole with multi-directional lugs keeps you stable when navigating tricky terrain. The ankle support will also keep you from rolling your ankle on treacherous surfaces, giving you the confidence you need to push yourself to the limit.
Key Features:
5 colors
100% premium full-grain leather uppers
Seam-sealed waterproof construction
Rust-proof speed lace hardware
Removable dual density EVA footbed
Solid rubber outsole with multi-directional lugs
Fully gusseted tongue
Specification:
Brand

Timberland

Model

TB012135

Weight

1.1 Pounds
Dunlop Chesapeake Boots With Safety Steel Toe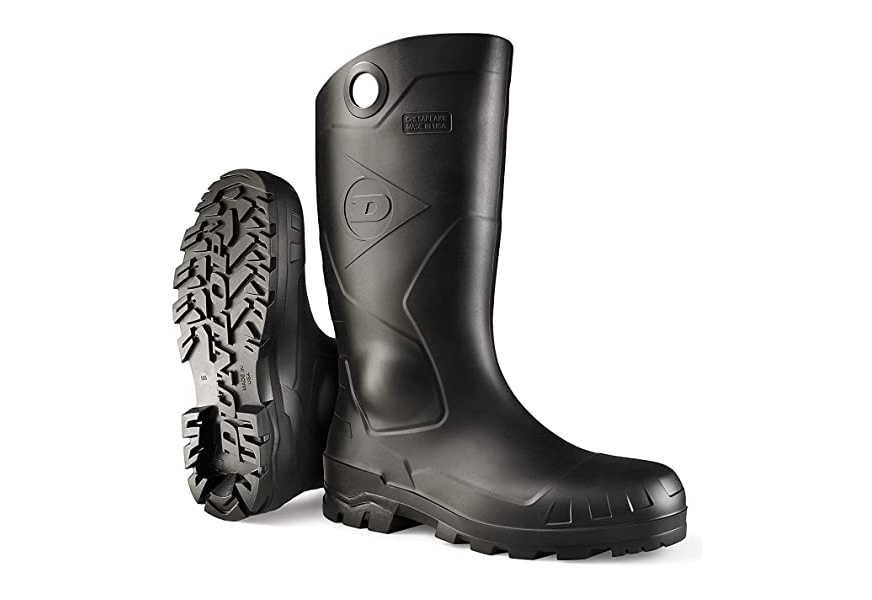 The Dunlop Chesapeake Boots With Safety Steel Toe are an exceptional choice. They come in a range of size options and have a steel toe that ensures protection when working with heavy machinery or tools. They are 100% waterproof and include water-repelling channels to prevent water-logging, and this keeps their weight 25% lighter than classic PVC waterproof boots. 
Key Features:
Wide range of size options
Certified steel toe
100% waterproof
25% lighter than classic PVC boots
Energy-absorbing BAY-LOC outsole
Water-repelling channels
Stable traction sole
Specification:
Brand

Dunlop Protective Footwear

Model

8677611

Weight

1.60 Ounces
SaphiRose Men's Long Hooded Safety Rain Jacket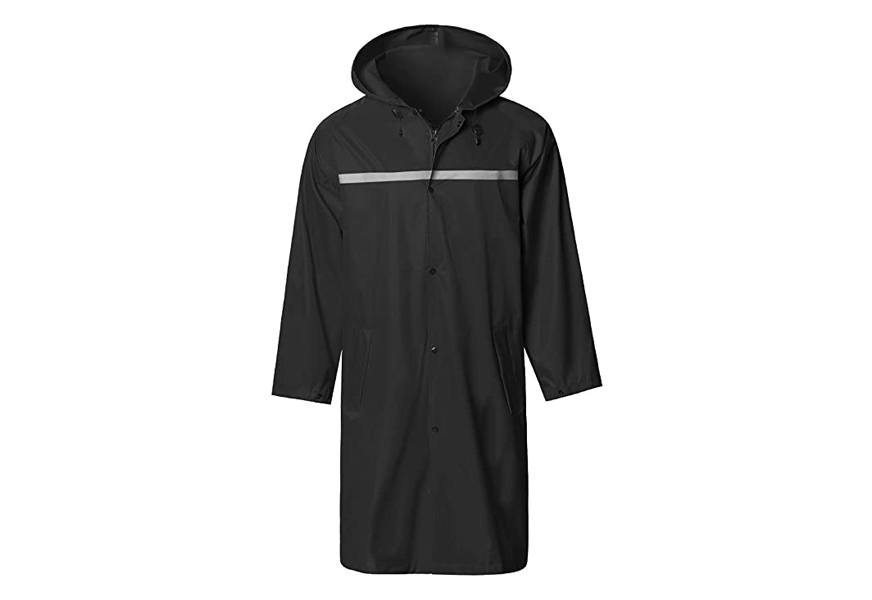 The SaphiRose Men's Long Hooded Safety Rain Jacket borrows from the classic raincoat design that ensures you can stay dry if you are stuck outside in the rain all day long. It comes in six colors, allowing you to choose between modesty and visibility, and the various size options mean there is something for everybody. It includes a robust waterproof backing and heat-sealed seams that ensure no water will get through, while its quick-drying design means that any exterior moisture will dissipate in short order. The below-knee design offers exceptional protection, while the two side pockets give you a place to keep your hands warm and protect your valuables.
Key Features:
6 colors
Multiple size options
Strong waterproof backing
Heat-sealed seams
Quick drying design
Below-knee length for sufficient protection
Two side pockets for protecting valuables
Specification:
Brand

SaphiRose

Model

COMIN18JU044002

Weight

3.2 Ounces
KEEN Men's Newport H2 Sandal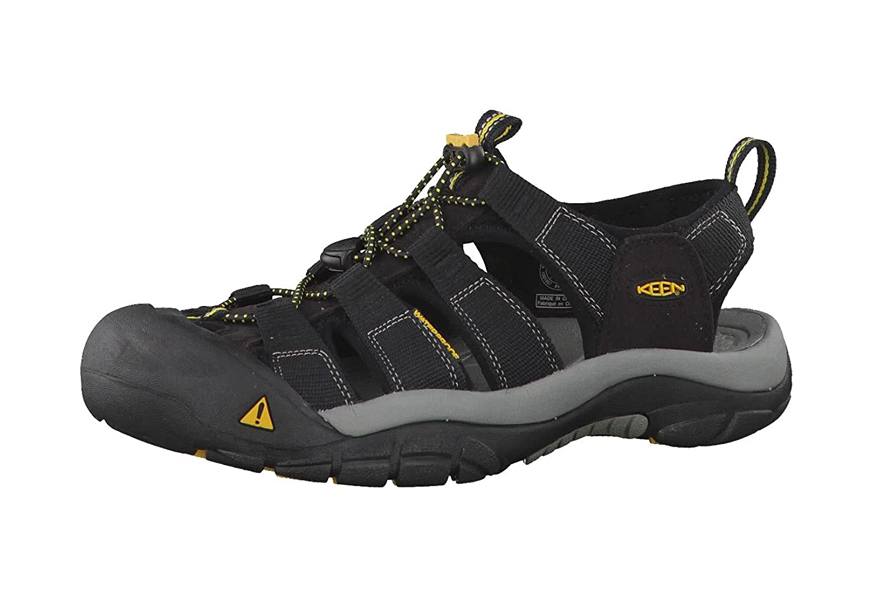 The KEEN Men's Newport H2 Sandal is a remarkable pair of rainwear sandals that will ensure breathability and comfort. These hiking sandals are ideal for trekking in wet conditions and wading through rivers and streams without water-logging your walking boots, and they also offer a fast-drying style that makes them as-good-as-dry faster than you'd expect. The supportive lace-lock bungee will help with stability, as will the multi-directional lugs. This feature-set is especially crucial when walking on slippery surfaces, helping you stay on your feet even when it's pouring rain.
Key Features:
Range of color options
Water-resistant upper
Fast drying
Multi-directional lugs for traction and stability
Supportive and secure lace-lock bungee
Runs true to size
Comfortable compression molded midsole
Specification:
Brand

KEEN

Model

1001931

Weight

14 Ounces
LANBRELLA Folding Reverse Umbrella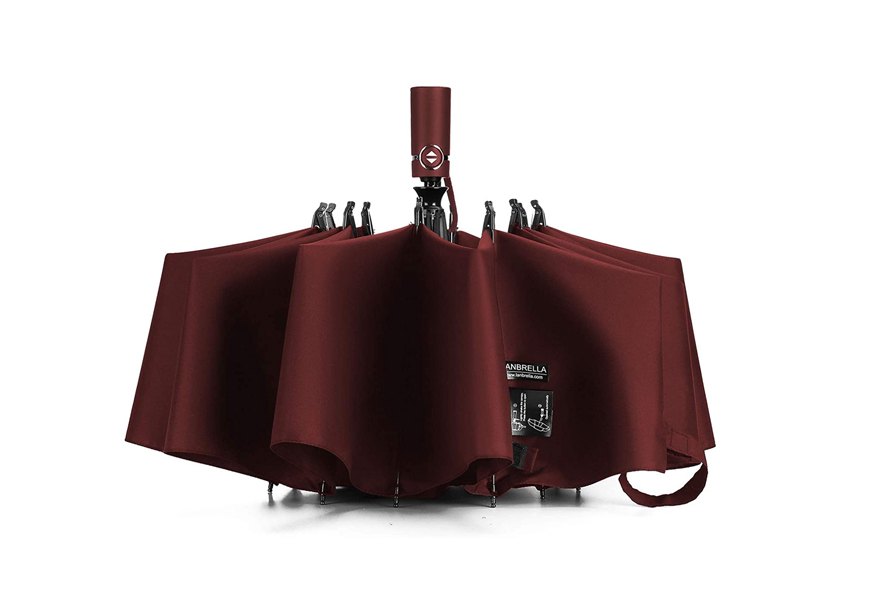 A classic type of rain gear, the LANBRELLA Folding Reverse Umbrella is just what you need when you can't get away with wearing a full-rubber rain suit. This classic device is one of the most convenient ways to keep you dry through the drizzle, and as it is both windproof and waterproof, you're guaranteed safety and protection whenever you need it. The eight fiberglass ribs are durable, and it's also compact and portable so that you can slide it into your backpack, briefcase, or pocket with ease. The Open/Close button is also handy, allowing you to open the umbrella as soon as you walk into the rain.
Key Features:
Range of color options
Unique inverted folding design
Windproof and waterproof
8 reinforced fiberglass ribs
Compact and portable
Convenient open/ close button
Lifetime warranty
USHTH Black Waterproof Rain Boot Shoe Cover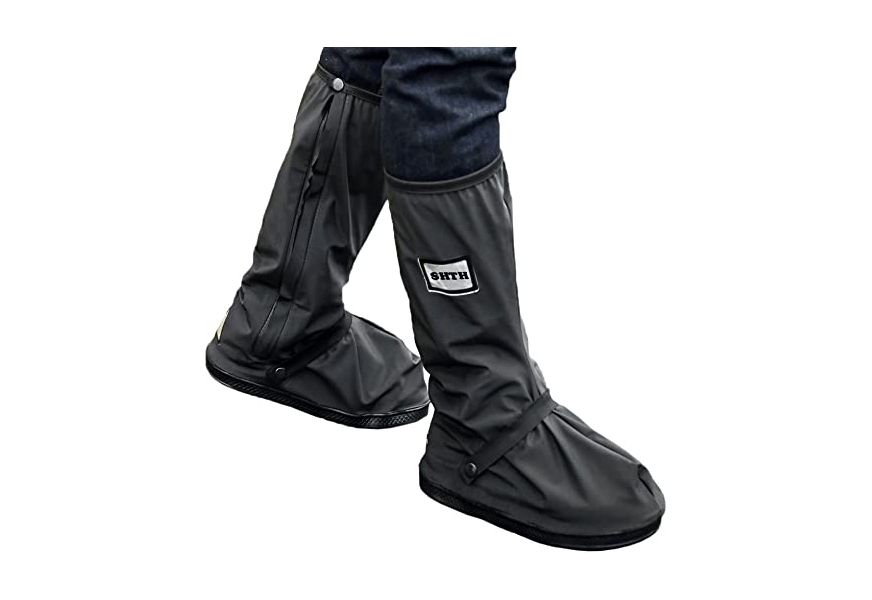 The USHTH Black Waterproof Rain Boot Shoe Cover is a useful type of waterproofing in lieu of rain boots. These gaiters are lightweight, portable, foldable, reusable, and comprise quality PVC to help keep your shoes and lower legs dry even in the dampest conditions. The reflective heel makes them safe to wear at night or in low light conditions, and the robust and waterproof zipper will act as an excellent shield against splashes and heavy rain.
Key Features:
Quality PVC materials
Portable, foldable, reusable
Safety reflector on heel
Suitable for a range of applications
Easy to put on and take off
Waterproof package bag included
Strong waterproof zipper
Specification:
Brand

USHTH

Model

Rain boot covers
FROGG TOGGS Waterproof Boonie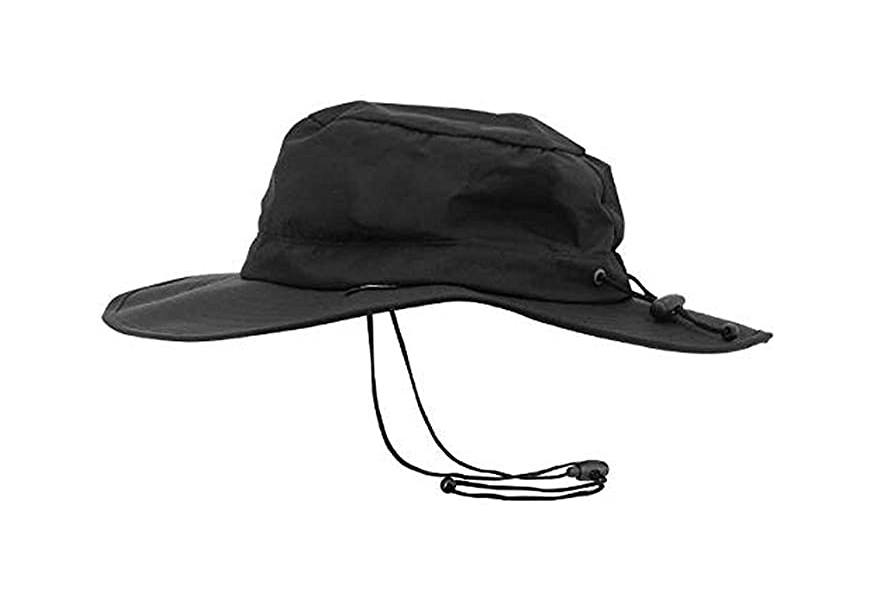 The FROGG TOGGS Waterproof Boonie is a practical choice if you're looking for a dependable fishing hat for men. It comes in seven colors for you to match with your existing gear and is 100% waterproof. The drawstring closure keeps it secure from the wind. It is crushable, making it easy to pack without taking up too much room, and the brim is short so as not to impede visibility. If you're not one for fishing, that's okay, as this could also be suitable for walking and hiking.
Key Features:
7 colors
Drawstring closure
100% waterproof
Crushable for easy packing
1 short round brim
1-inch internal band
Shock cord tension adjustment
Specification:
Brand

FROGG TOGGS

Model

FTH103

Weight

3.2 Ounces
RIGWARL Thermal Balaclava Face Mask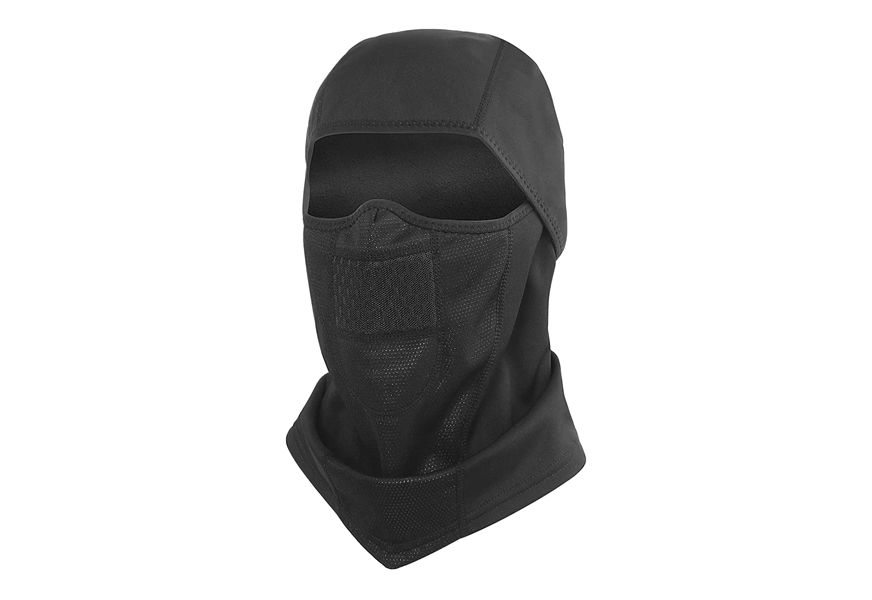 Suppose you are hunting for waterproof motorcycle rain gear for men. In that case, the RIGWARL Thermal Balaclava Face Mask is a fantastic choice that is guaranteed to keep you dry and warm while revving your motorcycle down the highway, even in terrible conditions. It is multifunctional, protecting you from dust, wind, cold, and rain, and it manages this while still being lightweight and breathable, even when wearing a helmet. The fleece lining provides warmth, and the seamless stitching is non-abrasive, guaranteeing comfort even on longer rides. It is also durable, meaning that this could easily be the first and last balaclava you ever purchase because you don't need to replace it.
Key Features:
3 colors
Protects from dust, wind, cold, rain
Lightweight and breathable material
Fleece lining
Seamless stitching
Snug fit
Durable construction
Rain Gear For Men FAQ
Q: What is the best rain gear?
A: Without knowing what you need rain gear for, it's impossible to determine what the best rain gear is. However, this doesn't mean we can't give you a quick overview of what to look for when deciding which rain gear is the right kind for your situation.
Rain gear comes in many shapes and sizes and is suitable for a range of applications. If you're looking for everyday rain gear, a simple waterproof coat should be enough, as it will keep you dry walking along the streets. However, if you need work rain gear for men, consider heavy-duty products, such as waterproof work boots that will keep your feet dry, especially if you work outside all day.
You might need rain gear that keeps your devices dry, so it's worth considering how useful a waterproof pouch could be, and not just for rainy days. If you've ever enjoyed Songkran in Thailand, you'll understand how crucial they are for protecting your precious smartphone and ensuring you capture all the memories you can.
Q: Is rain gear truly waterproof?
A: You would expect the best rain suits, rain jackets, and rain pants to be truly waterproof. However, while many products are water-resistant, they are not all waterproof. 'Water-resistance' means they will prevent water from breaching the material up to a certain point. Some gear may resist a drizzle, but they would be useless in a deluge.
You can use this information to determine whether rain gear is suitable for you. Often, you can survive a quick downpour while hiking, even if it might be slightly uncomfortable. Still, if you plan on prolonged exposure to the elements, you need to invest in quality, waterproof (not just resistant) rain gear to ensure your safety and prevent the risk of any illness.
Q: Is Gore-Tex 100% waterproof?
A: Gore-Tex is one of the most reliable fabric membranes available. It's popular amongst hikers, snow sports enthusiasts, and outdoor professionals. But is Gore-Tex rain gear for men completely waterproof?
The answer to this is It Depends. While all Gore-Tex products will provide a level of water resistance, not all of them are completely waterproof. But, you can still work out what products are waterproof by checking the label.
If the label is Black Diamond, you can trust it to be entirely waterproof for various activities. The Gore-Tex Guaranteed to Keep You Dry Promise guarantees that the article is fit for use in any scenario. Conversely, any products with a White Diamond are water-resistant but not waterproof, although they are still useful for providing comfort and improving performance.
Q: What material is waterproof?
A: When looking for heavy-duty rain gear for men, you need to ensure that you select the most effective waterproof materials. But it's easy to choose a material that you think is waterproof, only to discover that it isn't.
While there are plenty of water-resistant fabrics, it's better to look out for genuinely waterproof materials. These include rubberized fabrics as well as PVC and PU. Rubber itself is also an excellent waterproof material, as it will keep the water out entirely.
However, despite these materials being reliable enough to keep you dry, you'll need to consider the purpose of the garment. Rubber may be the most waterproof material around, but it does not offer other materials' breathability, and it is therefore not ideal for hiking. Likewise, while PU can be lightweight, this may not be what you want when working in the fields. Like any purchase, it is not just one aspect that you need to consider but instead think of the context in which you'll use it.
Q: Which chemicals are used for waterproofing?
A: One of the most commonly used chemicals for waterproofing is PFC or poly-fluorinated chemicals. They are used to prevent water and stains from damaging the garments and make them water-resistant or waterproof. However, experts soon realized that PFCs were hazardous to the environment, so efforts have been made to reduce and hopefully eliminate PFCs in all outdoor clothing or rain gear.
Well-known brands, such as Gore-Tex and Patagonia, are among those making PFC-reduction efforts. Others, like Marmot and Grangers, have strived to develop Durable Water Repellent (DWR) garments entirely free from PFCs. If you are concerned about purchasing (and thereby supporting) products that use PFCs, you can look for items with the bluesign® system label. This label demonstrates that the garments are free from PFCs and instead use other means to achieve sufficient waterproofing and keep you dry wherever you go.
Q: How should I wash my rain gear?
A: If you want to ensure your quality rain gear remains high quality for as long as possible, you should know how to care for it. If you neglect to clean it properly, it leads to an issue known as wetting-out, where the garment will not repel water the way it should.
You can avoid this by cleaning your gear regularly. But it is not as simple as merely throwing it in the washing machine with your other clothes. You need a specific type of detergent that cleans waterproof clothing without ruining its waterproof properties.
First, you will need to clear any leftover regular detergent from your washing machine. When you have done this, check the rain gear's washing instructions, zip-up if possible, and seal and velcro parts. Some types of rain gear will require you to turn it inside out.
Put the garment in the washing machine by itself (unless you are cleaning other waterproof gear) and add the special detergent. Set the cycle and wait for it to finish.
When the cycle is complete, follow the instructions for drying.
In some cases, you may need to re-waterproof your gear to ensure the waterproof integrity remains.
Q: Can I put rain gear in the dryer?
A: Most rain gear is suitable for the dryer in a pinch, but, as with any treated garment, the recommended method is hang drying.
Heat can reactivate the DWR treatment, so you may want to do this even if you do not need your gear immediately. If you use a dryer, you should only put it in for about 20 minutes, as too much heat could damage the clothes.
Sources:
Waterproof Fabric - Wikipedia
Sign Up Now
GET THE VERY BEST OF GEARHUNGRY STRAIGHT TO YOUR INBOX