Up, Up, and Away! The Best Pop-Up Canopies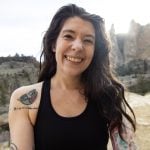 This product guide was written by Tuesday Kirby Kahl
Last Updated
October 1, 2021
Tuesday Kirby Kahl
Tuesday Kirby Kahl is a contributor at Gear Hungry. Her fierce love for the outdoors fuels everything she does. Her professional pursuits include writing, creating art, and photography. These professional passions allow her the time to live life outside as a rock climber, skier, runner, backpacker, paddle boarder, swimmer, and explorer. When Kirby is indoors, she enjoys tea, whisky, old films, cooking, and baking. Her product testing and feedback have shaped the design of everything from climbing shoes to candles.
GearHungry may earn a small commission from affiliate links in this article.
Learn more
Whether you're headed out for a beach day, need some more covered space while camping, or are a vendor at markets, having a pop-up canopy is a great way to gain instant shade and some protection from the sun. The best pop-up canopy will also create an instant gathering place for your whole crew, as well as help protect your precious belongings from adverse weather.
While these pop-up shelters can be big, bulky, and often unruly, this guide includes only the best easy to set up and transport canopies. I rarely, if ever, have help when setting up my outdoor canopies, and a tent that you can set up solo is worth its weight in gold—especially if it's lightweight and easy to carry. Without further ado, the best pop-up canopies for your next camping trip, beach day, tailgate, or event.
The Best Popup Canopy
Crown Shade One Touch Polyester Pop-up Canopy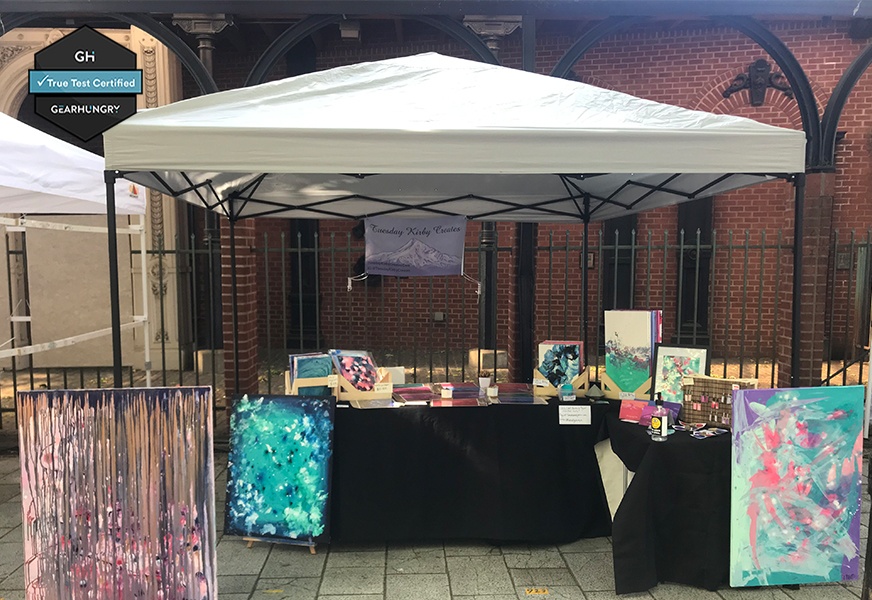 While some might scoff at the Crown Shade One Touch Polyester Canopy as the best choice, I truly believe that this is one of the most easy-to-use and straightforward canopies on the market. This canopy markets itself as one-touch, and while that isn't entirely true, it is the most effortless pop-up tent I've ever used. This is my daily driver tent, and it has shown minimal wear this whole summer despite weekly markets and the occasional outdoor adventure.  
When I arrive at markets, as vendors set up, we all often end up helping each other with popup canopy tents as they are somewhat unruly at times. I'm one of the few vendors who needs zero assistance. My tent is up in no time and is painless solo. The first time I attempted to set it up, I was confused, but a quick YouTube video, and I've had zero issues since. This product is lightweight at 36 pounds despite the steel legs. I've had no trouble carting it around Portland by myself. The dimensions, when unfolded, are 9.38ft by 10ft by 10ft, leaving plenty of overhead room and space underneath. While I usually use sandbags, this product also comes with ties and stakes to keep it secure to the ground in varying terrain. Read the in-depth review here.
Key Features:
One-touch setup
Straightforward
Sun protection
Specification:
Brand

Crown Shade

Model

One Touch
Portable
Easy to set up
Packs down small
Carry bag does not have wheels
Eurmax New 10×10 Pop Up Canopy
One of the more common tent setups I see at larger markets is the Eurmax New 10X10 Pop Up Canopy. The polyester waterproof roof provides both sun and rain protection. One of our favorite features is the velcro strips for easily attaching sidewalls to create a more enclosed space or offer more protection from the elements. The modular nature of this canopy is one of its greatest selling points.  
This canopy option also comes with four weights for anchoring the legs. During adverse weather and strong winds, weights can keep your canopy from flying into the wind and terrorizing the following few streets over. This model is heavy at a whopping 49 pounds, but the carry bag comes with wheels to make transportation easier. If you are looking for the best-quality camping equipment, be sure to browse our list of the top large camping tents and pick your favorite.
Key Features:
Velcro for sidewalls
Durability
Comes with weights
Wheeled carry bag
Specification:
Brand

Eurmax

Model

A-2

Weight

49 Pounds
Modular
Wheeled carry bag
GDY Outdoor 8-Sided Metal Pop-up Canopy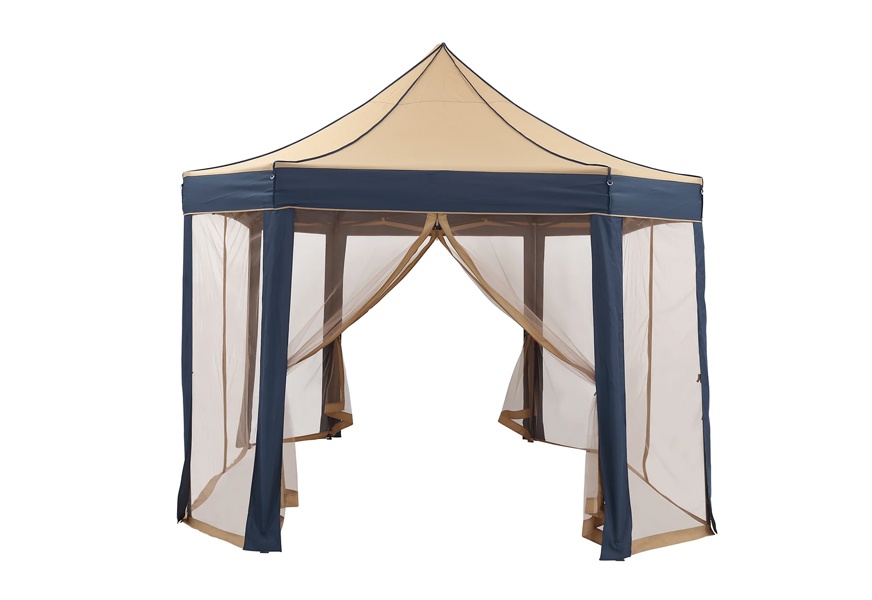 The GDY Outdoor Pop Up Canopy is starkly different than many of the other options on our list. This product offers a stylish and modern gazebo-style canopy complete with mosquito netting and a zippered door. The GDY Canopy can become a permanent fixture in your backyard set up with an anti-rust frame. This model is a great choice if you have an outdoor seating area you'd like to cover for year-round use.  
At a whopping 56 pounds, this option isn't very portable, so it's not the best choice for weekend campouts or dragging to a family picnic. However, it excels in more semi-permanent setups. While measuring an octagon is tricky, this tent measures approximately 10′ X 13′ X 10′, meaning plenty of space for a table and several chairs.  
Key Features:
Anti-rust frame
Octagonal shape
13'X10'X13'
Full mosquito netting
Zippered door
Roomy
Mosquito netting
Anti-rust frame
Heavy
Best in a semi-permanent setup
E-Z UP Sierra II Pop-up Canopy
Sometimes weight is the name of the game. The E-S UP Sierra II Canopy weighs in at 31 pounds. While that isn't a nominal weight, it's the lightest of our guide, and shaving any pounds usually makes your canopy that much more portable and easier to use. If you are setting this up and transporting it alone, the weight comes into play. The steel frame provides durability even in such a lightweight box.  
It is important to note that the ceiling of this canopy is only 8′ X 8,' but the angled legs create a 10′ X 10′ footprint. While this option doesn't provide the same coverage as other models, the weight and portability are the key features. Overall, a great, cheap pop up canopy that's really straightforward to set up. Be sure to also check out our selection of the best-selling canopy porch swings on the market right now.
Key Features:
Lightweight
Easy setup
8′ X 8′ overhead
10′ X 10′ footprint 
Specification:
Brand

E-Z UP

Model

SR9104BL

Weight

32 Pounds
Overhead protection is only 8′ X 8′
EAGLE PEAK 13′ x 13′ Pop-up Canopy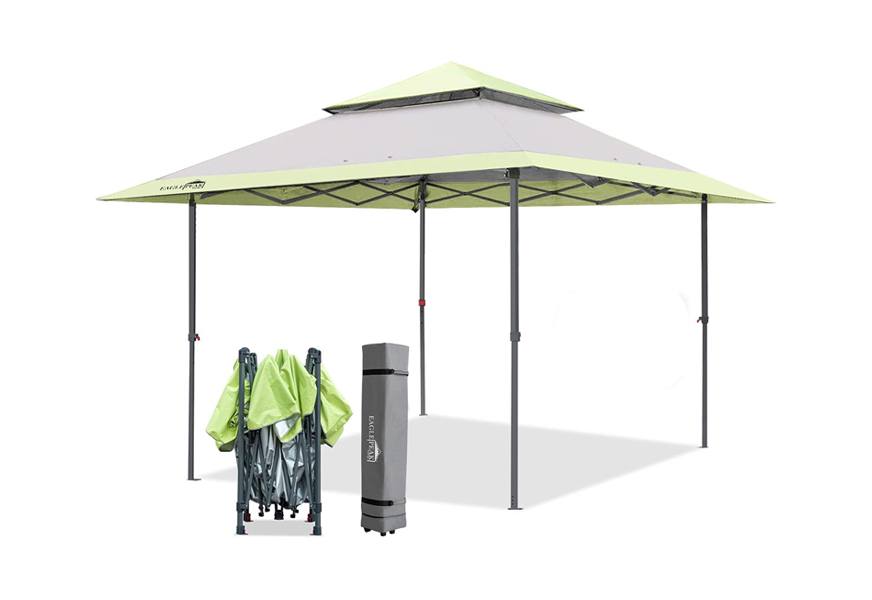 The Eagle Peak Canopy is an excellent addition to your camping gear. It can keep you dry in adverse weather, so you aren't trapped in your waterproof tent. Additionally, the large footprint allows space for a large group, and it can serve as an excellent cooking tent.
The vented top allows for air circulation but could let in some rain. The steel frame is durable for rugged campsites and extended use, and this product has a flame resistance rating of CPAI-84, which gives you peace of mind should there be any campfire problems. The wheeled carry bag allows you to transport this tent with ease, and the twist-lock setup should take no more than a few minutes.
Key Features:
13′ x 13′
Perfect camping canopy
Vented top
Extended shade coverage
Wheeled carry bag
Steel frame
Flame resistant
One-year limited warranty
Specification:
Brand

EAGLE PEAK

Weight

39.6 Pounds
Easy to transport
Easy setup
Spacious
Limited warranty
Roof vent can allow water seepage
ABCCANOPY Outdoor Pop up Canopy Tent
Our premium choice is the ABCCANOPY Outdoor Pop Up Canopy Tent. You get a steel frame for durability and a waterproof polyester roof with an extra chunk of change. There are two roof vents for better air circulation, but these can at times allow sneaky raindrops through. 
The quick single-person setup is an alluring feature of this product and the durability that comes with premium materials. Lastly, this option comes with ropes and stakes to provide extra security and weight bags. The weight bags come empty, so you can fill them with sand or dirt upon arrival to your destination instead of having to transport already filled and subsequently heavy bags. Here are some of the most popular truck bed tents on the market. Don't miss them.
Key Features:
Waterproof polyester roof
Quick set up
Ropes, stakes
Weight bags included
Wheeled carry bag
Two roof vents for air circulation
Specification:
Brand

ABCCANOPY

Model

ABC-SHJQ

Weight

36.5 Pounds
Easy setup
Multiple ways to secure the canopy
Wheeled carry bag 
Pricey
Roof vents can allow seeping water
Why Trust Us
I personally use my pop-up canopy at least once a week while vending my art at markets, and the other vendors around me do the same. A big part of the morning set up at fairs and markets is everyone helping each other lift their canopies. Through helping others, I've taken notes of which canopies are quick and easy to set up and what brands require several folks, a little bit of magic, and elbow grease to elevate.  
How We Picked
Selecting the roundup of the best pop-up canopies meant first considering who uses pop-up canopies and making sure we had something for camping, events, markets, vendors, and more. Canopies have many uses, and their users vary considerably. We started with tried-and-true favorites and from there read hundreds of reviews and consulted other product testers to get a feel for the winning products and what made them so spectacular. 
How We Tested
One of the ways I make money as an artist is by participating in farmer's markets and maker's markets. Nearly every Saturday from April through October and a few more dates throughout the year, I am at markets, popping my canopy, setting up my table, and selling my art to the masses. Being a one-woman show, everything I bring must fit in my car, be portable, and be easy to set up solo. This includes my instant canopy. This time frame gives me ample opportunity to test products and determine where they lack and where they shine.  
Who Is This For
This guide is for anyone who needs a portable canopy. While I did all testing in a market vending scenario, these products serve a wide range of uses, such as creating rooms for events, shade at a tailgate or the beach, or as a camping shelter. If you need a covered or pseudo-indoor space somewhere outdoors, you can create it with a small pop-up canopy.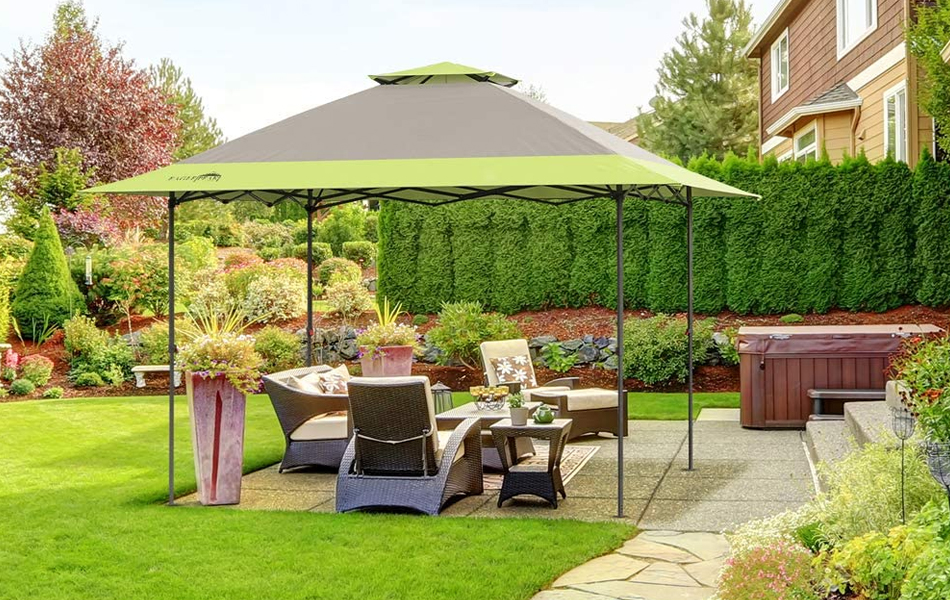 Types Of Popup Canopy
Polyethylene - Polyethylene options offer waterproofness and UV protection. Additionally, it is a lightweight material and a great option if you want protection but need to cut weight.  
Polyester- Polyester is water-resistant. Its water resistance depends on its thickness. Polyester provides solid sun protection from most UV rays and is incredibly durable.  
Vinyl - Vinyl is polyester with a vinyl coating. This option is water and fireproof, but quite heavy which can limit portability. 
Features To Look For In Pop-Up Canopies
Size When Folded - If you are low on storage space or live in a small studio apartment or other small homes, you should review the folded size and verify that you have space to store your canopy. Some options are more compact than others.  For instance, while a pop up canopy with sides provides excellent shelter, it's typically bulkier than a model without walls.
Design - The first thing I look at in a pop-up canopy is the design and how easy it is to set up. If your pop-up canopy tent is not easy to use and set up, you're unlikely to want to use it very often. These products can be unwieldy beasts through setup and use or a cakewalk to set up—choose wisely.  
Canopy Material - The ceiling and wall materials that pop-up canopies are often made from are polyester, vinyl, and polyethylene. We break down the pros and cons above. 
Ceiling Height - When considering ceiling height, it's best to first think about what and who you might invite into your pop-up canopy kingdom. Will your seven-foot-tall friend be joining you? Will you be setting up tall furniture? These are questions to think about when making your selection. Another thing to consider is if you'll be hanging anything from the roof of the canopy and if it will be easy for you to reach.  
Water Resistant vs. Waterproof - Most canopies, especially those that are vinyl or polyester, are weather and water-resistant. Given the general design of a pop-up tent having open sides, a perfect waterproof pop-up canopy is hard to achieve. Tight-fitting sidewall and coated tops and sides can make your tent nearly waterproof, though.  
Seating Room - The square footage of the tent will determine the seating room. If you are using a table, keep in mind the space it takes up as well. The most common canopy size is 10' X 10', but 12' X 12' and 8' X 8' are quite common too.
Frame Material - Frames usually come in either aluminum or steel. Aluminum is lightweight and resistant to rust and corrosion, making it a portable and durable option. Alternatively, steel is heavier (which can be a good thing if you are in windy areas), offers more structural integrity, and is less prone to dents and breaking.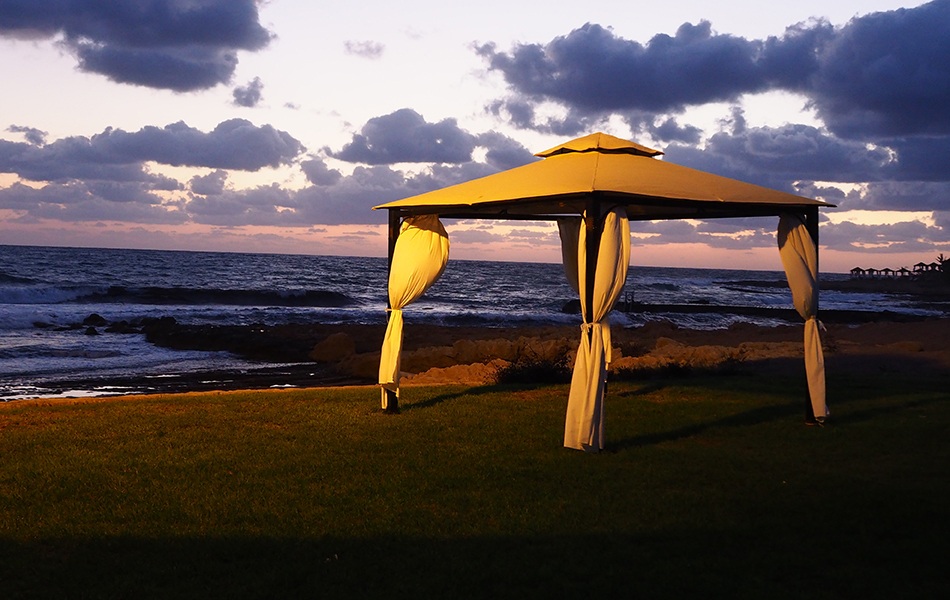 Pop-Up Canopy FAQ
Q: Is a canopy shelter easy to put up and take down?
A: Some are, and some aren't. I recommend purchasing a shelter that has reviews confirming its ease of use. You may also be setting up your pop-up canopy on your own, so you should also ensure a single person can put it up without too many tears. The easier your canopy is to put up and take down, the more likely you will love it and use it more regularly. My most used canopy takes about one minute to set up solo, and verifying that I could do it alone (which I do 98% of the time) was one of the better choices I've made.  
Q: Are folding canopies waterproof?
A: While the ceiling of a folding canopy may be waterproof, the walls are a trickier scenario. If your tent is open, it will not be waterproof. If you have a pop-up canopy with walls, you may achieve more waterproofness. Tightfitting sidewalls are critical in keeping out rain and harsh weather.  
Q: How do you stabilize a canopy?
A: Stabilizing a canopy is best done by first ensuring your tent is on an even surface with all four legs at the same height. Secondly, you can add weights to each leg to keep your canopy from moving.  
Q: How do I stop my canopy from flying away?
A: The easiest way to keep your canopy from flying off into the world and wreaking havoc for miles or smooshing someone or something is to add weights. Weighting each leg with canopy-specific weights or sandbags is an excellent option. You can use other items to weigh down the legs or tie your canopy to nearby sturdy structures in a pinch.  
Q: How do you store a canopy?
A: Most canopies come with their own storage bag. Before storing your canopy, you will want to ensure it is not wet as this could create mildew and verify that it is free of dirt, dust, and debris. You should refer to the user manual on how to store your canopy in its bag. You should then store that bag indoors and away from harsh weather.  
Sources:
Sign Up Now
GET THE VERY BEST OF GEARHUNGRY STRAIGHT TO YOUR INBOX