Out of Office: Best Travel Mouses of 2022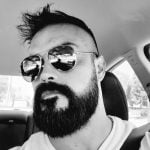 This product guide was written by Billy Brown
Last Updated
March 31, 2021
Billy Brown
Billy Brown has a problem sitting still. His constant search for the next challenge has him doing everything from running ultramarathons and climbing 14er's to gaining 40 pounds to compete in powerlifting, breaking several state records and growing a killer beard in the process. With over a decade of writing under his belt, his work, covering action sports, gear, and beer, can be found in a variety of publications. He lives with his wife and their two cats in Sacramento, California.
GearHungry may earn a small commission from affiliate links in this article.
Learn more
If you're always on the go, you've probably developed a healthy appreciation of the perfect travel computer mouse. In the past, I spent far too much time trying to cram a full-size mouse into one of my commuter bag pockets. And then there's always the quiet shame that comes with setting up your bulky, wired mouse up to your laptop at the coffee shop.
Luckily, there's an entire category devoted to mouses (mice?) for people who work or play on the road. The trouble is, it can be hard to decide between the countless options out there. So we looked around for some of the best travel mouses on the market using a combination of our personal experiences, a little research, and insight from verified buyers. From there, we picked out the top performers across several different categories and test drove a couple of them ourselves, so there should be something here for everyone. Take a look at the list below — if we left any gems out, let us know on our social pages.
The Best Travel Mouse
Microsoft Arc Travel Mouse
The latest version of Microsoft's lauded Arc mice and the Microsoft Arc Travel Mouse is a sleek, low-profile upgrade from the Arc Touch. Instead of the classic two-button/scrolling wheel configuration, the Arc's buttons are unified into one touch-sensitive space near the mouse's top. There are still right and left click buttons, as well as a central space in which you can scroll up and down your pages by sliding your finger up and down.
Having worked in coffee shops, restaurants, and pretty much anywhere with Wi-Fi and a cup of coffee over the last 10-plus years, I worked my way through a stack of travel mice before settling down on the original Arc Touch Mouse and eventually the Arc when it came out. The curve is comfortable and allows for natural hand placement, and the buttons are responsive and tight, offering ergonomics so natural that it feels like an extension of your hand. And the updated scrolling plane lets you scroll both vertically and horizontally.
With a 15-foot range, the Arc offers a killer connection, even if you're farther away from the computer, like when making a slideshow presentation.
Despite all the things to love about this mouse, my favorite is that it lays completely flat when not in use. This makes it perfect for stashing in a pocket or backpack sleeve when traveling from place to place and seals it as the best Bluetooth travel mouse and the best overall travel mouse on this list. Read the in-depth review here.
Key Features:
Ultra slim
Packs flat
Vertical and horizontal scrolling
Requires 3 AAA batteries (included)
Bluetooth
Specification:
Brand

Microsoft

Model

ELG-00001

Weight

2.9 Ounces
Jelly Comb Slim Wireless Travel Mouse
One great travel computer mouse for the money is the Jelly Comb Slim Wireless Travel Mouse. This travel-size mouse won us over for its simple yet well-thought-out design and low price to match its low profile. Rated for 5 million clicks and up to 18 months of battery life, this little guy packs a punch. The long battery life is due in part to the mouse's auto-sleep setting, which powers it down after 8 minutes of inactivity and powers it back up when you press any of its button.
The top has a nice rubber exterior and low-profile ridges on the sides that provide not only grip but also a touch of tactile stimulation. The rubber scrolling wheel is slip-resistant and provides gentle feedback as you scroll. 
The buttons aren't totally silent, but they are definitely muted. In testing this model out, I found that instead of a loud "click" you get more of a muffled version. It sounds like a mouse with a silencer on it: you can still hear it, but the noise's sharp edges have been sanded off.
Thanks to the price, features, and simplistic design, this is one of our favorite travel mice on the market. Also, the 27 different color options are a huge plus. Don't forget to also get one of the best wireless keyboards from our list.
Key Features:
Wireless USB connection
Muted click
Textured surface
27 color options
Rubber scroll wheel
33-foot range
Requires 1 AA battery (not included)
Specification:
Brand

Jelly Comb

Model

JC0165

Weight

2.4 Ounces
TechNet Folding Wireless Optical Mouse
Looking for a mouse with ridiculous battery life? How does 18 months sound? The TechNet Folding Wireless Optical Mouse sports a three-tiered energy-saving cycle that can stretch the mouse's two AA batteries to a stated year and a half of work. After 3 seconds of inactivity, the mouse goes into low-power mode; after 10 seconds, it goes into a deeper sleep, and after 30 minutes of inactivity, the mouse shuts down until you pick it up again.
This ergonomic mouse folds down for storage, which cuts the length down by about a third – a unique feature that we haven't seen in many mouses.
It was this feature that compelled one of our Gear Hungry nerds to add it an already weirdly sizable collection of travel mouses (again, mice?). And the TeckNet Folding mouse has been her go-to for several months, but not because of its folding action.
Instead, it's the mouse's subtler properties that really have her sold: the 6-button configuration (in addition to the right/left buttons and the wheel scroller, this mouse also sports thumb-side back and forward buttons for moving quickly between documents or web pages), three DPI speed settings, thin silicon finish, and nearly-silent click action make it "totes worth every motherlovin' penny."
As for the device's foldability, she reports, "Although the folding action is handy on occasion, it transforms the mouse into a bulkier object from base to spine. When unfolded, however, the mouse is noticeably low-profile, which serves two unique advantages. First (and a little ironically), given the parameters of my gear organizer, keeping the mouse open makes it easier to pack away. Second, and more importantly, the low angle is much nicer on the wrist than steeper alternatives. And after several straight hours of mousing around each day, you can really feel the difference that just a few degrees make."
A quick note about the back and forward buttons: they only work with Windows software, so Mac folks are out of luck there.
Key Features:
Wireless USB connection
Adjustable sensitivity
Foldable for travel/storage
Sweat-resistant finish
18-month battery life
33-foot range
Auto-off feature
Requires 2 AA batteries (not included)
Specification:
Brand

TechNet

Model

M017

Weight

1.87 Ounces
Inphic Rechargeable Silent Slim Computer Travel Mouse
Another great option is Inphic Rechargeable Silent Slim Computer Travel Mouse. The most impressive statistic from this minimalistic travel mouse is that the rechargeable battery lasts up to 500 hours. That's almost three 40-hour work weeks that you can bust out with this little guy before he needs a recharge. This makes it a great choice for longer trips or people who don't want to be bothered to recharge their mouse every few days.
Also, the silent clicking feature means you can get your work done without bothering anyone else, which is especially useful (and thoughtful) if you work in a coffee shop or public workspace. The slim profile makes it easy to store in a garment bag, and the universal compatibility makes it ideal for both Windows and Mac users.
Key Features:
Wireless USB connection
Optical
Slim Profile
Works up to 30 feet away
Silent clicks
Rechargeable
Battery lasts up to 500 hours
Wireless USB
Specification:
Brand

Inphic

Model

PM-1

Weight

2.4 Ounces
Sabrent Mini USB Optical Travel Mouse
If you're looking for a compact mouse that won't make a dent in your spending account, the Sabrent Mini USB Optical Travel Mouse is a great option. This mini travel mouse offers high-definition optical tracking, a center wheel for scrolling and zooming in, and a solid ABS case that will keep it safe even if your pannier falls off your bike on the way to work.
For the budget-conscious, this is a great choice at under ten bucks. What's more, you don't even need to buy batteries, because the attached cable plugs into your computer and keeps you powered for as long as you and your computer can keep working. The cable is retractable for easy storage and portability. Bonus: the buttons are silent, so your constant clicking won't bug any co-workers within earshot.
For more must-have tech products, please browse our list of the top touchpads on the market.
Key Features:
Wireless USB connection
Extremely affordable
Slim profile
Retractable cable
Silent clicks
Retractable cable
Hi-def optical tracking
Carrying case included
Specification:
Brand

Sabrent

Model

MS-OPMN

Weight

1.5 Ounces
WisFox Wireless Computer Travel Mouse
Looking for a travel mouse that can outlive your current gig? The WisFox Wireless Computer Travel Mouse is tested to survive a minimum of 5 million clicks. That's right, 5 million. This means that most of us will hopefully never reach that threshold, and our mouse will last a lifetime of work.
If your work requires anything approaching that workload, the ergonomic, sweat-resistant build will keep your hand comfortable, and the rubberized sides ensure a firm grip and pleasant feel.
WisFox's muted architecture means that the mouse is completely silent: scratching around on a table and clicking its buttons won't make a sound, which is sure to keep your co-workers happy. What's more, it automatically enters a power-saving mode when not used to keep the battery alive longer and reduce the number of times you'll need to swap it out.
If you are looking for absolute comfort while working, be sure also to check out our list of the most popular ergonomic keyboards.
Key Features:
Wireless USB connection
Adjustable sensitivity
Sweat-resistant coating
Rubberized sides
Tested up to 5 million clicks
33-foot range
Hi-def optical tracking
Requires 1 AA battery (not included)
Specification:
Brand

WisFox

Model

G1023E

Weight

3.2 Ounces
seenda Noiseless Wireless Mouse
With this seenda Noiseless Wireless Mouse, silence is golden. The scrolling wheel and right- and left-click buttons are totally silent, so you can work without bothering anyone around you. The buttons are also rated to have a lifespan of 3 million extremely quiet clicks, so you'll have this mouse for years of clicking away.
The mouse also sports texture on the scrolling wheel and buttons and a sleep mode that turns on after 10 minutes of inactivity. Press any button, and the mouse is ready to get back to work.
The Noiseless Wireless mouse also comes with 17 color options, which means you can find one to fit your specific aesthetic. We're fans of the mint green.
Or, if you're looking for a mouse that isn't limited to flat work surfaces, consider our lineup of best-selling vertical mouses.
Key Features:
Wireless USB connection
Noiseless click
Textured buttons
17 color options
Rubber scroll wheel
33-foot range
Requires 1 AA battery (not included)
Specification:
Brand

seenda

Weight

2.39 Ounces
How We Tested And Why You Can Trust Us
To give you an in-depth look at each mouse on this list, we researched the travel mouses online, looked at brands that we've used in the past, and called in mouses to test and evaluate new, updated, and interesting pieces. We rounded out our first-person impressions with user reviews online to gather a comprehensive view. Also, we've pulled from our experience using travel mouses on the road and in the office over the last decade.
Who This Article Is For
This article is intended for people looking for the best travel mouses on the market, whether exclusively working or playing outside the home or as an everyday mouse.
How We Picked
We chose mouses that would be useful for a wide range of users for both travel and home use. We also looked for portable mouses, had a wide array of options, and fit into varying budgets. We arranged the mouse that we chose according to features that people may be looking for when shopping for travel mice. We also labored over whether "mouses" or "mice" is the proper nomenclature. The jury is still out on that.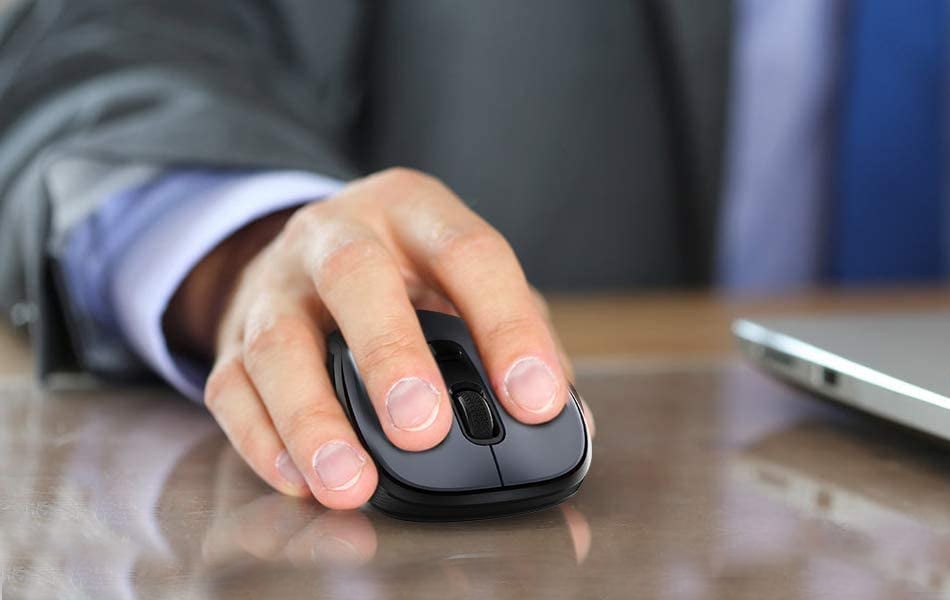 Features To Look For In Travel Mouses
Portability - The defining factor in travel mouses is their portability. The whole purpose of getting a mouse for travel is to find one that fits in a bag or pocket as you go. Most of these mice achieve this portability by minimizing or doing away with cables and lowering the size, usually the mouse's height. If you're looking for a travel mouse, look for a small travel mouse that connects to your computer wirelessly or has a retractable cable. As far as height goes, it pays to look for one that is as flat as it can be without sacrificing usability. Look for one around an inch, inch, and a half tall for a good compromise between usability and portability. If portability is the most important feature to you, look for one that stores flat, like Microsoft's Arc series mouses.
Build Quality - Durability is a huge factor when it comes to choosing a good travel mouse. I've had travel mouses break while writing on the road and have had to use my laptop's trackpad for the duration of my trip, and it can cause a huge drop in productivity. Not to mention annoy you to no end. As a tech piece, travel mouses can be delicate by nature, so it pays to be careful not to step on, crush, or drop it from an excessive height.
One of the main ways to determine how likely a travel mouse is likely to break down is to see if it has any click testing rating. The best travel mice usually have click test ratings of 3 to 5 million clicks. While testing this isn't a job we'd envy, it goes a long way towards knowing how long a mouse will last you. A click test rating in the millions usually means you'll be using your mouse for the foreseeable future. Or at least until you drop your suitcase on it.
Battery Type and Battery Life - Wireless mouses will often have either rechargeable batteries or replaceable ones, while wired mouses draw power from the computer that they're connected to. You should be able to get several months out of each charge or battery replacement, especially if your mouse comes with any power-saving features like automatically shutting off after a period of inactivity. To maximize your battery life, check online to see if the mouse you're looking at has any power-saving features. Some of these longer-lasting mouses are rated for up to a year and a half of use per charge or replacement.
Connectivity - Wired mouses and mouses that use a wireless USB receiver work similarly. A USB travel mouse connects with your computer via a USB port. This is usually a simple way to connect – most computers allow you to plug in the receiver or wire, and the mouse will be ready to go. If your mouse has more than the usual two buttons and a scroll wheel, you may need to install software drivers, however.
Bluetooth mouses require a bit more of a setup than USB mouses because you have to take your computer through the process of finding and pairing with your mouse for the first time. After that, the computer will automatically connect to your mouse every time you turn it on. Bluetooth mouses are generally more expensive than USB and the fact that not all computers have Bluetooth antennas. However, a Bluetooth mouse does not take up any of your computer's USB ports and can work with devices that don't have USB ports at all, which can make it an ideal travel mouse for laptop use or with tablets. If you can stomach the expense, finding the best compact Bluetooth mouse for travel is a worthy endeavor.
Tracking and Sensitivity - Instead of the tracking ball that mouses used to use, which rolled over a surface to track movement, current mouses use optics to track a mouse's movement over a surface to determine how you are moving it. This makes it possible to use a mouse on just about any flat surface (and has decimated the market for mousepads).
Sensitivity refers to how responsive a mouse is to your movements. The higher the sensitivity, the more responsive to your movements the mouse will be. This can be a huge factor for gamers, which often require fast response times to nail a headshot or time a jump.
Retractable Cord vs. Wireless - For most uses, the best portable wireless mouse is a great choice for travel and ease of setup. However, a corded mouse tends to offer better responsiveness and a lower lag time, which can be useful in gaming or anything else that requires timing and precision. Wired mouses can also be cheaper as well.
Optical vs. Laser - Actually, all mice are optical in that they use optical sensors to track the mouse's movement over a given surface. The main difference is whether the mouse uses an LED light or a laser to project light onto that surface. A laser is technically more accurate, which is ideal on flat, feature-free surfaces. However, it can be a little too accurate, finding hills and valleys on a surface that appears featureless to the naked eye. This can cause a jittery, less precise performance on the computer screen. This is a bigger issue in gaming, where responsiveness and accuracy are key. Some companies, like Logitech, primarily use LED-based mouses for this reason, even though LED mouses aren't quite as precise. On the other hand, laser-based mouses can offer precise, swift movement that can be ideal on the right surface.
Overall, the difference between the two is minimal when looking for the best wireless travel mouse.
Ergonomic - Since you're likely going to be spending a lot of time holding a mouse, it pays to have one that is comfortable in your hand. If you spend more time mousing than typing, it could be worthwhile to invest in one with wavy contours designed to provide a perfect fit. These are often bulkier than traditionally shaped mouses; you will be sacrificing some portability here.
I prefer a mouse with a rubberized texture on the top – it's more tactically pleasing and doesn't get slick if my hand gets sweaty.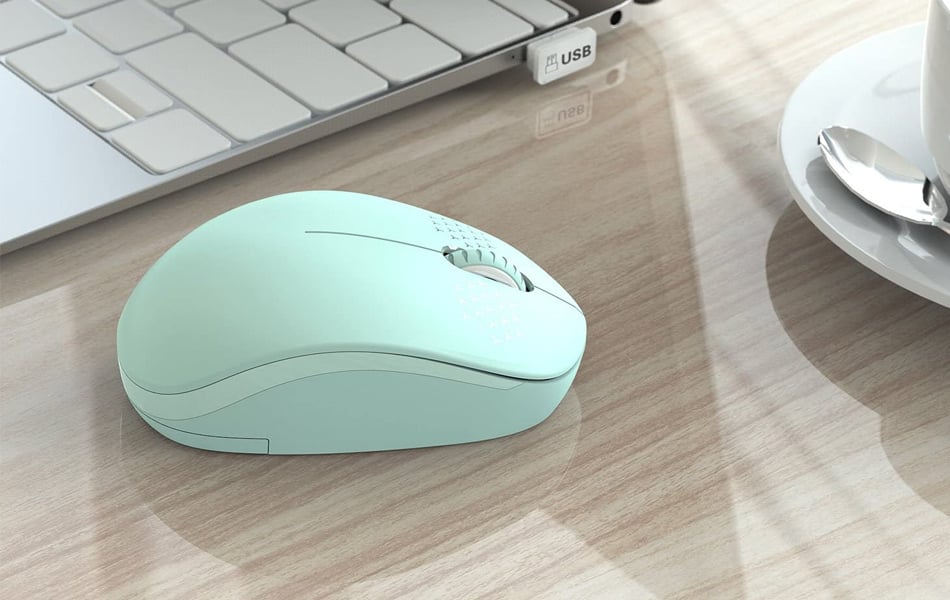 Travel Mouse FAQ
Q: What is a travel mouse?
A: A travel mouse is a mouse that is built specifically for use outside the home or office. These mouses are generally smaller and more portable than regular mouses. They are often wireless to minimize space in a pack (and to eliminate tangling).
Q: What is the difference between a wireless and a Bluetooth mouse?
A: A Bluetooth mouse is wireless; any mouse that doesn't connect to your computer via wire is technically wireless. The two main types of wireless mouses are USB and Bluetooth. A USB wireless mouse connects wirelessly to your computer via a USB receiver that plugs into your computer's USB port. In contrast, a Bluetooth mouse connects wirelessly to your computer by sending a Bluetooth signal to your computer's Bluetooth antenna (if it has one).
Q: Should I switch off a wireless mouse?
A: While many wireless mouses have auto-sleep features, you should shut your mouse off completely if you're done for the day. It'll further extend the life of the battery.
Q: What is the best surface for a wireless travel mouse?
A: Wireless travel mouses are incredibly versatile. They work well with most flat surfaces without highly reflective or transparent surfaces (no polished stone or glass).
Sources:
How Do Optical Mice Work? – How Stuff Works
Optical Vs. Laser Mouse – Digital Trends
Sign Up Now
GET THE VERY BEST OF GEARHUNGRY STRAIGHT TO YOUR INBOX