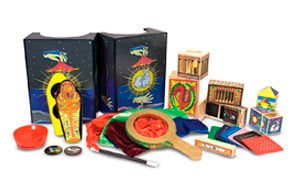 Melissa & Doug Deluxe Magic Kit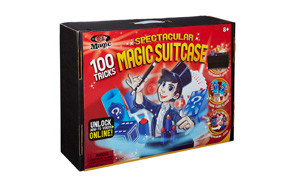 Ideal Magic Spectacular Magic Kit Suitcase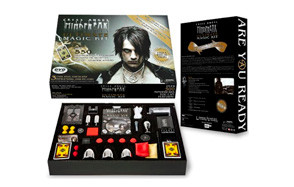 Criss Angel Ultimate Magic Kit Black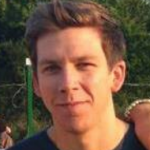 Have you ever felt the need to disappear from an uncomfortable situation? Whether from a boring day at work or after an embarrassing fall at the grocery store? If the answer is yes, you need the best magic kit to aid with such an experience. And if the answer is no, there surely there is someone in your life that will benefit from pulling a few tricks every now and then. For the younger ones in your life, we know they love to explore, but they also love to understand the things that amaze them; just like magic.  It only makes sense thus, that we create for you a list of editorial picks concerning the best magic sets on the market that will help turn you or your little one's dream into reality.
The Best Magic Kit
Magic Kit Buying Guide & FAQs
Essential Tips When Performing Magic
Nervous Energy is Good Energy - Nervous energy is your magical friend. Do not be afraid of this! Before you perform, You will get nervous and anxious. One of the best ways to overcome a public performance is to turn the nervous energy into feelings of enthusiasm and positive thoughts.
Passion Takes You Further - a magician is only as good as his magic tricks. To be in tune with your skills, you must believe in them and yourself. This will help you strive to perform them at the highest peak of excellence before any audience.
Practice Makes Perfect - To be perfect, you must practice your tricks. This prevents you from performing terribly during your show. Make sure all tricks you perform are those you're completely comfortable and confident about. This can reduce the rate of your anxiety.
Learn, Learn, Learn - Study your magic tricks, making sure that you know their effects and not just the moves. Learn from the expert magician through online videos and magic kit instructions.
Be Positive - Being a magician means you're extra special, so feel it and act like it. Think happy and positive thoughts regularly, continually reminding yourself of how awesome you are. Avoid negative thoughts and company, as this can affect you and your performance.
Brevity - As much as possible, keep your tricks short and straightforward. Prolonging a trick makes it annoying and leaves your audience easily distracted by passers-by or their phones.
Show Them Love - You owe a lot of your success to your audience, so you must be gracious and appreciative of them whenever you have the opportunity. Thank them for stopping by, or leaving their homework to watch you practice. No matter who they are, be it family, friends or strangers, make them feel relevant by showing appreciation for their presence.

Most Popular Type of Magic Tricks
At the heart of magic lies seven main types or categories of magic tricks;
Vanish: This is when magicians make items disappear
Appearance: the opposite of the vanishing trick, this is the ability to bring something out of nowhere.
Levitation: This act is done by many master magicians such as Criss Angel, and it involves the magician defying gravitational laws and staying above ground.
Penetration: Unlike what you're thinking, this magic trick is done by passing an object through another object. An example is moving a coin through an IPad without the IPad cracking.
Transportation: The movement of items from the magician to his audience's pocket or ear. It is some really cool stuff, honestly.
Mind Reading: This trick displays a magician's showmanship psychologically. This is when magicians know things and events concerning members of their audience.
Restoration: Another odd thing most magicians love to do is to rip items belonging to their audience apart, only to return it completely unharmed. It is scary to see your iPad screen crashed, but once it's going to be returned in top shape, were game.
Sources
Zinc Sulphide - Wikipedia
Citric Acid - Wikipedia
5 Steps to Overcome Public Speaking - Huffington Post