Best Timing Lights In 2022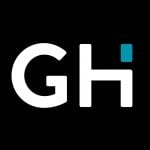 This product guide was written by GearHungry Staff
Last Updated
May 14, 2020
GearHungry Staff
GearHungry Staff posts are a compilation of work by various members of our editorial team. We update old articles regularly to provide you the most current information. You can learn more about our staff
here
.
GearHungry may earn a small commission from affiliate links in this article.
Learn more
Imagine driving along and all of a sudden, you can hear and feel the shaking and shuddering of your car's engine as it begins to fade. Or, maybe you're mowing the grass in your garden, and the entire lawnmower begins to shake furiously. You could have the same experience with a motorcycle, a powerboat, or any vehicle powered by a motor. Sometimes the problem is with the design of the engine; other times, the fan belt might be wearing away, or there's an issue with the battery. But, one of the most common problems with car engines is that the timing is off. So how can you fix it? Well, one option is to go to a mechanic and have the engine replaced, but that's a little extreme. Instead, a timing light is something to consider. We've put together a small selection of our top recommendations when it comes to the best timing lights. We're sure one of them will spark your interest.
The Best Timing Light
Let's kick things off with our Best Choice: the Innova 5568. There are other Innova products on this list, but there are a few things that help this one stand out. This, quite frankly, is the choice of professionals, as it will stand up to daily use like no other. Its heavy-duty ABS housing is shockproof and comes in a molded boot for added protection, as well as a handy backlit screen, so darker places are easier to see. There's a good range on the tachometer, measuring from 249-9990 RPM. This hardy timing light works with most ignition systems and has been built with patented Skip Circuitry. Included in the package are some detachable 6-foot leads with inductive pick-up and a handy storage case. It is certainly something every driver needs to have in their tool box.
Key Features:
Slim barrel
249-9990 RPM range on the tachometer
Skip Circuitry
Compatible with most ignition systems
Four-function digital readout 
Specification:
Brand

INNOVA

Model

5568

Weight

8 Ounces
Houkiper Engine Timing Light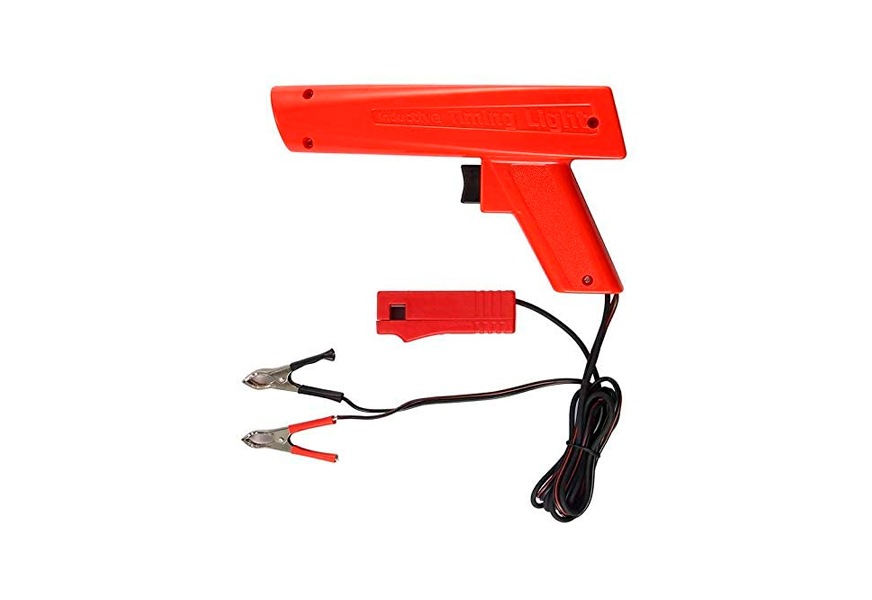 Our second timing light comes from Houkiper. Designed with your vehicle's ignition in mind, this Houkiper Engine Timing Light is compatible with most ignition systems, including gasoline engines and 12V systems. It has polarity and overload protection, giving it extra padding against burnout. Besides, it has a sliding clamp-on inductive pick-up, so hooking it up is as easy and safe as it can be. Houkiper have also designed this to be user-friendly; it has a pistol-type design that sits comfortably in the hand and easily facilitates operation. The red and black sensor clips distinguish the positive poles from the negative and are easy to secure. If you are interested in some other essential things to have at hand while driving, check out our choice of the best car jump starters.
Key Features:
Compatible with multiple ignition systems
Polarity and overload protection
Color-coded sensor clips
Clamp-on inductive pick-up
Comfortable design
Specification:
Brand

Houkiper

Weight

1.25 Pounds
Another Innova product, this time the 3568 Timing Light! This one was made for people who are into a good bit of DIY but are picky about the pieces they use. The digital readout is easy to see, as it has a split-screen LCD display for the tachometer and advanced functions. Grip-wise, it's comfortable enough. It has a slim rotating barrel, so aiming is easier when you're trying to hit the timing mark. Like many other timing lights on this list, it's compatible with most ignition systems (conventional, electronic, computer-controlled). Unsurprisingly for Innova products, it has patented Skip Circuitry up to 9990 RPM, which makes it one of the essential tools every man should have in his tool bag.
Key Features:
Patented Skip Circuitry
Compatible with most ignition systems
Good for DIY-ers
Digital readout is clear
Split-screen LCD display
Specification:
Brand

INNOVA

Model

3568

Weight

8 Ounces
Performance Tool W80578 Timing Light
If you're one of those people who enjoy street racing, race cars, or just jetting into the sunset on a speedboat, Performance Tool W80578 might be your speed. It's perfect for the high-thrill as mentioned earlier, adrenaline-seeking vehicles, and has been designed for all gas engines, including outdoor power equipment, not just motorcycles, speed racers, and powerboats! It is compatible with most ignition systems. Like the Innova mentioned above, this timing light is useful for anyone experimenting with a bit of DIY. It can be powered by two standard D cell or rechargeable batteries. These aren't included, but the timing light will function and live a long life even with the batteries.
Key Features:
Ideal for cars
Easy to hook up
Detachable inductive pick-up
Designed for all ignition systems
Powered by standard D cell batteries
Specification:
Brand

Performance Tool

Model

W80578

Weight

10.4 Ounces
Actron Cp7529 Timing Light
For our fifth selection, Actron's CP7529 offers microprocessor-controlled circuitry, loaded with all kinds of advanced functional features. A bright LED display keeps the reader visible. Measuring your engine's RPM has never been more visible. Also included are mode indicator lights and a Xenon flashlight. The timing system is adjustable, and you can also keep an eye on the centrifugal advance, and the vacuum as well. This timing light will work on most ignition systems, including gasoline, conventional, electronic, and computer-controlled engines. The tach display reads 0-9999 RPM, the advance display shows to 1/10, and the buttons are easy to find and work out. It also features an all-metal inductive pick-up, durable ABS housing, heat resistant battery clips, and comprehensive multilingual instructions. This is certainly an essential piece of equipment for your vehicle, just like a reliable car battery tester.
Key Features:
Instructions come in English, French, and Spanish
Xenon flashlight
LED tach display
Works with most ignition systems
Buttons are easy to use
Specification:
Brand

Actron

Model

CP7529

Weight

1.62 Pounds
Performance Tool W80587 Digital Advance Timing Light
Are you looking to splurge on something a little bit more on the professional side of engine tech? Performance Tool might have just the ideal timing light for you. The W80587 Digital Advance Timing Light features a super bright xenon flash, high visibility LED display designed for precision tuning in addition to diagnostic work. Engine speed up to 9000 RPM is displayed on the screen, and the ignition spark advance measures from 0 – 90 degrees. Control it with the press of a button, and switch between 4 and 2 engine cycles. This timing light comes in a tough ABS shell, 60 inches, with inductive pick-up leads. It also works in a 12V system. A flat tire is also something a cautious driver wants to avoid, so take a look at our reviews of the best tire inflators to buy right now.
Key Features:
Professional grade timing light
Features bright xenon flash, durable ABS shell, works with 12V system
Measures engine speed up to 9 000 RPM
LED display designed for precision tuning
Controlled with press buttons
Specification:
Brand

Performance Tool

Model

W80587

Weight

1.8 Pounds
Extend the life of your engine with this timing light from Dirautos. That sudden succession of shudders, shakes, and quakes don't exactly inspire the best of confidence in your vehicle's engine. The life of your engine could be reduced, depending on several factors. For instance, age or timing. Sounds coming from the engine usually mean something is wrong, but it could just as easily mean that the timing is off. Dirautos Timing Light will help you measure the timekeeping of your engine to extend its life expectancy. As long as your car is connected to a 12V battery, you never have to worry about this timing light running out of power. Unlike a flashlight, you will never have to worry about your timing light running out of power. It's advised that you turn off the engine before attempting to attach this device to the battery's positive terminal.
This timing light fits snugly in your hand with its ergonomic pistol grip design. While all timing lights come in different shapes and sizes, you might have trouble finding one which feels right in your hand. One which is shaped like a pistol has the added benefit of being easier to control while being held, as well as fitting more snugly into the confines of your car's engine bay. This is because they conform to engineering design. Additionally, the button is comfortable and facilitates operation with ease. This timing light is suitable for a wide variety of vehicles, from cars to trucks, to motorcycles and even gardening equipment such as lawn mowers. So long as the battery is 12V and in working condition, you can use it anywhere.
Key Features:
Includes extended length cables to facilitate fit
Fits neatly into the engine bay with an ergonomic pistol-grip design
Bonus ignition spark tester included
Works with 12V batteries
Suitable for a wide variety of vehicles and engines
Specification:
Brand

Dirautos

Weight

1.1 Pounds
Finally, we come to our last timing light for your consideration. Maso have developed this timing light for use in car engines, although it can be used for all 2-stroke and 4-stroke gasoline engines as long as there is a 12V ignition system. Maso Engine Timing Light is easy enough to operate and features burnout-proof polarity, which prevents overload and will help you keep an eye on your engine's life expectancy. The inductive pick-up is clamp-on for easy and safe hook-up. A brilliant blue-white xenon tube works even in daylight so that you can read the display. It's easy to hold and fit into the engine pay with its pistol-type design, conforming to more traditional engineering patterns. The button is comfortable, and the whole light feels good when held. Better yet, the sensor clip is color-coded, so it's easy to distinguish between the positive and negative poles. If you want your vehicle not only function great but also look its best, check out these amazing car cleaning kits!
Key Features:
Color-coded sensor clip (red and black) to distinguish positive and negative poles
Handheld pistol design for ergonomic use
Burnout-proof polarity with automotive reverse
Clamp-on inductive pick-up for easy hook-up
Suitable for retiming your car's ignition
Specification:
Brand

Maso

Model

8542039131

Weight

1.05 Pounds
Timing Light Buying Guide & FAQ
Not everyone is tech-savvy or a motorhead, so we've put together a handy list of things to look for when shopping for a timing light, as well as a couple of common questions to consider.
Features To Look For In Timing Lights
Brand - Look for a timing light whose manufacturer has put a lot of thought into it. Brands like Gunson or Innova have strong reputations when it comes to putting out timing lights and other car parts that have long lifespans and serve the car well. Other brands like Houkiper have earned their reputations for being cost-effective. A priority when shopping for a timing light, or any other engine part, should be whether or not it is compatible with the vehicle.
Design - A well-designed timing light will fit into the engine bay with ease. Some feature a standard 'boxcutter' shape to save on space, while others are designed with an ergonomic pistol-grip so that it perfectly fits the engine bay.
Ease of Use - If you're new to timing lights, always look for a model that comes with the most comprehensive instructions, ideally a set with a diagram of the engine and explanations of what to look for when installing the light. For those who are seasoned veterans of engine timing, look for a model that has an LED display screen and is easily visible when under the hood. A good timing light will never be made to be trickier to use than it should be.
Something you also want to be conscious of is safety. You should always make sure that the light's wires are secure and clear from all moving parts. This will extend the life of both your engine, and the timing light. One thing you must always avoid is attaching the inductive pick-up too close to the exhaust since this will cause the casing to melt, no matter how durable the material is. If you remember anything from GCSE physics, remember to turn off the power before you go attaching the timing light to anything!
Price - Good timing lights will be somewhere between £70 – 150, but you can get cheaper models which work just as well for around £50 and lower. You should be shopping for the quality, and compatibility, of the product over the effect it has on your wallet.
Type - There are many types of timing lights. The two most common are multi-spark directional timing lights and standard inductive timing lights. No matter what type, they all serve the same function, but some are more suitable for certain vehicles or engines than others. However, as mentioned previously, it is important that you get a timing light that is compatible with your engine. Installing an incompatible model will lead to a whole host of future problems or, at best, will just not work.
Multi-spark directional timing lights are needed to indicate proper initial timing. This gives off a series of sparks through a range of degrees. As a result, the timing light must initiate the beginning of timing sequence. Multi-spark directional timing lights are often better at this because this is an area where so many other types of timing lights fail as they might pick a random spark at which to start and must be manually adjusted. Multi-spark directional timing lights do not need to be modified in this way, and you should make sure your engine is compatible with this type of timing light before installing one.
A standard inductive timing light is one you will be able to get for a lower budget. They usually feature a nonadjustable xenon tube light, which will show the marking as an idle. Anything above this idle will have to be interpolated. As standard, it will be capable of timing both two-cycle and four-cycle engines. Something to look out for with regard to a standard inductive timing light is a knob. The purpose of the knob is to allow the timing light to advance and show the timing at different RPMs. At an idle, the knob should be adjusted so that the crankshaft pulley is at '0'. Some will have buttons instead, and they will do this same job just as effectively.
Timing Light FAQ
Q: What is a timing light?
A: A timing light is a device used to set the ignition timing of an internal combustion engine. It is equipped with a distributor. As car engineering has evolved, so had the timing light. Modern passenger vehicle engines now require the use of a scan tool, which digitally displays the RPM (rotations per minute) of the engine's ignition.
Q: How do timing lights work?
A: Timing lights are connected to the ignition circuit to light up the timing marks on the crankshaft pulley (also known as a flywheel) while the engine is running. Through the stroboscopic effect, the timing light detects the best position possible (the Number 1 position) at which the timing is at full efficiency. They can be used to set the timing to start earlier than the engine is designed to start, for instance, or they can be set for a lower timing.
Sign Up Now
GET THE VERY BEST OF GEARHUNGRY STRAIGHT TO YOUR INBOX