Never Get Stranded Again: The Best Tire Inflators In 2022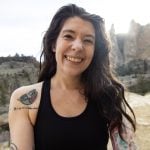 This product guide was written by Tuesday Kirby Kahl
Last Updated
March 14, 2022
Tuesday Kirby Kahl
Tuesday Kirby Kahl is a contributor at Gear Hungry. Her fierce love for the outdoors fuels everything she does. Her professional pursuits include writing, creating art, and photography. These professional passions allow her the time to live life outside as a rock climber, skier, runner, backpacker, paddle boarder, swimmer, and explorer. When Kirby is indoors, she enjoys tea, whisky, old films, cooking, and baking. Her product testing and feedback have shaped the design of everything from climbing shoes to candles.
GearHungry may earn a small commission from affiliate links in this article.
Learn more
You're driving along, minding your own business when you hear that dreaded, thud, thud, thud. You know that sound and you know it means trouble. Or, you've hit a curb and you hear the whooshing sound as you get out of the car. Maybe your light comes on on your dash. You've got a flat tire.
Let's face it, flat tires never happen at a convenient time. They usually happen when you're running late for an appointment or you're driving along a less frequented road in the middle of the night. Sure, you've probably got a spare tire and a jack in your car, but time is of the essence and you want to be on your way fast.
That's when a tire inflator can be your best friend. These marvels work fast at getting your tire back into a drivable shape. Of course, the effect may not be long-lasting, but at least you should be able to get to where you need to be and you can then take care of the tire in a more commendable manner. The best tire inflators are easy to use and should have you on your way again in a matter of minutes. We've put together a selection of tire inflators to get you driving again.
It is worth noting that even the best portable tire inflators can't fix some tire damage, so it's up to you to use your best discretion in the moment if it's a slow leak that is fixable with a little air or if you need to put on the spare.
The Best Tire Inflator
EPAuto 12V DC Portable Digital Tire Inflator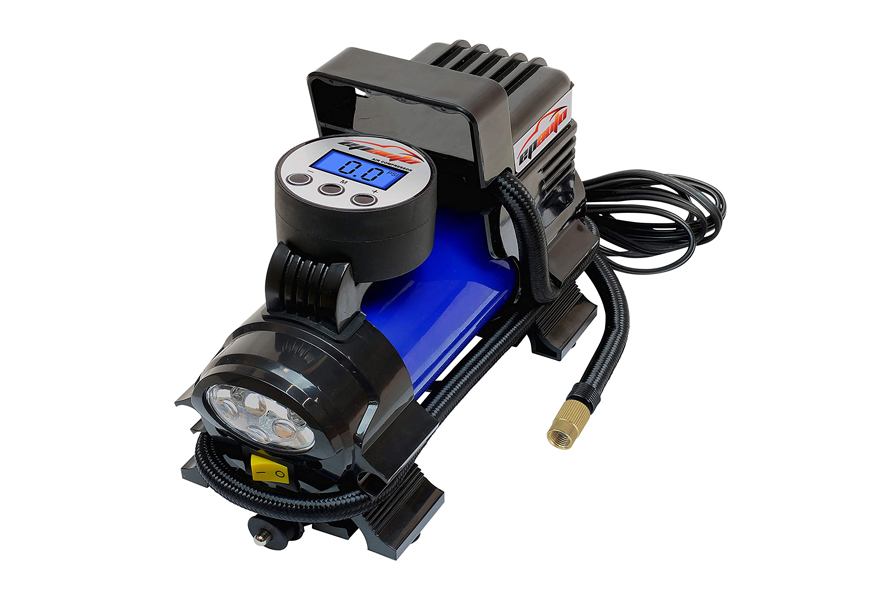 Never let yourself be stranded at the side of the road again with this EPAuto 12V DC Portable Air Compressor Pump. To use this portable compressor, plug it into your car's cigarette lighter socket and you're ready to go. It includes all the adapters you need to inflate car tires, bicycle tires as well as basketballs or other sports balls. It features a handy digital pressure gauge that indicates PSI, KPA, BAR & KG/CM and also includes an LED flashlight, making it excellent for use at night and the best emergency tire inflator. For additional safety, there is an automatic shutoff once the desired pressure is reached This is a must-have for your car in any situation.
Key Features:
12V-DC lighter socket plug
Four different display units
Auto shutoff feature when desired tire pressure is reached
LED flashlight
Specification:
Brand

EPAuto

Model

AT-010-1Z

Weight

1 Pound
Super-easy to use, plus quite versatile
Inflate anything from tires to basketballs and more
Includes additional adapters for balls, bicycles, etc.
Not suitable for heavy trucks
FORTEM Digital Tire Inflator for Car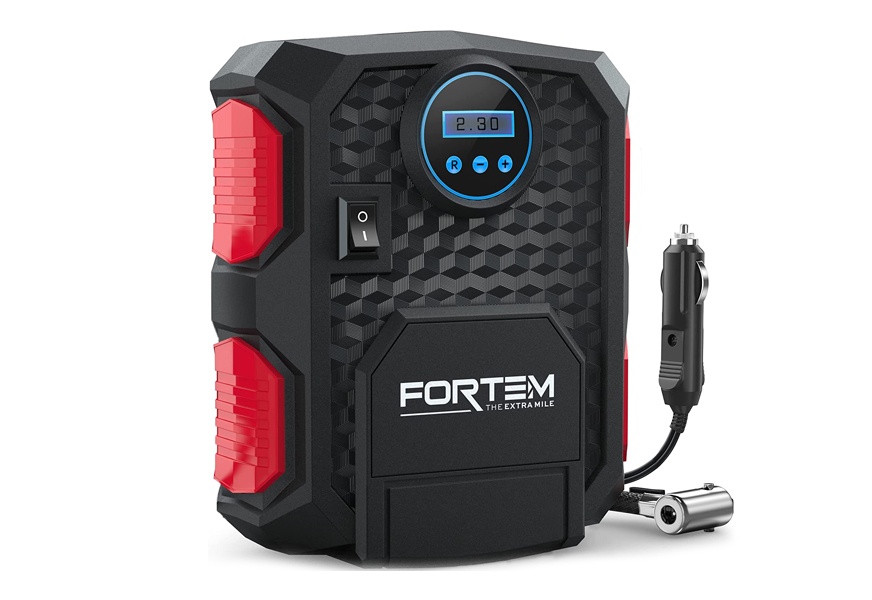 This FORTEM Digital Tire Inflator is just as important to keep in your car as a first aid kit because it almost literally is a first aid kit for your car. A flat tire can happen anywhere at any time and with a portable tire inflator like this one, you'll be able to get moving again fast. The convenient, compact design and large, easy to read digital display will tell you exactly how much air you need to pump into your tires. The extra-long power cord length will easily reach any of your tires and quickly inflate them enough for you to get back on the road quickly. For more useful tools to have in your vehicle, check out our selection of the best timing lights.
Key Features:
DC-12V cigarette lighter power outlet
In-built LED flashlight for night-time operation
Multi-functional, with three nozzle attachments
This device doesn't need an external power source
Specification:
Brand

FORTEM

Model

FRTM-DAC

Weight

1.9 Pounds
Simple to use and quick inflating
Multi-purpose, great for car, truck, sports balls, air mattress, etc.
Compatible with all vehicles with a DC-12V power output
Avid Power Tire Inflator Air Compressor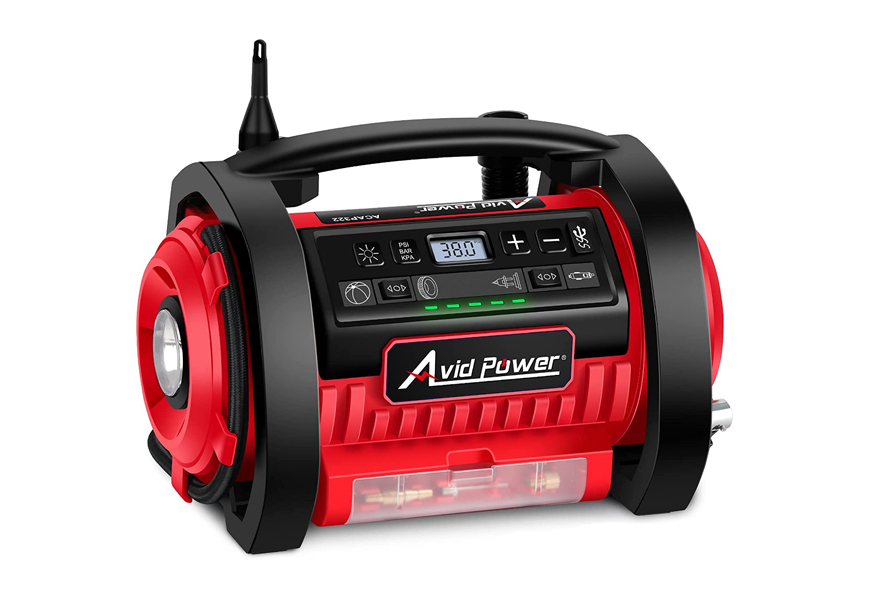 Deal with that flat tire quickly and efficiently with this Avid Power Tire Inflator Air Compressor. Aside from your vehicle, this portable air compressor can be used on sports equipment, for low tire pressure, motor cycle tires, and even air mattresses when you have overnight guests. This tool can be powered via the cigarette lighter port on your car or via a standard wall socket. You can also deflate with this model making it great for camping and making it more versatile. It features an easy-to-read digital tire pressure gauge and tire pressure monitoring system and multiple nozzles for various uses. Our guide to the top tire changers features more must-have products for your vehicle.
Key Features:
12V DC / 120V AC Power Supply
LCD digital display for working in the night
Dual-metal motors that pump air faster
Automatically shuts down once desired PSI for the tire is reached
Specification:
Brand

Avid Power

Model

ACAP322

Weight

5.75 Pounds
Power via wall socket or cigarette lighter
Quickly inflates and deflates
Versatile; great for anything from car and bike tires to air mattresses
Kensun Portable Tire Inflator for Car 12V DC and Home 110V
The dual solid metal motors of this Kensun Portable Air Compressor Pump provide you with fast, efficient inflation and maximum pressure whether you need to take care of low tire pressure in your car's tire, motorcycle tire, or bike tire. It has AC/DC cords so you can use it in the home or keep it in your car for emergencies. There are also adapters for sports balls, bike tires, motorcycle tires and other inflatables. It features a classic easy-to-read tire pressure gauge so you can ensure that you have the proper pressure at all times and for all your needs. Bear in mind that if you have a Presta tire valve, you might need an adapter. You can keep this handy device in your car and get another one for your home or camping gear.
Key Features:
Home (110V) and Car (12V) power
Dual-metal motors
Large and bright pressure gauge that's easy to see
Made with high-quality materials that last
Specification:
Brand

Kensun

Model

Kensun-EHRComp-A58B

Weight

5 Pounds
Easy to read analog pressure gauge
Multipurpose for use at home, camping or car
Superfast inflation
Inflation speed is on the slower side
VacLife Air Compressor Tire Inflator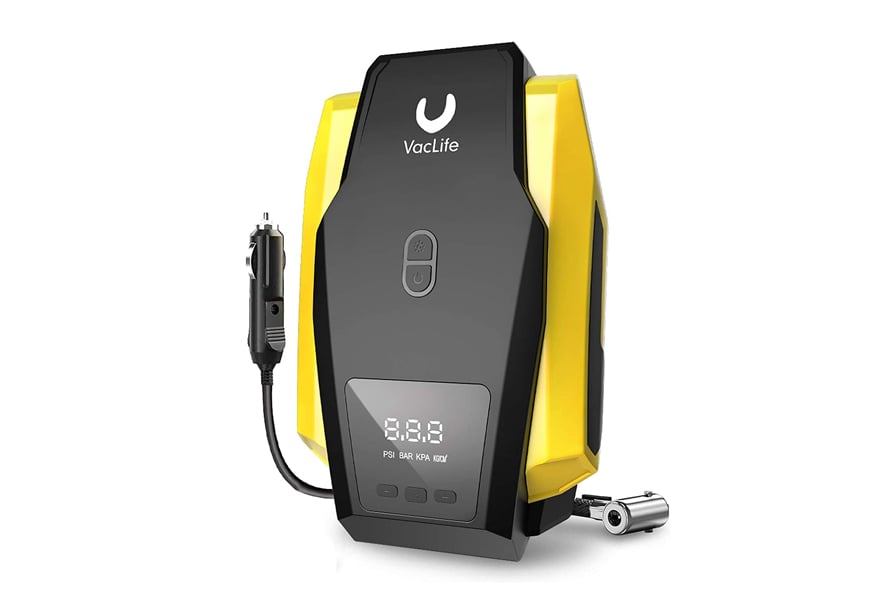 When you need to inflate a flat tire, you want to be able to do so fast. With this VacLife Air Compressor Tire Inflator, you can quickly plug it into your cigarette lighter socket and get back on the road. While being our most budget-friendly option, this is still one of the best portable tire inflators and is easy to use. The screen is large, allowing even those who can't read small print to see the accurate digital display and tire gauge. For safety, this model comes with an auto shut-off when the correct PSI or recommended tire pressure is reached. It also has an 11-foot power cord, enough hose length to reach each of your four tires with ease. This model can be used to inflate or deflate car, SUV, ATV and bike tires, but it's not suitable for larger truck tires. You may also be interested in some of the top-rated wheel and tire cleaners. Check them out.
Key Features:
DC 12V power supply
Large digital display
Auto shut off when correct PSI reached
3 additional nozzles for multiple uses
11-foot long power cord
Specification:
Brand

VacLife

Weight

2.41 Pounds
Easy to use
LED light for emergencies
Lightweight and compact
Not suitable for larger vehicles
TEROMAS Tire Inflator Air Compressor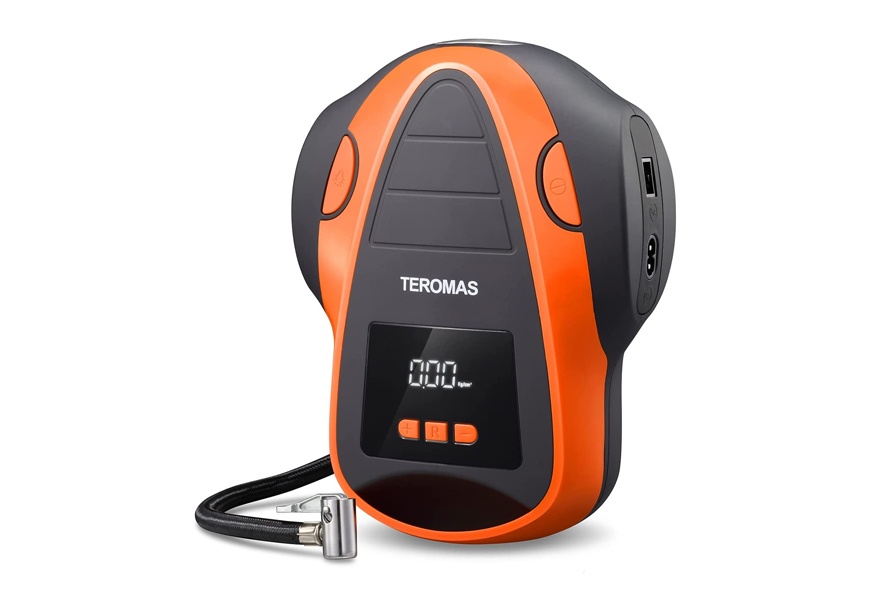 When it comes to simplicity and portability, the TEROMAS Tire Inflator Air Compressor is an absolute gem. You can plug it into your car's cigarette lighter or a wall plug in your home to inflate your car tires, sporting equipment, and air mattresses. It is not suitable for truck tires though. It features an auto-off function so you don't have to worry about over-inflating your tires ever again. It also has a digital display and an LED light making it perfect for nighttime emergencies. You'll love the portable design that also comes with a carrying bag for added convenience. Be sure to also check out our guide to the most popular car battery testers for more quality products for your car.
Key Features:
110/12V for home and car use
Up to 150 PSI
Auto-off function
Digital display and LED lighting
Portable design with carrying bag
Specification:
Brand

TEROMAS

Weight

2.4 Pounds
Set of additional nozzles included for versatility
Fast inflating
Lightweight and portable
Not suitable for truck tires
Short AC power cord
Helteko Portable Air Compressor Pump 150PSI 12V
If you're hard on gear, then the Helteko Portable Air Compressor Pump is the best-rated tire inflator for you. This model has a durable ABS plastic and stainless steel construction, so you can rest assured a little bump or drop won't change the fact that it has been built to last. It also has an auto shut off to minimize the risk of over-inflating your tires or paddle board and create too much air pressure. The fast, snap-on connector and quick inflation will have you on your way again quickly and the digital LCD display and emergency LED light will be a source of comfort and security for nighttime emergencies and be easier to use than the gas station air hose. This model also comes with additional nozzles that are great for other inflatables so never leave on a camping trip without this tire inflator. You may also be interested in some of the top-quality power inverters for cars from our list, so be sure to check them out.
Key Features:
12 Volt DC
Made from durable ABS plastic and stainless steel
Auto shut off & fast inflating speed
Fast, snap-on connector
Digital LCD display & emergency LED light
Display Unit: PSI, KPA, BAR, KG / CM²
Specification:
Brand

Helteko

Model

4336329793

Weight

2.58 Pounds
Sturdy and easy to use
3 additional nozzles for multi-purpose use
Includes convenient storage bag
Not suitable for truck tires
WindGallop Portable Air Compressor Tire Inflator Air Pump for Car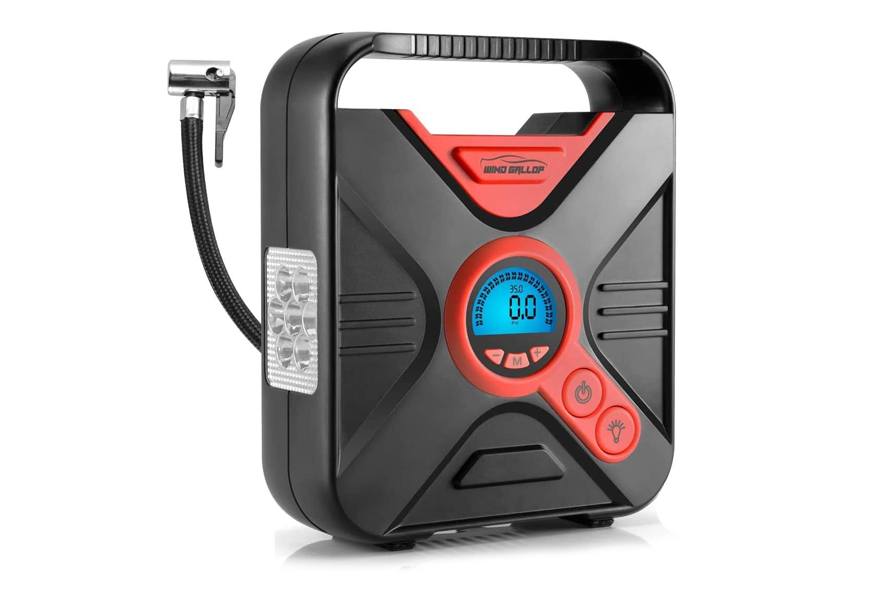 This easy-to-carry and use portable air compressor is a must for those who are out on the road. The WindGallop Portable Air Compressor Tire Inflator is fast, with excellent inflation speed, and easy to use with a digital LED display screen and an accurate pressure valve. You can preset your PSI and with auto shut off, the portable compressor will stop when your tire is at the desired air pressure. It also has a high-speed cooling feature to prolong the life of your tire inflator and to get it ready to roll again quickly. Keep this in your car when you go camping, hiking or just find yourself driving at night. For more essential products for your car, check out our selection of the best-rated tire repair kits.
Key Features:
12V power outlet
Digital LED display screen
Accurate pressure valve
Long-lasting LED light
Preset PSI with auto shut off
Specification:
Brand

WindGallop

Weight

2.05 Pounds
Fast and easy to use
High-speed cooling for prolonged product life
More powerful with less noise
Not suitable for larger vehicles
Why Trust Us
As a woman who travels alone in a van to very remote places for extreme sports like rock climbing, white water paddle boarding and skiing, having a tire inflator on hand is a no brainer. Not only can it help me with my inflatable gear, but it's also great when I'm alone somewhere in the middle of nowhere and need to fix a flat. It gives me peace of mind to travel solo and worry less about tire pressure and flats.
Who This Is For
This guide is for anyone looking for a reliable tire inflator for their car, truck, bike or motorcycle. The best tire inflators are versatile, durable, easy to use and offer an easy fix to low tire pressure.
How We Picked
When curating a guide to the best tire inflators, we looked at the best selling options for cars, sports equipment, and more. We focused on the tire side of things, but many of the products in our guide are versatile enough to offer excellent inflation speed and offer maximum pressure for a variety of items. Before we included products, we read hundreds of reviews, then crafted our own tire inflator review for each and every product.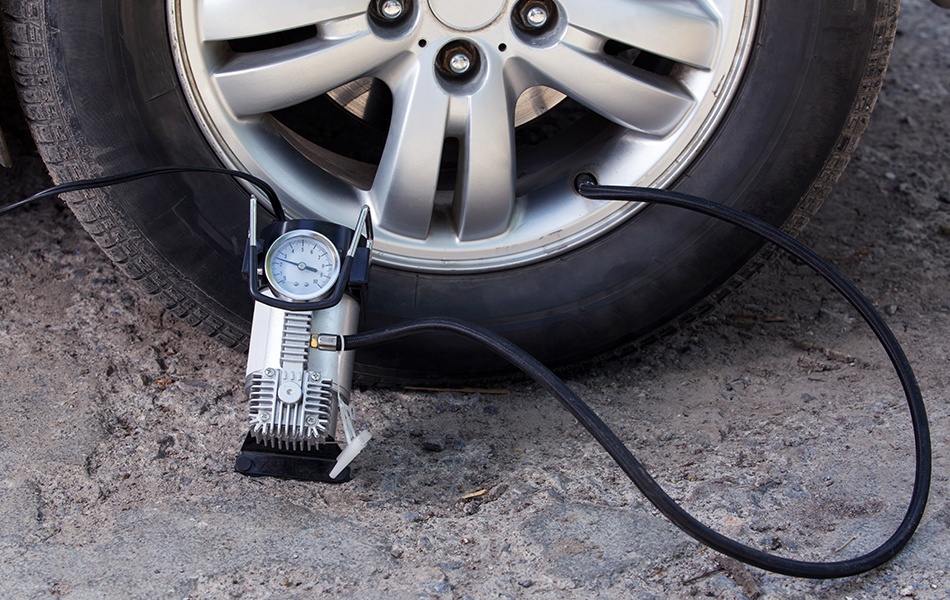 Features To Look For In Tire Inflators
There are a number of features that are similar in all tire inflators, however, some also have features that may be of more benefit to you if you need a multi-faceted device. Some of the more important features to look for in the best tire inflators include:
Portability – Your tire inflator should be as mobile as you are, so portability is a must. Look for a tire inflator that is light enough to take with you anywhere, yet compact enough to take a minimal amount of space in the storage compartment of your car. Portability is also a key feature if you plan on using the tire inflator for more than just inflating tires. Sports enthusiasts will find them handy to inflate basketballs, footballs, etc. Dads and moms with kids playing sport will find a portable tire inflator a major convenience for training or game day. If you've ever tried to inflate an air mattress you know how much fun it is not. A portable tire inflator will be a great emergency device for a flat tire, but also invaluable for campers and those involved in sports.
Max PSI – Before you consider choosing a tire inflator you need to understand how PSI works. PSI stands for "pounds per square inch" and it refers to the pressure in your tires. Most passenger cars' tires range from 30 – 40 PSI and obviously, the larger the vehicle and tires, the more PSI. Aim to have a tire inflator with a maximum PSI of about 50 so that you can use it for a variety of tires and other applications. Keep in mind though that just because your tires may have a Max PSI of 40, doesn't mean you should inflate your tires to that level. When you over-inflate tires, less of their surface area is on the road which is not desirable. Check your car's specifications for the best PSI for the types of tires on your car. Many tire inflators will boast a Max PSI of over 100, but you will rarely need to go this high, especially with a normal passenger car.
Analog/digital – The gauge of a tire inflator is one of the most important features as it indicates the pressure in your tires as you are inflating them. While an analog gauge is simple and easy to read, some people prefer a digital gauge. Both are accurate but digital gauges offer more information. There is a benefit to choosing a digital tire inflator and that is that many of them have an auto-shutoff feature. This eliminates the need to keep your eye on the gauge as you can preset the PSI you want for your tires and the tire inflator will automatically turn itself off when the desired PSI is reached.
Temperature limiter – We all know tires are made of rubber and that this material reacts differently depending on the temperature. This also means it may be difficult to inflate your tires, even with an accurate PSI gauge. The ambient temperature can give you a different reading so a good tire inflator should also have a temperature limiter. This feature is able to take the ambient temperature into account to determine the best optimal PSI for your tires.
Cool down – Inflating tires can take a strain on the motor of many tire inflators and with some you may need to play the waiting game. The motor of the tire inflator may become quite hot and this means you will need to wait for it to cool down before you use it again. If your tire inflator has its own built-in cool-down feature, this will only take a few minutes. Otherwise, you could be in for a long wait between uses. This may be quite considerable if you live in a hot region. Some tire inflators have a short working cycle before they need to be cooled, while others can operate for a considerable length of time before needing a break. Check for both single operating time and cooling down period before choosing the right tire inflator for yourself.
Inflate time – Anyone who has experienced a flat tire will tell you that they always seem to happen when you have the least amount of time to deal with them. Imagine running late for work or an important meeting and being greeted with a flat tire. Or you're on your way and you suddenly realize you have a flat. This can be monumentally frustrating. Some tire inflators work faster than others so if you're one of those people who is always rushing around, you want your tire in drivable condition fast. Check the specifications for the inflate time so you know how long the tire inflator will take to get you moving again.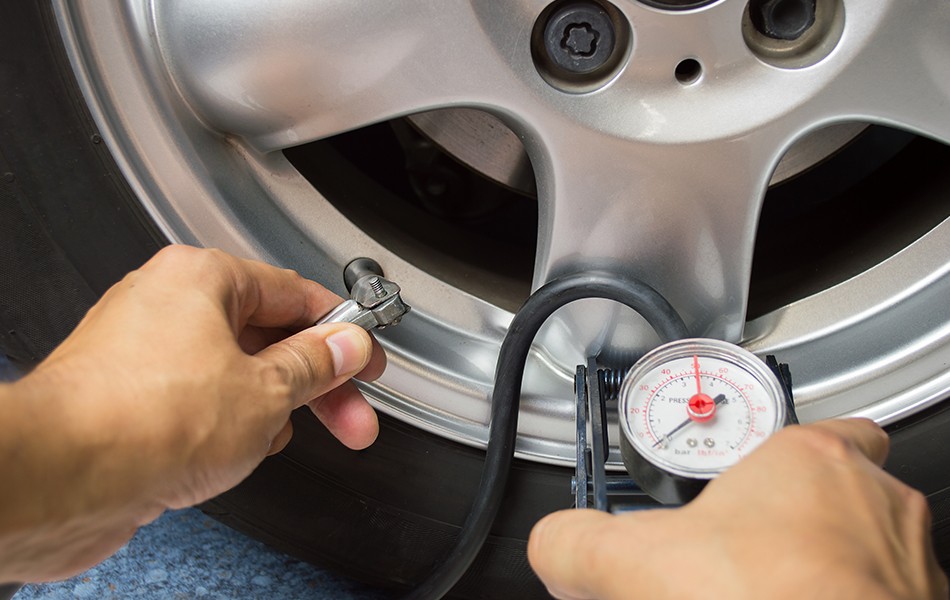 Tire Inflator FAQ
Q: How do I find the PSI of my tires?
A: The most obvious place to find the PSI of your tires is in the owner's manual. However, most people tend to keep these in a drawer in their homes and tend to throw them out when they sell their cars. This often means when you buy a used car, it may not come with an owner's manual. The next best place to look is in the door jam of your car, under the hood, or on the door of the fuel tank. You'll find a good deal of information and specifications about your car and the PSI is one of them. Of course, you can also always turn to Google!
Q: How do I check the PSI of my tires?
A: Checking the PSI of your tires is relatively easy, especially if you have a tire inflator with you. The first thing you need to do is find the recommended PSI of your tires. The average range for sedans would be a PSI of 27 to 32. Once you have that information, remove the cap from the valve of your tire and expose your tire's valve stem. You will then place the air pressure gauge over the valve, making sure it fits snugly over the valve. Most tire inflators double as gauges so you will be able to inflate or deflate your tires to achieve the optimal PSI. Once you've checked the PSI of your tires, replace the valve cap.
Q: How do I inflate my tires safely?
A: Before you do anything with your car tires, make sure you are safe. If you need to inflate your tires on a road, make sure your car is not obstructing traffic. Move as far to the side of the road as you can or turn into a side street with less traffic, if that's possible of course. A gas station, if available, is also another great place to stop. If you have a safety hazard triangle in your car, set it up some distance in front of your car so oncoming traffic can be alerted to a problem ahead.
Once you are certain you can inflate your tire safely, bring out your tire inflator and set it up as per the instruction manual. The first thing to do is to check the PSI of your tire. Preselect the desired PSI and following the instruction manual, start inflating your tire to the desired pressure. Once you are done, quickly and safely pack up your tire inflator and retrieve your safety hazard triangle (if you set it ahead of traffic). Return to your car and safely drive away.
Sources:
Tire Pressure And Tire Safety Tips - Safety Fact Sheet - Utah Safety Council
Sign Up Now
GET THE VERY BEST OF GEARHUNGRY STRAIGHT TO YOUR INBOX