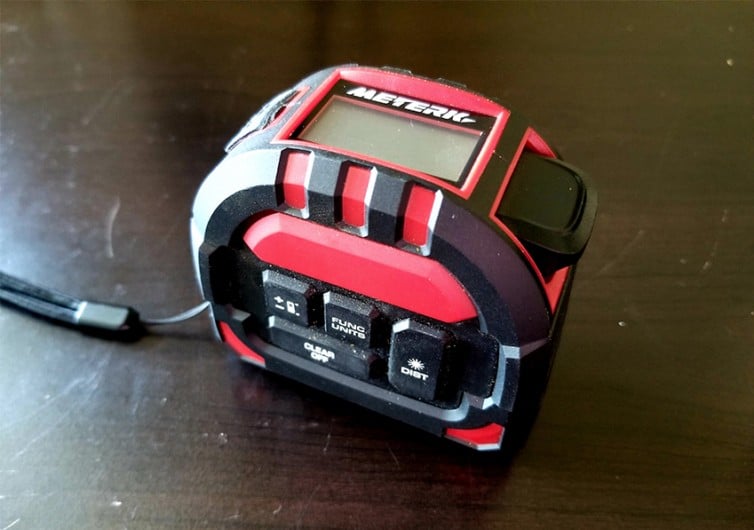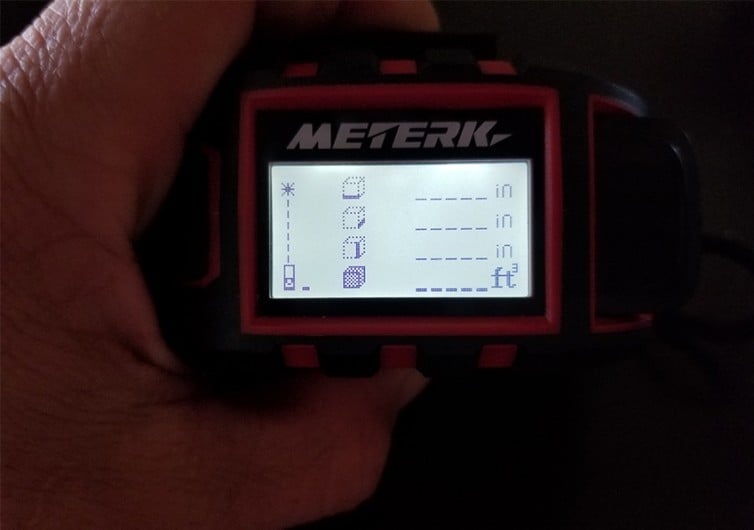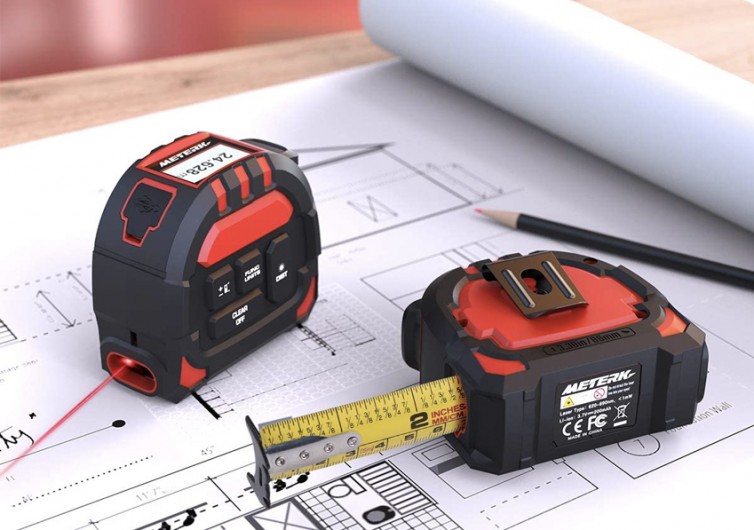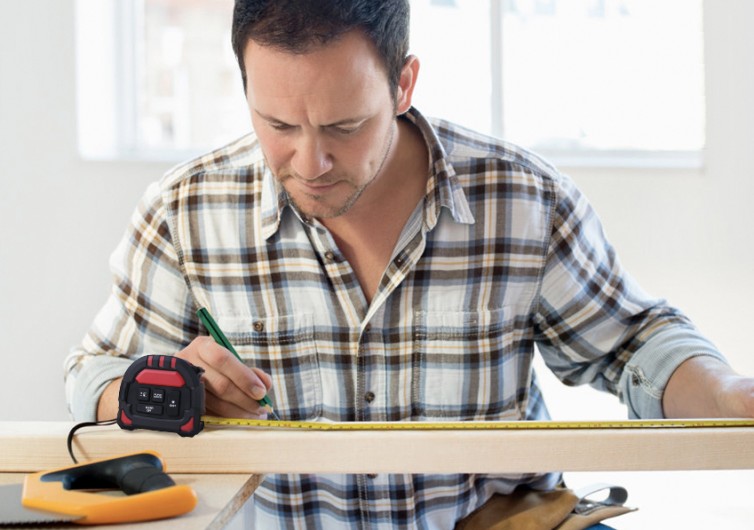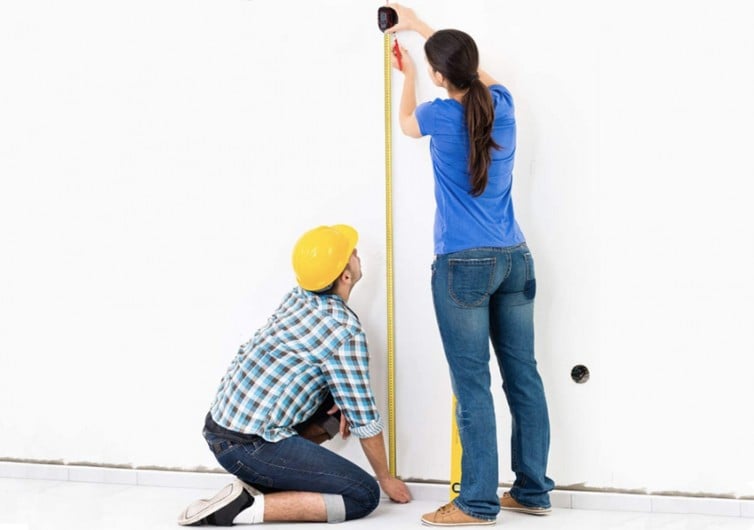 GearHungry may earn a small commission from affiliate links in this article.
Learn more
Not Quite Laser-Accurate: Meterk Laser Tape Measure
When this thing came across the Gear Hungry tool desk, I was a little incensed. My construction education was a lot more old-school than Meterk's auto-locking, laser-enabled tape measure. The laser concept is interesting and appears to solve the problem of extending a tape measure across a long span. Still, my immediate instinct was, "this thing is useless."
After a few tests, it turned out I was pretty much right. Sometimes, there's just no need to improve upon a design that already works. In this case, Meterk missed some of the basics that make a good tape measure (laser tech or no). Read on for a tape measure review in which I 1) critique an inadequate product and 2) try to resist sounding like one of those "get off my lawn" guys.
Meterk Laser Tape Measure Concept
The Meterk laser tape measure introduces a laser for measuring spans. The feature means that the user does not have to physically extend a tape. In a lot of ways, that's a useful concept: extending a tape measure horizontally to, say, 10 or 12 feet across an open span takes skill and practice. Sometimes, the tape will curl or flop over, and you'll be forced to rewind it and start over.
Meterk's laser method could solve the issue, but it's not executed well. Here's why:
The laser is mounted so close to the base of the tool that I usually had to put it on top of something to give it a clear shot.
For some reason, it measures to the back of the tape measure. But to where at the back of the tape measure? For any measurement, there should be a distinct "0" line. But the Meterk doesn't have one for the laser mode.
The red dot disappears as soon as you hit the button that makes it read.
Final result: given all of the above, you're left with a tape measure on the top of a random spacer that gives a distance between two unknown points.
Several built-in modes are supposed to help calculate square feet, etc. But the Meterk comes with no instructions. Perusing the company's marketing material, it becomes extremely likely that any instructions would be incomprehensible to an English speaker.
When I realized that I could make the same calculations a lot more easily with my trusty 25' Stanley Powerlock and either my phone or some scratch paper, I gave up.
Auto-Locking Tape Measure
The 16-foot auto-locking tape measure was more robust than many I've used; it stood out pretty rigidly to 8 feet.
The blade has a standard and metric scale. I don't like tapes with different scales or markings side by side because I like to use both sides of the blade as needed — therefore, being on two different scales can be confusing. As usual, 16-inch increments are marked in red. 19.2-inch increments are marked for engineered trusses.
The blade auto-locks. Personally, I'm not too fond of the auto-lock feature, nor any auto lock on any tape measure. To me, they waste time and necessitate micro-movements. If I'm measuring one thing after another, it's a lot easier if the tape measure rolls itself back up — there's no reason I should have to do it myself.
How It Measures Up: Review Conclusion
As I said, I got a little self-righteous when I took the Meterk laser tape measure out of the box. And you know what? I'm gonna stay that way because this tool doesn't do it for me. Especially not for a staggering $50 MSRP. Maybe it would be worth that kind of coin to some people if the laser feature were easier to use and more accurate.
As is, Meterk's only definite positive attribute is the rigidity of the tape measure blade. The laser function, digital features, and manual tape measure markings are all more confusing than helpful.