Hot Rock: The Best Stone Frying Pans in 2022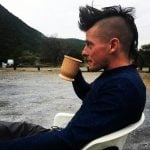 This product guide was written by Sam Anderson
Last Updated
September 23, 2019
Sam Anderson
Sam Anderson has followed a passion for well-told stories and nature's beauty from university classrooms to mountain adventures. After earning a bachelor's degree in literature, he leaned into a life fueled by road tripping, rock climbing, coffee and beer, and renegade camping. He has worked as a chainsaw operator, house carpenter, and window cleaner, at one point running his own window cleaning business. He has finally settled with his girlfriend and small zoo in the western American desert, trading his tool belt for a keyboard.
GearHungry may earn a small commission from affiliate links in this article.
Learn more
I'll state my experience with stone frying pans honestly and without hyperbole: stone cookware has changed the course of my life forever. The experience is like being in a 12-step program for abusing Dupont products. With the best stone frying pans at my disposal, I no longer ignite and ingest harmful chemicals multiple times daily. And the feeling I get from non-toxic non-stick cooking is incredible; I never thought it would be possible to feel this good without using PFOA and PTFE every day, but here I am.
Feel free to follow my journey here, in GearHungry's guide to the best stone frying pans. If you're feeling a little apprehensive about making a change in your own life, I get it — the urge to continue using non-stick coatings can feel overpowering. Let's be honest, it's validating; you put the food in the pan, you light the burner, and you surrender to the sublime bliss of a feckless surface.
But what about your body? Is inhaling and eating Teflon really all that you were born to do? And what about your higher purpose, your soul? Does it somehow feel like there just has to be something else out there? Or that non-stick cooking has bigger things in store for you?
What if I told you that it did? And what if I told you that all you had to do to find out what they were was to reach out your hand and grab the handle of a stone frying pan?
My name is Sam, and I've been Teflon-free for 4 months. This is my stoneware story.
The Best Stone Frying Pan
Ozeri 10 Inch Stone Earth Stone Frying Pan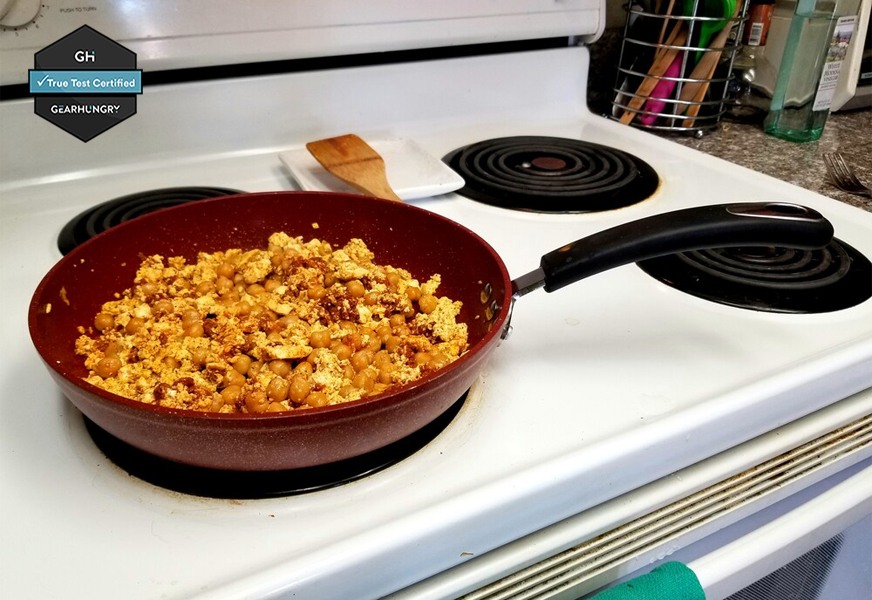 The 10" Ozeri Stone Earth was my first stone frying pan, and through its humble service, I saw the light. During testing, I found that it heated rapidly, cooked evenly, and proffered non-stickability that was impossible to complain about.
Ozeri uses a "natural stone-derived coating from Germany" to "achieve non-stick perfection" (source: extensive instruction manual). My attempts to substantiate the coating's derivation were fruitless; Ozeri appears to be protecting its trade secret. It does specify that the pan is free of PFOA, cadmium, lead, and "other harmful chemicals."
The iteration I tested has a soft-touch handle that's still oven safe to 180℃/356℉. Without the coated handle, it tolerates an oven as hot as 230℃/446℉. I used the 10" iteration; 8" and 12" (footlong?) sizes also exist. There's also a variety of colors. I used red clay, which I found softly pleasing.
But as soon as I used it, I didn't care about any of that anymore. Everything I cooked slid around effortlessly in this nonstick pan with little to no oil. It also didn't require as much heat as most of my other conventional pans, thanks to its magnetically conductive aluminum base. The base also heated fast and evenly.
Other than that, all I had to do was treat it right. The protocol is to not touch it with metal utensils or put it in the dishwasher (especially with any aggressive, caustic detergent — while we're at it, don't use that funk anyway). The pan stood up to daily use during a prolonged (several months) testing period.
Upshot/Tl;dr: I considered the Ozeri Stone Earth to be a solid everyday cooking option with wide utility. As tested, it heated quickly, cooked evenly, and cleaned very easily. Next to nothing stuck to it during testing, and minor burnt spots sloughed off under hot water and a cloth. I'd recommend my experience to anyone who eats — no schtick. Read the in-depth review here.
Key Features:
Stone-derived coating from Germany
Aluminum magnetized base for induction stoves and rapid heating
Silicon-coated handle
Specification:
Brand

Ozeri

Model

ZP6-26

Weight

2.4 Pounds

Sizes

8", 10", 12"

Coating

"Stone-derived"

Induction Compatible

Yes
Durable non-stick coating (as tested)
Heats rapidly and evenly
Easy cleaning
Must exchange money for product
Carote Essential Woody Stone Frying Pan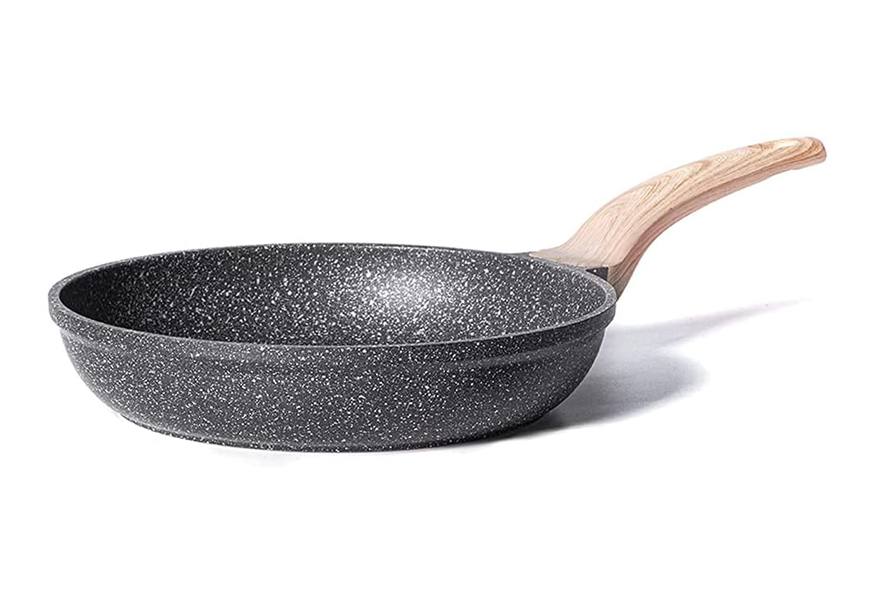 Carote Cookware makes its non-stick granite skillet stone frying pans in Switzerland. The Essential Woody has 5 layers of non-stick Swiss-made ILAG coating (a PTFE derivative). The coating is PFOA-free and with a cast aluminum core and base, it's suitable for induction stoves. And let's be honest; the name slaps.
The Woody's got a handsome Bakelite handle with a faux grain pattern. The ergonomic design increases user utility. 8", 9.5", 10", 11", and 12" entries are available. Finally, Carote backs up its cookware with an impressive 12-month warranty.
The company puts a lot of stock in the sustainability of its granite pans. Its website compares granite to cast iron skillets with percentages:
70% reduction in smoke & CO2 emissions
60% less oil
70% less water to clean
50% overall cooking time
50% less gas and electricity (due to heat conduction and retention).
Take that for what it is; it's marketing. But, based on our in-house tested experiences with other stone pans, it's likely you'll save on oil, cook time, energy costs and even water depending on your habits and techniques.
If you want the full Carote treatment, you can get the Essential Woody with a glass lid and a "Woody Turner" (turning spoon). And if you know the person who's naming these guys' products, please let us know. If they took my job, I would consider universal justice served.
If you're looking for a high-capacity stone frying pan, Carote's got you covered with the 6-qt. Essential Woody. Here's the link.
Key Features:
5-layer ILAG coating
Swiss made
Bakelite handle
Specification:
Brand

Carote

Model

TJ8128

Weight

1.81 Pounds

Sizes

8", 9.5", 10", 11", 12"

Coating

ILAG

Induction Compatible

Yes
Multiple sizes available
Swiss construction
Slayer product names
Michelangelo Granite Gray Stone Frying Pan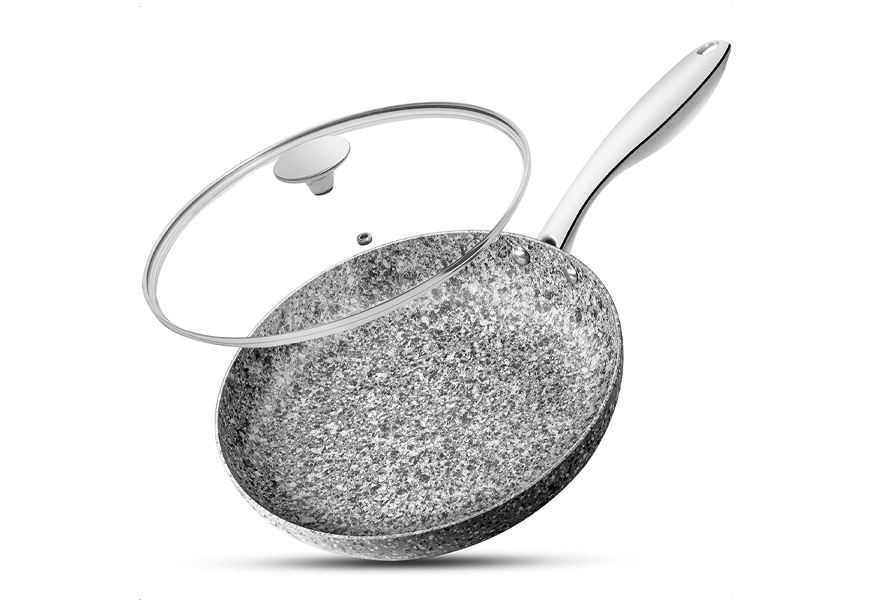 Michelangelo's Granite Gray stone frying pan is "ultra-nonstick and scratch resistant that enhances both durability and cooking performance. Food slides right off the truly nonstick surface for optimum cooking. No chipping, no peeling or flaking."
Awesome. How does it do all that? To start with the coating, it's PTFA, PFOA, lead and cadmium free. PTFA was a new one on me, so I looked to where else (?) the internet for guidance. What was this mystery substance? According to what else (?) Google, these are the top possible meanings for the acronym PTFA:
Parents, Teachers and Friends Association
Professional Track and Field Association
Part-Time Faculty Association (various locations)
Parque Tecnológico de Fuente Álamo
Prepare to Fight Again (US Army)
Portland Tackle Football Association, Inc (Portland, MI)
So, Michelangelo's non-stick coating includes none of those various organizations or creeds. I don't think it's accurate to assume that the brand was going for PTFE and made an oopsie; the brand website says PTF"A" exclusively.
Take that how you will. Also be advised that some users comment that it's lightweight — if it does have specifically lightweight construction, it should be gently heated and caringly treated. The majority of users seem satisfied based on a review cruise, but those who don't like it usually mention that it feels "cheap" or that the coating flakes off. As ever, take care of your tools and you give them the best chance to take care of you. For more quality cookware, check out our list of the best woks currently on the market.
Key Features:
Non-toxic "PTFA"-free coating
Granite gray color
Aluminum construction, metal handle
Specification:
Brand

Michelangelo

Weight

3.5 Pounds

Sizes

8", 10", 12"

Coating

PTFA, PFOA, lead and cadmium free

Induction Compatible

Yes
Oven-safe with metal handle
Some users find it lightweight (ergonomic)
Some users find it lightweight (fragile)
Stoneline Xtreme 10 Piece Set Stone Frying Pan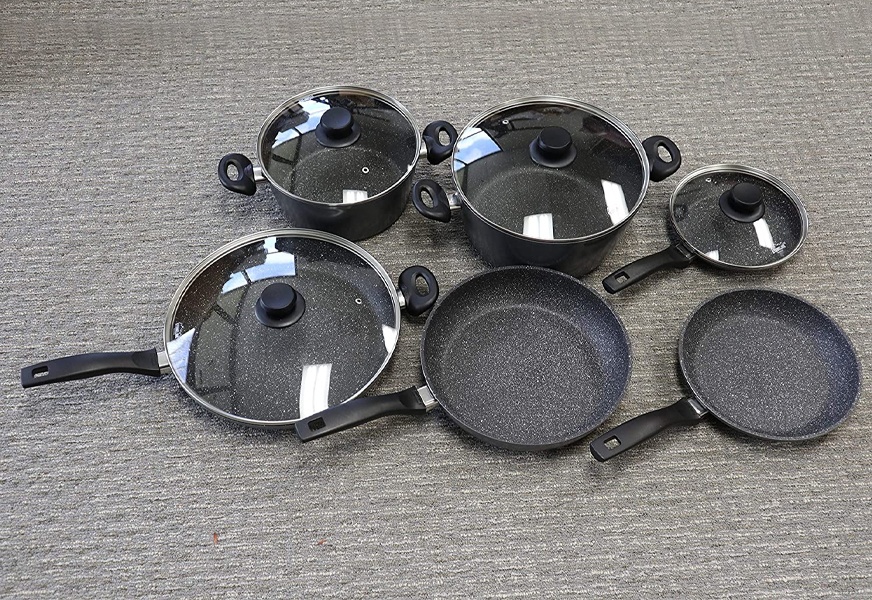 Have you ever wanted to heat up your frying pan by doing a burnout on it? Seriously: to heat your pan by doing the rear wheel of your racing-spec sports bike directly on top of it? What about picking it up immediately after that and cracking an egg onto its scalding, but still pristine, surface?
Your very bizarre dreams have come true: with help from Suzuki, Germany's Stoneline Xtreme does exactly that to its pans and catches it on video. We have to admit, we're not *100%* convinced the video didn't undergo some, er, retooling in post-production. But the music is awesome, and the concept implies a genius that's perhaps beyond description with the language currently available.
So sick. (So slick?)
On to facts more conventional. The German imported cookware won KitchenInnovation of the Year awards for Consumers' Choice from 2018-2020. Details are tough to pin down, perhaps due to a language barrier.
Other characteristics are typical for the category: non-toxic PFOA-free coating, low oil requirement, easy cleaning. And Stoneline is available in a wide variety of shapes, sizes, and collected assortments.
The real question is, can you actually fry an egg on the pan after heating it up by doing a burnout on it? If you try, please contact us, so we can film it, physically raise your fist with our hand as if in victory after physical combat and give you a case of beer.
Key Features:
Non-toxic coating
Awarded German brand
Insane promotional video
Specification:
Brand

Stoneline

Weight

27.5 Pounds

Sizes

Various

Coating

PFOA Free, Lead Free, Non-Toxic

Induction Compatible

Yes
German engineering
Absurd marketing
Available in single pieces or big kit
Granitestone 11 Inch Square Stone Frying Pan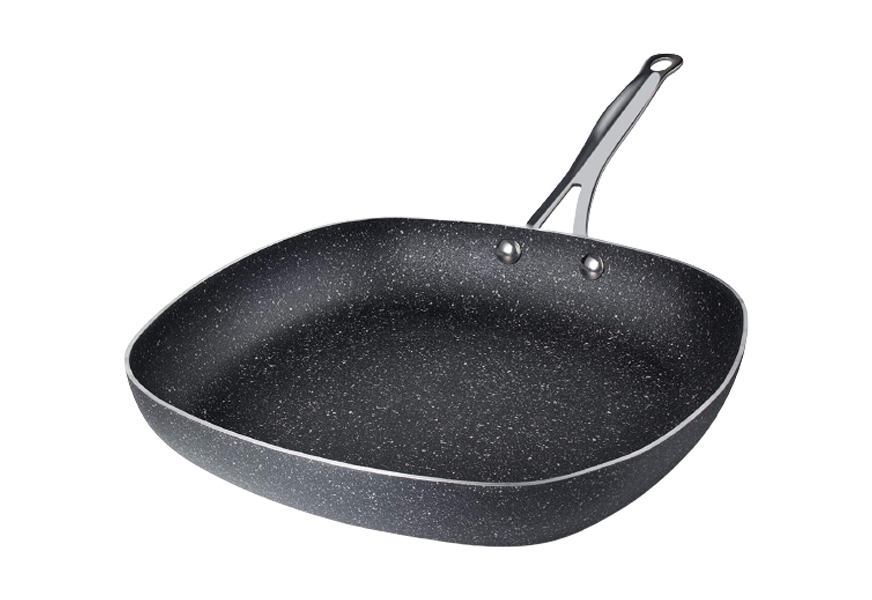 Granitestone brings its proven quality to a novel, flattened stone frying pan design in a square shape. It's got a pressed aluminum core and mineral-infused triple-layer coating. And with its metal handle, it's highly oven safe.
The aluminum core delivers high conductivity for quick and even heating. The coating is tough; the brand says it's infused with diamonds and titanium (whoa) and safe for use with metal utensils. It also gives the thumbs-up to dishwasher cleaning. Finally, the pan is oven safe up to a temperature I'd be uncomfortable baking at: a whopping 500°F/260°C.
The square design adds a little room to the pan, and its 1.5" depth should make it ideal for searing applications or making pancakes. The only real drawback we can identify is that the brand doesn't make any claims toward non-toxicity. Nowhere does the pan claim to be PFOA-, lead-, cadmium-free or etc.
Granitestone makes many shapes and variants available; but our favorite is the 11" square shallow build, for its toughness and wide utility. Find more must-have kitchenware in our guide to the top electric skillets.
Key Features:
Square shape, flat design
Diamond and titanium coating
Oven safe to 500°F/260°C
Specification:
Brand

Granitestone

Weight

1.65 Pounds

Sizes

Various

Coating

Diamond and titanium-infused
Durable and dishwasher safe
Widely useful; square shape increases volume; flat design makes spatula work easy
No claims of non-toxicity
Stone Frying Pan Buying Guide
Why Trust Us
Trust adventure junkies to find good frying pans because we're often voracious, and therefore want to cook efficiently. I've met a lot of our ilk, and we're not particularly prone to taking meticulous time to prepare a meal — or to treat gear especially carefully. Therefore, we tend to always be on the lookout for cookware that will heat efficiently and absorb abuse. While we don't recommend treating your own cookware with reckless abandon, the best stone-coated pans have handled everything we've thrown at them. Note: only touch any stone frying pan with wooden or silicone utensils.
Who This is For
Stone coated frying pans make sense for anyone and everyone. It's a great alternative to Teflon or any PFAS-based non-stick coating because it's non-toxic. As well, many stoneware pots and pans heat quickly and are easy to clean. With stoneware, the better question is "who is this not for?" Answer: we haven't met them.
How We Tested
I use a frying pan literally every day. Yes — every. Single. Day. That may be hard for you to accept as fact; it was for me at first, too. But that's the reality for a lot of our review team, who either hoards their cash for adventure funds or lives in remote areas where dinner doesn't happen if they don't cook it.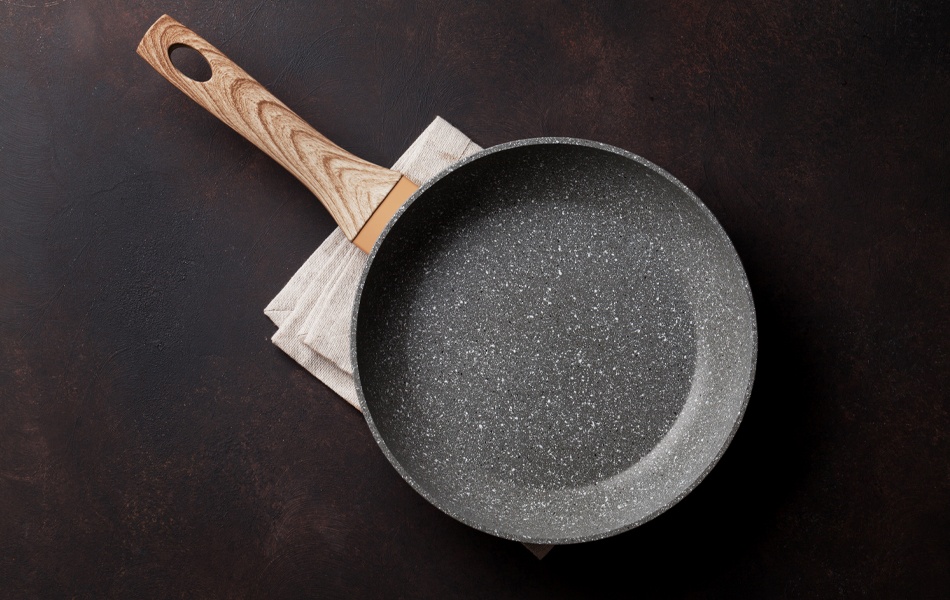 Features to Look for in Stone Frying Pans
Quality — Most stone cookware is comparatively pretty cheap, so how do you tell the good from the bad? Material thickness is the best indicator. If it's thin and lightweight, it might not retain heat very well.
Size — 6", 10", footlong — How big is your pan?
Coating —  A stone cooking pan is not just a rock. Stone cookware typically consists of an aluminum or steel core overlaid with porcelain enamel or a mineral-derived coating. Often referred to as "granite" because of its appearance, the coating is generally non-stick and has a reputation for easy cleaning.
Induction Compatible — If you have an induction range (read: flat glass stovetop), then you'll need a pan that's induction compatible. The induction cooktop's magnetism must react with your cookware, or else it won't transfer heat properly. Most cookware that is induction compatible makes it obvious.
Oven-safe Handles — Can you put your stone non-stick pan in the oven? Well, you can no matter what. But if you're planning on it, you should make sure it's a good idea first. Either that or get ready for, er...anomalous occurrences.
Chemical Composition — The main thing to watch out for is PTFE. PTFE is the chemical designation for Teflon, a Dupont product. PTFE is less toxic than PFOA, which has largely been phased out of cookware. The only real danger is melting PTFE, which takes a lot of heat — around 570℉.
Ease Of Use — Granite stone frying pans, in my tested experiences, are extremely easy to use. Mine required less heat than the typical frying pan, heated as fast or faster, and cleaned up very easily. Just use a wooden or plastic utensil and you're good to go.
Ease Of Cleaning — See above. Most porcelain ceramic coatings clean very easily unless chipped. A steel brush or scouring pad will scratch it though, so just use a sponge or rag.
Fast heat distribution — Stoneware fry pans tend to heat quickly. Some entries, like the tested Ozeri Stone Earth, have aluminum bases that distribute heat rapidly and evenly.
Durability — Don't use metal utensils with your stoneware skillet. Don't use metal utensils with your stoneware skillet. Don't use metal utensils with your stoneware skillet. Are we good? Also, don't clean it with a steel scouring pad. You will scratch it, and then you will be sad.
Versatility — You can cook anything in a stone frying pan that you could in any other pan. Potentially more if your stone cookware is oven safe.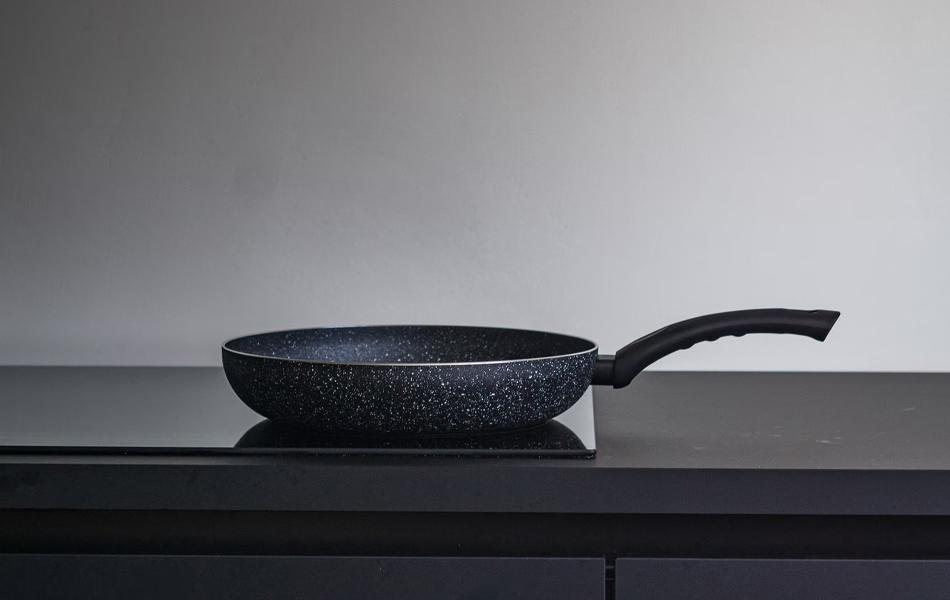 Stone Frying Pan FAQ
Q: What are stone frying pans?
A: "Stone" or "granite" cookware is often steel or aluminum coated with porcelain enamel. Some pans, such as the tested Ozeri Stone Earth, claim to actually derive their coatings from stone. Most are tight-lipped about the finer points of their manufacturing, but the key is that the category tends to eliminate harmful chemicals (PFOA, PTFE, etc.) common in non-stick cookware.  
Q: Are stone frying pans healthy?
A: As healthy as whatever you cook with 'em. Not only do they usually eliminate toxic chemicals like PFOA and PTFE, but they typically require very little oil or butter for cooking. The coating also resists degradation well, so it's unusual that it would leech into your food. As a result, what you cook is generally what you eat.
Q: How to use a stone frying pan?
A: Wield it threateningly at any home intruders, pursuing them while unleashing a fusillade of non-expletive verbal abuse, holding up your petticoats with the other hand.
If you're not a Norman Rockwell-esque homemaker from olden times, simply heat your pan (often to a slightly lower temperature than you might use with other cookware), put a couple drops of oil in it, and throw it down. It's pretty simple — unless someone interrupts you by snatching your pie from where it's cooling on the windowsill.
Q: Do Stone pans have Teflon?
A: Not usually. Look for information on PTFE — that's the general designation for Teflon, which is Dupont's product name for it.
Q: What's the difference with stone frying pans?
A: The difference is mostly a matter of non-toxic non-stick performance. Teflon, or PTFE, is not as toxic as PFOA, its predecessor, or broader category designation, but it's still not great. Stone pans facilitate non-sticky cooking without awkward chemicals.
Q: What are stone frying pans made of?
A: Pieces of the Rock of Gibraltar. No other rock, stone, or conglomerative substance on earth is suitable for stone frying pan construction. Notably, parts of the Rock that are underwater are not suitable for use in stone frying pans because they're too wet. Therefore, as sea levels rise, humanity will one day be forced to choose between stone frying pans and a visible Rock of Gibraltar.
Other sources claim that stone frying pans are made from steel or aluminum, coated with porcelain enamel.
This is America; you choose who to believe.
Q: Do you need to use a lid with a stone frying pan?
A: No more than you need to with any other cooking pan. If you tend to cook bacon shirtless, it's highly recommended. 
Q: How do you clean a stone frying pan?
A: Use water, a mild detergent, and a soft scrubber or cloth. No steel scouring pads; you'll scratch it and be sad.
Sources:
Cadmium Poisoning - ScienceDirect
Sign Up Now
GET THE VERY BEST OF GEARHUNGRY STRAIGHT TO YOUR INBOX