No Outdoor Space? No Problem! The Best Indoor Grills Of 2022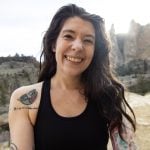 This product guide was written by Tuesday Kirby Kahl
Last Updated
February 28, 2022
Tuesday Kirby Kahl
Tuesday Kirby Kahl is a contributor at Gear Hungry. Her fierce love for the outdoors fuels everything she does. Her professional pursuits include writing, creating art, and photography. These professional passions allow her the time to live life outside as a rock climber, skier, runner, backpacker, paddle boarder, swimmer, and explorer. When Kirby is indoors, she enjoys tea, whisky, old films, cooking, and baking. Her product testing and feedback have shaped the design of everything from climbing shoes to candles.
GearHungry may earn a small commission from affiliate links in this article.
Learn more
Over the past 25 years or so, the indoor grill industry took off thanks to the engaging smile of a once formidable knockout artist named George Foreman. Since then, everyone has gotten into the act and there are now dozens of indoor grills vying for the attention of hungry consumers everywhere. Being hungry (Get it? Gear…Hungry) consumers ourselves we felt obligated to test as many of them as possible and the list below represents what we feel to be the best indoor grills.
Some folks like an indoor grill due to the convenience and flexibility of multi-functional appliances. However, those without outdoor spaces (like me!) can also benefit from indoor grills by being able to grill in the comfort of their home without all the smoke and hassle. Without further ado, here are some of the best indoor electric grill appliances that mimic the outdoor grilling experience and make mean steaks, crunchy grilled cheese sandwiches and paninis, delicious grilled veggies and fruits, and more!
The Best Indoor Grill
Ninja Foodi 5-in-1 Indoor Electric Grill
The Ninja Foodi 5-in-1 4-qt. Air Fryer is your one-stop when it comes to indoor grills and more. This contact grill also sears, bakes, sizzles, and air fry crisps, so you'll be spoiled for options. Inside this model, 500F air circulates around food when the Surround Searing feature kicks in. Simultaneously, a 500F high-density grill grate produces visually pleasant char-grill marks.
You best believe that the food that comes out is just as tasty as it is aesthetically pleasing: well-cooked on the inside and char-grilled on the outside. The latter can be credited to the Cyclonic Grilling Technology. Some people are wary of air frying because in some cases it is a far cry from the real deal. But according to hundreds of customer reviews we've read, this indoor grill offers authentic flavor, taste, and texture that will have you coming back for more. This option has the BTU cooking power of an outdoor grill and equally brings the flavor. It also has a defrost feature that should come in handy on more than one occasion. If you're looking for the best smokeless indoor grills, definitely check this model out. You may also like some of the best gas grills for your home, so check out our guide to the best ones on the market.
Key Features:
Multifunctional 5-in-in grill
Makes use of Surround Searing and Cyclonic Grilling tech
Comes with a defrost feature
75% less fat than deep-frying
Specification:
Brand

Ninja

Model

AG301

Weight

14.5 Pounds
Multi-functional grill sears, sizzles, bakes and crisps
Virtually smoke-free, so ideal for indoor grilling
Removable parts are dishwasher-safe so easy to clean
On the small side, so not ideal for families
Hamilton Beach 25361 Indoor Grill
If you're looking for outdoor grill quality and flavor with indoor grill convenience you can't go wrong with the Hamilton Beach 25361 Indoor Grill. This smokeless grill takes only minutes to set up and offers plenty of kitchen versatility.
This Hamilton Beach grill is the kind of appliance that makes us question how we got this far without it. The look is sleek and tight, the controls are simple and logical, featuring only a dial to turn. There's plenty of room for our favorite dishes on the 118-inch square grilling tray. The cooking space is dishwasher safe, and there's an extra-large drip tray, meaning everything cleans up in a few minutes. Our handy guide to the top BBQs features more great products like this.
Key Features:
Fitted with an adjustable temperature dial
Equipped with a 6 with 118 square-inch grilling surface
Comes with a window fixture on the hood
Specification:
Brand

Hamilton Beach

Model

25361

Weight

8.14 Pounds
Easy cleanup with removable drip tray and nonstick plate
Fully adjustable temperature controls for precise cooking
Dome lid is perfect for locking in the flavor of your favorite meats and other dishes
The nonstick plate might actually stick a little bit
Cuisinart GR-4N 5-In-1 Griddler Indoor Grill
The Cuisinart GR-4N is a pocket dynamo that can operate as a full grill, half grill, full griddle, half griddle, contact grill, or panini press thanks to the hinged top and swappable and removable plates. All the plates are dishwasher safe, keeping clean up easy. Whether you want to make a panini, grill salmon, or grill burgers for your next outdoor cookout, this indoor electric grill has you covered.
This is perhaps the best-looking indoor grill on the market and it works as well as it looks. The knobs boast all the controls you need to program your new electric indoor grill. The fact that the cooking surface isn't inclined is a bit of an annoyance for cleaning but nothing so severe that we wouldn't recommend this. Be sure to also check out our list of the most popular camping grills for more great items like this.
Key Features:
Works as a 5-in-1 countertop unit
Has a brushed stainless-steel exterior
Fitted with nonstick cooking plates
Comes with adjustable temperature controls
Specification:
Brand

Cuisinart

Model

GR-4N

Weight

14.9 Pounds
Removable and reversible cooking plates make for easy cleaning
Dual temperature controls allow for greater input on your part in the cooking process
High build quality, and clean, brushed stainless steel housing
We'd like to see a tilted cooking surface for easier cleanup
Cuisinart GR-300WS Elite Indoor Grill
Cuisinart hits a hamburger home run with the GR-300WS Elite Grill that will send your guests into a culinary frenzy. This device is much like the previous Cuisinart Griddler but with a few upgrades like an LCD screen, larger grill plates, and presets to make wowing your guests a breeze.
The Cuisinart GR300WS offers 6 cooking options: panini press, full griddle, half griddle, full grill, half grill, and top melt. We love the dual-zone temperature control as a time-saving convenience and the unit really does clean up in two shakes of a lamb's tail. This also makes a great food gift for foodies in your life.
Key Features:
LCD screen
Built-in presets
Six cooking options
Removable grill plates
Temperature controls
Specification:
Brand

Cuisinart

Model

GR-300WS

Weight

16.84 Pounds
Non-stick griddle plates are reversible and removable for maximum convenience
Set the temp on each side independently with the dual-zone control
6 cooking options on tap
One of the most expensive on our list
George Foreman GGR50B Indoor Grill
Straight from the king of indoor grilling himself, the George Foreman GGR50B Indoor Grill provides the feeling of a traditional grill and a large cooking surface that's perfect for pork chops, grilled chicken or grilled steak for your friends. Many indoor electric grills these days don't provide the true feeling of grilling. So if you're looking to capture that outdoor grilling experience and find a good reason to don your keds, cargo shorts and a polo shirt as you step into the grill master role, this is the best choice indoor grill for you.
This is a typically easy-to-use GF product that also produces typically delicious dishes whether you grill chicken, shrimp or sirloin. The sloped cooking surface pulls greasy residue away from your culinary creations and towards the drip tray so the final product is both delectable and heart-healthy. A single knob controls the temperature so using this is way easier than outdoor grills.
Key Features:
Adjustable temperature control with 5 settings
Drip tray for an easy cleanup
Lightweight construction, large cooking area
Indoor/outdoor grill with removable stand
Specification:
Brand

George Foreman

Model

GGR50B

Weight

7 Pounds
Cooking surface slopes forward to drain grease away from the food
Waist-high for maximum convenience; no stooping or stretching
Domed hood helps create convection currents that aid in cooking
Takes a while to cook a thick piece of meat
Many of even the best indoor grills can't quite deal with thick steaks and other slabs of meat, but the T-Fal GC702 stands up to the task with meat-focused programming and controls. The front of this indoor electric grill features six settings from which you can choose: burger, sandwich, red meat, sausage, poultry, and fish. There's also a colorful knob for selecting the doneness of your meat.
The T-Fal GC702 does a great job on thicker cuts of meat that other indoor grills can have a hard time with. This device drains away fat while you cook, from the grill plate into a drip tray. This might be a meat lover's dream but grilling vegetables and other items is still an option with manual mode when you so choose. If you buy this grill, make sure you have good meat cleavers handy cause you'll be grilling the meat all the time.
Key Features:
6 pre-programmed cooking settings
2 cook modes: frozen and manual
Automatic temperature adjustment based on meat thickness
Removable and dishwasher safe drip tray and grill plates
Specification:
Brand

T-Fal

Model

GC7

Weight

11.6 Pounds
Adapts to the thickness of the meat to ensure proper cooking
Audible beeps let you know your meat is done
Indicator light tells you when the grill is properly pre-heated
The display can be a little confusing
If you like to keep an eye on your chops while they're grilling to perfection, you'll love the Delonghi BG24 Perfecto. The clear top allows you to keep moisture locked in while keeping a close eye on your food. Temperature control on this electric grill is simple – a knob on the side quickly adjusts the heat.
The Delonghi Perfecto is a simple design with simple functions that does one thing very well: it cooks delicious grilled meat and other dishes. It has what we'd like to see in more indoor grills: a tempered glass lid so we can keep an eye on things without having to open the grill constantly. The only downside of this is that you only get grill marks on one side of your food. This is a perfect gift for men who love to BBQ.
Key Features:
Temperature control knob
Tempered glass lid
Removable drip tray
Specification:
Brand

Delonghi

Model

BG24

Weight

10.8 Pounds
Nice even distribution of heat for a nice evenly cooked piece of meat
Detachable thermostat allows you to keep a close eye on the state of your dish
Cooks a mean steak and grills delicious veggies
While removable, the grill plate and drip tray can be tough to clean as they're not dishwasher safe
It's a grill. It's a griddle. It's the Hamilton Beach Grill/Griddle combo! This is one of the best indoor grill and griddle combo options on the market and it will save you time while opening up culinary options you don't have with other grills.
While it's true the individual cooking surfaces are not huge, they're big enough to cook a variety of different dishes including steaks, chops, chicken breasts, omelets, pancakes, and a whole lot more. The ability to independently control the heat on the different sides is also a plus, as is the slightly tilted surface which makes everything flowing into the drip tray much easier. Here are some of the best-selling charcoal grills on the market. Be sure to check them out, as well.
Key Features:
Independent temperature controls
Reversible grill plates
Two cooking surfaces
3-in-1 cooking versatility
Specification:
Brand

Hamilton Beach

Model

38546

Weight

9 Pounds
Griddle, grill or griddle/grill combo – it's up to you
2 heat zones with independent temperature controls
Highly versatile, makes great sandwiches, quesadillas, steaks & more
The individual cooking surfaces are not all that big, so not ideal for families
Presto is a good name for this tabletop electric grill because it heats up in a hurry. We love how quickly this device is ready to rumble once you plug it in and turn up the dial. Even though the cooking space may be hot, the cool touch base stays nice and friendly to the touch providing you and your family additional safety.
We like the wide grill pan that provides you with more precious space when cooking. The entire cooking plate can be removed and popped into the dishwasher for easy cleaning after dinner. As a bonus, this griddle comes with a free spatula, because you can probably never have enough. For more amazing household appliances, be sure to browse our list of the top-rated panini presses.
Key Features:
Adjustable temperature via dial
Cool touch base
Dishwasher safe cooking surface
Removable drip tray
Free spatula
Specification:
Brand

Presto

Model

09020

Weight

5.5 Pounds
Easy to clean; just wipe the grill down a bit and pop it in the dishwasher
The base around the grill surface takes advantage of Presto's "cool touch" technology
Cooking surface is a generous 16 inches across to accommodate more food for more people
No lid so you have to cook one side of your food at a time
Why Trust Us
Having grown up in the south, I've spent a lot of time around a grill and eating things my dad and uncles cooked on them. When my dad moved to an apartment, he swapped to an indoor grill and griddle combo so that he could cook up steaks for dinner and pancakes for breakfast. He taught me the few things he knew about cooking food on that griddle. Now that I am an adult who cooks her own meals, I've learned even more about cooking and how to use various cooking implements to get your desired results, and indoor grills have become one of my favorite kitchen appliances.
Who This Is For
This guide is for anyone who needs an indoor grill. Many apartments and living situations may not allow you to have an outdoor space and thus traditional propane or charcoal grills. Others may want to avoid the fumes and smoke from a regular grill and want to explore smokeless indoor grills.
How We Picked
Selecting the best indoor grills was a combination of research and analyzing bestsellers - money talks y'all. We looked at Amazon and general bestsellers in the electric indoor grill world and read hundreds of reviews to ensure they were a good fit for this guide.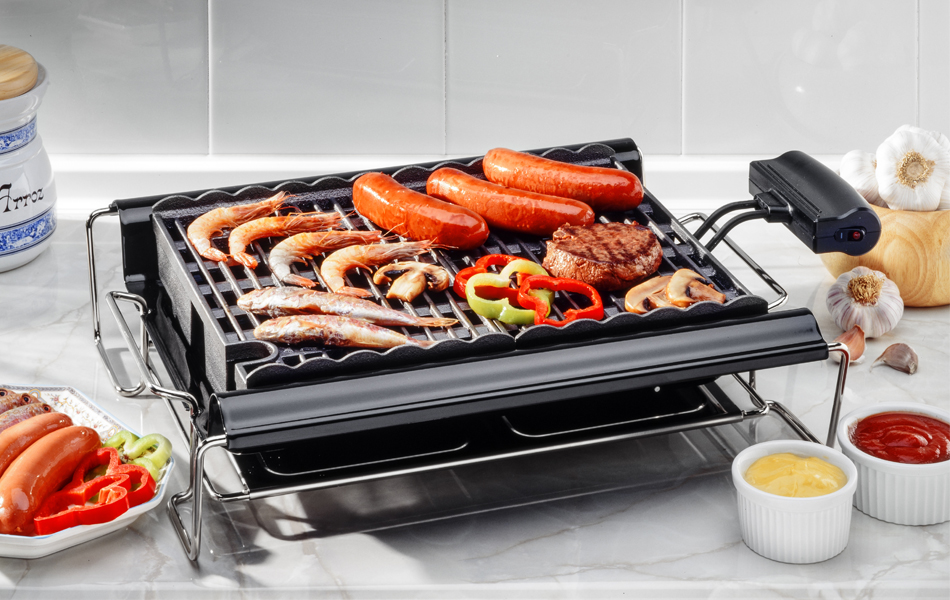 Features To Look For In Indoor Grills
Before you spend your hard-earned money on a new smokeless indoor grill look for the following things:
Temperature indicator – You need to know when the grill has reached the right cooking temperature and the best way to do that is with a temperature indicator: either a light or a beep. The more precise you can be with the temperature, the better control you have over the doneness of your meat.
Sufficient power – Each time you check on your food you let some heat escape. And electric grills can be slow to recover that heat if they're underpowered. Some options have a clear lid that eliminates this problem.
Inclined surface and drip pan – You want the fat that leaches from your food to drain away. So make sure your grill has an inclined cooking surface and a pan to catch the dripping fat. It's even better if that tray is easy to clean later.
Removable cooking surface and drip pan – It's also important that these elements are removable. If they're not, cleanup is going to be a hassle. Faster clean-up means more time with your family and friends after dinner. If you know clean-up will be a hassle, you're less likely to use your grill as often.
Max temperature of 600 degrees – No you don't technically need 600 degrees to cook meat but the higher your max settings the more useful your in-between settings will be. 500 degrees is usually the highest you'll want to be working with.
Size/capacity - A small grill can be ideal for a small kitchen and singular person, so we aren't knocking it! However, if you know you'll be coking for a few people, friends, or a large family, then you'll undoubtedly need a larger cooking area. Having space to cook everything in one go gets you back to spending quality time with your people faster.
Additional features - Most indoor electric grills on our list offer additional features like swappable grill pans that allow you to move from griddle to grill in a flash. Other models have presets that allow you to use less brainpower after a long day and some are even combo appliances like the Ninja Foodie, one of the best indoor grill and air fryer combos. These devices offer you the option to swap out multiple appliances for one, saving you valuable counter space in small kitchens.
Types Of Indoor Grills
Open grills - Grills that come with a lid or are without it are called open grills. The lid traps smoke and moisture resulting in a juicier piece of meat. On the plus side, this type of grill holds more food, plus it ends up juicier. On the other hand, it takes up more space, plus takes more time to cook food.
Contact grills - Contact grills have a floating lid. This option cooks food faster by cooking both sides at the same time. This type of grill also acts as a panini press, so it's quite versatile. Also, it takes up much less space than an open grill, making them ideal for small kitchens. But due to their compact size, you can cook less food in one session.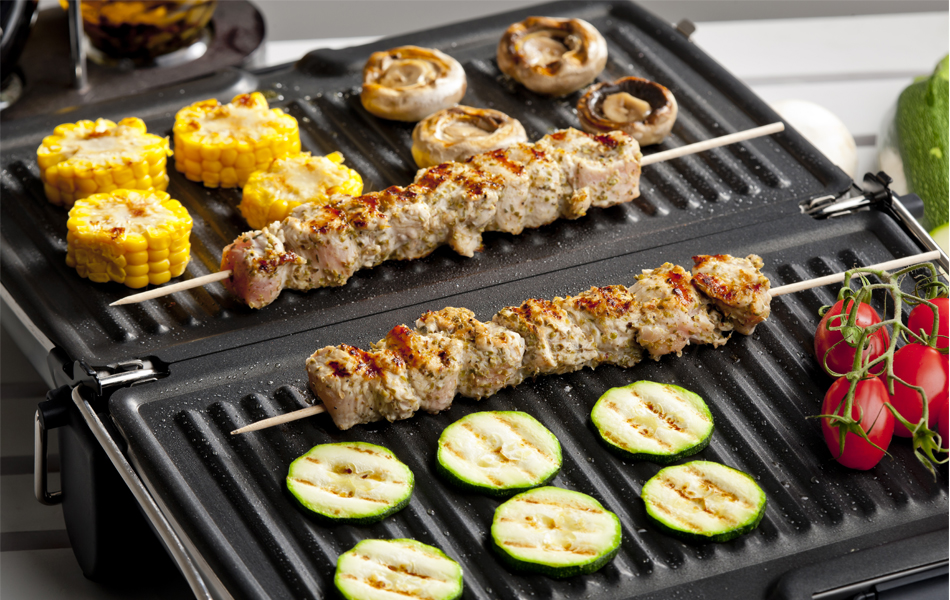 Indoor Grill FAQ
Q: Do you need a grill brush to clean an indoor grill?
A: Many times, you do not need a grill brush for indoor grills. Many grill pans from the models on our list can be tossed in the dishwasher for fast and efficient cleaning.
Q: Are cooking times different on indoor grills?
A: Oftentimes, yes, cooking times can vary from indoor grills to outdoor grills. This is due to how precisely you can control the temperature indoors and how variable the temperatures are on an outdoor grill. Cooing time can also change due to factors like how often you open the lid.
Q: Does the indoor grill produce smoke?
A: Cooking anything on a hot surface can and will produce smoke, but not the density you see with an outdoor grill. The smoke should be minimal and non-harmful. Speaking of safety, make sure you exercise basic precautions when using this, or any other electric appliances.
Q: How hard is it to clean an indoor grill?
A: Most indoor grills are easy to clean thanks to the fact that the grill pans are dishwasher safe. Give them a wipe down and pop them in the dishwasher and you're ready to roll again.
Sources:
How To Cook With An Indoor Grill - Taste Of Home
Electric Grill Safety - HPBA
Sign Up Now
GET THE VERY BEST OF GEARHUNGRY STRAIGHT TO YOUR INBOX