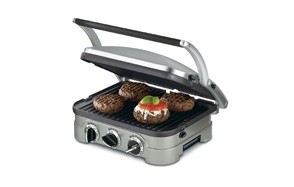 Cuisinart GR-4N 5-In-1 Griddler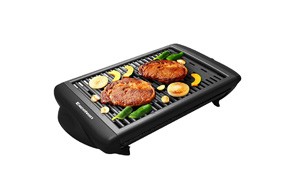 Excelvan Portable 1120W Electric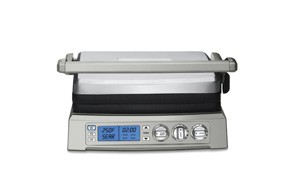 Cuisinart GR-300WS Elite
Over the past 25 years or so the indoor grill industry took off thanks to the engaging smile of a once formidable knockout artist named George Foreman. Since then everyone has gotten into the act and there are now dozens of indoor grills vying for the attention of hungry consumers everywhere. Being hungry consumers ourselves we felt obligated to test as many of them as possible and the list below represents what we feel to be the 10 best.
Top Rated Indoor Grills
See More Reviews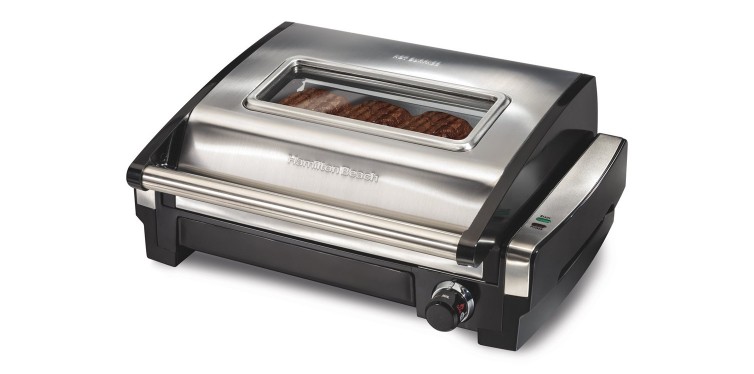 If you're looking for outdoor quality and flavor with indoor convenience you can't go wrong with this Hamilton Beach grill.
This Hamilton Beach grill is the kind of appliance that makes us question how we got along without it. The look is sleek and tight, the controls are simple and logical, there's plenty of room for our favorite dishes, they come out tasting incredible and everything cleans up in a few minutes.
Specification:
Brand

Hamilton Beach

Model

25361

Weight

8.14 pounds
Easy cleanup with removable drip tray and nonstick plate.
Fully adjustable temperature controls for precise cooking.
Dome lid is perfect for locking in the flavor of your favorite meats and other dishes.
Nonstick plate might actually stick a little bit.
2. Cuisinart GR-300WS Elite
See More Reviews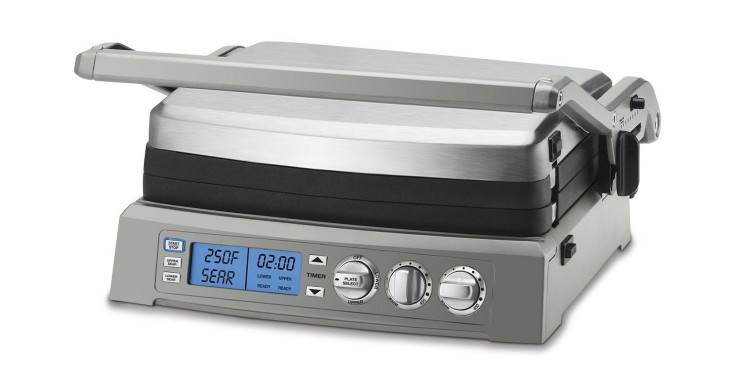 Cuisinart hits a hamburger homer with the GR-300WS Elite Grill that will send your guests into a culinary frenzy.
The Cuisinart GR300WS offers 6 cooking options: panini press, full griddle, half griddle, full grill, half grill and top melt. We love the dual zone temperature control as a time saving convenience and the unit really does clean up in two shakes of a lamb's tail.
Specification:
Brand

Cuisinart

Model

GR-300WS

Weight

16.84 pounds
Non-stick griddle plates are reversible and removable for maximum convenience.
Set the temp on each side independently with the dual zone control.
6 cooking options on tap.
One of the most expensive on our list.
See More Reviews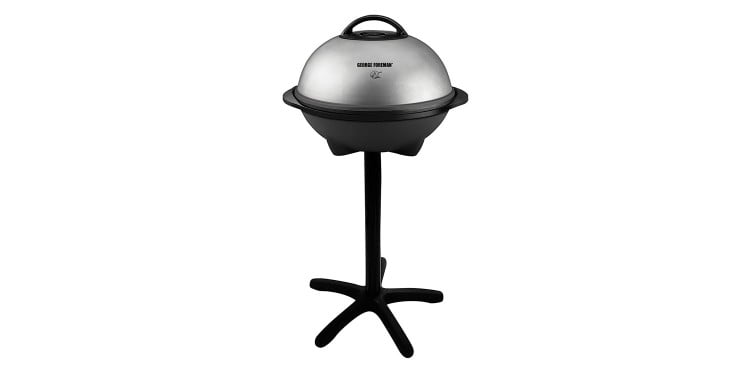 Set this grill up indoors or outdoors and enjoy the same incredible flavor with the same time-saving clean up.
A typically easy to use GF product that also produces typically delicious dishes whether you grill chicken, shrimp or sirloin. The sloped cooking surface pulls greasy residue away from your culinary creations sothe final product is both delectable and heart healthy.
Specification:
Brand

George Foreman

Model

GGR50B

Weight

21 pounds
Cooking surface slopes forward to drain grease away from the food.
Waist high for maximum convenience. No stooping or stretching.
Domed hood helps create convection currents that aid in cooking.
Takes a while to cook a thick piece of meat.
See More Reviews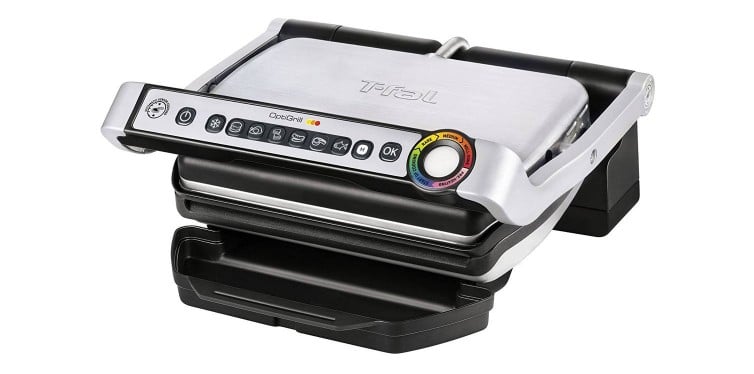 The T-Fal GC702 has its own 6 settings from which to choose: burger, sandwich, red meat, sausage, poultry and fish.
The T-Fal GC702 does a great job on thicker cuts of meat that other indoor grills have a hard time with. Beyond that it drains away fat while you cook, informs you when a cut of meat should be rare, medium or well done and has a manual mode for when you want to roast vegetables.
Specification:
Brand

T-fal

Weight

11.6 pounds
Adapts to the thickness of the meat to ensure proper cooking.
Audible beeps let you know your meat is done.
Indicator light tells you when the grill is properly pre-heated.
The display can be a little confusing.
5. Cuisinart GR-4N 5-In-1 Griddler
See More Reviews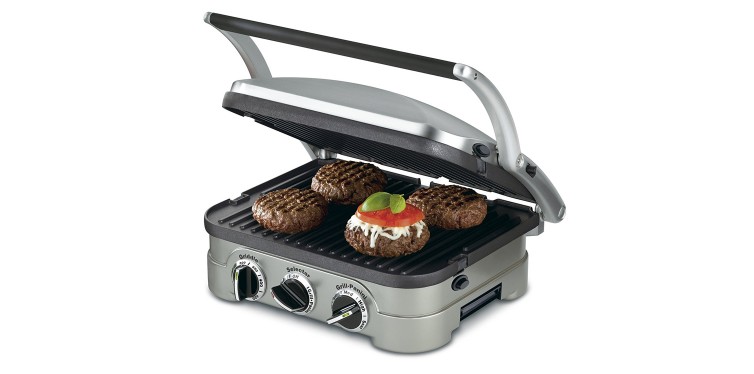 The Cuisinart GR-4N is a pocket dynamo that can operate as a full grill, half grill, full griddle, half griddle, contact grill or panini press.
This is perhaps the best looking indoor grill on the market and it works as good as it looks. The fact that the cooking surface isn't inclined is a bit of an annoyance but nothing so great that we wouldn't recommend this. Because it does an excellent job with whatever you decide to put into it.
Specification:
Brand

Cuisinart

Weight

14.9 pounds
Cuisinart's removable and reversible cooking plates make for easy cleaning.
Dual temperature controls allow for greater input on your part in the cooking process.
High build quality and clean, brushed stainless steel housing.
We'd like to see a tilted cooking surface for easier cleanup.
6. Delonghi BG24 Perfecto
See More Reviews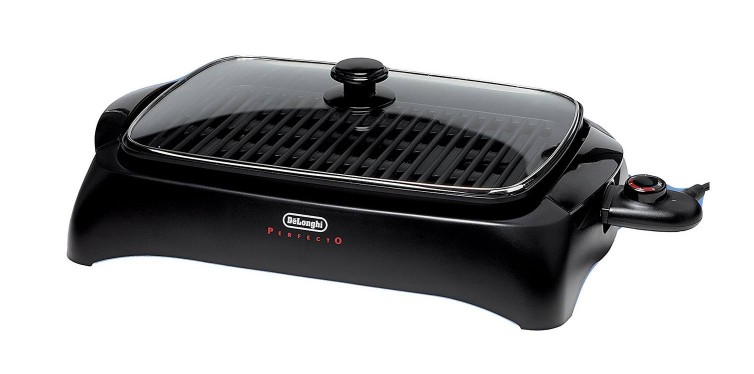 If you like to keep an eye on your chops while they're grilling to perfection you'll love the Delonghi BG24 Perfecto.
The Delonghi Perfecto is a simple design with simple functions that does one simple thing very well: it produces delicious grilled meats and other dishes. It has what we'd like to see in more indoor grills; a tempered glass lid so we can keep an eye on things without having to open the grill constantly.
Specification:
Brand

Delonghi

Model

BG24

Weight

10.8 pounds
Nice even distribution of heat for a nice evenly cooked piece of meat.
Non-stick grill plate and drip tray are removable for easy cleaning.
Detachable thermostat allows you to keep a close eye on the state of your dish.
Non-stick cooking surface is not as durable as it could be.
See More Reviews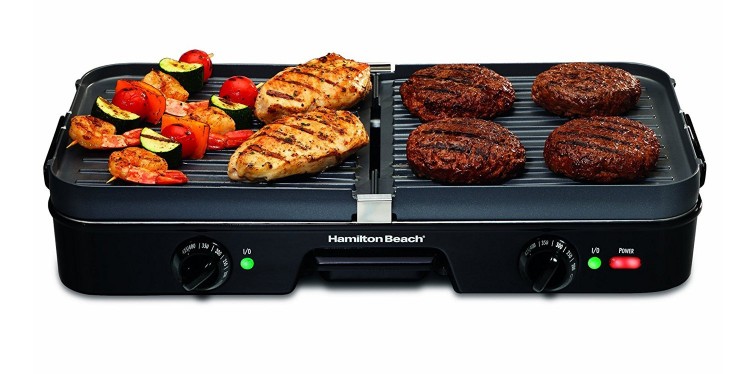 It's a grill. It's a griddle. It's both! The Hamilton Beach Grill/Griddle combo saves you time while opening up culinary options you don't have with other grills.
While it's true the individual cooking surfaces are not huge they're big enough to cook a variety of different dishes including steaks, chops, omelets, pancakes and a whole lot more. The ability to independently control the heat on the different sides is also a plus, as is the slightly tilted surface.
Specification:
Brand

Hamilton Beach

Model

38546

Weight

9.3 pounds
Griddle, grill or griddle/grill combo. It's up to you.
Great for family breakfasts or when you're cooking for different people with different tastes.
2 heat zones with independent temperature controls.
The individual cooking surfaces are not all that big.
8. Presto 09020 Cool Touch
See More Reviews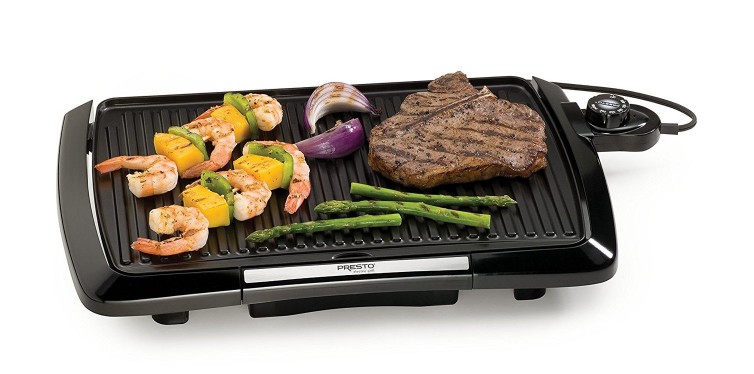 Presto is a good name for this tabletop electric grill because it heats up in a hurry.
We like the wide cooking surface. It saves time by allowing you to cook more chops, chicken wings or whatever else you've got lined up. We like the cool touch base. We like how quickly the unit heats up and we really like the price. Oh yeah, and we like the free spatula too.
Specification:
Brand

Presto

Model

09020

Weight

5 pounds
When you're finished just wipe the grill down a bit and pop it in the dishwasher.
The base around the grill surface takes advantage of Presto's "cool touch" technology.
Cooking surface is a generous 16 inches across to accommodate more food for more people.
A lid for the grill would be nice.
9. George Foreman GR2060B
See More Reviews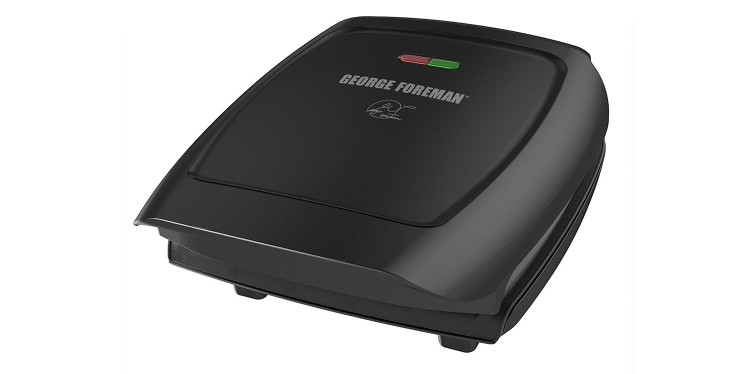 Big George makes another appearance on our list here with this dishwasher safe fully warranted grill.
An excellent tool for cooking simple meat and fish dishes. The GRP1060B now heats up significantly faster than earlier George Foreman grills and has a larger surface area for cooking as well. It's tilted forward to remove fats and aid in cleanup and that cleanup can be done in the dishwasher.
Specification:
Brand

George Foreman

Model

GR2060B

Weight

4.2 pounds
Temperature indicator light lets you know when the grill is ready to go.
New and improved non-stick coating makes cleanup easier than ever before.
Larger cooking surface has space to cook 4 servings of your favorite dish at the same time.
Temperature indicator light but precious little temperature control.
10. Excelvan Portable 1120W Electric
See More Reviews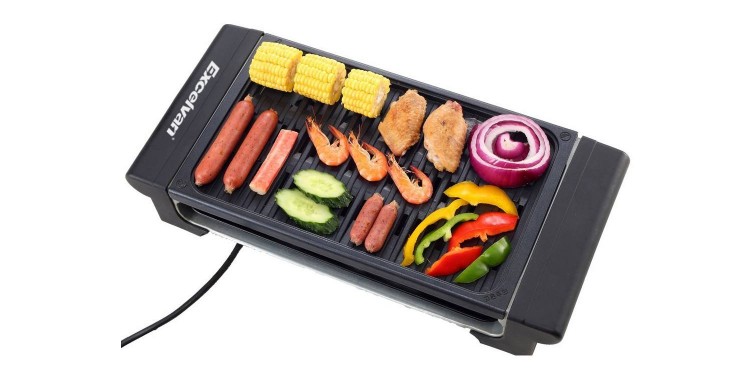 Whether you're having the boss over for dinner or you just want to make a burger, the Excelvan Barbecue Grill is the grill for the job.
All in all this last entry in our top 10 grill list is a great value that presents plenty of cooking surface. It heats up faster than some other units and the fats are effectively drained away before they can become one with your meal. Great for chicken, pork, steaks, burgers and a host of other dishes.
Specification:
Brand

Excelvan

Weight

7.4 pounds
Fats drip through to the collection plate rather than being absorbed by your burger.
Temperature control is pretty good for an indoor electric grill.
Cooking area is a full 10" x 15" for holidays and special occasions.
Coating on the drip plate is not as robust as we would like it to be.
Buyers Questions
What's The Best Indoor Electric Grill?
In our opinion it's the Hamilton Beach 25361 Indoor Grill. You can read what we have to say about it at the top of this guide so we're not going to go into another review. Let's just say it's well-made and does a great job time and time again.
What Are The Benefits Of An Indoor Grill?
First it's indoors where you're not subject to the whims of Mother Nature. Second the smaller grill encourages smaller portions. Third, indoor grills are designed to drain away fat and last they clean up in a jiffy.
Indoor Vs. Outdoor Grill?
Each side in this argument is absolutely convinced they have the better way. The outdoor grillers point to the fact they can cook more at once, use less energy and they're well, outdoors. Indoor grillers point to the benefits laid out above.
Does An Indoor Grill Give Off Smoke?
With most indoor grills you'll experience a bit of smoke the first few times you fire it up but once you break it in you'll find they create far less smoke than outdoor grills. No grill is a true smokeless grill but the indoor grill comes pretty close.
How To Clean An Indoor Grill?
First, make sure to remove any grease and dispose of it in the garbage (not down the sink). Then remove the drip pan and cooking surface, place them in the sink and spray them down. Then take the sprayed down parts from the sink and put them in the dishwasher. While the dishwasher is running clean the remainder of the unit using a sponge and a light soap. Then remove the clean parts from the dishwasher and put the grill back together.
Things To Look For When Buying An Indoor Grill
Before you spend your hard earned money on a new indoor grill look for the following things:
Temperature Indicator – You need to know when the grill has reached cooking temperature and the best way to do that is with a temperature indicator: either a light or a beep.
Sufficient Power – Each time you check on your food you let some heat escape. Electric grills can be slow to recover that heat if they're underpowered.
Inclined Surface and Drip Pan – You want the fat that leaches from your food to drain away. So make sure your grill has an inclined cooking surface and a pan to catch the dripping fat.
Removable Cooking Surface and Drip Pan – It's also important that these elements are removable. If they're not cleanup is going to be a hassle.
Max Temperature of 600 Degrees – No you don't technically need 600 degrees to cook meat but the higher your max settings the more useful your in between settings will be.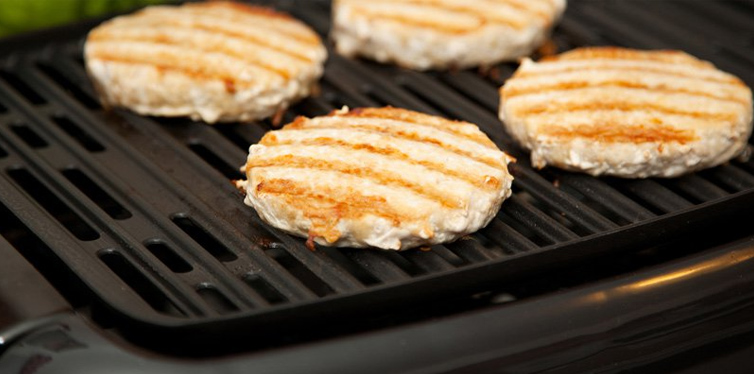 Conclusion
The indoor grill has made life a lot more convenient and delicious for millions of people. Use the information you glean here to find the grill that best suits your need. And don't forget to check back. We upload new product review guides all the time.