Best Bidets In 2022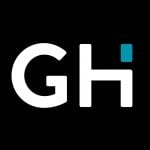 This product guide was written by GearHungry Staff
Last Updated
August 27, 2020
GearHungry Staff
GearHungry Staff posts are a compilation of work by various members of our editorial team. We update old articles regularly to provide you the most current information. You can learn more about our staff
here
.
GearHungry may earn a small commission from affiliate links in this article.
Learn more
A bidet may not be something that every home has. They are often associated with European or Asian bathrooms. It's about time we brought the trend into your home.
Bidets are not just a luxury installation that only high-society can afford; they are a remarkably hygienic and effective addition to any bathroom. You don't need a standing reservation at the Ritz nor frequent the Four Seasons to justify owning one.
With a variety of styles – simple hoses or more advanced and customizable attachments – these bidets will provide any bathroom with a buttressing, luxurious, and hygienic feel. What's more, certain designs aren't just used for personal hygiene but are functional cleaning tools for other plumbed appliances like the bath or toilet bowl.
They are welcoming, safe for kids and the elderly, and something that you'll wonder how you ever lived without once you install one in your home. All you need to do is embrace them and discover the plethora of benefits.
The Best Bidet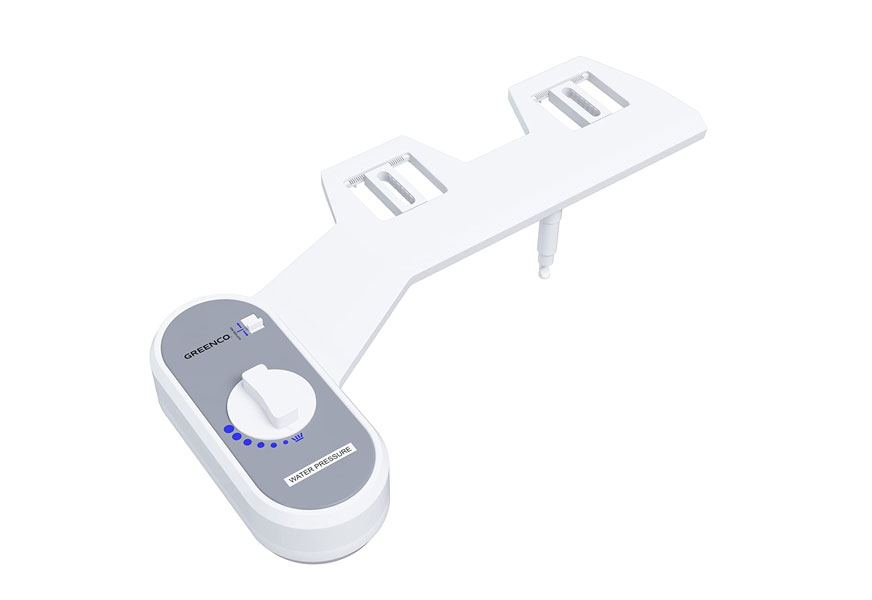 An indisputable choice of the best bidets, the Luxe Bidet Neo 120, is available in two colors to match your bathroom decor. The hygienic nozzle guard gate and chrome plating offer superb quality and durability. It is easy to install and environmentally friendly, which is a common theme with all bidets, as you'll use less toilet paper.
The self-cleaning nozzle ensures consistent quality and high performance, and its slim, durable design won't appear unsightly in your bathroom. The adjustable water pressure is also a useful feature, but the highest setting might give you quite the shock, so be careful when using it for the first time.
For more convenient products for your bathroom, check out our list of the best smart toilets you can buy right now.
Key Features:
2 colors
Hygienic nozzle guard gate
Chrome-plated knobs
Easy to install
Environmentally friendly
18-month warranty
Specification:
Brand

LUXE Bidet

Model

BidetNeo120s

Weight

1.8 Pounds
2 attachments plates, 2 rubber gaskets
Slim and durable design
Self-cleaning nozzle
Strong high intensity switch
BioBidet BB-600 BB600 Ultimate Advanced Bidet Toilet Seat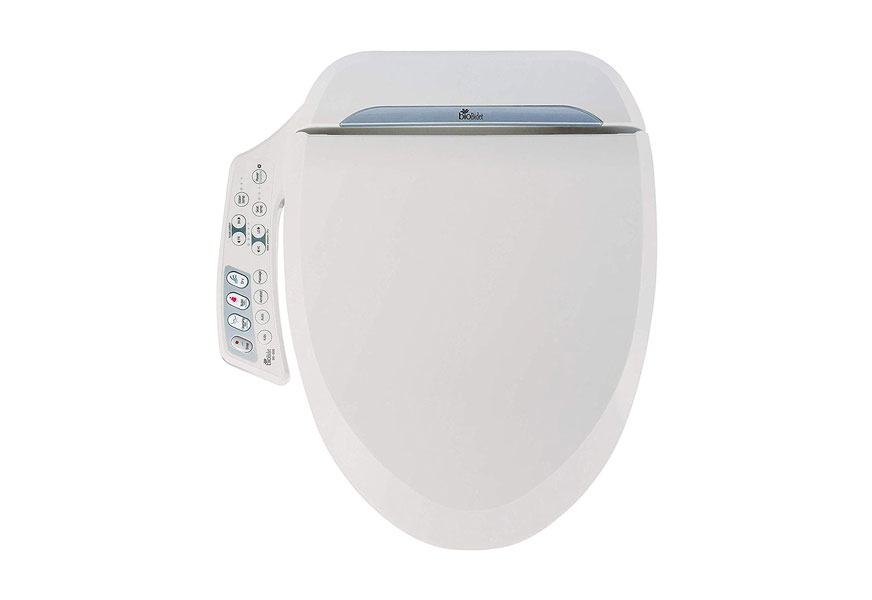 With two models available, the comprehensive BioBidet BB-600 BB600 Ultimate Advanced Bidet Toilet Seat is arguably one of the most luxurious examples of bidets for toilet use you will find. It comes with a host of comforting features, including a heated seat and warm water options, while the oscillating wide clean and pulsating technology offer versatile cleansing possibilities.
It comes with a convenient side panel and uses a smart, streamlined design that slots nicely over most toilet styles. There is also a dual spray system, but the water pressure, while generally effective, is not as powerful as some would like it to be.
If you love smart devices, make sure to check out our buying guide to smart shower heads that will truly upgrade any bathroom.
Key Features:
Elongated or Round models
Heated seat
Warm water system
Eco-friendly
Oscillating wide clean and pulsating technology
24 month parts and labor coverage
Specification:
Brand

BioBidet

Model

BB-600

Weight

14 Pounds
Convenient side panel
Smart streamlined design
Dual spray
Water pressure is not as powerful as expected
Brondell Bidet Thinline Dual Nozzle SimpleSpa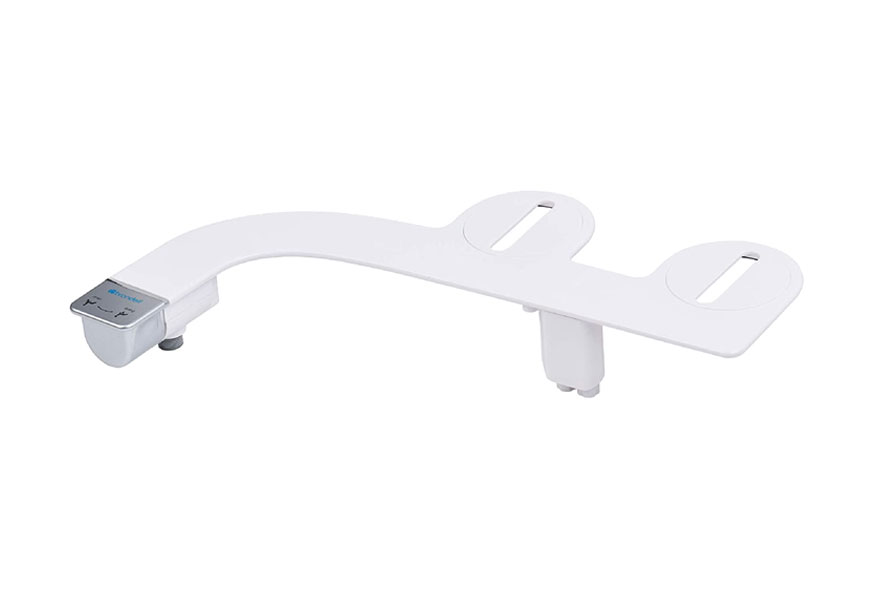 The Brondell Bidet Thinline Dual Nozzle SimpleSpa is a straightforward and appealing choice that won't look out of place in your bathroom. It will also give you the luxury feel you know you deserve. There is no toilet seat gap, and the retractable design will protect the nozzle when it's not in use. There is also True pressure control to guarantee comfort; this is made possible with the easy to use control knob.
What it boasts in style, it lacks in power, which is not ideal for some people. If you're looking for an option that provides both Front and Rear washing and an adjustable toilet fit to ensure almost universal compatibility, few options can stand out as impressively as this one.
To equip your bathroom with some more quality products, here are some top shower heads guaranteed to meet your requirements.
Key Features:
Dual or Single nozzle options
No toilet seat gap
Retractable nozzles
Quality components
True pressure control
Nozzle guard
Specification:
Brand

Brondell

Weight

9.6 Ounces
Adjustable toilet fit
Easy to use control knob
Front/Rear wash options
GenieBidet Seat-Self Cleaning Dual Nozzles Bidet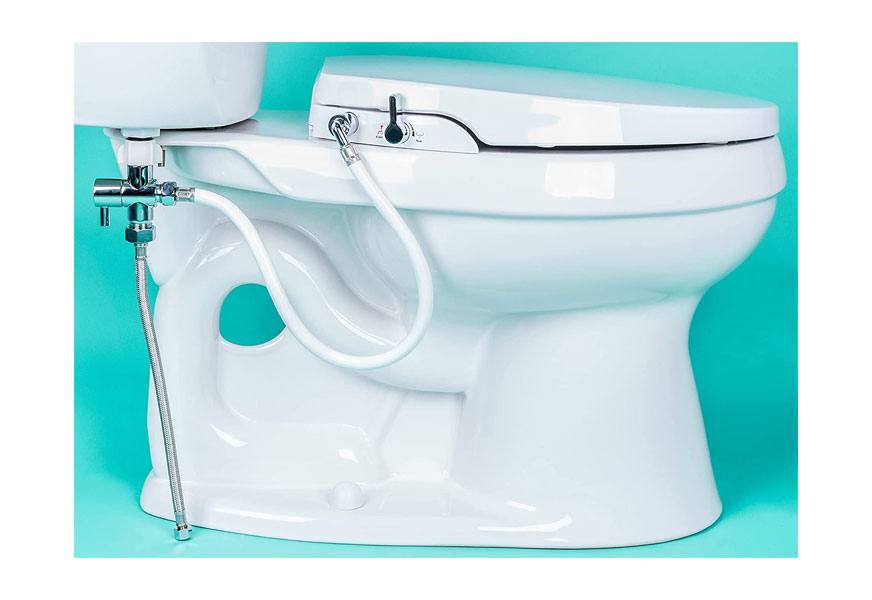 If your only wish this year is to enjoy consistent hygiene and comfort after using the bathroom, the GenieBidet Seat-Self Cleaning Dual Nozzles could be the answer. The elongated design fits comfortably over most toilets, and its non-electric operation ensures safety.
The pressure control system operates with a handy valve dial that you can adjust back or forth depending on your needs, while the ambient water temperature spray is a welcome surprise. Just be careful of your bathroom floor, though, as there may be a splashback while you're still getting used to it.
For absolute safety, make sure to use a reliable water detector, too.
Key Features:
Elongated design
Non-electric operation
Dual retractable cleaning nozzles
Pressure control system
Shut off valve
Slow closing seat and lid
Specification:
Brand

GenieBidet

Model

EB-1000

Weight

5.5 Pounds
Hygienic and healthy
Ambient water temperature spray
Easy to install
Strong splashback may get on bathroom floor
Greenco Bidet Fresh Water Spray
Simple but effective, the Greenco Bidet Fresh Water Spray is a durable and robust option that doesn't require you to call in the plumber and instead enables you to complete the DIY installation with ease.
It uses an adjustable and retractable spray nozzle controlled via an easy-access dial, providing a refreshing and hygienic clean that is eco-friendly, too. The non-rusting material ensures longevity, and the adjustable pressure system makes it suitable for all users. However, the aim is not entirely accurate, so you be careful when using it. For more practical products for your bathroom, check out our guide to the best tankless water heaters.
Key Features:
Durable attachment
Simple DIY installation
Adjustable and retractable spray nozzle
Easy-access control dial
Refreshing and hygienic
Eco-friendly
Specification:
Brand

Greenco

Model

GRC2189

Weight

1.1 Pounds
Non-rusting
Adjustable pressure system
Durable and high-quality materials
Water aim is not as accurate as other options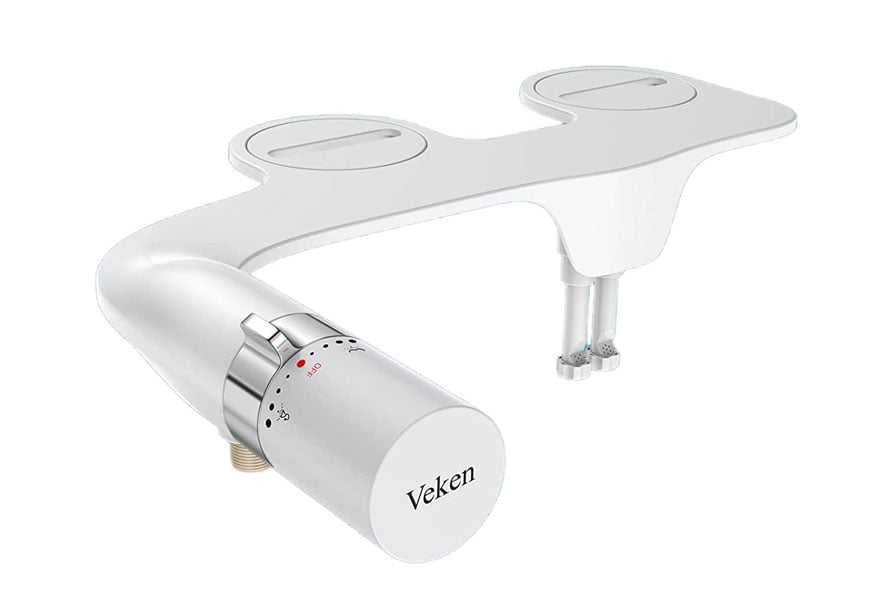 The Veken Ultra-Slim Bidet uses dual nozzle cleaning modes to provide some of the most dependable and hygienic results that you could want from a bidet. It makes the most of its high-quality components, while the thin construction will save space in your bathroom.
It comes with a nozzle guard gate to enhance durability, and it is compatible with a variety of toilet sizes, including more broad models. The flexible stainless steel hose and brass connector are high-quality, which means you can rely on it for many years. However, while these factors are impressive, there are no adjustable functions, which may put some folks off.
Our buying guide on handheld showerheads features some more bathroom necessities, so make sure to check them out, as well.
Key Features:
Dual nozzle cleaning modes
High quality components
Thin and durable
Easy installation
Nozzle guard gate
Broad toilet compatibility
Specification:
Brand

Veken

Model

VK539

Weight

2.05 Pounds
Three extra seat bumpers
Flexible stainless steel hose
Durable brass connector
Purrfectzone Bidet Sprayer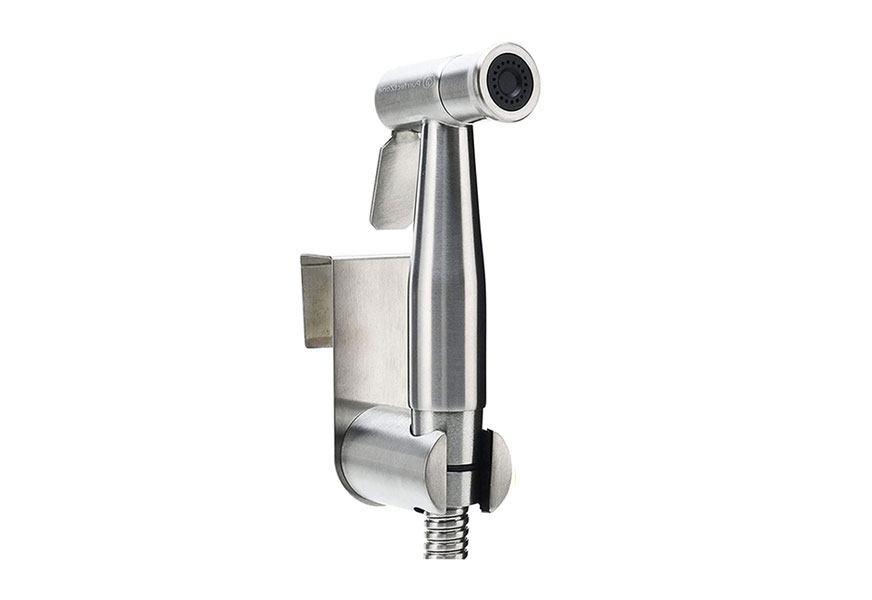 The Purrfectzone Bidet Sprayer offers two color options to help blend in with the rest of your bathroom decor. It boasts a more straightforward use with a convenient handheld operation that is both hassle-free and environmentally friendly. However, the area around the head may leak slightly, even if the rest of the hose is considered leak-free.
The adjustable water pressure allows you to find the perfect settings to suit you, and its flexible, kink-free hose gives you the crucial peace of mind you need to trust this sprayer for a long time. Installation is straightforward, and it's easy to clean.
Key Features:
Two color options
Handheld and easy to use
Environmental protection
Leakproof hose
Adjustable water pressure
Flexible, kink-free hose
Specification:
Brand

Purrfectzone

Model

PZBS-00001

Weight

1.66 Pounds
Straightforward installation
Aesthetically pleasing design
Easy to clean stainless steel
Some leakage around the head
GenieBidet Rear & Feminine Ultra Thin Toilet Attachment
For all-around comfort and exceptional hygiene for everyone in the family, the GenieBidet Rear & Feminine Ultra Thin Toilet Attachment gives you plenty to get excited over. The fast and simple installation is sure to get you the results you desire, and it even comes with the hardware included, so you don't need to run extra errands.
It uses a gentle ambient water temperature spray that is kind to your nether regions, and the non-electric operation ensures safety. The self-cleaning feature is also useful, but this isn't as consistent as we'd like it to be, meaning you may need to take matters into your own hands.
To make the time spent in the bathroom even more pleasant, choose any of these quality rain showerheads.
Key Features:
Fast and simple installation
Installation hardware included
Ambient water temperature spray
Attachment design
Safe non-electric operation
Rear and feminine cleaning
Specification:
Brand

GenieBidet

Model

AB-2000

Weight

1.5 Pounds
Simple installation
Consistently quality performance
Modest and stylish appearance
Self cleaning does not work as well as we'd like it to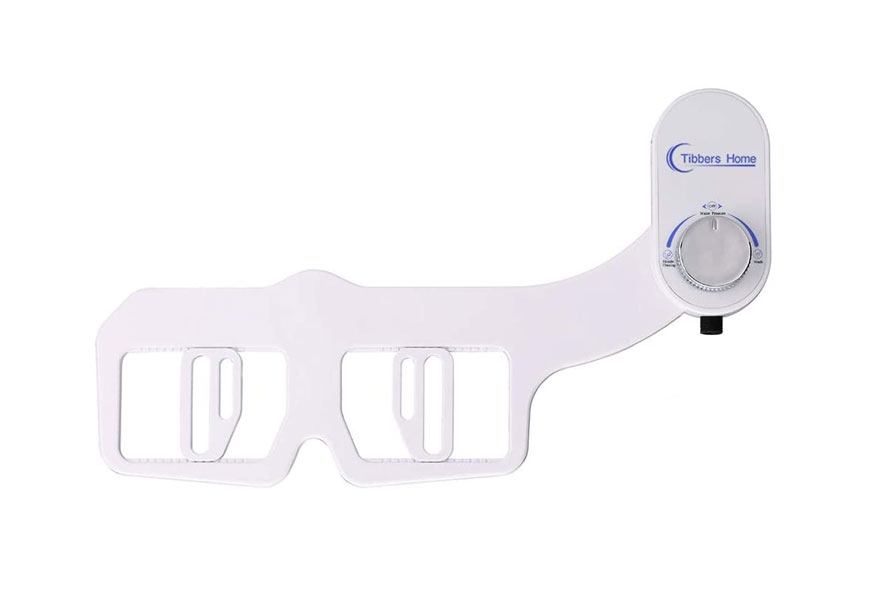 Self-cleaning and environmentally friendly, the Tibbers Bidet is a fantastic option if you're still on the fence about which bidet is right for you and your family. The installation is simple, and the adjustable water pressure makes it suitable for everybody in the house.
You can adjust the pressure by rotating the knob until you find the right setting for you, and this makes it perfect for kids and elderly relatives. However, make sure to warn them that the highest pressure may be a little too strong for them.
Key Features:
Environmentally friendly
Self-cleaning mode
Safe, non-electric operation
Simple installation
Automatic nozzle retraction
Adjustable water pressure
Specification:
Brand

Tibbers

Weight

1.65 Pounds
Straightforward knob rotation
Convenient for kids and the elderly
Metal braided hose
High pressure perhaps too strong for some
JP Bathroom Master's Handheld Bidet Toilet Sprayer Kit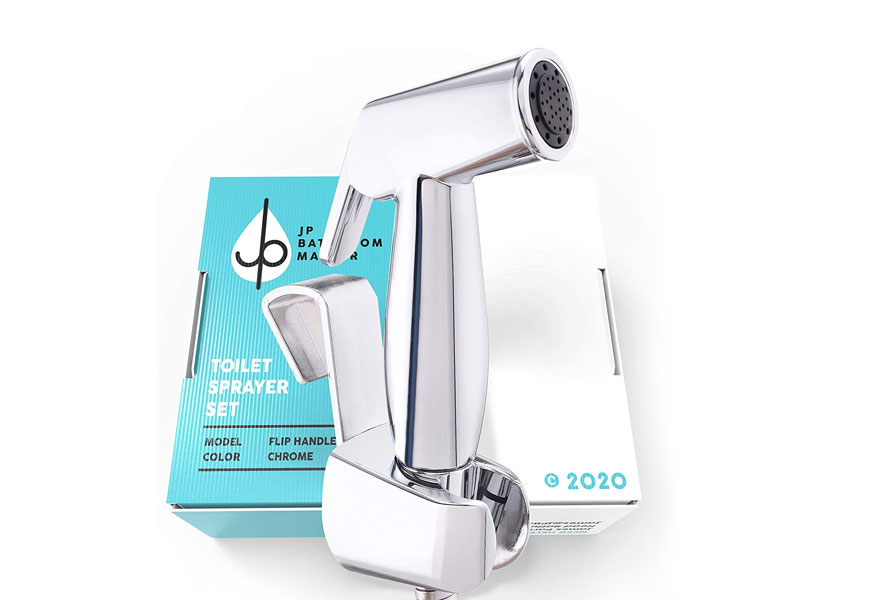 If you're still interested in the best bidets but are worried you might struggle to get started, look no further than the JP Bathroom Master's Full Pressure & Leakproof Handheld Bidet Toilet Sprayer Kit. This option is perfect for beginners and gives you everything you could need from your first foray into the wonderful world of bidets.
The leakproof design prevents wasted water, and it's also easy to install with adjustable water pressure. It is safe, practical, and reliable. Despite this, it suffers from the same issue that many other bidets do, with the pressure perhaps being too intense, so be gentle.
If you need a portable option, check out our list of the best selling portable camping toilets.
Key Features:
Leakproof design
Easy installation
Adjustable water pressure
Hygienic benefits
Safe, practical, reliable
60-day risk-free return
Specification:
Brand

JP Bathroom Master

Model

NB007-P2

Weight

1.24 Pounds
Easy bacterial
Easy to use
Durable materials
Pressure may be too intense for some
AIFUSI Bidet Sprayer For Toilet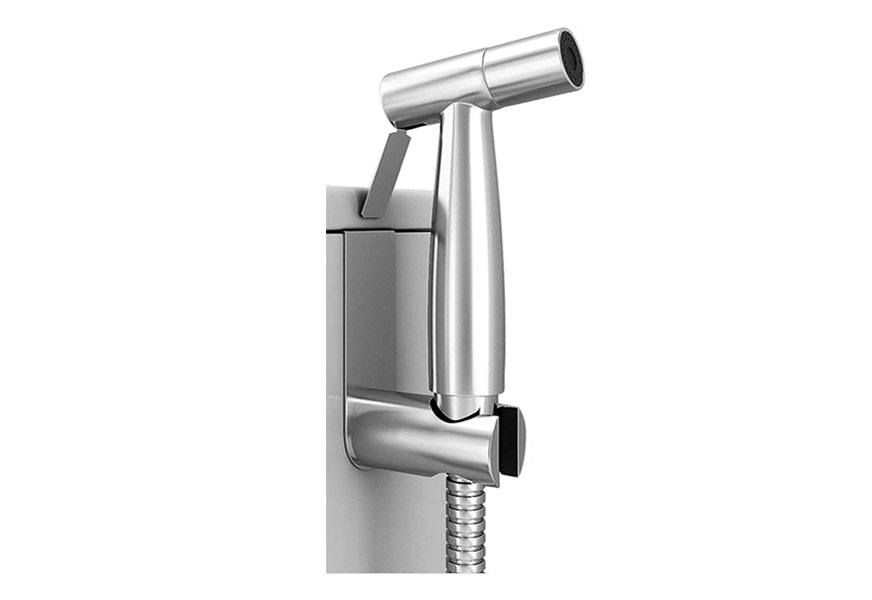 The AIFUSI Bidet Sprayer for Toilet boasts durable materials that demonstrate it's effortless high quality while still providing a spectacularly hygienic clean for the whole family. Its leak-proof construction will prevent waking up to puddles, while the stainless steel parts are easy to clean.
It's a handheld option, so you can use it for a variety of jobs, including cleaning out the bath or shower and even bathing the dog after a muddy walk. You might, however, find it a little tricky to control the water pressure at first, so don't be afraid to test it out slightly after you install it for the first time.
For more useful products for your home, check out our comprehensive guide to the top water softeners.
Key Features:
Durable quality materials
Leakproof construction
Improves personal hygiene
Stainless steel parts
Versatile applications
Adjustable water pressure
Specification:
Brand

AIFUSI

Weight

1.47 Pounds
Easy installation
30 day no-hassle return
Sleek chrome silver
A little difficult to control water pressure
Achiotely Handheld Bidet Toilet Sprayer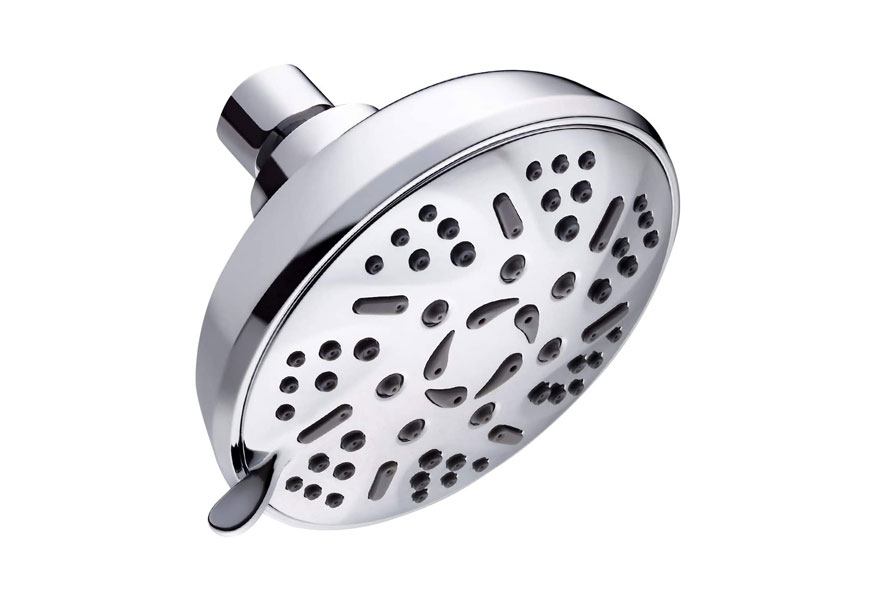 Delivering adjustable water pressure and versatility straight to your living room, the Achiotely Handheld Bidet Toilet Sprayer will make you feel you've been transporter to the most luxurious villa in the world without ever needing to get on a plane.
Its simple DIY installation takes just minutes, especially if you're particularly handy with home improvement projects. High-quality materials ensure durability and lessen the chances of rust or corrosion to guarantee continued performance. It also comes with a useful hook for storage, although this may be too wide for some water tanks, so make sure to get the measurements perfect before you do anything else.
For more must-have products for your bathroom, check out these handy shower squeegees.
Key Features:
Adjustable water pressure
Environmentally friendly
Versatile applications
Simple DIY installation
Comfortable handheld design
High quality hose
Specification:
Brand

Achiotely

Weight

1.65 Pounds
Friendly for kids and the elderly
Strong T-valve
Compact and convenient
Hook may be too wide for some water tanks
Bidet Buying Guide & FAQ
Features to Look for in Bidets
Shape – It's essential to consider the shape of the bidet; selecting the wrong option might mean it will not fit with your current toilet. This choice is especially important when purchasing a toilet seat bidet, but it could also impact the success of the hose or attachments. The shape can also affect the direction of the water stream, which might end up getting you wet in the wrong places, which may not be ideal.
Features – The more features, the more and satisfaction you should get from your bidet, right? Maybe. But perhaps you may want a simple, minimalist unit that does the job without the nonessential bells and whistles. Basic models are especially user-friendly for kids and the elderly.
Those seeking more advanced features, like adjustable water pressure and temperature, self-cleaning, and a directable nozzle, will gravitate toward more state-of-the-art, opulent bidets.
Ease of Use – While not a particularly challenging item to use, you should still consider the ease of use when choosing a bidet. If you're not too techy, a non-electronic option may suit you. Manual bidets are straightforward to use, especially if you select the handheld trigger options.
Remote Control vs. Panel – When selecting a bidet, you may have to choose between one with a remote control or one with a panel. Remote controls are, of course, separate items that you can stow away, whereas panels are integrated controls that protrude from the side of the toilet seat. While the integrated panel is one less thing to lose, the buttons are often relatively small, which may not be ideal for every user.
Maintenance – If you want to ensure your bidet continues to work at its best, maintenance is essential. Your bidet should be easy to care for, so it doesn't feel like a hassle to keep it clean. Some bidets include self-cleaning functionality that will minimize maintenance, but it's still worth keeping an eye on your bidet regardless of these features to guarantee continued performance.
Types of Bidets
Bidet Seats - Bidets toilet seats are the most recent incarnation of bidets, and they share many similarities with the Japanese versions you may have seen on TV. These seats will replace your regular toilet seat and come with a tube and T-valve that connects to the main water line. The nozzle is underneath the seat. If your bidet is advanced enough, it can change positions to suit different users. It will also retract when not in use, and some options even boast warm water functions.
Shower Bidets - A shower bidet is also known as a hose or handheld option. They are common in Thailand and Cambodia, as well as India and other Asian countries. These operate through a hand-powered trigger where you can select the water pressure, and aside from cleaning yourself, you can also use it to wash away matter around the toilet bowl, as well as rinse out the toilet after cleaning it. This feature makes them arguably the most versatile option available.
Travel Bidets - If you travel frequently, a portable bidet is an excellent choice for you. They boast a simple design with an angled nozzle and come in both manual and electronic styles. While convenient, you cannot connect them to the main water supply, so you'll need a faucet nearby to refill yours whenever you need to use it.
Bidet FAQ
Q: What is a bidet?
A: Traditionally, a bidet is a bowl with a nozzle (or spout) attached to it used to wash your privates. You will typically see them in hotel rooms, primarily in European nations, but they are also popular in Asian countries, including Thailand and Cambodia.
However, there are modern variations of bidets, and while some share similarities with the traditional models, others do not. When searching for the right bidet for your needs, you will see a variation between bidets that attach to the toilet bowl or trigger-operated hoses that sit next to the toilet and are operated by hand.
With the bidet, you can wash away matter around the toilet bowl, relieve irritation, and also clean reusable diapers or bathe your dog.
Q: Are bidets sanitary?
A: Yes, toilets with bidets are considered more hygienic than those without them. They are more sanitary for several reasons. For one, people who use bidets will not need to put their hands anywhere unsanitary after going to the bathroom (although it's still important to wash your hands). Instead, the water will wash matter away. Furthermore, as you can use a bidet to remove anything leftover on the bowl to help keep it clean.
Bidets are also sanitary and useful for preventing discomfort from hemorrhoids as well as feminine hygiene.
Q: How do you install a bidet?
A: With such a range of bidet styles, there is no 'right way' to install a bidet in your bathroom. However, many of them still follow a similar installation process.
You'll need a wrench and a screwdriver, as well as some towels to put on the floor to prevent clean water leaking into the tiles. Make sure to turn your water off as well. Otherwise, you'll have quite the mess on your hands.
As all bidets come with a T-valve, you'll need to connect that to your main water supply. This valve splits the water feed so that some water continues to go to your tank and feeds into the bidet pipe.
Depending on the type of bidet you select, whether it's a hose, a modified toilet seat, or a portable travel bidet, you can then install the rest of the bidet as you need. Toilet seat bidet will require you to remove your existing seat and replace it with the bidet attachments, whereas travel options will only include a nozzle that you fit under your current toilet seat.
Hose bidets (also known as shower bidets), will come with a hook that you can attach to the water tank where you can hang your new bidet.
Q: How do you maintain a bidet?
A: It is relatively straightforward to maintain a bidet, especially if you splash the cash and invest in a self-cleaning option. However, if not, you will need to wipe the unit down once a week to prevent the buildup of anything that could block it. Use water and mild detergent or vinegar and then rinse it with hot water and wipe down.
This maintenance will help keep the bidet working correctly, but you should also follow general toilet cleaning practices to ensure it has consistent performance and satisfaction.
For the nozzle, use an old (and we can't stress this enough) toothbrush along with a splash of vinegar to wipe away any grime. When you are satisfied with its cleanliness, simpy hit flush.
Sources:
Bidet – Wikipedia
How to Clean a Bidet: 10 Steps – WikiHow
Sign Up Now
GET THE VERY BEST OF GEARHUNGRY STRAIGHT TO YOUR INBOX