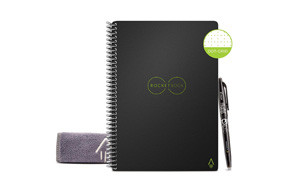 Rocketbook Smart Reusable Notebook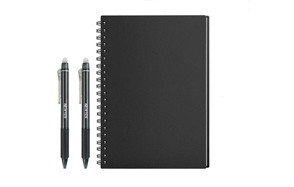 HOMESTEC Reusable Smart Notebook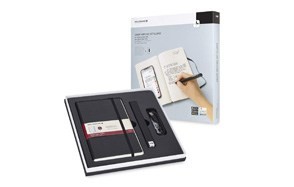 Moleskine Pen+ Ellipse Smart Writing Set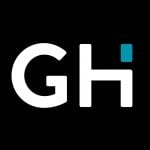 Smart notebooks may indeed seem like a hard sell for many people, especially with the progression of a paperless society. Our streets, homes, and offices are now strewn with tablets and smartphones, but we still have those individuals who yearn for a merger between old and new technologies. The quest for such innovative creations has given rise to the Smart Notebook. No feeling that can surpass when pen comes into contact with paper, which is why today's technology allows you to still find writing options with your electronic and digital tools.
We compiled a list of the best smart notebooks to make your search that much easier.
The Best Smart Notebook
Smart Notebook Buying Guide & FAQ
The tech market offers different models, brands, and specifications for every smart notebook need. In this industry, many manufacturers say that their latest models are the last notebooks you will ever need. That might be a stretch, but we were intrigued. We researched some of the most popular smart notebooks to see if that claim could be proven.
Features To Look For In Smart Notebooks
With the ever-growing number of smart notebooks available, it's critical that potential buyers are aware of all vital design features needed in an excellent smart notebook. Knowing this will allow you to make the best purchasing decision, which will help you to save both money and time. We paid close attention to the considerations you should take before making a purchase.
Size - You may not believe it, but this should be the first step. Most smart notebook models come in a standard a5 sheet size; this means they're compact enough to be carried around with ease. There are other sizes available, like the "executive sheet" size. These books are a tad bit larger than the a5 sheets. The final choice will depend on your note-taking needs, as well as personal preference.
Material - The next best feature to consider while searching for the perfect smart notebook is the material used in creating the book. It is safe to say you can't go wrong with models such as the Elfinbook 2, which features a wirebound binding system. Wirebound books are known to last longer, especially when they have durable plastic binding elements. There are also polyester composite notebooks, which are best for those who want a lightweight option. Every potential user needs to research into a binding, cover, and the page materials used commonly for smart notebooks.
Pen - Based on the smart laptop being analyzed, the pen recommendations may vary significantly. There are, however, some ubiquitous pen brands that work for almost all laptops on the market. A typical example mentioned in this article is the Pilot Frixion. They are designed as gel pens, with a thermo-sensitive stick, making it easier for their scribbles to be erased.
Smart Notebook App - The smart notebook app is one of the most critical features besides materials used and the durability of your notebooks. There are book models that offer you cloud services such as Dropbox and Google drive, with others allowing you to undertake smarter scanning with ease. It best that you purchase a smart notebook with its apps, as opposed to purchasing externally supported apps.
Maintenance - The cleaning process is straightforward — all you need is a damp cloth. There are some new and more innovative cleaning methods, however, and these help you to remove your notes as and when you deem fit. Other ways of clearing your notes include the use of a microwave or a hairdryer, in extreme cases. We would recommend checking your manual first.
Smart Notebook FAQ
Q: What is a smart notebook?
A: A smart notebook is a device that combines pen-and-paper writing with the technology of a keyboard. SMART notebook software allows you to create notes and sketches which can then be transferred to other intelligent devices or stored in a cloud. The smart notebook will enable you to merge both old and new writing technologies effortlessly.
Q: How do I install a smart notebook?
A: The installation process is straightforward and can be done by everyone.
Select your version of the smart notebook and download it.
From your change operating system, select windows.
In the select install package option, choose the USB installer section.
Download and save the file onto your computer, and then begin the installation process by running as administrator.
Q: How do I use a smart notebook?
A: Everyone can use a smart notebook. It is like every other book, and the only differences are its ability to keep all these notes on an online cloud system, and the reusable pages. It comes with a product key and a learning suite that teaches you how to maneuver and get all your tasks done with ease.