Best Smart Rings In 2022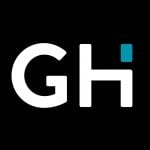 This product guide was written by GearHungry Staff
Last Updated
August 19, 2020
GearHungry Staff
GearHungry Staff posts are a compilation of work by various members of our editorial team. We update old articles regularly to provide you the most current information. You can learn more about our staff
here
.
GearHungry may earn a small commission from affiliate links in this article.
Learn more
It seems that there's a smart version of everything these days, from our smartphones to smart homes, smart speakers, and even smart notebooks. Perhaps the machines are finally taking over, and the only intelligent thing to do is allow them to do their thing.
With technology on the move, it is only a matter of time before smart rings become commonplace, but which of the many available options are the best for you? If you're in the market for something that looks after your health, makes it easy to open apps, and even lock your phone, this could be the ideal solution for you. Compact, easily wearable, and practical, here are our top choices for smart rings.
The Best Smart Ring
Our best value pick is the impressive Leagway R3 Smart Ring. Again, you can choose from a variety of sizes and enjoy a multifunctional smart thing that can cover all your bases.
These functions include full NFC operation, and you can also send emails, answer phone calls, listen to music, and take pictures. If you're someone who's always on their phone, this could be the first step toward weaning yourself away. It's easy to use, guaranteeing simple and straightforward setup, with none of the frustration that can often come with unfamiliar technology. Constructed using sustainable materials, it won't cause you any discomfort, and the dust and waterproof design ensure that it is one of the more durable options around.
And for all the fans of watches out there, we have prepared our selection of the best sports watches. Check them out.
Key Features:
Various sizes
Healthy materials
Multifunctional
Waterproof and dust proof
Durable
Easy to use
Full NFC operation
Specification:
Brand

Leagway

Model

B07F25XNNM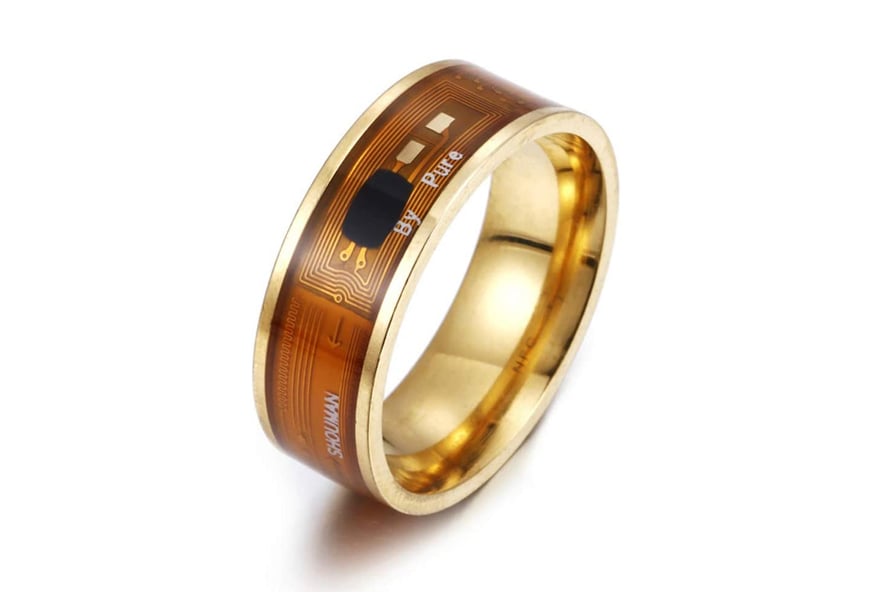 The USUAI Smart Ring is available in gold, black, and blue and sizes 6 through 12. NFC integration and an intuitively designed interface make it an attractive option.
It comes equipped with a variety of high-caliber features like data transference and photo sharing. The superior water-resistance makes it durable in most conditions. Ultimately, The USUAI is as multifunctional as it is stylish. To set it up, just launch the NFC feature and wait for the ring to respond. After that, there's no stopping you.
Key Features:
3 colors
Range of ring sizes
NFC operation
Detailed operation
Stylish and fashionable
High-level water resistance
Multifunctional
Specification:
Brand

USUASI

Model

JN-341

Weight

1.12 Ounces
LYCOS Life NFC Smart Ring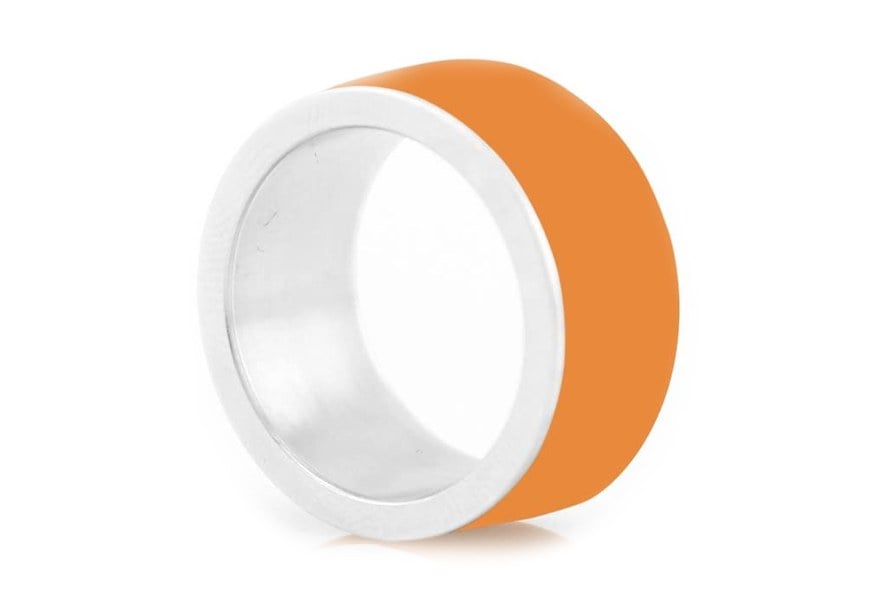 If you're looking for a ring that offers both top-of-line security and visual appeal, the LYCOS Life NFC Smart Ring may be the one for you. Available in two colors and offered in four ring sizes only, this ring is a champion at playing hard-to-get in more than one way.
It uses the Tap-to-Transfer personal security system and guarantees excellent protection for data and files, and this is easy to set up and use, delivering almost instant satisfaction as soon as you take it out of the box. With it, you can also unlock your phone with a single tap. For top-quality security performance with a ring that is highly reliable in almost every aspect, this is an excellent option if you're looking to spend a little more for that additional peace of mind. And you know what? It helps that it looks great, too.
For more cool wearables like this, read our comprehensive guide to the top fitness trackers.
Key Features:
2 colors
4 ring sizes
Tap to Transfer (T2T) function
Quality stainless steel construction
Personal security manager
Waterproof
Unlocks phone without password
Specification:
Brand

LYCOS

Model

B01180RGQG

Weight

1.6 Ounces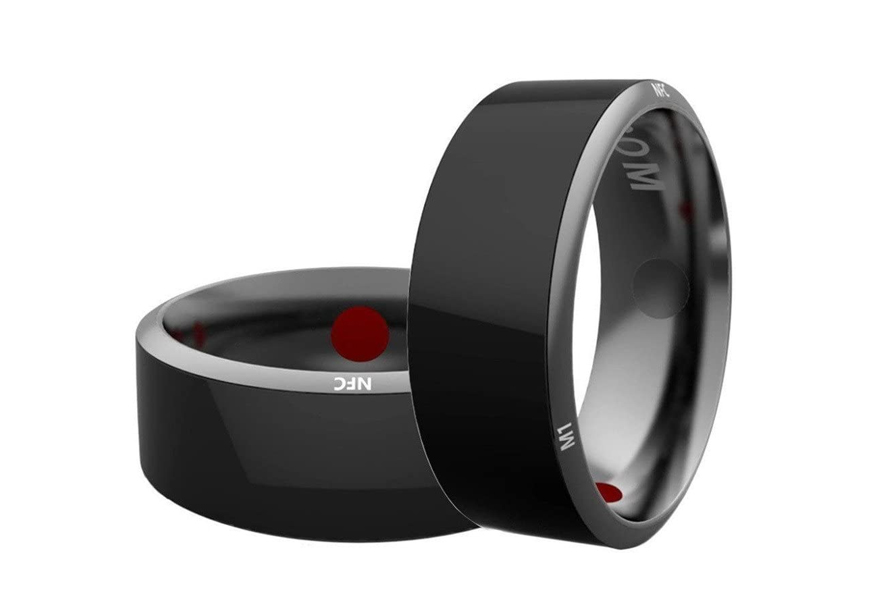 The Alotm R3 Smart Ring is a sleek and stylish option that's available in most ring sizes. The black, understated design is reminiscent of James Bond. Looks aside, it delivers exquisite performance, boasting numerous phone controls and a robust health module. It's also easy to use and Android compatible, while the waterproof design keeps it safe and secure in the rain, or worse.
Key Features:
Range of sizes
Multifunctional phone controls
Health module
Android-compatible
Easy to use
Durable
IP68 grade waterproofing
Specification:
Brand

Alotm

Model

B0749FQJ3Q

Weight

0.11 Pounds
Mehoca Multifunctional NFC Smart Ring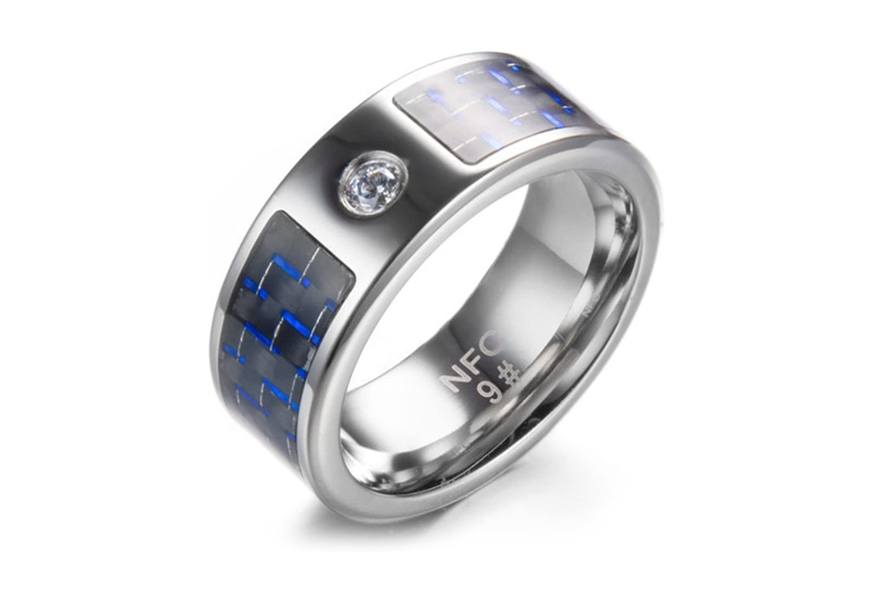 The Mehoca Multifunctional NFC Smart Ring is compatible with both Windows and Android devices, and its multifunctional operations make it an excellent option for most users. To access your phone, Mehoca uses classic touch-based security. This ring is also able to quick-start applications, meaning that you can post your hot takes onto Twitter faster than ever before
This gadget is waterproof and comfortable, and the ultra-sensitive DNF chip means that it doesn't require any electricity to run. The Mehoca Multifunctional Smart Ring is the perfect blend of the past and the future.
Key Features:
Compatible with Windows and Android
Multifunctional
Touch unlock system
Quick-start applications
Weatherproof
Ultra-sensitive DNF chip
Comfortable
Specification:
Brand

Mehoca

Model

B07FMBNGM1
CNICK Smart NFC RFID Ring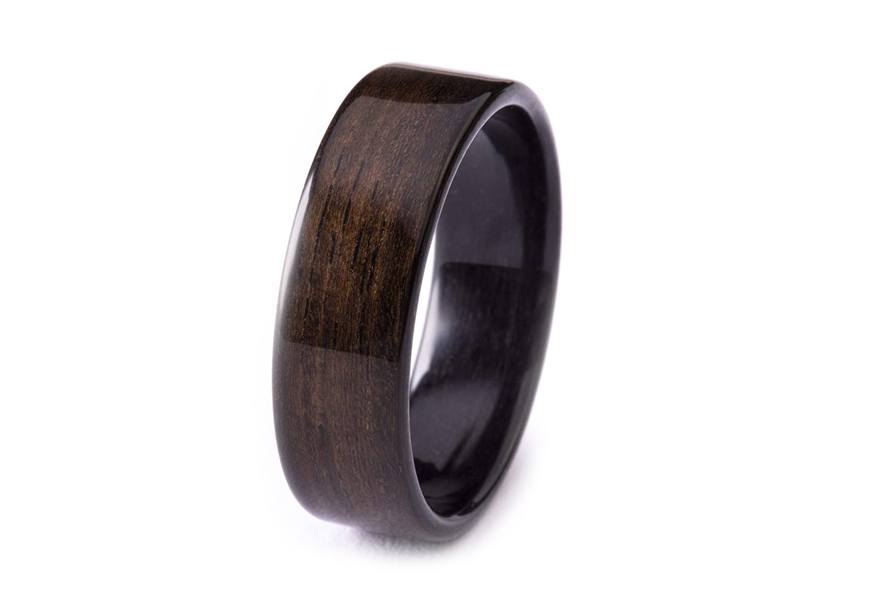 The CNICK Smart NFC RFID Ring is another excellent choice, especially if you're looking for a smart ring capable of storing sensitive authorization data required to enter heavily-secured areas.
It works as a fantastic replacement for everyday office access cards, while the handmade design is both unique and eco-friendly. With this, most people won't even expect it to be a smart ring, but instead a sharp piece of jewelry that you picked up on your travels. Let them believe whatever they want. It's waterproof and requires zero charging to keep it fully operational. Furthermore, it's compatible with both Android and iOS systems, cementing it as one of the most device-versatile options around.
Key Features:
Access-card replacement
Store and share information
Handmade
Eco-friendly
Waterproof
No charging required
Compatible with Android and iOS
Specification:
Brand

CNICK

Model

B07SNFGHTD

Weight

2.4 Ounces
Smart Ring Buying Guide & FAQ
Features to Look for in Smart Rings
Before deciding which of these smart rings makes the most sense for you and your needs, familiarize yourself with these key features.
Size - The first thing you need to consider about your smart ring is finding the perfect ring size. Considering the sticker price for some of these rings, losing one because of an easily-avoided sizing error could be disheartening at best. Losing a less expensive ring would also prove troubling due to the various security concerns created.
Most smart rings are available in a range of sizes so that you can find the perfect one for you. If you don't know your ring size, there is no point in guessing, so measure it to get the right idea. You can do this by taking a length of string or strip of paper and wrapping it around the base of the finger where you intend to wear the ring. When you have done this, measure its length, and select the corresponding size from the options. For a more precise measurement, you can visit a professional jeweler.
Features - The main thing that attracts many people to smart rings in the first place is the many features they offer. Whether you're looking at smart rings for iPhone or Android, you are sure to find a wide variety of features to suit whatever your needs are.
These features will usually include app-supported oxygen and heart rate monitor that produce detailed reports. For fitness buffs, these are ideal, but they are also useful for anybody working to improve their health.
Other rings may not boast such a broad range of features, but they are still useful for everyday wear. With these rings, you'll be able to open apps, answer (or reject) phone calls, and activate certain features, including payments and similar everyday demands. They work on NFC networks, meaning that as long as you have an NFC-reader device nearby, you can use them seamlessly.
While smartwatches and even smartphones can see a rapid drain in the battery throughout the day, smart rings are typically suitable for a few days without requiring a recharge. If you're not concerned with tracking sleep, they are easy to charge overnight.
Style - You don't want to wear something that doesn't look good. Thankfully, smart rings boast a full range of styles for every taste. From sporty, fitness-ready smart rings to more modest and subtle options that look closer to regular jewelry, there is no shortage of options.
The rings come in a variety of materials, including metal, wood, and rubber. Again, your choice here depends on what you prefer, how it matches your existing wardrobe, and how much you want your smart ring to stand out.

Smart Ring FAQ
Q: What is a smart ring?
A: Smart rings are wearable devices that come with a wide range of different features depending on your budget. They are compatible with mobile devices, but you can also use them for entrance controls and similar means. They are compatible with a wide range of applications and are convenient for streamlining your busy day-to-day activities. Aside from smartphones and control panels, you can also use them for payments and activity tracking.
Mostly, they are the same size as a standard ring. However, some smart rings are slightly bulkier to house advanced components. Affordable options tend to be slimmer and resemble more traditional rings. In contrast, smart rings that are bulky but comfortable will be more expensive to make up for the better build quality.
The smart ring's primary function is to act as a Near-Field Communication (NFC), which you have likely seen before on your smartphone features dock. This feature means that you no longer need to carry credit cards, door keys, or even car keys if you already have smart setups in your home and car.
Q: Why do you need a smart ring?
A: A smart ring is an excellent tool to have if you want to maximize your productivity and make your everyday life easier. Depending on the quality of the smart ring you choose, you can take total control of your lifestyle.
If you are trying to focus on improving your health and fitness, then options with progress tracking features for heart rate and blood-oxygen levels, are excellent resources. These rings work a lot like smartwatches, measuring your pulse before, during, and after a workout and providing you with customized reports.
These are typically reserved for higher quality, and therefore more expensive options. For most people looking for a simple piece of jewelry that will enhance their everyday life and make paying for items, unlocking their phones, and receiving messages quicker, a standard smart ring is just as suitable.
These rings will eliminate the need for you to carry around many of the everyday items that will typically bulk up your jacket, backpack, or pants pockets. Instead, you can program the smart ring to store information, including your credit or debit card details, much like you would with Google, Apple, or Android Pay, as well as codes or settings that permit access to your home, car, or office building. This convenience will prevent you from losing or forgetting items at home. Just don't forget to put it on before you leave.
As smart rings are more compact and less intrusive when you compare them to other smart gadgets, they are an excellent choice for people looking for a sleek overall look while still having total control over everything they encounter.
Q: How do you install a smart ring?
A: Just because your smart ring doesn't have a screen to navigate through settings and locate connection features doesn't mean it isn't easy to install and set up. It's quite the opposite, and relative to other smart devices, many find their connection and use quite simple.
For NFC rings, enable the NFC feature on your smartphone and authenticate your usage. Doing so should allow the smart ring to come online right away, and as many products come pre-charged, you can use it at once.
Despite this, there will be slight differences between different brands, so if you have any issues with installation, seek help from the brand website or customer service platforms. These should help you with any problems. Similarly, look online for other users who may have encountered similar issues. Often, you'll find a solution sooner than expected.
Sources:
Using The NFC Ring With Android Smart Lock - NFC Ring
How To Measure Your Ring Size - Argent London
Sign Up Now
GET THE VERY BEST OF GEARHUNGRY STRAIGHT TO YOUR INBOX