Power Your Adventures: Best Generators For RV In 2022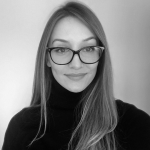 This product guide was written by Jovana Dosenovic
Last Updated
February 22, 2022
Jovana Dosenovic
Jovana is a writer and copy editor living with her lazy calico cat and thousands of (mostly unread) books. She has worked as a copywriter, fact-checker, QA analyst, and librarian, but this has been her favorite gig so far. A bit of a bookworm since she was tiny, she loves nothing more than curling up with a giant cup of coffee or tea and a good book. When not hunched over a keyboard or book, Jovana enjoys going on long walks, short hikes, and occasional camping trips. She also has an unfinished novel she'd like to publish one day. No, really.
GearHungry may earn a small commission from affiliate links in this article.
Learn more
Looking for the best RV generator for your next outdoor adventure? You've come to the right place. After spending over three days on market and product research, reading dozens of verified customer reviews, and consulting with the camper, RV and off-road adventurers on our team, we've rounded up some of the best RV and camper generators you can buy.
When it comes to choosing the best portable generator for RV, it's all about your needs and preferences. Are you looking for a generator that uses a specific type of fuel (gas, propane, or both), or are you okay with any fuel type? Are you planning to power only the bare basics like lights, RV components and the water pump, or do you also want to power your kitchen electronics, gadgets, maybe a TV? Are you looking for the quietest RV generator so you don't disturb anyone and anything in the great outdoors, or are you and your fellow campers okay with some noise? Portability also plays a factor, and so does cost, of course, which varies widely.
Below, you'll find some of our favorite RV generators, including those that run on dual fuel, the most powerful and efficient ones, super-quiet models, and more. We've also put together an in-depth buying guide and laid out every single question you possibly could have about the generators for RV, right on down to the most minor maintenance issues.
The Best Generator For RV
Westinghouse iGen4500 Super Quiet Generator For RV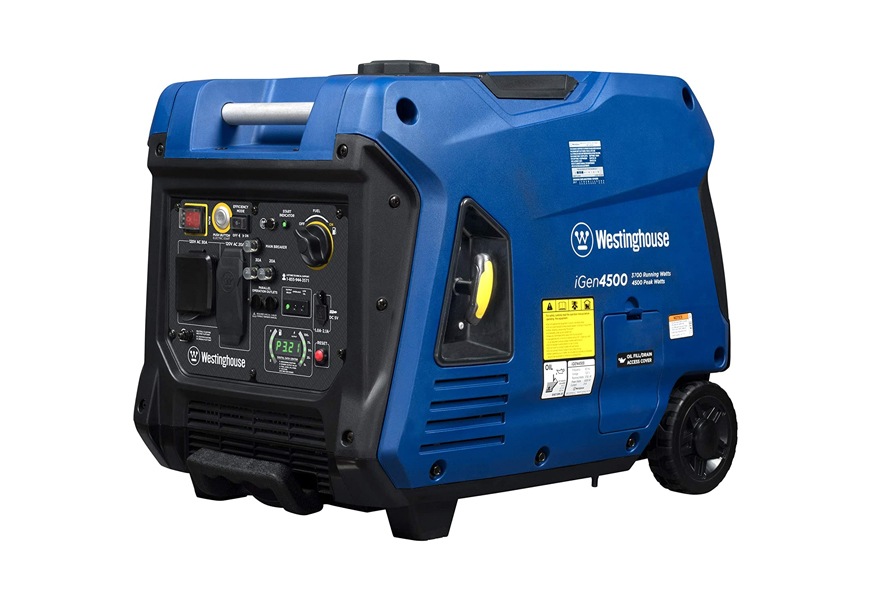 For all your RV power needs, opt for the Westinghouse Portable Inverter Generator. Specially designed to be compatible with RVs, this generator is practically unmatched. It features an easily accessible TT-30R RV outlet that makes it perfect for all your trailer travels. With 3700 running watts power and 4500 starting watts, the Westinghouse generator is strong and capable enough to power practically everything in your RV. This portable generator is also compact, and while not light, it's relatively easy to carry around thanks to its built-in telescopic handle. There's also a total of two convenient top carry handles that allow for portable movement. Furthermore, it's very quiet, operating at a volume that is as low as 52 dBA.
It's also perfectly safe for sensitive electronics since it produces clean and stable power that is less than 3% THD. This means you can trust it when it comes to devices like your phone, computer, and TV. This portable generator also incorporates maximum fuel efficiency engineering with variable engine speeds that only produce the power that you need at any given time. You can have it running for up to 18 hours at a go on a 3.4-gallon fuel tank, saving you repeated trips to the gas station. Plus, it comes with an LED data center fitted with an automatic rotating digital display that keeps you up to date on information about maintenance, all in real-time. With a three-year warranty included in the package, this generator is a long-term investment for your RV.
Key Features:
3700 rated, 4500 peak watts
Can run for up to 18 hours at a time
Quiet operation as low as 53 dBA
Compact with two convenient top carrying handles
Produces clean power ideal for sensitive electronics
Specification:
Brand

Westinghouse

Model

WGen3600

Weight

107.1 Pounds
Comes with a four-gallon fuel tank
Built to last for decades with proper care
Quiet and efficient operation
Malleable frame construction; may incur dings and dents along the way
The gas gauge can be misleading; always best to fill up
Generac GP3000i Super Quiet Generator For RV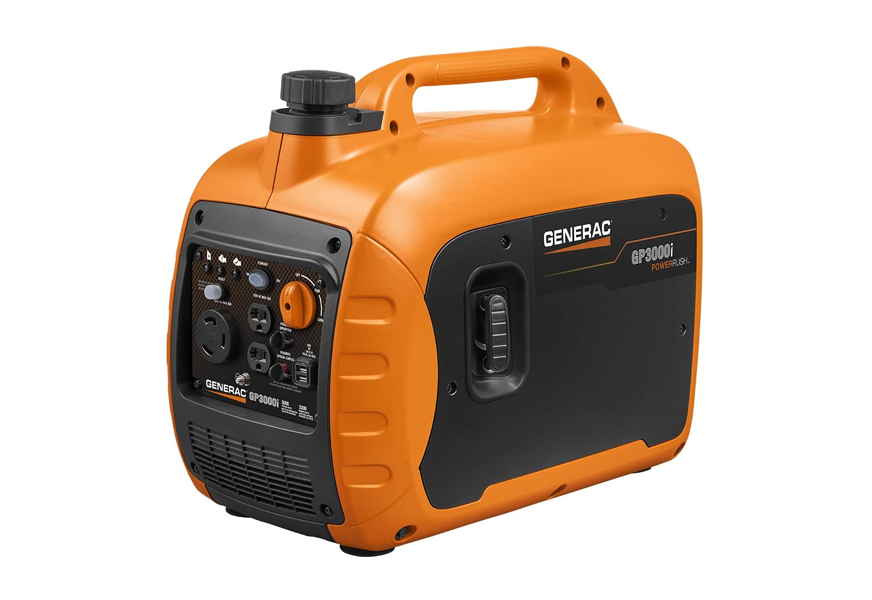 For the power you need whenever you need it, the Generac GP3000i Super Quiet Inverter Generator is a great option. This quiet RV inverter generator not only provides all the power that you need in your RV, but it also saves on power. That's thanks to the power rush technology that delivers over 50 percent more starting power than regular generators. Consider this a typical "more with less" situation; because of this modern technology, you can save more on gas while you get to experience a fully functional RV with all your electrical appliances for an even longer period of time than you would normally have with the same amount of gas. Additionally, this generator is very compact, with a lightweight design that is easy to carry around with its built-in carrier handle.
To protect sensitive devices like your phone and computers, you need a generator that has been designed to produce non-damaging and clean power that is ideal for your appliances. With this small RV generator, you can trust that your devices will always be safe from electrical damage. The incorporated technology delivers clean and secure power for sensitive devices and electronics. Furthermore, it features USB outlets that allow you to connect two units of this generator together. This enables you to get double the power. As such, you can easily charge your electronic devices by connecting them with a cord to the USB outlet. Last but not least; it comes with a power dial that integrates a start, run, and stop function in one simple-to-use knob. Our guide to the best solar phone chargers offers more amazing power supply options. Be sure to check them out
Key Features:
Running watts 2300, max. output 3000
Comes with a built-in handle for compact handling
Features clean power for sensitive electronics
Provides over 50 percent more starting capacity
Reduced sound emissions with quiet inverter power
Specification:
Brand

Generac

Model

7129

Weight

55.6 Pounds
Compact and light enough to carry by hand
Extremely quiet operation
Three settings for efficient operation
Some owners report that the generator can be hard to start
Complaints about poor customer service
Champion Dual Fuel RV Ready Generator For RV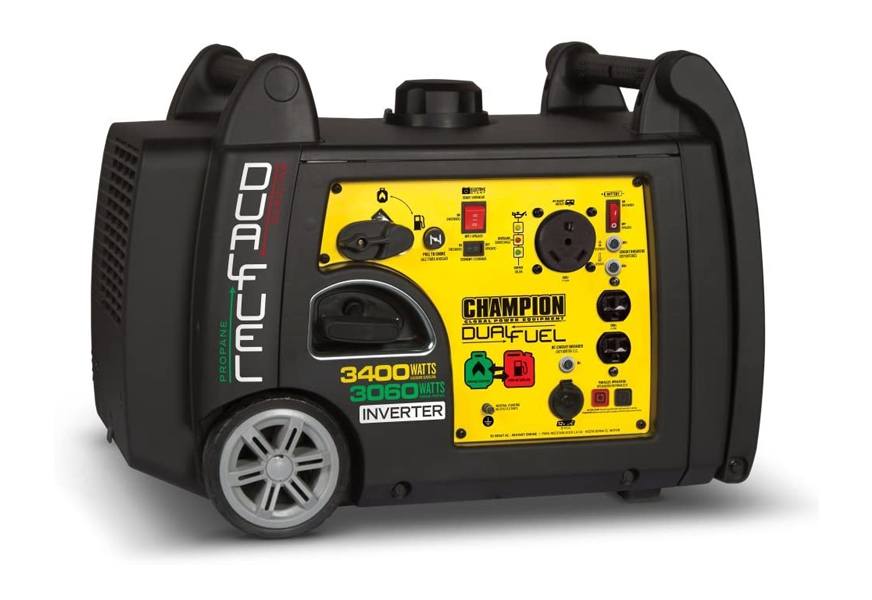 Portable and powerful is a tough cocktail to mix, but Champion did it justice with this hybrid unit with durable, all-terrain wheels that aid in maneuverability. This dual-fuel generator for travel trailer allows you to either use gasoline or propane, which makes it simple to store propane canisters for emergency use. The electric start has a three-position ignition switch and included battery, so you're guaranteed a simple click to get things rolling. While they state that it's "ultra-quiet," that's not exactly true; the unit is a bit louder than we'd like. There are two kinds of noise with generators: mechanical, and electrical, and this is somewhat noisy on both accounts. Sure, this may not be the quietest unit on this list, but it's still a relatively quiet RV generator.
While expensive, this unit is durable and efficient, plus it can be hooked to your preexisting electrical system within your RV, and it comes with numerous outlets to keep appliances and small electronics in full power. You get 7.5 hours of runtime on this powerful generator, and while it's not recommended, you could use it back-to-back with another full tank if need be. Champion works well for emergency situations and comes in a durable hard case to withstand the elements, so be sure to add it to your collection of survival gear.
Key Features:
3400 starting, 3100 running watts
59 dBA for a quiet operation
Clean and stable power for sensitive electronics
Comes with electric start with 3 position switch
Allows you to operate with either gasoline or propane
Specification:
Brand

Champion Power Equipment

Model

100263

Weight

95.7 Pounds
Uses either gasoline or propane, while also being simple to refuel
Runs like a champ, powerful enough for RVs with lots of appliances
Can connect to your preexisting RV electric system
One of the most expensive generators on our list
States 59db rating, but in practice, it's louder than that
WEN 56380i Super Quiet 3800-Watt Generator For RV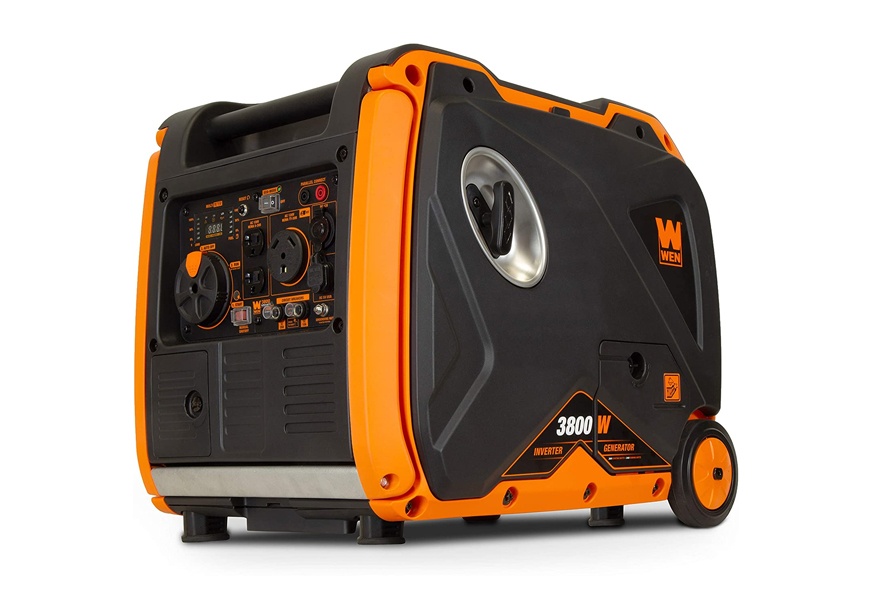 The WEN 56380i Super Quiet 3800-Watt Portable Inverter Generator is not the generator that you want, it's the generator that you need. This RV generator has been designed to last you for years, featuring a special fuel shut-off feature that maximizes the total lifespan of the device by making sure all the remaining fuel in the carburetor is used up before finally shutting down. It also requires minimum maintenance, seeing as the fuel shut-off prevents blockage and limits any damage to the generator.
Featuring an electric start mechanism, the convenient keyless start lets you turn on your generator with the simple press of a button. It also provides you with clean and reliable power using less than 1.2 percent total harmonic distortion so that safe electricity is produced. This goes a long way to ensure the durability of your sensitive gadgets. What's more, its super quiet 57 decibels engine allows you to sleep and rest in noiseless peace. Furthermore, its easy-to-read digital display puts information right at your fingertips, allowing you to monitor the voltage, wattage, frequency, run time, and fuel supply.
Key Features:
3800 surge watts, 3400 rated watts
Features a digital load and fuel display
Comes with a fuel shut off
57 dBA ensures quiet operation
Provides clean power for sensitive devices
Specification:
Brand

WEN

Model

56380i

Weight

111 Pounds
Affordable price, excellent quality
Comes with wheels and a handle for easy transportation
Much louder than pricier units
Not recommended for larger RVs with many appliances
DuroStar DS4 Generator For RV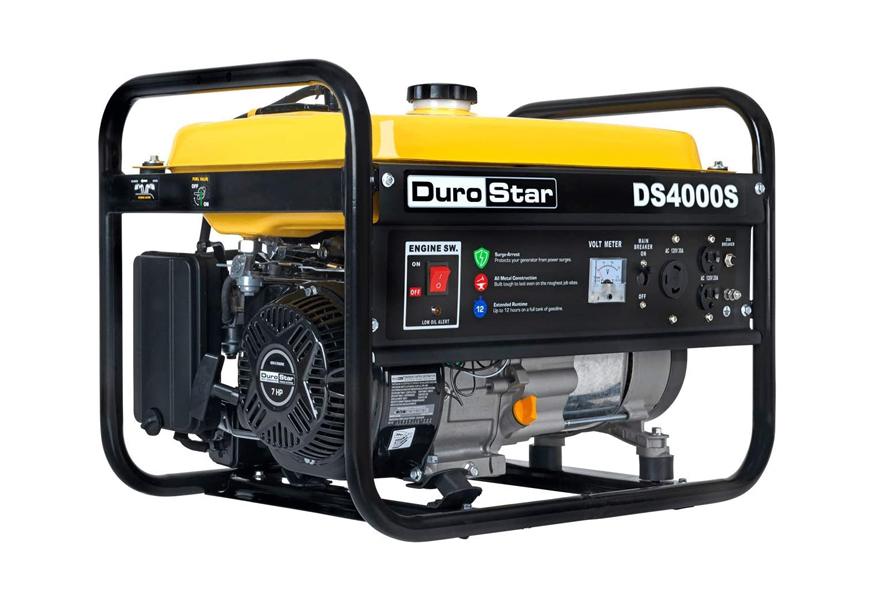 Up next is the DuroStar DS4 model, bringing an excellent eight hours of runtime working off of a four-gallon tank. The tank doesn't come with a gas gauge though, so you're not going to know what's knocking around inside until either it empties out or you pop the cap open to take a peek for yourself. They put this at an excellent price that just about anyone can get behind, especially if you're trying to RV camp this spring or summer on a moderate budget.
Ignition components on this model are a bit dodgy; it's going to do the job, but it's not going to do it on the first pull of the ripcord. It's like a ten-year-old lawnmower: you have to give it a few tugs before the motor's going to kick into gear. That being said, you get 3,300 running and 4,000 starting watts, and while it's EPA compliant, it's not CARB certified, meaning residents of California won't be able to purchase this unit. From top to bottom, it's a good quality unit in a solid frame and works well for 2-4 users on a three-day weekend, or as a backup generator during hurricane season. If you are looking to upgrade your RV, then make sure you read our top RV air conditioners review.
Key Features:
4,000 starting, 3,300 running watts
8-hour runtime
4-gallon gas tank
Low-oil shut off
Specification:
Brand

DuroStar

Model

DS4000S

Weight

92.4 Pounds
The generator automatically shuts off when oil is low
Excellent budget-friendly price
No fuel gauge included
Requires a few attempts to start; low-quality ignition
WEN Super Quiet 2,000 Watt Inverter Generator For RV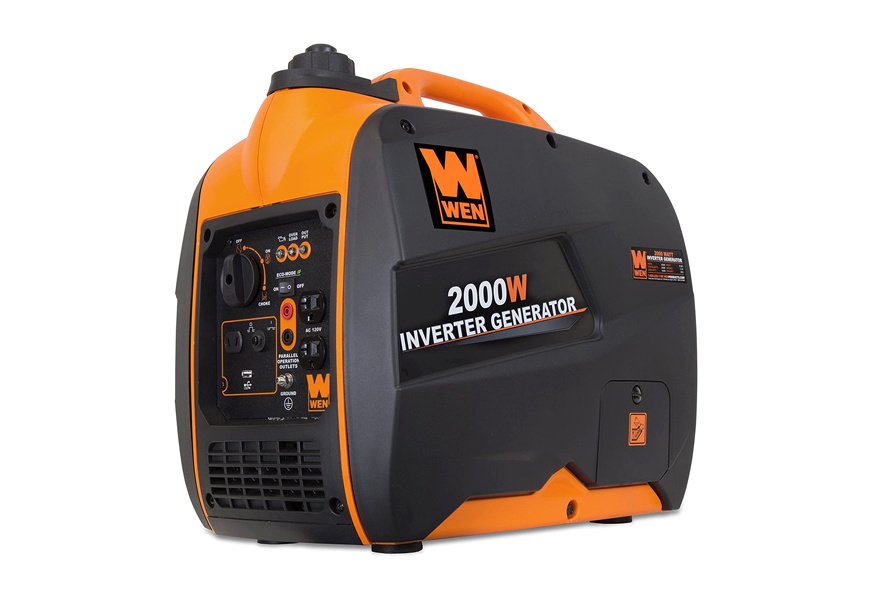 If you're looking for reliable, quiet generators for RVs that don't cost a small fortune, definitely check out WEN generators, and this unit in particular. While budget-friendly, this is one of the most trusted portable generators around, lasting some folks well over a decade of use, with little to no problems. You'll be able to link up multiple units to increase the overall wattage output, which gives you the option that if one breaks, you still have another. You get 2,000 starting and 1,600 running watts, all on a six-hour runtime from the one-gallon tank. While it isn't the largest in capacity, it's built tougher than most.
It's CARB and EPA compliant, making it perfect for short-term camping excursions for California residents. Super Quiet isn't just in the title; it's actually the quietest operation of any generator on our list. In all the marketed photos, you see a guy carrying it with one hand, seemingly without any strain. We were a bit skeptical, but after checking its weight – 48 pounds – it's clear it's light enough to carry. The cost associated with this for the wattage output is a bit disproportionate, but if you're all about buying quality over quantity, WEN is your go-to guy. Make sure not to forget the portable power bank which can come in handy when you are on the road.
Key Features:
2,000 starting watts, 1,600 running watts
2 three-prong 120V outlets + one 12V DC and one 5V USB outlet
Produces clean power for sensitive electronics
6 hours of runtime
Specification:
Brand

WEN

Model

56200i

Weight

48 Pounds
Extremely quiet and efficient operation
Comes with a carry handle and is light enough to carry with one hand
CARB compliant
High cost to wattage ratio
Only one-gallon tank
Champion Digital Hybrid Open Frame Inverter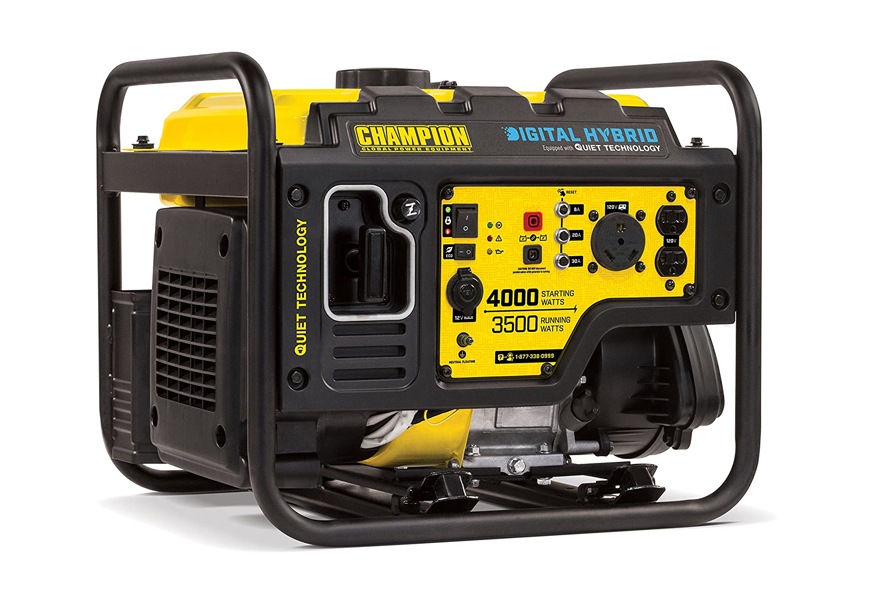 This Champion unit runs like a (forgive the pun) champ; it packs a stronger punch than its predecessor, operating in a range of just over 60db, all mechanically, meaning it's a bit quieter than you'd expect a 4,000 starting, 3,500 running unit to be. You get an impressive runtime of seventeen straight hours, making this ideal to be a backup generator as well as for an RV trip. You won't have to hold a funeral for your hemorrhaging wallet, either; Champion put Digital Hybrid Open Frame Inverter at a great price, while still keeping it lightweight enough to manually move around the campsite.
One issue a few other Champion models had (ones that didn't make our list), was the ripcord being touchy, and this model is no different. It'll take a few pulls to get it moving, and you'll want to monitor the ripcord durability over time, as it's the only part you'll really have to fix on this unit. You'll be able to utilize the limited three-year warranty to grab that part, should it break, but other than that, this unit is rock solid, resting in a good quality frame. It also produces clean output that is ideal for powering sophisticated devices like phones, tablets and laptops. Yes, it's a little noisier than we'd like, but it's powerful, durable and fuel-efficient.
Key Features:
4,000 starting watts, 3,500 running
17 hours of runtime
Produces clean electricity for sensitive devices
3-year warranty with free lifetime technical support
Specification:
Brand

Champion Power Equipment

Model

100302

Weight

81.6 Pounds
Fantastic price to wattage ratio
For the size/output, it operates fairly quietly
Excellent running time, great for larger RVs
Ripcord requires a bit of tough love to get it to kick on
Item frame (not motor) has arrived dented or damaged for some customers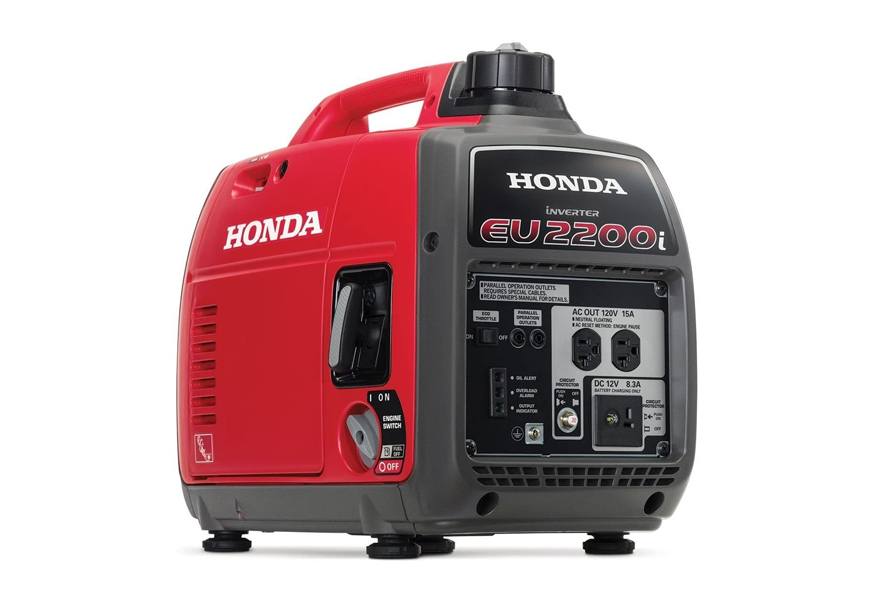 The big brother of the EU2000 model, Honda EU2200i lasts most users for 8-10 years and gives you a 2,200 starting, 1,800 running power supply. Honda builds their generators ultra-tough, and with this series, they've been committed to making them as portable as can be. Lightweight at only 47lbs, you'll have no issue loading and unloading this single-handedly during your trips. One of the major appeals of these units, besides being the go-to backup generators that Americans prefer, is the ability to dual-connect two units, and make a small power grid up to 3,600 running watts.
As with the other model, this price tag is still pretty high, although lower than its predecessor. Normally, your runtime is pretty set in stone, but you get a high range of anywhere from four to nearly ten hours on this, making it difficult to properly plan the extra fuel that you bring along. It's quiet, simple to start and shut down, and has a simple operation for any user. If you're still not sure what you're looking for in an RV generator, take a look at our comprehensive buying guide below, and circle back to grab your preferred model.
Key Features:
2,200 starting, 1,800 running watts
Lightweight and portable at only 47lbs
Fuel shut off valve
Can run with other EU2000i units to create a 4,400 / 3,600-watt power supply
Specification:
Brand

Honda

Model

EU2200I

Weight

47 Pounds
Conversation-level noise output
Simple startup and shutdown operation
Fuel efficient, can run up to 9 hours on a single tank
Wide runtime range; anywhere from four to nearly ten hours on a single tank
High cost to wattage ratio
Why Trust Us
To bring you the very best generators for RV campers, we've spent three days researching the topic, market, reading customer reviews, and comparing the best-sellers. We considered the units most accessible to a wide range of consumers, so our picks include both pricy and budget-friendly units.
Who This Is For
This guide is for anyone looking for a reliable generator for an RV. Whether you're RV-ing on the weekends, living in your camper, or simply want to be prepared in case of an emergency, this guide is for you.
How We Picked
When curating our list of the best generators for RVs, we looked for units that are accessible to a wide swath of users, meaning both recreational RV-ers, as well as folks who live in their campers. We looked for good wattage ratings, fuel efficiency, and quiet operation.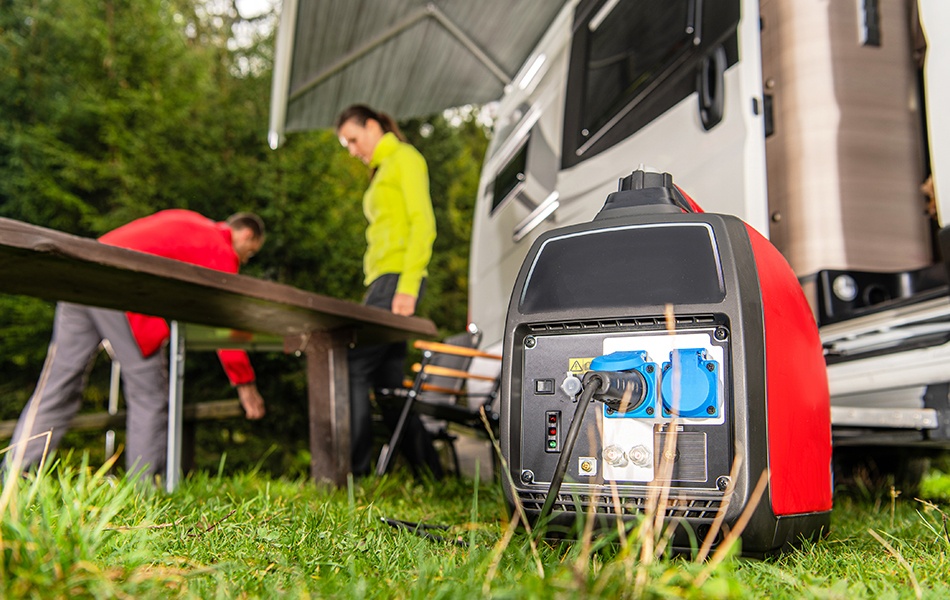 Features To Look For In Generators For RV
Power output - While many RV-ers believe that the higher the power ratings, the better, you really don't need to splurge on a high watts rating if you don't have a big RV with lots of electrical appliances installed/gadgets to power. All you need to do is ensure that your generator's power output suffices for your RV's power requirements and/or devices.
Fuel type & capacity - Gas and propane are the most popular fuel types, although solar is gaining in popularity too. Each has its ups and downs: gas is more reliable and readily available, propane can cost more and generally provides less power, and solar is a wildcard. The capacity is important too – in general, the larger the fuel capacity, the longer you can stay off-grid.
Runtime - After a certain point, you have to cool these things down. For most units, you'll get a bare-bones minimum of five hours of use, with some lasting up to a full twenty-four hours. While you could refuel your unit and continue past the runtime expectations, these are set in place to prevent damaging your generator, while maintaining the results you purchased your unit for.
Power starting / running - This is the energy rating you'll see in most item titles, and among the most prominent details. This tells you how much it needs to generate to start up, and how much it will generate while running. It's vital to understand exactly what you can plug into your portable RV generator, but keep in mind, it's best to hang about 10% below the maximum running threshold to maintain efficiency and prevent surges or failures.
Weight - You're hauling it, and half the time (or more), you know you're not going to have any help doing it. Try to purchase as lightweight as possible without compromising on quality if you know you won't have any help. If you normally RV with friends and family members, feel free to look at heavier and bulkier units as they typically are more powerful.
Dimensions - You'll have to store these in your RV while moving, but you're packing more than just a generator. Take the dimensions (and overall size) into account before planning to stash this in the back.
Warranty information - This isn't some simple off-the-shelves purchase; warranties are the saving grace that everyone needs if you're to encounter unexpected issues. No manufacturing or assembly process is ironclad, leaving small but viable margins of error. The right warranty will also protect you against a recall and the havoc it may have wreaked on other sections of your system.
Safety Precautions When Using An RV Generator
You're going to be using your RV generator when you don't have access to a charging station for your central electrical system, and it's good to keep in mind that you're still dealing with vast volumes of electricity and a combustible engine, and as such, certain safety precautions should be in place.
Keep your RV generator 10 or more feet away from your RV (or house).
Make sure you have an operational carbon monoxide alarm installed in your RV.
Do not run your generator when everyone's sleeping (in case of fire).
To keep your generator dry when it's raining or snowing, place it under a canopy/similar shelter.
Keep your fuel in proper storage containers and away from your RV. Never keep your generator fuel inside as it's a fire hazard.
When it's time to leave, make sure your unit is completely cooled before placing it in your RV.
Notice To Residents Of California
Just because a generator doesn't come with EPA certification and CARB compliance information doesn't mean you can't buy them. However, if you're living in the great state of California, that means that they might as well be illegal to you. Due to emission laws governing the sale and use of certain items, you're limited in your choices. While most RV generators will come with EPA/CARB certificates, you'll be surprised at some of the biggest brand names in the business when you see that they aren't all compliant. For updated information and localized intel, you should check back to your local municipality databases/websites, as well as the official California government page.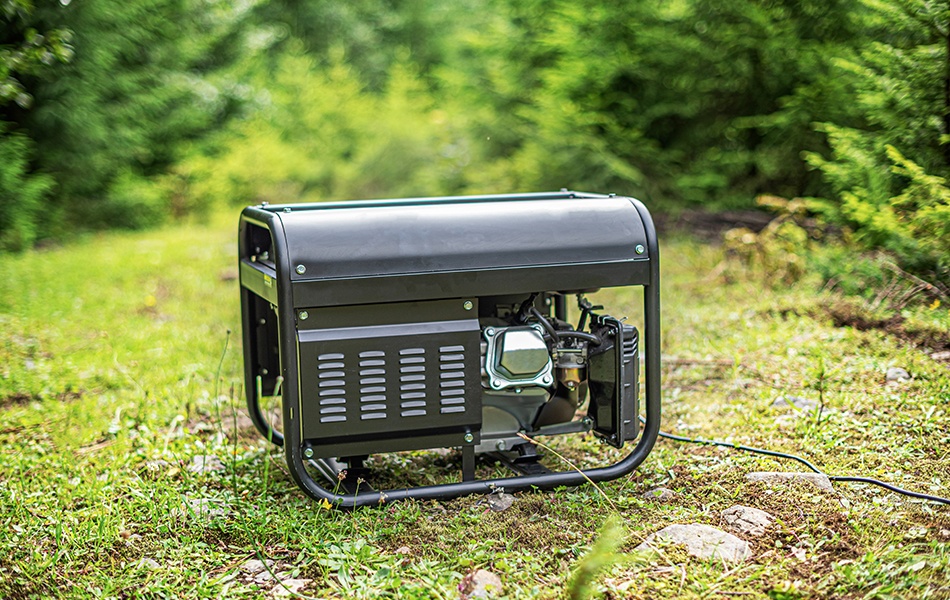 Generator For RV FAQ
Q: What drains my generator the fastest?
A: You're going to have to take a look at individual energy consumption on each product, as you should always do, but we don't want to leave you high and dry without a solid answer. The top items on average, ranging from most energy consumption to least, are as follows:
Refrigerator
Television
Game console
Air conditioner (may be higher depending on your BTUs)
Electric stove
Blender or countertop appliance
Cabin lights
Q: How much power do I need for my RV/camping?
A: That is all going to depend on what you like to do, and how many items you'll have running at once. Your family size (and their dependency on technology being right in their face) is going to either be a blessing or taxing on your energy usage and cost evaluation. If you're a solo goer, you can get by on a 2,000 / 1,600 generator for most of your necessities, allowing you to enjoy the great outdoors without relying too heavily on your electronics. It's best to find out what each of your items uses for energy, and make a plan before hitting the road. Be certain to see our brief list of the most energy-sucking items that most RV users have.
Q: What is an onboard generator?
A: As you very well may imagine, it's an RV generator that rests in your RV instead of being placed outside. However, it's not all sunshine and rainbows. Onboard generators are noisy as hell (especially when it's bouncing around inside that little cabin) and produce heat, which is counterintuitive if you plan on running the AC.
In short, they're not worth their weight in gold. The main purpose we see is if you go to an RV park or camp that has frequent - and rather close - visitors, and you're trying not to disturb them during the night. Portable RV generators are the choice of full-time RV-ers for multiple reasons, including cost and maintenance versus an onboard generator.
Q: How many watts will I be running for my AC?
A: There's no simple answer here because we don't intimately know your RV or its system. Instead, we've listed a helpful chart here to let you know.
7,000 BTU RV Air Conditioner - 1,500 to 1,700 watts starting / 600 running
10,000 BTU RV Air Conditions - 1,800 to 2,000 watts starting / 700 running
13,500 BTU RV Air Conditioner - 2,500 to 2,750 watts starting / 1,250 running
15,000 BTU RV Air Conditioner - 3,300 to 3,500 watts starting / 1,500 running
These are based on averages from different brands of RV air conditioners, including built-in AC units that come with certain RV brands. It's always best to look at your RV manual for specifics so you don't risk a power surge.
Q: What is a considerate sound level for RV generators?
A: You're going to see these machines measured in decibels, or dB, as they're more commonly referred to. Most generators are going to run anywhere from 45 to 70db, mimicking the sounds of a moderate suburb, or a semi-loud slew of conversations in a restaurant. These generators aren't thunderous and peace-disturbing as everyone would think. When you go with an inverter generator, you actually produce even less noise than traditional mechanical RV generators.
Q: What is an inverter generator?
A: Inverter generators are a step up from standard mechanical generators. Your normal generator would utilize fuel, and convert that to AC power through an alternator. With an inverter generator, you're focusing on more than just simple energy transference. Inverter generators have a higher number of electronic components, making them a bit more expensive, but ultimately better pieces of equipment.
An inverter generator takes that AC power, turns it into DC power, and back into AC power once again. It sounds like a tedious process, but it's actually far more efficient than standard mechanical generators. Apart from them, they also come a lot lighter than mechanical generators, and offer various speed settings to preserve fuel, and only utilize the level of electricity that you actually need. It's a bigger investment, but it cuts down on unnecessary fuel consumption and additional costs along the way.
Q: How long will an RV generator run for?
A: If you're going for runtime in a single-use, you're going to want to consult the specific manual/guide that came with your unit. However, if you're talking about a total runtime over the course of its life, that's going to depend on a few things.
As a rule of thumb, especially if you want to increase the life of your RV generator, you should stop it within thirty minutes of the maximum allowed runtime. This is going to preserve it for future use. Certain Honda RV generator users have had their models for over eleven years, and counting. If you take care of them, they'll last you for ages.
Q: Can I hook up multiple RV generators at once?
A: Yes, you absolutely can. If you're traveling with a big party, or you have a big family, you're going to go through a lot of power. Buying a few smaller generators along the way can be better than committing to a large-scale purchase, but can also save you in fuel efficiency costs in the long haul, depending on the circumstances and model types.
There are benefits to going with smaller generators: you can use a single one when you solo trip out on the road, cutting down on overall usage, and saving fuel plus money. Also, if one unit runs into mechanical issues, you're not up the creek without a paddle. You've still got your single-use unit to generate electricity for the necessities.
Q: What are EPA and CARB compliance certificates?
A: The Environmental Protection Agency (EPA) and California Air Resources Board (CARB) both sign-off on the fuel efficiency and overall environmental impact of RV generators. Air emissions are created when combustible engines produce electrical energy, and as such, their interference is heavily regarded.
Not every generator is going to meet their standards, but it also doesn't make them illegal. It's going to make them available to all fifty states (more on this later), and also notify the purchaser that they may not be getting the best device to fit the needs of the environment.
Q: How do I replace oil filters?
A: Unlike air filters, you can't simply clean these and just toss them back in. These endure so much duress that they simply need to be replaced. Much like the air filter being located near the fan, you're going to find your oil filter located right near the fuel tank. Each model is different, so it's best to consult the user manual to quickly locate the exact location of the oil filter.
Ensure you dispose of it properly. Oil filters can run a bit more of an initial cost than air filters, so it's important to understand exactly when you should replace them. This is going to help cut down on costs and waste at the same time. The rule of thumb for oil filter replacement is after every one-hundred hours of use. If you can remember, put a small clipboard or micro legal pad near the generator, and essentially sign-in and sign-out each time it's put into use, and powered down for the day. This will give you a realistic expectation of how often you have to change it, depending on your frequency of use.
Q: How do I replace/clean air filters?
A: Air filters are extremely critical to your RV generator performance. We're going to run through the cleaning process now, and if you need to replace it, you can simply stop after step one, and pop-in a new filter, then call it a day.
Locate the fan, which will be directly adjacent to the air filter. You may find a small rectangular plate, which you can usually remove with a Phillips head screwdriver. Standard generators come with either two or four screws.
Ready your cleaning solution. We recommend simple Dawn dishwashing gel, since you're going to see a fairly nasty mix of debris, dust, and oily grime in that air filter after just one to two months. Soak it for 1-2 minutes, and gently scrub.
Air dry. Don't pat dry, don't use a blowdryer - you have to do it properly. Air drying evenly returns the filter to a usable state. You should never put a cleaned air filter back if it has the slightest hint of moisture about it. While the risk is minimal, it's important to remember that water and electricity don't mix.
Sources:
Sign Up Now
GET THE VERY BEST OF GEARHUNGRY STRAIGHT TO YOUR INBOX