Best Pasta Drying Racks In 2022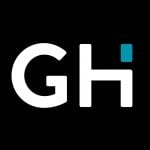 This product guide was written by GearHungry Staff
Last Updated
May 13, 2020
GearHungry Staff
GearHungry Staff posts are a compilation of work by various members of our editorial team. We update old articles regularly to provide you the most current information. You can learn more about our staff
here
.
GearHungry may earn a small commission from affiliate links in this article.
Learn more
Do you like to make your own pasta? For homemade pasta, having the pasta dry enough is necessary. Who likes their pasta wet? Exactly, no one. Leaving pasta wet will often get the pasta to lose shape and leave it lumpy. Homemade pasta tastes better when dried. This is where the best pasta drying racks come in.
While many people used to let their pasta dry in the sun years back, pasta drying racks have come to help make the drying process more convenient.
The Best Pasta Drying Rack
Fantes Collapsible Pasta Drying Rack
This noodle and pasta drying rack from Fantes is our first pick for several reasons. Apart from combining all the space-saving goodness you need, Fantes Collapsible Pasta and Noodle Drying Rack also has a reputable firm backing it. Fantes is an old Italian manufacturer of pasta-related kitchenware. From pasta drying racks to rollers and pasta machines, these guys make it all. They've been around since the early 1900s, and they're still as relevant today.
With the Fantes Collapsible Pasta and Noodle Drying Rack, the company has made a truly ingenious product. The rack is simple and easy to use, as it provides the space you need to dry your pasta effortlessly. The rack works with all forms of noodles, including pasta, fettuccine, lasagna, and spaghetti noodles.
The rack was made in Italy from a natural beechwood material. The material itself is durable and sturdy, so you can rest assured that your pasta will stay on and not roll-off.
The rack collapses down to less than an inch in size, so you'll have no issues with storing it in the kitchen when you're not using it. The fact that it's so compact also makes it an ideal choice for people who have smaller kitchens.
The rack also comes with dowels that are properly spaced. With these, you can place your pasta side by side and not have to fear them sticking together as they dry. You will also love how easy it is to clean – just get a brush or a cloth and wipe away! If you love this product, check out these amazing pasta makers as well!
Key Features:
Made from natural beechwood
Easy collapsible storage
Simple assembly and use
Well-spaced built-in dowels
Specification:
Brand

Fante's

Model

14801

Weight

11 Ounces
Navaris Collapsible Pasta Drying Rack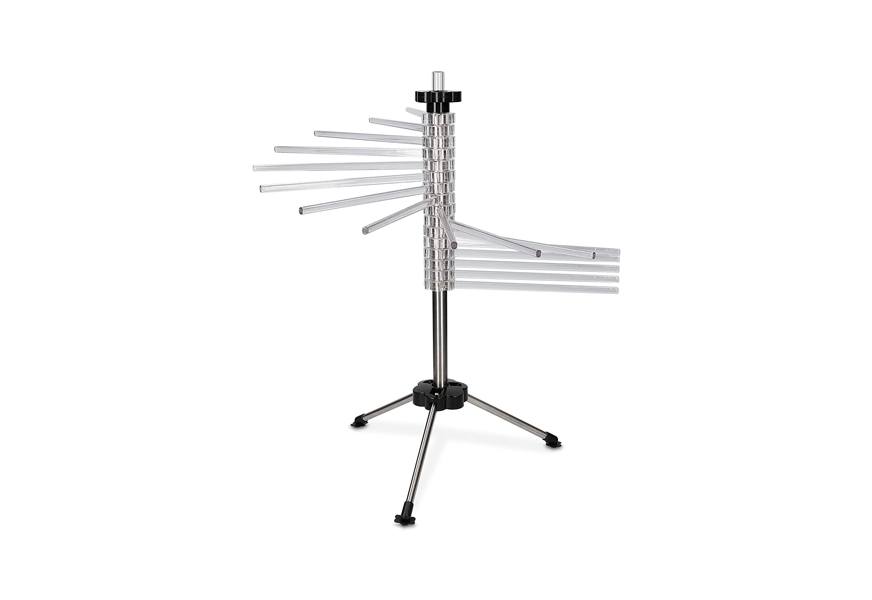 We appear to be taking a detour from the conventional wooden design of pasta drying racks. To that end, say hello to the Navaris Collapsible Pasta Drying Rack – a drying rack that's simple and elegant, and which brings an interesting twist to the design of pasta drying racks.
Here, you've got a rotating pasta hanger that comes with a staggering 16 dowels. The dowels take the place of drying rods on the previous design, and instead of stretching out from both ends of the central drying tower, they each come out differently. You can modify the position of the dowels to your preference till you're sure they won't cause your pasta to collide. 
Of course, the product works for more than just pasta. You can also use it on spaghetti, lasagne, and others.
You'll also love the product's non-slip design along with the sturdiness of the stainless steel drying tower. The tower has rubber feet, which ensure a firm stand on your kitchen counter.
The rack brings back the collapsible design, thus making it a perfect fit for kitchens that don't have all the storage space in the world to share. Cleaning is simple and easy as well since you simply need to wipe the dowels down with a clean cloth. To make sure you have all you need to make your pasta dish just perfect, browse these amazing spice racks for your kitchen.
Key Features:
16 I-built dowels
Collapsible form for storage
Stainless steel and plastic make
Non-slip design
Specification:
Brand

Navaris

Model

44875.01_m000628

Weight

1.68 Pounds
Gourmia GPD9355 Pasta Drying Rack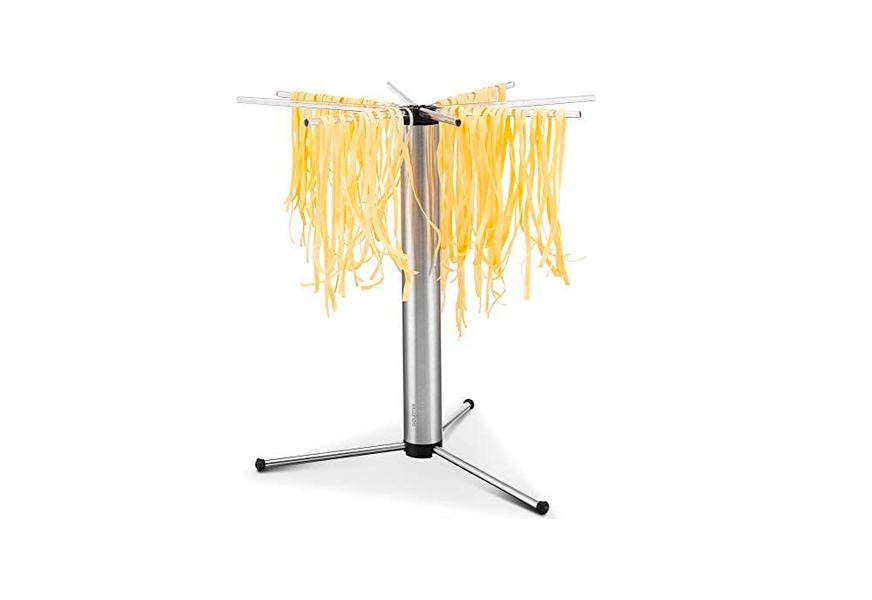 Back in the day, traditional chefs resorted to using other equipment to dry their pasta outside, this was to ensure that each strand of the noodle or pasta was properly dried before either packaging it or storing it in a dry compartment for later use. Today, we find more and more people exploring DIY options instead of going for prepackaged foods, or ready-made furniture, and it's really amazing how much we can do and accomplish ourselves with home-prepared food. They are fresh and can be made to personal taste, that's why more home-cooks are moving to this D-I-Y option. For home-chefs that are looking for a reliable pasta drying rack that can sturdily stand on its own while accommodating good portions of pasta dough, the Gourmia Pasta Drying Rack makes an excellent choice.
With eight dowels or as some would call it, arms, included, the pasta can lay on their extended sturdy form to dry straight from the machine or after the shapes have been manually cut out. That's not all, the arms swivel around so users can easily reach each dowel without having to lift or turn the entire rack. There's ample space left between in arm that allows enough air through; so, each strand gets an equal opportunity to dry out before being cooked or stored for later use. Without this process, the pasta dough could easily stick and clump together in the pot or in the bag where it's stored. After the pasta is dried and stored, simply fold the drying rack into a more compact form for storage; the legs and arms can all be collapsed into the steel tubes form, which can then be placed in a drawer for later use. There are no tools required to either set it up or take it down after use, the process of making the pasta is already a bit time-staking, why add more complications right?
Key Features:
Eight detachable arms
Clear wand for transporting the pasta
Anti-slip silicone base
Ingenius collapsible form
Specification:
Brand

Gourmia

Weight

1.12 Pounds
Fox Run 11654 Collapsible Pasta Drying Rack
Still keeping away from the wooden options on our, we have the Fox Run 11654 Collapsible Pasta Drying Rack. This pasta drying rack looks eerily similar to the previous option. They both share the same design template, and they have similar features. There are 16 drying rods, with each having 8 inches of space. That provides more than enough real estate for you to place your pasta and dry it without any touching.
Note that the product only supports up to 4.4 pounds of weight. So, you'll need to be careful when you're placing the pasta. As expected, it works for all forms of pasta available. The plastic drying rods are ready to clean, and you'll love the fact that they are made from non-stick components. They won't stick to the pasta when you move them into the pot. The package also comes with a multipurpose wand that will pick up freshly cut pasta and transport it to the rack or your pot. Don't forget to make sure your pasta has enough cheese with one of these cheese slicers.
Key Features:
Stainless steel drying tower
Multipurpose wand
8-inch drying rods
Specification:
Brand

Fox Run

Model

11654

Weight

1.4 Pounds
Ourokhome Collapsible Pasta Drying Rack
The Ourokhome Collapsible Spaghetti Drying Rack is another spin on the collapsible design that you really should give some strong consideration. While the product isn't perfect, it's pretty impressive for what it's offering. To begin with, the pasta drying rack works seamlessly for all forms of pasta. So, you've got that versatility locked. The plastic material is a bit of a questionable feature, although the manufacturers have assured users that it will hold up the weight of your pasta and maintain its form for a long time. While some users have complained about that, the reviews on the frame are solid overall.
The manufacturers also had the foresight to throw in rubber feet, which will make the rack more stable. There are ten arms to the rack, so you have enough space to hang your pasta and display it. Assembly is easy, and the collapsible design means packing it up and storing it would be painless. When collapsed, the rack measures just 7.8 inches in height and has a width of 3.5 inches. That's pretty conservative. For large kitchens, this unit would be overwhelmed. To make sure all your ingredients are perfectly mixed together, take a look at the best hand mixers.
Key Features:
Plastic material
Rubber feet for stability
Collapsible design
Specification:
Brand

Ourokhome

Weight

9.6 Ounces
iPstyle Folding Pasta Drying Rack
The iPstyle Folding Pasta Drying Rack brings yet another innovation in terms of product design and makeup. The rack is made of FDA-certified ABS material, which the manufacturers have claimed will be good for your health and not present any challenges. It works for any type of pasta, so you can put whatever you would like on it. However, the entire rack has a load capacity of 5000 grams, and the manufacturers have also cautioned that you shouldn't place more load than it can bear. The legs have a rubber coating, which provides additional stability and strength to the rack.
There are ten drying rods on here, with each sporting 6.6 inches of length. The rods are also collapsible, so the drying rack is compact and able to fit into small spaces for effective storage. Installation here is easy – so much so that the manufacturers decided not to throw in an instruction manual. Just raise each of the drying rods (or, as many drying rods as you'll need) and put the pasta on it. You don't need any screws or specialized tools to get the product set up. What you do need to have in your kitchen, however, is one of these handy graters.
Key Features:
5000 grams load capacity
Ten drying rods
6.6-inch rods
Specification:
Brand

iPstyle

Model

8541885668

Weight

9.6 Ounces
Anni Collapsible Pasta Drying Rack with Scraper
This pasta drying rack from Anni is similar to several products we've seen here in terms of design. You get a stainless steel drying tower and 16 pasta drying rods, with each of them measuring 8 inches. Given the functionality and sturdiness of the product, there's hardly a reason to doubt its effectiveness. Anni Collapsible Pasta Drying Rack with Scraper also comes with enough space to dry up to 4.5 pounds of pasta or whatever else you would like to dry – lasagna, spaghetti, and more are all welcome here.
The three-legged base is a bit of a new one, however. While many pasta drying racks go for four legs to provide optimal stability, Anni has chosen to take one out and provide three legs instead. It looks stable, but given the 4.5-pound load capacity, there's some cause for concern over whether the rack will be able to hold all the pasta effectively. The legs, however, are anti-slip, so you at least have that for reliability. The package also comes with a scraper for you to cut your pasta. We were super excited to discover a multipurpose wand to pick them and place them into the pot. However, customers have complained about the lack of an instruction manual. Given that the product is easy to assemble, however, you won't have much of a challenge with that.
Key Features:
Collapsible design
Three-legged base
4.5 pounds' load capacity
Specification:
Brand

Anni

Weight

1.78 Pounds
Hin Plus Pasta Drying Rack
With a plastic frame and an easy-to-use build, the Hin Plus Pasta Drying Rack is a sure lock for our list of the best pasta drying racks. The ABS plastic build isn't a surprise, of course – it's something we've seen before. However, users who have modern, contemporary kitchens will love how this product fits the décor seamlessly. It's white and neat, and a great aesthetic piece for anyone.
However, the product also delivers a lot in terms of functionality. There are four rubber-coated legs on the rack, which provide stability and a non-slip operation. The rack also has ten drying rods, with each providing 6 inches of drying space. Installation here is easy, and the collapsible design makes the rack a great fit for smaller kitchens. Everything you would need in a pasta drying rack is here, and it offers some great value for your money.
Key Features:
ABS plastic material
Collapsible design
Four rubber-coated legs
Specification:
Brand

Hin Plus

Weight

8.2 Ounces
Pasta Drying Rack Buying Guide & FAQ
Features To Look Out For In Pasta Drying Racks
Durability - No one wants to purchase a product that will get damaged in a couple of days. So, ensure that the rack is durable.
This is also important if you have lots of pasta to dry. The best pasta drying racks can hold immense amounts of weight, thus making them a perfect choice.
Stability - A pasta drying rack should be stable and firm, or you risk losing your pasta when it all falls to the dirty ground.
Spacing - Spacing is key, since you won't want your pasta to touch each other and get all slumped up. With effective spacing, you can dry the pasta and preserve it, then rest assured that it will still be delicious whenever you're ready to consume.
Height - Depending on the type of pasta you would like to dry, you need to ensure that the rack is tall enough. This way, you can lay the pasta on the drying rods, and they won't touch the ground – or each other.
Storage - Your pasta drying rack shouldn't be a pain to store. Instead of having to keep the rack outside, it should be compact enough for you to simply collapse or fold it and store it in a compartment of your kitchen.
Style - Style is an important factor to be considered because it determines how easy the rack is to use and install.

Pasta Drying Rack FAQ
Q: What is a pasta drying rack?
A: A pasta drying rack does what the name suggests – it dries pasta after it's been cooked so that you can eat it later. If you want to make some homemade pasta, these tools will come in handy on several fronts.
Q: Do I need a pasta drying rack?
A: You can question how much of a need it is to purchase a specific tool to help dry your pasta. Some people usually skip pasta drying racks, since they believe that they can still dry their homemade pasta without one.
The thing is, however, that drying pasta without a rack is quite complicated. It often takes up more space, and you will need to do more work.
To begin, drying pasta without a rack requires a few things. You need to ensure that the surface you're drying your pasta on has some flour on it. Most people try to use makeshift tools for help, such as chairs or floured dish towels.
None of these makeshift tools is convenient, and they could also present hygiene hazards. For a safe, convenient way to dry your pasta, you'll need a pasta drying rack.
Q: How long do you dry pasta on a rack?
A: If you want to cook pasta and eat it immediately, then you can take it straight from its bowl to the pot of cooking water. To dry it, however, you'll need to leave it on a rack for 1 to 24 hours. Turn it over several times in the interim, so it dries evenly.
Sign Up Now
GET THE VERY BEST OF GEARHUNGRY STRAIGHT TO YOUR INBOX