Best Pet Strollers In 2022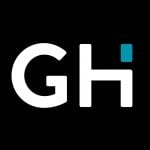 This product guide was written by GearHungry Staff
Last Updated
May 14, 2020
GearHungry Staff
GearHungry Staff posts are a compilation of work by various members of our editorial team. We update old articles regularly to provide you the most current information. You can learn more about our staff
here
.
GearHungry may earn a small commission from affiliate links in this article.
Learn more
We can all agree on one thing when it comes to our pets: they're part of the family. As such, they require the utmost pampering and unconditional love for them to lead a happy and healthy life. Whether you are a dog person or a cat person, your pet is your full-time companion. Someone you can always count on. So why not treat your closest buddy to a pet stroller so wherever you go, they can go too. Pet strollers can be used to spoil your dogs and cats while taking them out for some fresh air. They also come in handy if your pet has a tendency for frenzied behavior and gives you a challenging time controlling on the leash. The market for pet strollers is growing, and there are myriads of options with varying features and accessories to consider. So let's take a look at some of the best pet strollers land help you choose the very best one for your four-legged pal.
The Best Pet Stroller
Pet Gear Ultra Lite Travel Pet Stroller
Our Best Choice is this wonderful product by Pet Gear Inc., which is not only the No. 1 bestseller in dog strollers on Amazon but also the perfect gift for your beloved pet. This stroller is an excellent choice to contain and protect your pet while you are busy buying groceries, doing chores outside the home, or even at the mall shopping. The stroller possesses remarkable durability and has been designed to be lightweight at the same time, weighing only 9 pounds. The portable design also makes it super easy to fit the stroller in your car. It's the ideal travel choice as you can carry it in your vehicle for long journeys so that your pet does not feel left out!
Another significant feature that needs to be taken into account with these pushcarts is the type and size of wheels. A large tire size indicates ease of mobility and makes turning the stroller at different angles convenient for you. This fantastic product features 6″ wheels so you can stroll about with maximum ease, and the rear safety brakes make sure that you can control it at all times. The stroller height to handle is an impressive 38″. It has a simple and brisk quick-fold mechanism which makes it easy to maneuver. Another star feature is the mesh ventilation that simultaneously provides your pet with a wide view and fresh air. Pet Gear Ultra Lite Travel Pet Stroller is ideal for pets that weigh up to 15 pounds. All these amazing characteristics combined with a killer price make this pet stroller an absolute steal. An amazing gift for animal lovers.
Key Features:
Sturdy and lightweight pet stroller with mesh ventilation
Large 6″ wheels for convenient strolling
Portable design; easily folds into an ultra-compact size
Stroller height to handle of 38."
Weight: 9lbs
Suitable for pets up to 15lbs
Specification:
Brand

Pet Gear

Model

TL8150BK

Weight

8.5 Pounds
BestPet Foldable Travel 3-Wheel Waterproof Pet Stroller
As any dog or cat keeper will tell you, pet animals like to spend maximum time with their owners, and just do not like to be left behind. Pet strollers are the ideal way to allow your pets to commute with you without causing any fuss, no matter where you go. BestPet Foldable Travel 3-Wheel Waterproof Pet Stroller is made with the finest quality Oxford cloth that provides excellent water-resistance so you have no trouble taking your friend out for a walk even when it is drizzling wet outside. The stroller has been forged with durable materials and exhibits numerous useful characteristics. The cool features include a cozy padded seat for the ultimate comfort of your pet and strong mesh windows that not only provide good visibility and adequate ventilation but also keep intruders like insects and bees at bay.
With a weight of 11 pounds, its light and airy construction make it ideal for traveling, and the collapsible mechanism enables it to be easily folded and placed in your vehicle or stored compactly in your home without devouring extra space. The ergonomic design makes it ideal for daily use; take your dog for a walk around the block or let your cat get some fresh air as you take a stroll through the park. The substantial 6.3″ wheels can glide smoothly over all surfaces, including rough terrain, and the rear brakes and safety tether ensure a safe outdoor excursion. The front wheels also conveniently rotate 360 degrees for exceptional mobility. Other fantastic accessories include a cup holder and a spacious undercarriage where you can stow away all your stuff. For more amazing products for your pets, check out our guide to the best dog ball launchers.
Key Features:
Made with waterproof cloth and durable material
Big 6.3″ tires for smooth gliding
Weight: 11lbs
Easy to assemble and quick to fold
Available in 5 catchy colors
3-Months Warranty and 100% money-back guarantee included
Specification:
Brand

BestPet

Model

Travel Folding Carrier

Weight

12.98 Pounds
PetSafe Solvit HoundAbout Pet Stroller
PetSafe Solvit HoundAbout Pet Stroller is a one-of-its-kind mobile device that adds another level of efficacy and innovation to pet strollers. Unlike ordinary pet strollers, it features a unique design that complies with the avant-garde and futuristic standards of PetSafe, which has been a leading industry brand specializing in pet containment and lifestyle products since 1991, and helps serve the needs of both pets and their owners. This bicycle trailer can be moved on its own or also easily attached to your bike with an adjustable safety leash that ensures a smooth and secure ride that your dog thoroughly enjoys as well.
The trailer boasts a superior construction of 600d polyester with a waterproof floorboard and a sturdy, rust-resistant aluminum frame. The stroller includes a front door covered with a water-resistant layer, mesh screens so that your pet can enjoy the view, and even a sunroof for your little friend to soak the sun in style. The stroller comes in two sizes, Medium and Large; the Medium option consists of two 16″ tires while the Large one comes with two 20″ wheels. The trailer features an extremely simple and uncomplicated DIY assembly requiring minimum time and effort. The bonus is a number of spacious pockets to hold and store all your valuables while you take your dog or cat out for a joy ride. Be sure to also check out our guide to the best allergy relief for dogs.
Key Features:
Made with durable and waterproof polyester and rust-resistant aluminum
Available in Medium and Large size
Cabin dimensions: 33″ x 22″ x 26″
Overall dimensions of trailer: 55″ x 33″ x 33″
Includes adjustable leash for attachment to bike
Features multiple pockets
Specification:
Brand

PetSafe

Model

62395

Weight

25 Pounds
Pet Gear NO-Zip Pet Stroller
Pet Gear Inc. has been a trusted household name in the pet industry for decades;  since 1936 to be precise. You can always count on its products to deliver the best performance while lasting a lifetime. And thanks to its innovative technology, it keeps coming up with advanced solutions for pet problems. Dog strollers are a decent investment, but most models available in the market are usually single pet compatible. But what to do if you have two or more pets; you obviously cannot take them for a stroll in turns because it is just impractical. That is where this efficient pet stroller from Pet Gear comes in, allowing you to carry multiple animals at the same time in its roomy cabin. Plus, it's also ideal for large and bulky dogs.
Pet Gear NO-Zip Stroller is packed with other pleasant surprises. It consists of a dual entry mechanism with easily accessible front and rear doors that enable your pet to enter and exit from whichever way it fancies. The multi-position, height-adjustable handle also caters to your comfort. The most striking feature of this stroller, however, is the No-Zip technology incorporated that delivers hassle-free operation. No more fumbling with stubborn and hard zippers; a simple push-button is all you require to lock and unlock the compartment and access your pet. With all these spectacular features, a zippered top mesh window and tremendous viewing area, this stroller is most definitely our Premium Pick. You may also like some of the best hoodies for dogs from our list, so be sure to check them out.
Key Features:
Feasible for multiple pets and large dogs
Dual entry for easily loading and unloading the pet from either side
No-Zip technology with an easy locking latch instead of zippered closure
Compartment dimensions: 32″ L, 22″ W, 23″ H
Easily foldable for transportation and storage
Comes in 6 attractive colors
Specification:
Brand

Pet Gear

Model

PG8850NZFOA

Weight

26 Pounds
Best Choice Products 2-in1 Pet Stroller and Trailer
Pet strollers are a useful purchase. But their fun and productivity are amplified when they are more than just strollers, like this 2-in-1 product that functions as a stroller and trailer in one. Use it to take your dog out for a leisurely walk around town or latch it on to your bicycle if you do not feel like walking but are hesitant to leave your furry bud behind. With its universal hitch, you can conveniently attach the trailer to any bicycle. Its user-friendly operation includes an adjustable handle to fit your desired height with the push of a button while using the stroller function.
Best Choice Products 2-in1 Pet Stroller is composed of a sustainable yet lightweight steel frame and the body is crafted using high quality, water-repellent polyester, so "come rain, hail or shine," your beloved companion is always well-protected. And to pamper it further, the cabin includes removable pads for cushioning comfort. The fine mesh windows provide excellent visibility so you can always keep your pet in sight. The mesh also serves as an effective filter for all bugs and insects that can bother your dog or cat. Keeping in mind the animal's safety, a built-in hand brake is installed in the trailer that lets you control it with relative ease. Other smart features such as a safety flag and reflectors add to the overall appeal of the stroller. This superstar stroller in a bright red hue is thus guaranteed to make your pet the coolest dog/cat in the neighborhood. Our guide to the best winter vests for dogs features more cool products for your pets, so check them out.
Key Features:
2-in-1 product that swiftly switches from stroller to trailer
Made with fine steel and waterproof polyester
Handles with customizable height
Overall dimensions: 24″ L, 27″ W, 22″ H
Weight capacity of 66lbs
Includes hand-lock brake system, a safety flag and reflectors
Specification:
Brand

Best Choice Products

Model

SKY1760

Weight

37 Pounds
Petique All Terrain Jogger Pet Stroller
Everyone wants to provide their pets with a lifetime of ultimate comfort as they are our faithful companions. So we want nothing but the very best of the best for them. With Petique, one can rest assured that this brand loves our pets just as much as we do, which is evident in the premium craftsmanship and cutting edge technology employed in its products. If you have been frantically searching for the best dog strollers for hiking and jogging, look no further. This stroller can support up to 60 pounds of weight and features huge windows made with durable PVC mesh.
Petique All Terrain Jogger Pet Stroller will make your dog look and feel like a star with its snug cabin and sophisticated design. To start, it is equipped with a multi-position adjustable handle covered with EVA foam for a firm and steady grip along with lasting comfort. The large bike tires ensure great traction and shock absorption so the stroller can be pushed smoothly on all terrains, and is perfect for jogging or hiking; place your phone and water bottle in the two spacious pockets in the back, and you are good to go. The one-step dual wheel brake guarantees that you are in absolute control of the vehicle at all times. Additional perks include reflectors, a rain cover, and a tire pump. Our guide to the best outdoor dog kennels features more useful products for your pet, so check them out.
Key Features:
Multi-position adjustable handle with EVA foam grip
One-step dual wheel brake system
Folds flat for convenient transport and storage
Removable fabric for easy wash
Weight capacity of 60lbs
Package comes complete with rain cover and tire pump
Specification:
Brand

Petique

Model

JG01500103

Weight

24 Pounds
Pet Gear No-Zip Happy Trails Lite Pet Stroller
Pet Gear No-Zip Happy Trails Lite Pet Stroller is one of the very best pet strollers in the market, as it offers amazing features, a stellar look, and Best Value for your money. This four-wheel stroller is the perfect pick to complement your four-legged companion. The stylish and visually appealing design of the stroller cart is sure to earn you and your pet nods of approval and glances of admiration. And it is not only a pretty sight but works just as well. You can place all your stuff in the expansive undercarriage and embark on a relaxing stroll with your pet.
The No-Zip technology is an innovative and advanced feature that means you do not have to struggle with resistant zippers that test your patience. The simple yet adept easy-lock entry lets you operate the stroller with maximal ease. The stroller also features a panoramic view window with 3-position canopy so that your pet does not miss out on the adventure while being totally protected from the harsh sun. This stroller allows you to rightly spoil your darling dog with fabulous features such as the elevated paw rest. The front wheels are 6″ in size while the back wheels are 7″ large for smooth strolling.
Key Features:
Easy-lock No-Zip entry
Panoramic view window with 3 position canopy
Maximum weight capacity of 25lbs
Includes front shock absorbers and a generous under-basket to store your things
6″ Front wheels and 7″ rear wheels
Specification:
Brand

Pet Gear

Model

PG8030NZJGA

Weight

12.5 Pounds
Paws & Pals 4-Wheeler Elite Jogger Pet Stroller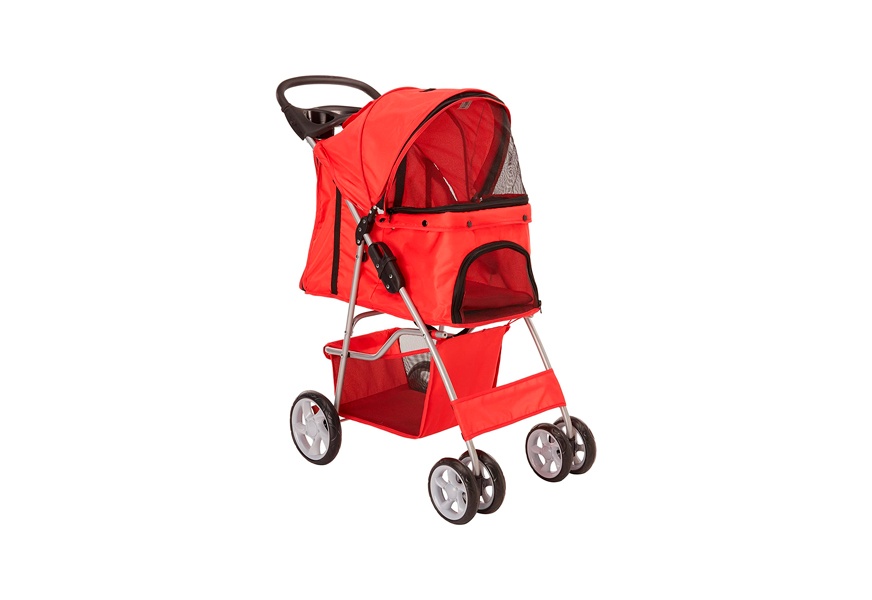 Pet dogs love nothing more than their daily walks and outings as it refreshes their body and spirit. But quite often, unfavorable circumstances and conditions such as arthritis, chronic pain, and advancing age strip our precious pets of their agility and strength. At such times, dog strollers are an indispensable commodity rather than a pampering device. This stroller by Paws & Pals is an extremely reliable choice to guarantee that your pup gets the fresh air recommended for its mental rejuvenation without causing it any stress.
The multiple mesh screen windows allow for optimal viewing and easy breathability while the large compartment under the carriage provides ample storage space for all your possessions and pet supplies. This robust yet lightweight pet stroller has been manufactured in accordance with the highest stroller safety standards that make it one of the best dog strollers for hiking, jogging, running and other brisk activities. Other cool features include two cup holders near the handle for enhanced access to your drinks, seat belt and rear safety brakes. For more quality products any dog owner will love, check out our selection of the top dog beds.
Key Features:
Multiple mesh windows for optimal ventilation and viewing
Roomy undercarriage with simple quick-fold assembly
Contains cup holder, seat belt and rear brakes
Stroller dimensions: 34″ L, 18″ W, 40″ H
Cabin dimensions: 21″ L, 14″ W, 19″ H
Specification:
Brand

Paws & Pals

Model

PTST02-RD

Weight

11.24 Pounds
HPZ Premium Heavy-Duty Pet Stroller
HPZ Premium Heavy-Duty Pet Stroller is an amazing addition to our list of the best pet strollers. Loaded with powerful features and terrific accessories, this heavy-duty stroller is a phenomenal treat for your pet. The stroller can support weight of up to 75 pounds, which makes it ideal for dogs and cats of all sizes. The zipper-less entry with easy-locking latches adds to its ergonomic design, and the cushioned handlebar is reversible so you can maneuver the stroller from either direction with effortlessness. To augment your pet's comfort, the top cover is made from dense, fine mesh while the rest of the carriage employs odorless and UV-reflective material.
The high-tech wheels with 360-degree rotation of the front wheels and rear braking system ensure an ultra-smooth ride. The well-built frame is constructed using stainless steel tubes and aluminum alloys, rendering the stroller lightweight, rust-resistant and scratch-proof. One of its most spectacular features is the rear expansion of the pet compartment, whose size is converted from 13″ to an impressive 30″ wide when fully extended, and the stroller can thus hold numerous pets at a time. The stroller can be squeezed into an uber-compact size with the one-step hand-free quick folding mechanism, and can be carried along on your travels. A voluminous storage under-basket, 3 small accessory bags and a bottle holder are among the various other beneficial components of the stroller. You may also be interested in some of the best outdoor dog houses, so take a moment to check them out.
Key Features:
Durable steel and aluminum construction with a reversible foam grip handle
Highly expandable internal compartment
High-quality wheels; 360-degree rotating front wheels with safety brake system in rear wheels
Weight capacity of 75lbs
Plenty of storage space
One-step simple folding function
Specification:
Brand

HPZ

Model

DS328

Weight

22 Pounds
VIVO Four-Wheel Pet Stroller
VIVO Four-Wheel Pet Stroller is a great choice for taking your pets out for a leisurely saunter or running errands with your loyal confidant by your side. Not only that, it can be pushed around with ease while shopping or used even when relaxing at the beach, as it safely contains your pet and you do not have to fret about it running off and getting lost in the crowd. The pet cabin is delightfully spacious and features easy to use zippers.
The mesh windows are the perfect source of airflow and clear viewing while your dog or cat rests in its comfy seat. Pets weighing up to 30 pounds can be easily accommodated in the stroller. Its foldable design serves to conserve space when the stroller is not in active use. VIVO has all your needs covered with this pushcart that contains dual cup holders and a large storage basket underneath the carriage. Available in 6 vivid colors, this stroller will not only make your pet happy but also relieve you of the burden of constantly worrying about your pet's safety while outdoors. If you are looking for some amazing products to keep your pet healthy, check out our selection of the best dog joint supplements.
Key Features:
Wide mesh windows for sufficient ventilation and visibility
Weight capacity of 30lbs
Collapsible for easy storage
Includes 2 cup holders and under-basket
Comes in 6 colors
Specification:
Brand

VIVO

Weight

13.3 Pounds
Pet Stroller Buying Guide & FAQ
Features To Look For In Pet Strollers
Space/Size - Space is a deciding factor when it comes to buying pet strollers. A pet stroller needs to be sufficiently airy and roomy for your pet to move about with ease. The standard market variants are large enough to provide extra room for your pawed friend. However, if you intend to use it for more than one animal, it is wiser to look for a bigger size.
Safety - Always prioritize the safety of your trusted companions while taking them out of the house. Many strollers come equipped with advanced safety features such as hand brakes, rear brakes, seatbelts or safety tethers to guarantee that your pet enjoys a secure and sound ride.
Weight Capacity - This is another significant feature that acts as a determining factor in affecting your choice of stroller. Pet strollers present a widely variable range when it comes to the amount of weight that can be supported by them, from as low as 15lbs to as much as 75lbs for bulky, heavy-duty strollers. Always make your decision, keeping in mind your pet's weight.
Water-resistant - Your pet undoubtedly deserves the very best, so before settling on a stroller for it, run a thorough check on the manufacturing standards and materials of the product. For an optimal strolling experience regardless of the weather, make sure that the stroller is constructed using good quality waterproof fabric.
Terrain-friendly - The ideal pet stroller is one that is suitable for both smooth and rough terrain and can be pushed effortlessly. Whether you have brought your pet to the park, the beach, a shopping mall, or even tagged it along while hiking or jogging, stable and powerful stroller tires ensure a ride devoid of bumps and hitches.
Easily stored - This is an important feature that should not be ignored while purchasing a pet stroller, especially when space is at a premium. It is highly advantageous if a stroller can be conveniently folded into a compact size for easy storage. Another perk of a collapsible pet stroller is that it is travel-compatible.
Pet Stroller FAQ
Q: What is a pet stroller?
A: A pet stroller is a pushcart with a sizeable carriage to contain your pet while you take it out for a walk or if you want you pet to keep you company while you run some errands or do the weekly shopping. Pet strollers are delightful rides for your pets to get some fresh air on days they do not feel like troubling their legs.
Q: When does a pet need a pet stroller?
A: Sometimes, pet strollers are a necessity rather than a lavish indulgence. Animals that become frail due to old age suffer from chronic pain conditions like arthritis or undergo surgery benefit immensely from this wonderful invention. Pet strollers are their tickets to the refreshing outdoor time that is essential for them to unwind.
Q: How can I get my pet to use their pet stroller?
A: Our pets require training for most things, including the use of a pet stroller. Follow a few simple steps to make your pet comfortable with their new stroller. Leave the stroller inside the house initially so that your pet can get familiar with it and has time to examine it. After a day or two, load your pet into the cabin and take it for a slow test ride so that it can get used to the product, and give it a treat later as a form of encouragement. Repeat this action for a few days until your pet feels entirely at home in the stroller.
Sign Up Now
GET THE VERY BEST OF GEARHUNGRY STRAIGHT TO YOUR INBOX