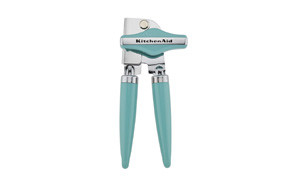 KitchenAid Can Opener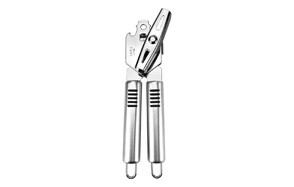 Pexio Professional Stainless Steel Manual Can Opener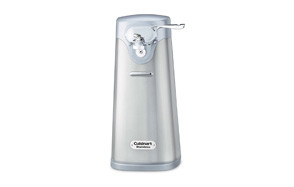 Cuisinart SCO-60 Deluxe Stainless Steel Can Opener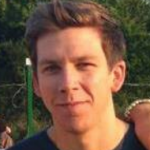 In many households, it's not uncommon to come across a pantry full of canned foods. The presence of such products demands the use of a can opener, and as such, these tools have become a vital piece of equipment in our kitchens. The purpose of canning food is to help preserve the ingredients longer; thus, the cans produced by manufacturers are designed to be indestructible. Although many cans now come well-equipped with the pull-tab method of opening, which is extremely simple and easy to use, however, this method isn't typical for all canned products, which is why you may need help from the best can opener. We have ranked some of the most innovative can openers in the market today and have provided expert reviews on each of them for our readers.
The Best Can Opener
Can Opener Buying Guide
Before you go ahead and purchase your next can opener, we recommend that you consider some of these essential features. There's actually more variety in this category than you might ever have realized and there's a tremendous amount of difference when it comes to the quality on offer.
Blade Material - your two best options for durability are going to be chrome or stainless steel.
Non-Slip Ergonomic Grip - we highly recommend you select a unit that has a slip-proof or rubber grip handle that's comfortable and easy to manage.
Size- if you're going for a manual unit you need to consider where you will store your can opener and ensure you have enough room. If it's an electric style, make sure that it's high enough also to accommodate larger sized cans.
Maintenance - most can openers are easy to clean with many suitable for throwing into the dishwasher. Electric can openers with removable blades also need to be cleaned regularly for hygiene purposes.
Durability - go for something that's not too heavy that it's cumbersome to manage, but that is reliably constructed from sturdy materials intended to last for years to come.
Performance - you want a smooth and precise operation from your can opener. Not something that's difficult to operate and gets stuck halfway through opening up a can.
Lid Removal - once you've cut off the lid, you need to remove it safely and discard it in the trash. Openers that feature magnets and pliers are useful in this respect.

Can Opener FAQ
Q: What different can openers are available?
A: You basically have two options; manual or electric. With electric, no effort on the part of the user is required, which makes them an excellent choice for the elderly, arthritic or anyone who generally struggles to use their hands. With the manual type, you need to get to grips with operating the can opener yourself, which does sometimes require a bit of skill and strength.
Apart from those two subcategories, there are a couple of other vital distinctions based around functionality and performance. Below we've listed out three key features to consider.
Countertop openers - an electric-powered opener which as the name suggests conveniently sits on top of a kitchen countertop. The can you wish to open usually needs to be placed into position, and a button or lever pressed to quickly and effortlessly open the can.
Side cutting openers - some openers cut from the top and others from the side. The benefit of cutting sideways is that it creates a smooth and clean edge and minimizes the risk of getting hurt.
Top cutting openers - these style units slice from the topmost part of the can and tend to be a bit messy and bothersome. If you do go for this cost-effective style, we recommend you ensure it has an easy lid removal feature.
Q: Why is a can opener important in the kitchen?
A can opener might not be something that you use every day, but the chances are that you will use one regular and therefore it pays to invest wisely in one which is comfortable and easy to operate. They really are a practical item and if you are a family who frequently consumes sauces, soups, stocks, and other canned produce, nothing short of essential. Can openers also make it far easier for anyone suffering from conditions like arthritis or weak wrists to remove lids without frustration or soreness.