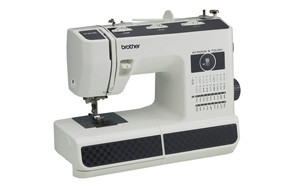 Brother ST371HD Sewing Machine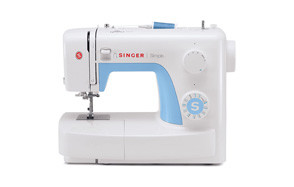 Singer 3221 Simple Sewing Machine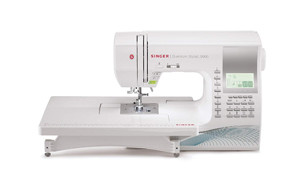 SINGER Quantum Stylist 9960 Computerized Sewing Machine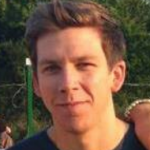 The art of quilting is one that involves a lot of designing, accuracy, and precision for beautiful results. To make the best out of this art, it is imperative that you make use of an excellent sewing machine. It doesn't matter if you're a beginner or an expert, a great sewing machine can have the most difficult job finished much faster than expected. Though different models of machines exist, there are specific products, created by the best manufacturers that offer users with quality functions and excellent durability. If you are in the market for the best sewing machines, you can certainly count on one of the products listed below.
The Best Sewing Machine
Sewing Machine Buying Guide & FAQ
How We Chose Our Selection Of The Best Sewing Machines
Price - Budget is one vital consideration that must be made during the selection process. Concerning sewing machines, the price of a model increases as the number of features it possesses increases. To ensure that people don't spend money buying a model with features they may never use, we proceeded a varying list of machines with different sets of features. Whereas some individuals believe that the more expensive a sewing machine, the better it functions, our record proves to you that affordable sewing machines are equally as good when it comes to quality.
Brand - In our selection of the ideal sewing machine, our team of experts explored the various brands on the market, acknowledging the veteran manufacturers such as Singer, Brother, and Janome. The brands mentioned are known for their production of durable and sturdy models of sewing machines, known to operate for a pervasive period without any issues.
Reviews - Just as this article offers you with new information on the different types of sewing machines on the market today, our team of experts explored many pre-existing studies online, to gain more knowledge on the operations of every product mentioned. They sought out feedback from existing customers, which provided us with the necessary pros and cons needed to make this article a reality.

Features To Look For In Sewing Machines
All reviews above have provided potential buyers with enough information concerning a good sewing machine and what it entails. In the market today, there is a broad range of sewing machines, built to fulfill different purposes, and as such, your ideal sewing machine may not work well for someone else. Provided below are the vital features one must look out for when choosing a sewing machine.
Skill Level - If you're a beginner, some models are designed to enable you to enjoy the art of sewing or quilting. Most of such models are designed to be extremely user-friendly, with a less number of stitches for easy usage. If you're a professional in the sewing field; however, several models accommodate your different skills and also enable you to express your creativity as smoothly as possible. Many sewing machines make it possible for both beginners and professionals to operate, and these units are usually in high demand.
Capabilities - Concerning capabilities, there are sewing machines that possess different numbers of stitches, ranging from 130 to 200. The number of stitches enables us to create various designs and also to work more professionally with ease. As much as possible for beginners, you're advised to get machines that feature fewer stitches, before graduating to those with a more significant number. One thing to note is that the higher the capability or name of stitches, the more expensive your sewing machine will cost.
Computerization - In this era of modern technological advancement, there are a lot of sewing machine units that have been designed to be computerized models. These machines feature many automatic features, some of which include touch-screens, motors, and programmable stitches. The computerized sewing machines exist to make work easier and faster for many thus if this is what you seek to achieve, we will recommend that you purchase an electronic model.
Design - Another feature for consideration is the design of the sewing machine you wish to purchase. Be sure to lookout for models with a robust and sturdy frame, as these are most likely to last you an extended period.
Performance - Every sewing machine you see on the market is an investment made once purchased. Before you make that selection, it is imperative that you identify your needs and what you require in a sewing machine. There are multifunctional sewing machines that can also be used for quilting, and these can be considered if you're interested in both activities.

Sewing Machine FAQ
Q: How do I choose a good sewing machine?
A: Choosing a good machine is done in different ways. The first thing to do is research about the brands and how they operate. This can be done online by searching for review platforms and websites. Another way to choose a good sewing machine is to know what you require and the type of features you need in your sewing machine.
Q: What is a good sewing machine for beginners?
A: A good sewing machine for beginners is often one with a lower number of stitches. Not only are these models more affordable, but they are also less complicated, and thus, their user-friendliness becomes their major attraction
Q: Which sewing machine is best for home use?
A: Any heavy duty machine that stitches all kinds of fabric, no matter their thickness together is ideal for use in the home.
Q: How long should a sewing machine last?
A: A sewing machine needs to be durable, to enable the user to receive great value for money. Averagely, the lifespan of a sewing machine is between 5 to 20 years, after which it may start to lose control of some functions.