Raise It Up: The Best Laptop Stands In 2022 For Better Posture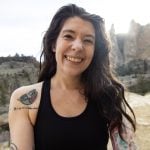 This product guide was written by Tuesday Kirby Kahl
Last Updated
April 15, 2022
Tuesday Kirby Kahl
Tuesday Kirby Kahl is a contributor at Gear Hungry. Her fierce love for the outdoors fuels everything she does. Her professional pursuits include writing, creating art, and photography. These professional passions allow her the time to live life outside as a rock climber, skier, runner, backpacker, paddle boarder, swimmer, and explorer. When Kirby is indoors, she enjoys tea, whisky, old films, cooking, and baking. Her product testing and feedback have shaped the design of everything from climbing shoes to candles.
GearHungry may earn a small commission from affiliate links in this article.
Learn more
Nowadays, most people have come to rely on laptops as their workstations, both at home and in the office. But while having a portable work device is super handy, the lower screen height tends to cause neck and muscle discomfort, which can be a bit of a problem when you're trying to focus on the work at hand. But, luckily for us, there's a solution!
With the best laptop stand as part of your work desk setup, you can reduce tension in your muscles, lift your screen to the perfect eye level, and add extra care to your laptop too since the raised stand will improve the device's thermal performance. So many of us at Gear Hungry work from home and often on the road, and so we speak from experience when we say that a laptop stand is a great addition to anyone's home office or on-the-road office; not only can a good laptop stand prevent your machine from overheating but it can also greatly reduce your neck and back pain and drastically improve your posture.
With our love for these nifty inventions, we've brought to you a reviewed list of what we think are some of the best laptop stands on the market. Some of these we tested, some came highly recommended by our writers and editors, and others we selected based on positive customer reviews.
The Best Laptop Stand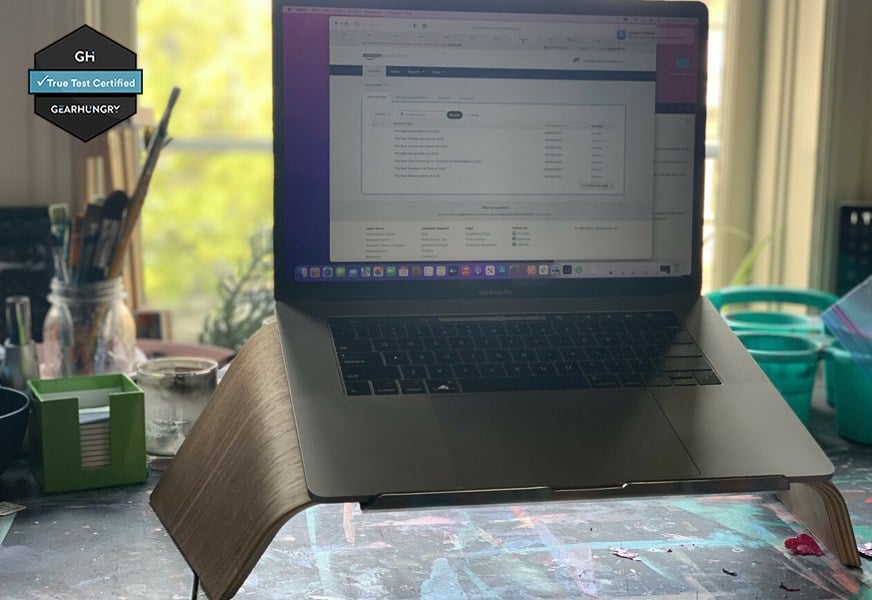 The Portland, OR-based company Grovemade focuses on elegant, handmade office accessories and desk essentials. The natural wood tones, intuitive designs, and high level of craftsmanship shine through in each and every product and especially in the Grovemade Laptop Stand. While there may not be any fancy features, this product shines in its simplicity and elegance.
I added the walnut version to my workstation and felt an immediate improvement in my posture. I love the way it blends well with my plants that make my work station so cozy and the space underneath is great for snacks, a phone, or other supplies while you work. The stainless steel stop provides support and instead of the boring rubberized pads, this product features tanned vegetable leather for keeping your laptop steady while you work and prevents slippage. Vegetable leather is eco-friendly, classy looking, and prevents scuff marks, while the cork skids on the base of the stand save your home office desk. Overall, this is a high-quality and absolutely stunning product to add to your home office. I do recommend an external keyboard for your wrists when using this product.
Key Features:
Durable plywood hand-sanded, finished with vegetable oil
Stainless steel stop lined with vegetable tanned leather
Supports up to 200 pounds
Natural cork feet
Specification:
Brand

Grovemade

Model

Wood Laptop Stand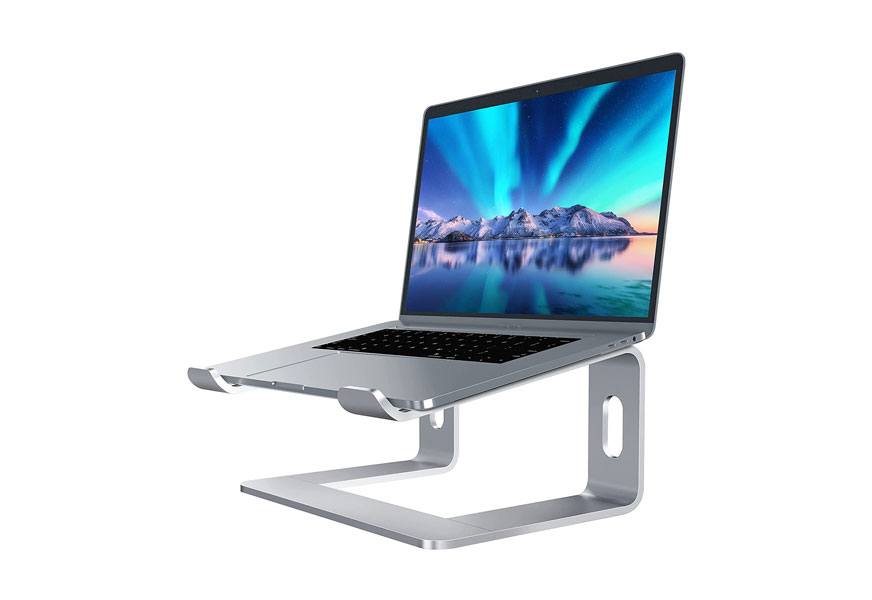 If you struggle with neck and shoulder pain, the Soundance Laptop Stand is a great option. It's ergonomic design elevates your computer screen by six inches, looking out for your comfort so you can focus on work. In terms of construction, the Soundance stand is made from aluminum alloy that is resistant to rust, meaning that this stand can last you for a very long time while still maintaining its sleek appearance. You'll also like that it is universally compatible with all laptops between 10 to 15.6 inches. This portable stand incorporates an open-air design that allows natural air to continuously cool your laptop to prevent overheating, and it includes plenty of space underneath which is perfect for you to place a detachable wireless keyboard.
This awesome laptop elevator also comes with a rubber protector underneath to ensure that your laptop remains in place. This also goes a long way to protect your desk or countertop from any damage. The Soundance stand also allows for cable management thanks to the space underneath, so you can easily keep your cable neatly out of the way to avoid distractions and keep a clutter-free workspace.
Key Features:
Sturdy thickened aluminum alloy construction
Slip-proof rubber padding support
Cable hole
Holds any laptop 10″ to 15.6″
Specification:
Brand

Soundance

Model

LS1

Weight

2.2 Pounds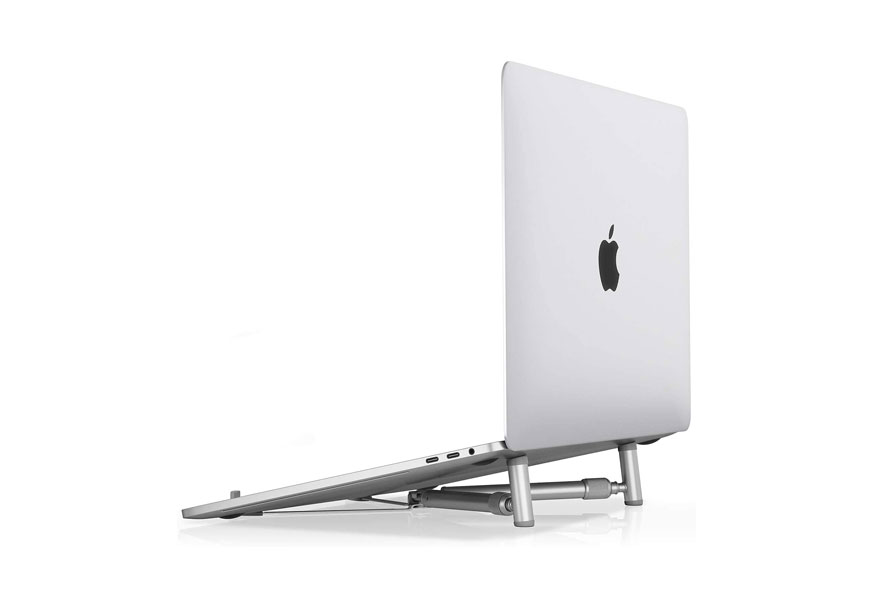 The most compact laptop stand you'll ever come across, the Steklo MacBook X-Stand is the perfect portable adjustable stand. This top laptop is made from lightweight aluminum that not only makes it rust-proof but also contributes to its lightweight nature. The Steklo computer riser is small and folds up even smaller so you can take it with you wherever you go – it should be able to fit in just about any laptop bag. As the name implies, this stand has been designed to work best with Apple MacBooks, however, it still works well with other laptop brands. It can comfortably accommodate any laptop between 12 and 17 inches.
If you struggle with your laptop overheating on your desk or your lap, this little device here can solve that issue for you as it's designed to minimize overheating and improve airflow to ensure that your laptop remains cool. Best of all, it's adjustable to ensure your eyes are at the same level as your screen. The only minor complaint we have? Its rubber feet don't do the greatest job at keeping the lap desk from moving. Still, they do a decent job.
Key Features:
Brushed aluminum construction
Adjustable design
Compact size, foldable
Supports laptops from 12″ to 17″
Specification:
Brand

Steklo

Model

X-Stand

Weight

5.8 Ounces
When it comes to sleek and attractive designs, the MOFT Laptop Stand takes the cake. This stand comes in various colors, including starry grey (our favorite), black, and blue, so it's pretty much guaranteed to complement any space. This raised laptop stand sports a slim construction that measures a mere 1/9 inches thick. Slim and compact, this stand sticks to the bottom of your device so that when your laptop is closed, it looks like there are no attachments. But when it is open, you can easily lift your PC with the stand underneath it. The good thing about this is that you never need to carry your laptop and your stand as separate items since this MOFT stand allows them to be one. And if you ever want to detach the stand, it's as easy as peeling it off.
In terms of construction, this model is built with PU and fiber glass so even though it's lightweight, it's quite sturdy. This affordable laptop stand features a patented ergonomic design, and two height settings of 2 and 3 inches. On the downside, it's not suitable for larger laptops – it can support all brands but only up to 15.6 inches. So be sure to always have it in your laptop backpack wherever you go.
Key Features:
PU and fiber glass construction
Foldable frame
Anti-scratch adhesive feature
Two-level adjustable settings
The Roost Laptop Stand prides itself in being one of the lightest and most portable laptop stands in the world. It is made here in the United States of America, and proudly too, so, if you're keen on locally made products, this is the one to look at. This stand is sturdily constructed and can hold laptops up to 9 pounds. It also features a flexible and universal design that makes it suitable for all laptop types including Apple MacBooks. When it comes to using your computer on the go, a desk doesn't cut it as using your laptop on a flat desk over extended periods of time can result in back, neck, and shoulder pains. The Rooster Stand is an ergonomic laptop stand that helps prevent pain while you use your PC.
Even if you are on the taller side, you can rejoice as this model is adjustable in height between 6 to 11 inches, so you can select a level that will put you in the most comfortable position to get your work done. No doubt, one of the best things about this stand is that it is both lightweight and foldable. You can easily fold it up and pack it in your backpack or laptop bag or even your luggage to use later during meetings, at the coffee shop, or even at the library. It also allows for the flow of air right underneath your laptop, preventing it from overheating.
Key Features:
Lightweight rubber & polycarbonate design
7 adjustable height levels
Collapsible and portable
Fits laptops up to 16″
Specification:
Brand

The Roost

Model

roost

Weight

5.8 Ounces
Rain Design mStand360 Laptop Stand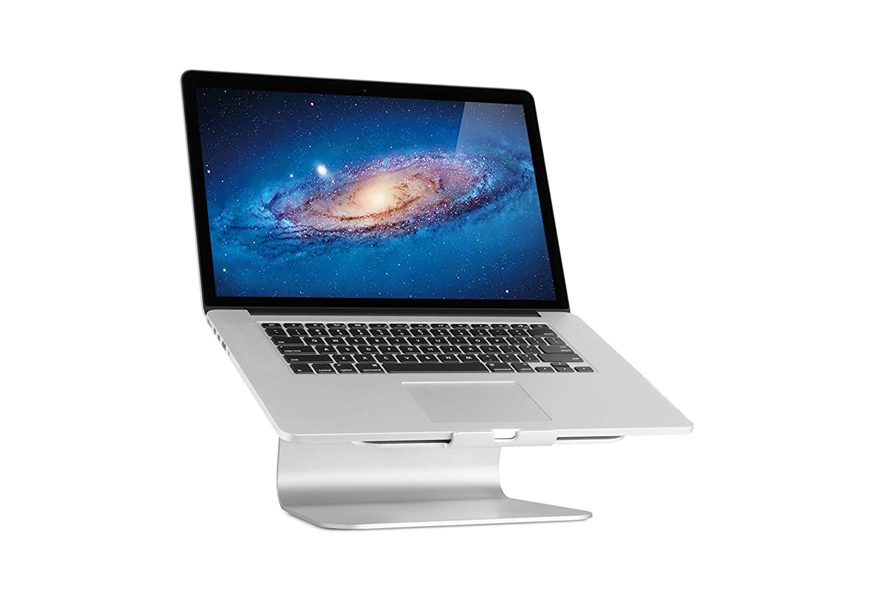 The Rain Design mStand360 Laptop Stand will transform your laptop from a device that causes you neck pain and strain when you use it, to a stylish and stable work station that brings you only comfort as you work. It's made from aluminum and it comes in the form of a solid, single-piece stand. The single-piece construction may reduce this product's portability but as a result, it increases its stability. It comes with a high-quality sandblasted and silver anodized finish that matches any Apple MacBook laptop, as well as other PC brands and includes a swivel base; a feature that you'll definitely love as it allows you to share your screen while still maintaining its stability.
The rotating base of this stand sports a very slim profile of only 0.1 inches, which maintains the sleek overall appearance of the laptop elevator. The thinness and sleekness of this stand do not affect its performance though, as it is sturdy enough to hold laptops up to 8 pounds in weight. In addition, it includes anti-slip rubber pads underneath to keep the stand in place. There's also a tablet stand available that raises the device to eye level for better comfort. 
Key Features:
Durable aluminum body
360 degrees rotating base
Silver-anodized finished
Cable hole & keyboard stash
Specification:
Brand

Rain Design

Model

10036

Weight

3.6 Pounds
Avantree Adjustable Laptop Stand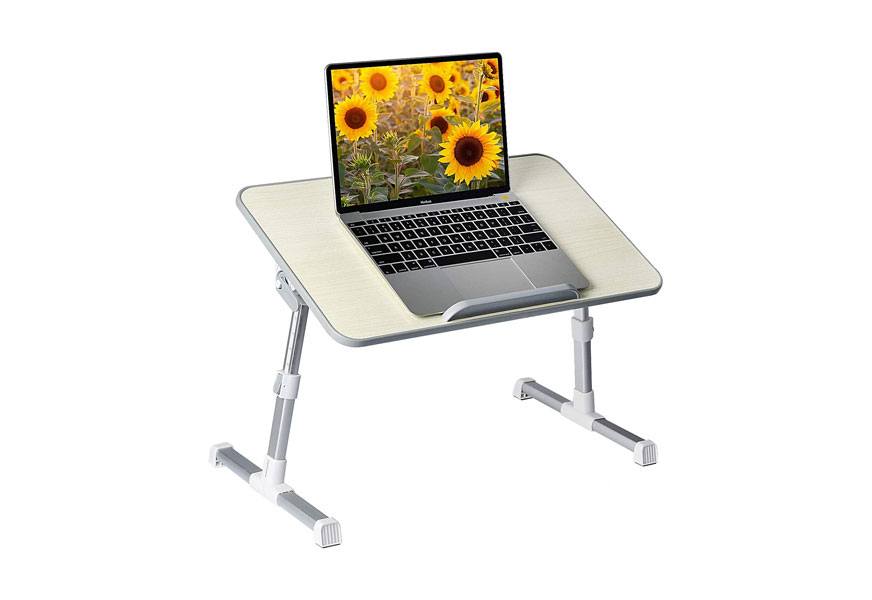 Never mind working from the comfort of your own home, with the Avantree Adjustable Laptop Table you can work from the comfy confines of your very own bed! This versatile lap desk can simply be placed onto any flat surface and you're good to go! As one of the most positively reviewed ergonomic workstations available, this nifty laptop accessory does not only look pretty, but it also does a pretty good job at safely cradling a laptop at one's preferred laptop height and angle too.
With adjustable height level and tilt settings, you can sit, stand or even lounge around as you sift through your tasks – all while keeping muscle spasms at bay. Once your work is done, convert the table into a dining tray or place a book onto the surface for some relaxed reading. For more great laptop accessories, check out our guide to the best laptop cooling pads.
Key Features:
Aluminum and engineered wood
Adjustable height
Folds up for easy storage
Fits larger laptops plus a mouse
Specification:
Brand

Avantree

Model

HDLP-TB101-GRY

Weight

3.28 Pounds
Sleek and modern in design, the mStand gets full marks for its aesthetics. If it's a pristine and organized workspace that you have in mind, then this laptop riser stand is most befitting. Sturdy enough for typing and even some gaming, the tilted stand is stable at raising your laptop 5.9 inches.
Perfectly finished with sports silver anodized and sand-blasted aluminum, it's an ideal match for Apple notebook owners. The rubberized pads keep your laptop from sliding and hold it firmly in place, even if you tippity tap as fast as I do. The mStand supports laptops up to 15 inches and is equipped with a heat-sink panel, so you can peak the performance of laptop and banish poor posture. Bear in mind that since this is a single-piece design, it's not exactly portable. On the plus side, it's mighty stable. Our guide to the top vertical mouses features more great ergonomic products.
Key Features:
Single-piece aluminum design
Features a heat sink to keep laptop cool
Cable management hole & keyboard stash
Compatible with most laptops and Macbooks
Specification:
Brand

Rain Design

Weight

3 Pounds
Griffin GC16034 Elevator Stand
With a minimalistic design, this reliable little stand is all about reducing clutter while performing well as an innovative laptop raiser. The Griffin GC16034 Elevator Stand works well with laptops up to 17 inches in size and the generous space between the holding arms and surface space allows for maximum air circulation to keep your laptop from overheating.
And for maximum stability, the stand features large rubber pads that keep your laptop stable wherever you're working – kitchen table, coffee table, regular or standing desk. The rubber bands are of good quality to prevent movement and friction, so this minimalistic stand provides a seriously stable base even though it may not look particularly stable. Be sure to check out our guide to the best-selling ergonomic mouses for more great accessories like this.
Key Features:
Made from solid aluminum
Elevates laptop screen up to 5.5″
Fits all laptops, Mac and PC
Provides 360 degrees of air circulation
Specification:
Brand

Griffin Technology

Model

GC16034-2

Weight

14.1 Ounces
iQunixAluminum Ventilated Stand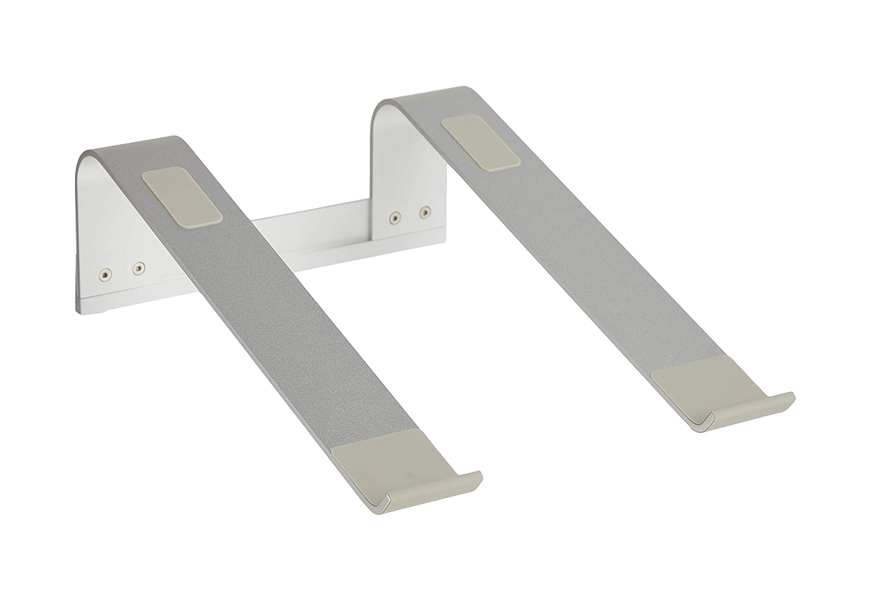 Perfect your posture and work without fatigue with the iQunix Laptop Tray. Pleasing to the eye of a minimalist as well as to the pocket, this stand has been reinforced to be durable, reliable, and ever so user-friendly. The L-shaped frame construction not only brings your devices a better cooling experience but also provides users with an ideal viewing angle of 16 degrees which helps to better one's posture and prevents straining of the eyes and body.
Anti-slip silicone pads keep your laptop in place while softer hocks ensure that surfaces remain free from scuffs and scratches. Since it's relatively large, this solid piece supports all tablets and laptops up to 17 inches. 
Key Features:
Solid aluminum construction
Ventilated stand offers heat dissipation
Best 16° angle for comfortable typing and viewing
Includes a lifetime warranty
Specification:
Brand

iQunix

Model

LStand-SR

Weight

11.2 Ounces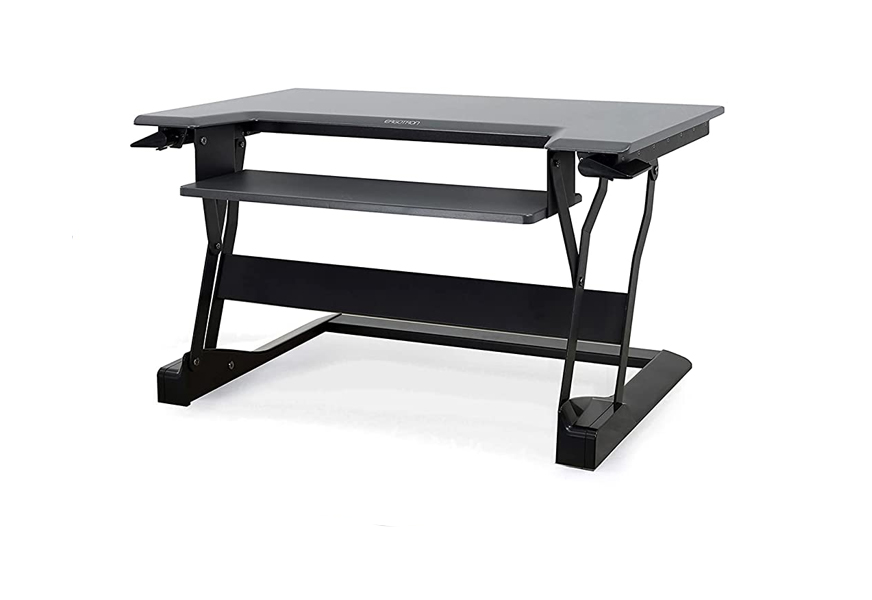 This guy means business. Built to be a developer or designer's dream, this ergonomic sit/stand workstation ticks all the boxes for the ultimate standing desk experience. With the aid of the WorkFit-T Stand, you can use your laptop to meet deadlines, reach targets, and to play an intense game or two on the side. A wide footprint fits not only a laptop but a monitor, tablet, keyboard, mouse and whatever else you need for work.
Fitted with a user-friendly shape and height adjustment mechanism, this desk accessory has been optimized for compact offices with limited desk space. Built to be strong and sturdy, the WorkFit-T comfortably accommodates up to 35 lbs of equipment. As a bonus, it comes with a 5-year warranty.
Key Features:
Solid metal design
Easy height adjustment
Wide footprint for all work essentials
Weight capacity 35 lbs
Five-year warranty
Specification:
Brand

Ergotron

Model

33-397-085

Weight

58.5 Pounds
Hippo & Frog Aluminum Laptop Stand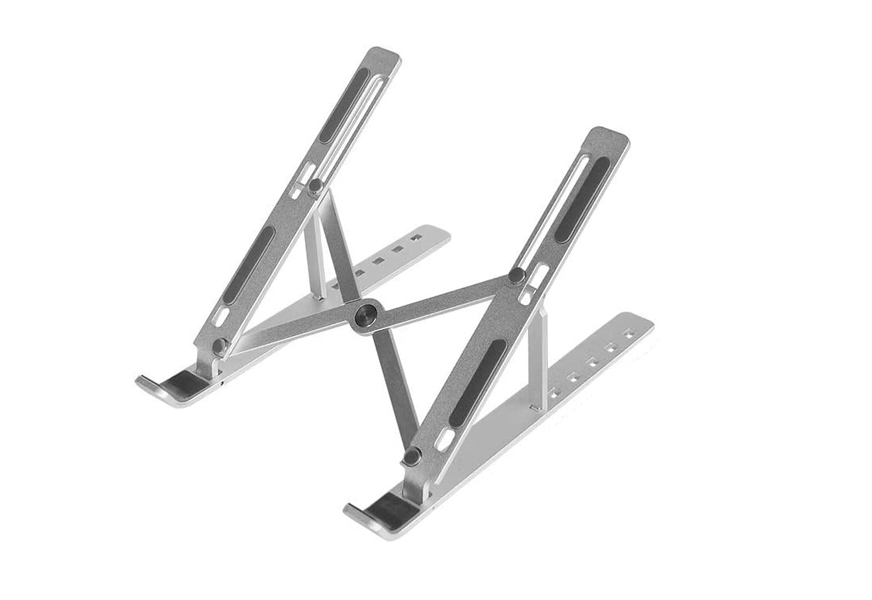 The Hippo & Frog Aluminum Laptop Stand has to be one of the cheapest ways to improve the ergonomics of your desk. Designed to raise your laptop up to eye level, this stand promotes good posture and stops you from looking downwards and damaging your spine. It offers six different positions, so you can find the best option for your setup. This design also has the added benefit of preventing your laptop from overheating by improving the airflow underneath. 
One of the main reasons we like the Hippo & Frog Aluminum Laptop Stand (aside from the price) is that it's portable. It folds down small, making it easy to pack in your backpack or laptop bag alongside your portable keyboard and mouse. This makes it absolutely perfect for digital nomads, traveling salesmen, and anyone else that works on the road. 
Key Features:
Foldable aluminum design
Six levels of height adjustment 
Prevents overheating 
For 10 to 15.6" laptops 
One-year warranty 
Specification:
Brand

Hippo & Frog

Model

LP06

Weight

8.4 Ounces
Why Trust Us
As a 100% remote worker who also works 100% from a laptop, there's not much more of an improvement in personal experience here.
Who This Is For
This guide is for anyone looking to improve the ergonomics of their workstation whether at home or on the go with a laptop stand. We have options for those who travel often, want a versatile piece of furniture for their studio apartment or products to complete their home office.
How We Picked
Curating the guide to the best laptop stand started with our own personal favorites, then reading laptop stand reviews and ensuring we had a thoughtful and versatile selection of durable, travel friendly, ergonomic and adjustable laptop stands. We wanted to have something for the always on the go techie who needs a compact option when working in a coffee shop, stands for the home office, as well as nearly full-size standing desk options.
How We Tested
As someone who works nearly entirely from home and 100% on a laptop, testing products to find the best laptop stand seemed like a natural fit. I used my laptop stand mostly at home during testing and it did make a dramatic improvement in my posture. I don't have a portable option so I worked without one while working on the road and I noticed a stark difference in the way my neck and shoulders felt when using a laptop stand and when not.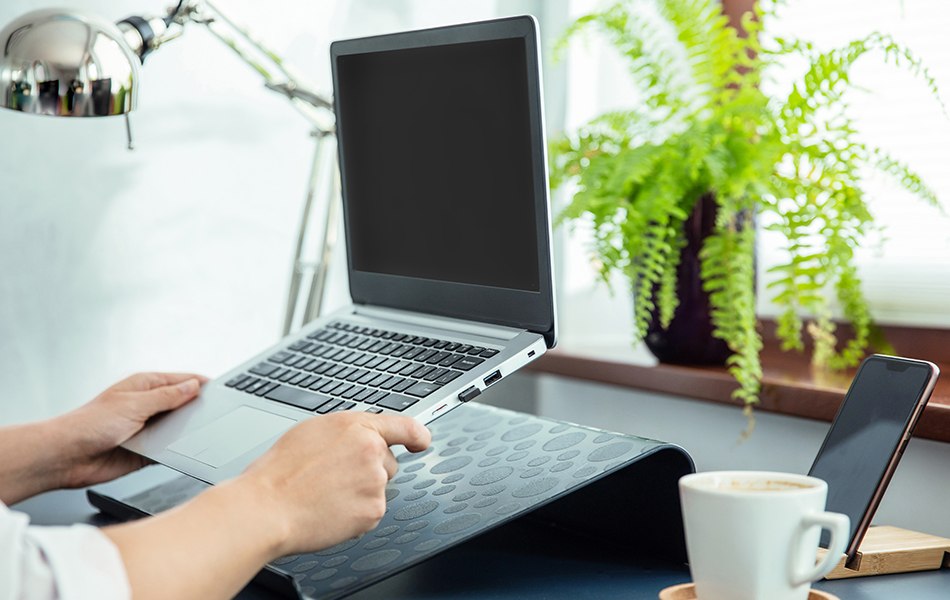 Features To Look For In Laptop Stands
Ergonomic design – While laptops are a magnificent invention that have benefited businessmen and gamers around the world, they do fall short when it comes to our physical body. With the right laptop stand, however, you can correct this problem to create a more ergonomic workstation that's kind to your physique as well as to your devices. We can recommend that you look for stands that offer a variety of adjustable settings while remaining sturdy and versatile.
Portability – If you make use of your laptop in more than one location then a bulky stand that's heavy in weight is simply a no go. Luckily, there's a good range of laptop stands that fold up into the light and compact structures and fit snugly into your laptop bag or laptop case. Portable stands are perfect for travelers or for the businessman who is often on the go. However, if you plan on using your laptop and stand only at home, then portability isn't an issue.
Adjustability – Laptop stands have been designed to encourage you to sit, stand or lie with a perfect posture, this way you are less likely to be susceptible to muscle fatigue and tension. Make sure that the stand you choose offers a variety of adjustment settings so that you can set both the height and angle of the device to meet your workstation preferences.
Material – The more durable the material type, the better. Soft metals are less likely to break and leave scuffs on desk surfaces, although some stands have been made from hardy plastics that are just as resistant. Some materials work better at keeping your computer cool, which is always a bonus and we do suggest that you keep an eye out for this feature, especially if you game.
Weight – If you are looking for a stand that can easily be moved from one surface to the next, then you want to opt for a lightweight device that preferably folds up. If you are keen on a workstation that can accommodate more than just one laptop or screen, however, then a heavier laptop table would be more suitable for your requirements.
Style – From our list above its quite obvious that laptop stands come in all shapes and sizes. You have to decide if you are going for a more minimalistic approach or if you appreciate a stand that's engineered to be unique in appearance as well as functionality.
Features – Apart from the obvious purpose of a laptop stand, many models come with additional features that make life a tad more exciting, if not practical. Some exhibit useful qualities like cord organizers, mousepads, space for a keyboard and mouse, the ability to spin and pivot, cooling pads and even a convenience factor where the stand can be converted into a dining or reading table too!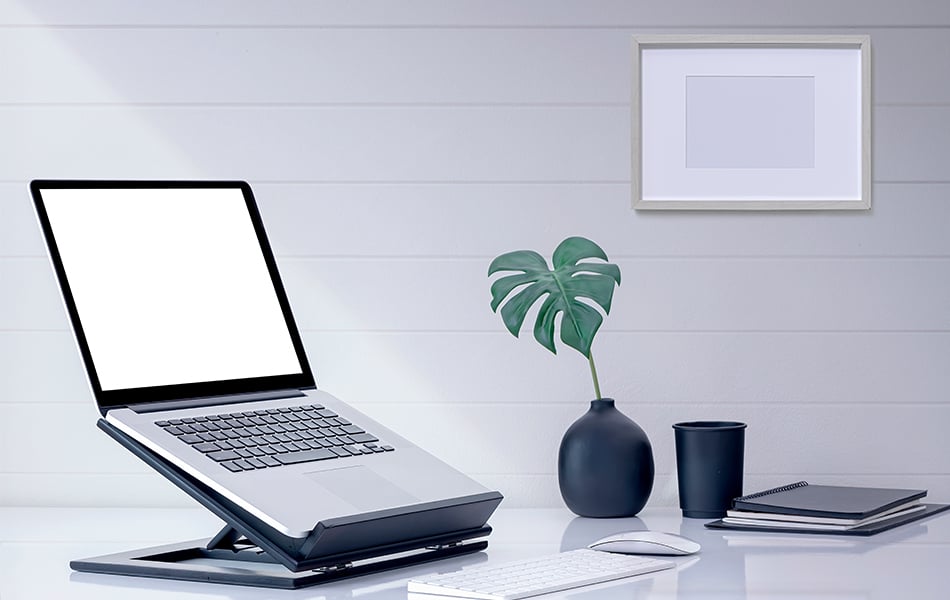 Laptop Stand FAQ
Q: What is a laptop stand?
A: A laptop stand is a brilliant invention that turns your computer into an ergonomic workstation - peaking the performance of the laptop as well as it's user. It raises the screen to eye-level and often tilts forward so that less strain is applied to your wrists as you type. Many stands also offer better ventilation for laptops which helps to prevent them from overheating.
Q: Who should invest in a laptop stand?
A: If you find yourself with a stiff neck and aching spine after a good session on your laptop, then we highly recommend you purchase one of these nifty stands to help you correct your posture and avoid aches and pains. Laptop stands are also the ideal solution if you have a laptop that tends to overheat often and needs help with cooling down for peak performance. In short, if you find yourself using a laptop often, then a stand like one of the above is an excellent investment.
Q: How can a laptop stand improve my health?
A: While laptops are extremely functional, their screens tend to be very low (depending on your desk height). This often means that you have to strain your eyes, your neck, and even your spine to have a good view of the screen. A laptop stand or table eliminates this tension by raising the device so that it sits at your eye-level – this, in turn, corrects your posture for a more comfortable experience while you are working at your desk. Many stands also tilt forward, so that your wrists sit in a less awkward position whilst maneuvering across a keyboard and mouse.
Q: How high should my laptop stand be?
A: A well-designed laptop stand should be raised so that your eye level is one to two inches below the top of your screen when you're sitting or standing up straight. Essentially you should be staring directly at your screen instead of bending your neck to look down at it or straining to look up at it. Many health professionals agree that the perfect height varies between straight ahead and tilted back by 10 to 20-degrees. If you suffer from constant neck problems though, consider raising your laptop's height even higher.
Q: Will the laptop stand fit any sized laptop?
A: Most models have been designed to accommodate notebooks and laptops of varying sizes. There are a select few stands, however, that have been uniquely designed to only fit certain laptop models. Please check the stand's specifications before making your purchase to ensure that your model will fit the laptop you have.
Q: Won't a laptop stand cause a laptop to overheat?
A: Most laptop stands have been strategically engineered to prevent overheating, instead of being the cause of it. In our list above, you will see that many of the stands feature cooling pads, fans or surfaces that promote ventilation by allowing air to move under the laptop so that heat is not trapped in.  So, for the most part, the answer is no.
Q: Won't it be a pain to carry a laptop stand around wherever I go?
A: Each person has their own preferences, but with many of the laptop stands being so compact and lightweight, we don't see why carrying them around would be a problem. In fact, once packed into your bag or laptop case, you'll forget that the stand's even there, until you depend on its use, that is.
Sources:
Correct Sitting Posture: Working At A Desk - Physio Med
Sign Up Now
GET THE VERY BEST OF GEARHUNGRY STRAIGHT TO YOUR INBOX