Best Indoor Thermometers Of 2022 For Temp Monitoring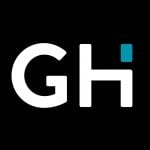 This product guide was written by GearHungry Staff
Last Updated
December 29, 2021
GearHungry Staff
GearHungry Staff posts are a compilation of work by various members of our editorial team. We update old articles regularly to provide you the most current information. You can learn more about our staff
here
.
GearHungry may earn a small commission from affiliate links in this article.
Learn more
Indoor thermometers are incredibly useful and versatile little devices that can help you maintain optimal conditions in your entire home – and more. Firstly, with a thermometer, you can check the efficiency of both your cooling and heating systems to ensure they are working properly. Maintaining the right temperature in your home is also essential to your family's health and wellbeing: too hot and you all face being uncomfortable, while too cold can result in family members being more susceptible to colds and flu. A thermometer is also essential in places like a greenhouse, hatchery, or wine cellar where monitoring and maintaining the right humidity and temperature levels is important.
While a simple old-school thermometer is fine, today's indoor thermometers feature a digital display and a hygrometer function. You can also take advantage of app connectivity to ensure your home stays at the right temperature, especially if your home's heating and cooling system can also be controlled remotely.
With so many devices on the market, though, choosing the right indoor outdoor thermometer for your needs and budget can be challenging. That's why we did the hard work for you, scouring the market for the best indoor thermometers with the most useful features and smartest sensors.
The Best Indoor Thermometer
ThermoPro TP50 Digital Hygrometer Indoor Thermometer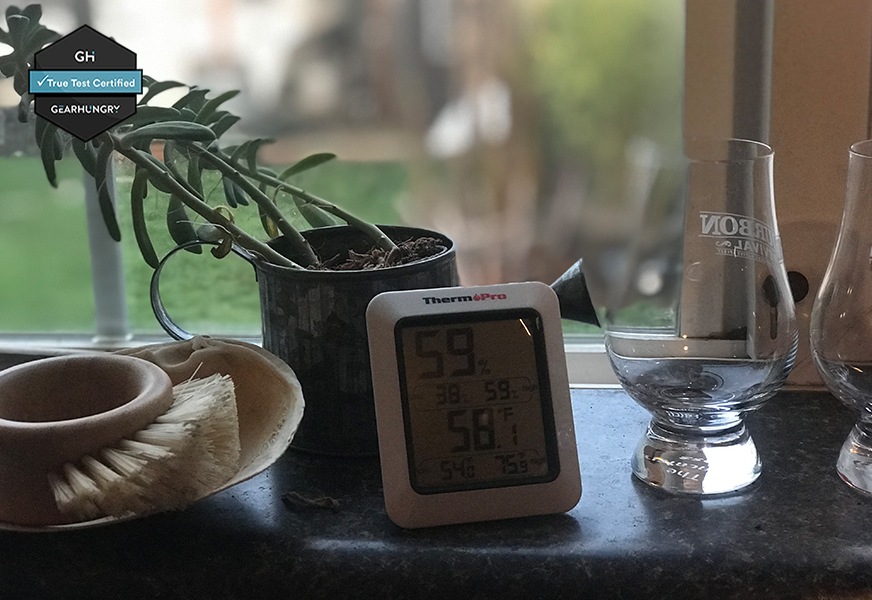 The ThermPro TP50 home hygrometer/thermometer offers accurate and precise readings between -58 degrees and 158 degrees Fahrenheit. So unless you live in the Gobi desert or the Arctic tundra, this device has you covered. I have used this in the main area of my home for the last eight months, and I recently moved it into the interior of my van. I am currently building out the van and added the thermometer to track humidity and temperature to ensure I am comfortable while camping and that the build-out I've worked so hard on is effective.
The single AAA battery that comes with this product is still going strong, and I have had zero lapses in performance. I appreciate the ability to set up this monitor in three ways. You can hang it, which is my mode of use in the van, set it up on a table which is how I used it in my home, or use the magnetic back to attach it to the fridge. Read the in-depth review here.
Key Features:
Air comfort indicator
Daily high and low temp/humidity records
10 seconds refresh rate
Fahrenheit/Celsius selector
2.7-inch display
Temperature: -58°F – 158°F
Humidity: 10% – 99%
Specification:
Brand

ThermoPro

Weight

2.72 Ounces
The large and backlit LCD screen
Various placement possibilities
Battery-operated
Wide temperature and humidity ranges
Low and high readings require a daily manual reset
Govee WiFi Digital Hygrometer Indoor Thermometer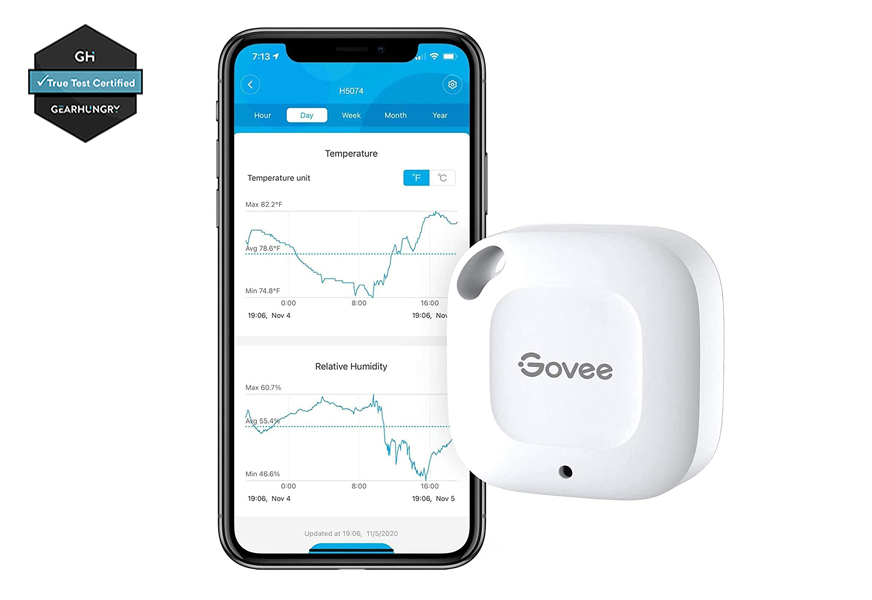 The Govee Smart Hygrometer/Thermometer is a Bluetooth-enabled device that allows you to check the conditions of your chosen location from your smartphone. The 262ft connectivity range means you still need to be usually within your home to use the device, but it's much faster to pull up the app than walk across your home to check a screen. It also has graphs that show recent changes so you can identify problems quickly.
When I first got this device, we popped it into a crawl space turned storage area where my roommates and I keep much of our outdoor gear. Shortly after placing it, we noticed very high humidity and pulled out some gear to find mold beginning to pop up. Had we not used Govee, we may have lost the bulk of our gear to mold! Given that my outdoor gear is the bulk of my net worth, this is a big deal. My roommate fixed up the space, and Govee lives in there permanently now, so I can always check the status of my beloved gear and ensure it's in a safe space, especially during changing seasons and the rainy winters here in the PNW. Read the in-depth review here.
Key Features:
Whole-home coverage up to 262 ft
Control & monitor multiple devices
Alert notifications for temperature & humidity
Free data storage & export
Temperature range: -4℉-140℉
Specification:
Brand

Govee

Model

H5051

Weight

3.2 Ounces
Detailed user guides & simple instructions
Reliable data with high accuracy
Humidity and temperature sensors can record data up to 2 years
Doesn't work well without the Govee Home App
Veanic Mini Digital Indoor Thermometer
If you're looking for a simple way to track the temperature and humidity in several rooms of your house, this 4 pack of Veanic Mini Digital Indoor Thermometers is the way to go. This is a two-in-one meter with a built-in probe that measures both indoor temperature readings as well as humidity. There is nothing complicated about this hygrometer-thermometer and if your main focus is on monitoring humidity, this one is simple and quite accurate. What you'll really love is that there are no complicated functions to set up, no apps or alarms. Just put in the batteries and place the readers anywhere you need to monitor the temperature and humidity. It's great for greenhouses, hatcheries, bedrooms or even the inside of your refrigerator.
Each thermometer is factory calibrated and ready to measure temperatures from -58°F to 158°F as well as relative humidity between 10% and 99%. The 4 pack is an excellent choice if you don't want an expensive, more complicated device, plus the devices are battery powered so you won't have to worry if the power goes out. You may also like some of the best weather stations from our list, so be sure to check them out.
Key Features:
Large LCD screen
Two-in-one built-in probe
Factory calibrated
Temperature range: -58°F – 158°F
Humidity range: 10% – 99%
Measures conditions every 10 seconds
Specification:
Brand

Veanic

Model

8541833457

Weight

0.6 Ounces
Simple, easy-to-use design
4-pack is ideal for the family home
Consistent readings between the four meters
Runs on replaceable batteries
Temperature displayed in Fahrenheit only
Doesn't work well in extremely humid environments
Govee Indoor Thermometer Hygrometer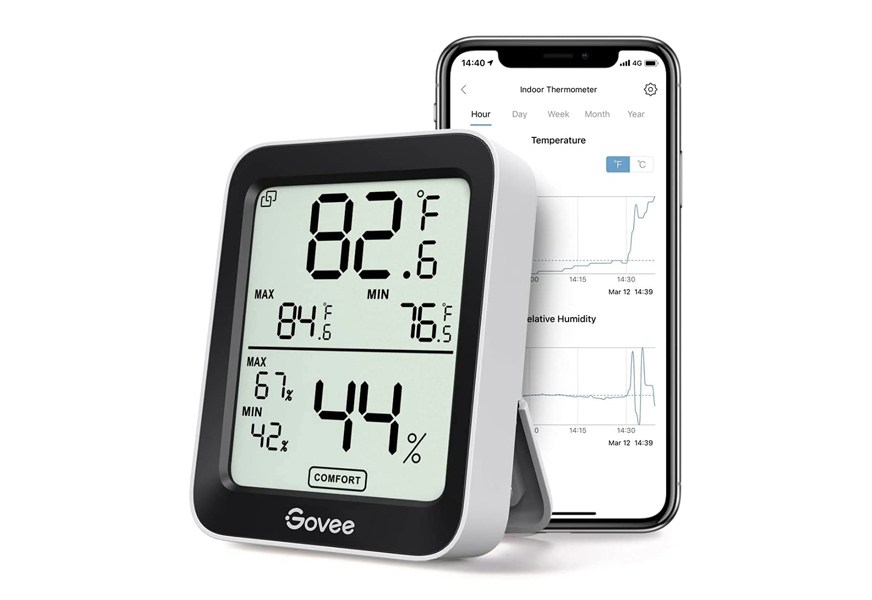 The Govee Thermometer Hygrometer features an easy-to-read LCD display that shows you the temperature and humidity in the room as well as the comfort levels you select for both of these parameters, plus it gives you an instant alert if the readings in the room are outside of the levels you set.
Despite the lack of Wi-Fi connectivity, you can still connect the device to your phone with the Govee Home app via Bluetooth. This means you can still check the temperature and humidity from other areas around the home making it ideal for the nursery, basement or greenhouse. Thanks to this intelligent function and a remote range up to 260 feet, you can use this unit in your home, buildings attached to your home or your business. This device also comes with the Swiss-made SHT30 sensor that provides high accuracy monitoring in most enclosed spaces. If you'd like to track the indoor and outdoor temperature of your house or business, check out our selection of indoor-outdoor thermometers.
Key Features:
Large LCD screen
Up to 20 days of on-board data storage
Bluetooth connectivity
High-accuracy sensor
Up to 260ft remote range
Temperature: -4°F – 140°F
Humidity: 0% – 100%
Specification:
Brand

Govee

Model

H5075

Weight

0.64 Ounces
Easy to access current and historical data
Historical low and high temperature and humidity
Temp and humidity alarms
You need to download the Govee app for full function
Antonki Humidity Gauge Indoor Thermometer Hygrometer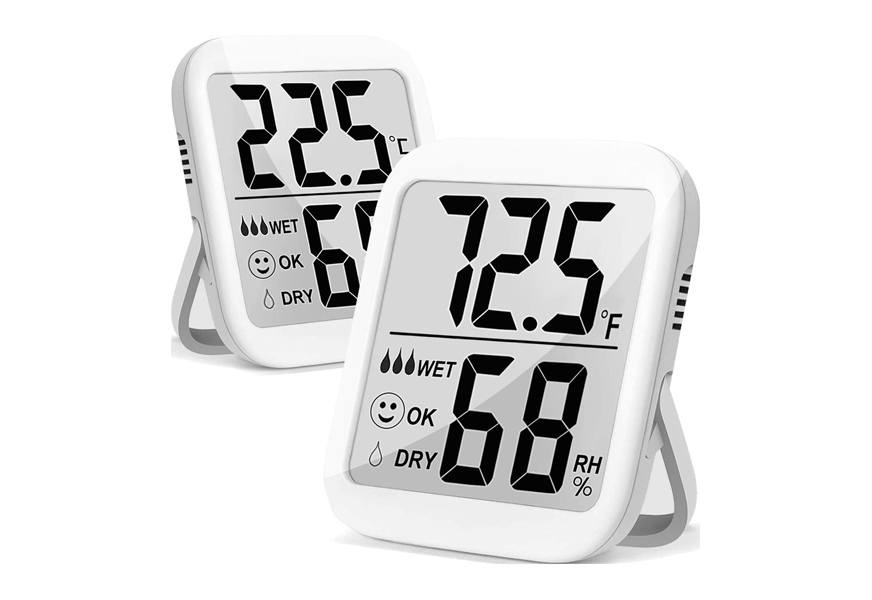 If you're trying to regulate the air temperature in your home in an easy, no-fuss way, the Antonki Humidity Gauge Thermometer Hygrometer is a solid choice. This little unit will allow you to select the best settings for your heating and cooling systems for the ultimate comfort levels. This digital hygrometer indoor thermometer has 18 large vents for better airflow and dual probe sensors which ensure better sensitivity and improved accuracy. It also has air condition indicators so you can see at a glance if the ambient weather in the room is within the parameters you want them to be.
The ultra-large display screen is easy to read and you can choose to mount it on a magnetic surface such as a whiteboard or the refrigerator, or you can use the kickstand at the back of the unit to keep it on a table or your desk. You can also customize this digital thermometer by selecting the readings to be in Celsius or Fahrenheit and you can also turn the unit off to save on battery power during days when you want to keep your doors and windows open. This indoor thermometer will help you maintain healthy conditions in your home, office or business as well as greenhouses, pet enclosures and more.
Key Features:
Accurate dual-probe sensors
Ultra-large display screen
Built-in dual magnets
18 large vents for improved readings
Air condition indicators
Temperature: 58°F – 158°F (-50°C – 70°C)
Humidity: 10% to 99%
Specification:
Brand

Antonki

Weight

3.53 Ounces
Highly accurate temp readings
Easy switch from Fahrenheit and Celsius
Ideal for pet enclosures, grow beds & more
Not waterproof so avoid immersing in water
Govee Indoor Thermo-hygrometer
The Govee Indoor Thermo-hygrometer comes with a built-in Swiss-made sensor for accurate humidity and temperature readings. It has a coverage range of 196 feet and the digital display is easy to read. The unit is also Bluetooth enabled which means you can receive Smart App Alerts via the Govee Home app when temp and humidity levels are outside of your set comfort ranges.
This unit boasts precise sensors that give you reliable and accurate data. There are two display modes that let you see the current temperature and humidity but you can also access historical data which can be stored for up to 20 days. You can choose to record the data or export up to 2 years' worth of readings to cloud storage. For your convenience, this device is battery powered so it will work even when the power is out, and it's also wall-mountable or it can stand upright on your desk or table. For more excellent devices for your home, check out our guide to the top smart thermostats. 
Key Features:
Bluetooth connectivity
Built-in Swiss-made SHT30 high-precision sensor
Easy app remote control
328 feet remote range
Multiple mounting options
Temperature: 14°F – 140°F
Humidity: 0% – 99%
Specification:
Brand

Govee

Model

H5052001

Weight

2.68 Ounces
Wide temperature range from 14°F to 140°F
to 20 days of on-board data storage
Up to 2 years of in-app data storage
Relatively compact and easy to carry
Can be wall-mounted or on a desk with the stand
Set your own comfort ranges
Relatively hard to calibrate
ThermoPro TP53 Hygrometer Indoor Thermometer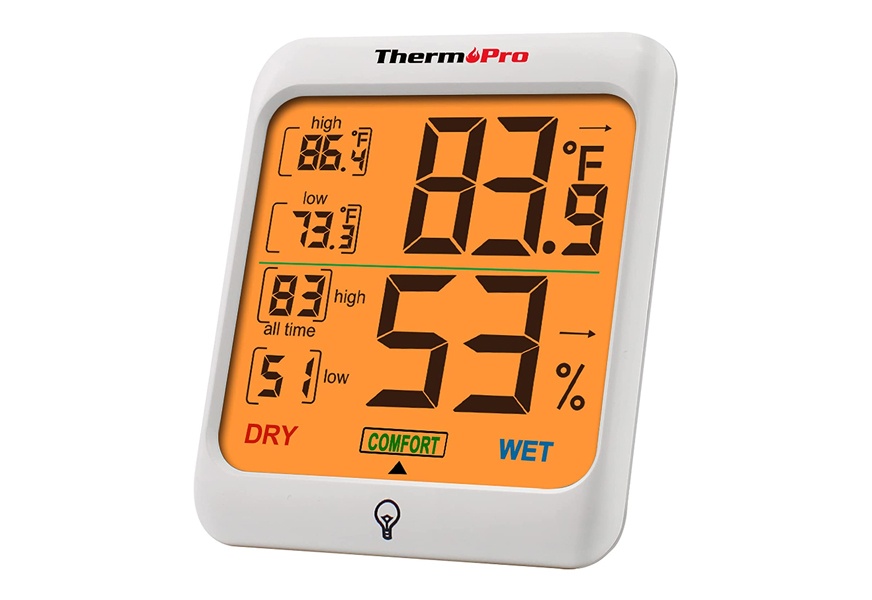 The ThermoPro TP53 is the perfect home thermometer as it incorporates an advanced temperature sensor that is highly accurate and user-friendly. It features one of the easiest displays to read and you can also activate the backlight thanks to the touch-sensitive screen. This makes it perfect for bedrooms as you can see the ambient temperature in the room all through the night. You can also set your minimum and maximum ranges for temperature, humidity and comfort levels.
When accuracy is essential, as it often is in the home, this one provides you with just that and the device comes calibrated so you won't need to do any of the fiddling to get it right. You can expect it to work extremely well in temperature ranges of -58°F to 58°F and humidity ranges of 10% to 99%. It also refreshes every 10 seconds. Place this thermometer on your desk or mount it on the wall so you can see the display from the most convenient angle. The only minus? The humidity reading doesn't appear to be as highly accurate as the temperature reading. If you're looking for quality humidifiers for your home, check out our guide to the best models on the market.
Key Features:
All-time/24 hours high/low records
Touch-sensitive frame
Backlit LCD screen
Comfort level indicator
10-second measurement frequency
Temperature: -58°F – 158°F
Humidity: 10% – 99%
Specification:
Brand

ThermoPro

Model

TP53

Weight

3.52 Ounces
Perfectly sized display with easy-to-read numbers
Multiple mounting options
No setup or calibration needed
Humidity reading is not as highly accurate as temperature reading
AcuRite 01083 Indoor Thermometer and Hygrometer
Some rooms in the home require a very specific environment so that their contents are kept at optimal temperature and humidity levels. Think along the lines of a wine cellar or a room with exotic animals. However, the health of your family should always be the most important consideration, and creating an environment with your family's comfort in mind is possible if you are able to gauge the ambient conditions in the rooms you spend the most time in. The AcuRite 01083 has been designed to deliver a professional level of accuracy and features high-precision sensors that can provide reliable measurements and fast data reporting. It all comes in a compact device with multiple mounting options. You can place it on a tabletop or desk, attach it to the refrigerator via magnets or mount it on a wall in a prominent position. When you know the temperature and humidity levels, you are in a better position to maintain better comfort levels.
This unit does come pre-calibrated, but you can also calibrate it manually. This allows for higher precision and you can place more faith in the displayed readings. The temperature ranges are from -4°F to 158°F and the humidity sensor can detect levels between 1% and 99%. For more useful products for your household, check out our selection of the top-rated commercial dehumidifiers.
Key Features:
Pre-calibrated
Manual calibration possible
Multiple mounting options
1-year US-based customer support
Visible display and digits
Temperature: -4°F – 158°F
Humidity: 1% – 99%
Specification:
Brand

AcuRite

Model

01083

Weight

3.84 Ounces
Accurate and precise temp and humidity readings
Super-easy to read despite the small physical size
Well-designed mounting options
All-time/24-hour low and high records
Batteries are not included
VIVOSUN Digital Indoor Thermometer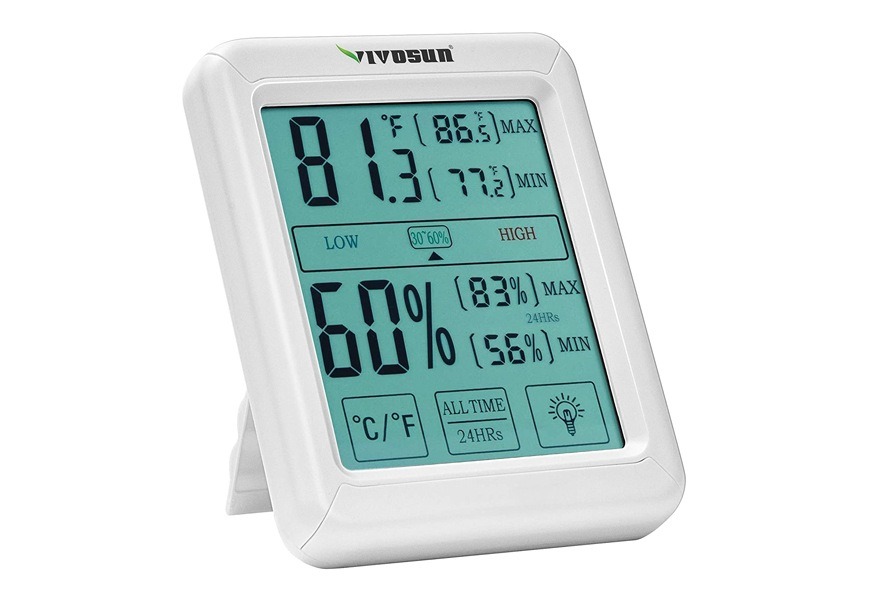 Maintaining the air temperature at comfortable levels in your home is important for the health of your family, including your plant friends. The VIVOSUN Digital Indoor Thermometer provides your home with an optimal solution for monitoring the temperature and humidity in your home and other enclosed spaces, such as greenhouses. This is a simple, user-friendly device that you can hang on a wall, mount on the fridge or place on a desk or countertop. It has an easy-to-read digital touchscreen which also turns on the backlight. You can also check the high/low temp/humidity records in the past 24-hours, and read the temperature in Celsius or Fahrenheit.
The monitor provides you with reliable and precise readings including the increasingly popular humidity comfort level indicator bar. We especially like the large display that allows you to see the reading from a distance and all you need are two AAA batteries to run this gadget. To ensure you get continuous readings, the device also features a low battery indicator.
Key Features:
Touchscreen
Backlit display
Comfort level indicator
Low and high readings
Temperature range: 14°F – 122°F
Humidity range: 10% – 99%
Specification:
Brand

VIVOSUN

Weight

5.7 Ounces
Humidity monitor is ideal for plants
Truly accurate readings
Batteries included in the pack
Easy to operate
The battery panel is difficult to remove when changing batteries
AcuRite 00325 Indoor Thermometer and Hygrometer
When all you want is a simple device to monitor the temperature and humidity in your home, the AcuRite 00325 indoor thermometer gives you the readings you want and the accuracy you need in a convenient, high-quality device. This one is suitable for monitoring the air comfort levels in your home, office, warehouse and anywhere else you need to keep an eye on the conditions in an enclosed space.
This unit has a pretty basic look, but the large display shows you all the relevant data with nice large digits that you can see from a distance. The 24 hour low and high records allow you to monitor the air quality in your home and gauge the overall efficiency of your home's heating and cooling systems. A nice little element is the humidity comfort level indicator located in a cute house icon that displays low, OK or high, instead of a bar. It comes pre-calibrated for your convenience and you can mount it on the fridge or keep it on your desk to monitor the comfort levels in your home at all times. You may also want to check out our list of the best-selling air purifiers for a complete indoor air quality improvement.
Key Features:
Fahrenheit or Celsius temperature display
Humidity gauge with comfort levels
Pre-calibrated
Multiple placement options
Temperature: 32 °F to 122 °F
Humidity: 16% to 99%
Specification:
Brand

AcuRite

Model

00325

Weight

3.04 Ounces
Truly accurate temperature readings
All essential info displayed on the large screen
Ideal for multi-purpose use
Multiple mounting options
The humidity gauge is not always precise
Why Trust Us
No one knows gadgets quite like we do, including indoor thermometers that we happen to find extremely beneficial. We have taken the time to test a few models to see how well they actually work and in what ways indoor thermometers could be useful. It turns out, they are not only a great way to regulate the temperature in your home and to keep an eye on how well your home's heating and cooling systems work as well as the ambient moisture in the air, but are also crucial for storing expensive gear the right way.
Who This Is For
Our comprehensive guide to the best thermometers is for anyone who wants to ensure their home environment is comfortable and to monitor temperature and humidity levels. This is especially important if you have family members with respiratory conditions where maintaining healthy air quality is essential.
Cooling or heating a home can be expensive, but if your systems aren't working efficiently, they can use even more power. An indoor thermometer can effectively let you know if your systems are working properly and this can save you on power and repair bills.
How We Picked
We looked at dozens of indoor thermometers to find the best ones for use in the home, office or even a storage facility. We picked the ones that were affordable and the easiest to set up and use but, more importantly, were reliable in terms of accuracy.
How We Tested
The only way to test indoor thermometers is to use them at home and work and see how accurate they really are - which is exactly what we did with a few thermometers from this list. We tested them for ease of use, placing them in different areas, as well as checking some of the additional features to see how worthwhile it would be to have an indoor thermometer in a visible place where one could make use of the readings on the interface.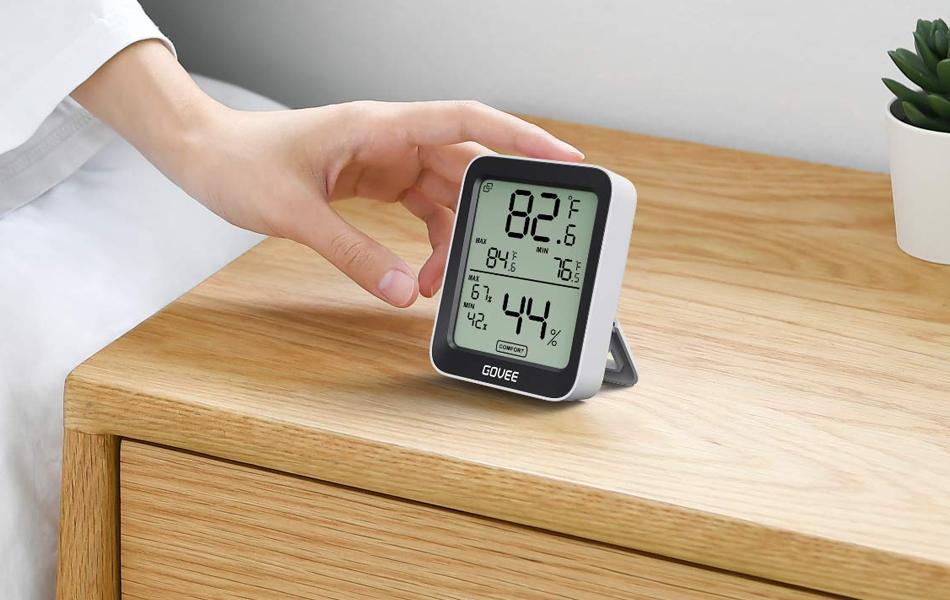 Features To Look For In Indoor Thermometers
There are dozens of thermometers out there, and finding the right one is not always easy. Here are a few features to look for when shopping for an indoor thermometer.
Size - The devices in this guide are all compact which makes them ideal for keeping on a desk or countertop but most can also be mounted on a wall or on the fridge. What is more important though is the size of the display so look for a unit with a display with numbers that are large enough to see even from a short distance.
Temperature accuracy – This should go without saying, but the most important factor when looking for an indoor thermometer is its accuracy. Most manufacturers sell their units pre-calibrated, and they should read the temp accurately straight out of the box. However, if you want to have more control, you should opt for an indoor thermometer you can calibrate manually.
Temperature range – While all indoor thermometers have a range wide enough to measure the temperature in a home or office, you should go for the widest possible range if you want to place the device in a greenhouse, wine cellar, or if you plan to use it to measure the temperature in your refrigerator, for instance.
Hygrometer function – Temperature is only one of the factors you should monitor in your home. Humidity is important too, especially if you suffer from allergies, asthma, or other respiratory or skin conditions. Luckily, most indoor thermometers nowadays feature humidity gauges.
Connectivity – In the era of smart homes, connectivity features come as a bonus. The best indoor thermometers can connect with your smartphone either via Bluetooth or Wi-Fi, allowing you to check the temperature or receive low/high temp/humidity alerts even from a distance.
Battery life - The battery life in indoor thermometers may not be easy to predict as there are certain factors to consider. Some models will simply use less power than others and if the one you have chosen has a backlight, you can expect to change the batteries more frequently. On average though, you shouldn't need to change the batteries more than twice or three times a year.
Types Of Indoor Thermometers
Analog thermometers – These are the simplest and oldest models. They consist of a glass tube filled with mercury or an alcohol mix that expands in volume as it gets warmer. A scale makes it easy to read the temperature, but these models are not the most accurate. However, they are cheap and have long lifespans.
Digital thermometers – These modern alternatives to analog thermometers use various technologies to measure the temperature and conveniently display the results on LCD screens. Nowadays, digital thermometers are the standard in most homes, and some even connect with your smart devices to allow you to record and access current and historical data.
Indoor-outdoor thermometers – A hybrid between an indoor and an outdoor unit, the indoor-outdoor thermometer is a great choice for those who want to keep an eye on both the indoor and outdoor temps. They're usually more expensive than the digital indoor units, but give you access to more data, including temperature, relative humidity, barometric pressure, and sometimes even weather forecasts. If you want a proper outdoor weather station, check out our guide to the best indoor-outdoor thermometer units.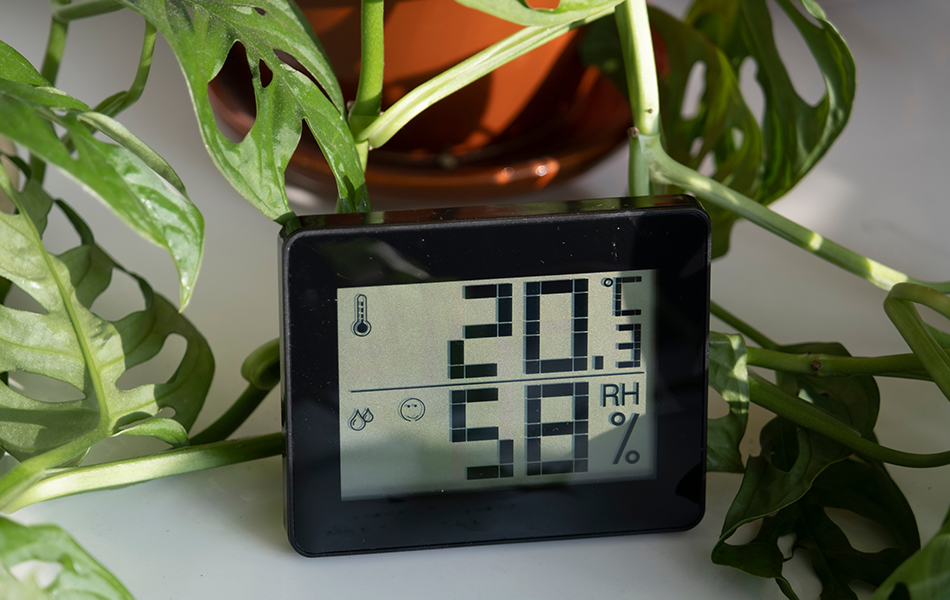 Indoor Thermometer FAQ
Q: Are room thermometers accurate?
A: There are many different types of room thermometers available on the market today and some are more accurate than others. Most modern digital indoor thermometers are quite accurate but it may help to check the specifications and customer reviews to see which models offer better accuracy.
Q: What are the benefits of indoor thermometers?
A: There are a number of benefits to having an indoor thermometer in your home and the health of your family is usually of the highest priority. To maintain optimal temperature and humidity levels, you need to know what these ranges are first. You can then decide if you need to raise or lower the temp/humidity in your home.
The other benefit is that you can save a lot of money on utility bills. One of the biggest factors that can increase a utility bill is a faulty heating or cooling system. An indoor thermometer can give you a good indication of whether or not these systems are functioning efficiently. As an example, if your heating system is constantly working but the thermometer shows a lower than comfortable temperature, this could be an indication that your heating system is not working efficiently and needs fixing/replacing.
Q: Where do you place an indoor thermometer?
A: You can place an indoor thermometer anywhere in your home and it is advisable to keep one in a bedroom, bathroom, living room or any room where you need to monitor the temperature and humidity. There are, however, some places you should avoid placing a thermometer and they include:
Any spot in direct sunlight
Near a heat source such as vents or radiators
Near appliances that generate a lot of heat
On an external wall as you will get the outside temperature affecting the readings
Sources:
Thermometer - National Geographic Society
How Thermometers Work - Explain That Stuff
How Weather Gadgets Work - HowStuffWorks
Sign Up Now
GET THE VERY BEST OF GEARHUNGRY STRAIGHT TO YOUR INBOX