La Crosse Technology 308-1414B-INT Weather Station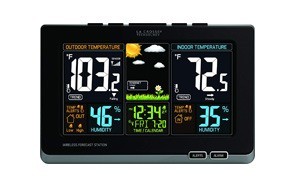 Key Features:
Full-color LCD screen
Six weather icons are displayed on the screen
Atomic self-setting time and date
Able to monitor both indoor and outdoor temperature
Also shows the indoor and outdoor humidity
Low battery indicators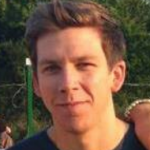 If you find yourself constantly having to change plans due to unpredictable weather, or you're forever living in anxiety due to the uncertainty of it all, then it's time to purchase one of the best weather stations on the market. We've searched high and low to find only the best weather station, and can guarantee that with one of these awesome products in your home, you'll never feel left in the dark again. Thanks to the precise nature of these devices, you'll be able to plan outings so far in advance that your family and friends will start to think you have some sort of psychic powers. Sounds pretty epic, right?
The Best Weather Station
Weather Station Buying Guide
If you have any further queries regarding our buying guide or weather stations, then take some time to read some of the information below. From here, you will learn how we carefully select products on our buying guide, as well as learn which features to look out for on your next weather station.

How We Chose Our Selection Of Weather Stations
Lots of time and effort went into our selection process here at Gear Hungry. In fact, we didn't rest until we were 100% certain that the products on this buying guide were perfect. To help us ensure that we had made the right decision, we put every single product through a thorough selection process, consisting of looking at the brand, reviews and price. Below, we will explain how each factor contributed to presenting you with the best weather stations on the market.
Brand - Sadly, there are many brands out there which create knock-off products in an attempt to make some extra cash. Luckily, we can spot these brands from a mile off, meaning we know exactly what products to avoid. With this awareness in mind, we spent a lot of time looking at each brand mentioned on this buying guide, ensuring that only the brands who produce the highest quality of products were featured. From well-known high-end brands to smaller, more affordable, brands; this buying guide has it all. And, the best thing? The quality of weather station remains perfect throughout.
Reviews - When purchasing a product online, one of the best ways to judge if it's worth your money is through customer reviews. Customer reviews are like hitting a goldmine in the world of online retail; you have bundles of honest experiences right at your fingertips, which wouldn't have been spoken about by the brand themselves. With help from reviews, you'll be able to discover the truth about a product; sometimes the ugly truth.
Either way, we've sifted through tonnes of reviews and got rid of the products which received poor ones. We can gladly say that every single weather station on this buying guide has been awarded four to five-star reviews. You deserve only the best.
Price - Nobody wants to have to take out a loan on something as small as a weather station. We understand that this is not a product worth getting in debt for, which is why every single product on this buying guide has a reasonable price tag to match. While some products are going to be more expensive than others, we assure you that there will be a product perfectly suited to your budget here. From the affordable items to higher-end pieces; the quality remains the same.
Features To Look For In Weather Stations
Do you know what to look out for in a top-quality weather station? If this sounds like a grey area, then use the following pointers as a checklist before you make a purchase. These features are very important to look out for, so make sure that you abide by this list. You certainly won't regret it once you have an extremely precise weather station which will never let you down.
Durability - It would be pretty ironic if your weather station was to get damaged by, well, the weather. If the device is not made out of durable materials, then it'll soon become damaged and unable to give you an accurate display of forecasts. Your outdoor sensor, in particular, will need to have a protective shell which will prevent any troubles with wet weather and erosion. The durability of your weather station is likely to reflect on the price, so if you opt for a super cheap one, it's highly unlikely that it'll be durable. It's worth mentioning here that you'll also need to ensure that your weather station can be secured outdoors, as otherwise, a gust of heavy wind may send the sensor flying; never to be seen again! Most sensors will have a simple wall mount system, but it's also common for some sensors to be penetrated into the ground, instead. Both designs will work well, but take your climate into account before you make a purchase. We suggest opting for a wall mount if your area is prone to heavy winds.

Transmission Distance - It's important that your weather station is as accurate as possible, otherwise it'll start showing you incorrect readings and ruin the whole point of having a weather station in the first place! All weather stations will have a 'transmission distance', which is basically the distance between the sensor and the station. If the sensor is too far away, then it won't be able to get an accurate reading. So, with this in mind, make sure that your chosen weather station has a strong transmission distance. Typically, weather stations will offer anything from 100 feet to 1,000 feet. Your ideal transmission distance will entirely depend on the size of your area.
Connectivity -Typically, an outdoor sensor connects to your indoor monitor, in order to display the weather forecast. However, if you wish for more connectivity options, then there's plenty of models out there which will put a smile on your face. For example, many modern weather stations can connect to your phone or tablet, so that you can read the display no matter where you are. Even newer models can integrate with Amazon Alexa for a fully immersive experience. Just ensure that you have a good internet connection if you decide to go for a weather station which uses Wi-Fi. The last thing you want is a dodgy, or non-existent, reading all because your internet connection wasn't strong enough.
Power - Be sure to check the power source of your weather station before purchasing. Usually, a weather station will either be powered by cable, battery or solar power. All options bring their own benefits and drawbacks, so it's completely up to you on which one you decide to purchase. You'll probably find that the majority of modern-day weather stations are wireless, which is excellent if you wish for your weather station to blend well in your home. However, with wireless stations, the batteries will need to be replaced every so often. Their longevity will entirely depend on how much energy the weather station uses, so be sure to check out some reviews before you make a purchase. Within this buying guide, we've noted down which products may need frequent battery replacements.
Display - The displays on weather stations are incredible nowadays. The majority of devices will present you with HD displays, backed by bright LED lighting and a variety of fun colors. Whether you choose to have a weather station which is dominated by the display or you want something more discreet, we can guarantee that you'll find a weather station which is perfect for your preferences.