It turns out water and electricity do mix – under the right set of circumstances. While the title may seem redundant, you may better know these as bubblers: the bane of office space chit chat and horrible dad jokes from your co-workers. However, if you're a man of business and you want to have a welcoming lobby, accommodate for your employees, or you just want a water cooler so you don't have to keep pouring gallon jugs out of the fridge, then we've got you covered. Ditch the tap filters, and stick with a machine that's built to chill, and be flashy at the same time.
Our Top Picks Of The Best Electric Water Coolers
1. Whirlpool Self-Cleaning Stainless Steel Water Cooler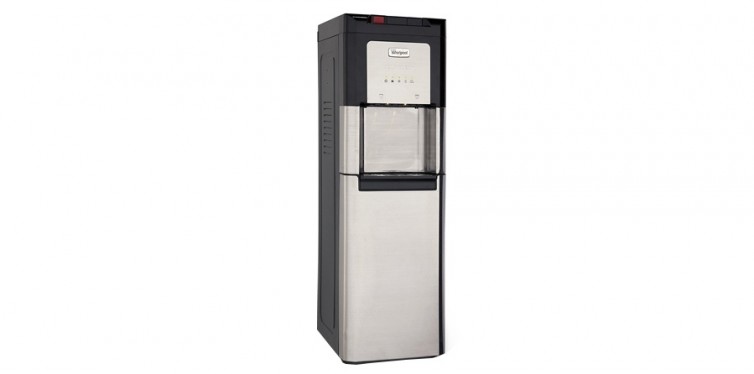 Kings of the washer dryer combos, and tyrants of kitchen appliances, Whirlpool continues to amaze us. They put their best foot forward with this model, making it our top pick, and the most viable option for a slew of different scenarios. You get to avoid one of the world's biggest issues with water coolers: top-load five-gallon jugs. It just looks cliche and unattractive. This stainless steel tower is compact enough to fit into most spaces, including your kitchen, office, or even your home gym so you have a constant source of hydration.
The warranty information on this is a little specific, and only lasts for a single year. Technically, it's a large appliance, so we were a little surprised to see this. You're not going to have to rip this apart and scrub it clean; the 6th sense automatic self-cleaning system uses unstable oxygen, and removes bacteria and potential mold growth. Your blue light LED indicator will tell you everything you need to know: when it's in cleaning mode, when the hot and cold are ready to go, etc. For a compact solution that looks as high-end as they come, Whirlpool's got you covered.
Key Features:
6th sense automatic unstable oxygen breakdown feature for self-cleaning
LED indicator to show self-running/temperature settings
Brushed stainless steel and high-end look
Specification:
Brand

Whirlpool

Model

8LIECH-SC-SSS-5L-W

Weight

25 pounds
Compact water cooler to fit into most spaces
Bottom load water jug to maintain appearance
You only get a one-year warranty, with specific guidelines
2. Avalon Top Load Slim Fit Water Cooler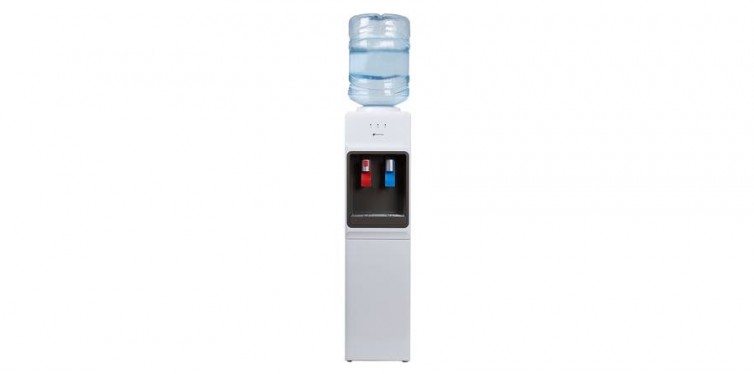 Avalon brings micro-sized solutions to your kitchen, giving you a fast on-the-go breakfast, or a cup of tea the moment you wake up. This fits into most spaces with ease, making an excellent addition to your kitchen or home office, and the benefits don't end there. LED indicator lights give you the status of your hot and cold water, while the integrated safety lock means little fingers won't be able to get hurt. You're going to run into an issue with a bit of loud humming, but after it's set up for a while, it's going to appear as light white noise in the background.
You get a decent speed of water flow (nothing is more aggravating than waiting 20 seconds to fill up a 5oz cup), and the means to move this whenever you need due to the lightweight construction, mixed with stainless steel and ABS plastic. It serves its function well, and all while keeping your budget completely in check. Further information about their one-year limited warranty can be found here, so you can get the full scope of what they're offering for replacement parts.
Key Features:
Three-light indicator system
Produces hot and cold water
Constructed of stainless steel and ABS plastic
Specification:
Brand

Avalon

Model

A1WATERCOOLER

Weight

39 pounds
Excellent price for a quick and long-lasting solution
Hot and cold spouts w/ child safety lock
Humming noise persists; noisy
3. Farberware Freestanding Hot and Cold Water Dispenser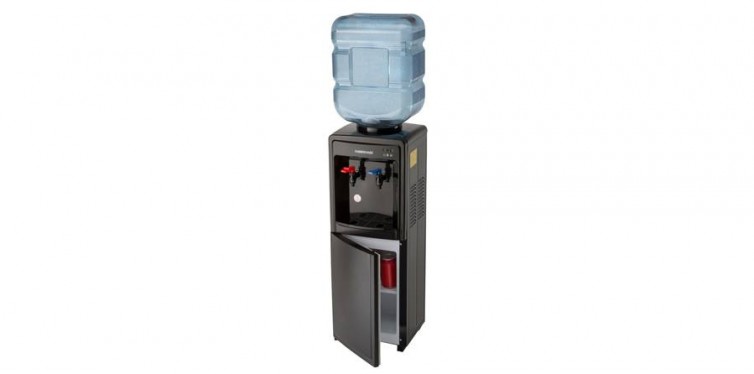 Most of us have owned something from Farberware before, but few of us have gone for big appliances. Truth be told, we were a bit skeptical when we tested this one our, but we were pleasantly shocked, and it ended up taking home the bronze for our list. Keep water at the perfect temperature for adding this to a home gym or kitchen for a refreshing, but not necessarily ice-cold drink. Low energy usage makes this excellent for budget-conscious folk who just want to keep the costs down without having to put too much effort into it.
While those are excellent features, there's a bit of an issue: this is not good to hold five-gallon water jugs. It can, but it will leak. If you're refilling your jugs at a station, this fact won't affect you that much, albeit for a few additional trips from time to time. Slim fit, perfect chill, and cheap enough to get your foot in the door – what else could you want?
Key Features:
Underneath storage space (not refrigerated)
Provides hot and cold water
Chills water to 59 degrees
Specification:
Brand

Farberware

Model

FW29919

Weight

15 pounds
Extremely attractive price; budget friendly
Low energy consumption keeps this electric bill budget friendly
Outfitted to hold a five-gallon tank, though  you will experience leaking; stick with a three-gallon
No safety switch (in our experience, it's not just for children)
4. Clover Hot/Cold Bottled Water Dispenser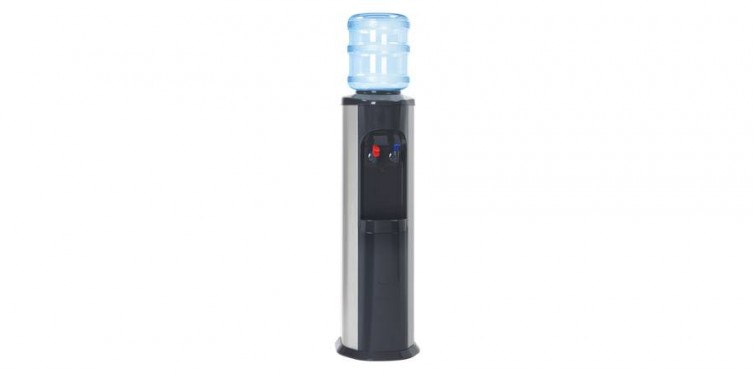 You may not hear about Clover often, but when you do, it's because they've come out with another epic appliance that's certain to hit the mark. A a median price, this tall water tower comes with a hot and cold setting, which is operable from the switches in the back, acting as your essential child safety lock. We love the fact that this is low maintenance and requires very little cleaning: you simply have to empty the condenser drip tray, and you're good to rock and roll.
Getting into the negatives, we called it a tower – not a cooler. This is pretty easy to tip over with a full three-gallon jug on it (not built for five-gallon jugs), and while it's still an excellent cooler, that fatal flaw means you'll have to position it next to a refrigerator, or somewhere very secure in your space if you have little ones, or if you don't want to clean up gallons of water from the floor of your home gym in the future. Between pricing, temperature range, and the fact that it's Energy Star rated, we highly recommend Clover.
Key Features:
Hot and cold water tanks are made of high-durability stainless steel
Energy Star rated
Temperature range from 35.6 to 53.6 degrees
Specification:
Brand

Clover

Model

B14A

Weight

32 pounds
Specific hot/cold switches in the back to prevent little fingers from pulling the heated tab
Low maintenance/cleaning
Top heavy, so you'll definitely want to put it up against something, like the side of the fridge; easy to tip over
Not designed to fit more than three-gallon water jugs
5. NewAir WAT40B Pure Spring Dispenser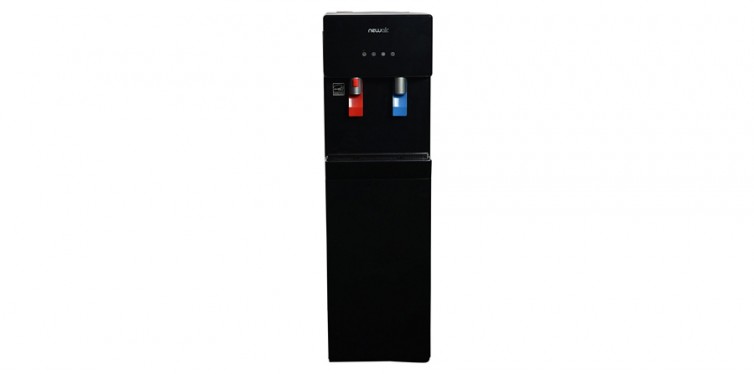 To kick this one off, we're going to tell you the single downside first: it's noisy. For such a great price and minimal issues, it was an easy pick for our list. Front-loaded cooler bottles sit comfortably in the bottom, This entire thing comes Energy Star rated, which is a Godsend if you're budgeting your electric bill on a tight stipend every month, and includes a child safety lock. In our experience, child safety locks are useful for adults, as well.
BPA-free, and certified by the NSF, you get all the peace of mind necessary to feed your family (and yourself) clean water without extracting chemicals from the physical build of your cooler. Stylish and functional, this cooler fits beautifully in just about any space, from the kitchen to the home gym, and beyond.
Key Features:
Child safety lock feature
BPA-free and NSF certified
Energy Star rated
Specification:
Brand

NewAir

Model

WAT40B

Weight

35.3 pounds
Excellent price
Bottom load design
Mild to moderate humming noise
6. Brio Essential Series Water Cooler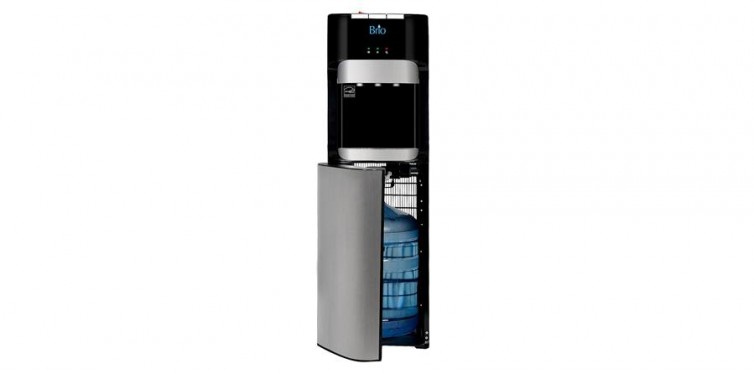 Budget-friendly solutions have arrived. As one of the least expensive options on our list, the Brio model comes with a bottom load capacity fit for up to a five-gallon water drum, making it ideal for high-traffic areas like a waiting room or busy home kitchen. Black-and-silver go with just about anything, especially if you're already rocking a stainless steel kitchen. We couldn't be happier with the price and ease of use, though everything comes with its downsides.
You get three indicator lights for water level, as well as hot and cold, though these lights get uncalibrated extremely easily. Sometimes it says there's hot water, and it comes out lukewarm, or sometimes it says you have three gallons remaining, when you only have two. This isn't a constant, but it's mildly frustrating. Overall, from the price to the sturdiness and function of this water cooler, you're in for an excellent value on a long-lasting water cooler.
Key Features:
Includes indicator to signal when heated and chilled tanks are ready to dispense
Includes tri-temp wash
Child safety
Specification:
Brand

Brio

Model

CLBL420

Weight

40.1 pounds
Bottom load design
Fantastic price (ideal for low budget)
Indicator gives false information from time to time about water level
7. Avalon Self-Cleaning Bottleless Water Cooler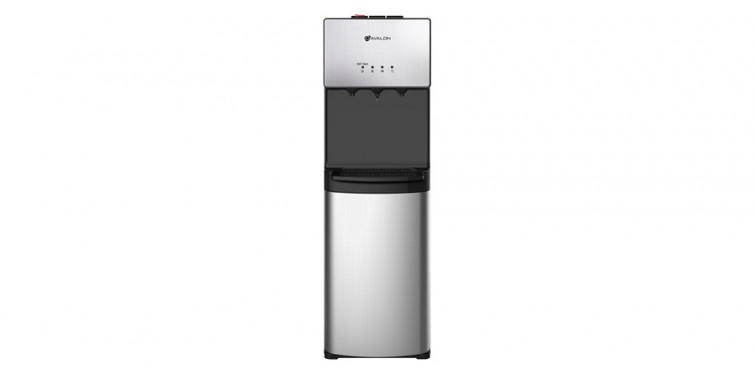 Did someone say bottleless? If timed deliveries and running to the store at 9:00 PM isn't your style, who could blame you? It gets tedious. You're able to save time and money (not to mention reduce waste from lack of thick plastic water drums), all while enjoying a hands-free maintenance experience. You only need to change the filter once every six months or 1,500 gallons, whichever comes first; that's some serious stopping power.
If you're purchasing this for lightweight commercial space use, such as a waiting room or boardroom, you'll have to ensure proper access to a water line. For some, this isn't difficult, but whether or not a supply is close by, it's still a lot more involved of a setup than standard water coolers. You get all the necessary NSF certification guarantees, while also being Energy Star certified to maintain a healthy electric bill, even if this is in constant use eight hours a day.
Key Features:
Energy Star certified product
NSF certified
Three temperature settings
Specification:
Brand

Avalon

Model

A5BOTTLELESS

Weight

44 pounds
Stainless steel construction
Bottleless feature; save on plastic and constant refills
More involved setup than a standard water cooler
8. Brio Essentials – Alternate Model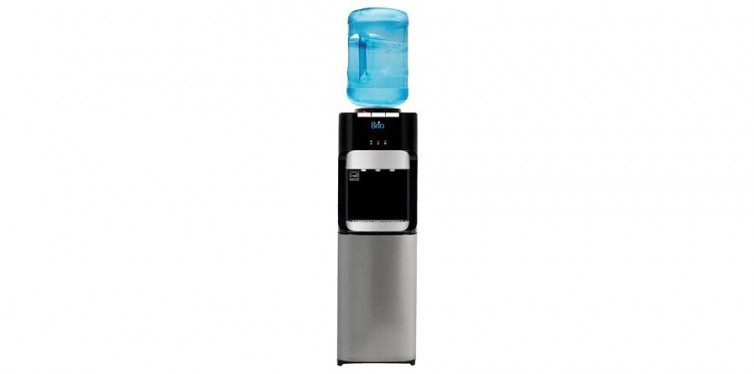 Last but not least, we come to an alternative model from the previous Brio on our list. We're rocking most of the same features, including a child safety lock, and 100% stainless steel reservoirs for hot and cold water. Low-cost and simple to set up, you get a lot of budget-friendly aspects, and low maintenance parts, such as the anti-bacterial splash plate. Your splash plate is often the last thing you think to disinfect, but it can harbor mold and airborne bacteria.
That being said, you'll also have to apply the same TLC to the removable drip tray – it's a bit touchy. Water seems to get along the edges, even when the tray is only ¼ of the way full, making it a bit of a mess when it comes time to empty. Stylish and functional, this energy efficient top-load water cooler is the perfect answer to your freshwater needs for the gym, office, or even just right in your home kitchen.
Key Features:
100% stainless steel reservoirs
LED cooling/heating indicators
Child safety lock
Specification:
Brand

Brio

Model

cltl420

Weight

38.2 pounds
Triple dispensing faucet
Anti-bacterial splash plate
Removable drip tray is a mess; always have water around it, even if it's not full